Shaker, handleless, slab… if you're doing up your kitchen and can't seem to decide on a style for your units, it might seem tricky and a bit stressful. After all, you'll have to love them for years to come, right? But with so many options available, how do you decide on your kitchen cabinet style?
Don't worry, I'm here to help. To start off, there are four main cabinet styles. If you're thinking 'that's surely not enough', keep in mind you can achieve a multitude of looks simply by pairing your favourite kitchen unit style with the right colour palette and a touch of styling magic.
For example, you can recreate the trendy Scandi look using handleless units, warm tones and natural materials, or go the industrial route by leaving brick walls exposed and choosing dark materials and brass finishes. See? There are actually plenty of options.
So, to get rid of any confusion and help you find your kitchen cabinet style for good, I've broken down which unit is which…
Firstly, there's the handleless kitchen. So minimalist and chic, handleless units are ideal if you love a clean and uncluttered space. These types of units are exactly what the name suggests – flat panels with no external fitting to open the doors.
Be it a bold choice such as colour blocking your cabinetry and island or a more contemporary approach like a neutral design, handleless cabinetry works beautifully in open-plan kitchen-living-diners as it can easily blend in with your existing furniture.
In addition, you can opt for built-in appliances for a seamless look, statement marble surfaces for interest, and push-to-open features for added practicality.
Although most of the time you can spot these units in contemporary interiors, the latest options include handleless cabinetry with detailed panels to emulate the Shaker look, with a modern twist.
Secondly, if you love cosy, rustic cottages in the Cotswolds and want to bring back a piece of the countryside with you, traditional Shaker kitchen units are a great choice. Picture chunky frames around a central panel, with intricate details or timeless panelling. Doesn't this sound like a dream?
So, to successfully recreate this classic look, choose a neutral, nature-inspired colour palette – from dreamy creams to lush light blues and sage greens. This style of kitchen units goes hand-in-hand with traditional range cookers, exposed beams, wooden worktops and handles, and limestone or parquet flooring. Lush!
Thirdly, this style of cabinetry combines the best of both worlds – the timeless look of a Shaker design with pared-back detailing. And what's more, you can use this style as your base units with no compromises on your desired look. Why? Well, you can achieve just about any scheme you want.
From luxurious kitchens set to wow your guests, and modern schemes with stand-out industrial finishing touches, to trendy kitchen-diners dressed in sugary paint shades, with the hottest tiles laid in a stylish pattern, you can truly take these units and transform them into your dream design. Just visualise your perfect colours, then get creative.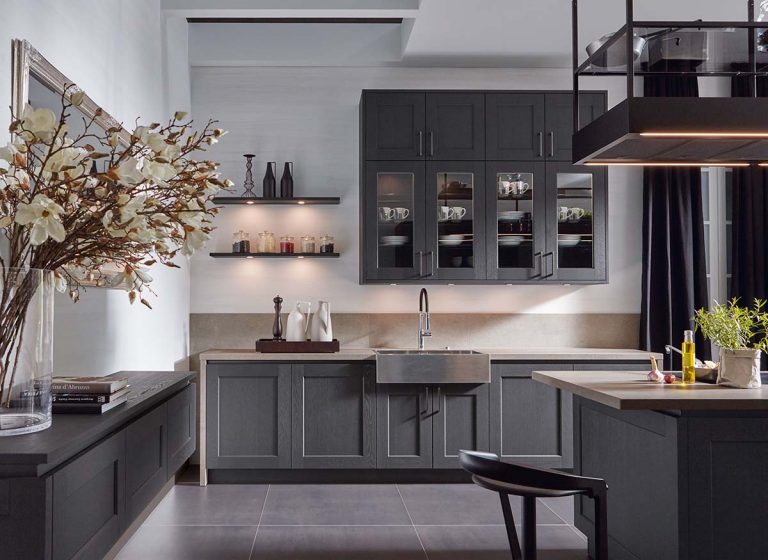 Last but definitely not least – do you want to keep it simple? Then, the ultimate contemporary choice of cabinetry is… drum roll please, slab. You can't go wrong with a flat panel and a handle, right?
The best bit about the slab style units is that you can fully personalise them and bring your dream kitchen to life. Think gloss, matt, or metallic finishes, in a multitude of shades, embellished with chunky handles or dainty knobs.
Do you want to go dark and rustic? Or bright and pastel? Your choice.
Slab doors are especially ideal for Scandi-style kitchens or minimalist aesthetics, as they offer a clean, uncluttered look. My favourite way to take it to the next level is to play with the finer details such as handles, lighting and even shelf brackets.
Still don't know which kitchen units are right for you? Take our quiz here to find out.
About Post Author