"When we bought this property six years ago, it was more of a collection of buildings," explains Carrie Marks, a trained physiotherapist and stay-at-home mum.
"An ugly 1960s extension had been constructed to connect the old pub and estate cottage to a barn. It had been in the same family for 70 years and had begun to fall into disrepair."
Together with her husband Guy, the chief executive officer of an advertising company, Carrie envisioned how she wanted the reimagined property to flow. "The layout was higgledy piggledy and it didn't work as a family space."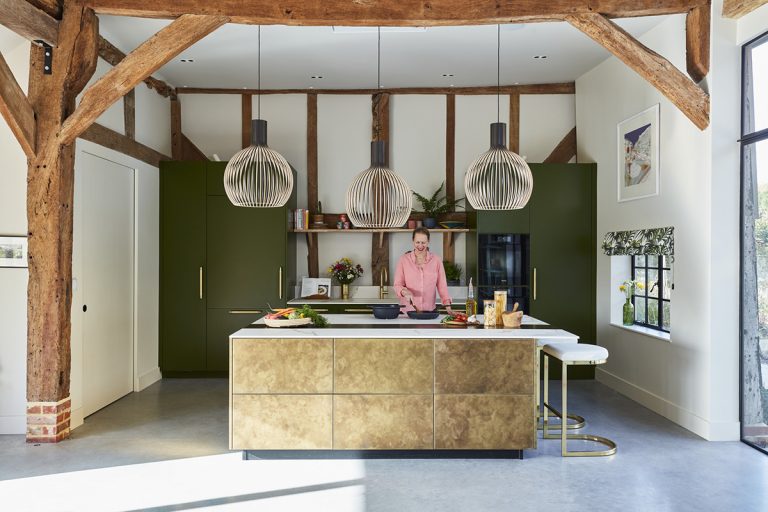 After completely reimagining the space with the help of an architect, the couple turned to designer Rhiannon Phenis at Sola Kitchens to help create a modern kitchen.
First up was deciding the cabinetry style and colour – which you would have been forgiven to think was inspired from outside. In fact, the couple had a large painting of their three children, filled with greens and pinks and gold, which they knew was going to hang on the far wall of the kitchen.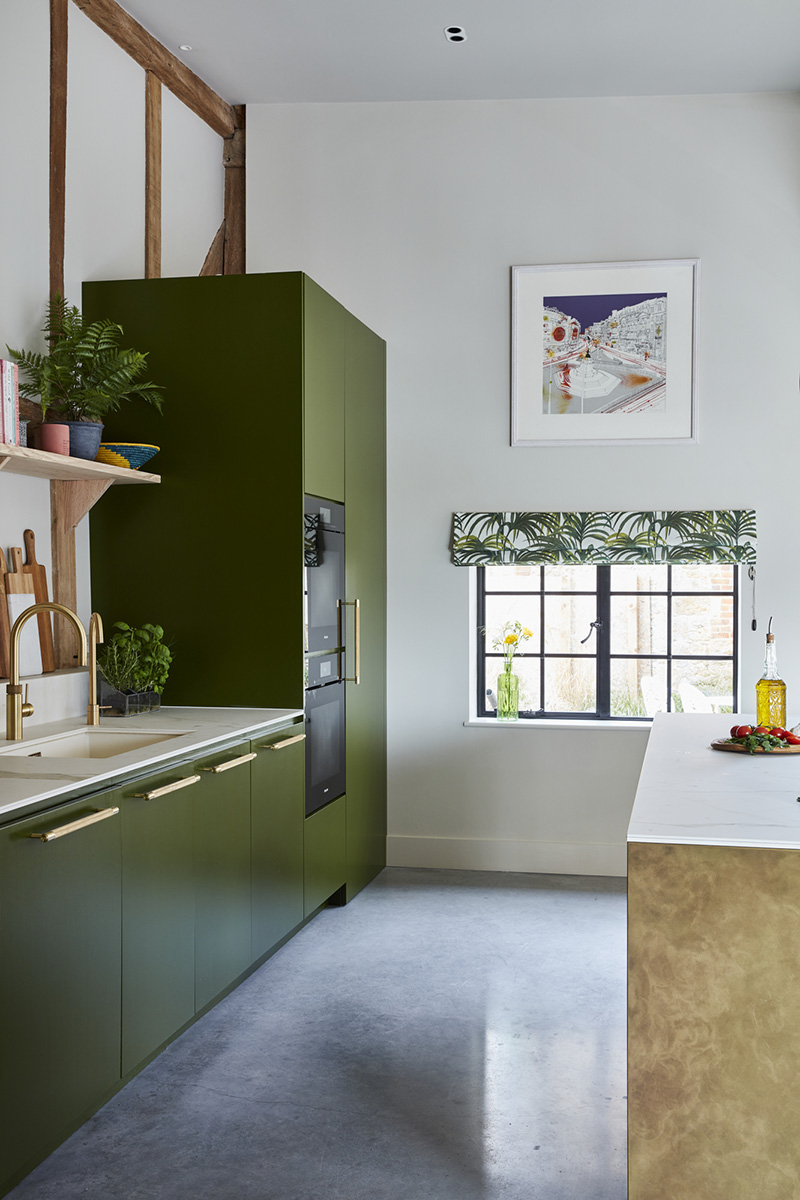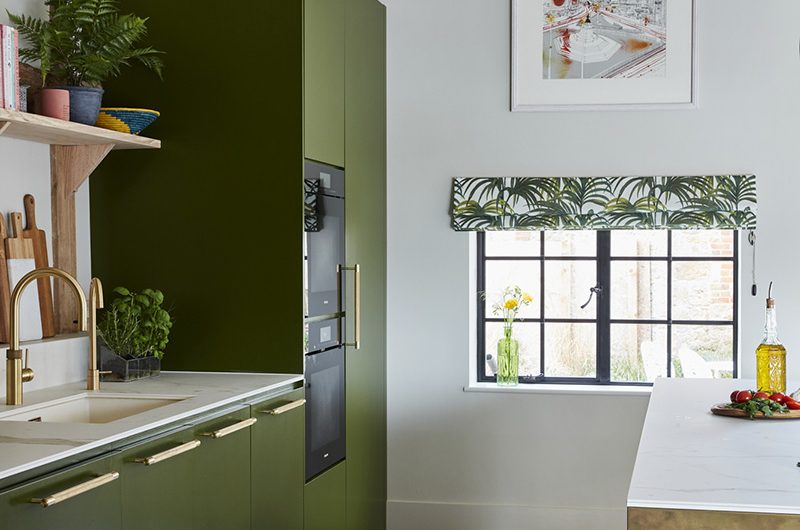 "I suggested green, which I didn't have a lot of support for – Guy calls it army green – I decided to go for it in the end.
"Once we had agreed on the cabinetry being green, I knew I didn't want chrome anywhere," remembers Carrie. "I made sure everything had a brass finish, even choosing to have the chrome wastes plated in brass.
"I felt there were enough beautiful features thanks to the heritage of the house, so that we could be more daring. And it was important that it didn't look too kitchen-y."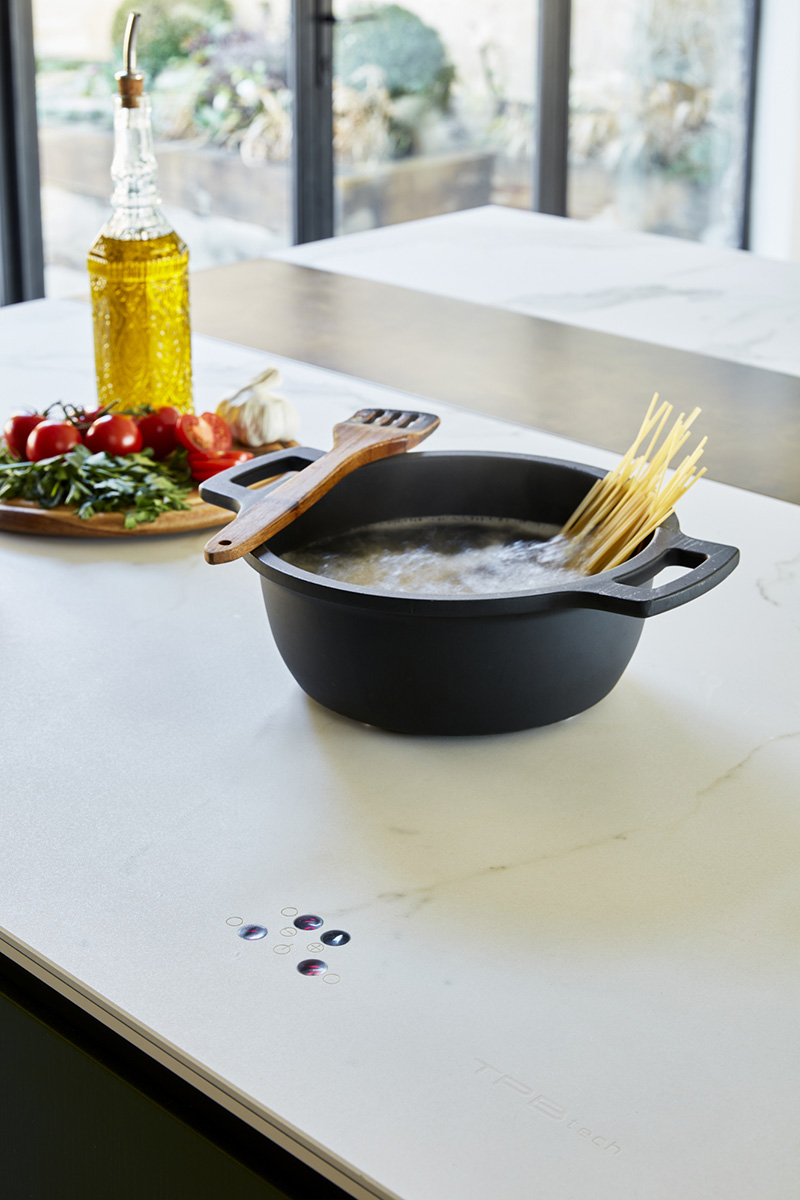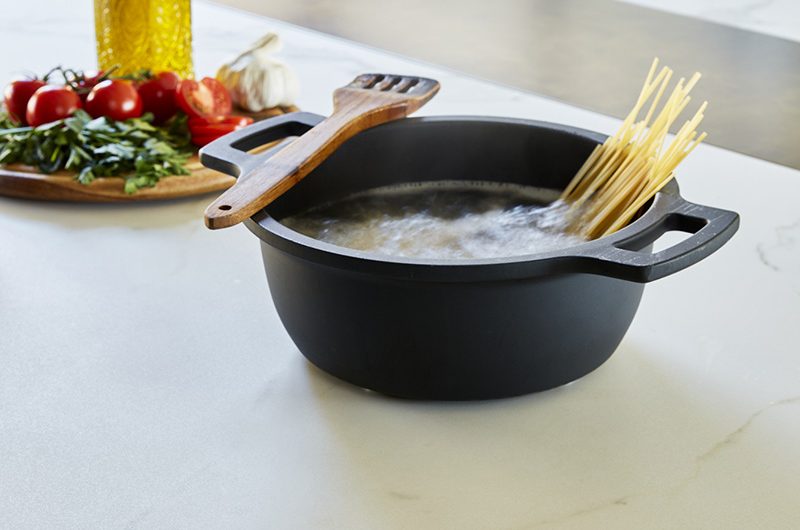 Now on to (one of) my favourite parts of the kitchen. On the island, an 'invisible' hob has been integrated into the worktop; above, a ceiling extractor has been tucked behind a beam, which gave rise to a feature Carrie now loves: as there was a maximum possible width for the hob's work surface, an inset brass strip was added to preserve the island's size.
While it began as a practical decision, it serves to break up the expanse of white worktop, softening the look.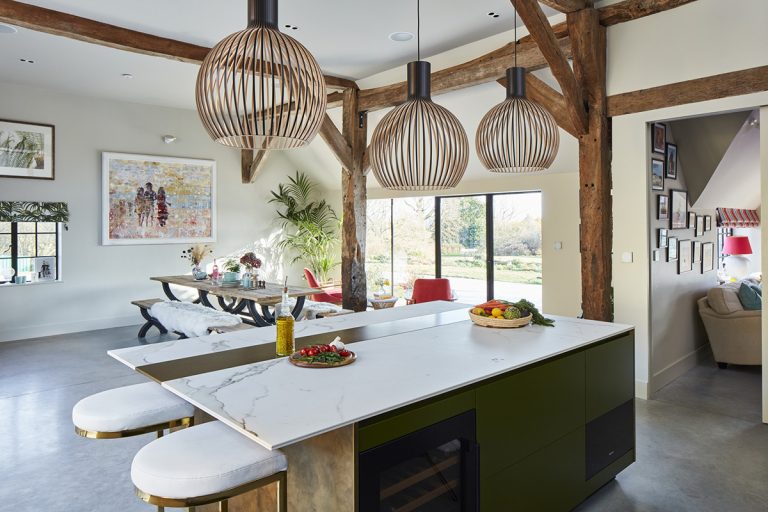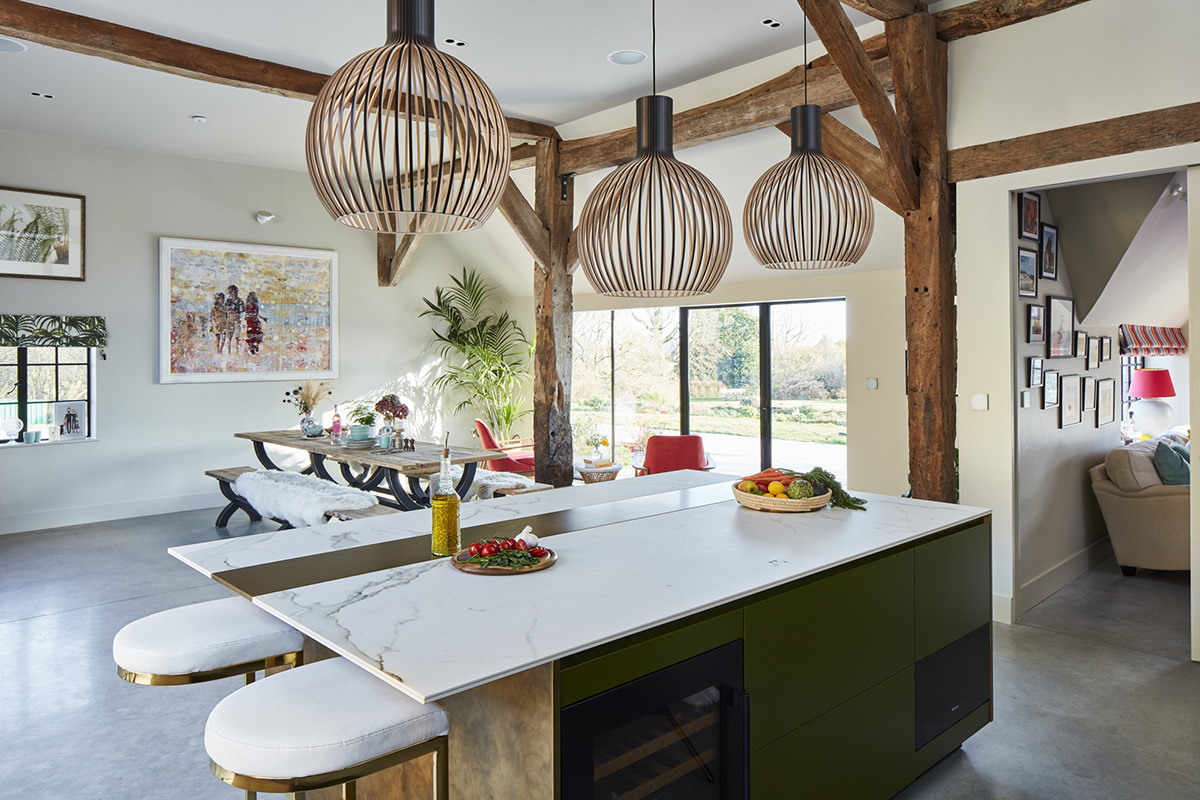 However, the kitchen's concealed features don't stop there – behind one of the green cupboard doors, for example, there's a hidden pantry which acts as a second kitchen. "We store the bulk of the food and Tupperware in there, plus there's another dishwasher, coffee machine and toaster," reveals Carrie.
"As Guy and I like to entertain family and friends, it's great that we can just shut the door and it looks like a normal kitchen. There's a whole room hiding behind where we can squirrel away the mess." A clever move, if you have the space!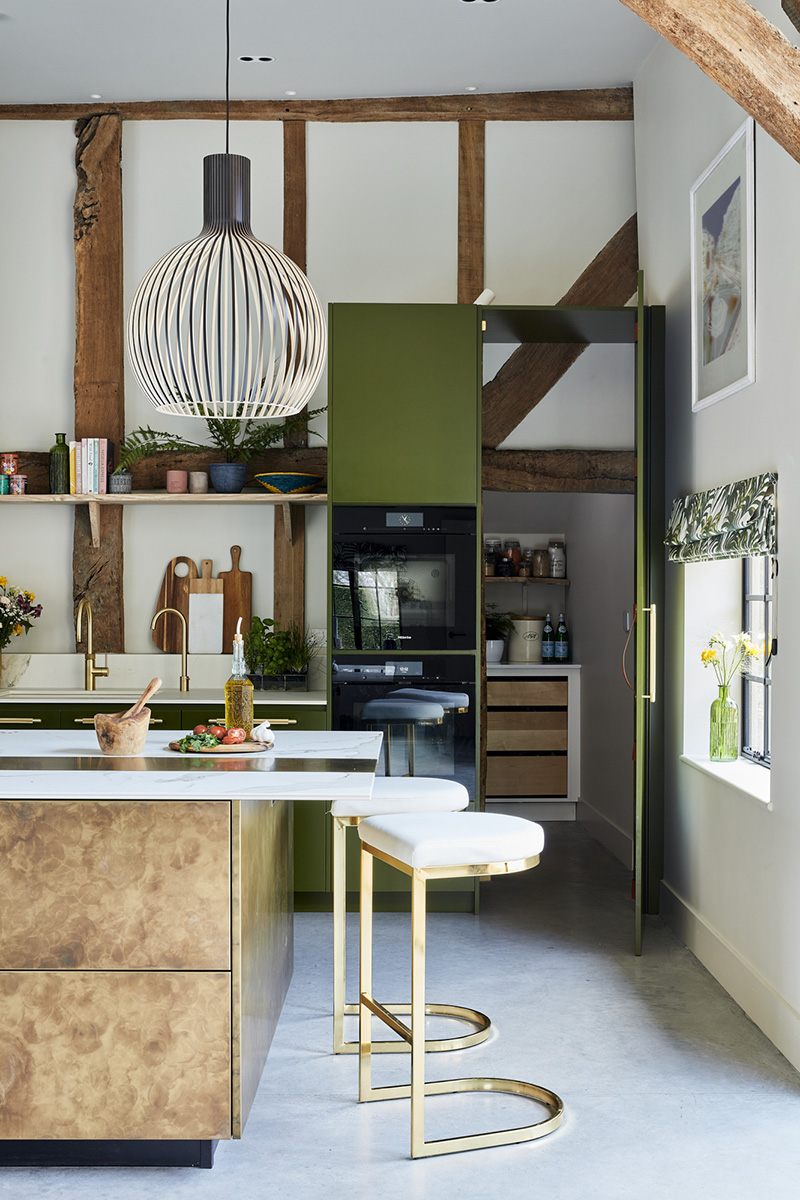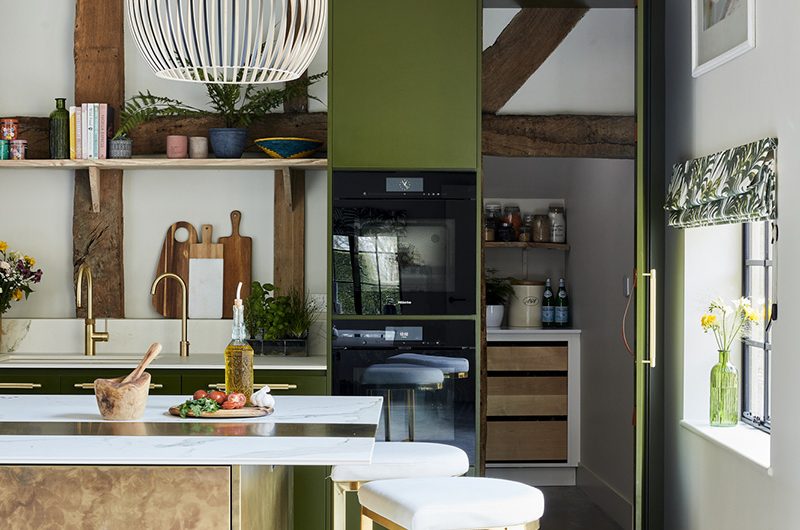 With a playroom for the children on one side and a large dining table and benches for relaxed dinner parties placed by the expanse of glazing, the stylish kitchen is the light-filled, beautiful space that Carrie and Guy imagined it could be when they viewed the uninhabitable buildings years earlier.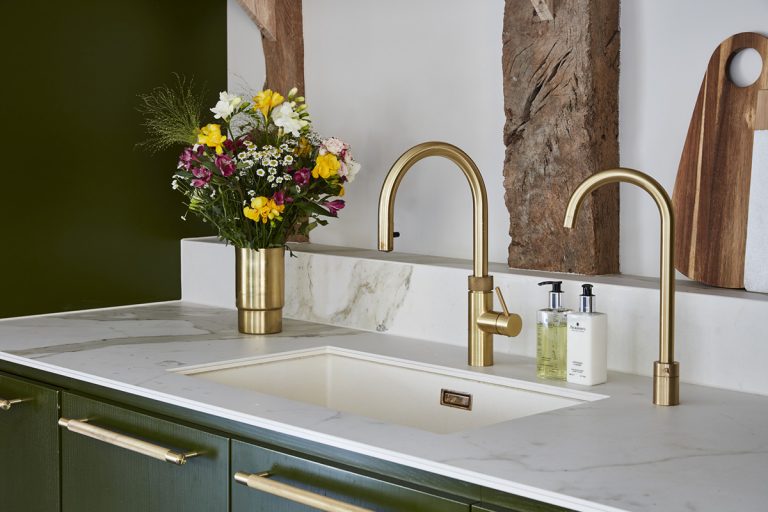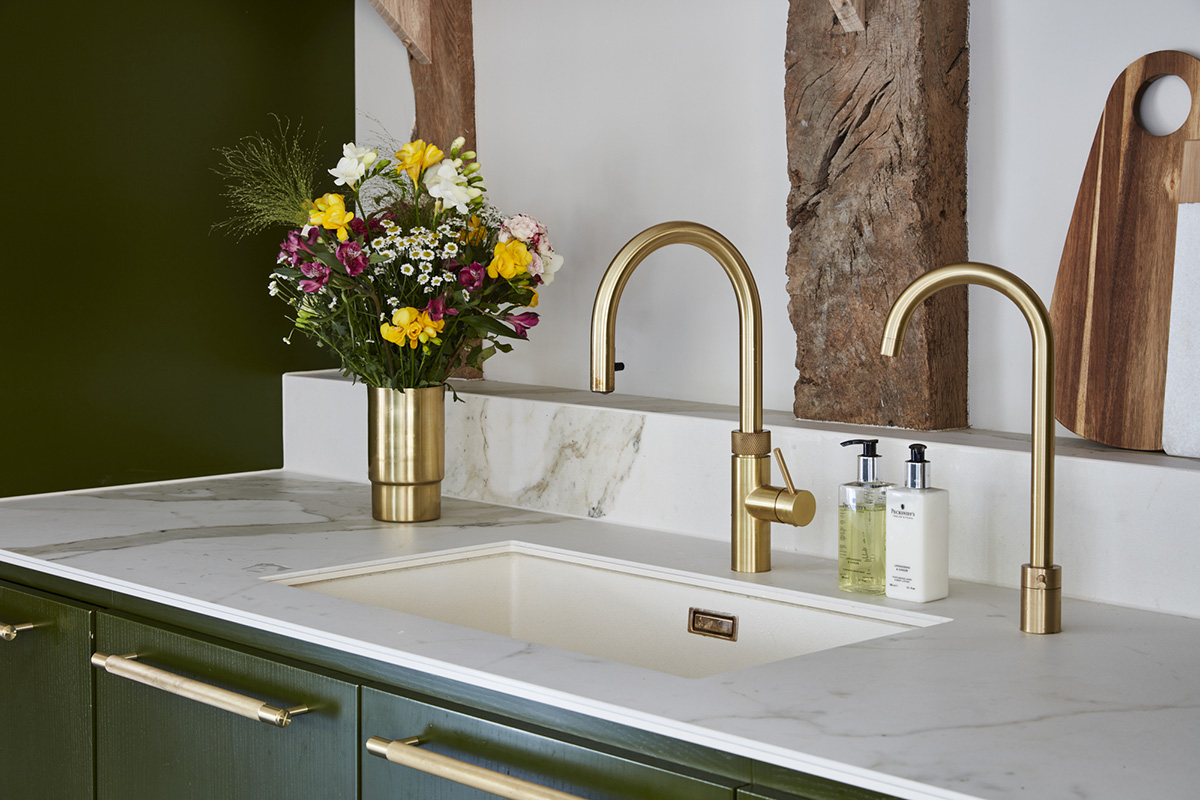 "The kitchen is where we spend nearly all of our time. I'm glad that we've been able to maintain the gorgeous brickwork and beams, but the decision I'm most pleased with is that I went for the green and brass colour combination and stuck to my guns.
"I love the kitchen in every way." So do we Carrie, so do we.
Featured image: Carrie loves the design by Sola Kitchens.
Photography: Chirs Snook Styling: Jess Traverner
As originally told to: Rachel Ogden
About Post Author