Green kitchens are gorgeous: we're talking emerald, mint, lime, sage and so much more. I love this fresh, natural colour in all its shades and tones. I'm even thinking about how I can include green in my own home renovation, so you can imagine my joy when I saw Manisha and Sumit's green kitchen project (above). The cabinetry is so dreamy and on-trend it just had to be a KBB Magazine cover feature. Plus it's gone straight onto my moodboard for when the time comes to plan my own kitchen.
Green kitchens are so on-trend right now. It's fair to say that black and navy kitchens have been a hit in recent years, confirmed by my Instagram feed, and probably yours too. But if you're after something a little bit different, it seems that anything from dark fir to sage green could be the current trend.
However, you can use green in the kitchen in many ways. It's dramatic and luxurious in its darker iterations, but modern and bright in its paler shades. So I've collated a look book here to inspire you.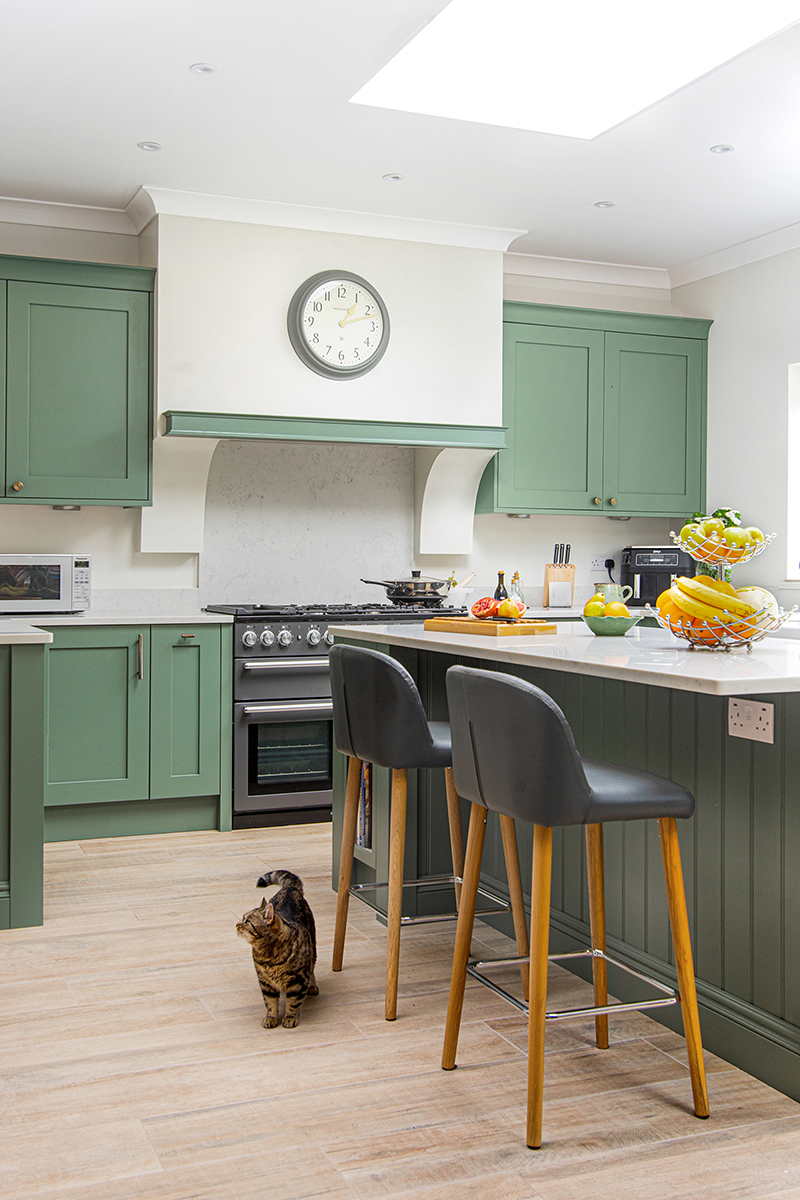 Sage paired with wood
Sage green will work perfectly for a timeless and classic look, such as in this kitchen from Laura Ashley. And it's best to complement it with natural tones – for instance, I love this colour paired with natural wooden worktops and flooring.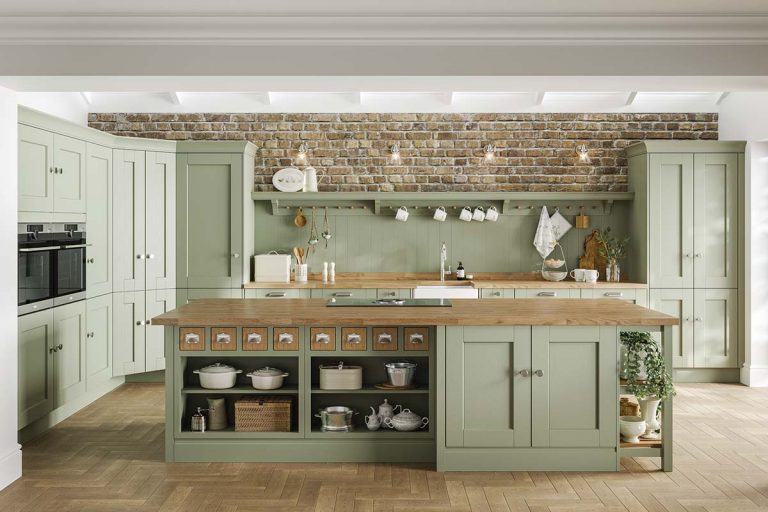 More serious renovation inspo
Mix and match textures and colours and pair with vintage furniture for a modern-eclectic look. This stand-out concrete-topped island in raw plywood complements the dark green cabinetry beautifully.
This cleverly designed larder cupboard is perfect for a more compact space. The moss shade on the tall cabinets with the wood tones creates a really natural and calming feel.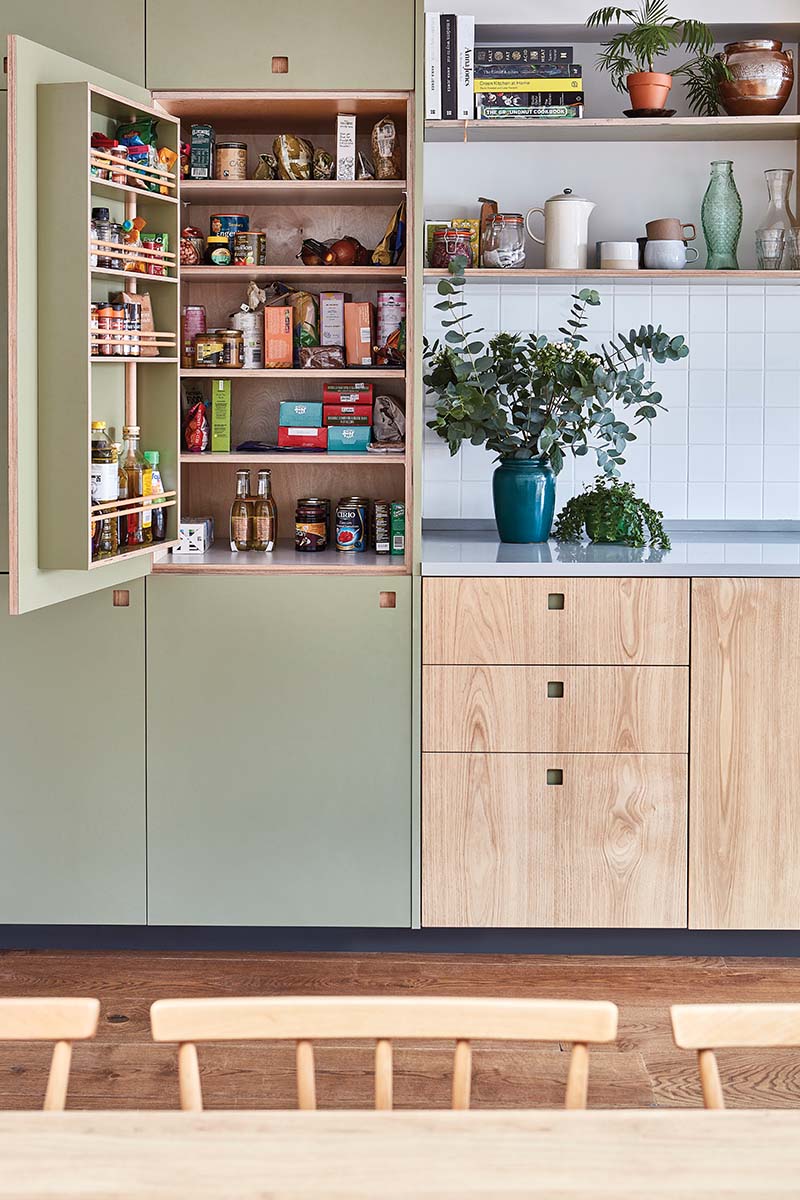 For a contemporary take on a classic kitchen try using two tones. The mint green on this island contrasts perfectly with the deeper tones of the cabinetry, brightening and lifting the kitchen while also making a statement.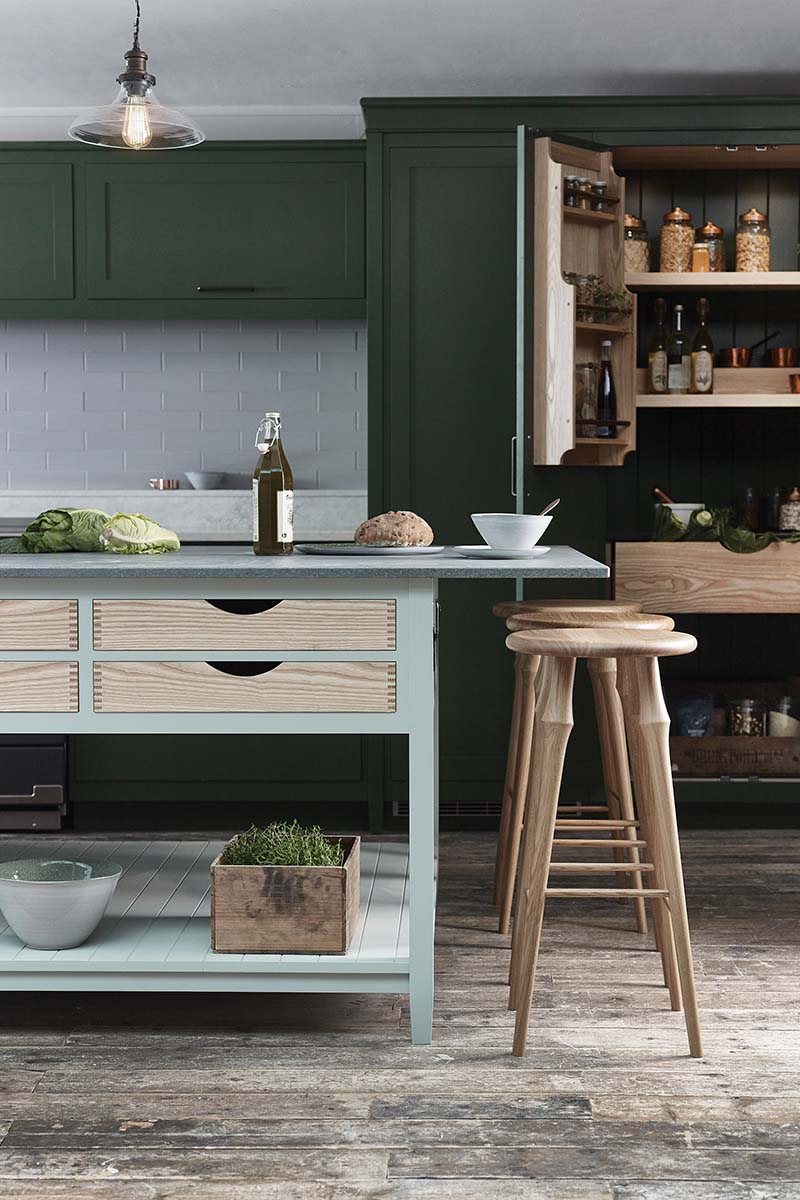 Yet more green kitchen inspo
The owner of this Second Nature L-shaped shaker has gone all out green, starting on the cabinetry then continuing the colour onto the walls. Because this is broken up with the light marble splash back and worktop, it really makes a statement.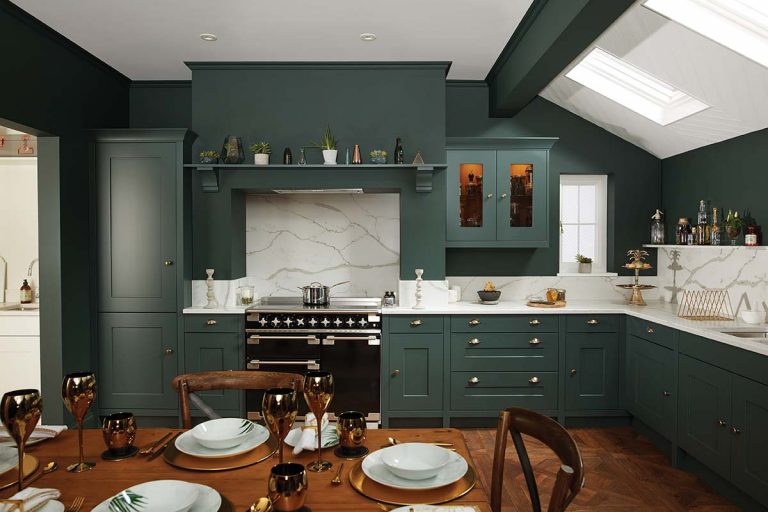 If you love dark green kitchens, then here are even more
Simple moody green cabinets, mixed with terrazzo tiles and black-framed glazing, help create a traditional but still contemporary look.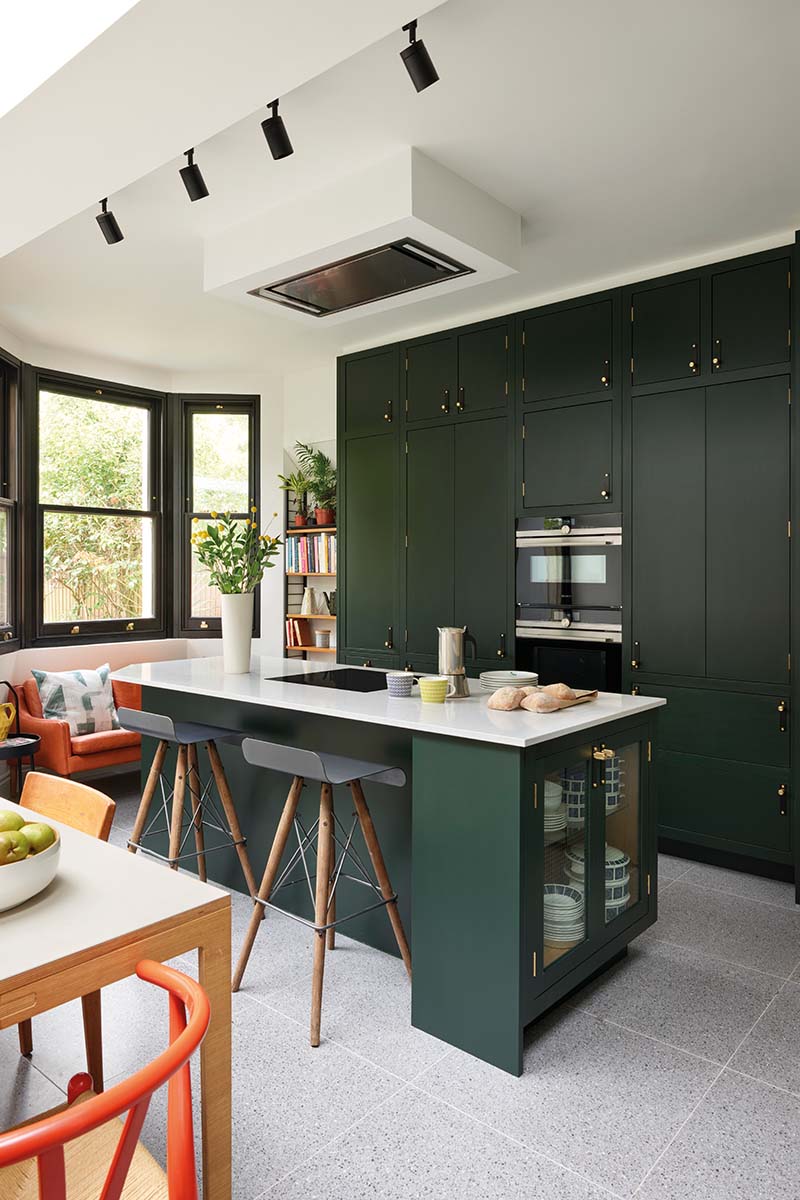 Brass hardware gives green kitchens a luxe feel
If your dark green kitchen is missing the wow factor, then why not complement it with some exquisite brass hardware?
Teal is also a very popular kitchen colour
Some might call it blue, others green or perhaps a mixture of the two, but whichever category it falls into, teal is gaining popularity as a kitchen colour trend too. It creates a slightly fresher feel to some of the deeper green tones. We love this Blakes London kitchen.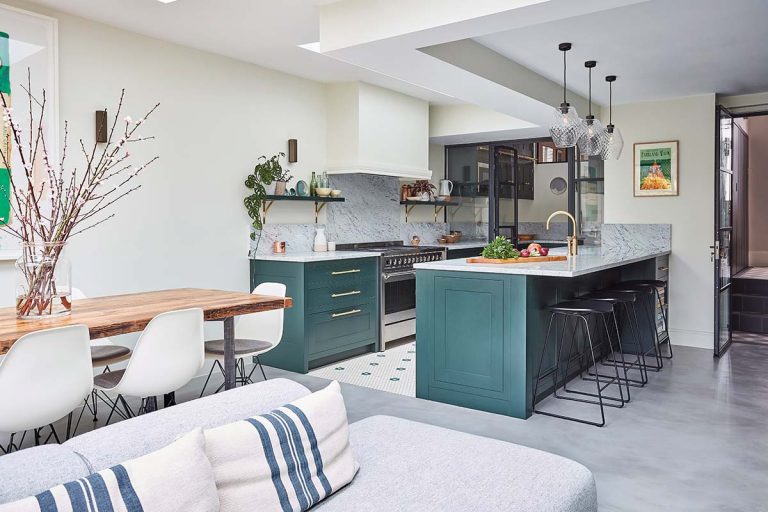 Aqua tones are so bright and refreshing
This cabinetry here is painted an aquatic blue-green, which is then complemented by lighter tiles in a similar shade.
Why not add greenery to your green cabinetry?
Gorgeous kitchens in light green tones
For a light and airy space opt for the lightest tone of green like this classic Tom Howley kitchen, teamed with light marble worktops and chrome accessories.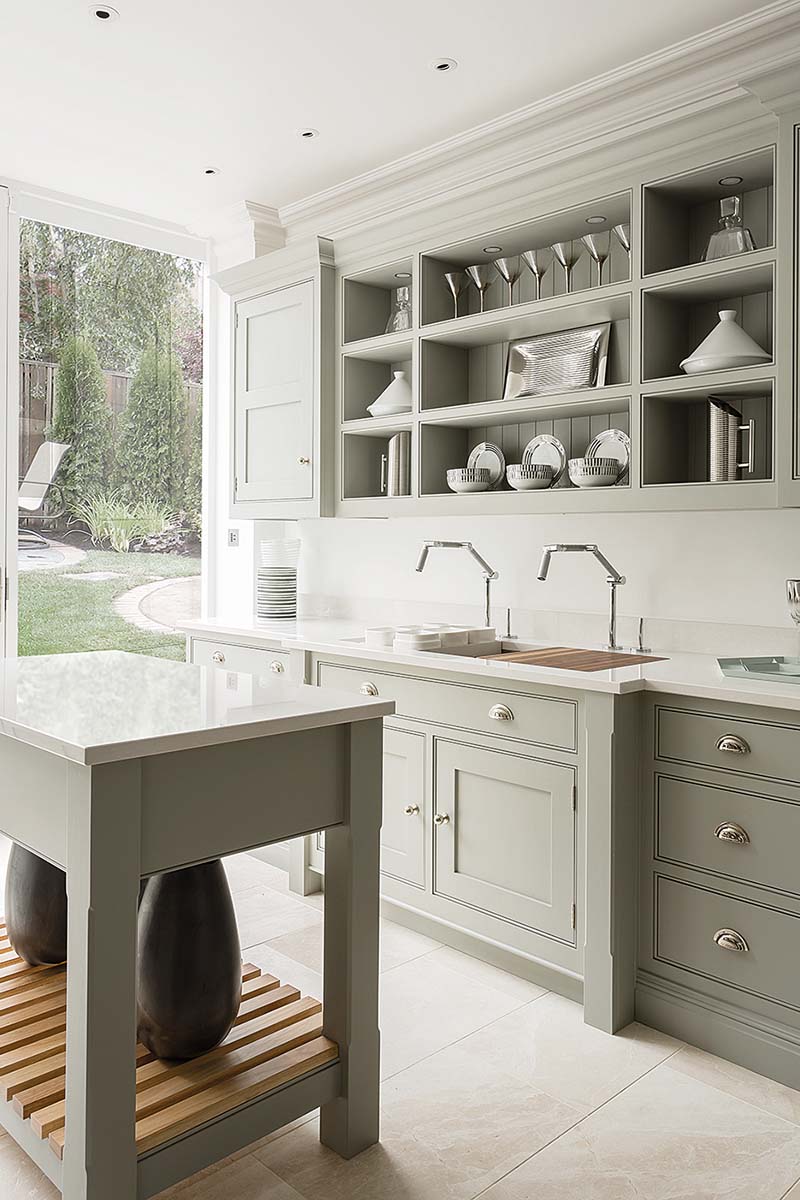 Why not try a spritz of lime?
Lime green is so fresh and will brighten up your home, especially when paired with similar-coloured accessories.
Industrial-style kitchens
For a contemporary style try handleless mid green cabinets with gunmetal grey and pops of bronze. I love this multifunctional wall with integrated ovens and coffee machine from Smeg.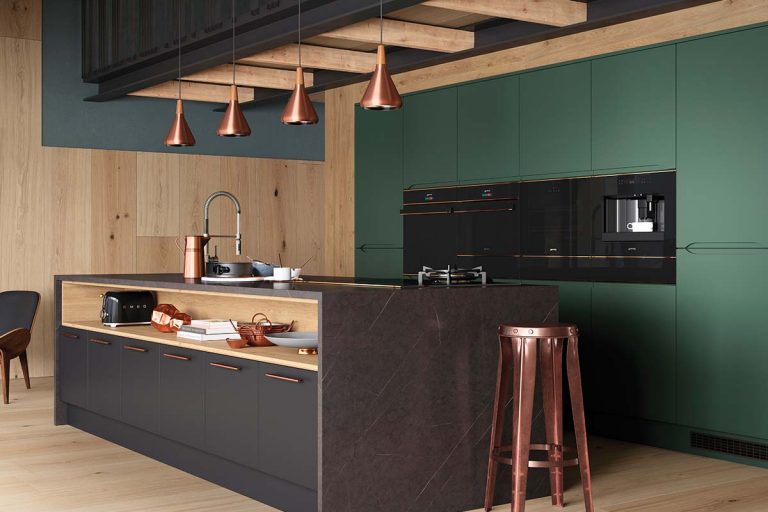 Featured image: Manisha's unique kitchen is so gorgeous and has elements that are both modern and traditional. Kitchen design by Day True, photography by Chris Snook.
This feature was originally written by Hannah Talmage. It was updated in 2022 by Ariane Sherine.
Want more green kitchens? Here's Lindsay's feature on dreamy sage kitchens to add to your moodboard.
About Post Author