I know. When things drag on or there's a hiccup, keeping that renovation motivation going can be tough.
When your project starts, you're filled with excitement, ideas and can't wait to get going. Then there's the seemingly endless research, getting quotes and lead times. Not to mention time on site if you're having major work done. It's all worth it in the end, I should add. I repeat: it's all worth it in the end.
The waiting game can be a long one, but keeping renovation motivation alive and well can be done. I know this because I've seen the wonderful results of so many persistent renovators. They say that despite hiccups or curve balls along the way, the finished space is worth it ten times over. Just look at our Real Projects section.
I decided to ask a few of These Three Rooms' interiors friends, design experts and those in the know for their tips on staying motivated. Plus how to use any time found due to delays wisely.
So, if the renovation motivation is waning – read on. You'll feel raring to go by the end of this blog, promise.
"Take A LOT of before photos"
There's joy in looking back
Julia Alexander of Julia Alexander Interiors (@juliaalexanderinteriors) reckons there's joy in looking back at how far you've come. I think she might be onto something. "Take lots of before photos. Not only will it help you stay motivated so you can see how far you've come at each stage. But they are very useful for before and after comparisons. Stand in the centre of each room and take a few 360 degree before photos from that spot and you should cover all angles," she says. "Make sure to file them by room name otherwise you can easily confuse empty spaces that all look similar!"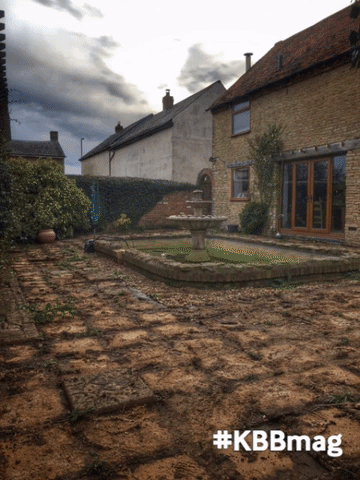 Maintain renovation motivation by taking a break
"Take a break!"
"When motivation is running low, take a break from the day-to-day renovation, and take a look at the inspirations or the idea of the finished interior, to remind yourself of the reasons behind all of your hard work – it will be worth it!," interior designer Louise Bradley told me. "Another good tip is to switch between tasks – it's only natural to lose motivation when you've been at a particular task for too long."
"A wobble is natural"
Jordan Cluroe and Russell Whitehead at 2LG Studio know a thing or two about creating beautiful room schemes. With so many projects under their belts, they say: "Renovations can be dusty and messy. Stress levels can be high and many decisions have to be made. Take time out to look after yourself and reconnect in the difficult moments with what your original plan was. It is totally natural to have a wobble in any renovation. This is something we have written about in our new book, Making Living Lovely."
Remember why you wanted to renovate
"Remember why you wanted to make a change and know that you will get through it. it can also help to do something that makes you feel back in control, whether that means picking up the stripping knife to take down some wallpaper or picking up some flowers to give you a moment of joy in the dust. Whatever makes you feel good."
"It's all in the planning"
"Renovations, no matter how big or small can be overwhelming especially if you are doing the works yourself or are living in situ whilst works are being carried out," says Charmaine White, who is the lead designer at The White House Interiors. "The key to staying motivated throughout any renovation project is all in the planning. The more time you can spend at the beginning planning, scheduling and budgeting the smoother the process and thus the outcome is going to be."
"Keep the back-up plans moving"
Use your time wisely
Anna Rump of Amelia Rose Media thinks using the time spent waiting for a renovation to get to the next stage to plan, plan and plan is the best way. "Get back-up plans in place: how to cook with the kitchen out of action, how to wash with bathroom out of use, for example. Make moodboards or lists of colours, schemes and furniture needed. That's what I would do!"
"Refine your wishlist"
Waiting for the next stage of the project to happen or still stuck in the early planning phase? Regain renovation motivation by Post-It noting to your heart's content, says Sophie Langley a friend of These Three Rooms and freelance PR.
"Stick them up every time something annoys you. Clutter on the stairs, people standing in front of the dishwasher to make coffee, taking the broom upstairs to sweep the bathroom or piles of mail on the countertop? Little niggles are like relationships – if you let them build up, you'll become more frustrated. After a week, turn the list it's in to a to do list and transform the problems into solutions." Voila – I like. This seems really positive and decisive, right?
"Retreat to Pinterest"
Rebecca Hunt, owner of Suna Interior Design, knows a way to my heart. A Pinterest scroll does wonders for the creative mind and certainly gives me the oomph to get going on ideas.
"Gather loads of ideas and then narrow down to a coherent design and a palette of preferred finishes so that when you do start looking for suppliers, whether it be for kitchen bathroom or bedroom," Rebecca says.
More on renovation motivation
"Remember why you started"
One from me. Even when the renovation motivation levels are low, you know you started this process for a good reason. Be that to boost space for the family, get the kitchen you've always dreamed of, create a relaxing bathroom to escape to at the end of the day or simply to make your home work better for you.
Remember the reasons for beginning this crazy process in the first place and keep those front of mind. I promise it will be worth it at the end.
Featured image: Jessica Lewis @thepaintedsquare
You may also enjoy: How to use social media to find inspiration.
About Post Author