There's absolutely no convincing Jane Woof, an interior designer who has renovated her own kitchen in Colchester, to consider different options for her space – none at all. And I like her immediately. Right down to the smallest details, she spent months meticulously planning a large extension to the side of the Georgian-style four-bedroom detached house, ready for her dream kitchen, utility, boot room, cloakroom and new hall. Sounds nice doesn't it?
Jane tells me the main thing she wanted to achieve was a large, light space with plenty of room for walking around and better flow with the rest of the house. Hello, extension. She also wanted a large island, plus a giant double-door fridge-freezer and lots of storage. "Building an extension created room to improve the flow through spaces and also gave me the opportunity to have the large, light and airy kitchen I'd thought about of for years," she says.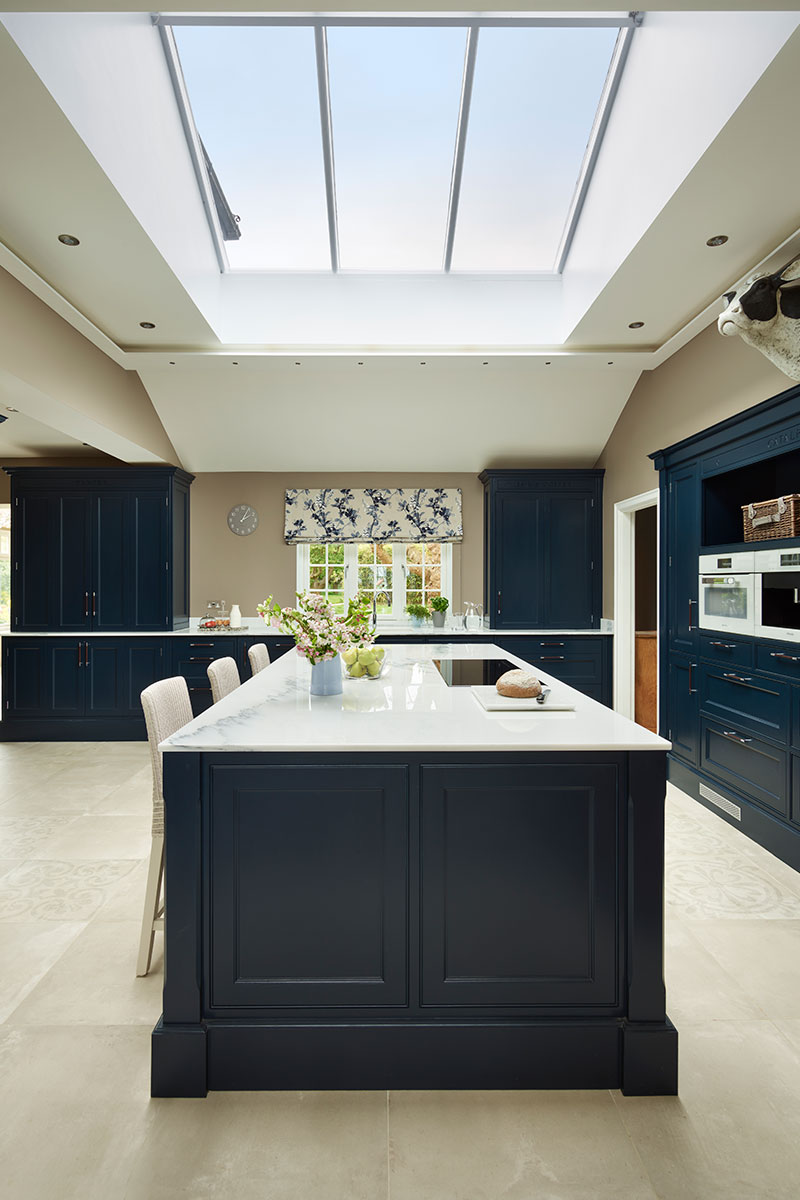 What I admire about Jane is that she didn't want to compromise on anything. She knew exactly what she wanted, so was willing to spend her budget on getting exactly that. Of course, this likely meant that costs were higher than, say, if she'd shopped around for alternative ideas. However, with such a clear vision, the direction was perfectly set out – very decisive indeed.
"This did mean the project as a whole took longer than first expected – ending up being a year in total," she says. "I was totally comfortable with all of my choices."
The gorgeous skylight shines light on the kitchen island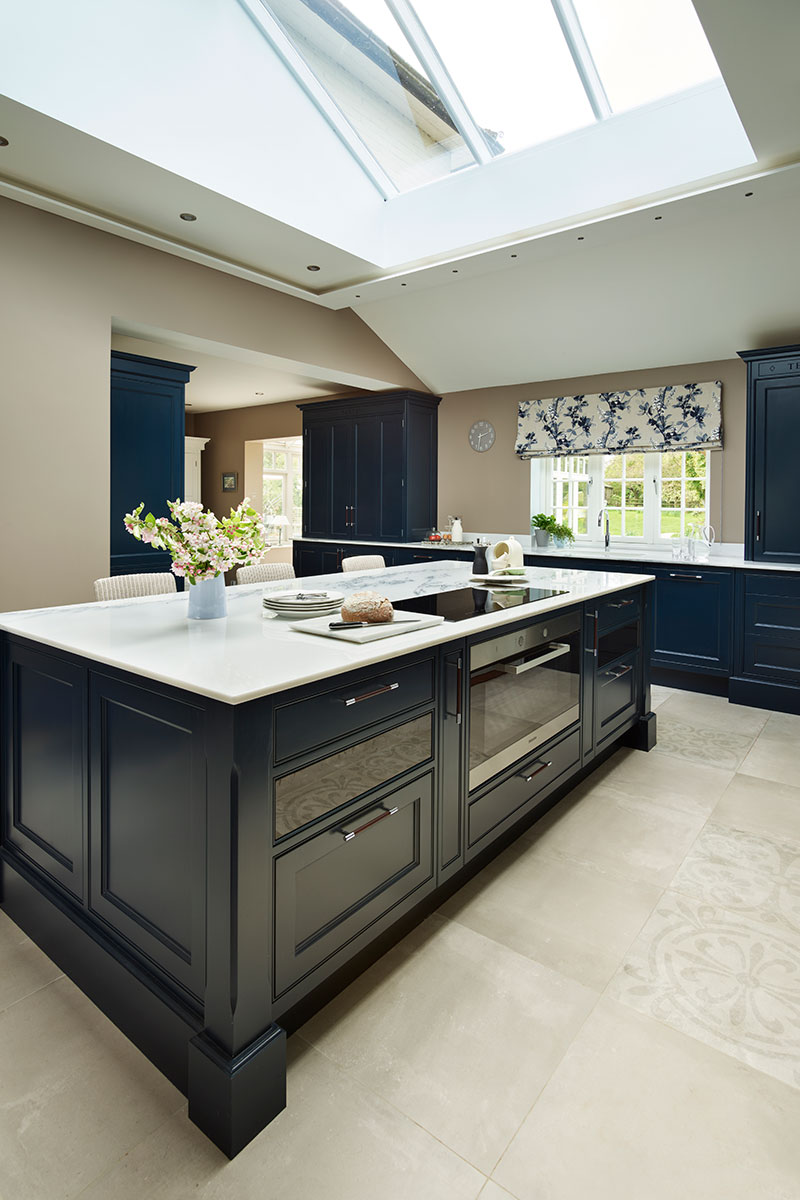 I ask what inspired the colour scheme. "I've been a fan of grey for a while and often use it in clients' homes. But when it came to choosing a colour for my space I decided I was all 'greyed out'. So I wanted something bold and different that would feel new. Plus, with two black Labradors, white was out of the question."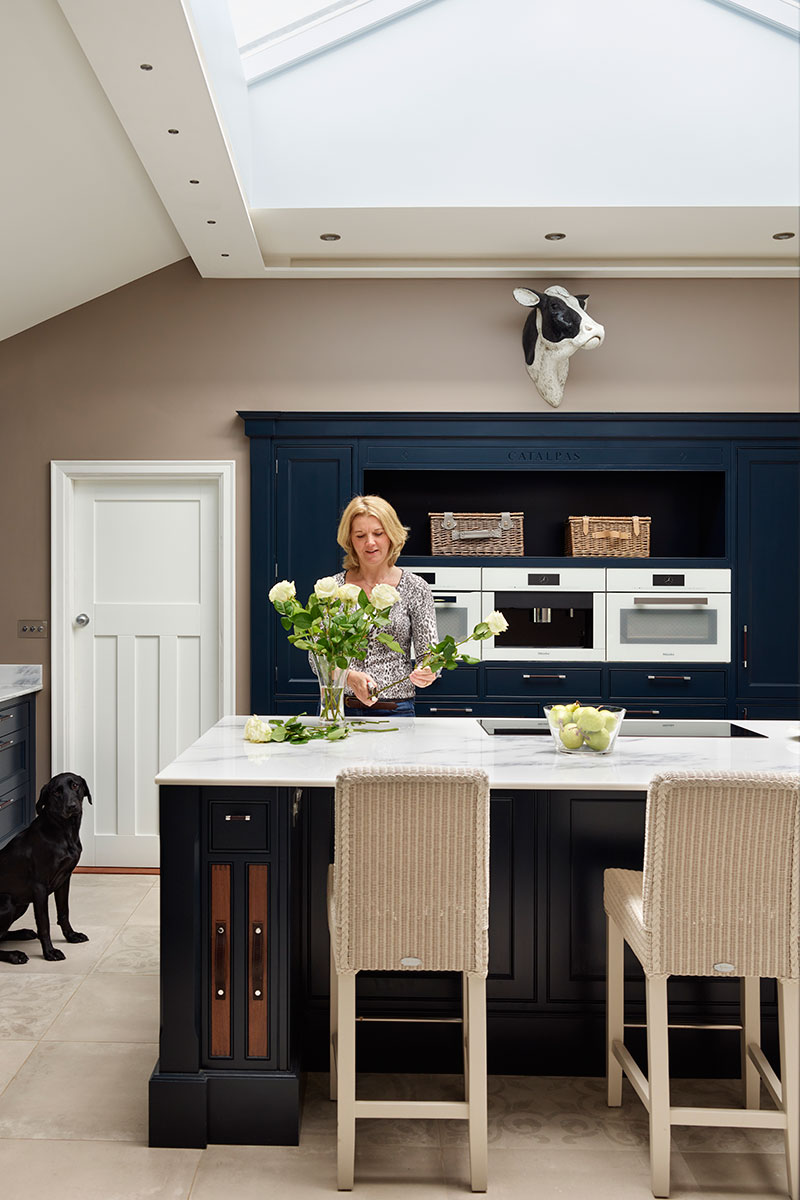 At first, Jane thought she would have different shades on the island and wall units. However, she found it tricky to find complementary colours to work with the white marble worktops she was adamant on. So she went for one statement shade instead – and what a result.
"I love how the dark blue contrasts against the marble," she explains. "For the cabinets, I wanted a bespoke French-style door with chunky mouldings for a look in keeping with the era of the property. But I added leather and chrome handles for an up-to-date twist."
The row of three ovens is perfect for large-scale entertaining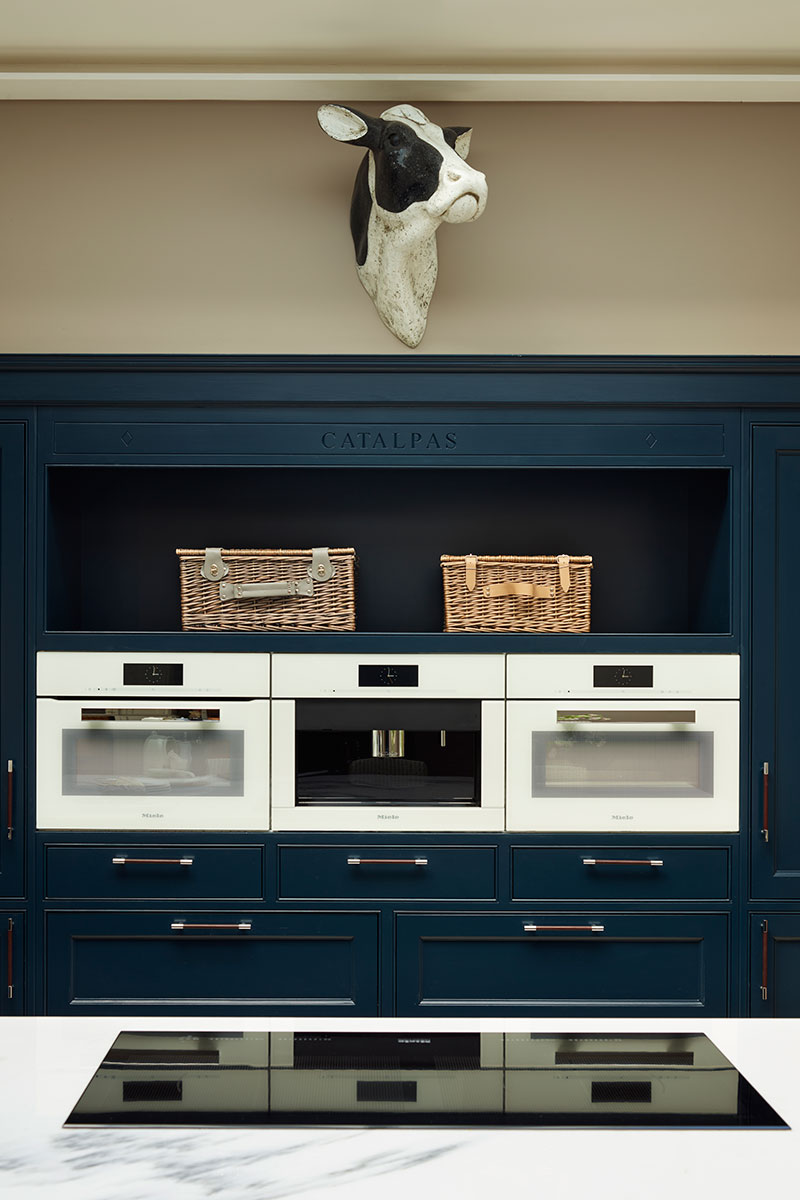 Thanks to the large extension, there's plenty of space to play with. So when it came to the layout (as well as Jane's plans for a big island), she needed some help. She drew up her ideas on a plan and then went in search of a kitchen company who could take her thoughts to the next level.
A friend recommended Richard Davonport at Davonport and together they came up with the ideal solution for the large extension. One side of the kitchen space would be designated for cooking and the other for socialising. "I left the layout up to Richard and told him I wanted to include a row of ovens behind the island. It took six or seven attempts before I was sure the design was perfect and I even asked for line drawings instead of computer-generated renders so I could see every detail, including skirtings and mouldings."
The navy blue kitchen cabinetry is just so exquisite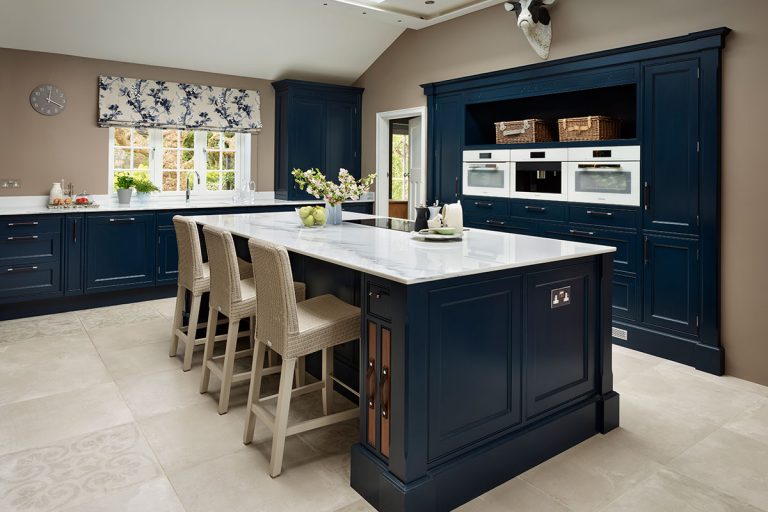 The island heavily influenced the design of the layout and includes the room which housed the old kitchen. This is now used for additional storage and appliances, including the large fridge. The latter wouldn't fit in the main space without imposing on the design.
Being in Jane's home with its large extension feels very welcoming. Although new, the kitchen feels like a well-established part of the house and as though it has been there for years. I think this is largely due to the careful attention to detail. Jane ensured designers crafted each architrave, moulding, door and drawer front with a classic finish in keeping with the property. Even the pantry has its name carved into its front, alongside the cold store. They say the devil is in the detail, and it really pays off.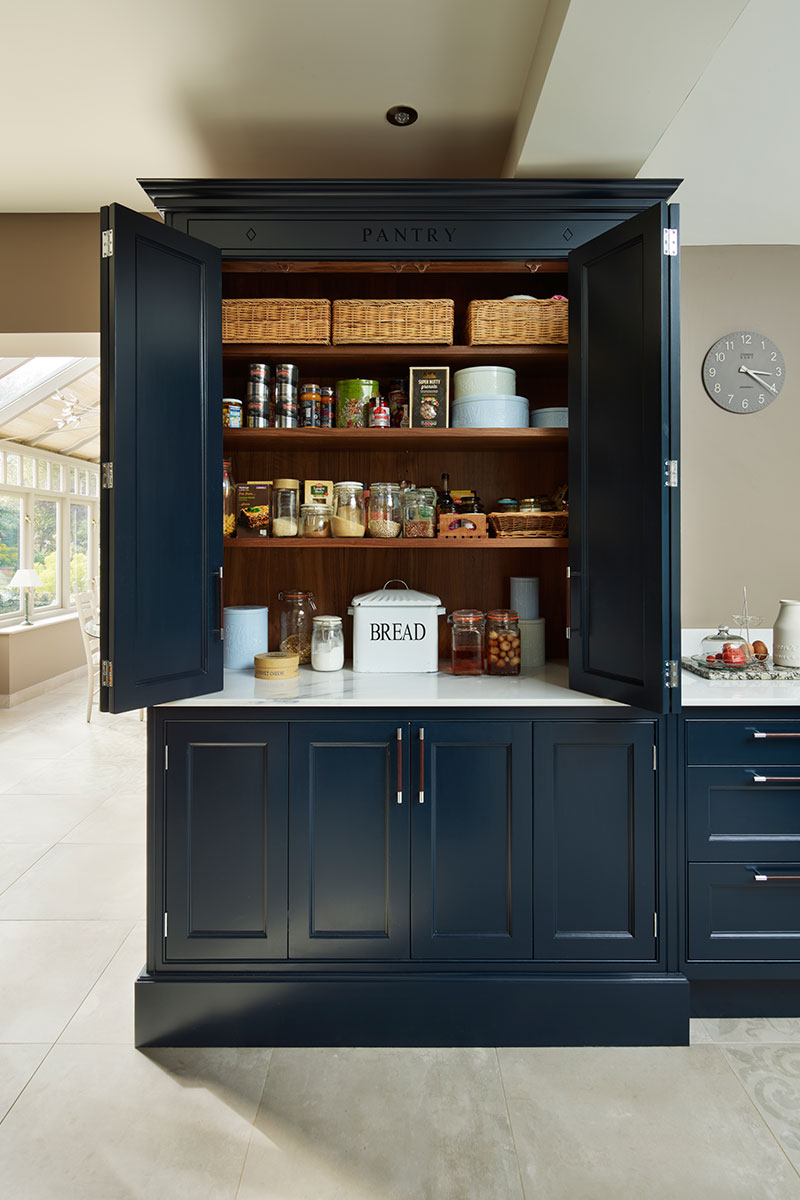 The stunning drinks cabinet holds glassware and bottles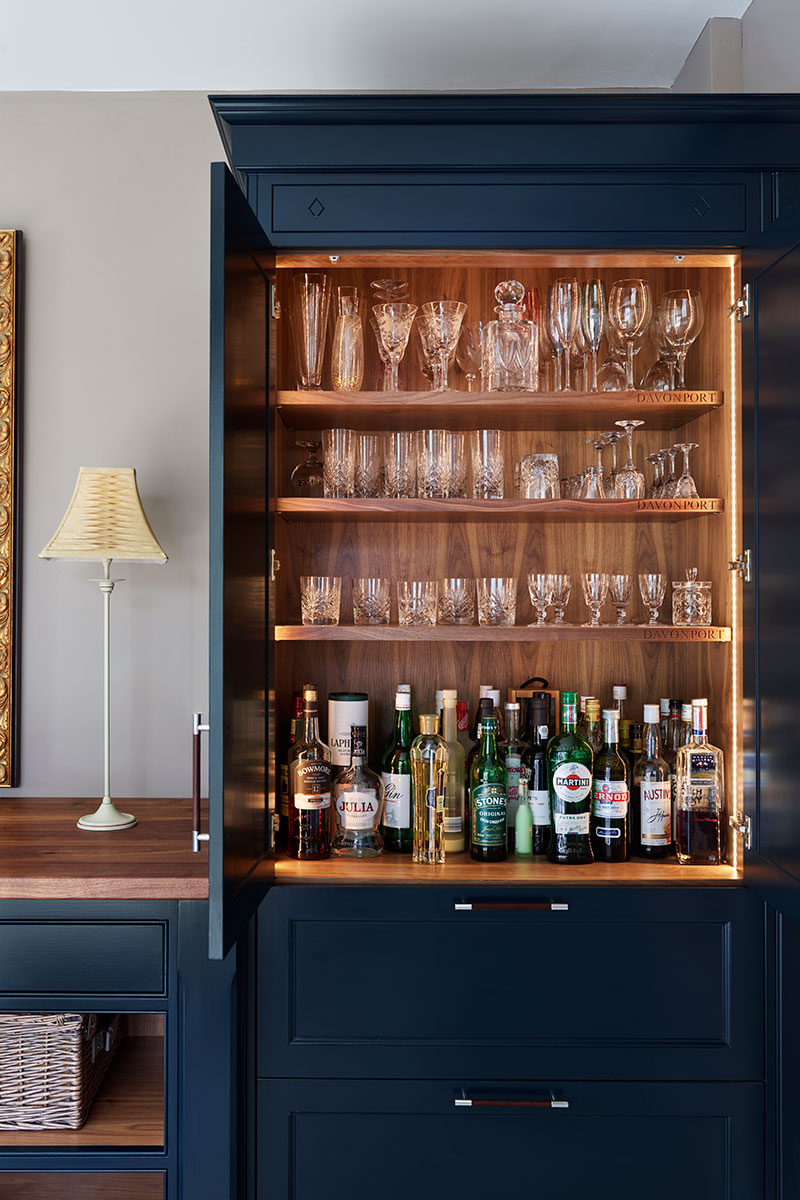 Before I go, I ask Jane, "Any regrets?" "No regrets," she replies, "I'd encourage anyone renovating their kitchen to spend lots of time researching and to not compromise on anything they want." Well said, Jane. I couldn't agree more.
Photographs: Darren Chung
So did you love this large extension as much as we did? Then check out inspiration gallery: modern kitchen extensions.
About Post Author