Want to know the new craze in WCs? Well it's shower toilets. Yep, if you haven't seen or heard of this latest innovation, let us introduce you to the toilet that offers WC and bidet functions in one, with technology to boost cleanliness, ease of use and eco benefits – sounds good.
To find out more about what this latest bathroom design is all about (and why you need to keep it on your radar), we spoke to bathroom manufacturer VitrA to find out all you need to know about the future of the humble loo. And we asked all of our burning questions.
Oh and if you already have a shower toilet in your bathroom, scroll down to the bottom as we'd love to hear how you're finding it. VitrA will donate £15 to your charity of choice in return for you sharing your shower toilet feedback.
Onto those questions…
What is a shower toilet?
A shower toilet (sometimes also called a bidet toilet or a washlet) combines the functionality of a standard WC with the cleaning properties of a bidet.
In its simplest form, shower toilets work by spraying a gentle stream of water which can be turned on and off either by a button or a handle.
Certain designs, for example the VitrA V-Care model, offer additional features, such as front and rear washing as well as being able to alter the position of the water jet, the water temperature, and drying intensity to suit personal preferences.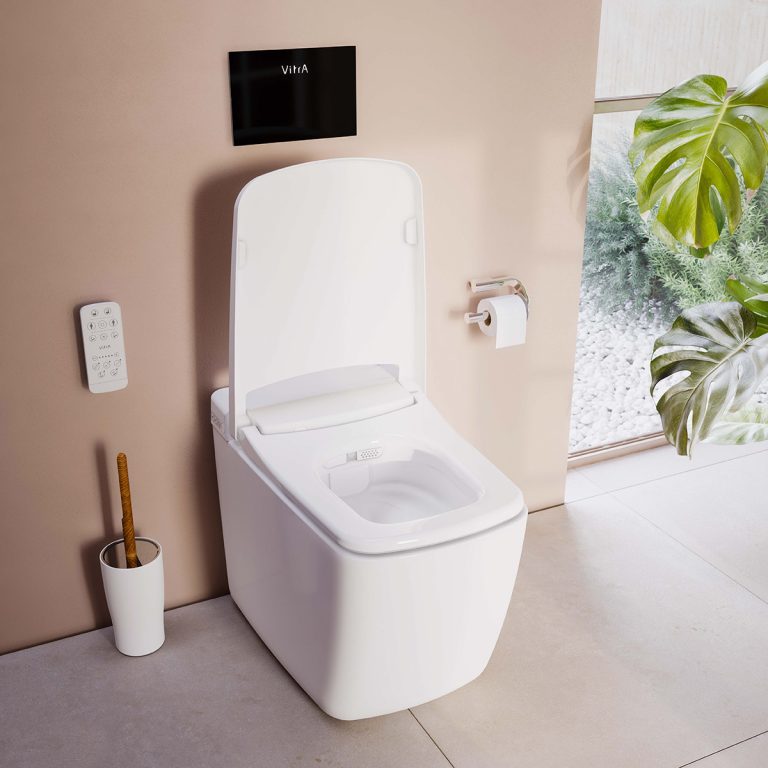 Why should I have a shower toilet?
Shower toilets helps you to maintain that fresh just-showered feeling. They also avoid any skin irritation and discomfort caused by using toilet paper, plus these models are great for the environment because you use less paper.
Cleaning with warm water after using the toilet provides an increased sense of wellbeing and cleanliness and has already become the norm in many places across the world including Asia, the Middle East, and South America.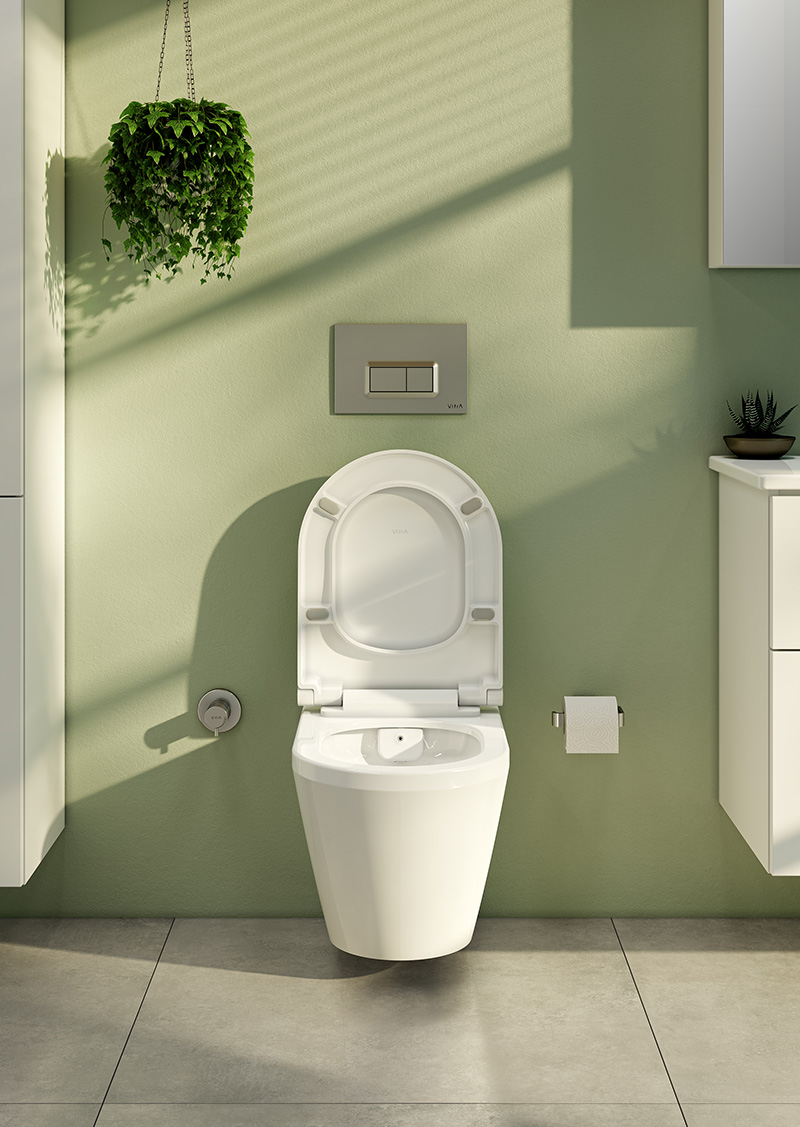 What other functions can I have?
Aside from washing, which is an essential part of a shower toilet, there are an array of other programmes available, depending on how much you are looking to invest.
These range from drying functions, adaptable temperatures and adjustable nozzle position, to heated seat, air purification, and night lights.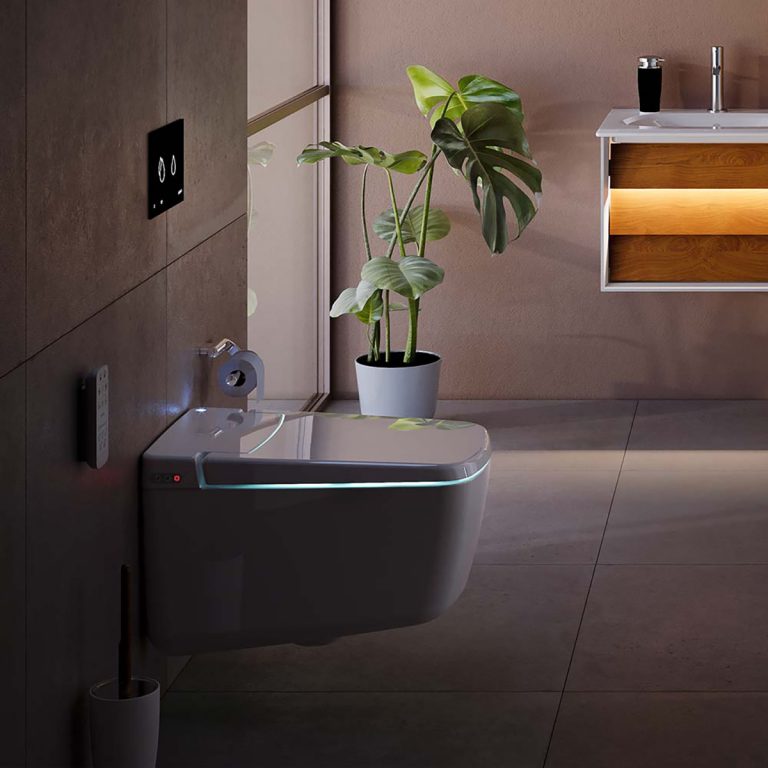 Are shower toilets easy to install?
The process varies depending on what type of shower toilet you choose. Some designs only require a water connection. For example, the VitrA Aquacare shower toilets can be easily installed in place of your existing WC by a plumber, as there are no additional connections required.
For smart shower toilets – which come with additional features such as remote control – like the VitrA V-Care, you need electrical and water connections and this should always be done by a qualified electrician.
Can I put a shower toilet in the same place after removing my standard WC?
Yes. The installation process is the same as if you're fitting a conventional loo as the pipes connect to the shower toilet in the same way. The only difference is if the shower design needs an electrical and additional water connection.
However, if you're doing a complete bathroom renovation, this shouldn't cause much additional disruption. If you have chosen a wall-hung option, you will need to use a concealed frame fitting in the wall.
Alternatively VitrA offers Vitrus, a glass-cased cistern that can be used with the Aquacare shower toilets and offers a unique solution to installing a wall-hung WC without having to build behind the wall or create a stud wall.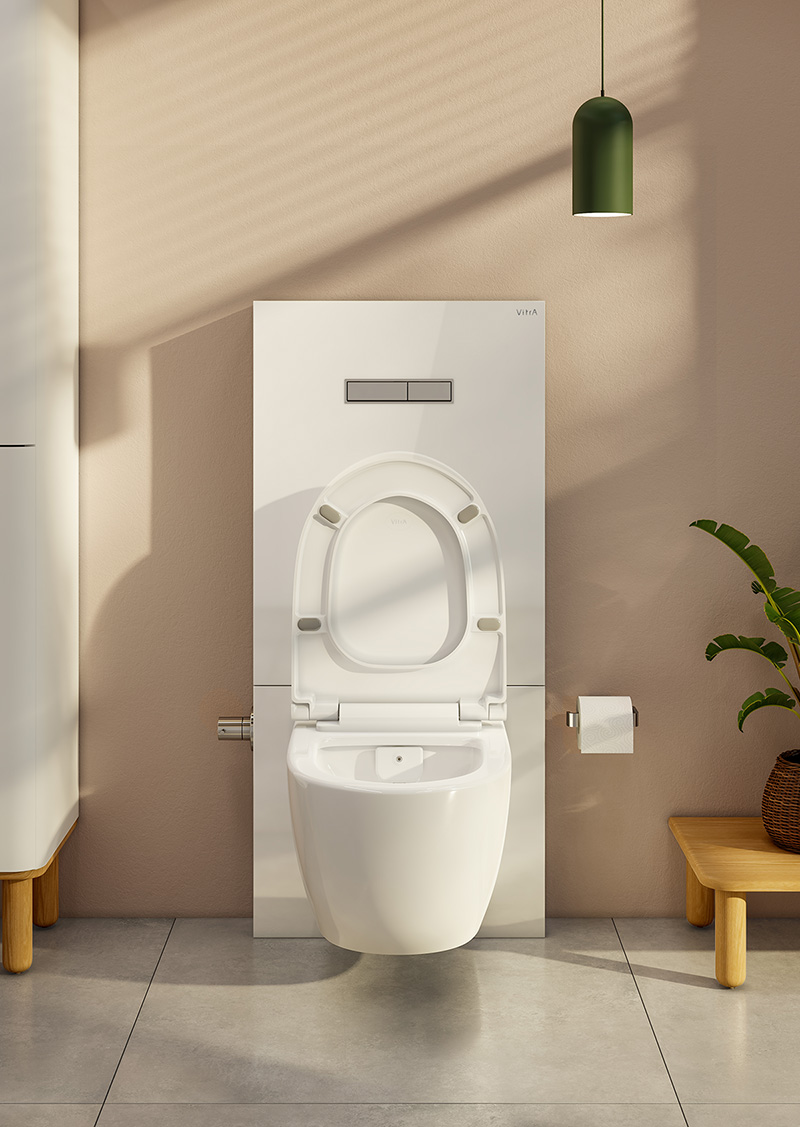 What happens if there's a power cut?
Good news: the VitrA V-Care can still be used like a conventional toilet when there is a power cut. While you won't be able to activate the bidet nozzle, you can use toilet paper and press the flush button as usual, plus manually open and close the toilet seat, which with full power would be automatic.
If the electricity fails during use, water streaming, heating, air purification, and the auto open/close function will stop immediately. If the nozzle is in use while it happens it will remain in the same position but the water will stop. Once the electricity is restored you will need to press the stop button to reset the nozzle.
Will having a shower toilet increase my energy bills?
The energy consumption of a shower toilet is minimal as it only uses power when it is in use – it does not run constantly throughout the day.
Are shower toilets eco friendly?
The UK uses 1.3 million tonnes of toilet paper a year, according to the Confederation of Paper Industries, significantly contributing to landfill. Shower toilets reduce the need for toilet paper and the VitrA V-Care products offer a completely paperless solution, so you'll save on toilet roll, too.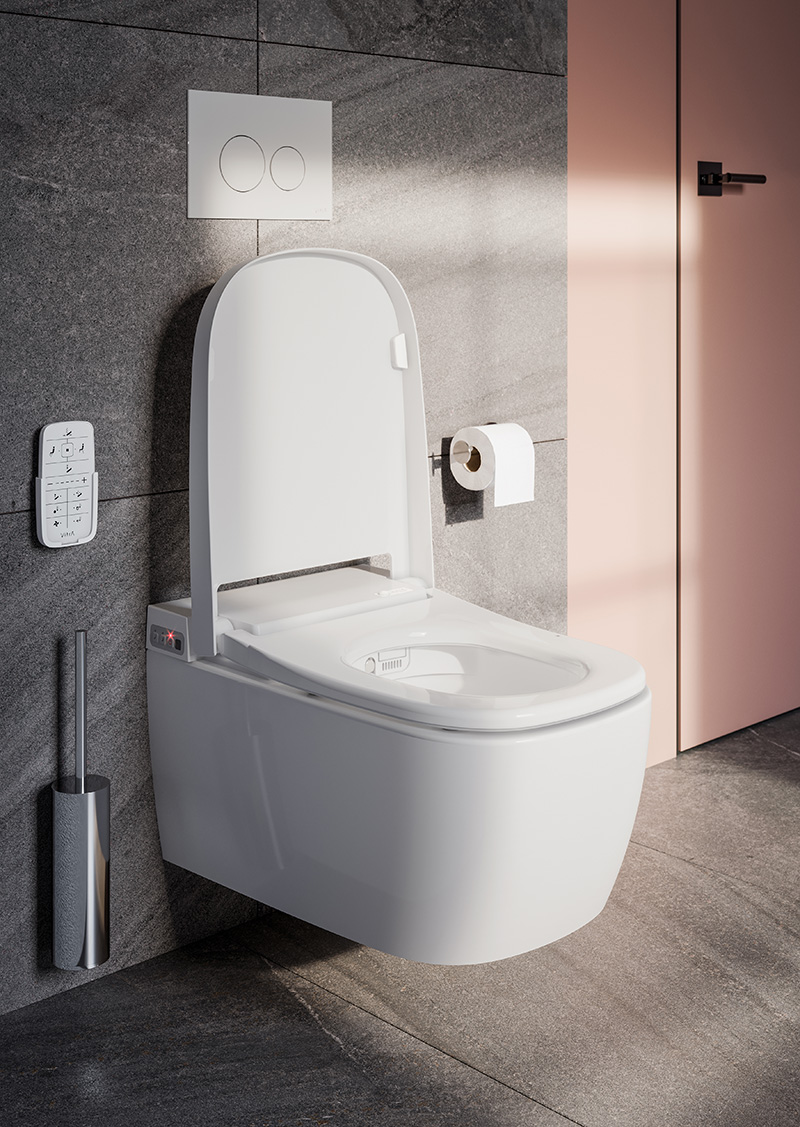 Who can use a shower toilet?
Anyone can use a shower toilet – who doesn't want that just-showered, fresh feeling?
But we also know that they are particularly beneficial for elderly people and those with limited movement. The automatic features such as seat opening and closing helps those with less mobility, while the washing features can be controlled using a remote control, which means people can more easily wash and dry themselves without needing assistance, as there is no far reaching involved.
Shower toilets also benefit those who suffer from intimate skin irritations, thanks to the gentle and thorough cleaning with water and drying with air. The adjustable nozzles are also beneficial for pregnant women, as well, as it means they do not have to lean into awkward positions.
Do you already have a shower toilet?
VitrA is undertaking market research to better understand attitudes and behaviours around shower toilets. If you have a shower toilet in your home and would be interested in taking part in VitrA's research, please email mailto:[email protected]. For those who take part, VitrA is offering a £15 donation to a charity of your choice.
For more information on VitrA's range of shower toilets, visit vitra.co.uk


This article has been created in partnership with VitrA.
About Post Author