With benefits to both gas and induction, the question of which type of hob to include in your kitchen design often causes debate. So, to help solve this dilemma, Smeg has put together a handy quick-fire guide outlining the pros of each.
A recent poll on our Instagram showed that 52% of our followers are team induction, while 48% are team gas. Which just goes to show how close the induction vs gas hobs argument is. It also shows why thinking about which type of hob is right for you is so important.
Questions such as safety, cooking style, and maintenance – and even how you duct the air – will affect your choice. So here, thanks to Smeg, we try and make that decision a little easier to consider.
So, let's find out which type of hob is your perfect match…
Induction hobs
Induction hobs are easy to clean, precise in their temperature control, and the safer option when it comes to hobs. This is because they only generate heat when the pan comes into direct contact with them. Induction hobs offer both a sleek look and smart technology.
For instance, the SIA1963D allows you to place up to six pots and pans on the hob at the same time, which it will intelligently track, without limits on size and zone.
Gas hobs
Keen chefs tend to prefer this option, as it allows you to instantly turn the heat up or down – coping just as easily with gentle simmering as it does with high-heat wok cooking.

Not only that, the naked flame adds drama, and their statement designs – such as Smeg's PV395LCN – come in a variety of sizes, finishes and shapes.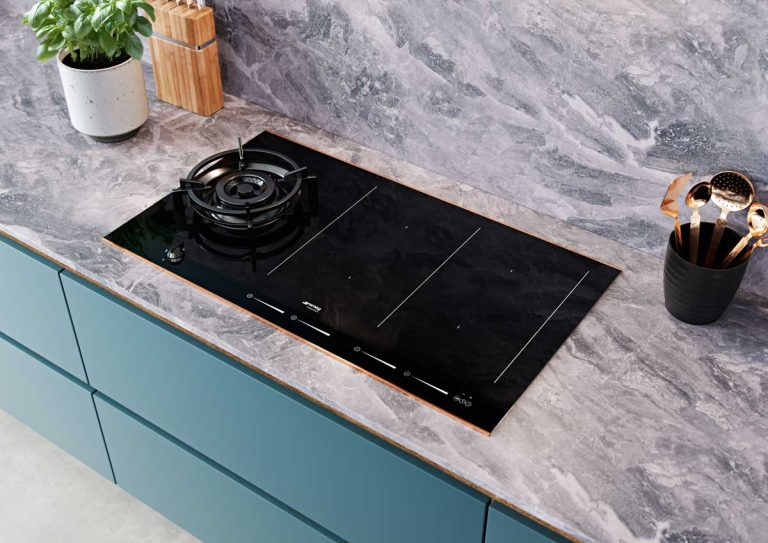 Mixed-feul hobs
Still not sure which type of hob to get? Well, if you want the power of gas and the flexibility of induction, this is the model for you.
A single hob combines an induction zone with traditional gas burners, offering the best of both styles. The PM6912WLDR comes in 90cm and 75cm widths with an ultra-rapid gas burner with induction zones.
Extraction hobs
A hob with a hood is perfect for islands and open-plan living. It's also good if you have particularly high ceilings or steel supports to contend with.
For example, the HOBD682R is equipped with a special AquaProof engine, plus two liquid collectors to catch accidental spills.

Its space-saving design can also be ducted internally or externally – good to know when choosing the right type of hob.
Domino hobs
Small but mighty, these models can offer maximum flexibility when cooking a wide variety of dishes – so they're perfect for those who like to impress at dinner parties.
The Domino range consists of the barbecue PGF30B (seen here), plus single or two burner gas hobs, fryer, teppanyaki plate, and a two-zone induction hob.
A connecting strip can also be purchased if you wish to arrange a series of Domino hobs together.

Accessories
Make the most of your hob with some handy accessories, such as a teppanyaki or grill plate for induction, gas, ceramic and electric hobs.

Their non-stick surfaces are ideal for cooking meat, fish, cheese, and vegetables.
Whichever type of hob you decide on: happy cooking!
Created in partnership with Smeg.
About Post Author