https://how-to-buy-a-kitchen-or-bathroom.simplecast.com/episodes/bathroom-storage-how-to-finally-sort-your-stuff
Are you tired of not finding the hair mask you have been so eager to try or the massage oil you cannot remember where you last placed? Well, you are not alone – I know getting your bathroom storage sorted can take a while and if it's not done in an effective way, you might just end up right where you started. Making sure you have enough space to store all those essentials (yes I'm counting hair masks as an essential! I'd probably add towels, cleaning products and washes to the mix too, though) is crucial to a successful bathroom scheme.
With often little storage space, the bathroom can be one of the hardest spaces to keep tidy – but nowadays, there are so many ideas for solutions that are as chic as they are practical. Choose from bespoke designed units, mix and match furniture, freestanding, vanities, and vertical wall-mounted cabinets to create a place for anything, from towels to toiletries.
Accommodate your daily essentials
We're all guilty of collecting too many bath oils, shampoos, and candles, so think about what you want to display around your bath and what can be hidden away – what can be stored in another room?
Make sure to assess all of your goods and write a list of exactly what you'll need to store in the space before thinking about what type of furniture you'll need. Measure the height and width of bottles, think about which items you'll need every day, and – in line with your routine – decide what needs to be stored out of sight and what will be best kept out.
A mix of open storage, shelving, places to set down bottles, and designated cupboards and drawers is often best, but consider the size of your space and work out what set-up will work without feeling too full. Generally speaking, a deep, single drawer under a tabletop sink is a good idea for taller bottles that won't fit in your bathroom cabinet.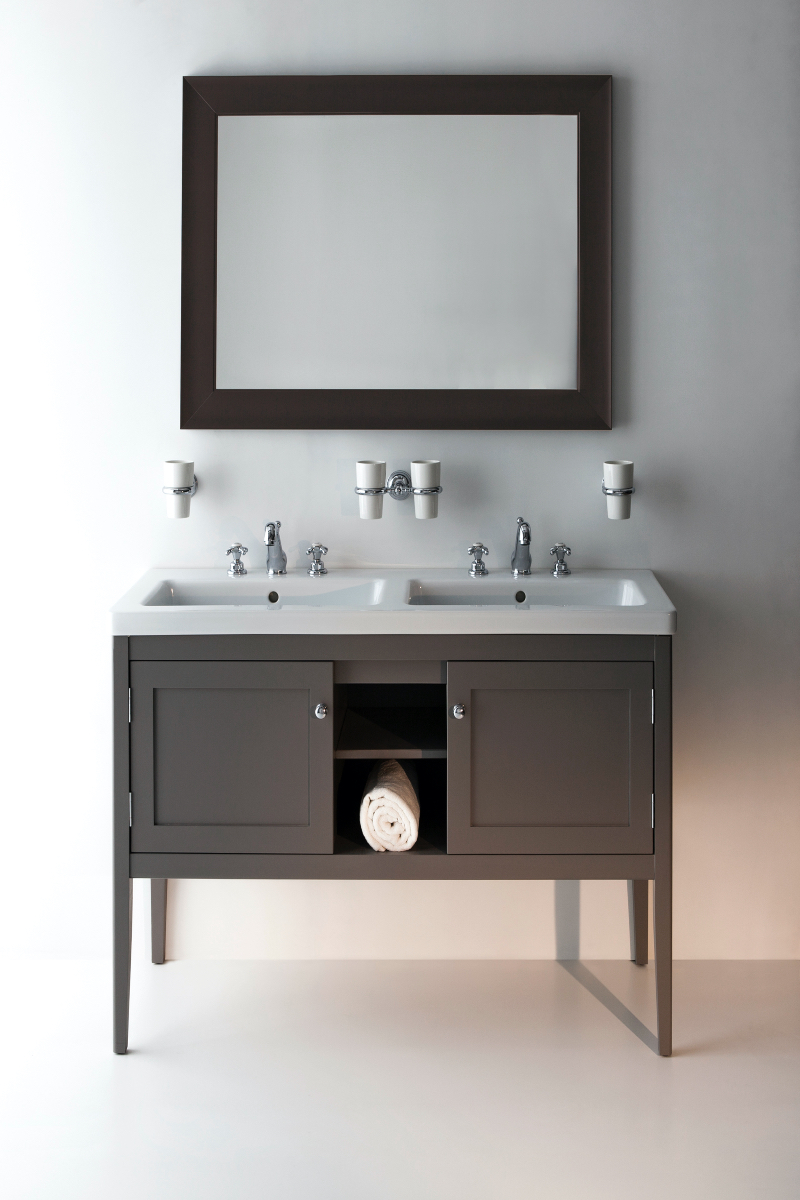 Make it stylish and practical
Personalise your bathroom cabinets with the latest modular furniture – an innovative way to get the high-end designer look without the expense of bespoke cabinetry. Mix and match different sizes and finishes to create the ideal layout and storage set-up for your space.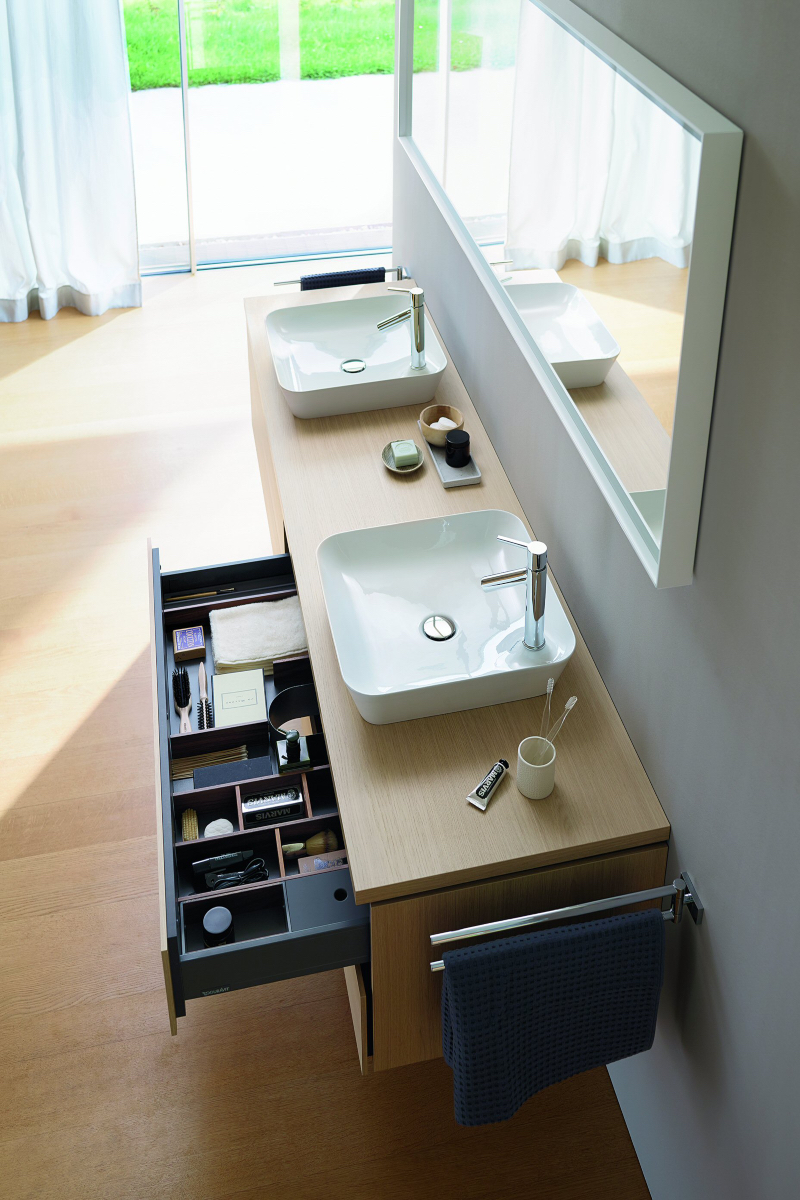 Create a contemporary feel
You don't always have to hide everything away in expensive cabinets to achieve that hotel- chic look. Why not try open shelving, which looks especially stylish under top-mounted basins, to store neatly rolled towels.
For a clean look, why not decant your favourite soaps and conditioners into decorative bottles and arrange them on freestanding or wall-mounted shelving for a display that also makes for a practical solution?
Vertical mirrors with hidden shelving are clever, too, and the latest radiators with towel rails utilise every inch of space without compromising on the designer look.
Open storage is more popular than ever, for easy access to everyday items or to display beautiful products. Wall-mounted systems keep the floor clear, and we are seeing more ceiling-suspended shelving.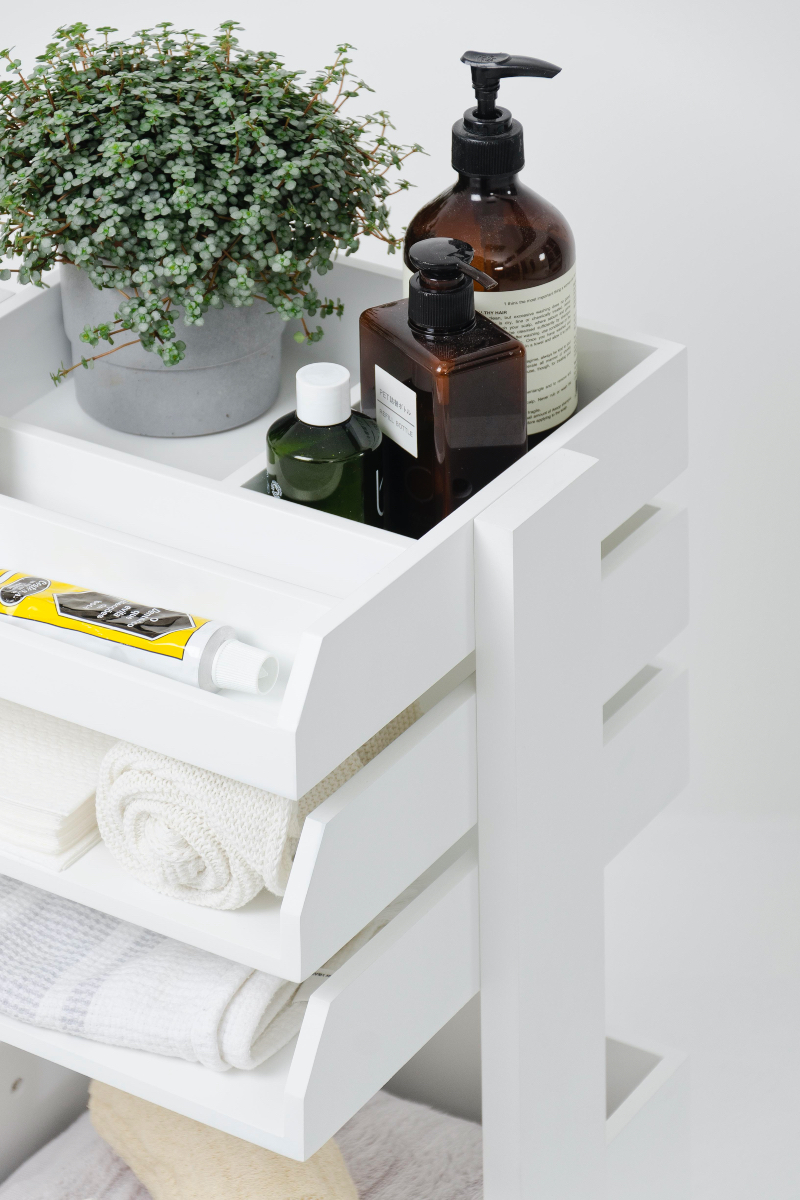 Be clever with the layout
We all have unique storage requirements, whether it is in a more functional family bathroom or a luxurious ensuite. So take the time to draw up an individual plan for each space before you even think about the design requirements. The aim is a streamlined look, so don't be tempted to have too many shelves and cabinets as they can make the room feel more cluttered.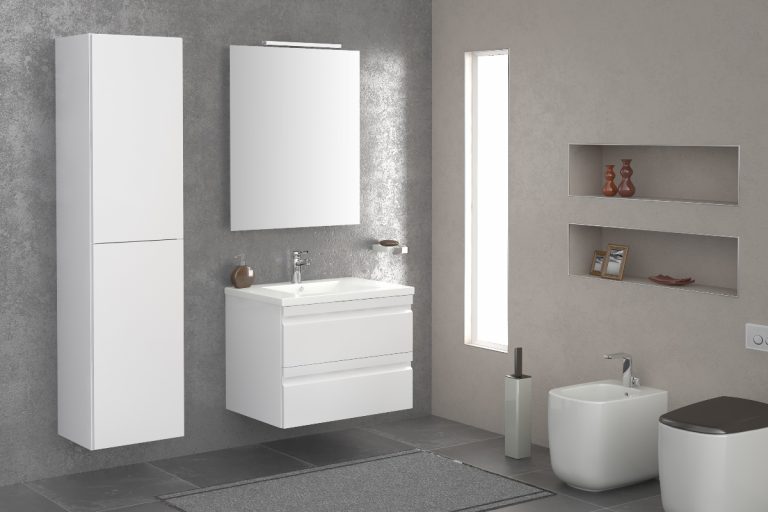 Featured image: Use these top tips to get your bathroom storage sorted. iStock/ Matveev_Aleksandr
About Post Author