Okay, so you've decided to do the bathroom up. If you've lived in your house a while, it's likely you've not touched the décor in there for a good few years. And if you've just bought a property to do up, who knows how long it's been since the bathroom was updated? The less thought about, the better, in some cases. Let's move on swiftly to what's involved in buying a bathroom.
Buying a bathroom is often a rare thing. A bathroom is a space which, like a kitchen, is very much an investment area. So the frequency of renovating it is more likely to be around the seven-to-ten year mark. (Rather than more frequently like, say, a bedroom or living area.) It's this thinking that underpins the secrets to buying a bathroom well.
They key to good bathroom investment is to buy the best you can afford for the key fixtures and fittings. So, think about what you use most often. Do you shower more than you take a bath? If so, spend more on a good quality shower and enclosure or screen. Or vice versa if you're a soaker (shower vs bath is an ongoing debate here – I'm team shower). Do you dream of an amazing double vanity unit with large mirror and lots of storage for all your lotions and potions? Then put more of your budget there.
Buying a bathroom: tips and tricks
When buying a bathroom and planning the space, and the budget, start by asking yourself what exactly you want. Think of yourself in there day-to-day. So, what would make life easier? What would give you the most enjoyment (or joy, thanks Marie Kondo). What functions will you actually get the most benefit from?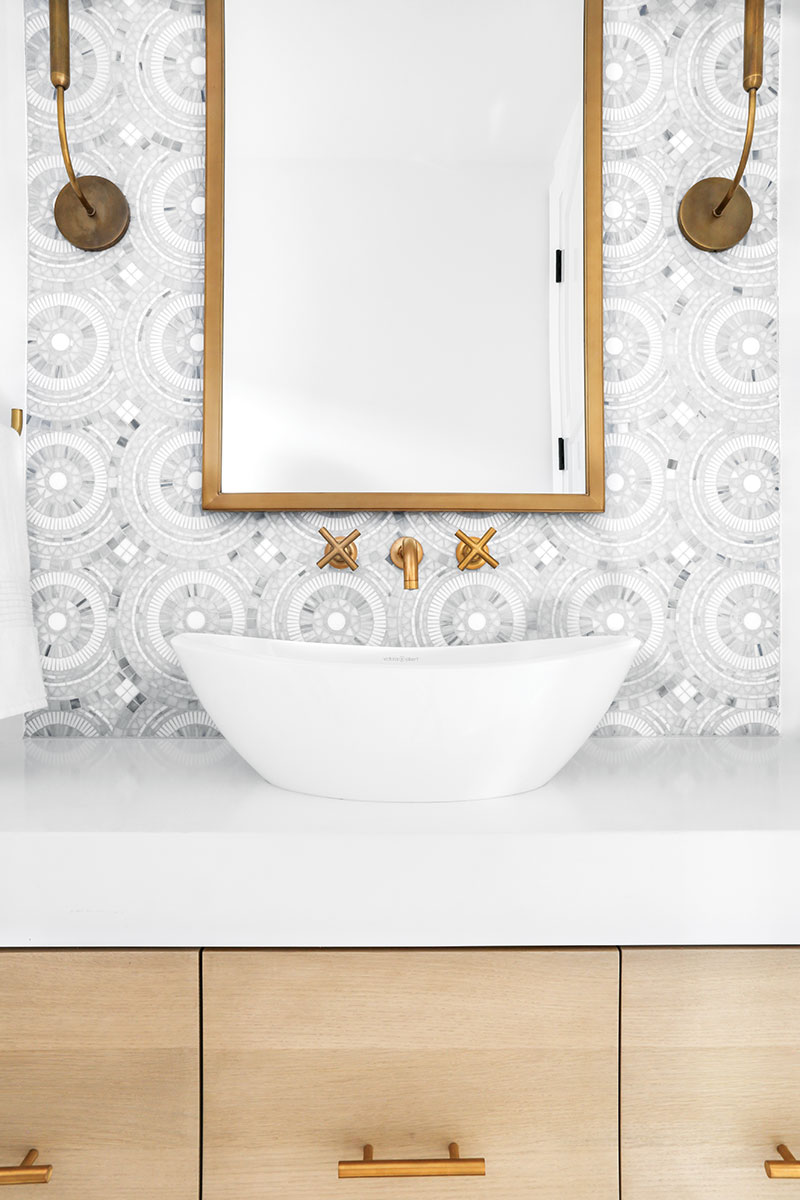 For example, if you won't use two basins, don't bother buying two (it'll save you money as well). If you'd use smart app-operated controls on a shower once or twice and then forget about them, knock them off your wishlist. It pays to be really savvy and analyse every single aspect before parting with any of your hard-earned cash. Prioritise spends on the areas that matter most to you, then balance the books on lower-priority parts of the design.
Once you've done that, let's spend – but wisely. I spoke to Kitchens Bedrooms & Bathrooms magazine journo Amelia Thorpe and she has put her top bathroom buying tips together and she has some seriously good tips to help make the most of every penny…
Buying a shower screen
Shower lovers unite: this one is for you. Shower enclosures are available in a good range of sizes and can be useful for tricky spaces. For example, quadrant (or curved front) designs that fit neatly into a corner. Glass panels and enclosures are widely available in 4, 6, 8, and 10mm thicknesses. They're often pre-coated with protection for easy cleaning and to reduce limescale build-up. Simple glazed panels, paired with flush-fitted trays or wetroom systems, create the most minimalist look. They also boost the sense of space, since their transparent finish allows natural light to flow through the room.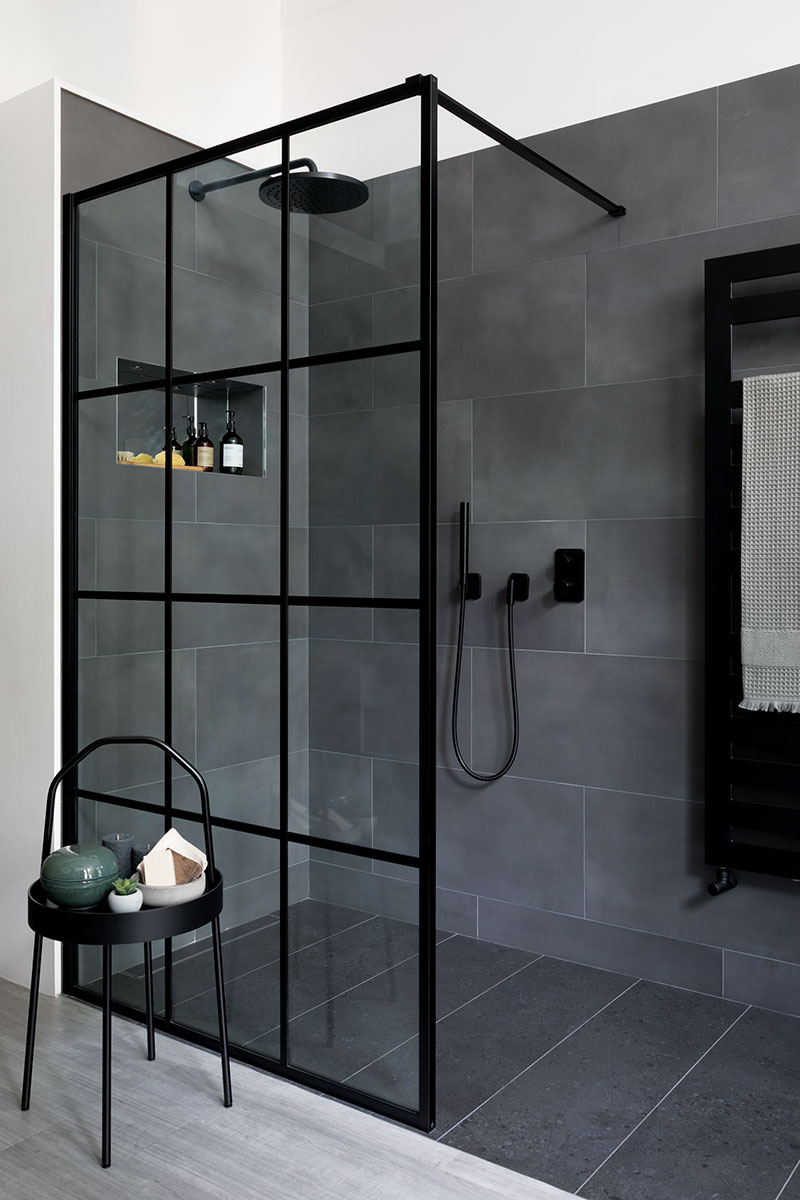 Buying a showerhead
The product you select must be compatible with your water system. Generally, the higher the water pressure, the better the shower performance. It can vary from about 0.1 bar (low pressure) to high rates of 3 to 5 bar. If you're uncertain about the water pressure in your home, a plumber will advise. Then a reputable bathroom retailer can suggest products to suit.
Choose from overhead (dreamy!), wall-mounted, and hand shower designs. Many of these offer several spray patterns. Exposed systems, with the pipework visible, tend to create a more traditional look. Concealed systems, where all the mechanics are hidden behind the wall, offer a sleeker, more minimalist style.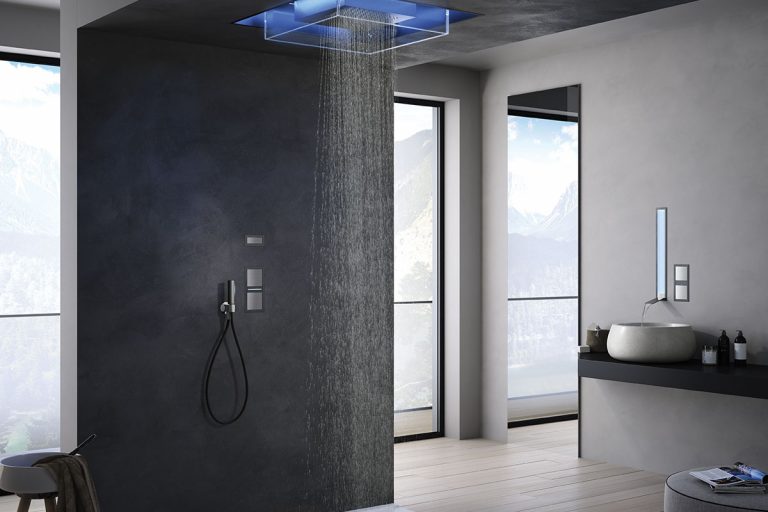 Buying a bath
Wellness is talked about more than ever and we're all seeking ways to relax and unwind after tackling busy schedules. So a bath can be a great dose of self care and relaxation. It's why a bath that is separate to the shower space is so sought after. There are so many styles, colours, shapes and materials to choose from. So there's ample opportunity to create a focal point (with a freestanding bath). Alternatively, you can fit one into a more compact space or even update an old design with a new one. Choose from contemporary or traditional freestanding designs, both of which can make striking features. Or opt for an inset design if space is tighter. A 'standard' bath typically measures 1700mm x 700mm, but they can be smaller (as short as about 1400mm). Freestanding baths can be larger.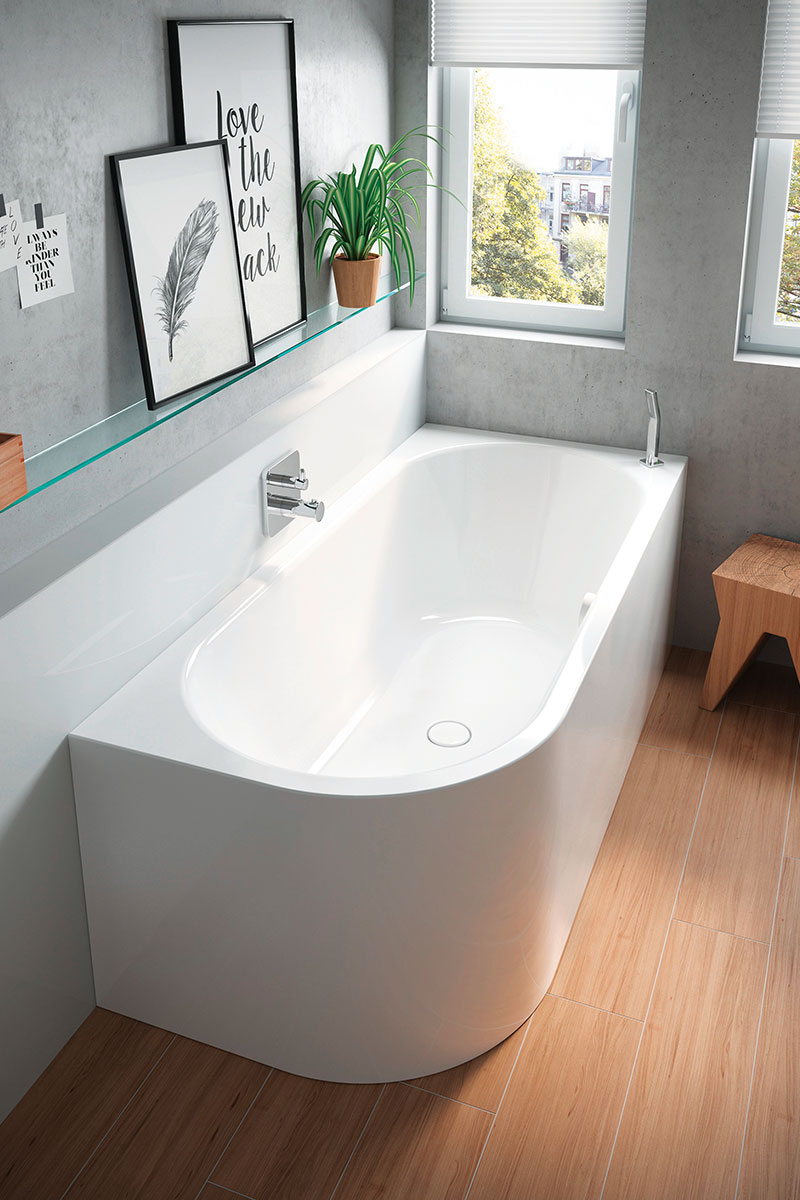 Buying a bathroom: furniture
Have lots of bottles, soaps, towels, cosmetics and cleaning products to hide away? You're not alone. Plenty of storage is essential to create a relaxing, clutter-free look in a bathroom, whether a small ensuite or a more sizeable family bathroom. So bear this in mind when buying a bathroom.
Wall-mounted units will keep the floor clear, making the room appear less busy. A tall slimline cabinet makes good use of the height of the room. Toiletries in vanity unit drawers tend to be easier to access than cupboards below waist height. You don't have to bend down to see all their contents but can do so in one glance. Mirror cabinets serve double duty. They hide storage in the form of shelving behind mirrors for putting on make up or shaving.
Buying bathroom lighting
Good lighting can totally transform a bathroom, drawing attention to features and providing bright lights for tasks or a softer solution to create a relaxing mood. And to be honest any light description with 'soft' (read: flattering) in the description has my eye. You can use most fittings in your bathroom as long as they are located more than 60cm away from a water source, but – and this is important:
If you want to install a light in your shower or anywhere close to a water outlet, for example, it must be protected against the ingress of water, which is indicated by an IP rating – Ingress Protection rating for those who like the technical part of design. This correlates directly to so-called zones, which depend on how close a light is to the bath. Choose fittings with the correct rating for where they will be used – if you're unsure, opt for a lamp that has a rating of at least IP45, which means it is protected against splashes. Always (always!) hire a qualified electrician to install any bathroom lighting.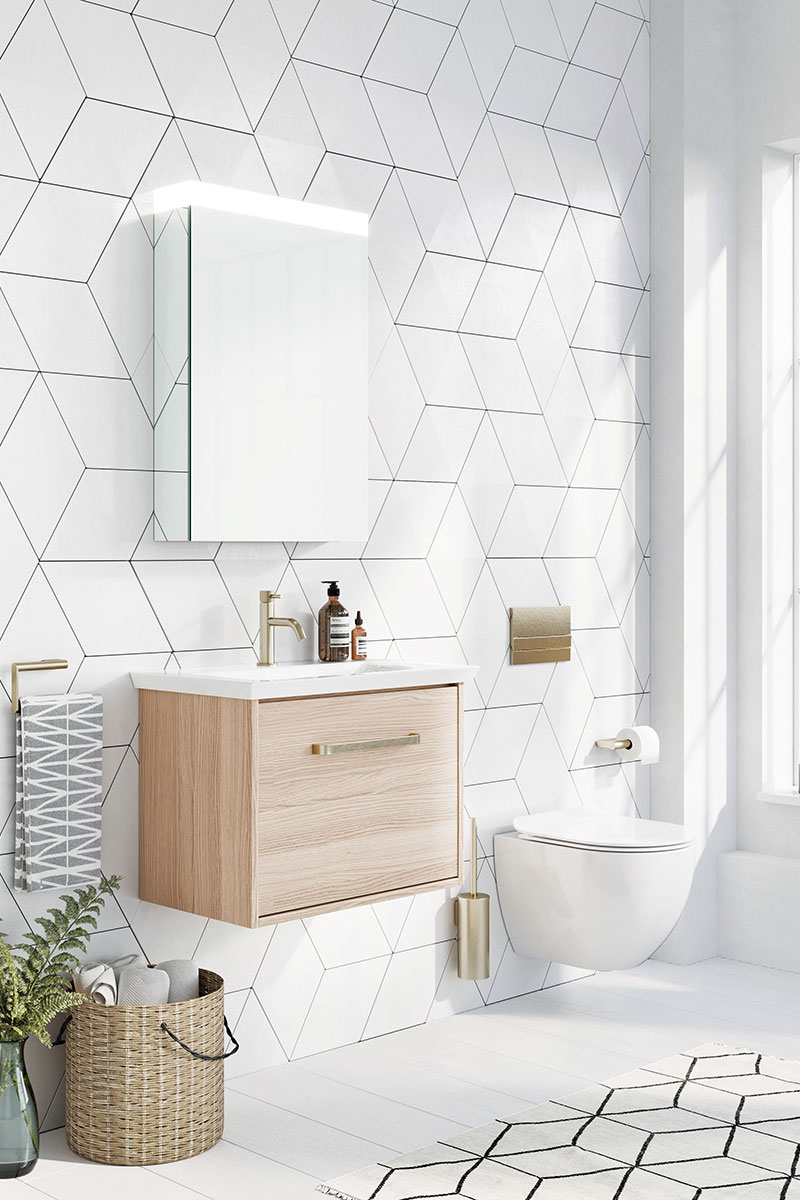 Buying basin taps
Try to purchase your bathroom basin and tap at the same time, so you know they will work together. The most important part is to check the spout reaches far enough – but not 
too far – over the basin. No one wants an awkward wet patch, am I right? And we've all been in a situation where we've encountered an unfortunately placed tap in a public loo and suffered the damp consequences.
Many basins and baths come with pre-drilled holes, so check that the tap fits. Choose from monobloc mixers (one hole), traditional pillar hot and cold taps (two holes), or a mixer spout and two controls (three holes). Deck-mounted and floor-mounted taps are also available and useful for freestanding baths as well as floorstanding and countertop basins, while wall-mounted designs are useful if space is limited.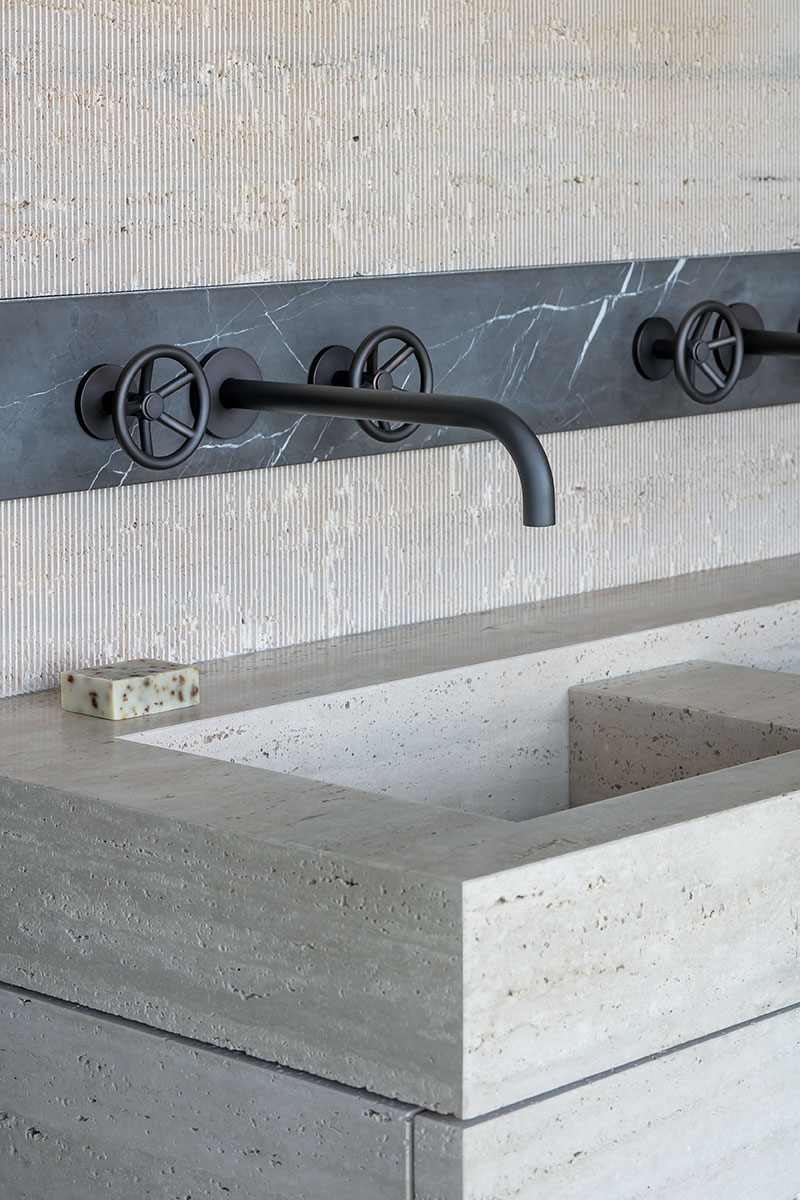 Buying a bathroom basin (or two)
There's a pattern here: wash basins come in a wide variety of styles. It's a good time to be doing a bathroom as so many options gives you the chance to create a really personal look in your space. From countertop stand-alone centrepieces to double designs with ample space which work well for families and couples alike. Compact basins are useful for small bathrooms and cloakrooms, as are wall-hung designs which appear to float, freeing up floor space. Basins on vanity units can be sit-on, inset, and under-counter designs so there is plenty of choice to suit your scheme.
Buying a toilet
Close-coupled WCs, where the cistern sits on the back of the pan, are the most widely available and tend to be the most affordable. Back-to-wall loos with the cistern concealed in the wall can be either floorstanding or wall-hung and are increasingly popular, thanks to their minimal style, while high and low-level cisterns create a traditional look – think designs with a chain pull. Shower toilets (the most modern type of toilet) tend to cost more, but combine WC and bidet functions in one, with warm water sprays, air dryers, and often sensor lighting, odour extraction, and automatic and cleaning flushing too. Don't knock it until you've tried it.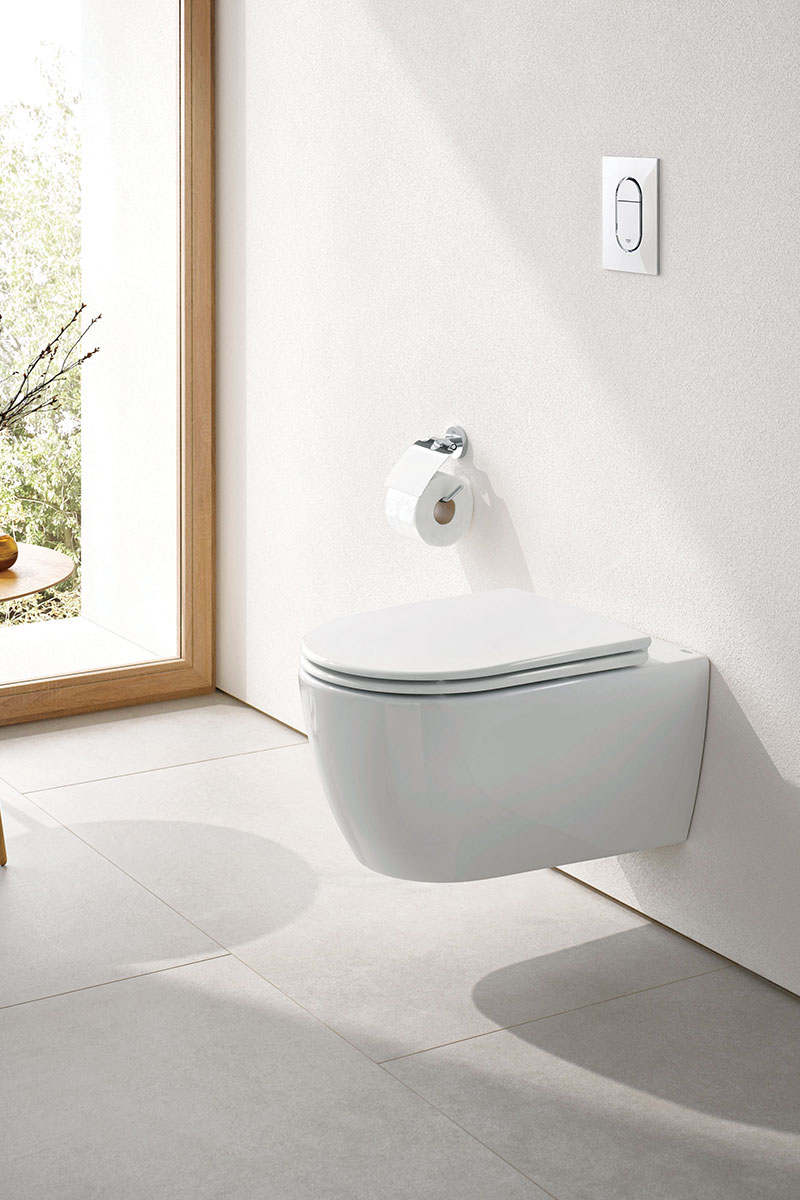 Buying tiles, surfaces, flooring and wall coverings
Alongside new materials such as sintered stones as well as classic marbles, tiles are an ever-popular choice for bathroom floors and walls, thanks to the huge variety of colours, materials, and price points they offer. Large-format porcelain designs require minimal grout lines – which can make a room feel bigger – plus are water-resistant and hard-wearing and now come in realistic stone and wood effects – but plenty of smaller tiles will also pack a decorative punch.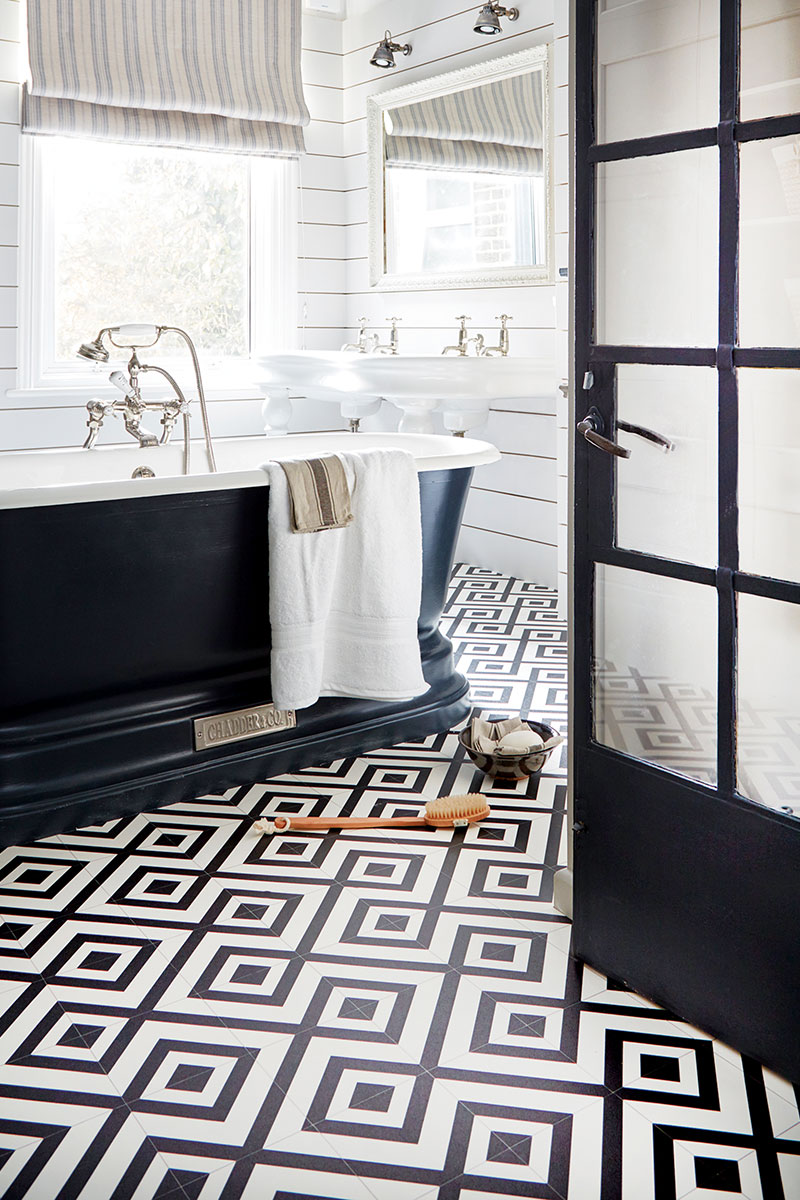 What do you reckon? Feel ready to start buying the bathroom of your dreams?
Featured image: Wall-mounted furniture frees up floor area and enhances the feeling of space. Form basin unit with glass top, from £3804, with open wall-mounted base unit, £338.40, both from Alternative Bathrooms.
If you enjoyed this feature, then read how to buy a kitchen: everything you need to know.
About Post Author