Now, if you ask me whether I prefer a bath or a shower, I'm always team shower. Luxuriating in a bubble bath sounds nice and there's a place for it (about twice a year at a push, if I'm totally honest), but in reality, I get far too hot, bored too quickly and always end up soaking whatever magazine or book I try to read. And mine takes an age to fill.
BUT, if I absolutely had to have a bath on the regs, I wouldn't mind so much if my bathroom looked like this. Gaw-jus. It's rare for a bathroom to be this spacious and homeowner Mark Pepperall was very keen on maintaining the large bathroom when he decided to buy a new house and create the space. The property: a two-bedroom flat on the top floor of a Victorian terraced house in Swindon's Old Town. The large bathroom style: a beautiful mix of industrial and classic. The best bit: it has both a bath and a shower.
To find out about the design and how it came to be, journalist Rebecca Shepherd interviewed Mark and he told her how he mixed and matched styles and fittings to create the look. Oh, and there's also the bit about it taking seven people to get the bath in place – yes, seven! Read on…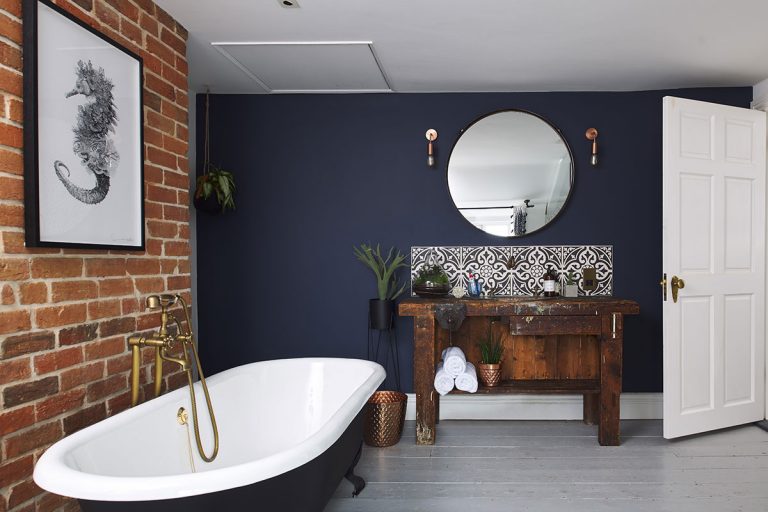 What was the starting point of the project?
The property was originally used for offices, so as soon as I exchanged contracts I applied for a change of use application and within a month it was accepted. It all happened very quickly, as the council was trying to encourage more homes in the area.
The room I wanted to turn into the bathroom had a very strange little kitchen – a single double-door unit – with cheap fake wood laminate flooring and a sink, kettle, and microwave. It was very basic and quite horrible. I ripped out the units and stripped all the walls back, uncovering that beautiful brickwork on the chimneybreast. By the time I'd finished with it, I had a complete clean slate to begin the redesign.
What was the brief for the bathroom?
It was a mix of glamour and industrial, but also somewhere to relax. I could have fit two decent-sized bedrooms into the flat, but as it is only myself living here, I decided to use the second space's floor area for a large bathroom instead – I fancied something a bit more extravagant.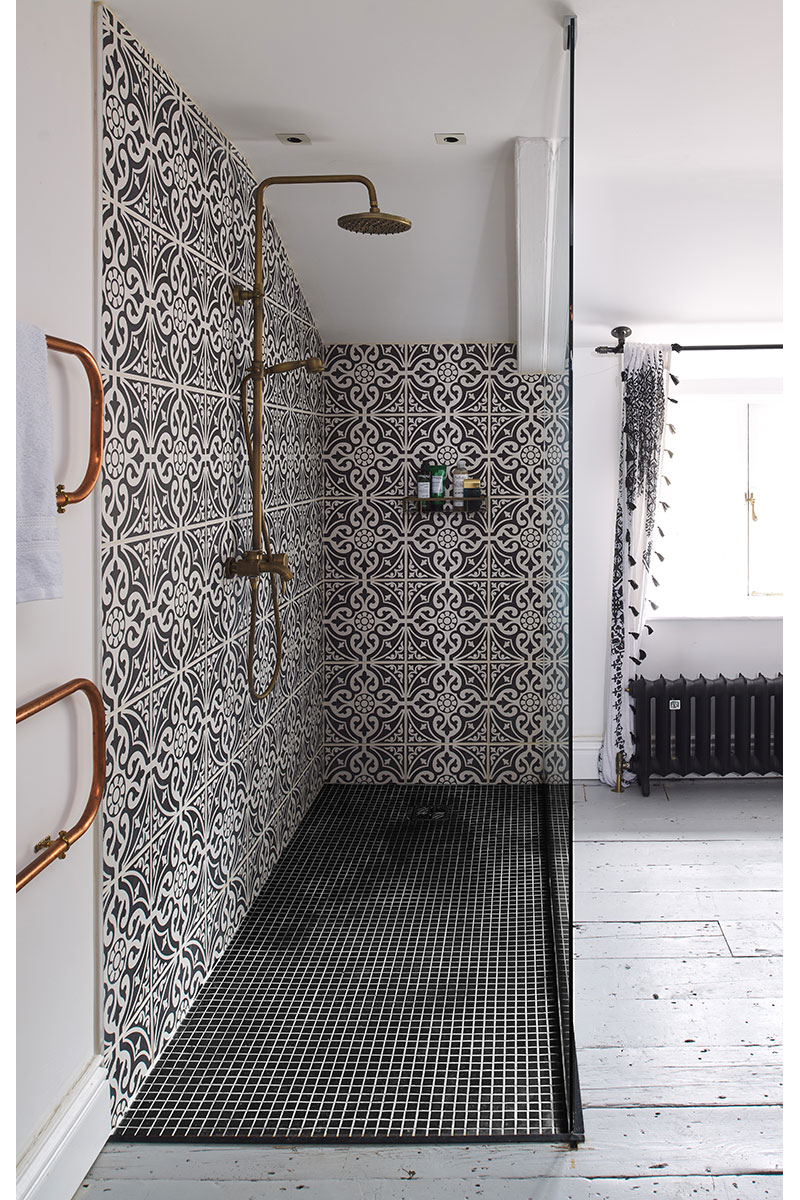 I knew I wanted a walk-in shower, as it's such a luxury and adds some feel-good factor. I was also keen on creating something with personality, as I think many nicely finished bathrooms lack individuality and look like they're straight out of a hotel. While I wanted the space to reflect my passion for design, it was important to me that it felt homely too.
What was the idea behind the layout?
The freestanding bath actually dictated the whole scheme. I think it's important to work with the building, as I love characterful properties with original features. When the brickwork on
the chimneybreast was exposed, I realised it would be the perfect place to put a large roll-top bath. I knew it would look amazing as it was symmetryical plus the room is a good size for it – and who doesn't love a traditional tub? After the centrepiece was decided, the rest of the layout seemed to fall naturally into place.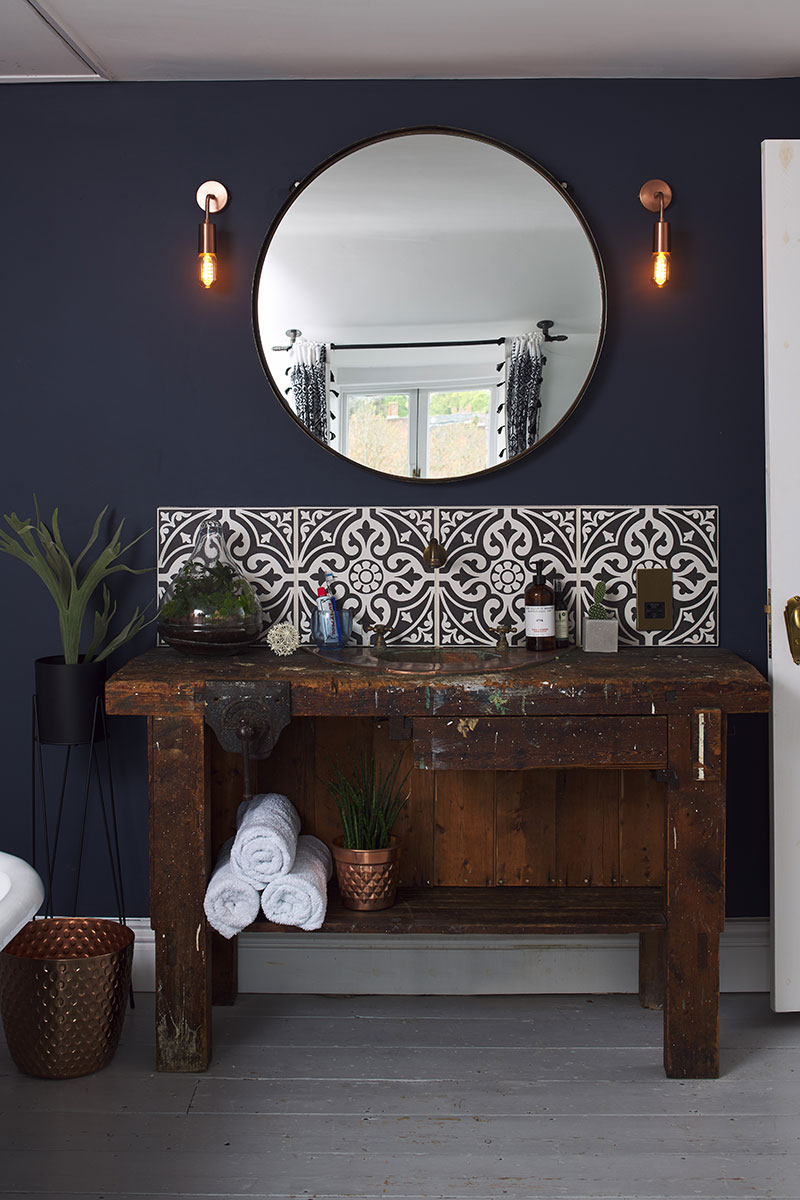 Were there any challenges?
Trying to schedule in trades to the do the work was one of the hardest parts, as they were all very busy and I also had some very alternative ideas – such as turning an old workbench into a vanity. But thankfully, I've got a really good group of chippies, tilers, electricians, plumbers and painters on hand for projects. It's great when you can get open-minded tradespeople who can see your vision and work with you to achieve it.
How did you decide on the finishing touches?
I went for a monochrome colour palette with black and white Victorian tiles, as I think there's something very pure and classic about them. Plus the flat is from this era, so I've got touches linking it back to this period scattered throughout the house.
I think because I went quite traditional in certain ways, it allowed me to do a bit of a twist on other things. Take the copper basin and brass shower, for instance, which work so brilliantly with the black, navy, white and grey tones I've included. The unusual copper basin is from a chateau in France. Someone was selling it on Ebay and I loved it – it's such an interesting shape. (we love a salvage story!)
Then I found an old rustic workbench, which I wanted to use as the vanity unit, also from Ebay, with a vice and old saw marks. I had seen a similar piece before and was inspired to create something new with an old, pre-loved base.
When choosing paint, black would have been too heavy – so I went for dark blue, as it brings a richness to the space and gives a luxurious feel, especially next to the accent of green brought in by the many house plants I've included. I stuck with the original wood flooring, although I had it all taken up and relaid nice and tight so it feels solid with no gaps or creaking. I think the boards fit in well with the more earthy elements of the room, such as the workbench.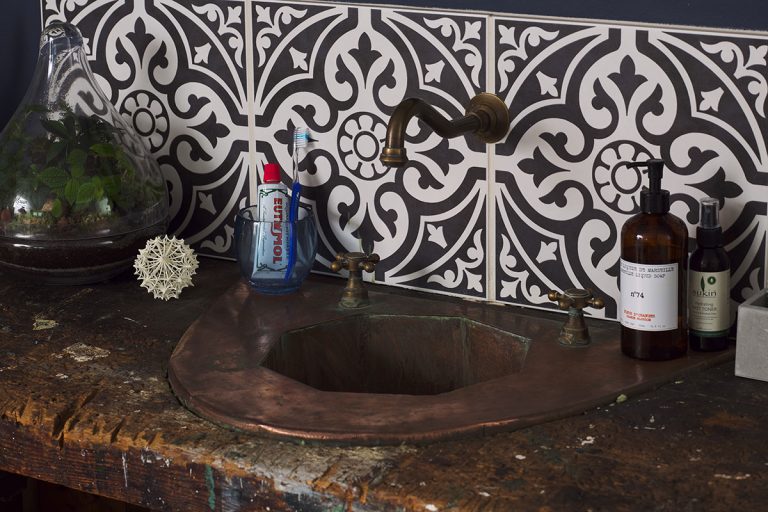 What is your favourite part of the large bathroom now it's finished?
It's got to be the bath – even if it did take seven of us to get it up two flights of stairs. When you sit in the tub and look out of the original wood windows, you have a perfect view of a beautiful Grade-II listed 19th-century church. And at night, when it's all lit up, it really is incredibly picturesque.
Featured image: The large bathroom was previously used as a commercial office and had some kitchen units in it. Mark wanted a large, luxurious bathroom and worked with the building, relaying the original flooring to avoid squeaky floors or gaps and exposed the brickwork on the chimneybreast. Tub, The Cast Iron Bath Company; Paint, Valspar.

Photography: Adam Carter
About Post Author