Let's be real: the average British bathroom is one of the smallest spaces in the house. But does that mean you can't have the washspace of your dreams? Absolutely not. When I moved into my home, the WC couldn't have been much smaller. It was in a teeny-tiny cupboard-like space all by itself. The basin, shower and bath were then in a separate room, which was also fairly cramped.
However, after stealing some space from the hallway, DIY and a whole-load of dust, we transformed the two rooms into one (still fairly averagely-sized) space. But enough about me! Are you thinking about trying to turn your small bathroom into something a little more spacious and luxurious? If so, there's a few things to think about first. Look at your space, can you borrow some floor area from an adjoining room, hallway or cupboard?
Write down your wishlist and must-haves in order of priority and keep referring back to this when making decisions along the line.
It's also important to think about that scary word – budget. A wetroom, for example, can help make the space feel bigger – as there is no need for a separate shower enclosure – but tanking, which means fully waterproofing, a room, can be costly. Similarly, moving any plumbing is an expensive task, so weigh up whether it's necessary to shuffle things around.
It's also worth noting, while most refits do not generally require building regulations approval, you may need consent if drainage or electrical works are being carried out – so always check before starting your renovation. Also, if you're tearing down walls, consult a structural engineer to make sure you're not knocking down one that's load-bearing.
P.s you can check out our podcast (below) all about transforming small bathrooms for some extra info!
Once you've done all that, it's time to look at some inspiration. Here, KBB writer Yvette Filer has compiled some real projects to show you just what's possible. Happy reading!
THE SHOWER-ONLY SPACE
Designed by Louise Ashdown, head of design, West One Bathrooms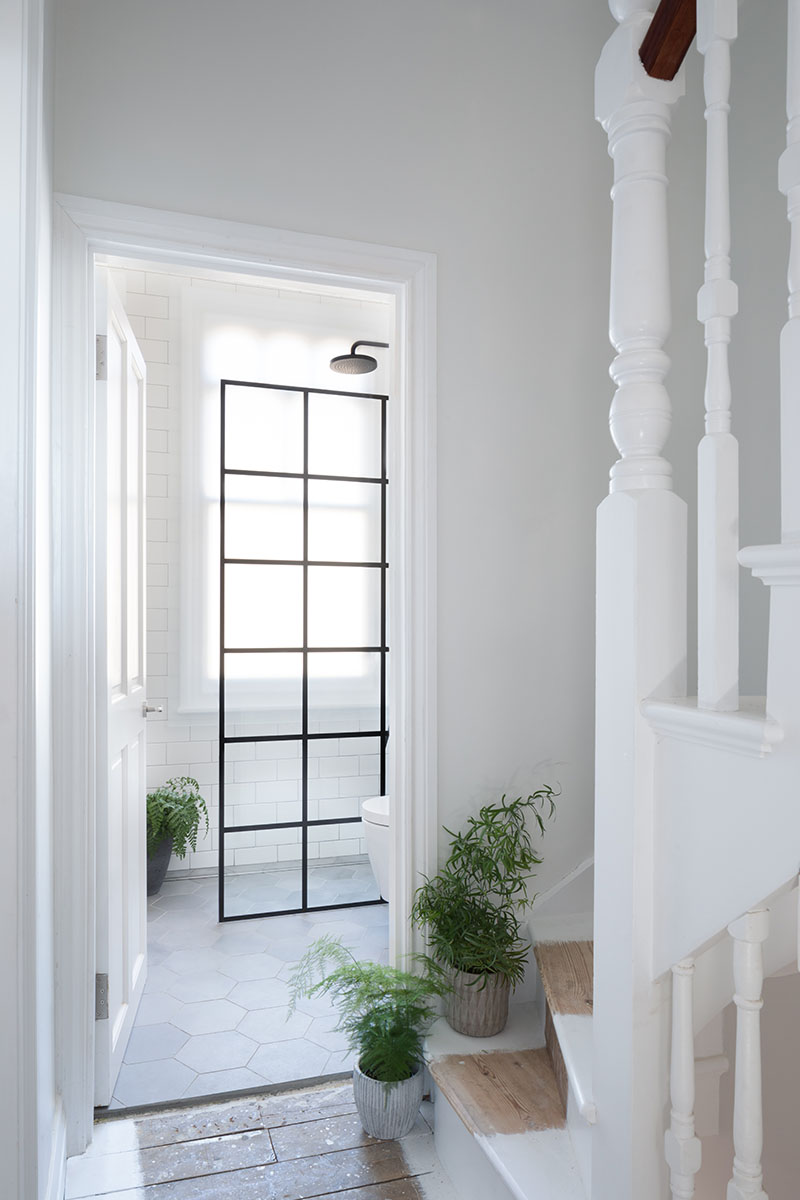 So Louise, how did you make the most of this small bathroom?
"It measures just 180 x 170cm, and features a wall-hung WC, which gives the illusion of more space alongside the large-format hexagonal tiles on the wetroom floor. The wall was built out ever so slightly to house the slim-style frame and cistern, which meant I could create a clever niche above the WC and basin for extra storage, as well as accommodate a large recessed mirror cabinet above."
Were there any compromises?
"The room previously had a bath in it, but that was removed in favour of a wetroom design. Fortunately this was possible, otherwise the layout would have needed to change."
What clever tricks did you use?
"For practicality purposes, the shower was kept in the same position as the bath had been. However, doing this meant there was a large window adjacent to the showerhead. To overcome this, a bespoke frosted-glass panel on hinges was installed, providing privacy while also allowing the window to be opened and accessed for cleaning."
Why do you think the design work so well?
"It's a compact space but flows beautifully and has so much storage. This was a key requirement – so I incorporated a compact floorstanding vanity unit with plenty of drawers and a wall-mounted mirror cabinet with a handy shelf above the basin built in. For the shower, a deep niche was included for shampoos and shower gels."
A SEPARATE BATH & SHOWER
Designed by Stephan Pöppelmann, Interior designer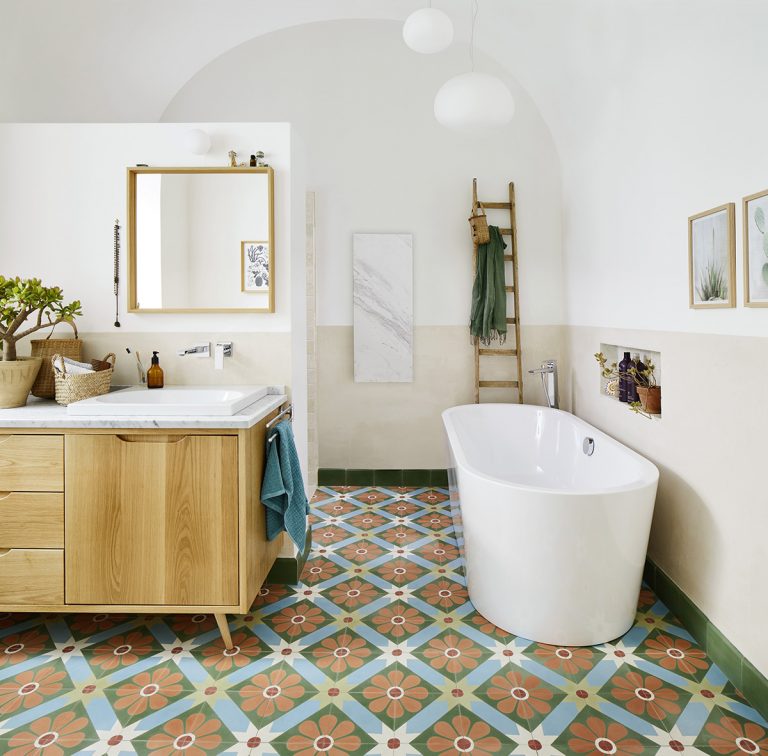 Hi Stephan, how did you make the most of this bathroom?
"This was part of an overall restoration of a ruined monastery in Naples, Italy. In keeping with the property's past life, I didn't remove corners and niches in existing walls, for example, but used them as spaces to integrate shelves or seating."
Were there any compromises?
"The restoration of this ancient building presented many challenges and dedicated much of the layout. Strict provisions of the preservation order specified that the same materials used to build the monastery around 700 years ago, such as chalk and regional sandstone, had to be used."
Clever tricks used?
"The main bathroom is a multi-purpose space. A stud wall helped to create a separate shower enclosure, which then allowed space for a vanity unit in the centre of the room. This means someone can be brushing their teeth at the basin, while another showers."
So why does the design work so well?
"By working with the unusual shapes of the space, rather than against them, I was able to achieve a design that features a freestanding bath and a separate shower enclosure. The stylish mix of modern ideas and a timeless design also allowed the homeowners to create a functional space for their family, while still being sympathetic to the era of the property."
A FLEXIBLE WET ZONE
Designed by Neil Harrold, director at Simply Bathrooms Surrey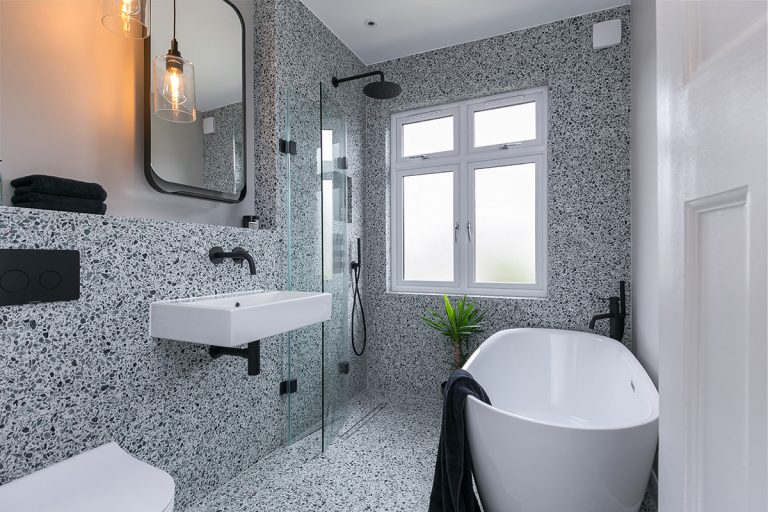 Neil, tell me, how did you make the most of this bathroom?
"I completely reviewed the previous layout, removing a disused built-in cupboard, a fitted shower over a bath, old-fashioned pedestal basin, and a close-coupled WC.
When I redesigned the layout, I added in slimline boxing down the left-hand side of the room to conceal pipework, which allowed for an ultra-slim WC cistern and contemporary wall-hung sanitaryware. This also provided an opportunity for some finer design details, such as the bottle storage within the shower and recessed space for a feature pendant lighting by the vanity area.
I also installed a fully tiled wetroom with a flexible bi-fold screen, as opposed to a conventional shower tray with a static fixture. This afforded the space for a freestanding bath as well."
What about any compromises?
"In order to achieve the new layout and positioning of the shower, an old wooden window had to be replaced with a PVC one so the room could be tiled all the way up to the new frame."
Did you use any clever tricks?
"One of the most interesting features of this small bathroom is the space-saving bi-fold shower screen, which folds back when out of use. I coupled this with the Esseta bath from BC Designs, which is slightly shorter in length at 151cm, to fit into the space."
Why does the design work so well?
"I think the Rhenish terrazzo tiles are what makes this scheme. They add interest and sweep through the room, drawing the eye out underneath the wall-hung sanitaryware and opening up the floor area."
THE BATH & SHOWER COMBO
Designed by interior designer Alison Anderson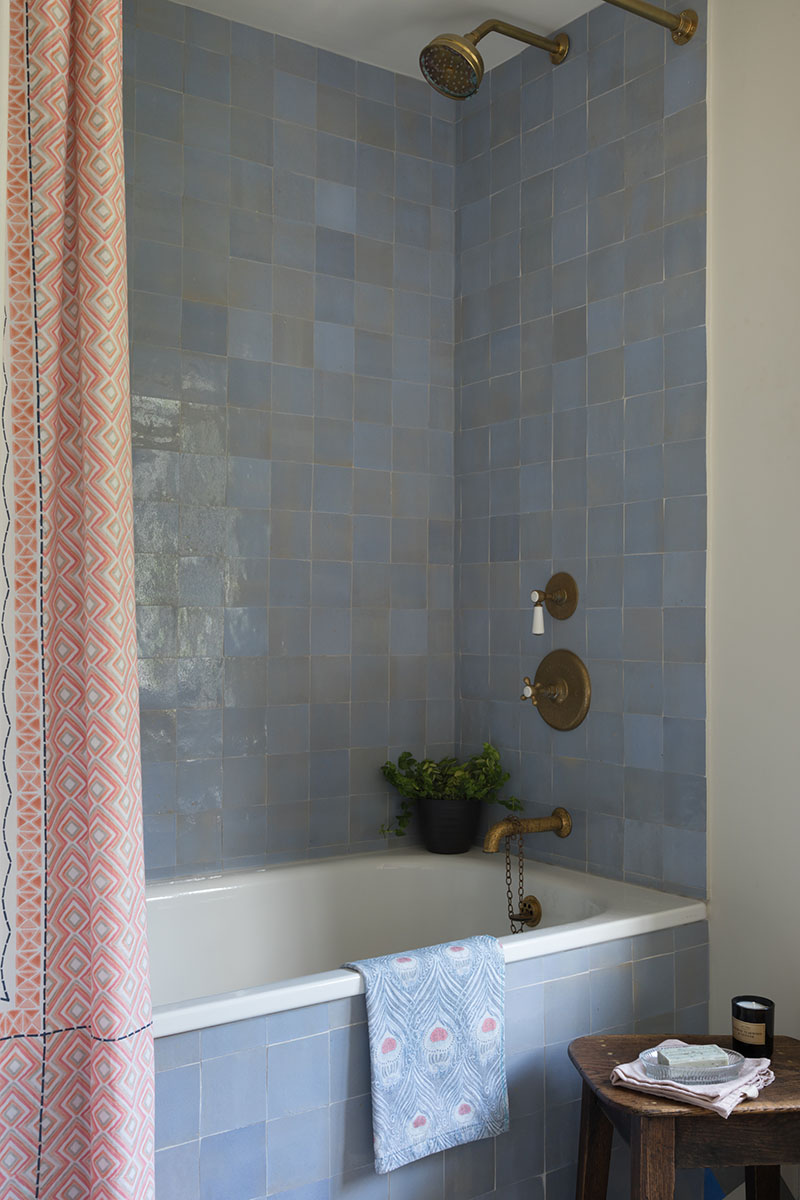 So Alison, how did you make the most of this space?
"Adding character to this small bathroom was the main challenge. Not only do the natural colours and patina of the wood add warmth, but the slim legs allow for more of the floor to be visible, making the space feel larger. Niches were built into the bath area to store toiletries, so they don't clutter up the side of the tub, and I opted for a shower curtain instead of the glass screen, which adds texture, pattern and colour so the bathroom feels more homely."
Were there any compromises?
"Having a shower over the tub was actually the compromise. Although the bathroom was extended by taking space from an adjoining cupboard, space was so tight that a standalone shower wasn't an option."
Clever tricks used?
"Despite limited space, I was able to create a warm and welcoming design. I approached the bathroom in the same way as I would a living area. Introducing colour, pattern, and texture – in this case with the tiles, shower curtain, vanity and plants. Not buying everything from a bathroom shop also helped create a relaxed look."
Why does the design work so well?
"The patina of the vanity unit, uneven zellige tiles, and unlacquered brass taps create a perfectly imperfect look, which gives the bathroom a very relaxed and laid-back feel. It stops the scheme from appearing too clinical and means that it is more forgiving, so it still looks good if the odd item is left out."
About Post Author