I think it's fair to say that the good old 'feature' wall in a bedroom has seen better days. Now don't get me wrong, this decorating trend was huge and well-loved, but when it comes to bedroom wall ideas, it's time for something new.
Don't worry, I'm not throwing wallpaper and focal points out all together (despite the title of this post), but rather encouraging you to think more creatively about how to use wall coverings in your bedroom and go beyond the 'usual' to embrace new materials, different bedroom wall ideas such as tiles and panelling, or simply making a feature using art and textiles.
Luckily, design aficionado and @kbbmagazine journo Rachel Ogden found me some gorgeous examples, and so I'm going to share them with you…
Bedroom wall ideas: mixing patterns
OK, OK, I said bedroom wall ideas that AREN'T wallpaper, I know, but stick with me. The conventional wisdom is to pick one patterned paper for a bedroom. However, by choosing two you can create zones. This is a great idea if your space also has to function as a home office or dressing area.
The trick is to select clearly different designs which share a similar colour palette, so they coordinate without clashing. A softly repeating pattern is ideal for the restful area, while lively birds, animals or botanicals suit
a more active zone. This could be an alcove, corner or spot near a window. Note how the middle section of wallpaper in the image below stands proud of the rest of the wall, adding extra interest. You could achieve this with a false wall or panel if you don't have a chimneybreast.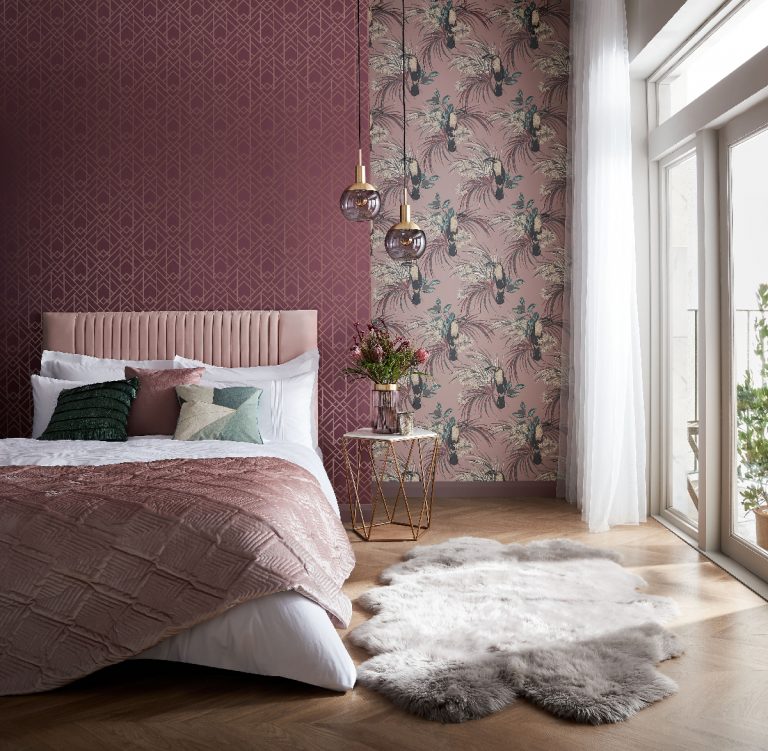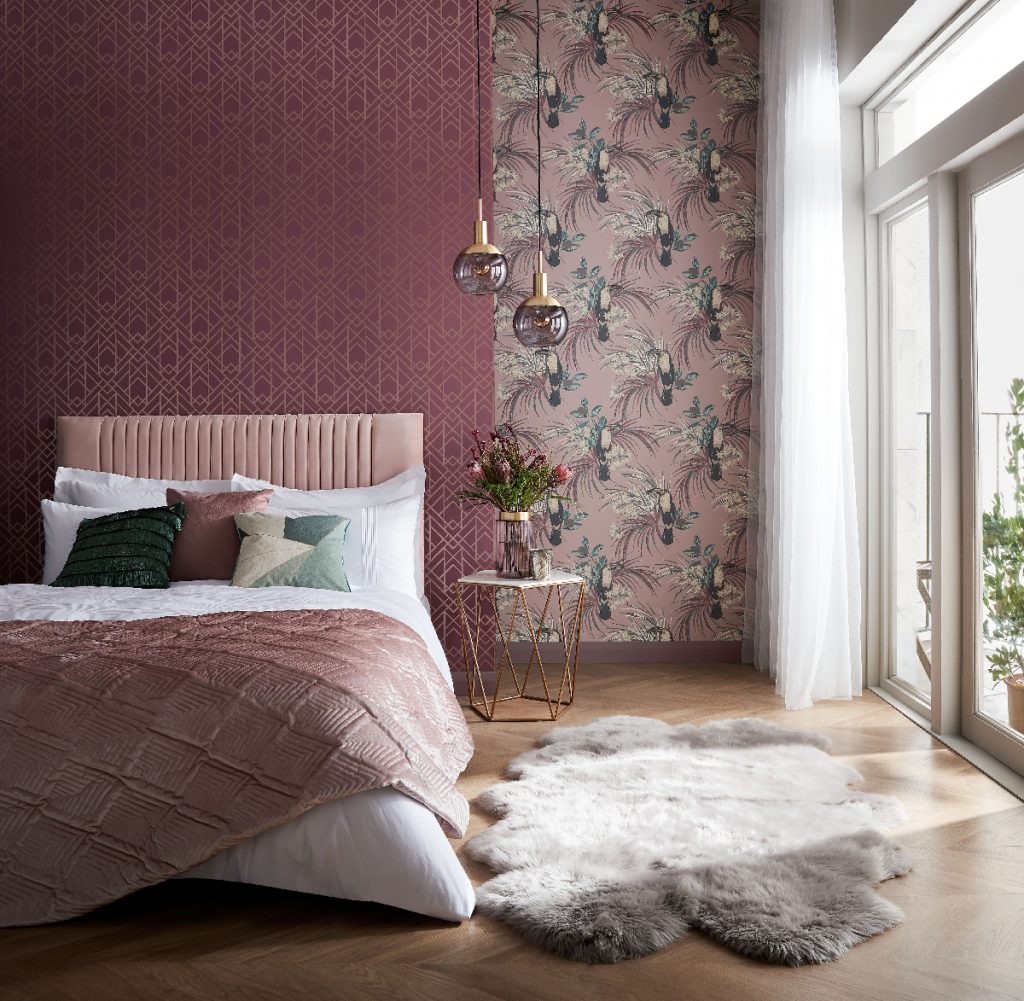 Bedroom wall ideas: hanging fabric
Easier to keep clean and simpler to update than wallpaper, the idea of fabric hangings is gaining traction. One reason is the prevalence of gorgeous graphic designs that look striking when hung across walls. Alternatively, hang them above a bed to give the feeling of an oversized headboard.
It's important to let the fabric take centre stage, so don't worry too much about ornate poles. However, think about changing the fabric with the seasons. Choose thick, weighty fabrics to create a cosy feel in the cooler months. Then choose relaxed linens and colourful prints for a light, fresh look for the warmer seasons, even when the sun isn't shining. Easy as ever.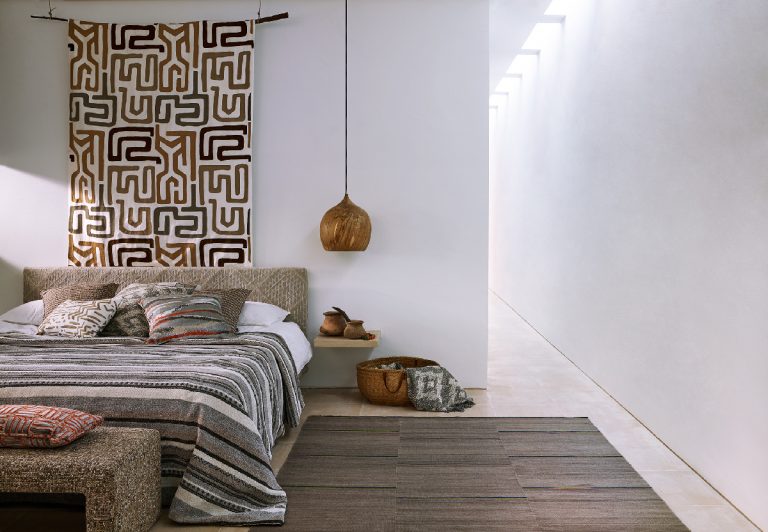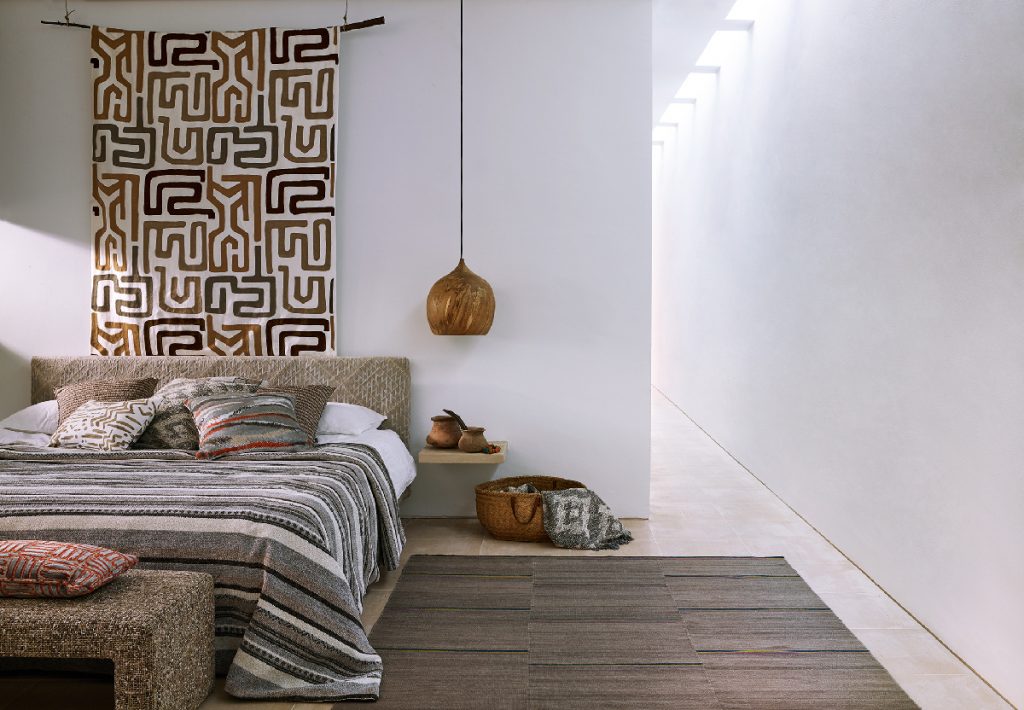 Bedroom wall ideas: use tiles
The idea of tiling a bedroom wall may seem like moving away from a cosy, welcoming room. However, there are many plus points. Tiles are a great way to add a more tactile feel if you choose a textured finish. You can also add a subtle sparkle with mosaics, glass tiles, or highly polished surfaces.
There's no need to cover the whole wall, either. You can tile sections, such as the back of shelves, behind the bed or to demarcate a desk area.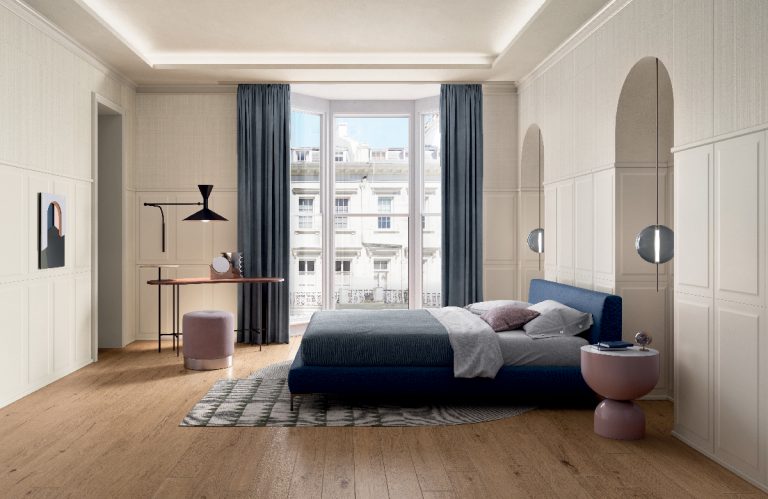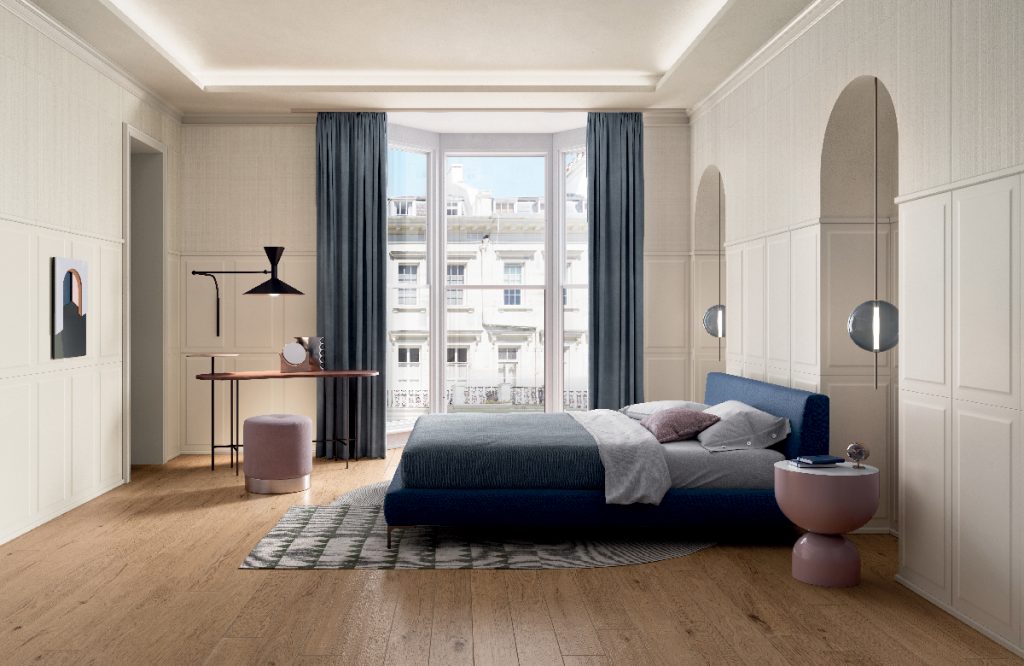 More ideas: create wood panelling
If you're ready to embrace wood, try using it on a wall. Cladding is a good way to cover up uneven surfaces or bring
order to an awkwardly shaped bedroom. It can also be useful – rows of slim batons provide a flexible grid to hook or hang small shelves from.
Timber comes in a variety of shades, textures, and plank sizes, plus it's also neutral, so can work with any colour scheme you choose. And if you want a fresh new look, simply sand and refinish it with a different oil, wax or stain.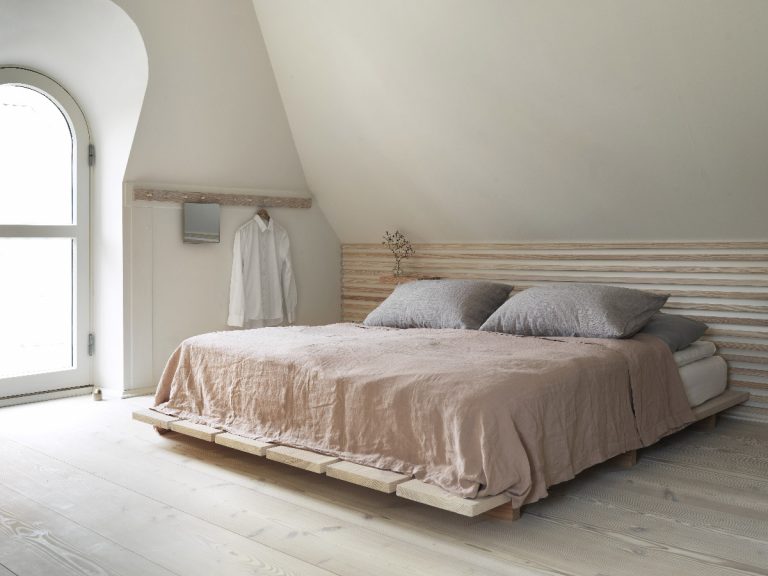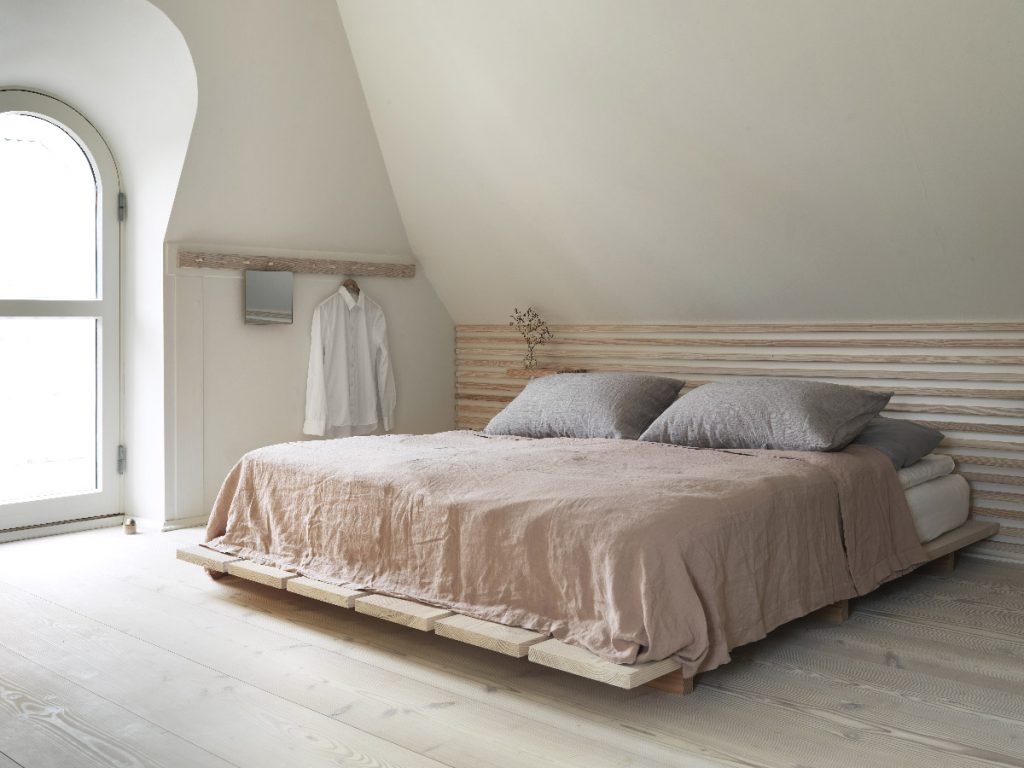 More ideas: keep it simple
You don't HAVE to go all out on the walls if you don't fancy. So if you want a focal point, why not turn your attention to the floor instead? Keep walls pared back in white or a calm neutral paint. Then introduce colour and pattern through the bedroom floor instead.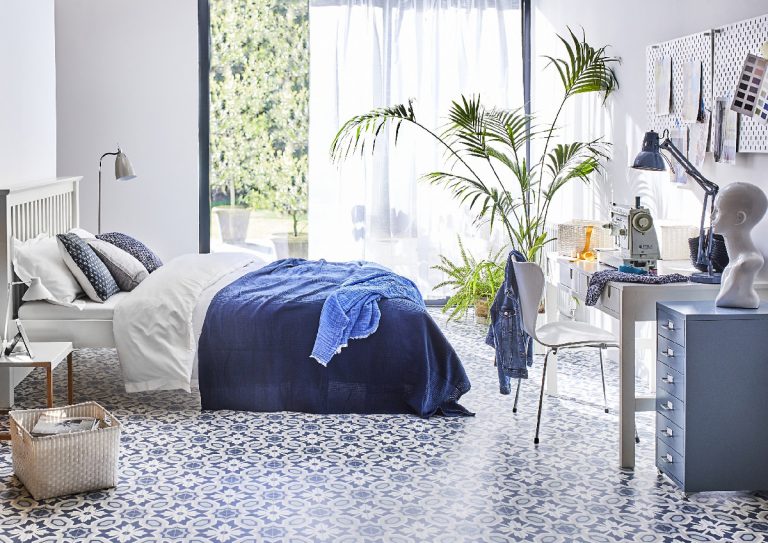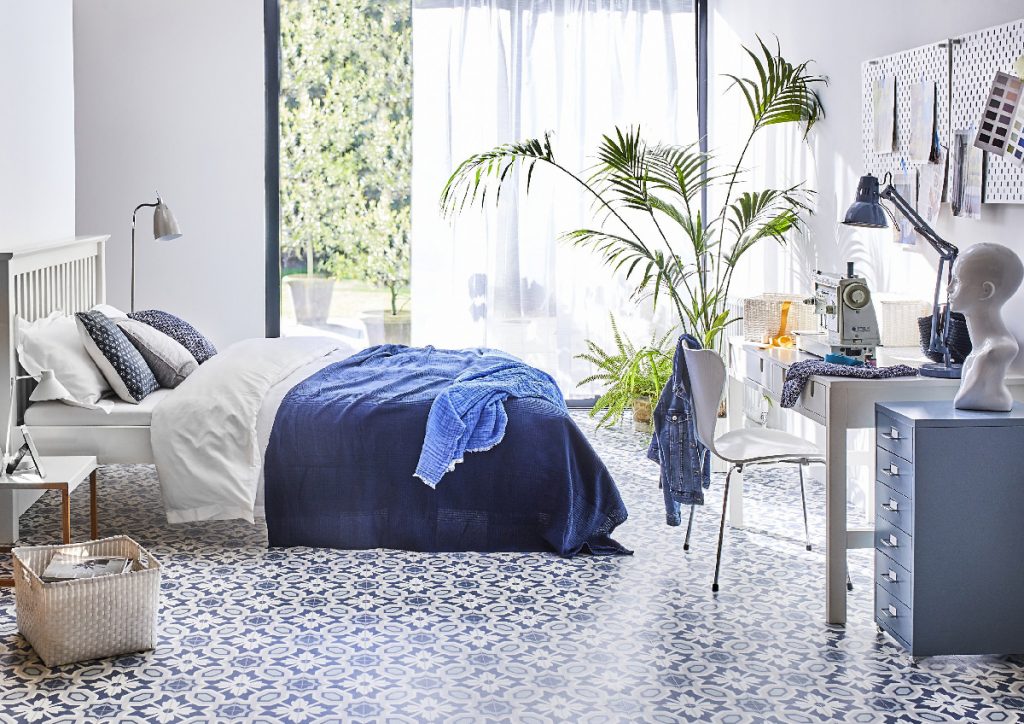 More ideas: play with paint
Without architectural features, such as cornicing and coving, modern bedroom walls can look a bit empty. If this is the case with your room, this is one of the most suitable bedroom wall ideas for you.
Clever use of paint can fill the same role as coving and cornicing, adding points of interest and a cosy feel. Rather than opting for block colour from floor to ceiling, take the opportunity to subtle divide the space with sections.
This could be as simple as a dado rail-style multicoloured stripe around the room, or by using one shade for two-thirds of the wall with a complementary tone for the third section – positioned around the height where a picture rail would sit.
Choose your favourite colours and away you go…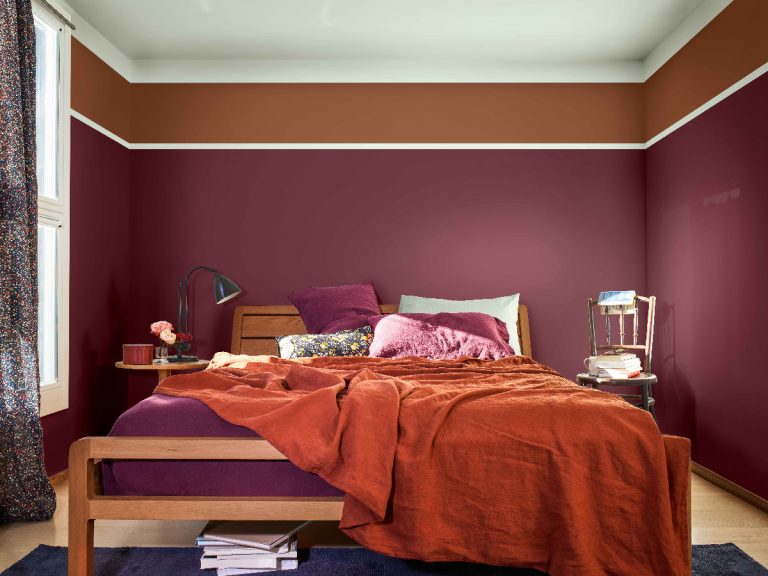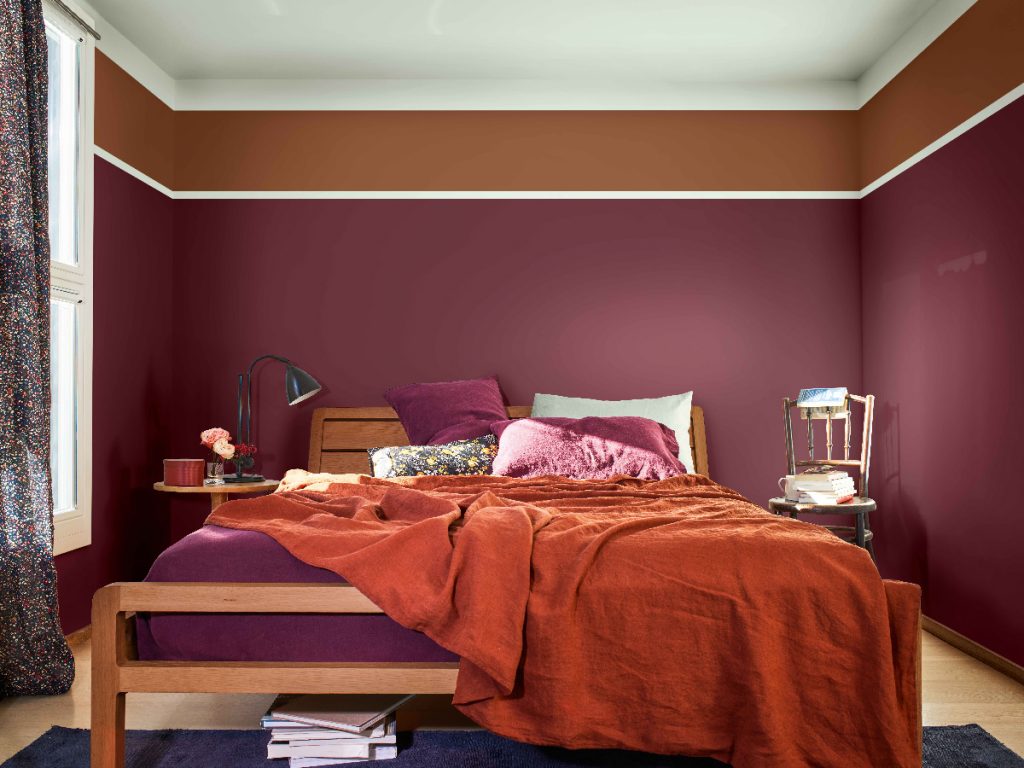 Another idea: clay you say?
For the ultimate natural look when it comes to bedroom wall ideas, swap paint for a simple clay plaster. As well as providing a rustic feel, it 'breathes', so absorbs excess moisture from the surroundings and releases it when the air becomes drier.
Clay is also good at regulating temperature, so the space will be warmer in the winter and cooler in summer, making for a better night's sleep all year round.
The one downside? Clay plaster absorbs light, so is best used in rooms that have layers of artificial light or receive plenty of sun. If your room is dark, it's not the most suitable of bedroom wall ideas.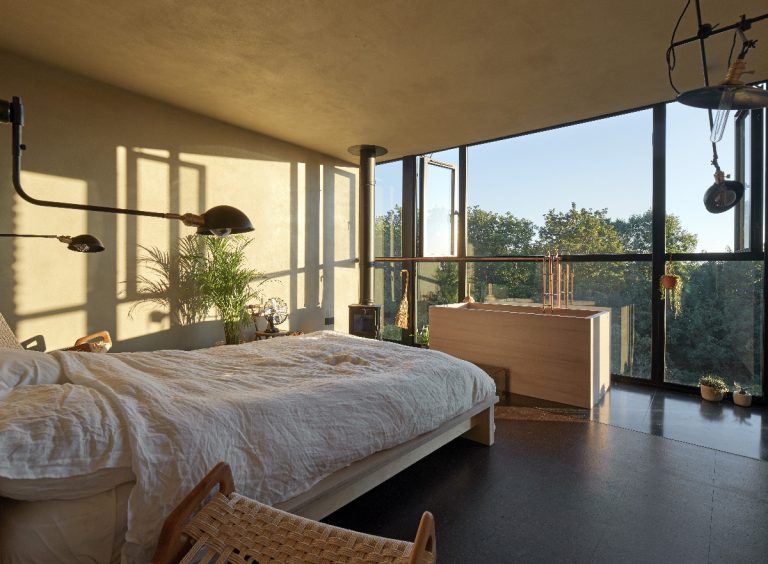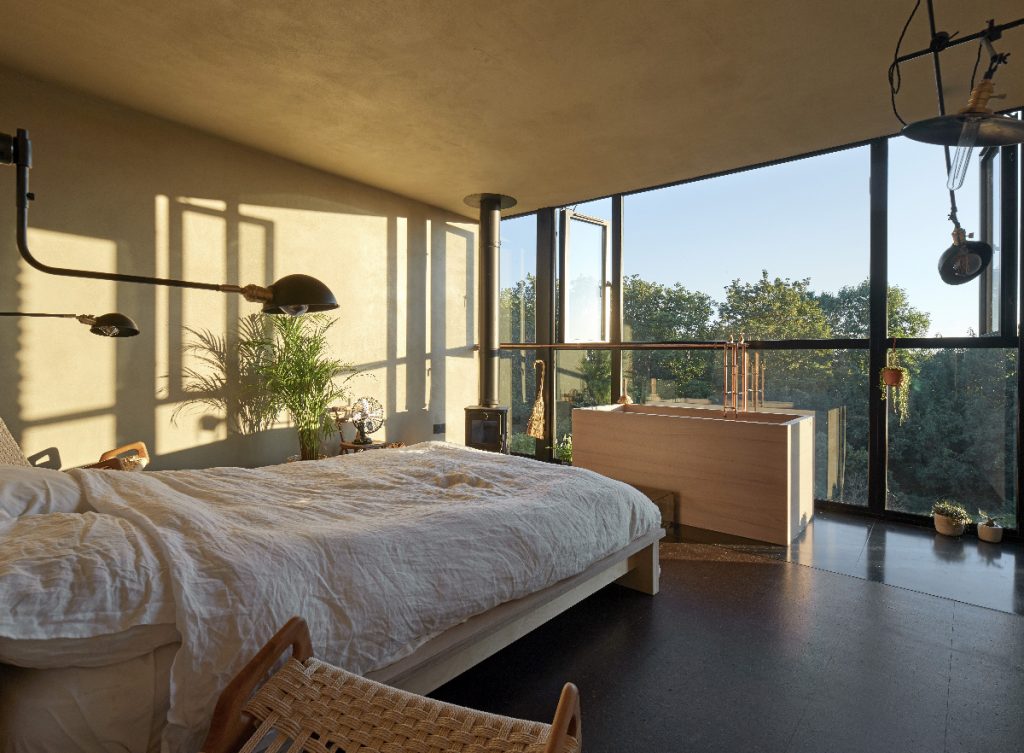 Further ideas: go for a statement headboard
As bedroom wall ideas go, a statement headboard is striking and unique. A panel covered in wallpaper is an easy way to bring pattern into your bedroom without too much commitment. Positioned behind the bed, it'll at the same time create the luxurious impression of an oversized headboard.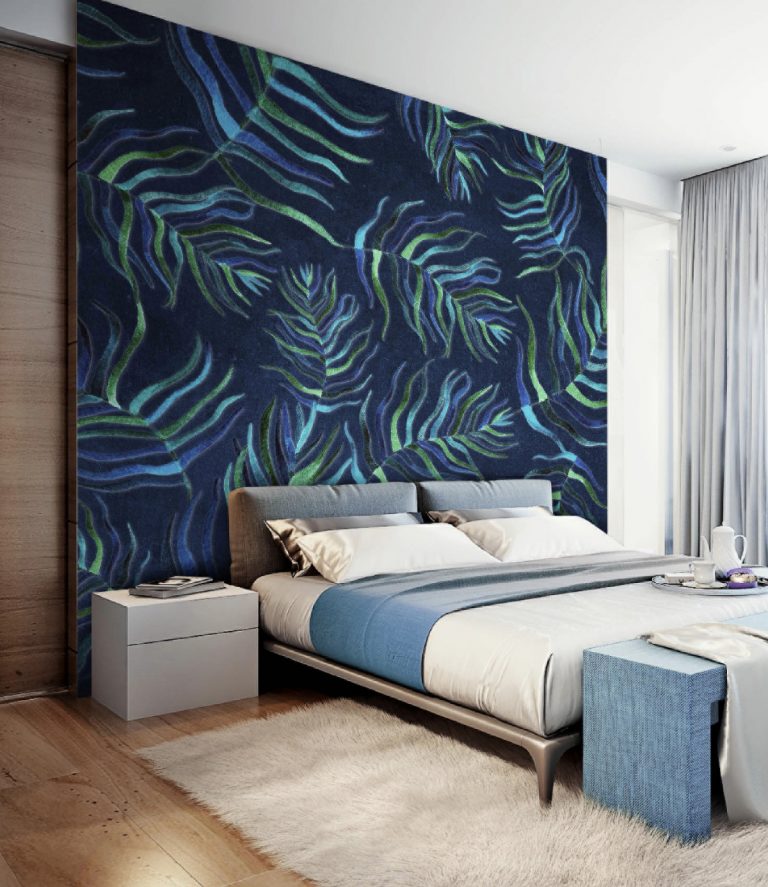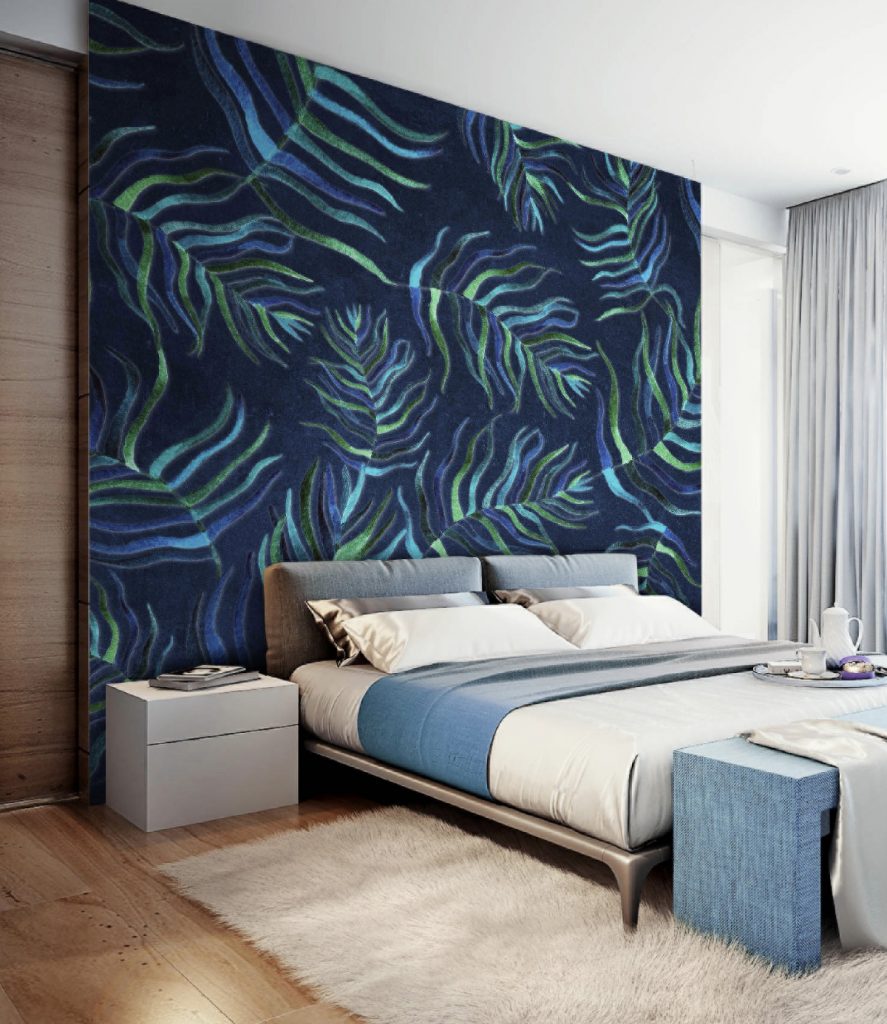 How about adding art?
Bedroom wall ideas you've already come across will definitely include art, but have you considered displaying some on your walls? The artworks we choose are often incredibly personal, so the bedroom is a good place to display them. There's no need to stick to the convention of one picture per space. Display them in the way that feels most natural to you.
Start by placing your art on the floor with a tape that defines the boundary line of the wall. Then work out from the centre, until you have an arrangement that feels balanced.
It might be a patchwork of sizes and styles or a more classic grid. Then stand on a chair and take a photo from above. This will help you visualise what the arrangement might look like before you commit to fixing it.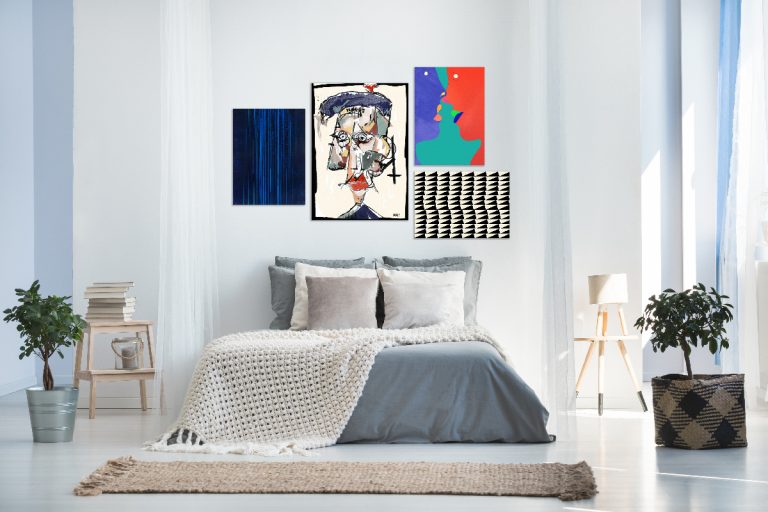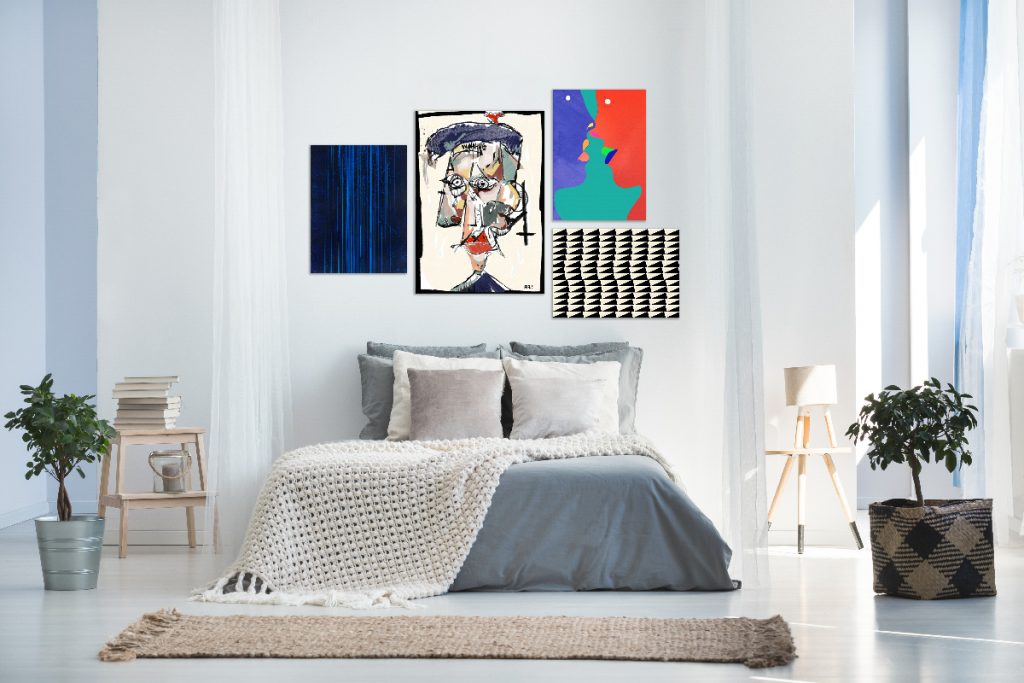 Lastly, think about fabric panelling
German company Softwalls produces lovely soft fabric panels. They stick on the walls with provided adhesive and can be used as a headboard if your bed doesn't already have one. Alternatively, you can use them to decorate other parts of your bedroom walls. The company can also provide handy cut-outs for switches, sockets and spotlights, and produce special shapes such as triangles, circles and diamonds.
Featured image: Lapicida.
Want more gorgeous bedroom wall ideas? Then read this feature.
About Post Author