Nicki Bamford-Bowes is the interior designer who shot to fame in the first series of BBC Two's Interior Design Masters. She showcases her design skills on her popular Instagram account @andthentheywentwild and has made a name for herself with her flair for home decor. Alongside Saturdays star Frankie Bridge, she's now fronting Home Essentials' SS22 campaign. But what does a day in Nicki's exciting life involve? We caught up with her to find out…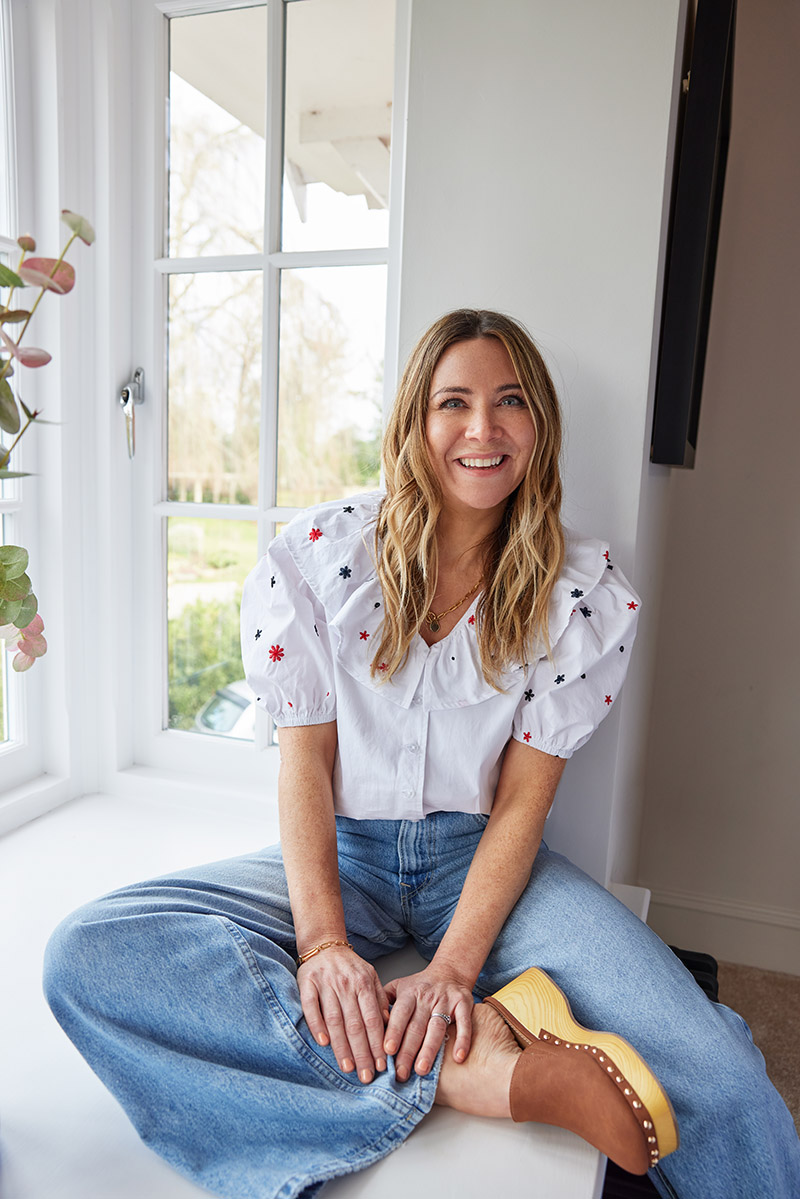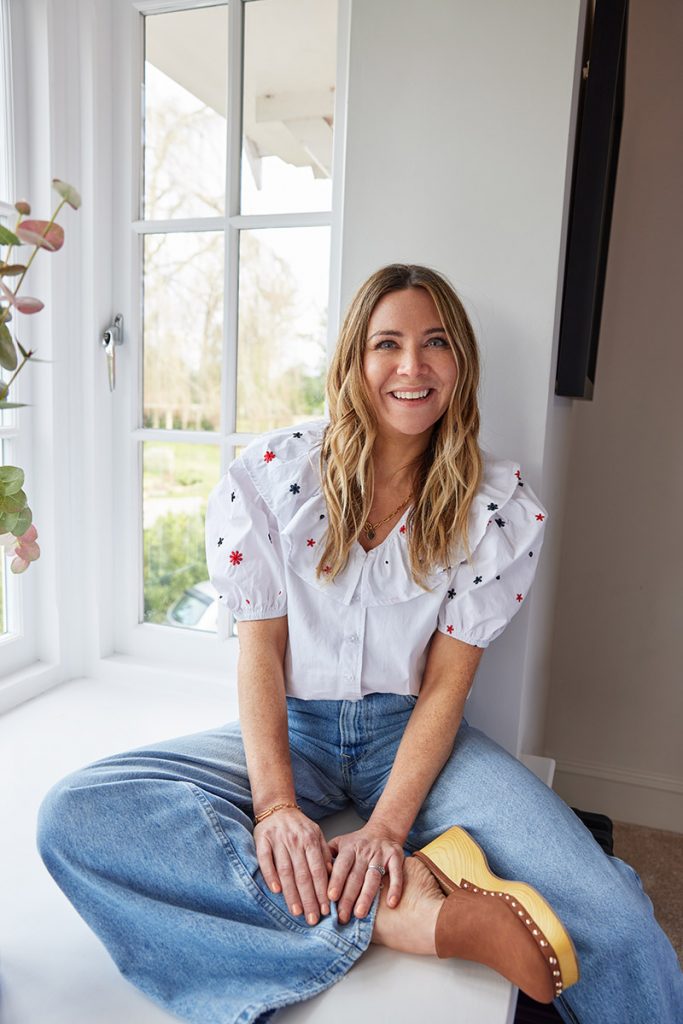 Nicki Bamford-Bowes: the interview
Being Nicki Bamford-Bowes must be pretty fun at the moment. So what time do you wake up in the morning and get the party started?
Nicki Bamford-Bowes: I'm a real night owl. Luckily, my husband Matt brings me a cup of Earl Grey tea in bed every morning at 6.30am to get me started. I have a quick look at social media and respond to any urgent emails. Occasionally I will post around this time too. Then it's up-and at-'em at 7am.
What does your morning routine involve?
I would love to say I have a slow, mindful start to the day, but with three kids to get ready for school this doesn't happen. It's overseeing packed lunches, PE kits and brushing tangles out of my daughter's hair – while putting on a laundry load and tidying the house.
We're sure every day is different, but what might a typical work day as a top interior designer look like?
I love my job because every day is SO different. We have several interior design jobs running at a time, all at different stages of the process. So, it can include meeting a new client for the first time and ordering samples to create mood boards, sourcing new materials and items for a scheme, and preparing drawings ready to present to clients.
Or I might be on a site visit to see a project in progress and meet with clients and trades. We often design bespoke items to be made – a favourite part of my job. So, it is great to discuss the development of these with the joiner or trade.
A lot of an interior designer's time is spent communicating with clients and contractors. It's important to build that relationship and have a foundation of trust. I also love meeting suppliers and visiting trade shows to discover new ideas, trends, materials, or products. Site visits to marble yards, for example, always excite me, as I always find a new stone in a new colour way or pattern I haven't seen before.
I also do a lot of interior styling for commercial brand campaigns and client projects. So, I might be meeting my photographer Lol Johnson and planning a shoot. I also love writing design and styling tips for brands and magazines.
Wow, that's a packed day! And you also do a lot on social, don't you?
Social media has become a huge part of my day job now. So much so, we have reduced the number of design projects we take on in-house to get a balance of both. Working with brands is a hugely rewarding part of my job. As well as influencing the way brands present themselves to their customers, I love helping to bring great products to the attention of my 127k followers on Instagram, helping them create more beautiful, happy homes.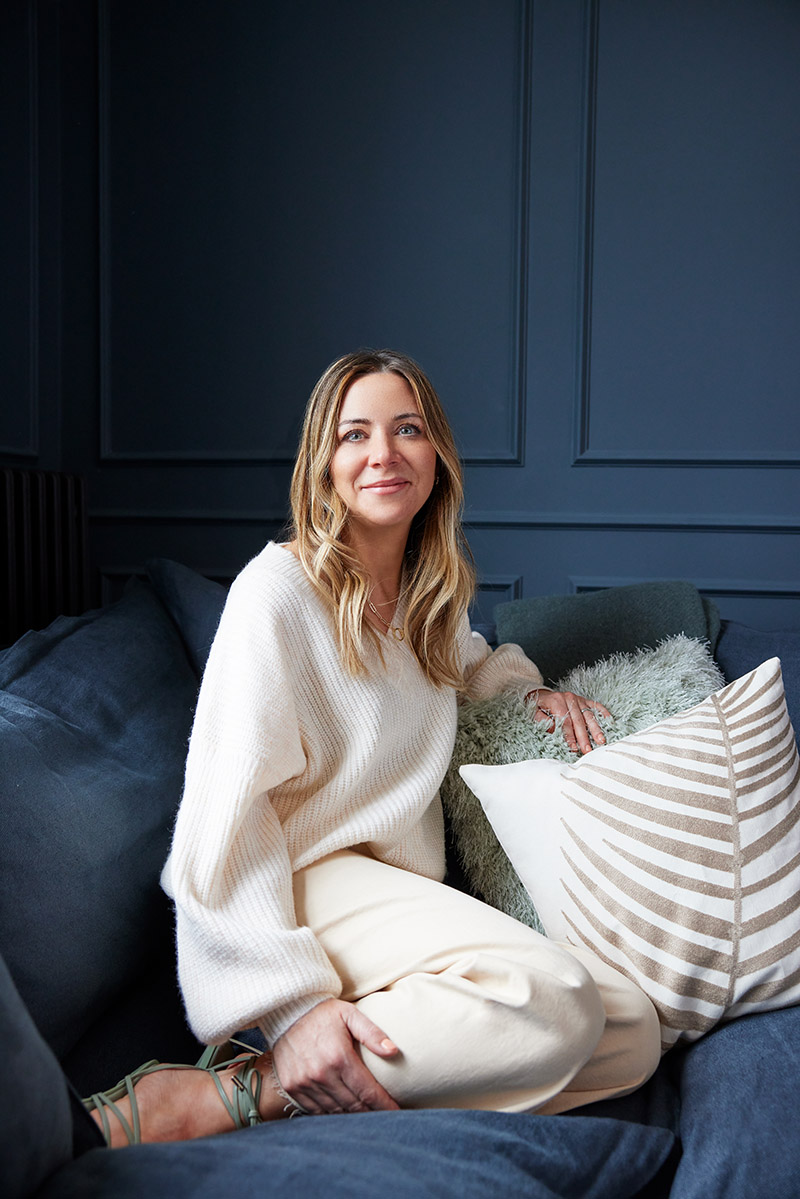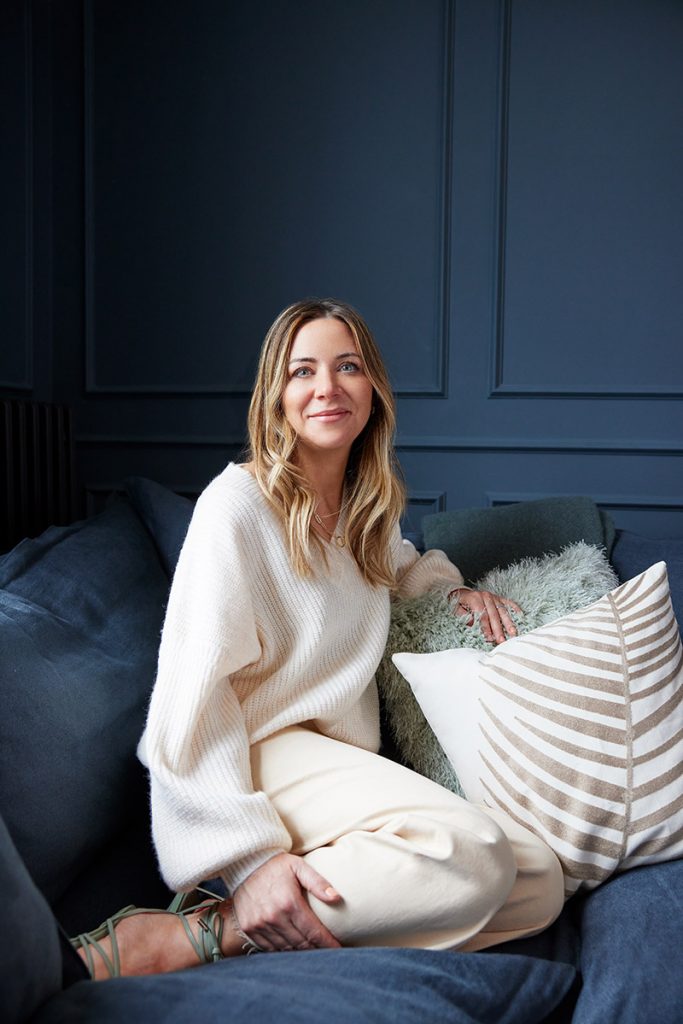 To be Brand Ambassador for Home Essentials is a wonderful opportunity to share how to achieve a look or how to style a space.
In between working on client projects, I have several going on at home. The next big project is our imminent kitchen extension and additional family space, so I have been carving out the time to develop this design. I am so excited to be designing for us again. It's going to be beautiful, and with the kids growing so fast we are so ready for the extra space.
When you meet a design client for the first time, what sorts of things do you ask them? How might the conversation go?
Before we meet a client, we speak via Zoom, and we have created questionnaires to help us fully understand their ideas and requirements.
Each project is unique, so we take the time to understand their needs as well as their budget and deadline before we even meet. I love the early sessions, as we spend a couple of hours getting to understand how they live and what makes them happy. I want to know how they live, eat, sleep, what restaurants and hotels they love, what sort of clothes they wear. Do they like to travel or dance on tables, or do they love a quiet night in by the fire? What do they like to drink? How do they like to entertain?
You would be amazed at some of the things that end up coming out of our chats, which they didn't even realise about themselves, that may impact the overall look, feel and function of the space. It might be one item the client owns and loves that may be the inspiration for the basis of the whole space. A recent client, @projekt_26, sells vintage Polish posters. Her love of bold graphics and colours really helped shape the whole design, so we embraced colour and pattern with striking terrazzo work tops in the kitchen and bold stripes on the ceilings of her kids bedroom.
How do you recce the client's space? For example, do you take measurements, make notes of sizes and shapes of rooms, how much natural light there is, etc…?
Interior design is certainly not all about colours and furniture. It's vital to take accurate measurements and map out the current floor plan and ceiling heights. We plot where the current electricals are and include detailed measurements of doorways, windows, radiators etc. It is good to understand from the outset what will stay, what can go and what are negotiables are. Light is so important. We assess which way the room is facing, and how the light might affect the space at different times of the day, and also what times of the day they will be using this room. This will affect the colours we choose.
For a northern facing room, which sees less light, a mistake is to paint it bright white to brighten it. This can make the room feel cold. Instead, you want to add colours with warmth to make it feel cosy. Often, embracing nature and going with darker tones here will make it feel snug. When we do our consultation, we also delve into how the client wants the space to 'feel'. It's important to me to use colours and materials to create specific emotional responses. Some colours will make you feel more energetic and creative like yellow, great for a workspace, for example. Cooler tones like greens and blues are calming and work well in bathrooms for example. I love darker shades in the bedroom as they create a more intimate cocooning space as well as help prepare your mind for sleep.
What else do you consider?
We also look at what works and what doesn't work within the space. Determining how people will flow from one room to another, how the layout of a kitchen will make it easier to work in, or how the layout of an office building or hotel will reduce stress or be conducive to relaxation. Does the client need more space or more storage? We can often suggest simple and less expensive options to achieve a client's dreams. Sometimes we meet clients who are convinced they need a huge extension, but what they really need is to knock down some walls and zone areas, or open up the ceiling or doorways and windows to create that feeling of space. Bigger isn't always better!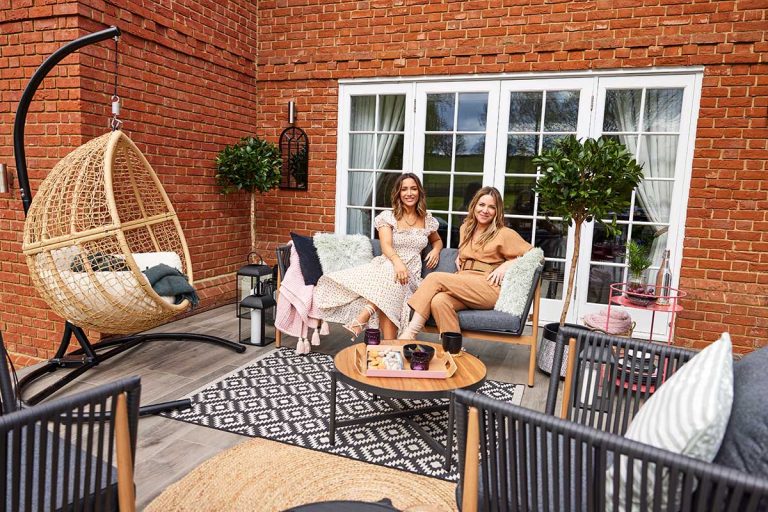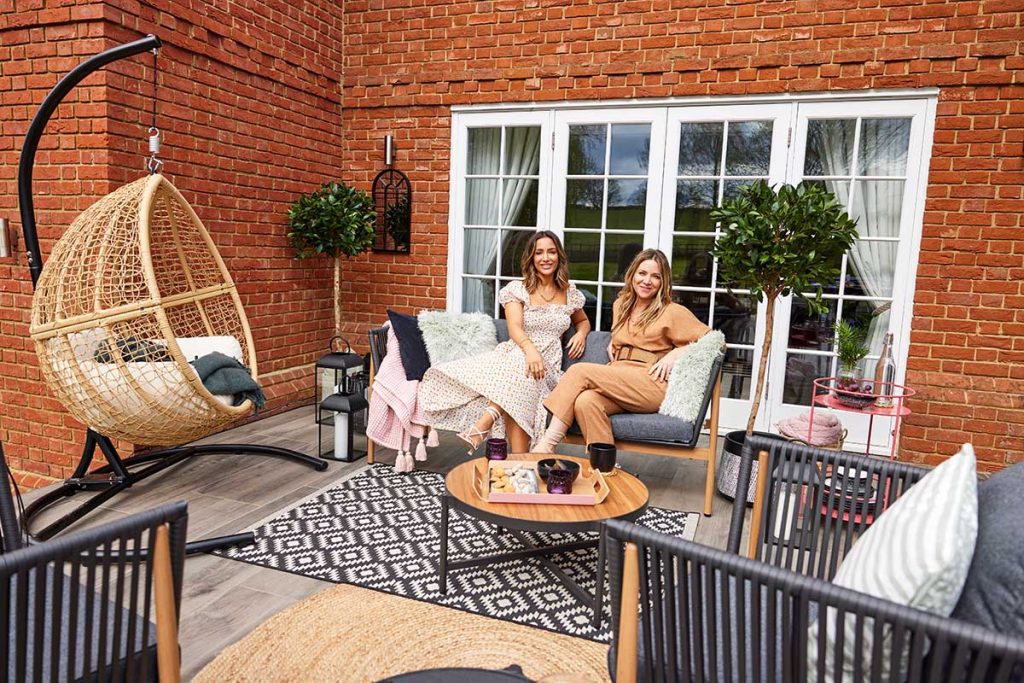 Nicki Bamford-Bowes: the interview
How does the design process continue from this point onwards?
Once the brief is agreed, we focus on the floor plan first, developing plans for the furniture layout. Once we have a good idea how the space should function, we work on creating a concept board for the overall vibe of the space. We do this through image references, plus using fabric, paint, and colour samples to craft the beginnings of a room design. We devise colour schemes and research materials, and produce 3D visuals of how the space will look. In addition, we help source contractors and purchase from our trade suppliers on behalf of the client. We work out budgets and timelines and we liaise with contractors.
Is designing interiors for clients a collaborative process, or do clients tend to leave the decisions up to you?
I have always worked very collaboratively with my clients – particularly when it comes to residential clients. These are their homes, and they will be living there long after we've moved on to other projects. I want them to love every aspect of their home.
Do you have recommended suppliers who you work with regularly? If so, which ones?
London Marble Ltd is a local stone yard to me, and as mentioned, I love a wander around it. Designers Guild is a firm favourite for velvets. They have every colour you could want and need.
A trip to Design Centre, Chelsea Harbour is always a great starting point when sourcing as there are so many suppliers and so much inspiration under one roof. A lot can be achieved in a day. If you work collaboratively with your client, it is always great to take them along to see things in the flesh and allow them to touch and explore. It also enables you to gauge where their boundaries lie, and where you could push them to try something they had never considered before.
What has been the favourite room you've styled for Home Essentials, and why?
At Christmas, I was set the challenge to style Christmas in two completely different ways. To create two very different Christmas vibes – both in the same room. As anyone who knows me will tell you, I absolutely LOVE Christmas and always go crazy decorating my home for my family. For Look #1 for Home Essentials' challenge, I went for a traditional vibe of candy cane reds and berries, a fireplace and a mantel garland bursting with fern, but with a modern twist of a huge oversized bow topper.
For Look #2, I decided to go for something that was more a reflection of me. Pink tree, pink baubles and another fun, graphic oversized bow topper.
Both were styled and shot in my home, and I wanted to show how, even in the same room, you can create a completely different look and feel with styling.
Nicki Bamford-Bowes: the interview
Which three Home Essentials products would you recommend to our readers, and what do you especially like about them?
I love my new reading chair in my bedroom. It's a Willow Rattan chair made of tactile natural materials. A matching footstool is a must-have so you can kick back and relax. It's also fantastic value.
The Kiso vase looks like carved wood but is ceramic. So clever!
My Highgate armchair is perfect for curling up in at the end of a busy day.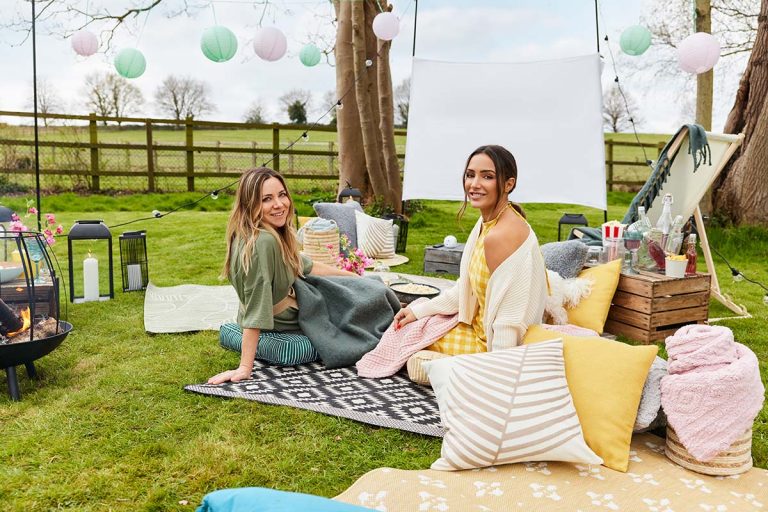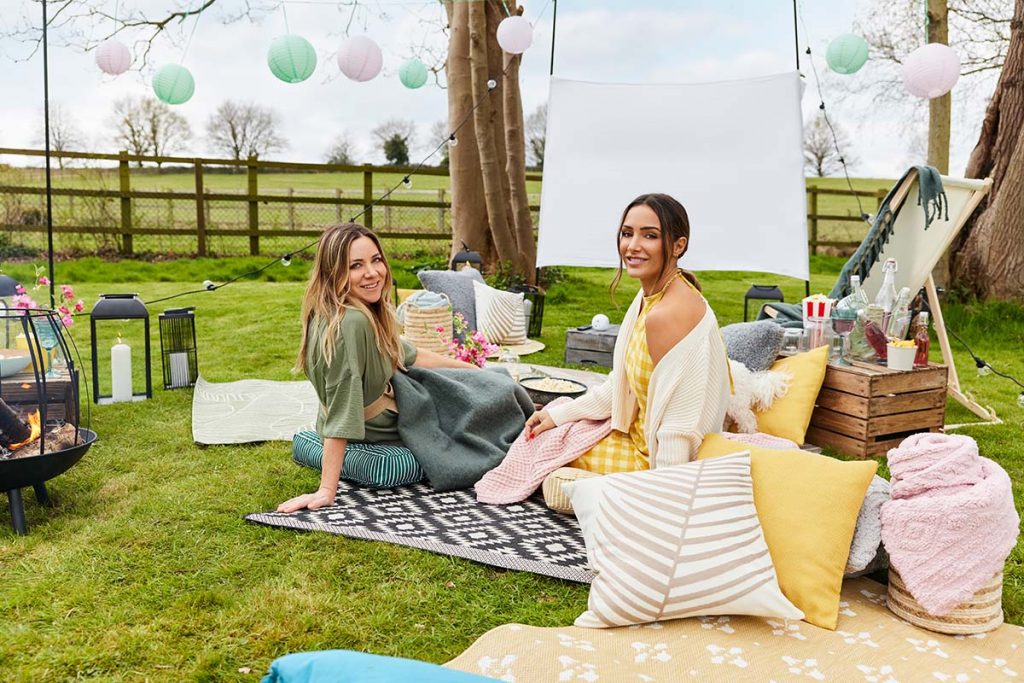 Nicki Bamford-Bowes: the interview
What are you most excited about when it comes to the Home Essentials SS22 campaign?
I had so much fun shooting the campaign with my Home Essentials partner in crime, Frankie Bridge. After lockdown, people appreciate their outdoor space more than ever. The trend is to create garden 'rooms' that work as a seamless extension of your home, from entertaining guests outdoors to creating outdoor kitchens and relaxing spaces, and even an outdoor cinema for the family.
The SS22 campaign is all about showing people how to make more of their precious outdoor space. There are so many great products available now that look like delicate indoor items but are created in weatherproof materials. My Home Essentials rattan armchairs stayed out all winter and still look amazing.
What do your evenings involve? Who do you spend time with and what do you do?
I have three children aged 8 to 14, plus a huge extended family. We often have friends and family around for meals and parties. We entertain a lot in the garden – our new outdoor pizza oven gets a lot of use, and I'm setting up an outdoor cinema this year. I'm also famous for going crazy for special occasions, such as my kids' birthday parties.
One of my children, Bertie, was born near Christmas so the snow machine comes out, while my daughter Bo was born on Halloween, and I decorate the whole house and have a huge Halloween party to celebrate. I also enjoy relaxing on the sofa and watching movies with my husband, and occasionally we manage a date night too. I'm a night person and often have my most creative ideas in the evening. Sometimes, when all the kids are in bed, I'll sneak back to my office to work.
How do you wind down for the evening? What's your bedtime routine, and what time do you sleep?
Fitting in fitness around having three kids and a busy career is tricky. I have recently joined a running club and attend boxing classes in the evenings. That might not sound relaxing, but exercise helps me de-stress and sleep better.
I recently set up a reading corner in my bedroom as a little escape from the rest of the house. I like to hide away here when I need to wind down. It's a no-phone zone. I just love to pore over my design books, listen to music and light candles. Our master bedroom has a huge ensuite bathroom, so I love to have a bath then put on a face mask and chill out in the bedroom and read – and pretend I am in a spa. It doesn't happen as much as I would like, but when it does it is bliss!
And with that, Nicki Bamford-Bowes is off to enjoy the rest of her busy and fun-packed day. Envious, us? Just a little…!
The Home Essentials SS22 range is available now. The campaign features Frankie Bridge and Nicki Bamford-Bowes utilising Frankie's very own garden to create three different garden looks, and help make it easier for consumers to create stylish spaces that enrich life at home.
Nicki Bamford-Bowes' top 5 tips for outdoor entertaining
To set the mood, greet your guests with a drink and get them settled in. When you're outdoors for several hours, it's important to keep your guests topped up and comfortable.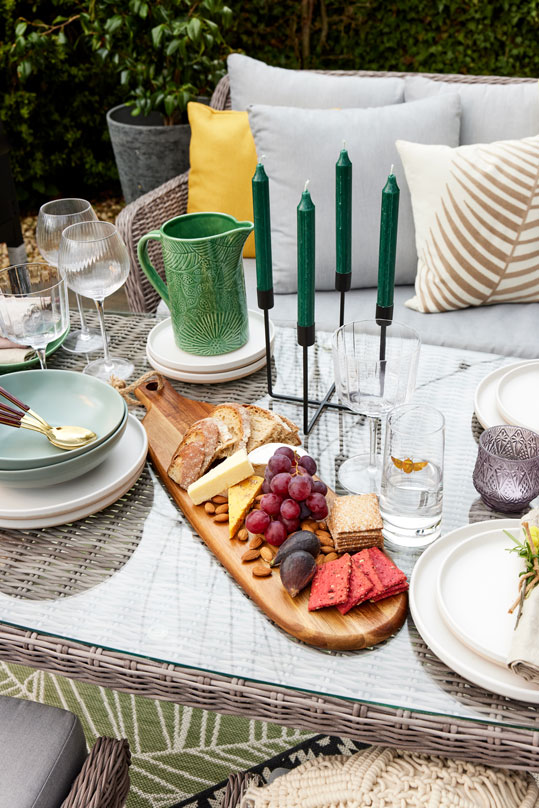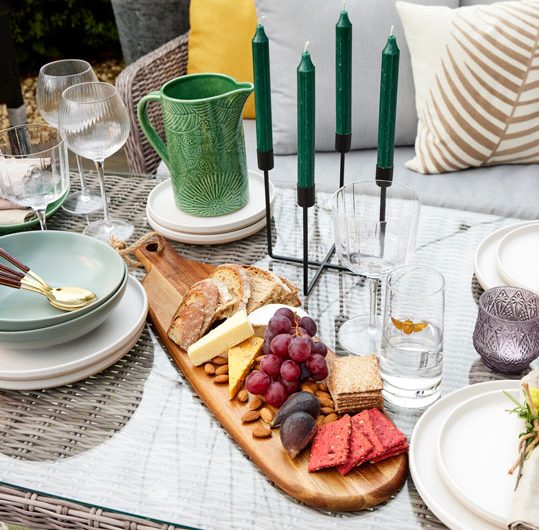 Layer up some cushions to make a comfy seating area and have some warm blankets handy for when the sun goes down.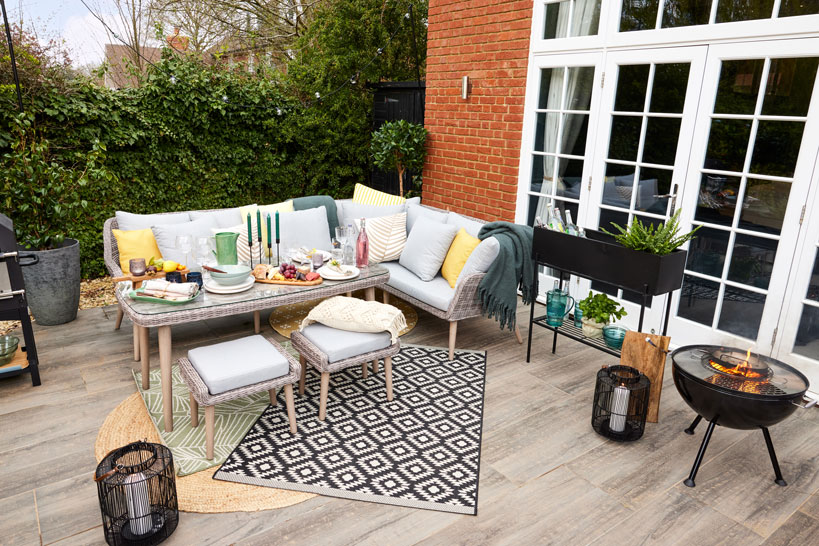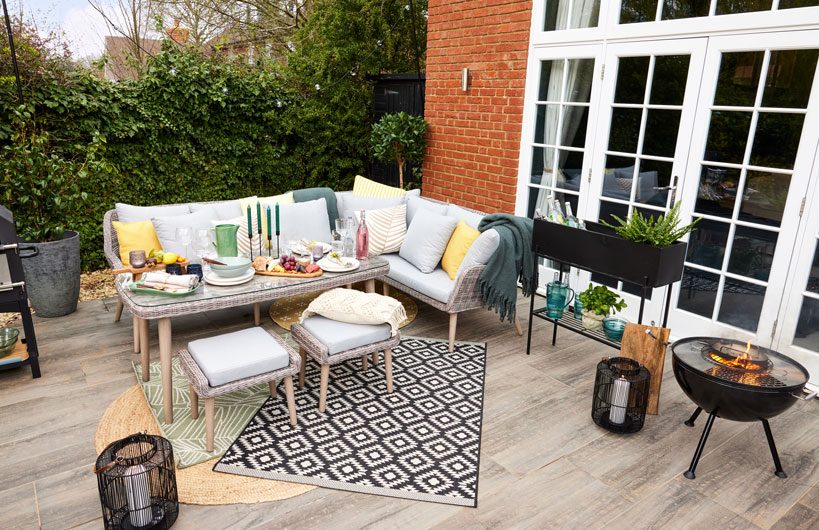 When setting your table, think about those rustic elements and give a nod to nature with your décor. Greens and natural woods work well together. Everything should feel light and relaxed, and not too formal or fancy.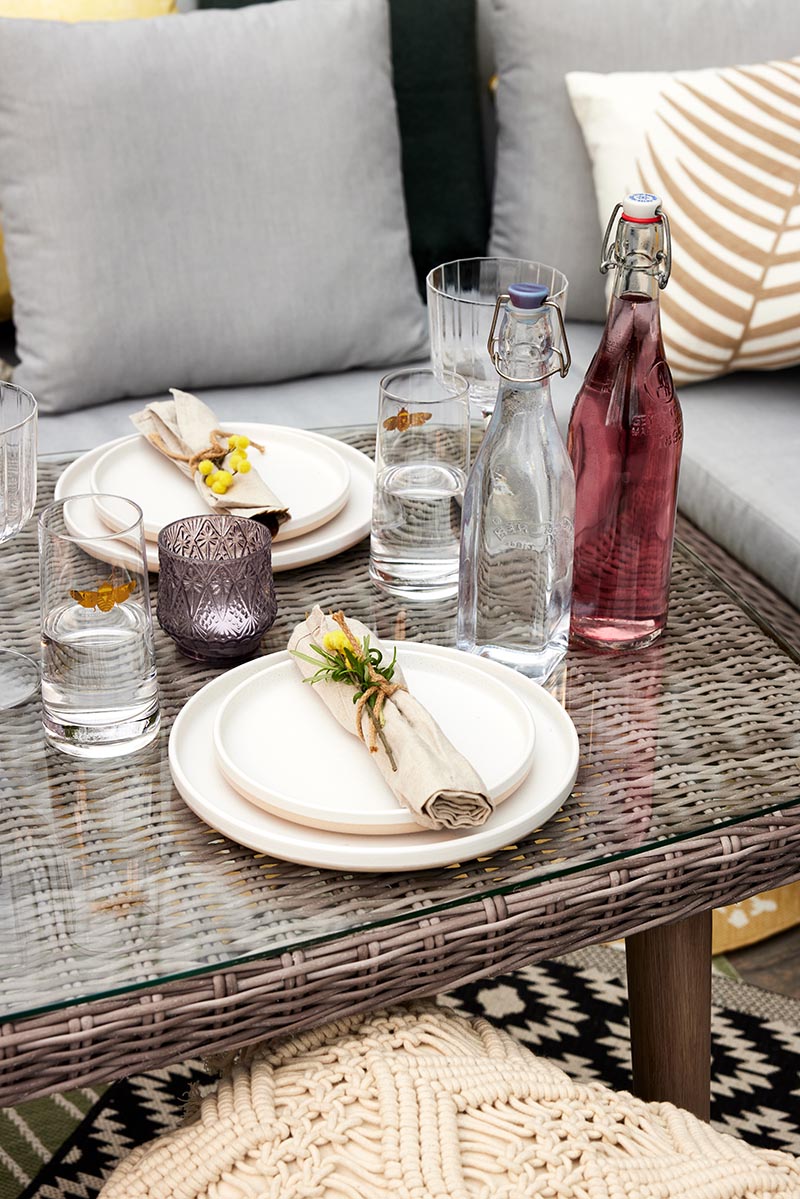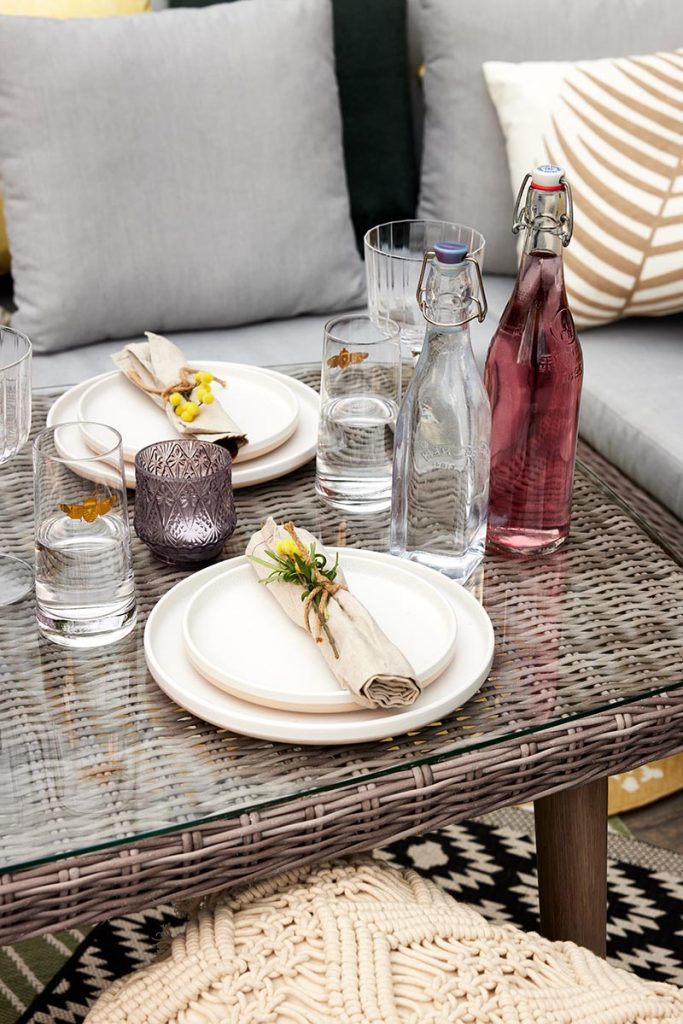 Set up a serving station as it will give you one less thing to worry about and make it easy for your guests to top up their glasses.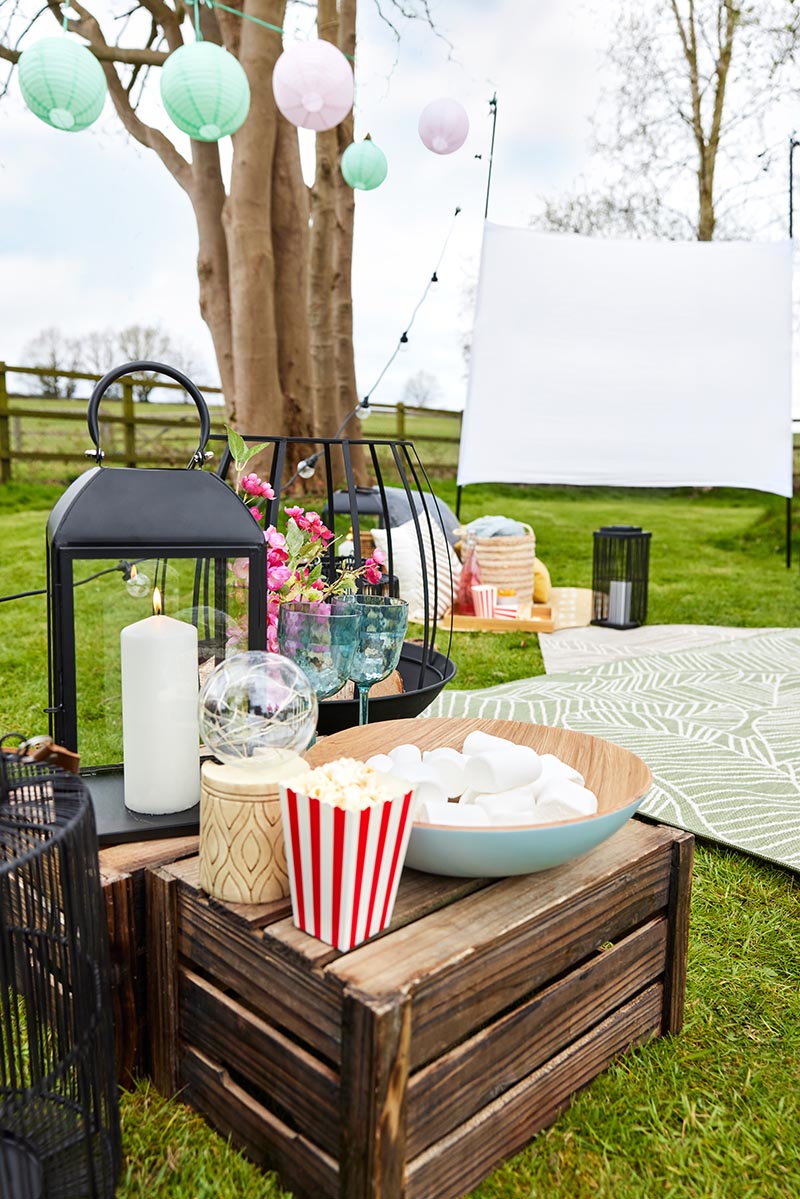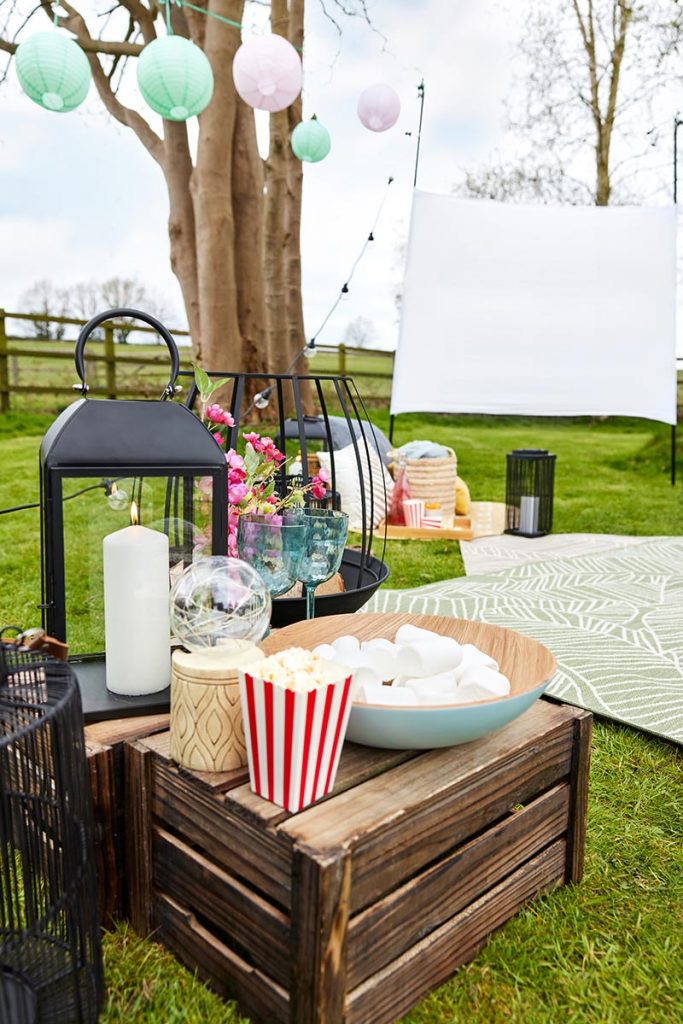 Finally, why not host a pizza party and invest in a pizza oven? It's great fun for all the friends and family.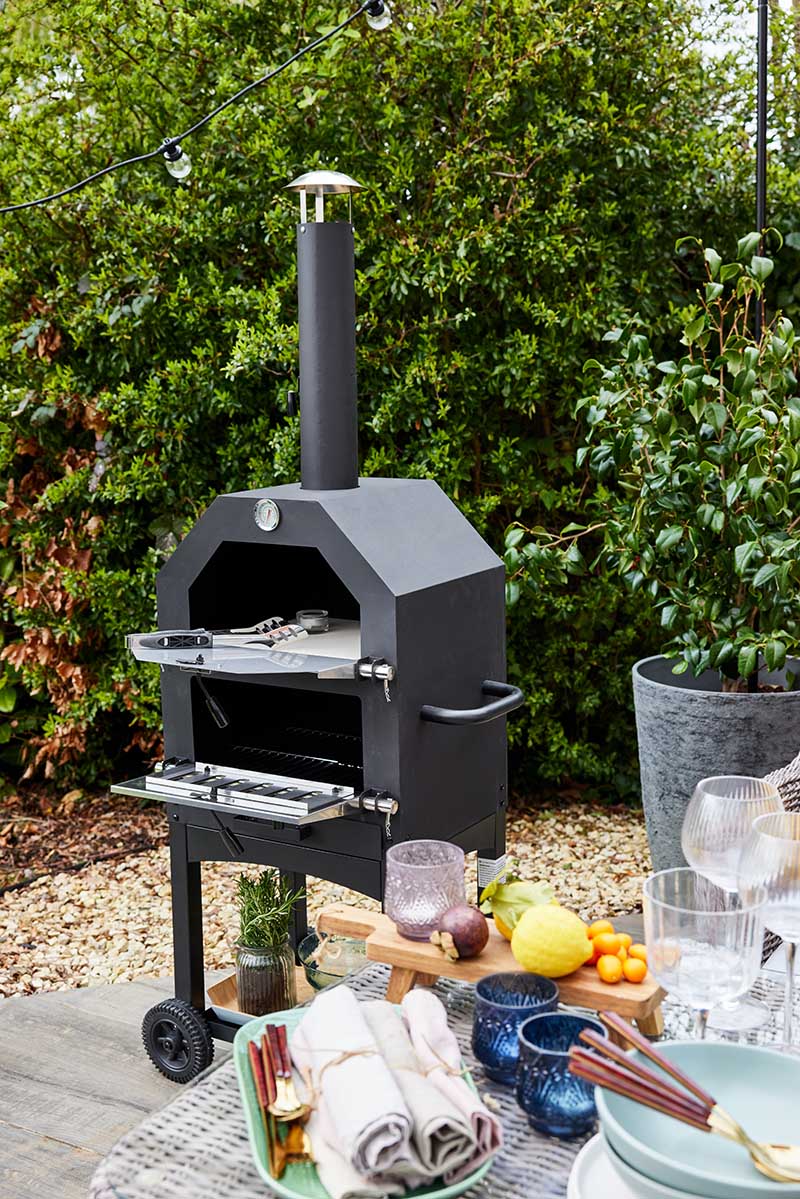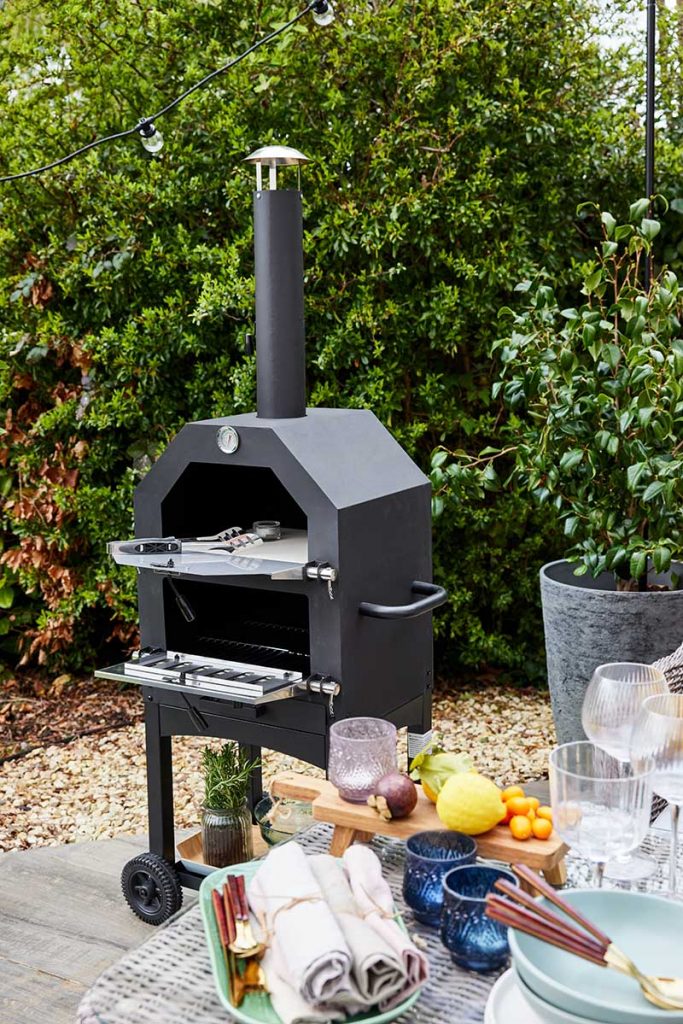 Want to read more top tips from another big interior design name? Here's our interview with Kelly Hoppen.
About Post Author