Sure,
the idea of having an extra-large, ceiling-mounted rainfall shower that puffs out perfumed water that also plays whale music at home is something I wouldn't say no to. Equally, I would love my bathroom to include a sauna, steam room and for good measure a masseuse on standby for whenever I get a stiff neck. However,
let's be honest,
I'm not sure a spa bathroom will happen – unless my numbers eventually come in on the
Euromillions
. But would this be practical?
On a day-to-day basis what I need more than a shower that has a mist setting is one that can efficiently get me ready for the day ahead. Likewise, while I love a soak, is a giant freestanding bathtub good for the environment? With the demands of us everyday homeowners usually requiring a fast turnaround in the mornings, surely the idea of a zen-like bathroom is more a fantasy, than reality?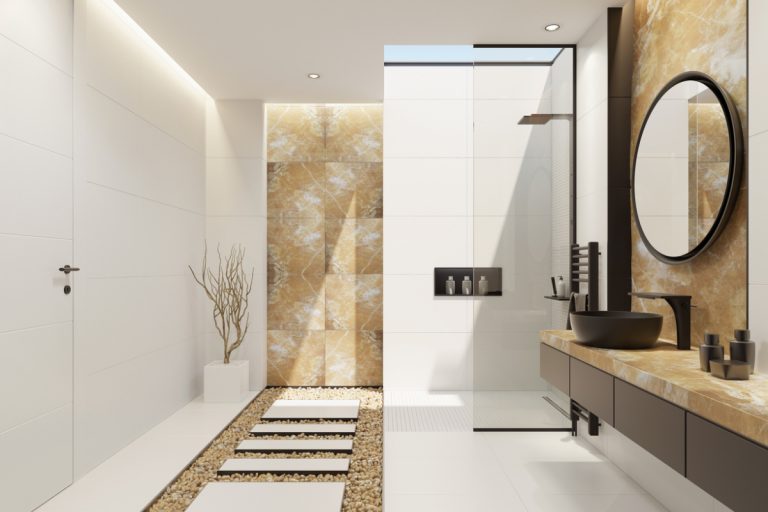 With that being said, we also need a place in our home where we can unwind, and (literally) wash off the day and relax before bedtime. And what better place to do this than in the bathroom?
C
an you have both a practical
and
s
pa-like space
?
I've been speaking to Michael Sammon, sales and marketing director of Frontline, who believes you can. He told me, "Fortunately, now with bathroom technology and products constantly improving you can have the best of both worlds, and create a bathroom that's easy to use, economical and easy on the eye. For example, decadent freestanding baths can now come with twin-skinned designs to retain water temperature and save on water, while showers, including luxury panels with massage jets, and sleek rainfall columns come with thermostatic technology – efficient aerated tech meaning the shower disperses smaller drops of water, creating a gentle and more natural-like shower spray and making it more economical to run."
But if you're not convinced with the technology, there's nothing stopping you from creating a décor that looks like you've stepped into a Swedish retreat. Juan Pillay, marketing director at Crosswater, explains to me that something as simple as keeping your space clean, neutral and calm can create a truly relaxing environment. "Also, think about your choice of colour," she tells me. "As this is key to achieving the right mood. It's a good idea to stick with white, creams, grey and soft browns, as they won't dominate the room. Or, add natural materials, like wood or bamboo tones, to give your bathroom that instant spa appeal."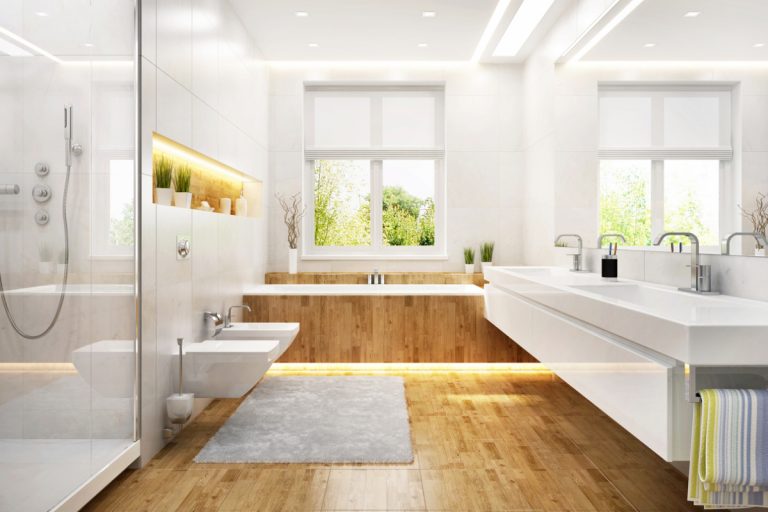 How do you get the balance right?
First of all, I would say do your research and look at your day-to-day routine. If you're the type of person who only has a bath a couple of times a year, perhaps a large walk-in shower is the best solution for you, which is both practical and can be made more luxurious with your choice of showerhead.
James Lentaigne, creative director of Drummonds agrees and says to me, "It is important that you think carefully about what you want from your bathroom at the planning stage: an 'ideal' master suite is one that is designed around your lifestyle and how you want to use the space – for example, is it a relaxing sanctuary or a functional shower room you're after? Then, choose materials and products that reflect that feeling."
Remember, installing a new bathroom is an investment in time and money so it is important to choose quality products that will last. Whether you have a small ensuite, or a large master suite, while having a spa-like bathroom may not be the most practical for everyday life, there are ways of creating relaxing and calming spaces that work both for the morning rush and nightly winddown.
The question is, how zen will you go?
Let me know in the comments…
Featured image: iStock/sl-f
About Post Author