Planning permission was first on the agenda but where to start with a grade-2 listed property? I knew a friend who recently had some walls replaced in the garden of her listed town house so I started by talking to her. "Join the Listed Property Owners' Club (LPOC)," she said and this turned out to be great advice. The club offers support and advice to its' members as well as insurance catered specifically for Grade-1 and 2 listed properties, this in itself saved us hundreds annually.
Next we needed to find an architect. Top of our wish list was that extra space for the boys. With the back of the house already extended on the ground floor, we wanted to make this a double storey extension and create three good sized bedrooms upstairs rather than the double, single and box room we currently have. Next on the wish list was a utility room at the front of the house. We have quite a lot of wasted space here, which could be utilised much better – a lot of the neighbours have created a similar single storey extension in front of the porch.
I rang around a few firms after an extensive google search and one company stood out to me the most – LPS architecture. Architectural consultant, Josh answered my call. He was knowledgeable about listed properties and gave me lots of advice over the phone, just by looking at the photographs of our house and the next-door extensions, which I was emailing over while we talked. By the time we finished our conversation I was sold and eager to get going straight away. We arranged an appointment for measurements and an on-site assessment. Josh felt that pre-planning advice was necessary and worthwhile in our case. Our local planning department provides a range of services, from a phone call with a planning officer to an on-site inspection and report. I discovered that there was a free telephone advice service daily from 9.30-12.30 with our local council, albeit difficult to get hold of someone, generally you would get a call back within a few days.
Next I booked an appointment with the planning officer and a week later she arrived. I had heard some stories from neighbours about her straight and stern attitude and it seemed that she didn't have any quibbles about rejecting as many applications as she approved. What happened next was most unexpected. The planning officer inspected previous work that had been done back in the 90s commenting on areas where the wrong materials had been used. Then she pointed to the aluminium windows at the front of the house (the most visible and oldest part of the property) – "Now that I've seen these windows they will have to go I'm afraid." What did this mean? My heart sank as I imagined our budget getting swallowed up.
It turned out that the owners previous to the vendors we had bought from had replaced the original Victorian wooden windows with the hideous double-glazed aluminium frames that we now had without planning permission. Although I am definitely not a fan of these brown replicas (take a look at them here), they were fine and we originally saw no reason to replace them. It looks like we will now need to factor this into our budget and time plan. It wasn't all bad though, the building officer gave us the pre-planning green light on the rest so fingers crossed it is all accepted when we put the final application in.
Later that week Josh sent through the initial plans and we spent an excited evening in with a glass of wine deciding on which option we preferred. The front door would need to stay and would be a dummy with access to the house being around the side. Being listed the houses along the row need to look as close to their original state as possible and be in line with the adjoining house. The small window on the first floor at the back of the property caused more problems than we could imagine. Planning permission would not allow for us to remove it or change it in any way (except to a wooden single glazed version) so it would have to stay, which meant that our original idea was not possible.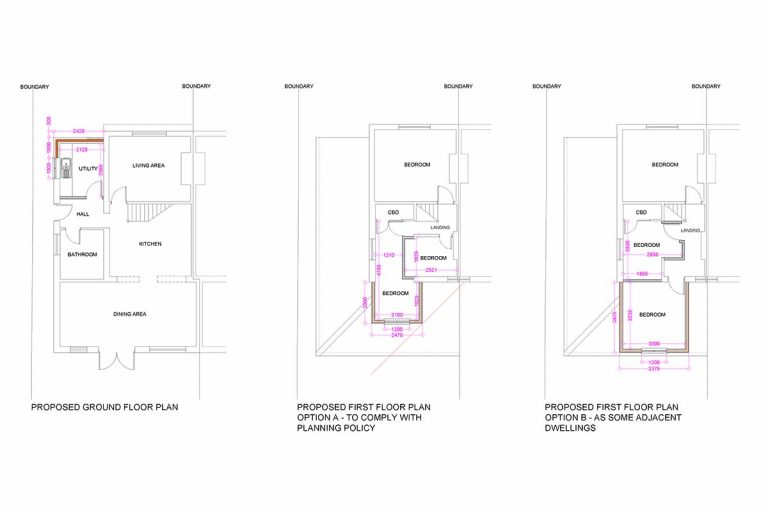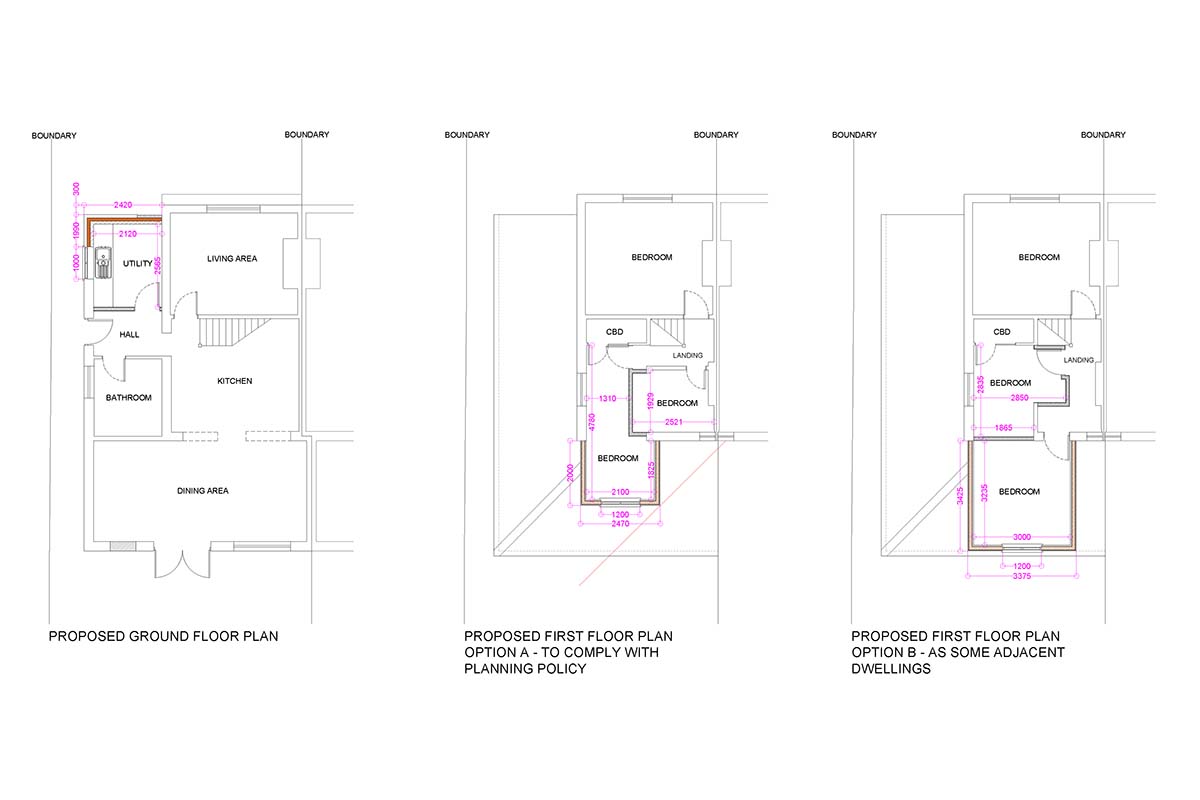 In the end we decided on Option B as that provided the most extra space for the boys. Next the planning permission was submitted to the council (along with proposed materials for the new windows). Now it's a waiting game with a minimum of 8 weeks decision time, we have everything crossed that the planning officer sees that we are committed to retaining and restoring the character of the property, while also gaining much needed space for our family.
With all the trials and tribulations that come with owning a listed property (and I'm sure we will encounter even more as our build progresses), the pride of owning something with so much history and national importance outweighs all this extra work (and cost!). We are in it for the long run now.
Read more First Time Renovator blogs in the series.