Ask anyone that's come through the other side of a house renovation and I'm sure they'd agree that the very best part is the end. Putting the finishing touches to your new build is better than the planning stage, better than picking out the materials and definitely better than the build itself which seems to take forever with no end in sight! Thankfully, we've reached that stage. The side extension is built and our storage-come-laundry room is in use.
To say that it's changed the way we live is no exaggeration, which might seem strange being it's only a side extension and not an entire house remodel. But if you consider that before this build, our washing machine and tumble dryer took up a good chunk of space in our kitchen, and my office was overflowing with props for my work as an interior stylist, you can see why it was so desperately needed.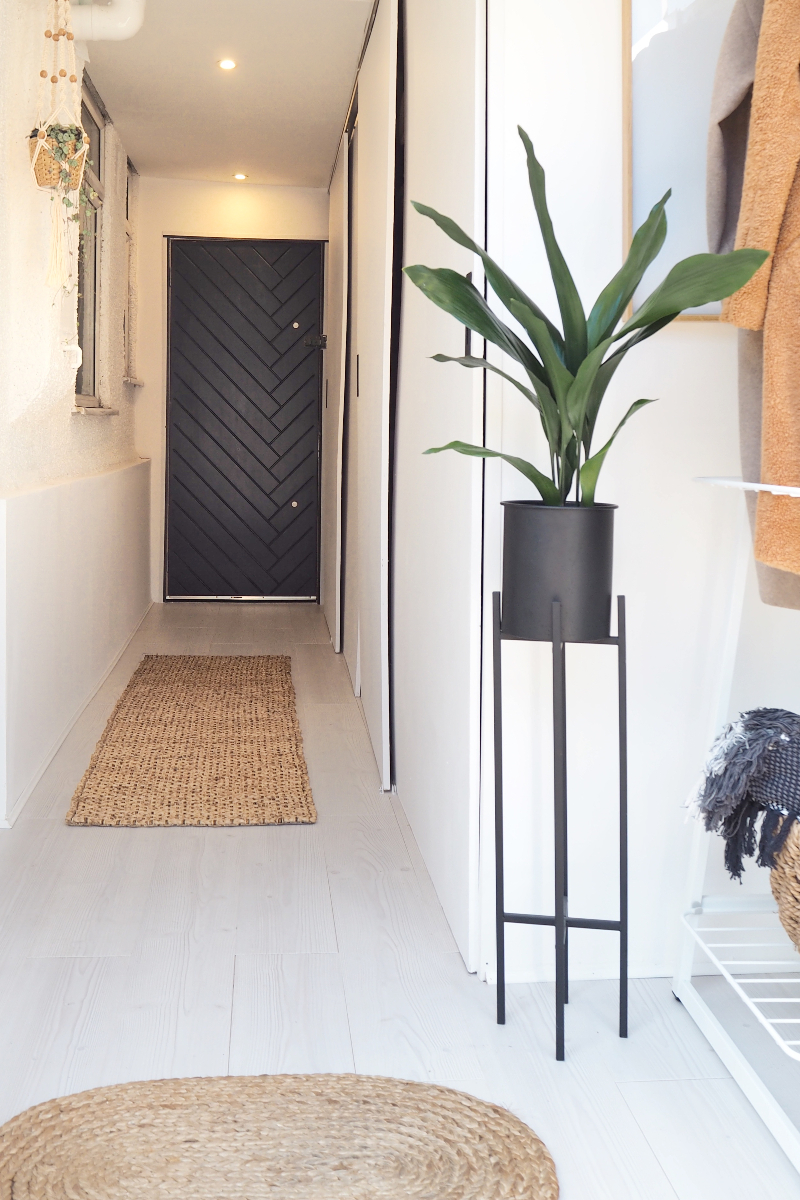 Now, with some kitchen cabinets freed up it means items are easier to reach and not so squashed, and my office actually looks like an office again. The vases, cushions, picture frames, rugs and mirrors are all neatly stacked away in our floor-to-ceiling cabinetry in the extension – I can't even tell you how satisfying it was to put them there!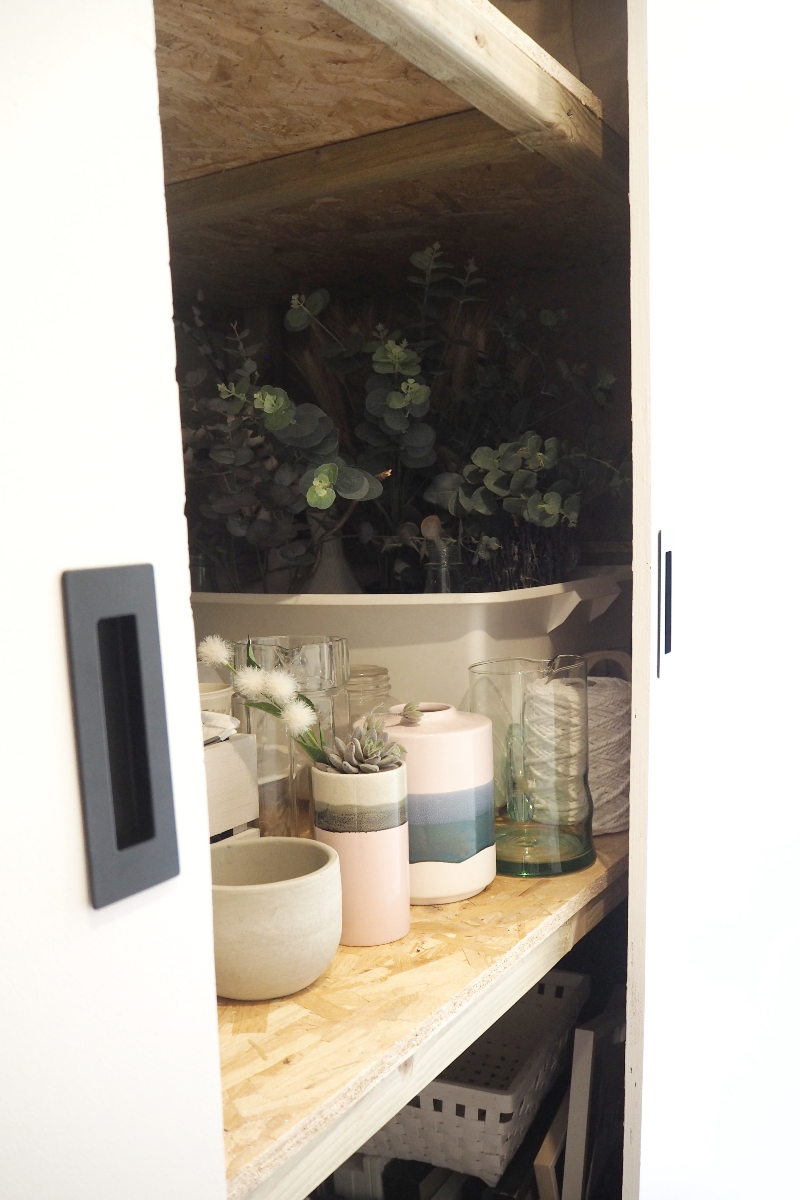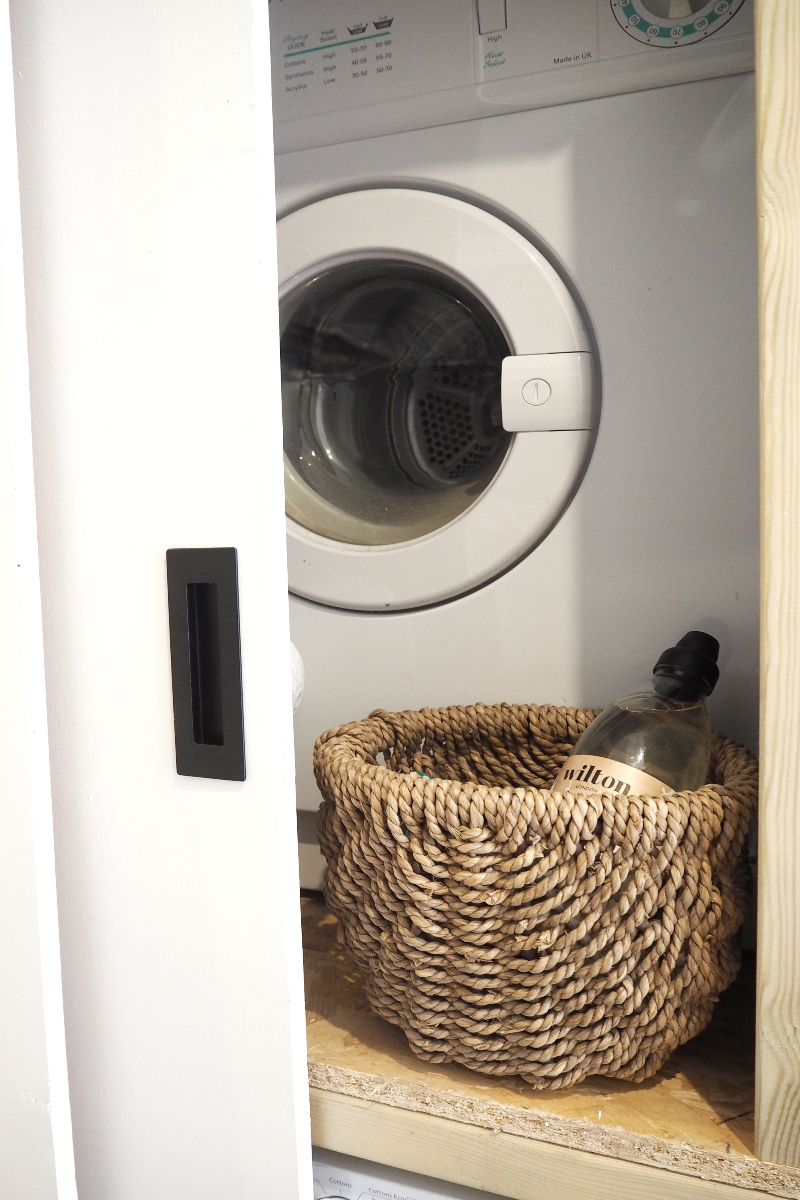 So, I think I left you last time when we'd just laid our lovely Harrow flooring from Lifestyle Floors? You may have wondered whether a white floor was the best choice for a room that would be walked through often and where deliveries would arrive and be stored, however, the laminate is not only hard wearing, it also has a bit of a grain to the design, so it doesn't show up every mark like you think it might. We love it!
Now that we have the washing machine and tumble dryer in here, we needed to keep access to the plumbing, so a small area of the flooring has been cut to accommodate this. You could hardly notice it, but I bought a chunky jute runner from Dunelm to go over it, just in case. It not only hides that tiny area, but the design adds a bit of interest to the long floor space and fits the area perfectly – and it was a great price.
The sliding doors themselves aren't the most high-end finish – they are painted MDF – but we didn't want to spend a lot on a room that we weren't going to be using for anything other than storage. Making them ourselves meant we stuck to budget and could invest in a few accessories for the room to finish it off nicely.
At the end of the run of storage, there is a small gap between that and the patio doors out to the garden, and I chose a Scandi-style white clothes rack from Brabantia to fit in it. It's handy for hanging our coats on, and has two shelves, where I keep a basket with throws that I use out in the garden when the evenings get chillier and on occasion a basket of laundry that needs to be put away.
I finished that little spot off with a print from Desenio and a planter on legs.
Speaking of plants, I decided the room could do with a few to breathe some life and colour into it and a friend had recommended I look at the Patch Plants website. What I liked about Patch Plants was that the website makes it so easy to filter the plants dependant on what you want (for me they needed to be easy to care for and non-toxic to pets).
I went for an aspidistra and a strings of hearts, which I popped in a macramé hanging planter from the ceiling. Out on the porch, I chose a large leafy palm to sit outside the door into the extension – I think the plants just help the room to feel more like a normal interior and less like a utilitarian storage space.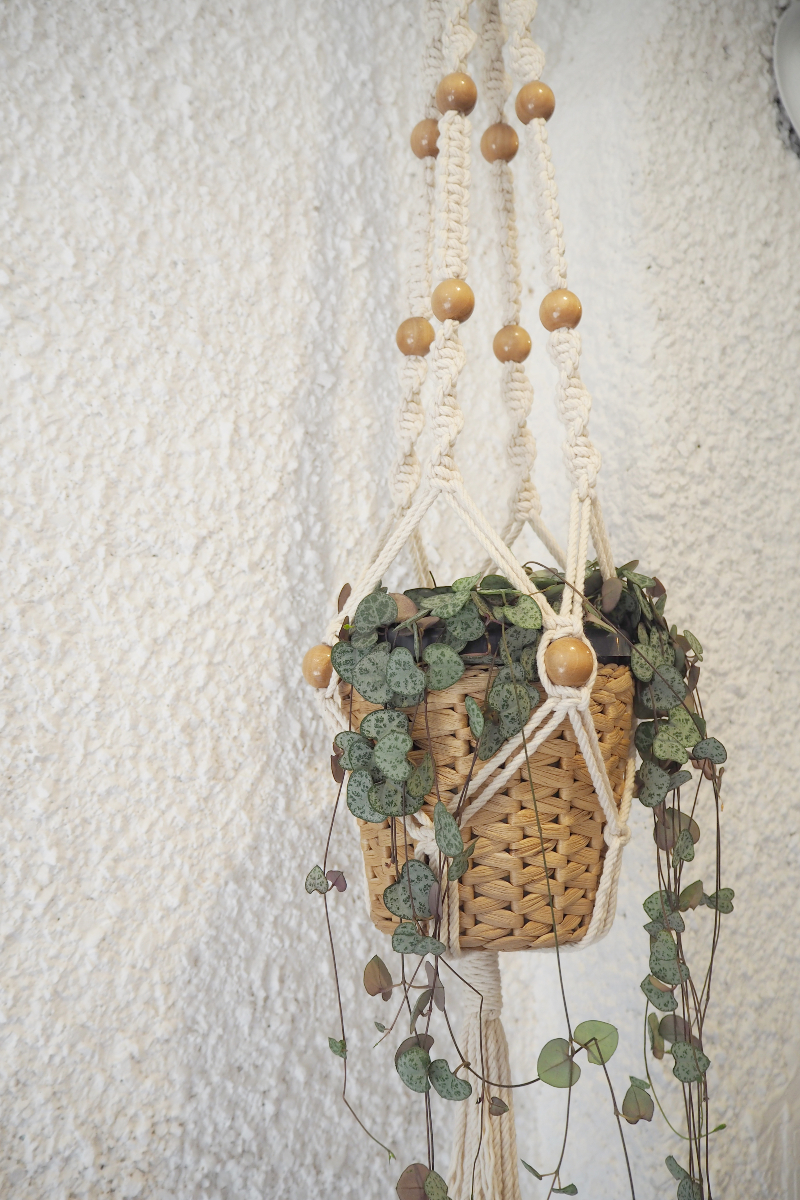 The porch itself has really transformed the front of the house. It's made it look so much more modern and I like how the dark colour we chose for the decking and cladding contrasts with the white exterior of our property.
We even painted the red brick (that runs around the base of the house) in an anthracite colour to tie the two parts of the house together. At night, when the uplighters are lit, it looks really smart and everyone has commented on how much better it looks.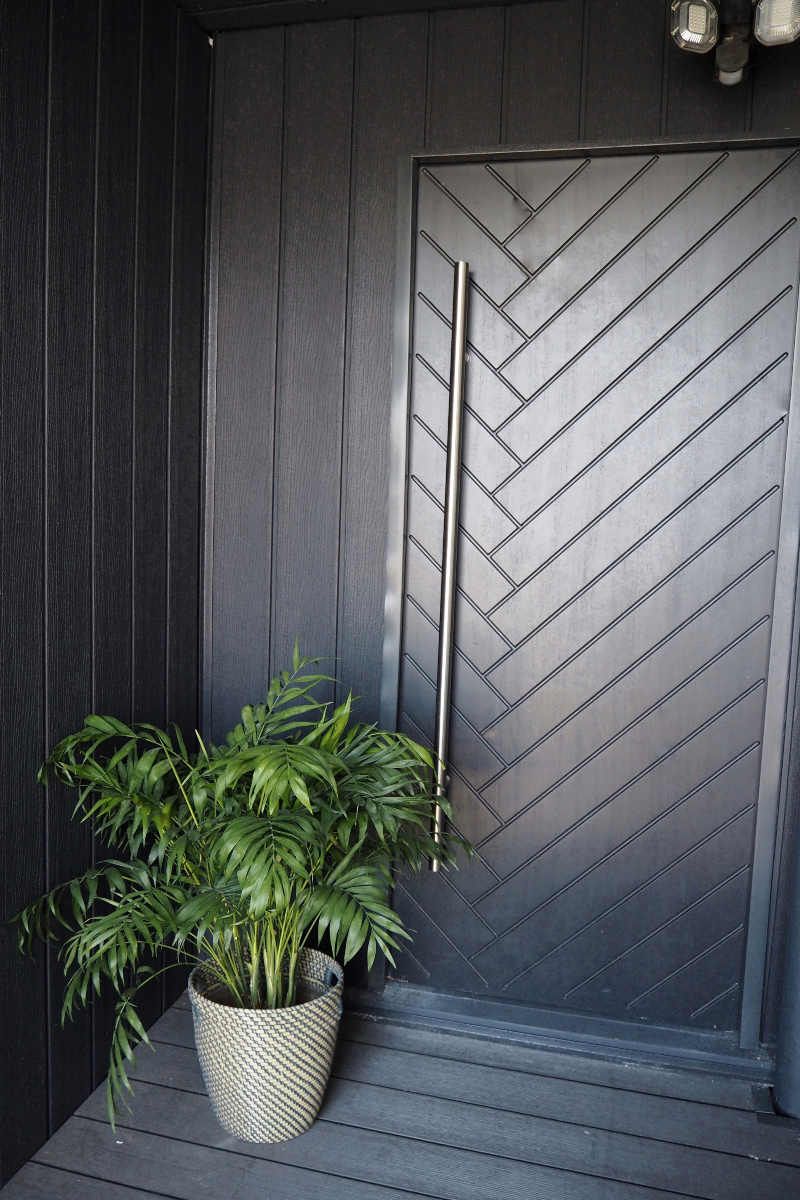 We're still waiting on the roof to be replaced – if you remember, we put up a temporary one while the weather was colder, as the adhesive needs to be applied in warmer months. We're just waiting on a couple of toughened glass panels to arrive and then that will be the very last thing to be done.
You may wonder why we need glass panels in the roof, being the space is so light, but it's more for the rooms inside the house that have windows out into that extension – they immediately became darker once the extension was up as the build obviously blocks out the sky and sun, so the panels will help turn them back into light-filled spaces again.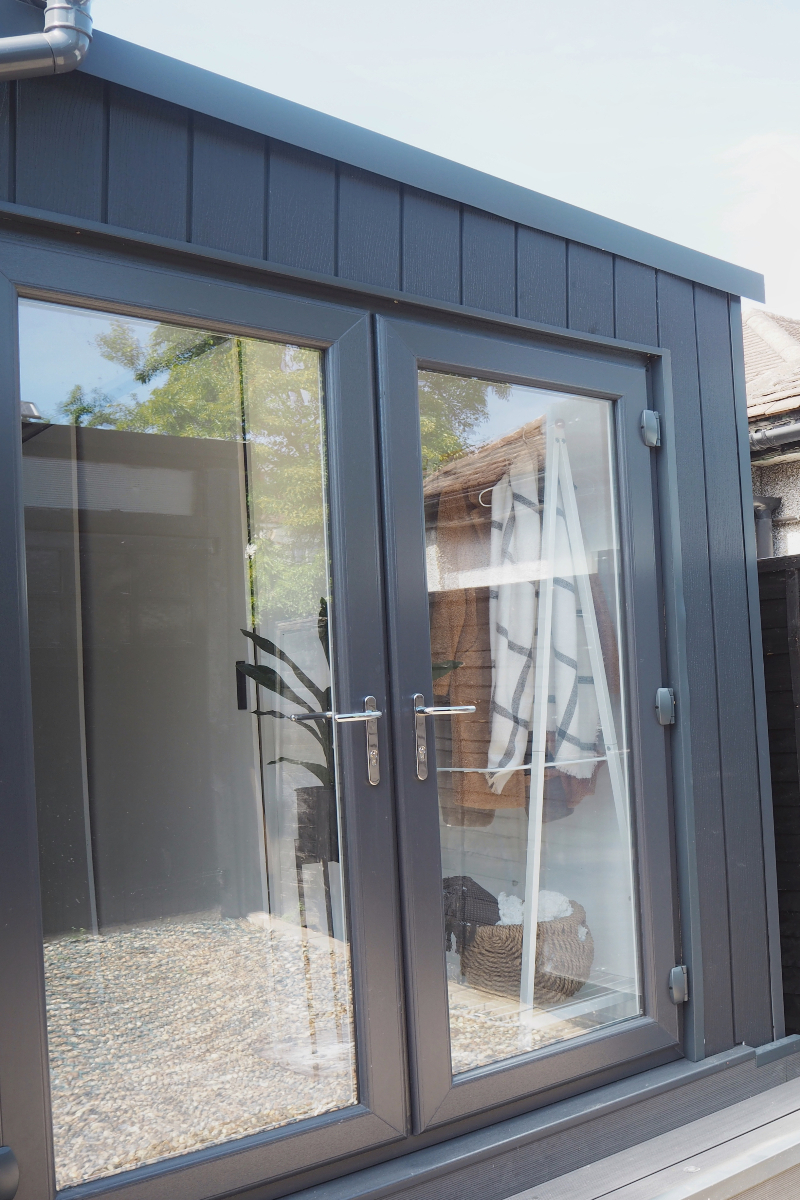 I'm so proud of what we've achieved. Wayne has done all the work himself and although it was a big job, it was well worth it – I almost wish we'd done it sooner!
Read more Our Side Extension blogs in the series.
Follow Laurie on Instagram @lifeofaninteriorstylist and @secretstylingclub
Featured image: The anthracite door and cladding look really smart against the white of the house.
About Post Author