Searching for kitchen planning ideas to transform your kitchen-diner into the kind of heavenly space you see in magazines? You're in the right place. Here, we interview three experts who have all designed gorgeous kitchens, to provide you with exciting inspiration for designing your own exquisite space. These exceptional designers include Dee Gibson, Design Director of Velvet Orange Design; Charlie Smallbone of Ledbury Studio; and Sam Watkins McRae.
KITCHEN PLANNING IDEAS
What kind of factors do you need to take into account when planning a kitchen? We ask our experts what aspects they always consider.
"The first thing I do is try and find out as much as I can about the client and the way they live," Charlie says. "I try to drill down into specifics. This means asking simple questions such as, for example, 'How many people are living there?' and 'How do they want to live?' Other questions might be, 'Do they entertain a lot? What sort of food do they like to cook? What do they want to achieve?'"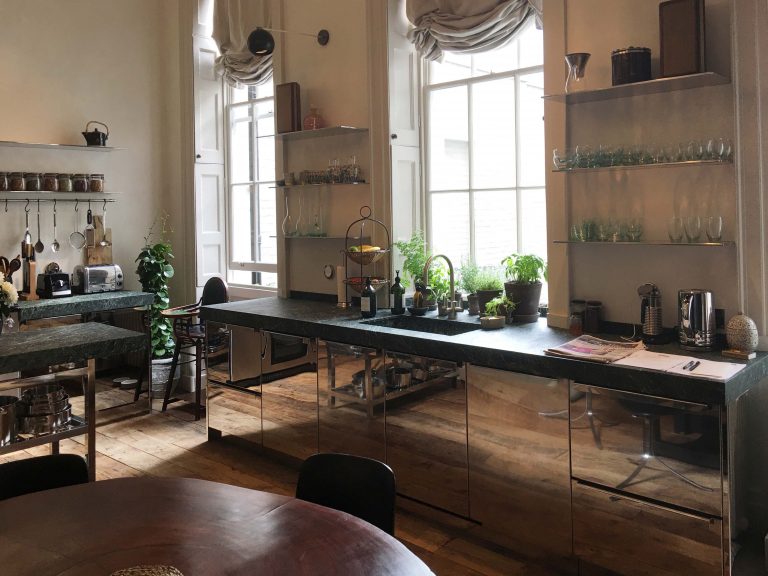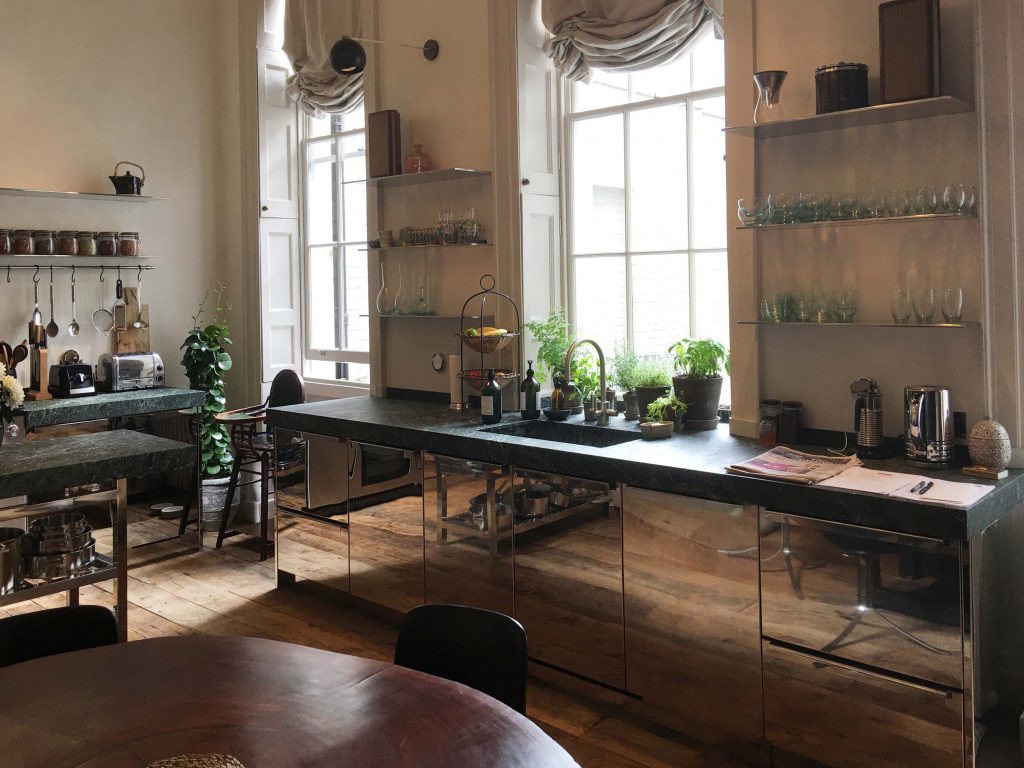 WHAT ELSE YOU SHOULD CONSIDER
Dee reveals her own process. "After ascertaining the client's preferred aesthetic, a kitchen design starts with location and how clients want to use it. With open plan living and more relaxed dining styles, many want a space where they can cook and make a mess," she explains. "However, they also want to be able to entertain and look unflustered.
"When addressing kitchen location, consider access and line of sight from other areas. Ventilation, lighting and planned kitchen size are also important. Some clients want to have an island they can perch on with a dining table nearby, while others want to have plenty of seating at both. If you have an island, do you want the hob or sink installed there, or do you just want to use it as a prep space?"
KITCHEN PLANNING INSPO
Dee continues: "If no island is needed or possible, do you have enough prep space? And what happens to your kitchen work triangle? It's important to consider the triangle between fridge, hob and sink where you can. Ideally, you don't want to be walking too many steps between your fridge, hob and sink while holding ingredients and hot pans, etc. Sometimes there may be unavoidable compromises needed. However, these concepts are crucial to a well-functioning space and should be prioritised. Colours and finishes come afterwards."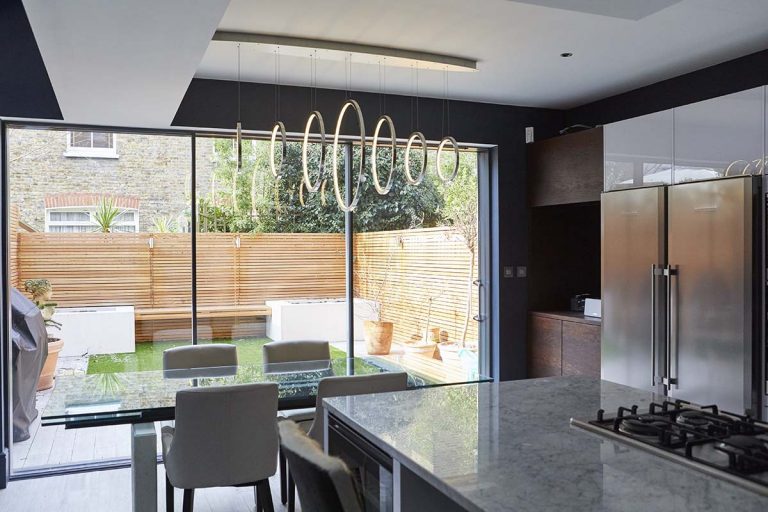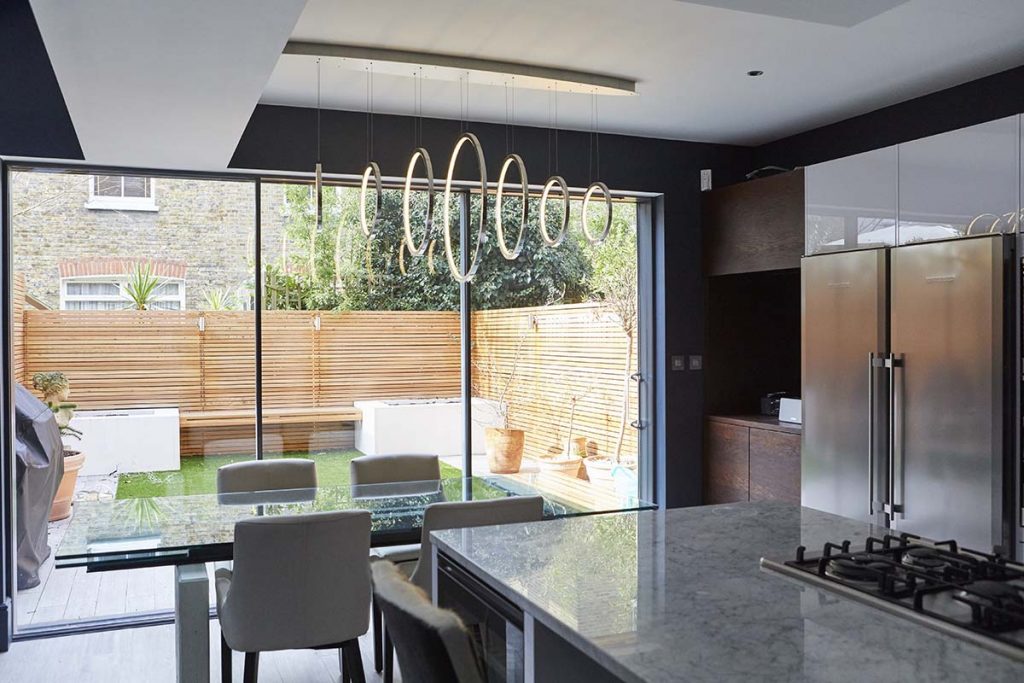 ASPECTS TO TAKE INTO ACCOUNT
So, ask yourself the same questions. This will give you ideas for your kitchen layout. For example, if there are five of you, perhaps you want a central hub as a breakfast bar and a large dining area? Conversely, if you live on your own and prefer your own company, you only have your needs to take into account.
Charlie advises, "Function is key, and functionality is one of the basic start points. Unless a client specifically says they want to walk half a mile to the fridge, you obviously try and keep things as tight as you can! So, to me, function is probably the main principle, and then you want the kitchen to look beautiful. You work to embellish the look once you've achieved the functionality."
INSIDER TIPS AND TRICKS
Having worked for many years in the interiors industry, our designers offer their insider tips and tricks for creating a beautiful kitchen.
KITCHEN PLANNING IDEAS FROM CHARLIE SMALLBONE
"I think it's a really logical process," Charlie explains. "You need to try and keep things as clear and simple in your mind as possible. Firstly, list your priorities after thinking them through. Secondly, make sure you incorporate those principles and statements into your design."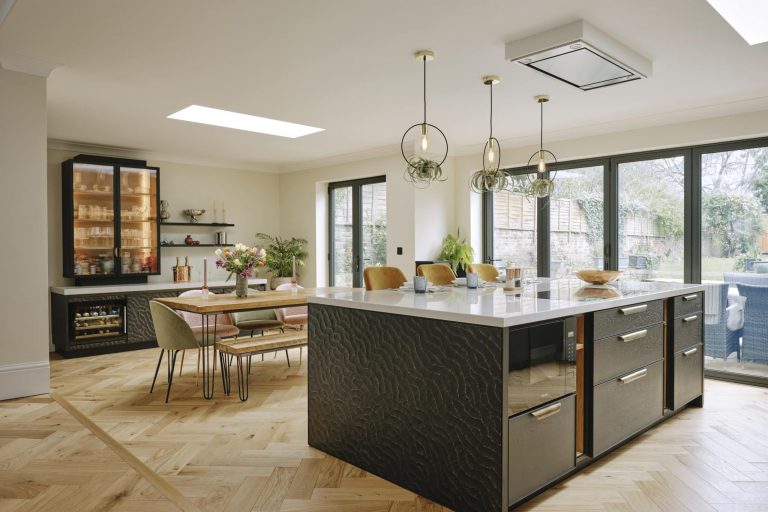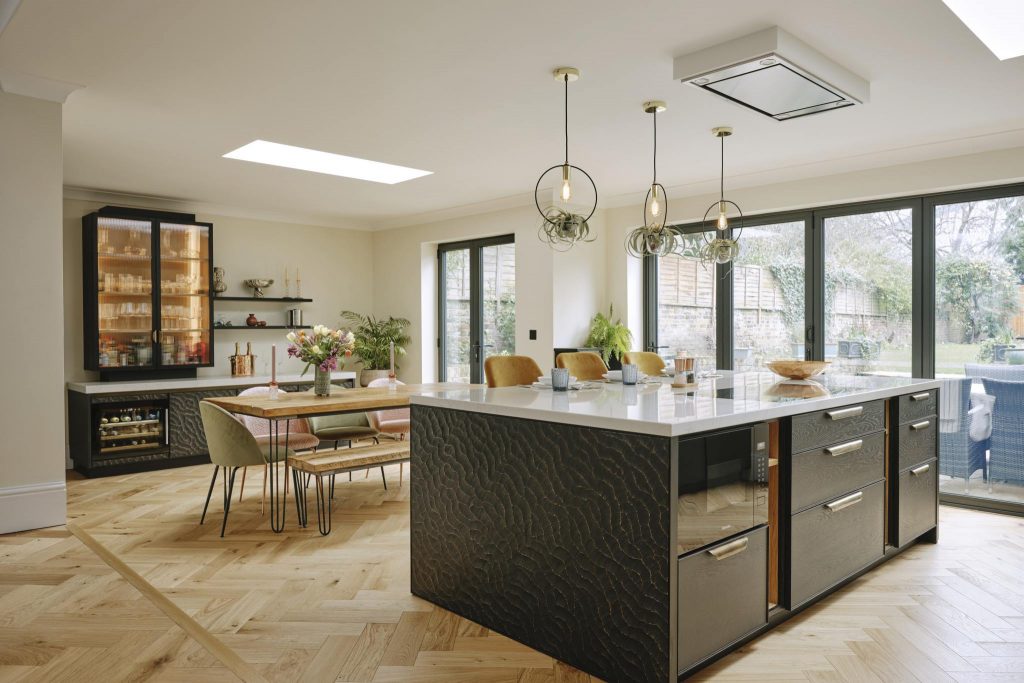 KITCHEN PLANNING IDEAS FROM SAM WATKINS MCRAE
"It's important to consider the style and end look that you're trying to create," she explains. "Sleek, modern and handleless – or more period and characterful with raised and fielded panelling and maybe handles? With the move towards making kitchen units more like bespoke furniture, the mixing of cabinetry styles has never been stronger. You can also look at how you can customise the doors to have aspects of glass panels (ribbed, etc) to create an even more bespoke look."
And she adds, "Storage is probably one of the most popular discussions with clients in a scheme. It's never been more important in a kitchen space. Walk the current footprint of your kitchen, and evaluate what you currently have for storage, any overspill and what your goals are in the new space. A trusty measure of the existing space and ensuring it is matched in the new space allows you to demonstrate with dimensions. Think about larders, utilities and breakfast cupboards – how can they potentially work for you?"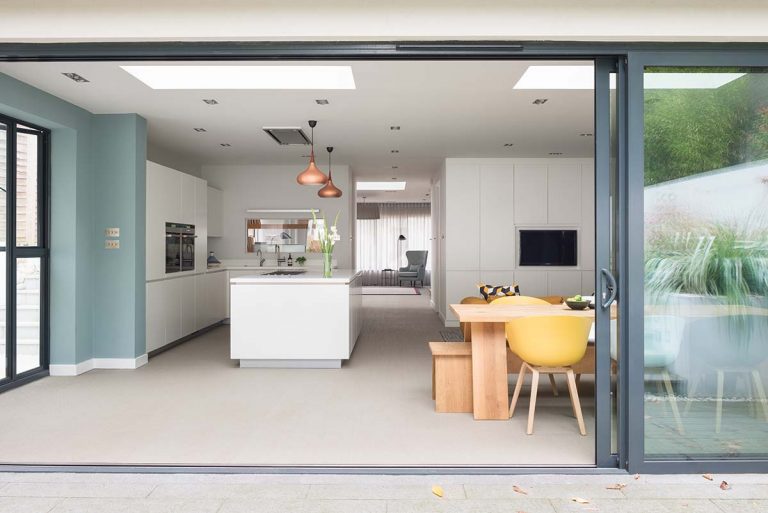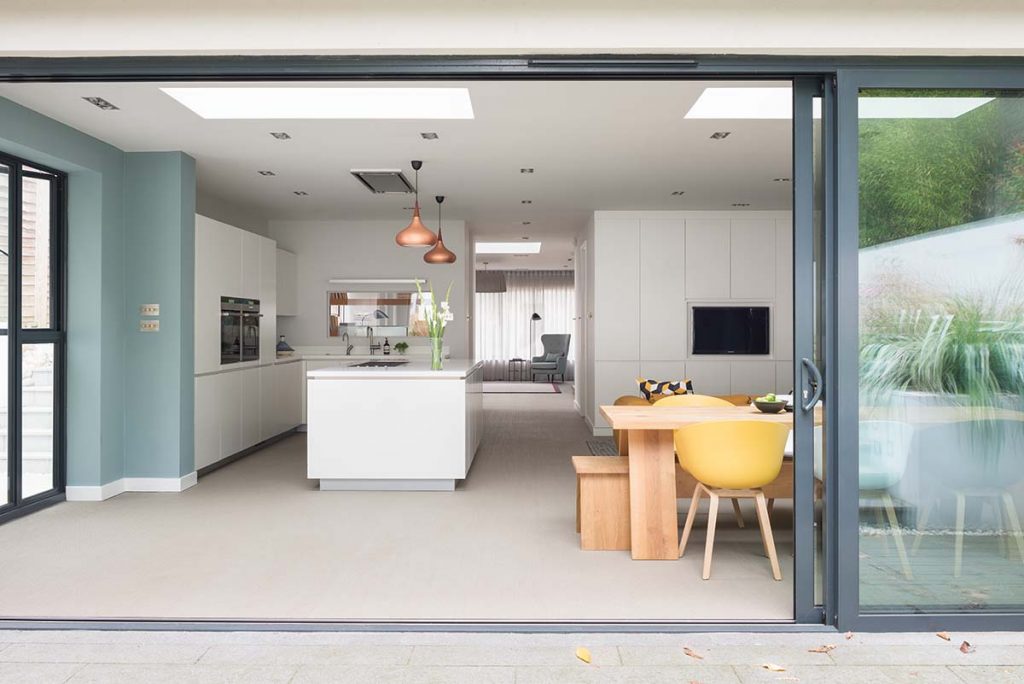 KITCHEN PLANNING IDEAS FROM DEE GIBSON
Firstly, Dee tells us, "Location is key. Unless you specifically want a separate room, it's popular these days to have an open plan configuration. This can mean creating an open plan kitchen diner, or just creating an opening in a dividing wall in a small flat. We love to eat and be sociable – show off your culinary skills."
Secondly, she has a deft way of creating an impression: "Make your splashbacks interesting. Use gorgeous tiles, mirrors or even glass clad wallpapers. It's a way of creating a visual impact on a surface."
Thirdly, Dee offers wise storage advice. "Plan your storage – hide away the clutter and show off your statement pieces. Cut glass, small ornamental pieces, apothecary jars filled with treats… kitchen items can become artwork if shown off in the right way."
SOURCE RESPONSIBLY
Dee advocates sustainability: "Use interesting materials: grained woods or coloured cabinetry mixed with stone or wood. Consider the sustainability of the materials you use, and source them responsibly."
She adds: "Statement handles are like adding jewellery to a basic outfit – use them with flair."
And when it comes to lighting, "Pendants and under-unit lighting can create the flexible ambience you want in your open plan kitchen."
Colour should also be employed. "If you want to go all white and plain, add colour through the way you store items on the counter tops. Add it to the bar stool or dining chair upholstery, and hang colourful artwork on spare wall space."
Lastly, Dee says: "Make sure your space WORKS – and once you have the layout sorted, design the aesthetics." In short, prioritise function before form. You'll create an amazing space as a result.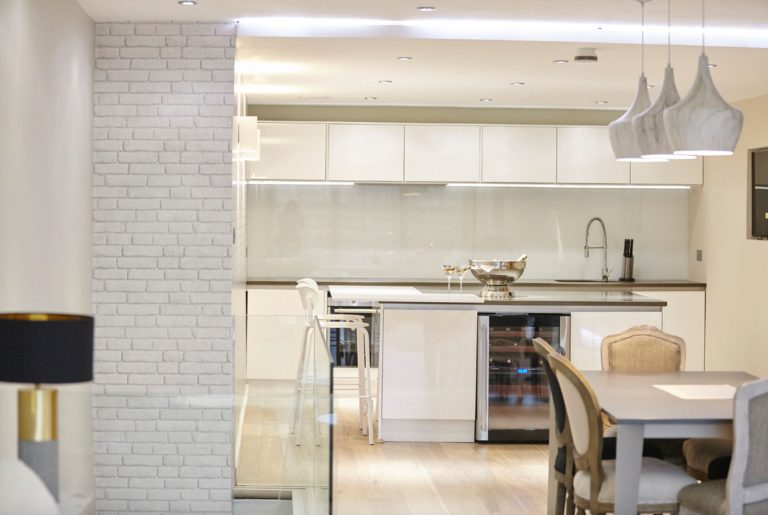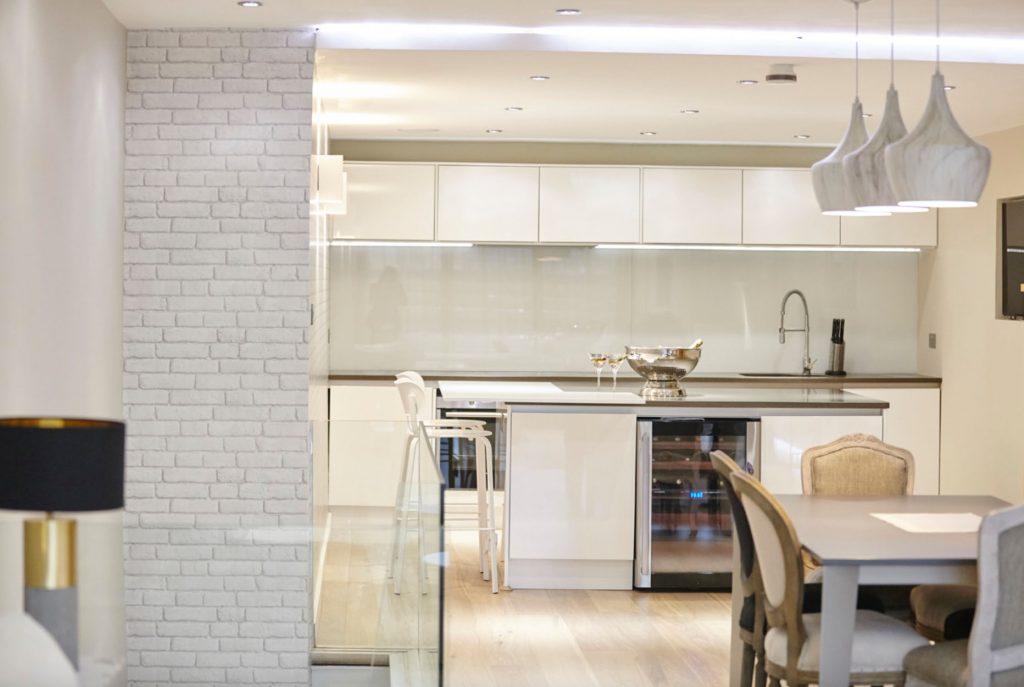 MORE KITCHEN PLANNING IDEAS
Sam gives us a wealth of ideas when it comes to storage. "Storage is where space planning is key. It's about maxing out all aspects," she explains. For example, "Even consider stud walls, where you can build in clever recesses for storage. Narrow pull-out pantries are invaluable, and I also think they allow you to keep a check on what you are buying and restocking each week.
Similarly, "Exposed shelving can really add personality to a space," she adds. "And if you are willing to commit to decorative storage and containers, these can be beneficial for pantry goods.
"In terms of utilities, if we're really struggling to fit washers and dryers in the kitchen there are still solutions," she tells us. For instance, "We have been known to utilise hallway cupboards and joinery, and even bathrooms and built in storage. You just have to be mindful of good ventilation and noise."
THE IMPORTANCE OF DETAIL
Lastly, she emphasises the importance of detail when coming up with kitchen planning ideas. "Be incredibly clear from the outset about what you are trying to create, how you want that space to function and what you don't want," she says. "The clearer you are with the professionals, the more likely the end result will be the best outcome.
"Research as much as time allows by visiting showrooms and inspiration sites, build Pinterest boards and start to get a flavour of your personal style. However, do be realistic with your budget," she advises. "There are ways of being creative about what you can do to achieve your dream kitchen with materials and finishes, but always be realistic." To sum up: "If you can't afford marble, look for a composite alternative; if you can't afford solid wood, go for veneers instead."
THE DESIGNERS' KITCHENS
Before you start acting on all these fantastic kitchen planning ideas, enjoy these insights into the kitchen designers' own projects.
Carson Road/New York Chic kitchen: Dee Gibson of Velvet Orange Design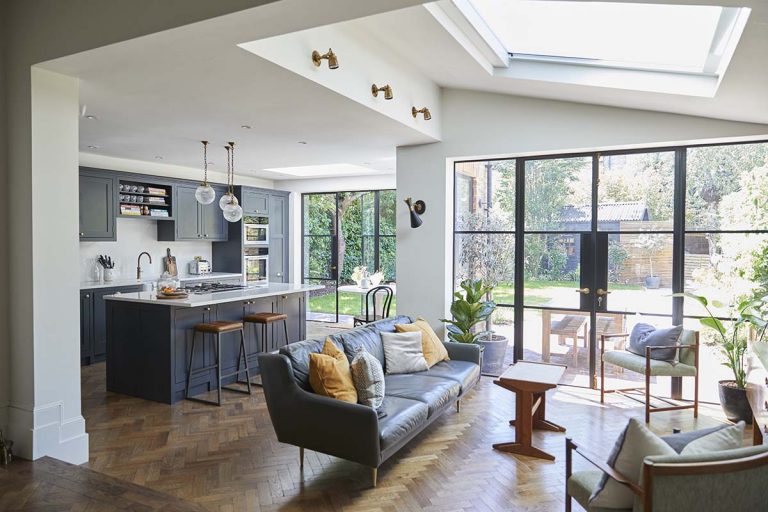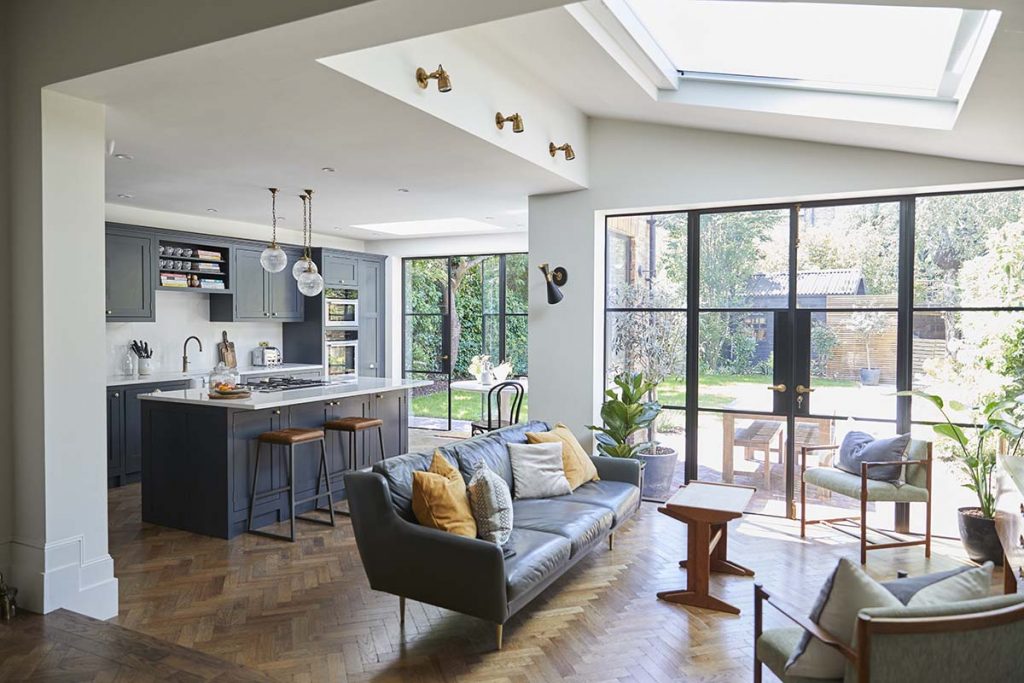 Dee says: "This kitchen went into a refurb where we pulled down a dividing wall and took the kitchen off the back wall to install Crittall doors. A pantry runs off to the left and a dining table sits nearby. The result is a lovely open plan, light and airy kitchen, which opens to a family TV area, with a view to the garden from the front door."
Love in Dulwich kitchen: Dee Gibson of Velvet Orange Design
Dee says: "The clients wanted to have plenty of counter space for large kitchen utensils. Budget was very tight on this and the client sourced the cabinets using our designs from a European supplier. We used the extra budget on a huge 999-bottle sunken wine cellar and an enormous 3m x 3m interactive magnetic map wall."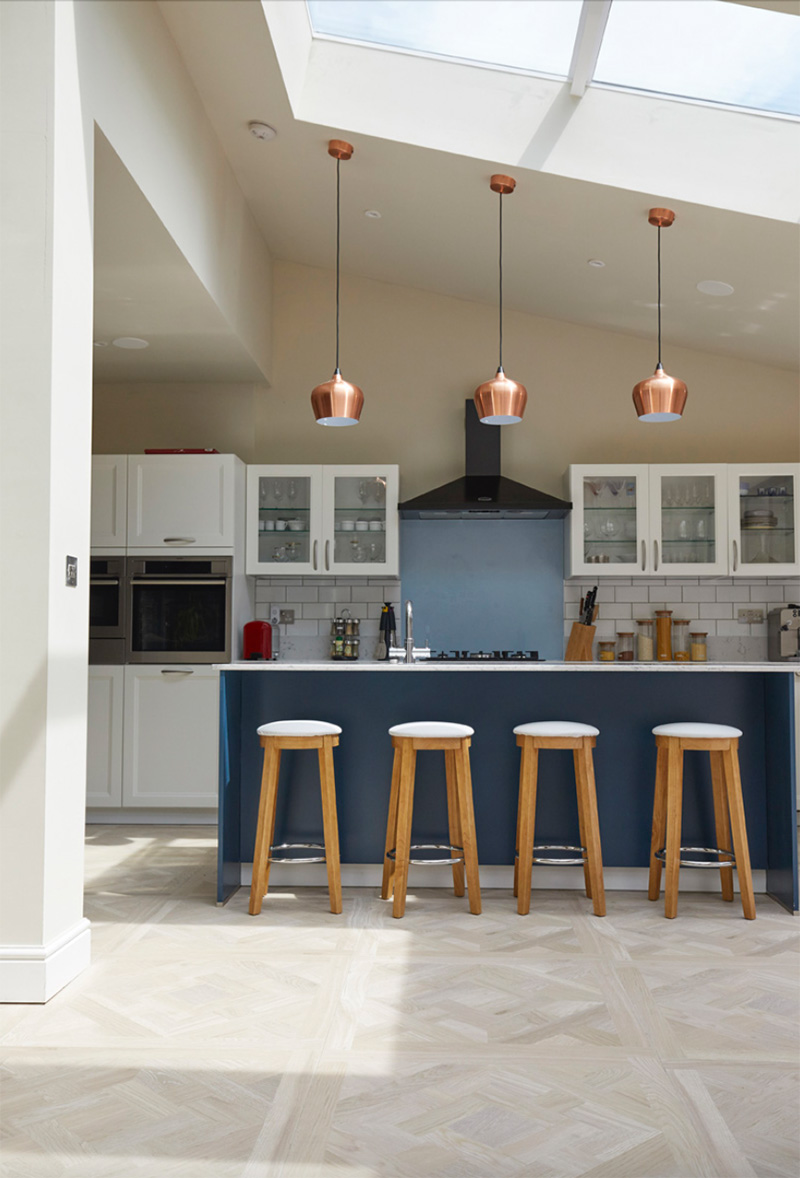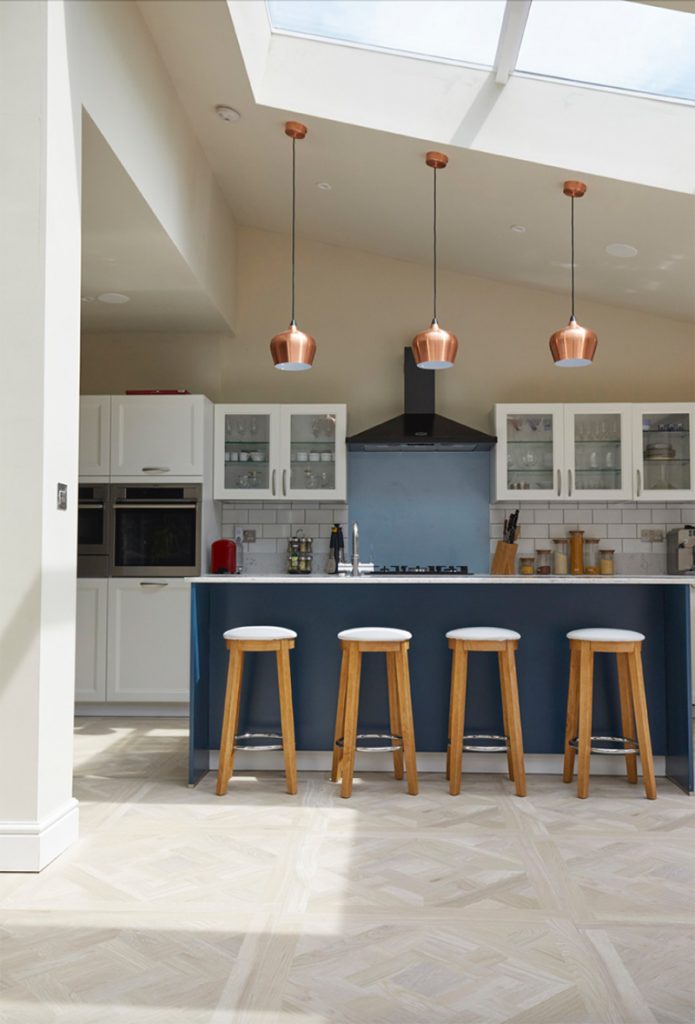 The Chase kitchen: Dee Gibson of Velvet Orange Design
Dee says: "This kitchen was designed for a family in a grand house with lots of period features. We swapped the kitchen and dining area so the new stairs led straight through to a glorious garden without hitting the kitchen island."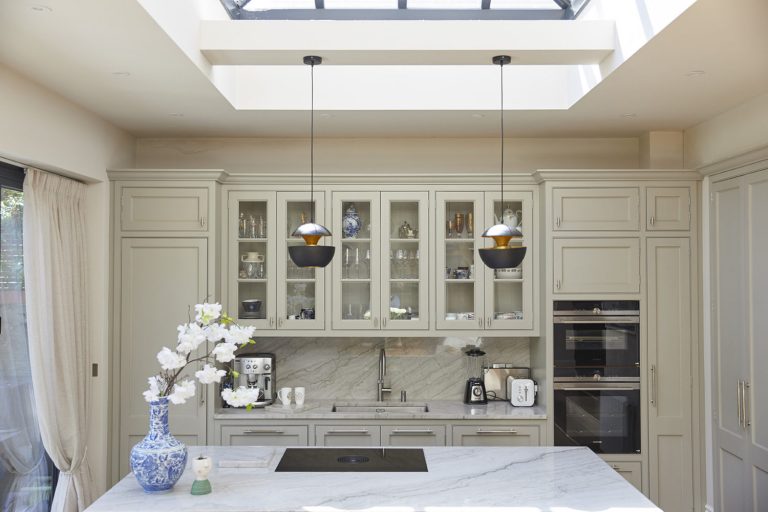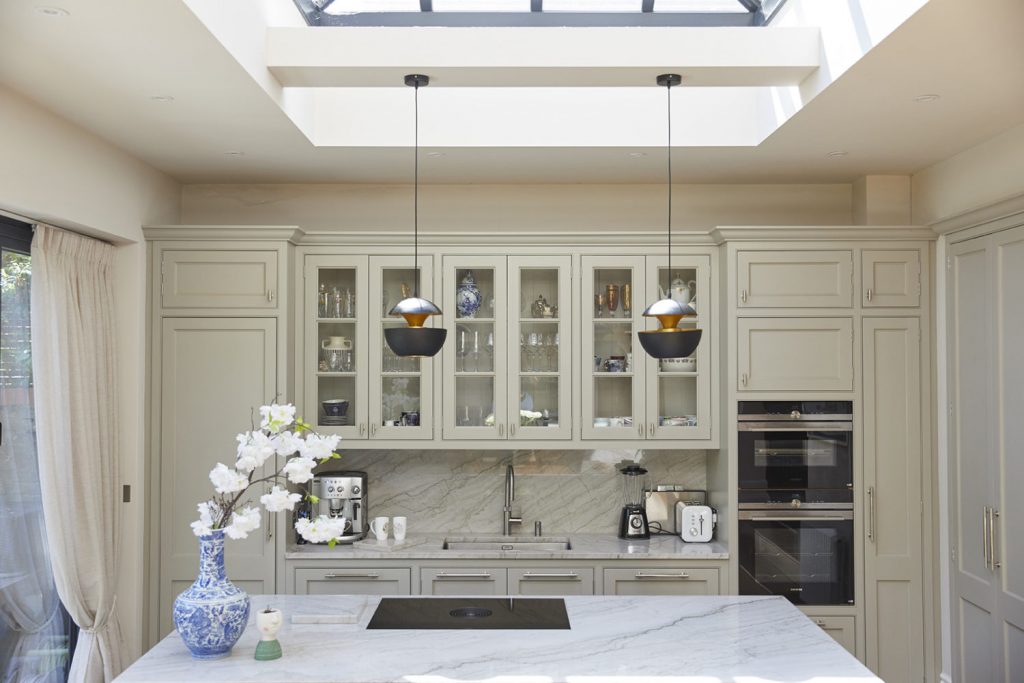 She adds: "We installed an orangery roof to let in plenty of light, and also nicked a bit of space from the room behind the kitchen to recess a larder. And we installed false beams above the island to accommodate pretty mood and task lighting. This poky and depressing area was totally transformed by the new orientation, natural light and fireplace design near the dining area."
The Hackney kitchen: Charlie Smallbone and Ledbury Studio
Charlie says: "For the Hackney kitchen (below) we spent a lot of time establishing an accurate brief with our clients, a young professional couple. They were moving from a smaller flat to this large house with a beautiful garden. The garden was visible and accessed from the kitchen. The space itself was quite large but not straightforward, as it encompassed a number of what would have been small separate rooms – the previous owners had removed the walls but had not integrated the space into one real living area."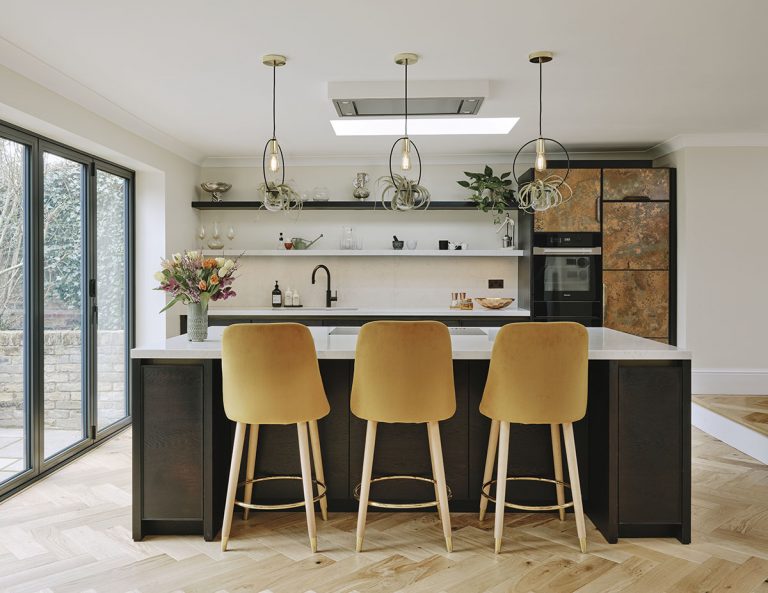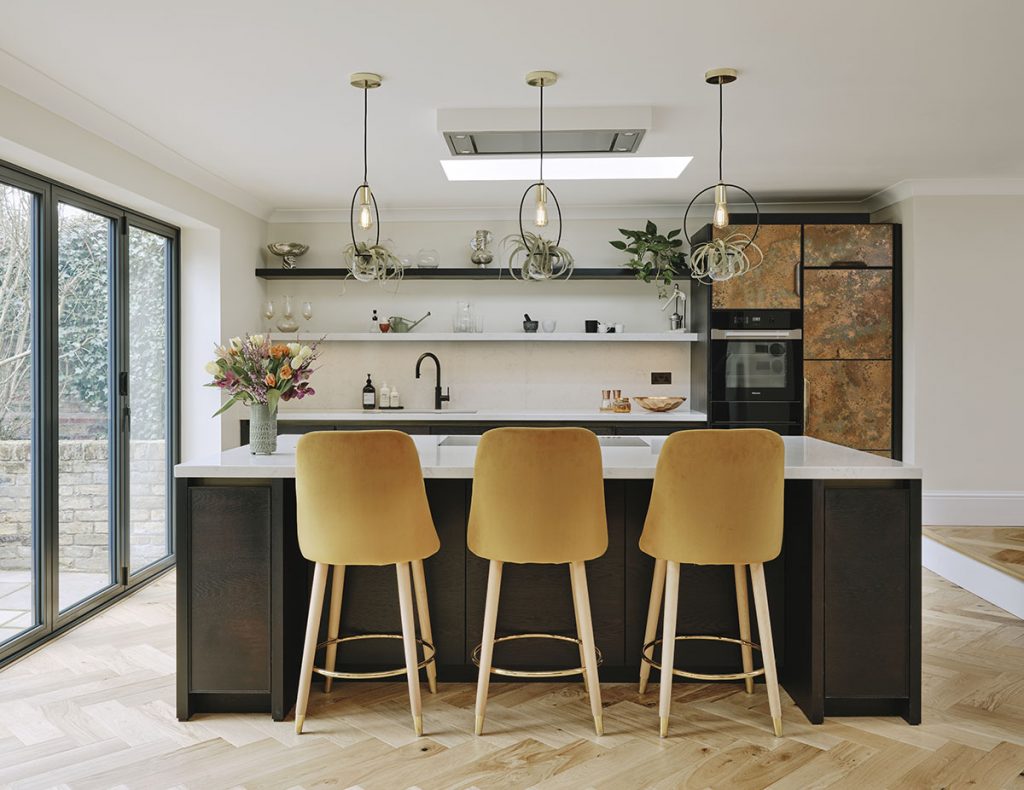 Charlie continues: "So I designed the kitchen around the client's wish for a functional and intimate space that would also prioritise entertaining, and to maximise the wonderful light and open feel the immediate access to the garden gave. Our client loved the possibilities of our Ledbury Studio materials – in particular, our copper and choppy water fascia finishes. They also wanted to incorporate brass, and to create the most sophisticated and subtle interface between all the materials and the architecture of the space, which is what I set out to achieve."
The Marquetry kitchen: Charlie Smallbone and Ledbury Studio
Charlie explains: "For the Marquetry kitchen [below], I worked to evolve a more formal dynamic for our client, who are high-end interior designers. We looked to achieve a very specific, somewhat more formal, kind of kitchen to impress. The kitchen carries a very high internal specification, to deliver a consummate functionality, whilst being able to hide this functionality between beautifully-crafted marquetry furniture doors. So this kitchen is a play between being a very high quality functional kitchen, exclusively used by professional chefs to entertain our client's clients, whilst at first viewing, it is created in the style of very sophisticated and multi tasking architectural furniture."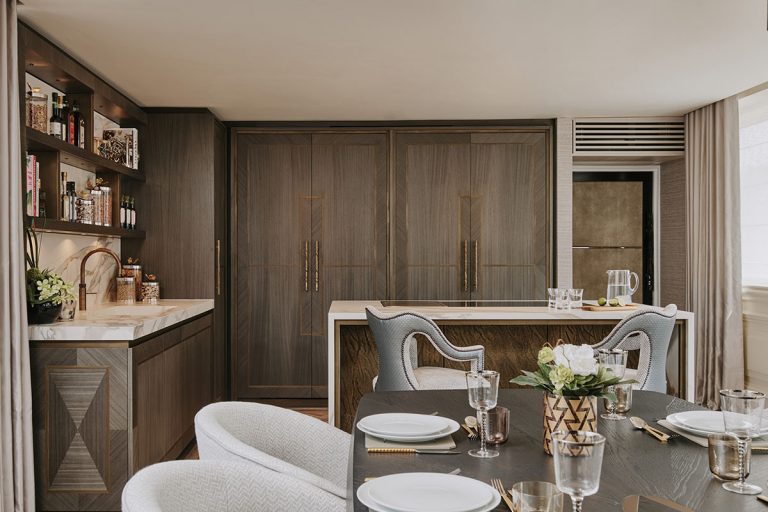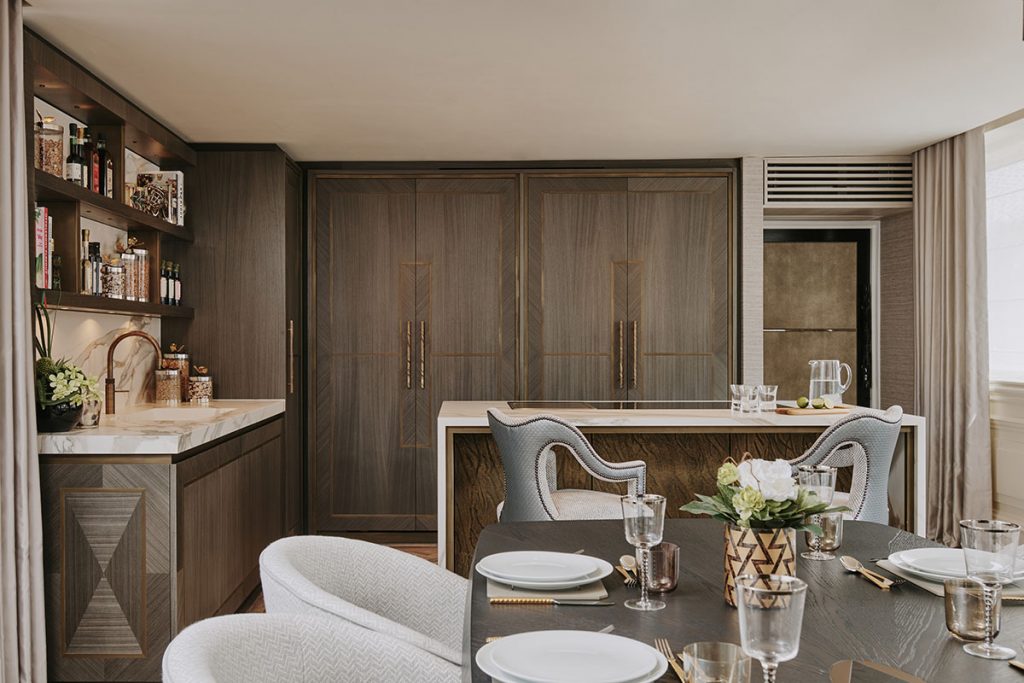 He adds: "This also interfaces and accommodates AV and sophisticated mood lighting which runs throughout the space. And finally, our objective was to continue to provide Ledbury Studio's trademark unique material usage. In particular, this meant creating the solid worked brass panel triptych at the rear of the island and incorporating metals into the marquetry design."
Hampstead Modernist House kitchen: Sam Watkins McRae
Sam says: "This was an interesting journey, because the layout for the kitchen was dictated by the fact that we were making this an ethical refurbishment. The original home owners had clearly spent much time and money on a bespoke kitchen. So when our clients purchased the house, not only did they want to have their own style implemented, but they also wanted to utilise what they could in a sustainable way."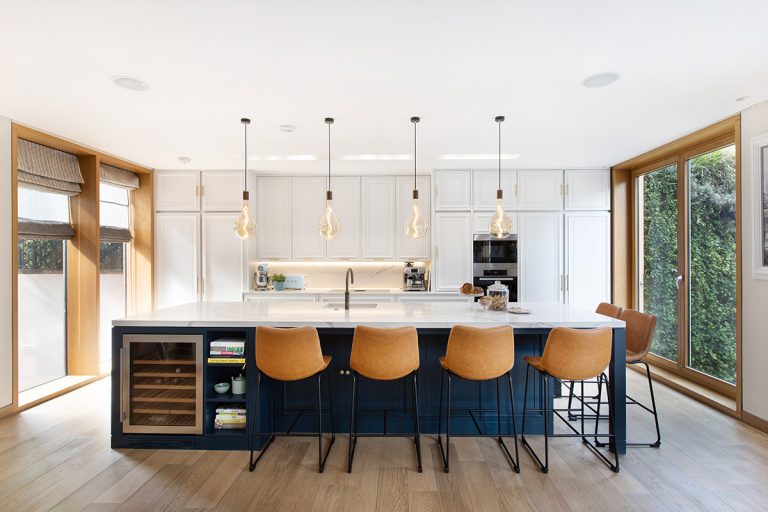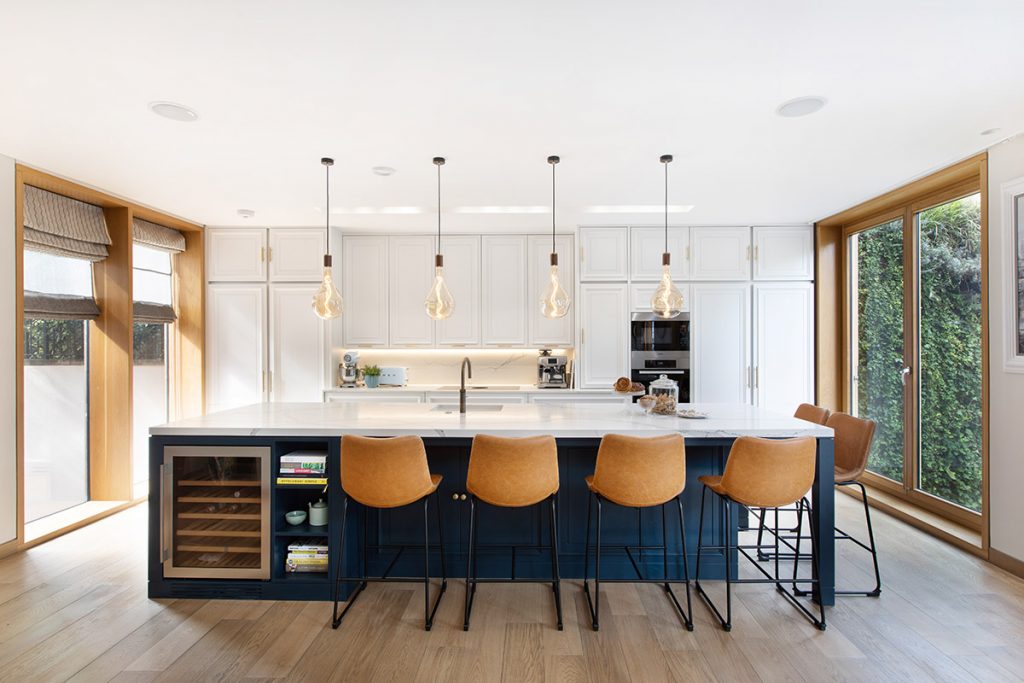 "We worked around the original layout and installed new doors, worktops and lighting. We replaced the original kitchen island with a longer 3m island. This had modern beaded cabinetry, a wine fridge, more storage and a much needed seating counter for a very social family."
Sam gives us an insight into her suppliers: "Both of the kitchens in my projects [pictured above] are bespoke, and I am really lucky to work with Koldo Gil from Koldo and Co. He is a joinery genius, kitchen designer and manufacturer who has produced some beautiful results for clients. The final cabinetry colours in Hampstead are Farrow & Ball Hague Blue and Strong White. The lighting in Hampstead was Tala and the ironmongery was Dowsing & Reynolds.
"Another kitchen company that we work with is Urban Myth. Not only are they fabulous at building the design around the budget, but their customer service is one of the best. In terms of other aspects, such as the ironmongery, we use Buster + Punch, Dowsing & Reynolds and Corston Architectural Detail to create a more bespoke finish than the suppliers' own handles."
THAT'S ALL, FOLKS
So there you have it: a surfeit of kitchen planning ideas to help you create a stunning kitchen. Just follow the tips above and your kitchen will look great as a result. No need to thank us – just promise to send us the pictures once your own interiors masterpiece is complete.
Featured image: Carson Road kitchen designed by Dee Gibson of Velvet Orange Design. Photography: Janie Airey.
Dee Gibson can be contacted at stu[email protected] and on (020) 7884 0530. Her Instagram is here and Velvet Orange Design's Instagram is here.
Sam Watkins McRae can be contacted at [email protected] and on 07884 395 942. Her Instagram is here.
Charlie Smallbone can be contacted through Ledbury Studio.
For more kitchen inspo from These Three Rooms, check out these amazingly innovative kitchen island designs.
About Post Author