There is no doubt our way of living is changing and so is the way we plan our homes. However, lots of companies have taken it upon themselves to still deliver a great design service through online consultations and virtual planning apps. Very modern, yes?
So, if you've decided to take this time to upgrade your kitchen, I've found ten kitchen planning tools to help you visualise your ideas and make your dream kitchen come to life – all from the comfort of your home…(cup of tea optional, but encouraged).

Ideas for Living's kitchen planner
Looking to buy a new kitchen, but don't know exactly what you want? Then, take Ideas for Living's personality quiz to discover the kitchen that will suit your style best.
Do you know exactly how your kitchen should look? Perfect, you can use the planner tool to create your kitchen's design from scratch.
The first step is to start building your design – choose your room size, add storage space for your essentials, think about where your large appliances should fit and then perfect those details such as the spalshback, lighting, finishes and small appliances.
The second step is to use their locator tool to shortlist your local experts from Häfele Studio Partners, a group of British kitchen designers, to turn your dream kitchen into reality.
The final step, once you've selected your Studio Partners, is to share your carefully crafted plan and bring it to life.
DIY Kitchens' Online Kitchen Planner
A great kitchen planning tool comes from DIY Kitchens where you can edit anything from room size, to the positioning of your windows, doors, cabinets, appliances and so on.
Because you can put your personal touch in every detail, from the paint shade to the finish, it can take a while, however, the end result will definitely be worth it. After you've created your dream kitchen, you can request a quote, following which you will receive an email with your shopping cart. Once you're happy with everything you've got in there, place your order and you will receive your bespoke kitchen in two to three weeks.
This software is such a great tool as you can visualise your kitchen in 3D, have access to online support seven days a week, plus expert advice to successfully plan your kitchen from home.
Nobilia's kitchen configurator
Visualise your dream kitchen with Nobilia's kitchen configurator tool – choose from kitchen cabinet styles, think about layouts and furnish it the way you've always wanted to. One of its best features is that you can actually watch videos to get a feel of how the splashback looks in reality and how the kitchen cabinets open.
Take a closer look using the sink and tap camera tool and personalise each detail. Nobilia provides a help tool in case you get stuck, as well as a distributor directory. The summary button will help you see the list of chosen items and you can send your finished plan to your email – very convenient.
Need more help with planning your kitchen? Nobilia has an online planner, a checklist and a technical product information guide, so you can sit back and plan your dream kitchen from the comfort of your home.
Wickes' virtual design service
Wickes has introduced a new, face-to-face virtual design service that helps customers create their kitchen's or bathroom's design without ever leaving their home. How handy, right? All you need to do is fill out a short form or simply give them a call. You will then receive a guide on measuring your space and what to expect from your design consultation.
Because the new features allow you to see your consultant face-to-face, you will get a better understanding of the design process. This feature will also enable you to show them around your kitchen, share screens for you to show them your inspiration boards and for the consultant to reveal your final design.
Plus, you can get a tour of their showroom. After you've decided on a design, you will get a quote and help to complete the order – all without ever leaving your home.
Nolte's kitchen planner
Nolte Küchen offers guides on everything you need to know when planning your kitchen, from finding your style to planning your budget. The Nolte web planner allows you to draw up a floor plan, decide on floor and wall colours, the style of kitchen units, and focus on fitting in all necessary appliances.
Save your kitchen plan and edit it at any time in the web planner, and when you're ready, download your plan as a PDF document. Once your plan is done, you need to get in touch with a kitchen expert, by checking retail partners near you. Y

ou can also download a checklist to really let the kitchen designer get to know you and your preferences.
Magnet's kitchen planner tool
Visit Magnet's showroom from your comfortable sofa or get creative with their kitchen planner tool. Choose from different layouts or start from scratch, play with room sizes, wall lengths and more.
What's more, Magnet's designers are working from home to help you plan your dream kitchen. They offer a Virtual Kitchen Service where you can book a design consultation, show them the current state of your kitchen and share your ideas. You will get a free kitchen design, which includes 3D images, as well as a 360° view of your kitchen design, plus quotation.
Alno's kitchen designer tool
Download Alno's 3D Kitchen Planner for free, gather your inspiration boards and design your new kitchen. With the function to move around the digital space, you can truly envision your dream kitchen and plan accordingly. If you need help with the software, you can simply contact Alno and they will assist with any question. From storage space to the overall design, download their checklist to make sure you've got every detail covered.
Wren's kitchen planner
Simply book your free design appointment and once you've set your preferred date and time, the appointment will be scheduled and you'll be set to start planning. Next, you'll need to get your measurements ready – don't worry if you're struggling with this step, your kitchen designer can help you out. Together with your designer, you will run through a selection of colours, layouts, ranges, and styles to visualise your bespoke kitchen.
The 3D design will allow you to add your personal touch and perfect those details, plus you can even open up the kitchen cabinets and explore the design through a 360° panorama – how cool is that?
Lastly you will get a quote so you can decide if you want to proceed to ordering online. Do you need more time? No worries, you can have as many online appointments as you need – sorted, you have a new kitchen at your fingertips.
Howdens' Personal Design Service
Howdens is now offering their free (and improved) kitchen planning and design tool remotely – so, after completing their online form, you will be allocated a kitchen designer with whom you will discuss measurements, layouts and design preferences.
Communication is always key, so you will be able to stay connected through video chats and live screen shares to bring your desired kitchen to life, and you can receive expert advice from your local Howdens – bonus.
https://www.instagram.com/p/CAdSCM8oiyR/?utm_source=ig_web_copy_link
B&Q's kitchen planning tool
B&Q offers planning appointments and preparation advice, as well as guidance on measuring your kitchen. You can personalise your kitchen with their room visualisation tool, where you can choose the layout and style of your kitchen, plus edit the worktops and flooring, wall paint and tiles, cabinets and handles.
With all of these kitchen planning tools available, it's time to get creative, right?
Get @kbbmagazine without leaving the sofa
Delivered right to your door each month, get all the advice and inspo you need to get your next renovation project going with a subscription to Kitchens Bedrooms & Bathrooms magazine. Subscribe today for only £23.35 when you sign up for six months. Click here to claim your offer.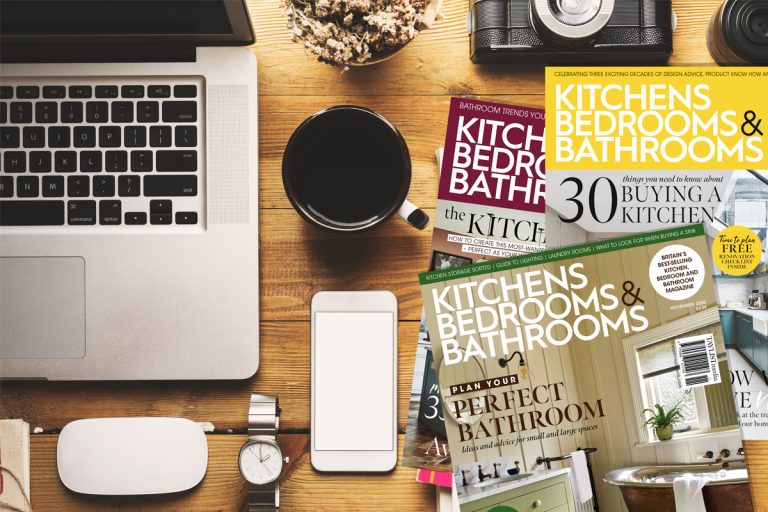 Featured image: iStock/ArchiViz
Love virtual tools? Then check out this feature on virtual bathroom design tools.
About Post Author