There's no denying it: our homes – and our lives in general – are getting more intelligent every day. From smart AI companions such as Amazon's Alexa or Google's Home Assistant to ovens you can control with your voice, there's an incredible array of smart tech out there.
Christmas gifts for tech lovers, of course, also include all the little gimmicks – be they wireless chargers, Bluetooth headphones (which, quite frankly, revolutionised my life), or even clever robots to vacuum your home.
But what present are you supposed to get? Because there's so much choice when it comes to Christmas gifts for tech lovers, it's hard to pick just one.
Which is why I'm here – because I've had a good look and assembled my favourite tech gifts, from small to large. Full disclaimer – these might be inspired by my wishlist, just a little… on top of which is a wardrobe that can clean, steam, dry, and even iron your clothes. Truly, my mum would be so happy if she knew.
But of course, there are plenty more Christmas gifts for tech lovers, from big-ticket items to the small, but certain, joys.
So, check out these top tech ideas… and treat a loved one (or yourself).
For the music lover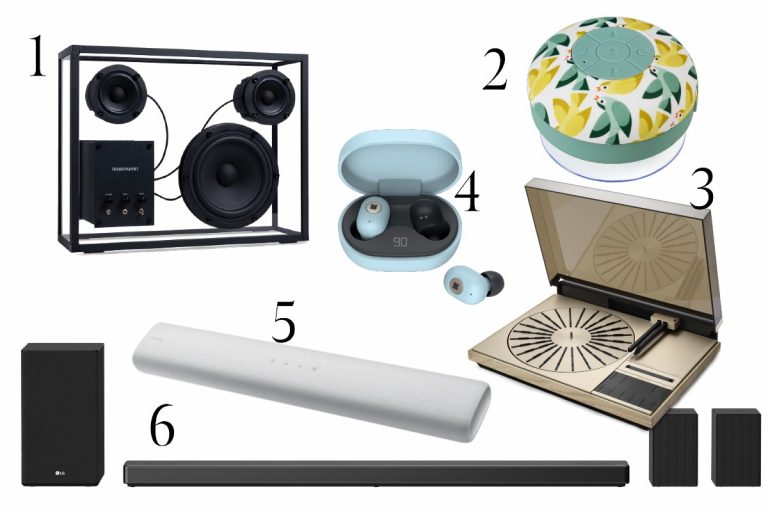 Large matte black speakers, £900, Transparent. 2. Love Birds bluetooth shower speaker, £19.95, Rex London. 3. Beogram 4000c recreated limited edition turntable, £9000, Bang & Olufsen. 4. Kreafunk aBean bluetooth headphones in Misty Blue KFLP12 191481, £60, Amara. 5. S61T 4.0ch Lifestyle all-in-one soundbar in Grey with Alexa Voice control built in, £299, Samsung. 6. LG SN11RG bluetooth Wifi sound bar with Meridian technology, high-resolution audio, Dolby Atmos, wireless subwoofer and rear speakers in Dark Steel Silver, £799, John Lewis & Partners.
Christmas gifts for tech lovers who have everything
Sometimes you need to be creative – that's just a fact. A speaker might feel too obvious (or you don't know their sound preference), and they also might have their voice-assisted home all set up.
So, what to do?
So how about appealing to their dreams? If you're looking for a Christmas gift for a tech lover who's always wanted to start a podcast – and we understand, we have one of our own after all – now is the time to get them started.
It's an easy-enough set-up even for people who've never recorded a podcast before. You can buy individual components, like a mic and the necessary recording gear, individually.
But there are also home podcast studios that make ideal Christmas gifts for tech lovers.
So why not get them started? Because you might just give them the best present in years.
For the gadget lover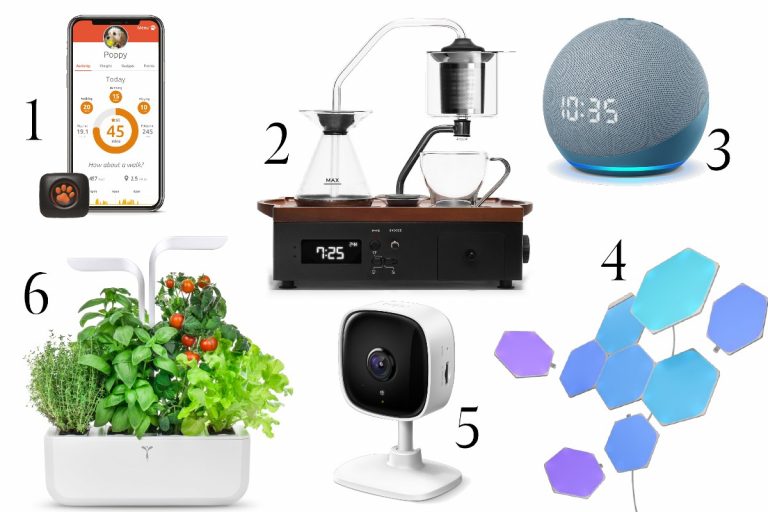 1. PitPat dog activity monitor, £39, PitPat. 2. Le Barisieur Immersion Edition tea-brewing alarm clock, £345, Joy Resolve. 3. Echo Dot with clock, £59.99, Amazon. 4. Shapes Hexagon smart lights, from £119.99 for a five-panel starter kit, Nanoleaf. 5. TP-Link Tapo C100 home security Wifi camera, from v£33.24, Amazon. 6. Veritable Smart garden in Arctic White and Satin Silver, £175, Haus.
Christmas gifts for film-obsessed tech lovers
So everyone has that one friend who's absolutely into film, right? (Being a TV friend is also an option.) They always watch the latest releases, but also have an extensive knowledge of the classics – and often a special fondness for one specific genre.
So why not add a little more fun into their life by way of a projector? It doesn't always need to be a full-sized design, either, if the expense is too much or you don't know if it'll be a hit. Mini projectors make excellent Christmas gifts for tech lovers – plus they're easier to take along to movie night, too.
For the 'my bedside table is too busy' friend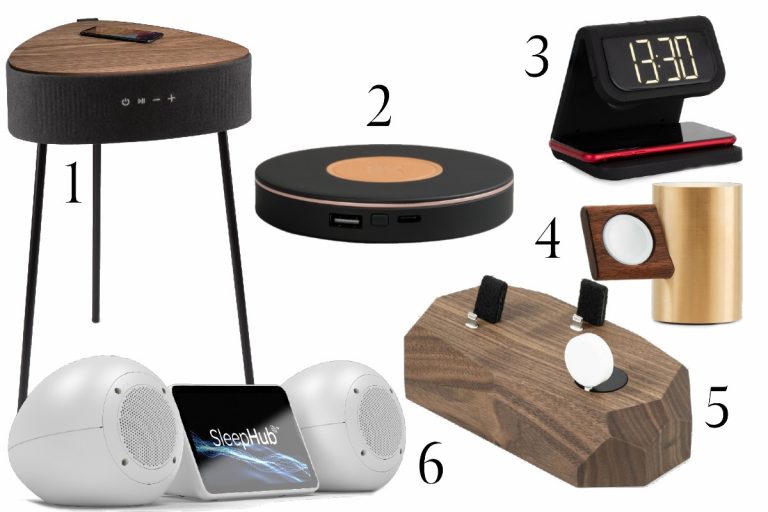 Bring some light into their life
Lamps might not be your first idea when looking for Christmas gifts for tech lovers, but hear me out.
What if it was not only stylish but also smart?
The Signe lamp is part of Philips' Hue range of intelligent lighting you can control via an app. It looks sleek, too – but that's not all. Switch it on and it'll produce a pretty gradient light in shades of your choice.
This way, they can create their own favourite atmosphere in their home – whether it's warm oranges and yellows for a cosy feel, or cool pinks and blues as a fun addition to a party.
Christmas gifts for tech lovers who want to add some *extra* smart ideas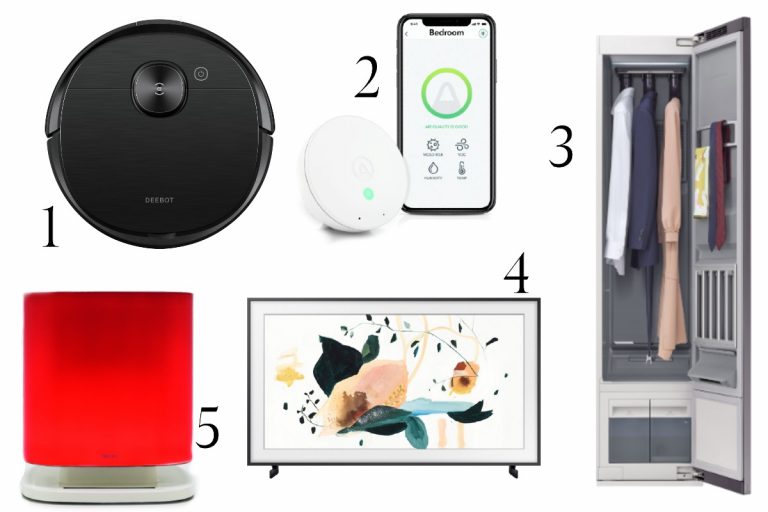 Ecovacs Deebot Ozmo T8 Aivi smart vacuum robot, £649, Amazon. 2. Wave Mini air quality monitor, £69, Airthings. 3. AirDresser smart wardrobe, £1999, Samsung. 4. 32″ The Frame Art Mode QLED Full HD HDR Smart TV (2021), £399, Samsung. 5. Bellaria air purifier in red with dimmable LED light, £795, Falmec.
About Post Author