If you asked me what my favourite kitchen design is, the answer is easy. A galley as you'd find in the Barbican, given a bit of a modern update (and with more space to move). It's oddly specific, I know, and the original designs in those flats are very utilitarian. But I love a good bit of retro style.
So you can imagine how I instantly fell for John and Faye Parton's soft pink compact kitchen. It not only comes in a cool colour but also fits perfectly into its surroundings. After all, their south east London home was built just before the 1960s began.
But before I waffle on – and believe me, I could – I'll let them tell the story. They spoke to my colleague Michelle Perret, and told her all about how their scheme came together – swoon.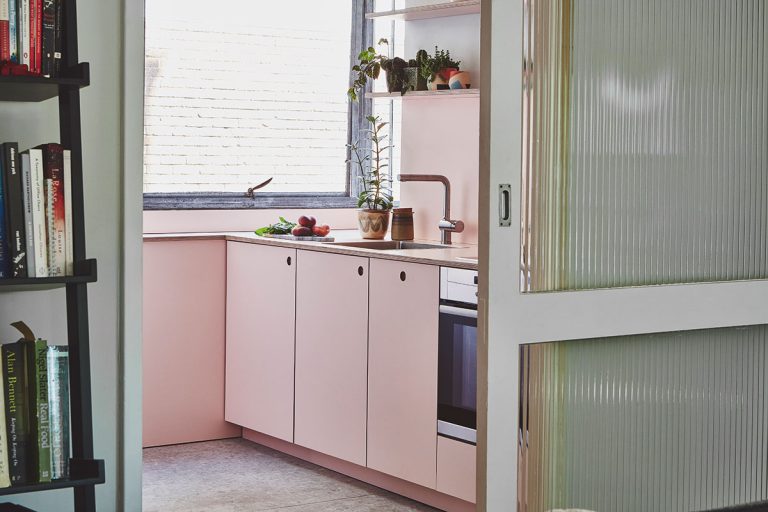 Building their beautiful pink compact kitchen
Knowing they wanted an unusual colour, homeowners John and Faye Parton picked a pastel pink for their compact kitchen. Ruskin Blossom is its official name. This created a bright and fun space for their compact kitchen redesign.
The couple moved into the flat in Gipsy Hill, south east London, five years ago. They were drawn to its beautiful design. Built in 1959, it still retained many original features and John and Faye patiently waited to redo the space for financial reasons.
"The property itself was in a poor state when we moved in. And there were other jobs that needed doing more urgently," John explains. "So it was a while before we had the money for a new kitchen."
The small room's previous design was cramped, with both a dark, fake wood veneer and marble worktop. To fit in with the rest of the apartment, they needed to improve its layout and give it access to more natural light. Here, John explains how the compact kitchen project came together…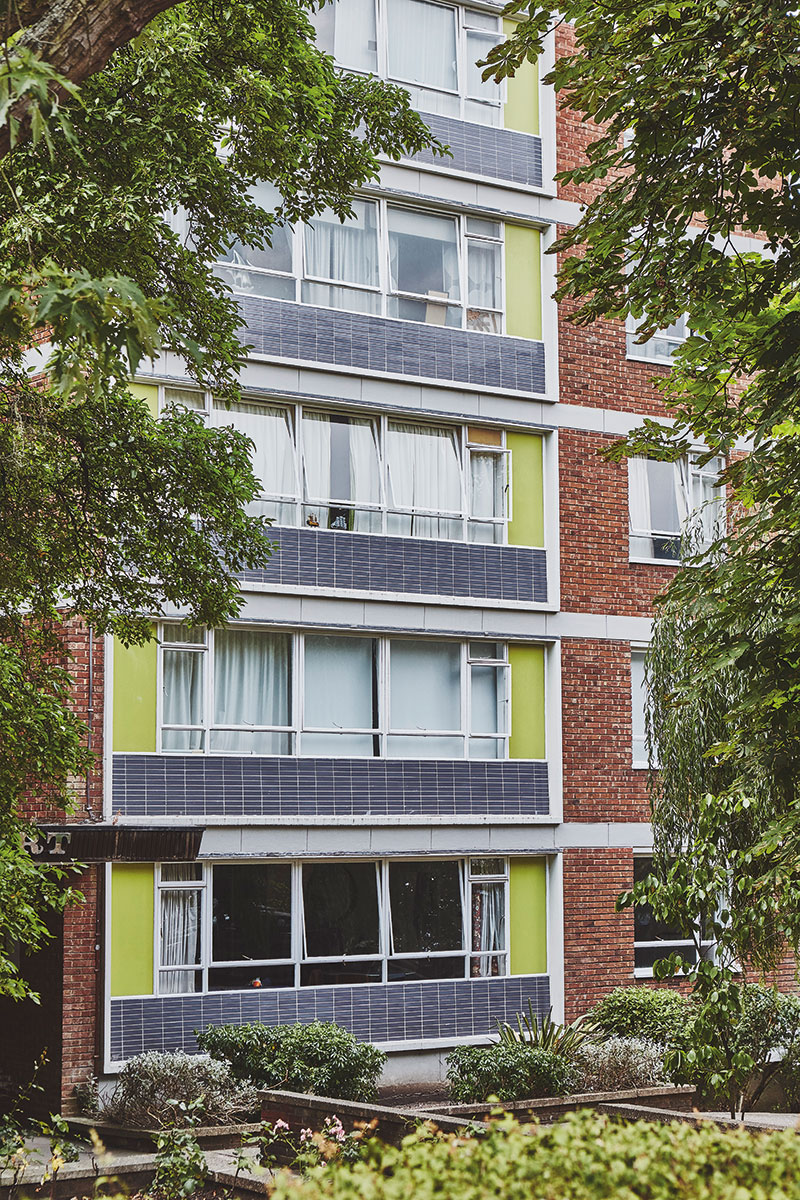 What was the old scheme like before the compact kitchen?
"The space is quite a small room and the old design felt like it tried to pack too much in," explains John. "It was in an L-shape and very dark, due to lots of wall cabinets. The layout also meant you couldn't get to the window.
"The good thing about living in the flat for five years without touching it, however, was that Faye and I knew what would work. I had a clear idea, which was simply to open out the space and reduce the furniture, making it feel much brighter and less cluttered."
What was your vision for this compact kitchen?
"We looked at some of the bigger chain suppliers when we decided to redo the kitchen. But the limited colour choices discouraged us. We found Pluck, as they are in Brixton, not far away from us. We liked their philosophy of creating simple, clutter-free designs. They also used materials and colour in a nice way."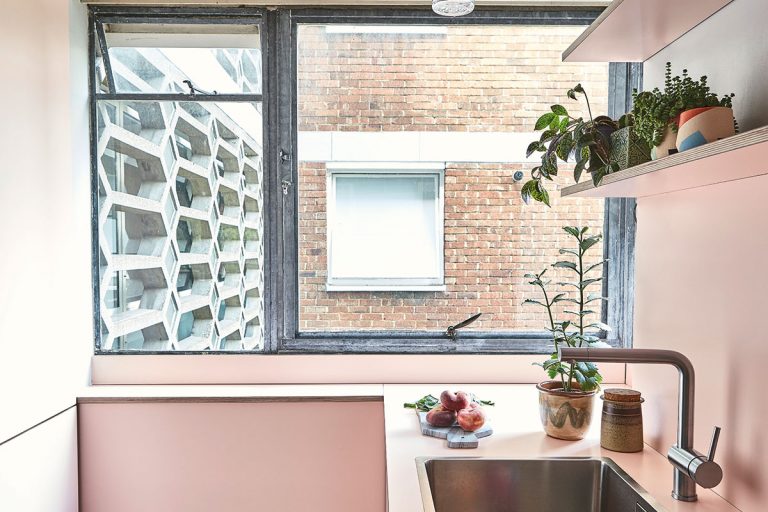 "I told the designers we wanted to rework the L-shape layout, to open it up. Wall cabinets weren't an option as we found they swallow up all the space. We access the kitchen from the living room, which has a dark mahogany parquet floor, so the colour scheme had to work with this as well."
What was the thinking behind the layout and décor?
"I wanted to keep the look as simple and bright as possible," explains John. "That's why we only chose one run of lower cabinets and two simple open shelves at the top. We left the window clear, which let in so much more natural light.
"The company custom-made the units to be smaller than standard, to make the most of the compact kitchen. We also saved space by hollowing out a wall to create a full-height larder, which provides the perfect amount of storage. Although we did have a small cull once the new kitchen was in.
"People suggested to us that perhaps we could open up the space, as this is usually the norm on a project this small. However, we couldn't remove structural walls so knocking through was not an option."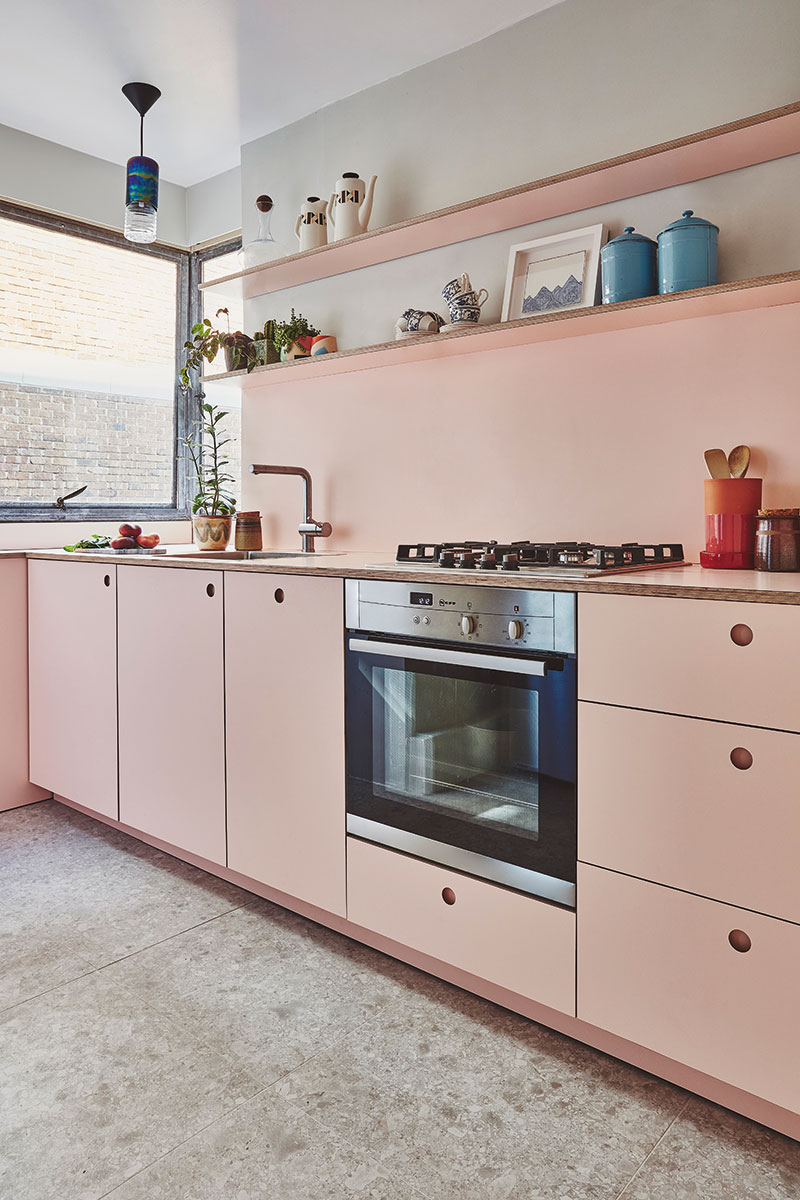 Would you have wanted to knock through?
"We wouldn't have wanted to – the sliding door between the kitchen and the living room is an original feature. It means we can open up or separate the spaces to suit what we're doing and who is in the flat. In terms of the décor, at the time Pluck had a palette of six colours but some would not have worked with the living space.
"We chose Ruskin Blossom because it was the nicest. We wanted a strong or more unusual shade, but we certainly didn't start the brief by saying we wanted pink. The same goes for the cabinet doors – it was our favourite design, as it makes for a simpler, more elegant look.
"Recesses in lieu of door handles also reveal the plywood's grain very nicely. For the appliances, we went to John Lewis & Partners and looked at the ovens. I found the brand Neff and went with them, as I thought they seemed to have a great balance between simplicity and functionality."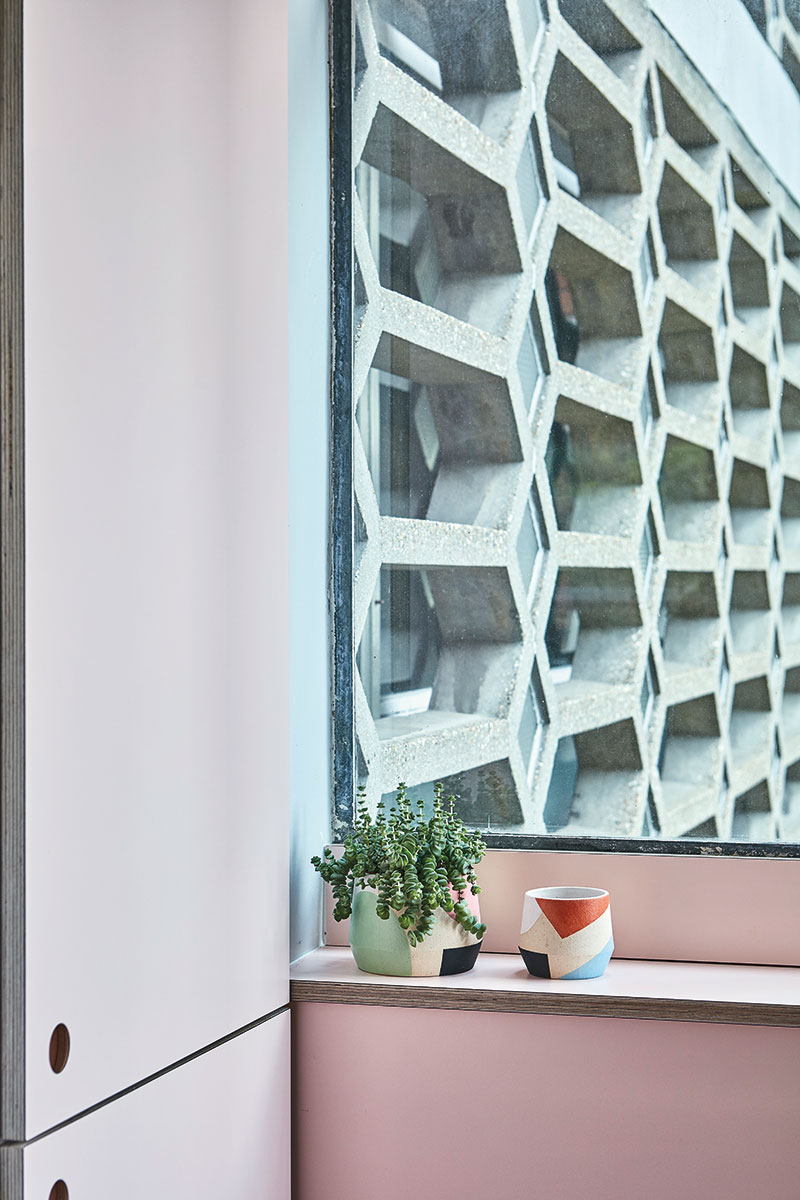 What do you like most about the finished design?
"It feels like there is so much more space, even though it's quite a compact kitchen," says John. "It is a much nicer room to be in and fits in with the rest of the flat and our aim of making everything feel much lighter.
"So it feels less claustrophobic but still completely meets our needs – small, but perfectly formed."
Featured image: John wanted the Pluck cabinetry along one wall only. "How the kitchen should be was so clear to me," he said. "Because I had spent years using the previous poor layout." 
Photography: Malcolm Menzies
If you liked this feature, you may also enjoy: A London home extension and loft conversion.
About Post Author