Are you looking for your dream modern luxury kitchen? The art of creating a modern luxury kitchen which doesn't break the bank is about finding the right balance between colours, textures and features.
To guide you through your kitchen renovation journey, we've highlighted how you can achieve the modern luxury kitchen look with a few simple style tips to consider when planning your new kitchen.
Get the modern luxury kitchen look
One of the biggest trends in kitchen design right now is all about mixing and matching colours, textures and materials, and finding combinations that will transform your home.
Your choice of colours and textures go beyond choosing your kitchen doors, your worktops, splashbacks, open shelving, plinths, handle rails are all areas in design to add flair and luxury touch to your kitchen.
By looking closer at each detail, you'll achieve that high-end look – we love an unexpected hit of metallic on a plinth or upstand, or a small area of interest in the space between drawers.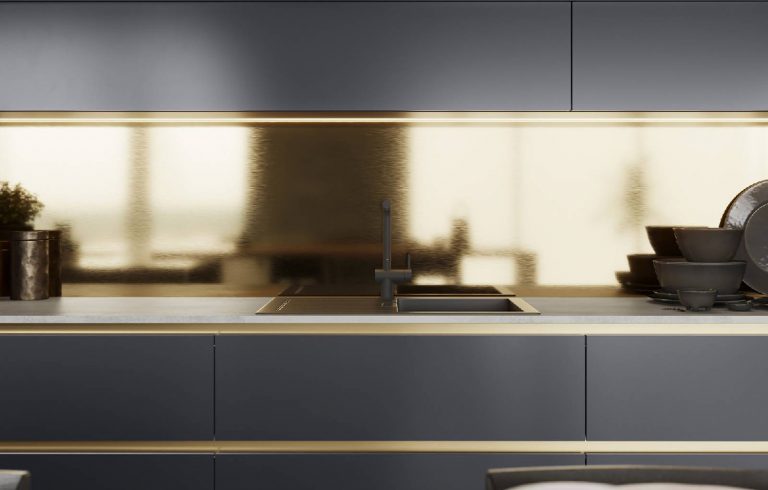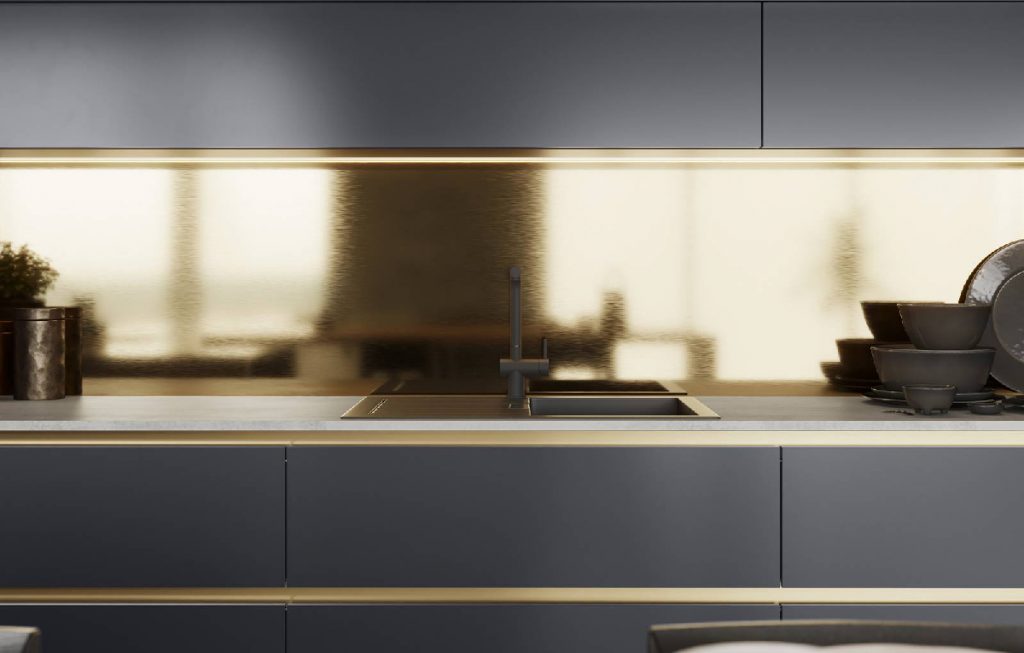 Contrast your kitchen colours
There is no denying that there is a rise in kitchen renovators choosing dark tones and we've spotted many stylish navy, dark grey and gorgeous green schemes. And while this may seem daring, if paired with lighter, warmer tones, you can create an inviting, cosy space that oozes luxury.
CAPTION: This kitchen comprises of the rich brown tones of Burnt Umber, mixed with the warming tones of Highland Stone and Farmhouse Oak. Pictured: H Line Sutton in Burnt Umber and Highland Stone with H Line Ligna Farmhouse Oak and Metalix Brass splashbacks.
Create a statement kitchen island
Why choose one kitchen island finishes, when you can have two? Choose a stone or marble effect finish to accommodate your cooking station and mix with a warming wood finish for your seating area. Mixing finishes helps zone your kitchen area and make a fabulous design statement.
At Masterclass Kitchens, they've introduced wood and stone effect ranges which can be used for worktops and doors, to truly enhance that modern luxury look without the high-end price tag.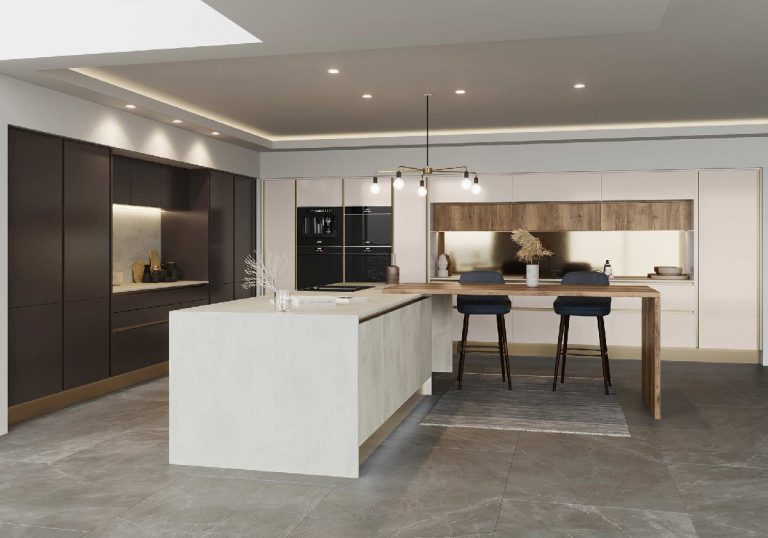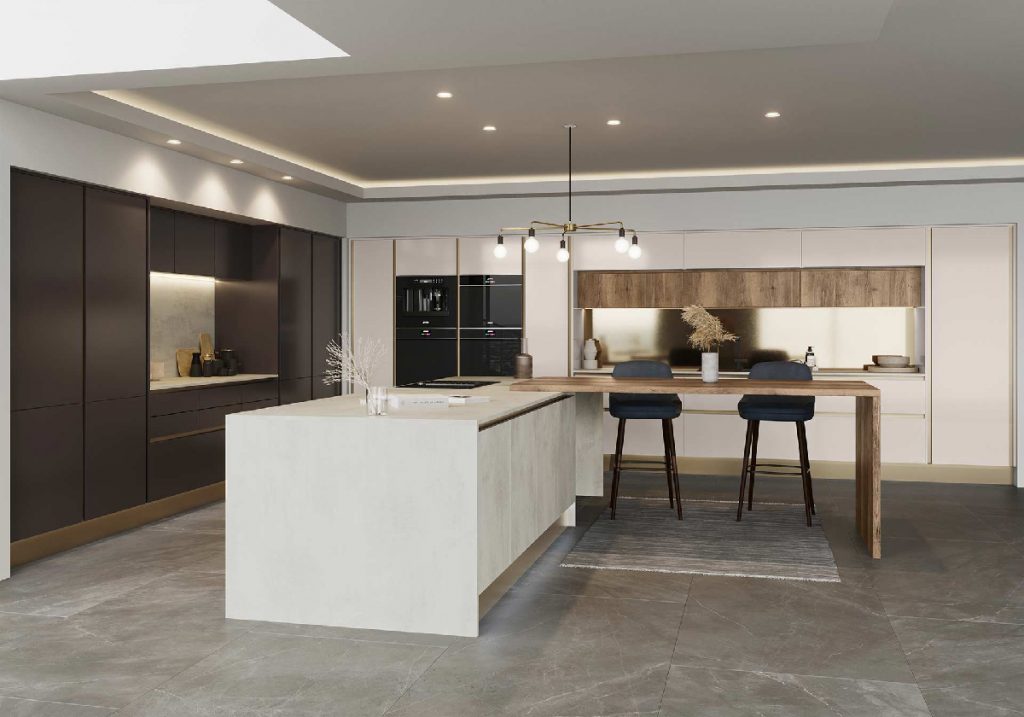 Add metallic accents
Nothing says modern luxury kitchen quite like adding a touch of metallic. If you want to make a real statement, choose a metallic accent for your splashback, but if you want something a little more subtle, incorporate metallic accents in your handle rails or plinths.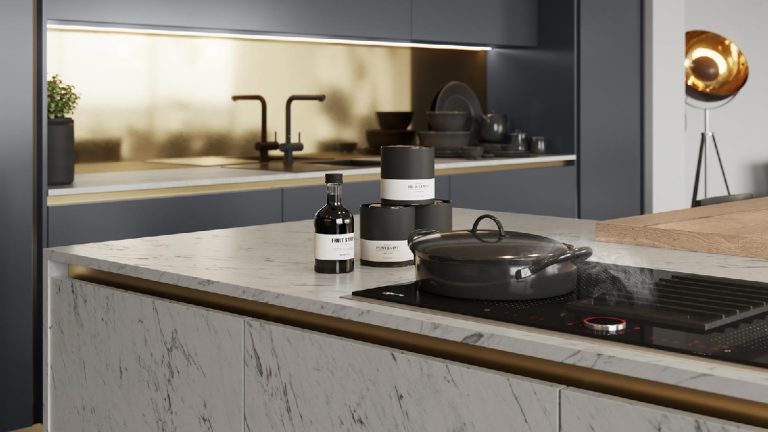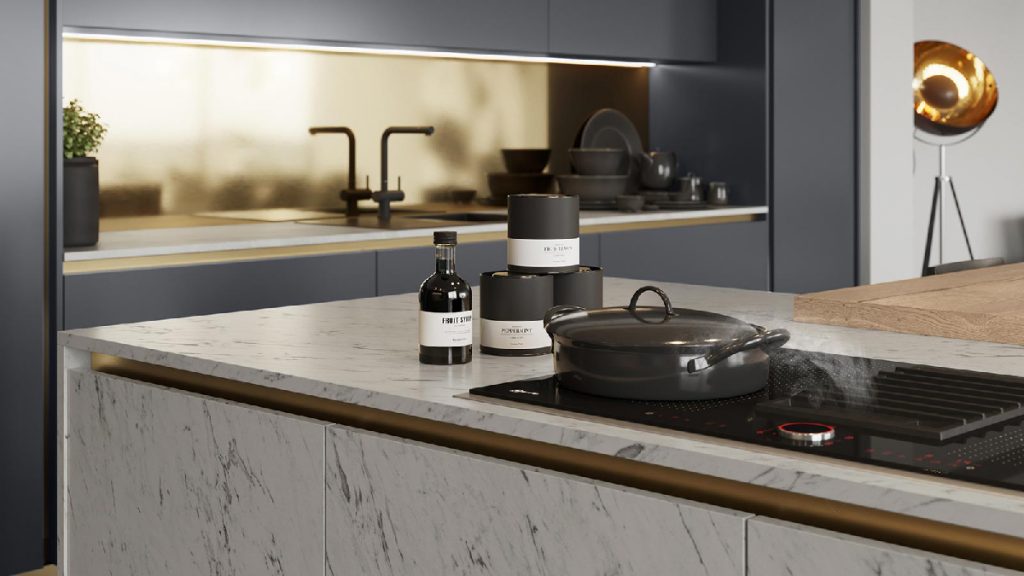 Keep worktops modern
Luxury kitchens often associate themselves with real stone worktops, which can eat into a kitchen budget. By opting for high-quality laminates, you can achieve the same look at a fraction of the cost.
You can then invest your extra kitchen budget in more storage solutions or design features that will improve the functionality of your kitchen.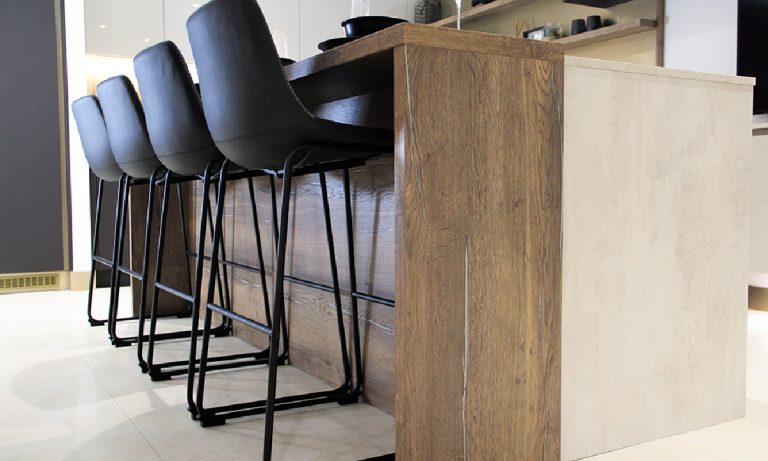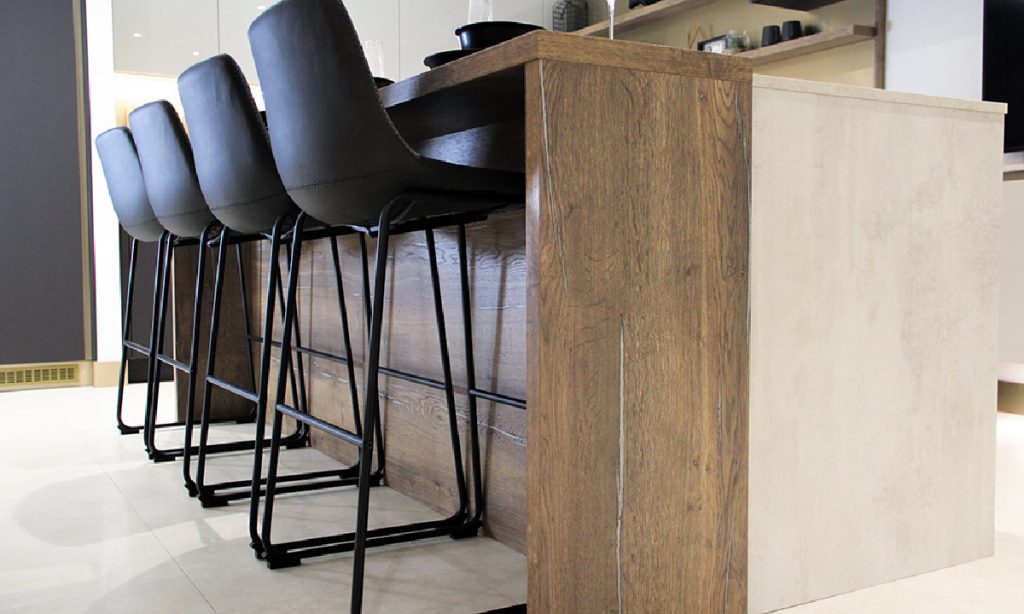 Don't forget storage
We believe it's what's inside your kitchen is just as important as the outside. And that is never truer than when designing a modern luxury kitchen. No one wants cluttered worktops when you're aiming for that slick look, so good storage solutions are absolutely key.
Choosing kitchen storage that suits your needs will ensure your kitchen is functional and works around your lifestyle. In a modern kitchen, nothing says modern luxury more than LineaPlus by Masterclass Kitchens. The brushed aluminium drawers are the widest and deepest in the market and boast an extra 30% usable space compared to standard cupboards.
Want open shelving?
Prevent a kitchen looking too stark by introducing display space, however small.
Open shelving is a kitchen trend that is here to stay. It's an area in your kitchen that you can truly add a bit of your personality. Choosing open shelving can brighten your space as you no longer have large kitchen cabinets, which can obstruct natural light into the home. We love using natural wood finishes to open shelving – it adds the warmth that modern kitchen often needs.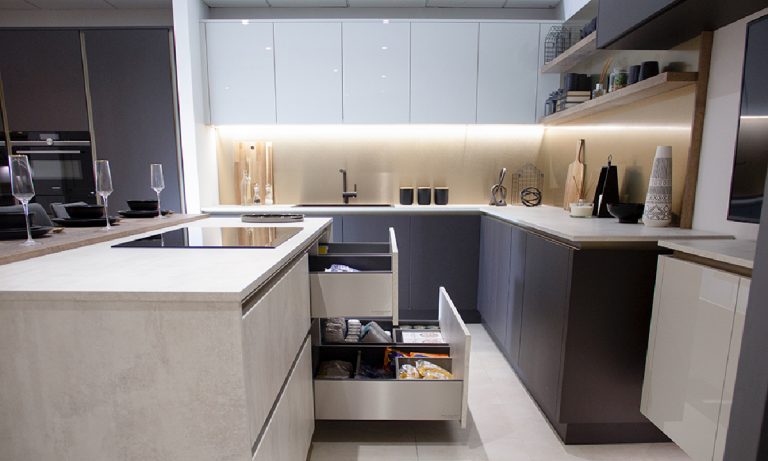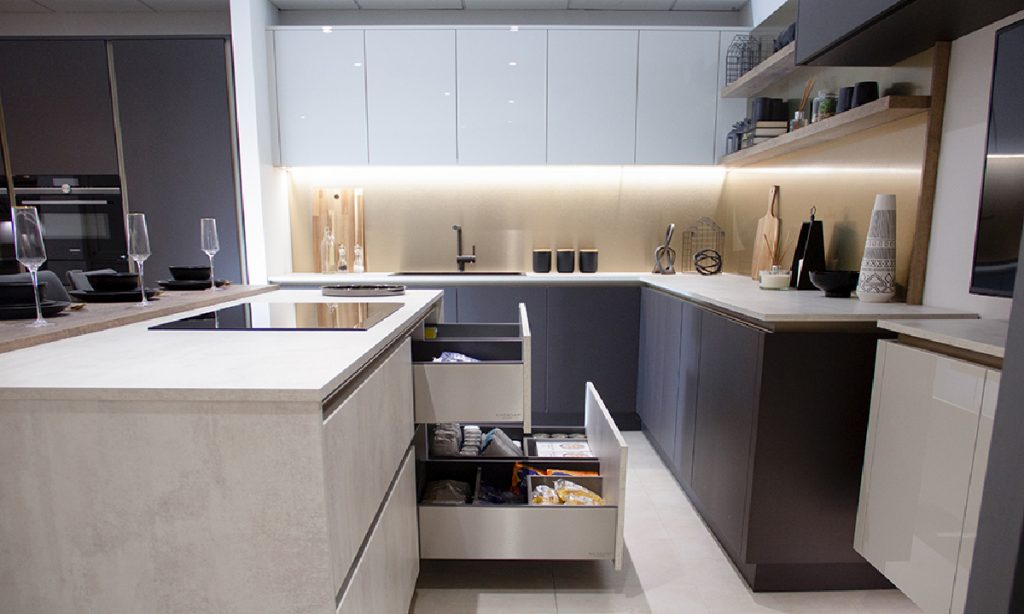 Remember those finishing touches
Your personalisation doesn't have to stop with kitchen doors and worktops, your handles and handles rails are the last piece of the puzzle to make a design statement. At Masterclass Kitchens, they have an impressive 33 different handle rail choices to complete the modern luxury kitchen look.
So what's your idea of a modern, luxurious kitchen?
This article has been created in partnership with Masterclass Kitchens.
Masterclass Kitchens are an innovative kitchen manufacturer with more than 130 specialist kitchen retailers across the UK.
About Post Author