Picture the scene. A narrow room, units either side, two people in the space, doors opening and blocking the way… Then the dishwasher can't open when you're standing by the sink, increasing your frustration… sound familiar? Many of us dream of wonderfully light, spacious kitchens. Kitchens where you can entertain, spend time with family and friends, cook together and not get in each others way. However, this isn't always achievable. And that is okay – because I have some great ideas for maximising even the most compact space. So here's how to renovate a small kitchen.
Let's take a look at how to renovate a small kitchen, shall we? Because yes, a bigger kitchen may be slightly easier to design and include all of those things you've got on your wishlist. For example, mine includes a hot-water tap, breakfast cupboard, larder unit and bar area for starters. But with careful planning, a little imagination, and thoughtful ideas, you can make the most of your teeny space. And all while still maintaining that all-important style and practicality.
How to renovate a small kitchen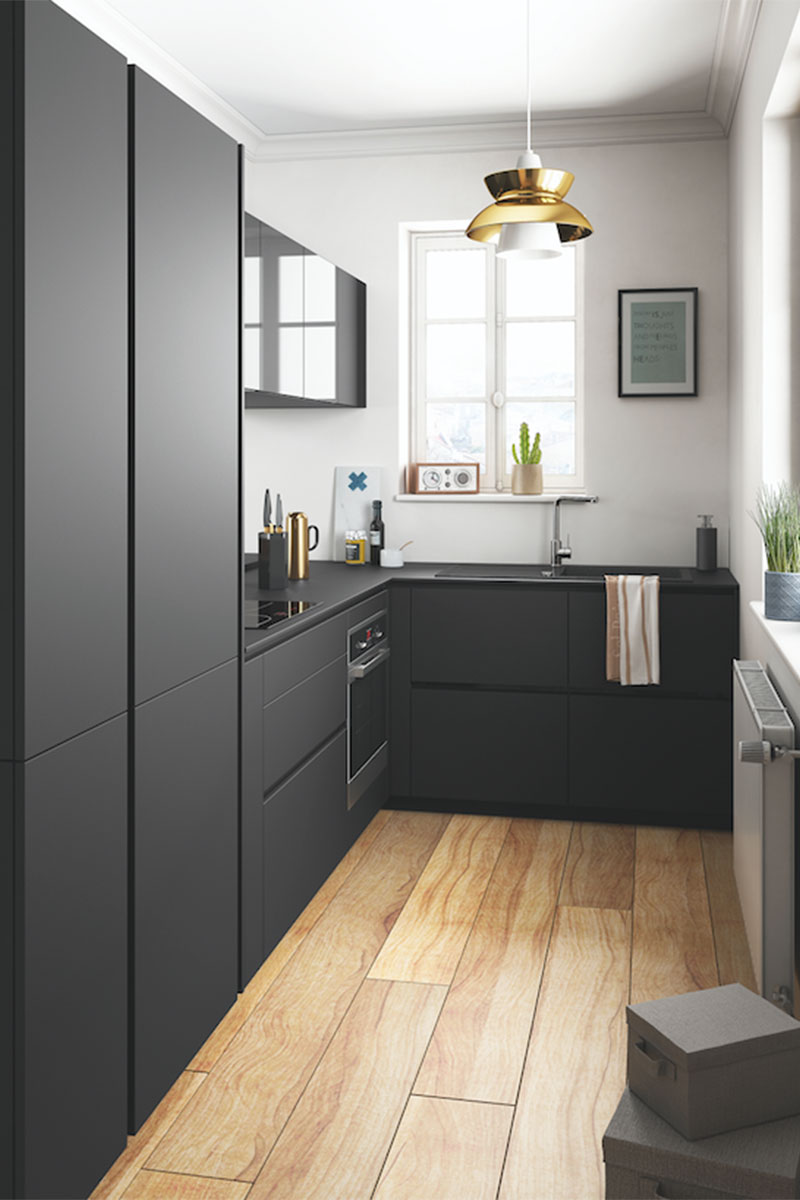 Check out what you're working with
You may have already considered knocking through to another room or extending outwards, but if this isn't possible, fear not, there are other options.
It's important to focus on enhancing all available space (I mean literally every single inch) in the most practical and visually appealing way. Clever planning from the very start of your project to renovate a small kitchen will ensure you're familiar with each part of the room before any construction or refitting begins.
Look at your kitchen as a whole, including the footprint, wall placements, and window and door openings first. Can you move a window slightly to create a new, better opening? Or move a wall? If so, do this early – before the kitchen is designed. Then consider the ceiling height, where pipework or your boiler is and any structural beams or columns, which could dictate cabinet sizes and the location of appliances, sink, tap et al. Think carefully before moving any plumbing and electrics, as the cost of those works can be substantial.
How to renovate a small kitchen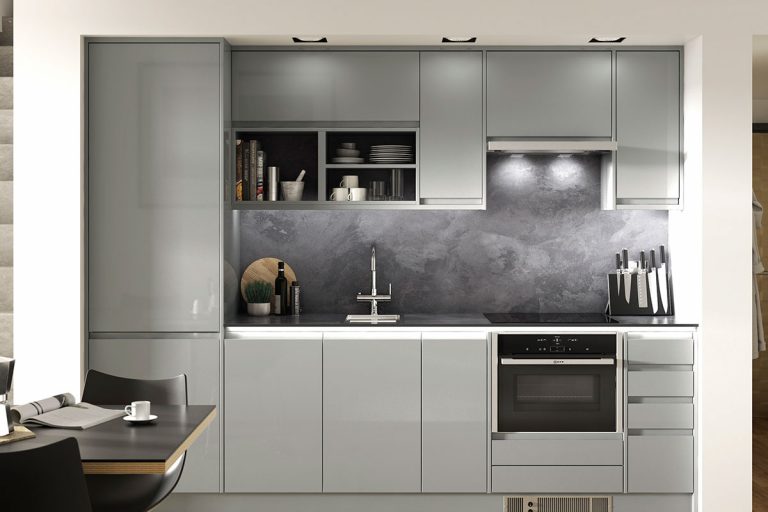 Declutter, cull and let go
This applies to any renovation, but more so when renovating a small kitchen. Take the opportunity to cull what you have in your kitchen. Responsibly get rid of anything you don't use by recycling or selling, move things if possible and decide whether you can move a dresser of rarely used crockery and glassware or find space for the washer or dryer under the stairs, upstairs or in the loft. I urge you, be honest and embrace the chance to have a good clear out.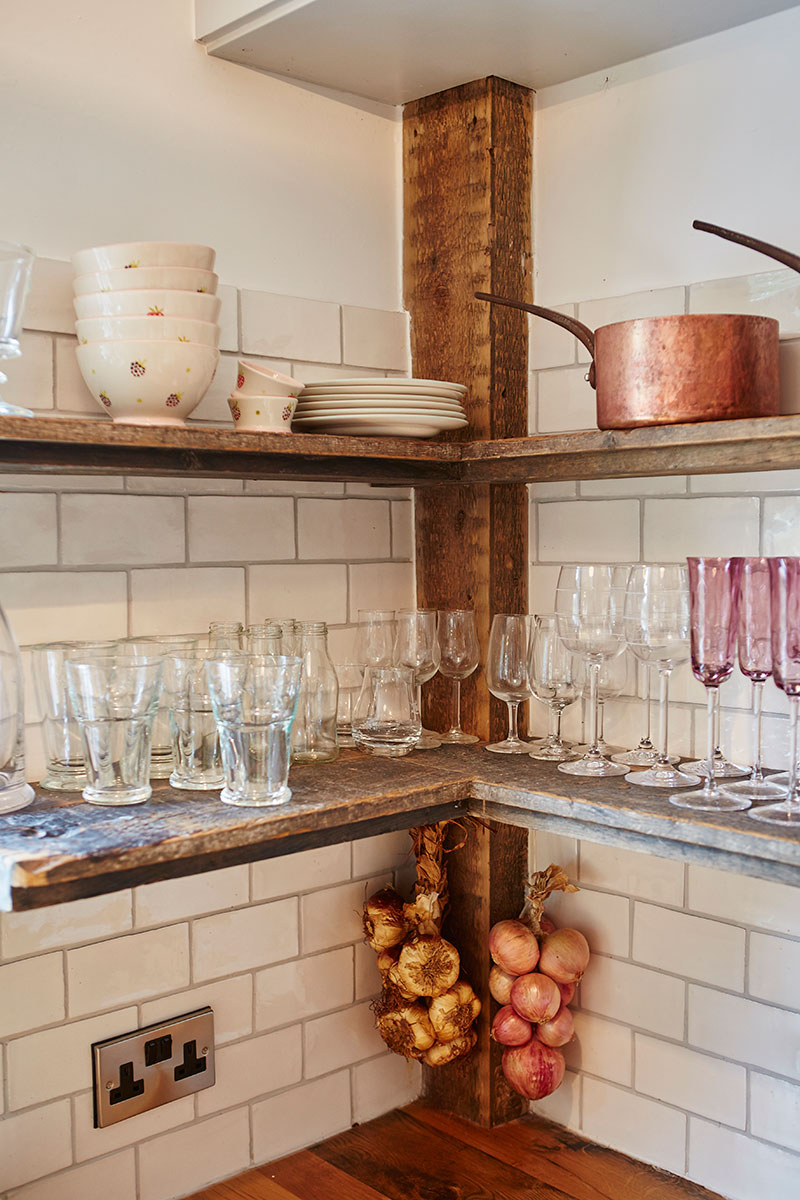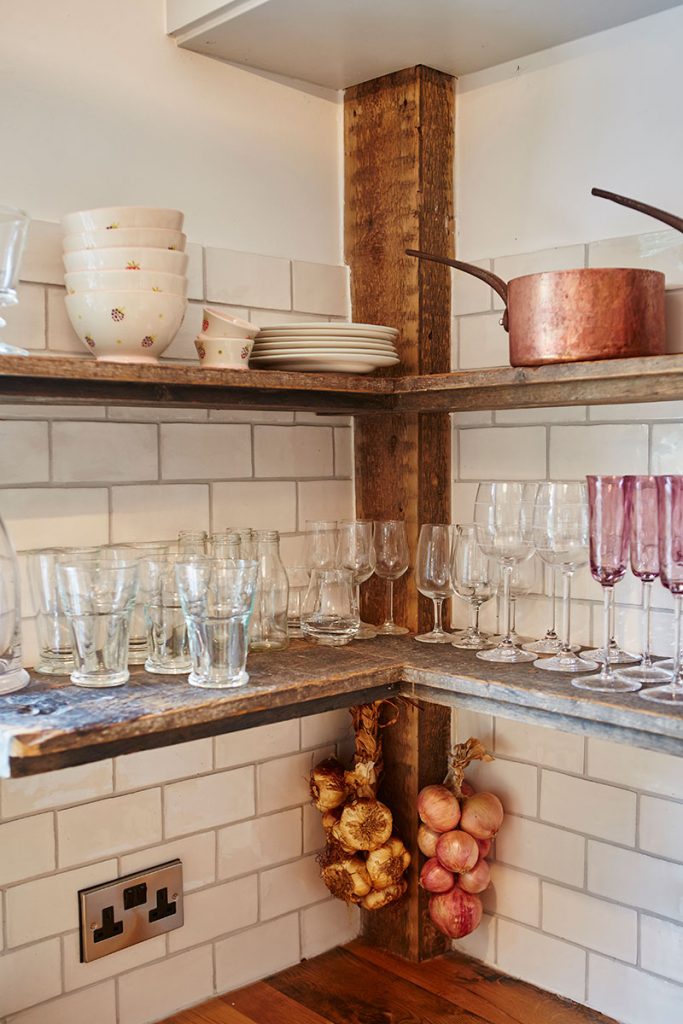 Decide on the layout
Galley and L-shaped kitchens work best in a small space, as both will provide practical storage and prep space together with a layout where everything is close to hand. A galley layout has two runs of parallel units. Areas for the sink are typically on one side and the oven on the other, with plenty of storage on both sides. Be mindful not to include a full run of tall cabinets, which could make the space feel more enclosed. Instead, go for a full-height bank of units at one end, with appliances integrated among lower-height styles. These could also provide space for a larder or tambour unit with worktop space alongside.
How to renovate a small kitchen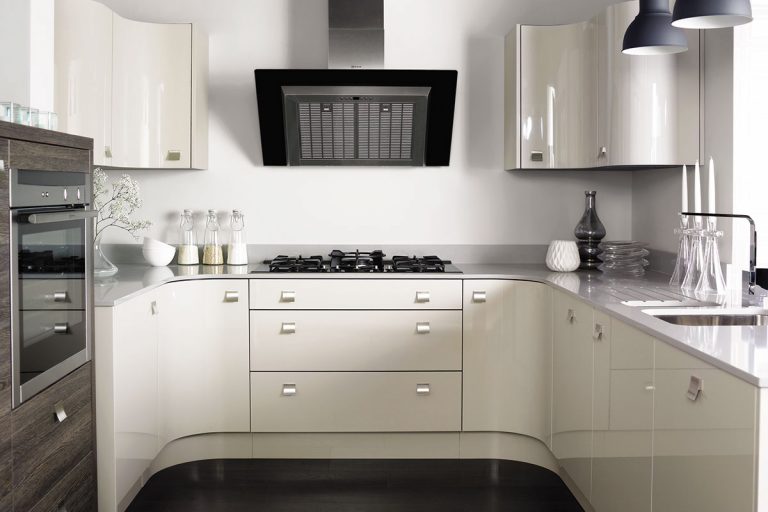 Wondering if you can have an island?
Good news! An L-shape layout can offer a similar solution. While a typical island can take up lots of space in a small kitchen renovation, a peninsula – or shorter arm of the 'L' – is a much better use of space and can work as a breakfast bar as well as prep area. If you're still struggling to fit this configuration into your design, a moveable trolley, butcher's block or pull-out worktop could provide additional storage and workspace and is easily stowed out of the way when not in use. Clever.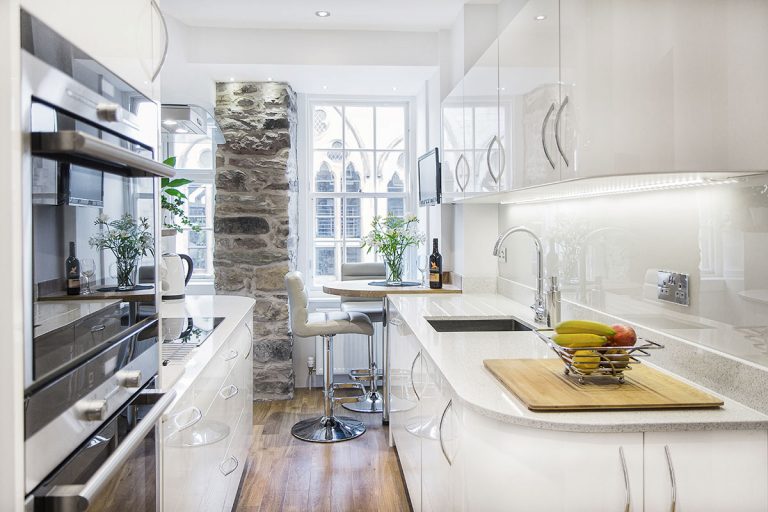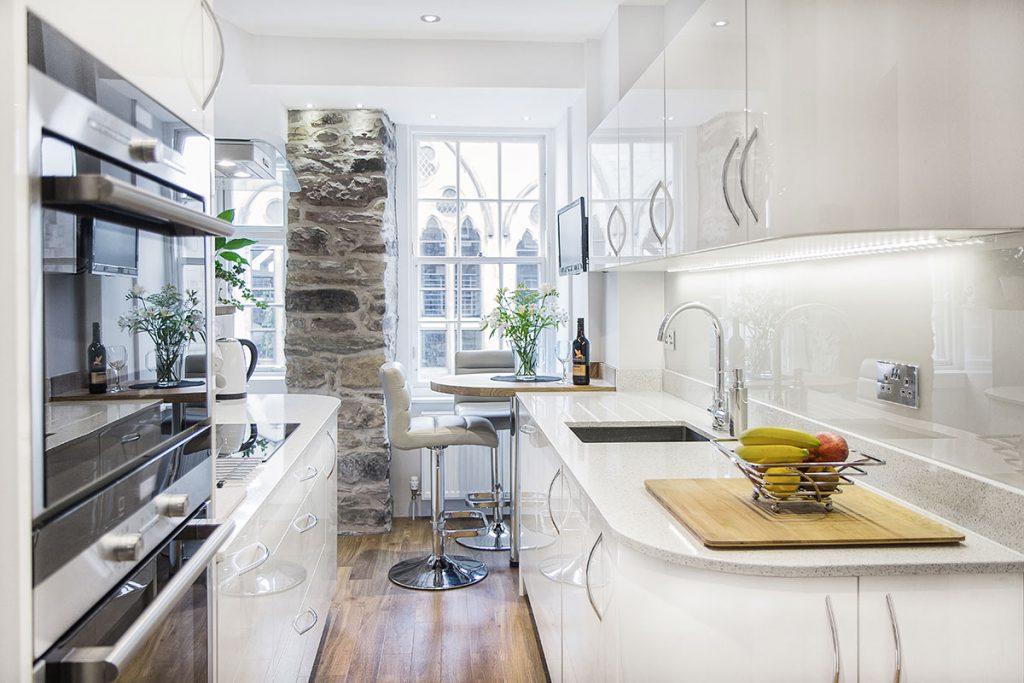 Streamline your appliances
Where possible, choose built-in appliances rather than freestanding ones. Aim to keep surfaces free of clutter and also consider varying depths of units and drawers. The latest innovations offer more solutions for restricted spaces, such as a wider range of cavity sizes, drawer depths and lengths.
Choose storage carefully
Pull-out units are a must, but you should consider exactly what you would use them for. Take it from me, it can get tiresome to constantly pull out a large corner carousel to simply get a small bowl you use every day. Often, a tall larder unit is a better alternative and allows even the narrowest cupboards to become practical storage for bottles, jars and condiments.
How to renovate a small kitchen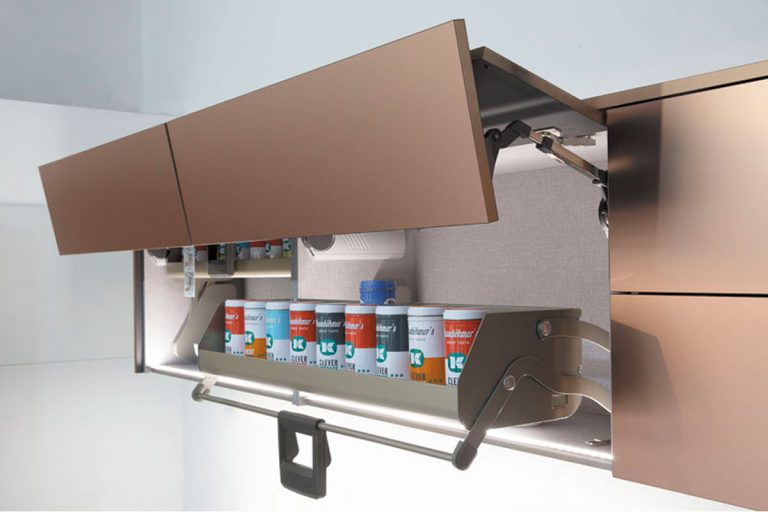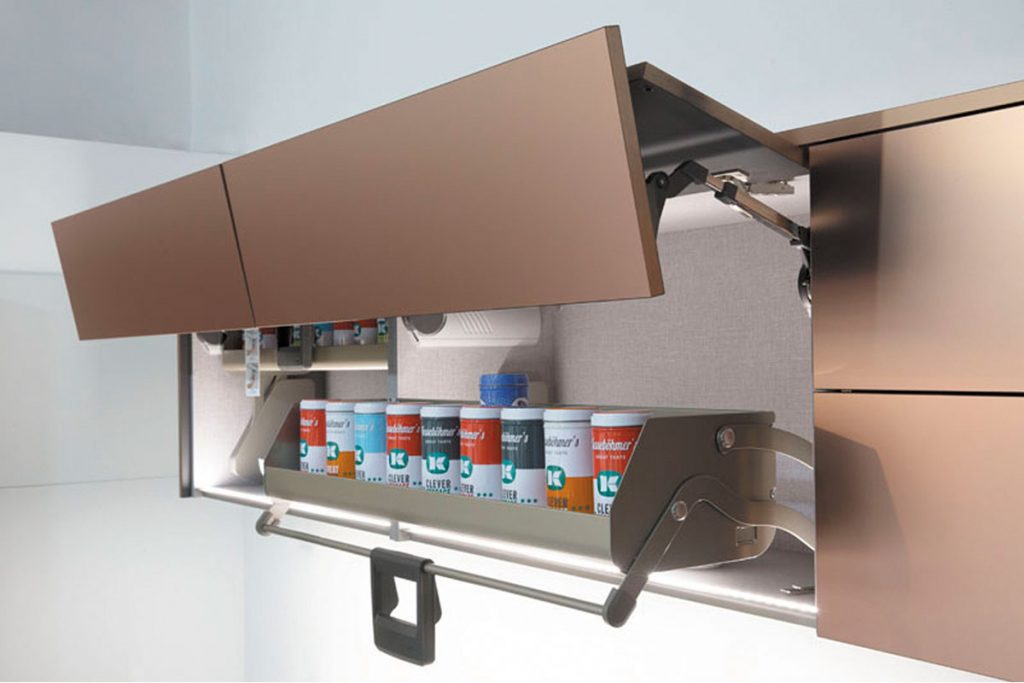 Any awkward space can be overcome with bespoke cabinetry designed to specifically tackle problem areas, such as tall, low, or sloping ceilings, tight corners, and compact end cupboards. But off-the-shelf in-unit storage solutions can be useful too – think drawer dividers, bottle racks, plate holders, spice racks and under-sink cleaning caddies. Oh and look up – don't forget about the height of your kitchen. Can you put storage right to the ceiling? You could even include a stylish ladder as a practical addition that's decorative too.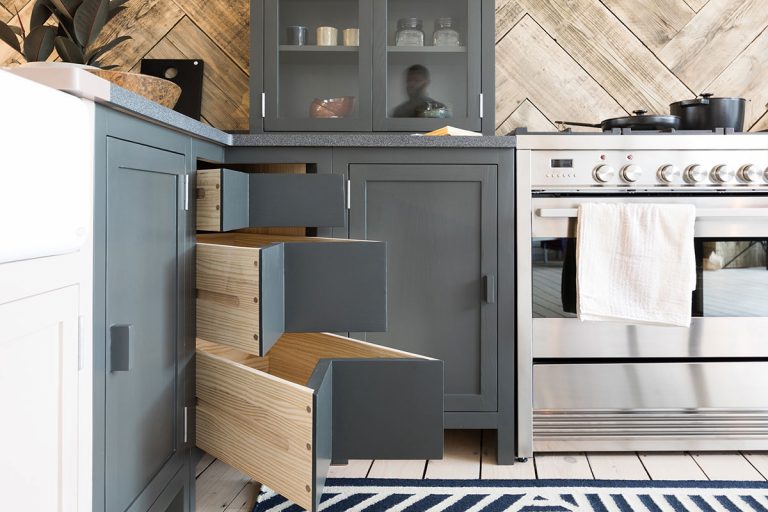 Fold- or slide-away options are a good idea if you're short on space. Pull-out chopping boards, stored in the worktop, or a removable sink cover doubling as part of the worktop will maximise usable space and help maintain a tidy look. Pocket doors which retract into channels either side of the unit are also an excellent space-saving solution.
Get the light right
A small space can be in danger of feeling dark and cramped. So access to natural light as well as a properly thought-out lighting scheme is vital. Is your kitchen is located to the front or back of the house, with window and door openings? Then you may already have a light and airy space – in which case you can make it even better.
However, if it's located towards the centre of a property or only has small windows, you should prioritise ways to introduce more light. So this will, in turn, make a space feel more generous. I'm thinking rooflights and sun tunnels. Because these reflect natural light through a tube from an external opening, and bring in lots of natural light. When strategically placed, they can offer daytime task lighting, too. If those won't work for you, can you borrow light from adjoining rooms by changing solid doors for glazed or etched glass options to allow light to filter through?
How to renovate a small kitchen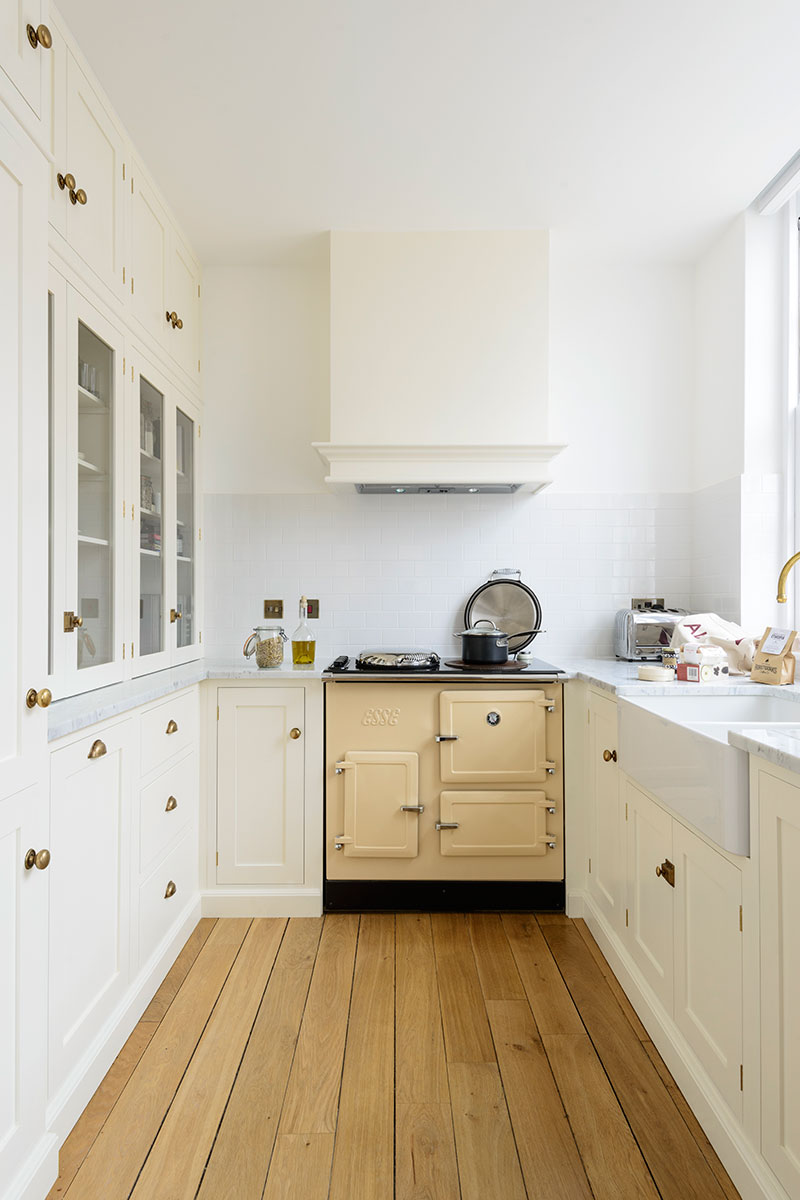 When it comes to artificial lighting, layer bright task lighting and subtle ambient styles. Go for under-cabinet, in-unit and shelf lighting to help illuminate dark spots (and offer a nice glow). Then use more targeted spots or pendants as task lighting. Add a dimmer switch for ultimate flexibility.
Be savvy with appliances
Planning to renovate a small kitchen doesn't mean being forced to abandon the idea of your dream kitchen. Neither does it mean compromising on the technology you can include. If anything, you need to be even savvier with your appliances than you would if your kitchen was big. Choose the key electrics you'll need every day and look out for multi-functional and compact designs which still provide good-quality functions. A tap providing boiling water as well as standard hot and cold will do away with the need for a kettle. While a variety of built-in ovens now also feature a microwave function.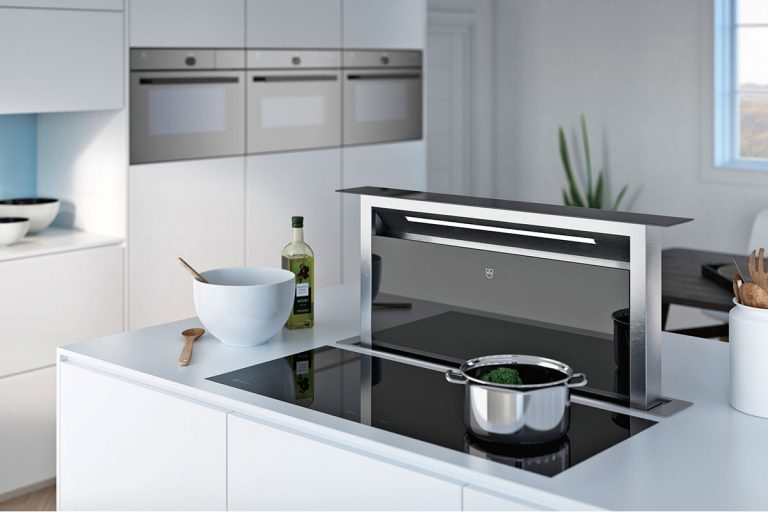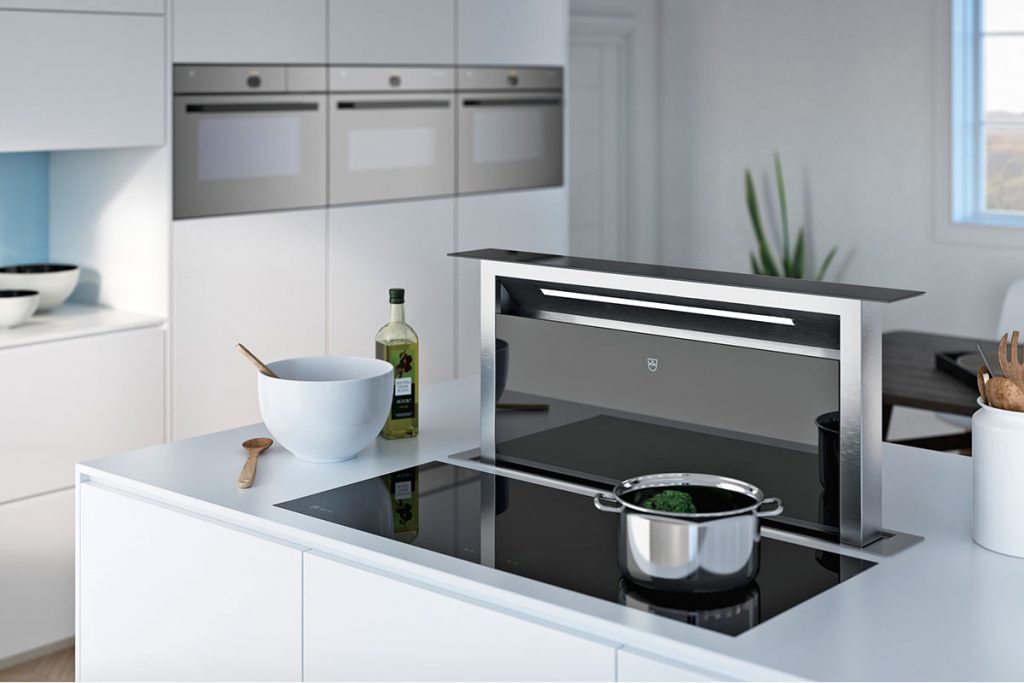 Oh and some questions to consider… How often do you use your sandwich press? Do you really need a coffee maker, frother and a kettle? I refer you back to my point about decluttering (see above).
Don't forget air quality
Don't skip this part. It sounds boring, yes, but it is essential know-how, I promise. Why? Because air flow and good ventilation are key. As well as keeping smells and condensation at bay, good extraction helps keep indoor pollutants down and maintain fresher air. And don't worry, a system needn't be obtrusive.
The latest designs include telescopic extractors, which can be tucked away when not in use. As well as surface-mounted styles and those recessed into the bottom of overhead cabinets or in the ceiling. Look out for extractors that have been specially designed to take the ducting down the kitchen cabinet's back. This is particularly valuable in a smaller kitchen where cupboard space is a main priority. Always make sure the extraction rate is powerful enough for the type of cooking you do, and ensure the sound level isn't too high. Remember, major changes to ventilation may require Building Regulations approval.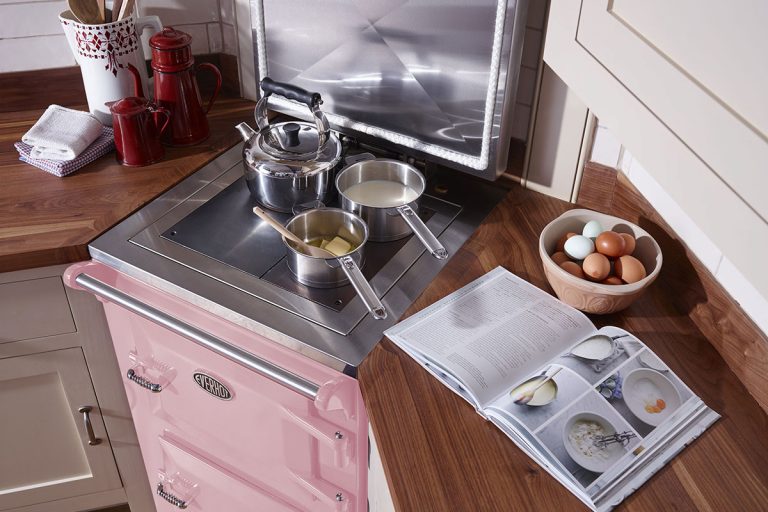 Have fun with finishes (the fun bit!)
Spend time carefully choosing the finishing touches to maximise the illusion of a larger space, even in the tightest of areas. Colours, choice of finish, work surfaces, tiling, and flooring will all impact the feeling of space. Simple tricks such as choosing lighter, neutral finishes and reflective surfaces will make a small kitchen feel bigger, while handleless cabinets, for instance, don't draw the eye and maintain clean lines. However, a small space shouldn't restrict you from choosing bold or dark colours. While these may absorb light, you can bounce the rays around and create visual interest by keeping the darker shades to base units and introducing lighter shades through worktops, tall units, tiling, lighting and splashbacks, including mirrored designs.
Yes, compact kitchens can be challenging – when the time comes to renovate a small kitchen as well as when you're fighting for space with other members of the household. But follow these tips and you'll maximise every last bit of space without compromising on your vision for a dream kitchen. Don't they say good things come in small packages anyway?
Featured image: Mixing closed cupboards with open shelving adds interest to a kitchen. Tomas Kitchen Living's all-in-one Case Creation range with 760 high wall elements combines plenty of hidden storage and practical open, easy-to-reach shelves. A 2×2 unit (shown) costs £1200.
So, did you love this feature? Then you'll also enjoy our feature on 6 ways to create a multi-functional kitchen.
About Post Author