A semi-detached property which hasn't been touched for decades is sumptuously tempting for any renovator looking for a project. And if there's a decent-sized garden that goes along with it, there's just so much potential (and space) for a kitchen extension.
Just in case there are people out there who aren't sure what a semi-detached house exactly is – it's essentially a property that shares one common wall with another property. (As opposed to a terraced house, which share two common walls with neighbouring properties.) They come in all different shapes, sizes and eras.
There's usually space from the front of the house, going along the side, all the way back to the garden. This area is often filled with garden junk, old rusty bikes and broken lawn mowers (am I right?).
This is why side extensions are usually so popular with semi-detached properties – as they can add invaluable space. For instance, even if a side extension only measures 1.5m in width, they can help create a downstairs WC, utility room and an open-plan kitchen-diner.
Then there's the most common: a rear kitchen extension, which can be done alongside a side extension. Permitted development rules mean you can extend out by three metres. However, if you want a larger extension you will have to apply for planning permission.
Permitted development also includes double storey extensions.
However, they must not extend beyond the rear wall of the original house by more than three metres or be within seven metres of any boundary opposite the rear wall of the house.
You can find out more on the Planning Portal website.
Now all the technical jibber-jabber is over – let's look at some homes, shall we?
Large open-plan extension
This home belongs to Natasha Hyde and her family, known as @redcliffhouse_renovation on Instagram. After nearly a decade of minor renovations to their Edwardian semi-detached home, they finally decided to embark on a full blown renovation project in March 2020.
"We added a side and rear extension at the back of the house and converted and extended our loft, essentially adding another floor to our home," she says.
"Living through the renovation, in the middle of a pandemic was certainly challenging at times, but we always knew it would be worth it. We now have a family home that not only celebrates all the beautiful period features that drew us to the house in the first place, but also one that works so well for modern family living."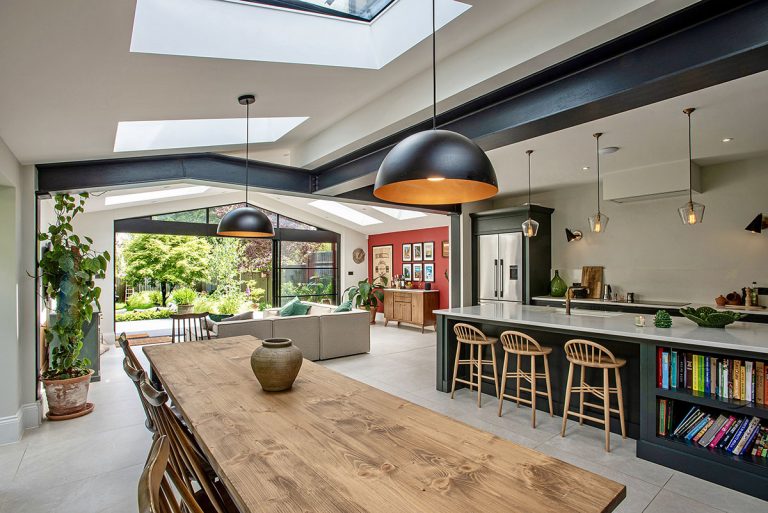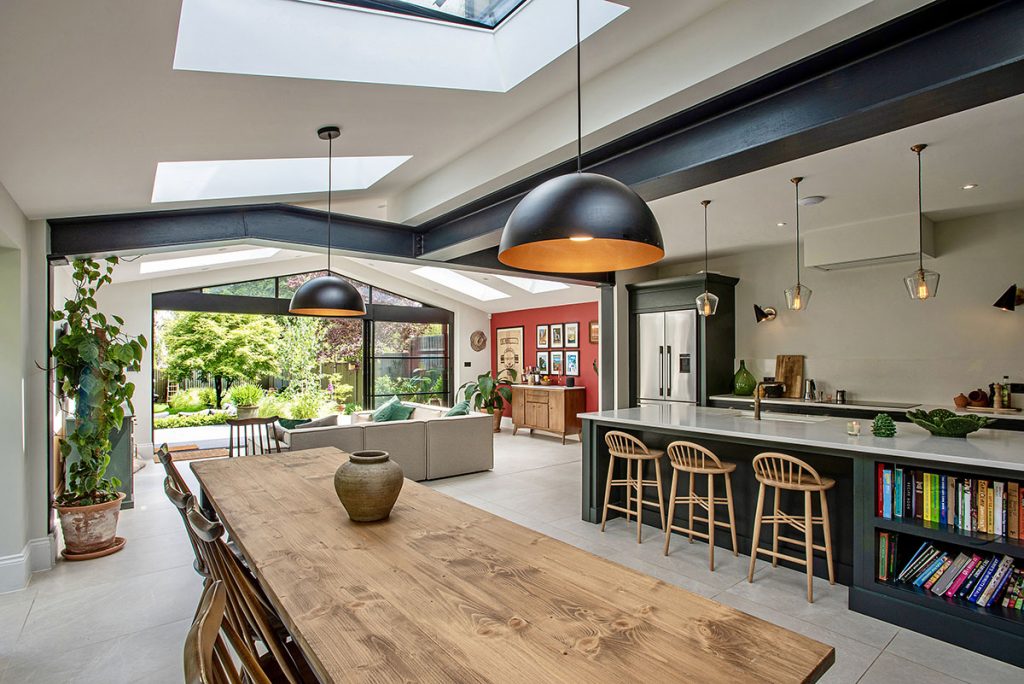 Super contemporary glass extension and basement
This glass side infill to this 1930's property squares off the corner of the original semi-detached house to add a small amount of additional kitchen space.  However, the main value this small extension, by Paul Archer Design, is that it adds an incredible amount of daylight. It opens up the kitchen-diner, whilst also providing a location for the staircase leading down into the new basement below.
The new basement accommodates a large TV and games room, office, guest bedroom with ensuite. It starts beneath the existing garage at the front of the house, running beneath the existing structure, extending beyond the rear elevation of the house.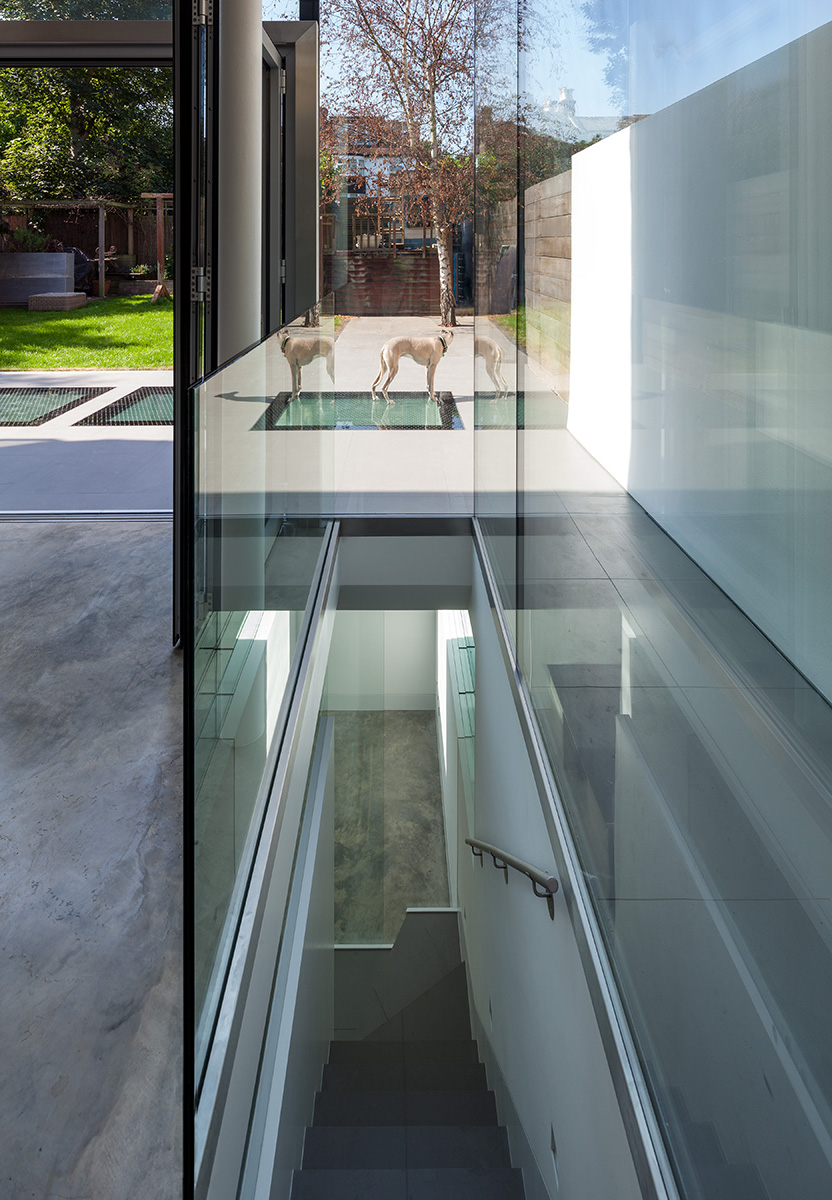 Pitched roof kitchen extension
Katie Goldbery, also known as @85_wf, started her own home renovation and design service The Walmington Project after completing her 5m pitched roof rear extension – part of a total overhaul of their 1930s house.
"The large, open-plan space with steel-framed doors was a major part of our original vision for our home and we're super happy with how the extension has turned out," she says.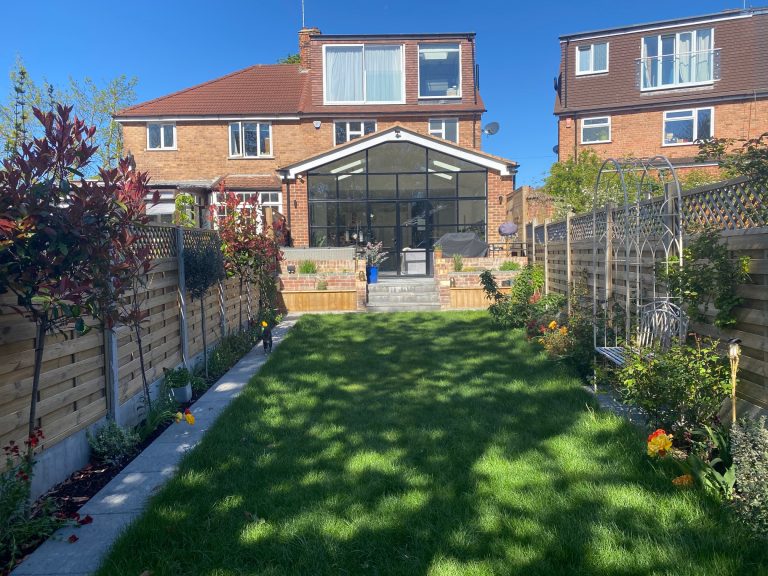 Double-storey kitchen extension
The homeowners of this semi-detached property went to construction project consultancy firm CLPM for help to deliver their double storey rear extension and complete an internal remodel. Their brief was to remodel the family home to allow for multi-generational living.
The company were appointed to manage the tendering and then were contract administrators for their build. This means we were responsible for managing the contracts made between building contractors, employers, and clients, and ensuring the work that the clients pay for is delivered to the required quality and standard.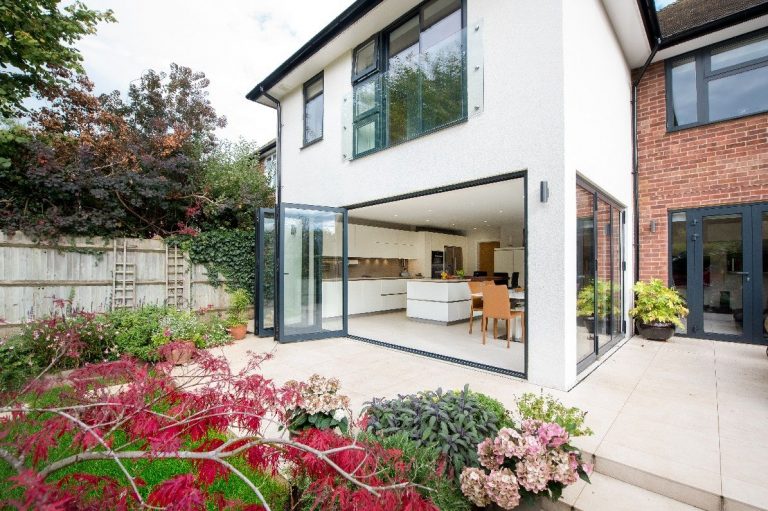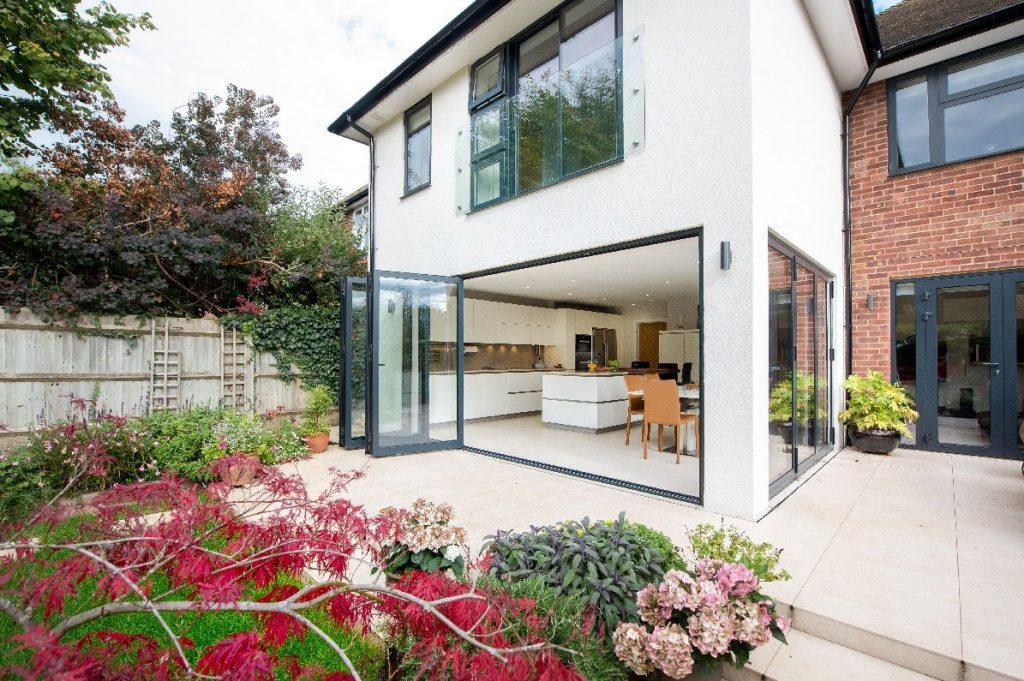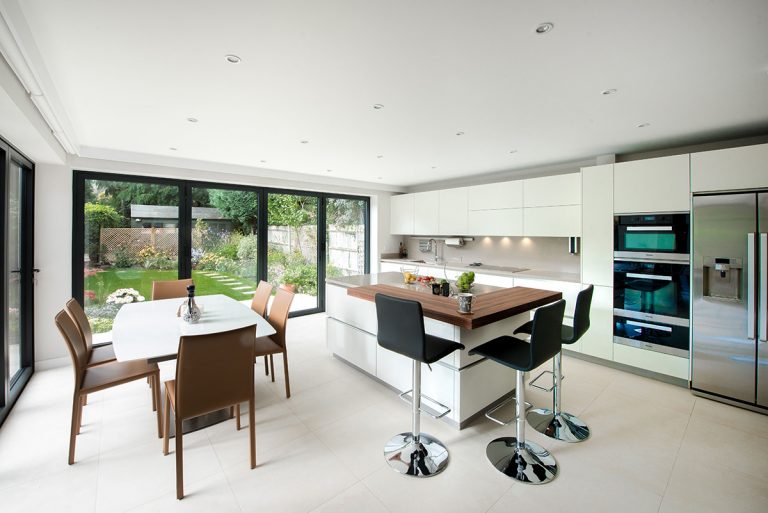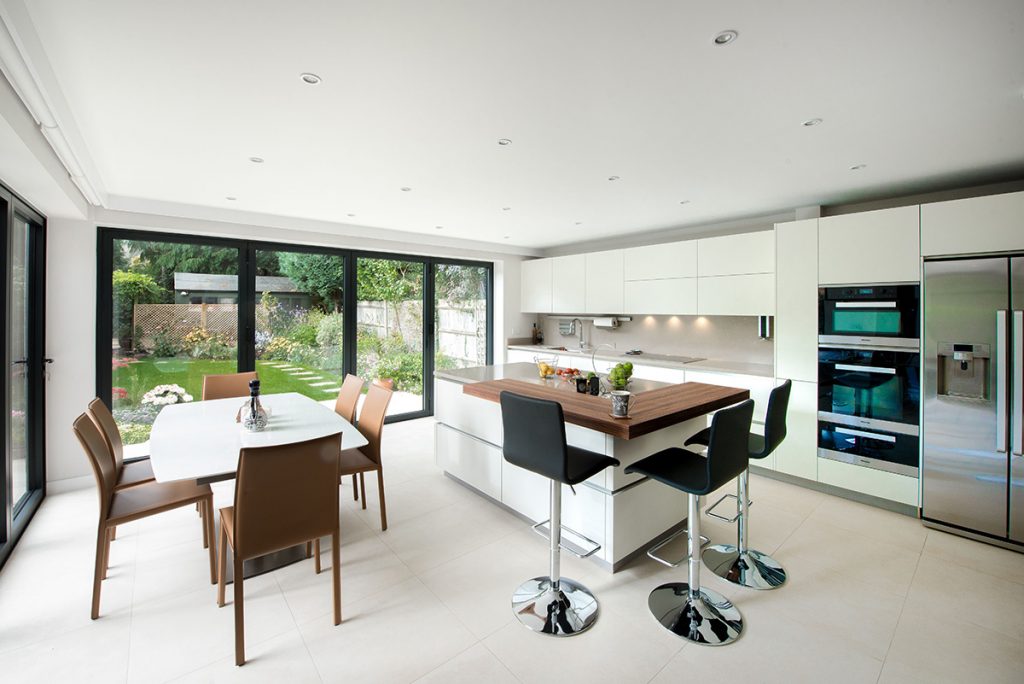 Complete renovation that (nearly) doubled the size of the property
This home, which belongs to Victoria Bowen, known as @buildingwiththree, started the mammoth project early 2020.
"However with the shortage of supplies available due to the COVID lockdown and managing it three little ones it wasn't the easiest. My husband is a builder so he managed the build and extension construction," she says.
Downstairs they added a large open-plan kitchen and living space, a utility and a downstairs WC as well as a garage. On the first floor they have added a master bedroom, dressing room and ensuite and on the top floor there is a large bedroom and a games room.
"We have gone from a three bed to a five bedroom. Whilst it hasn't been easy I would do it again to gain the space and extra bedrooms. We still a lot more to do and finish but we are hoping by the end of this year we will nearly be done."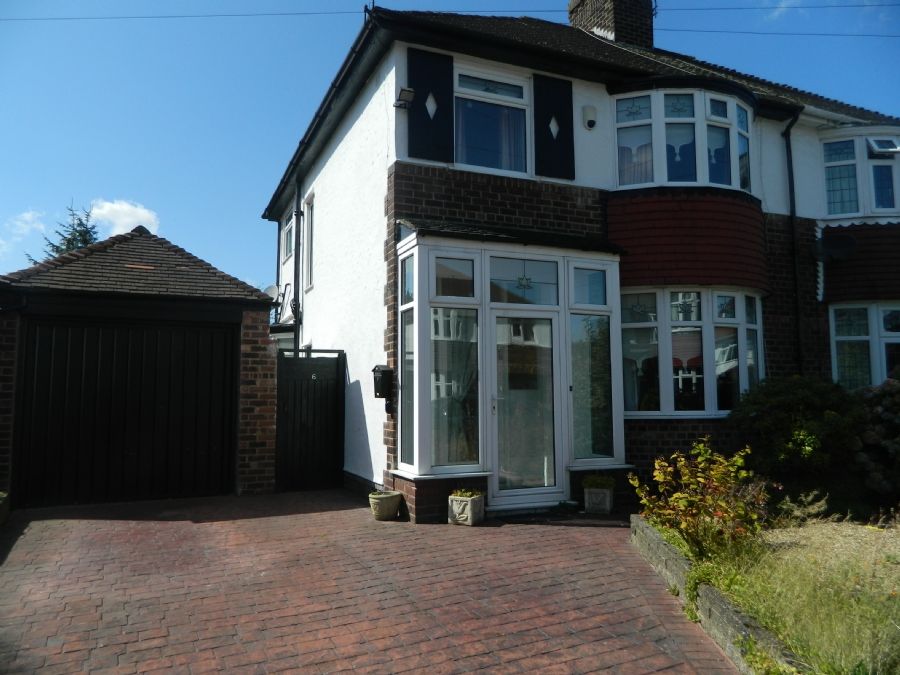 Featured image: The glass house extension, by Paul Archer Design, at night.
About Post Author