Hidden kitchens are especially popular in open-plan schemes, as they look like living furniture. Instead of, well, a classic kitchen with base cabinets, an extractor fan, and plenty of appliances on show.
Many of them are hidden behind doors, whether they are sliding on a track or are clever pocket designs. The latter slide into a pocket of space so they don't take up any floor area and give you complete freedom to cook up a storm.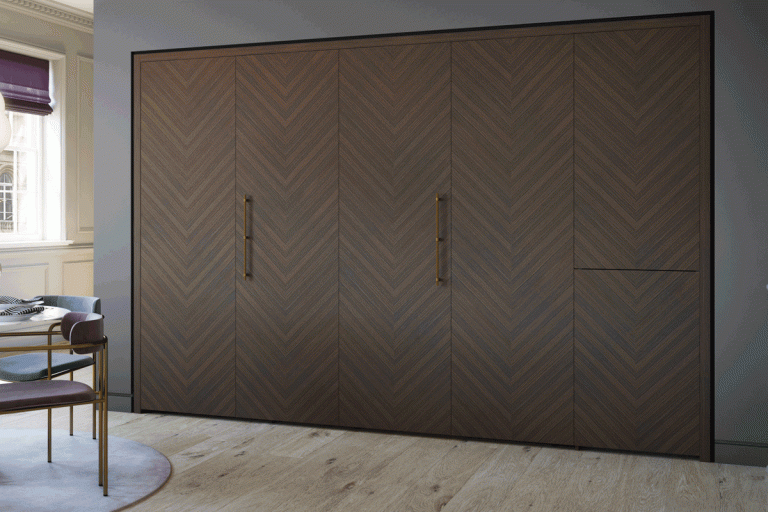 What, you mean beyond shutting the door on clutter?
I'm kidding (a bit), but that's a definite bonus. Especially when you're entertaining and want to concentrate on your friends, rather than the pile of washing up waiting for you.
But hidden kitchens also have the bonus of not taking up much floor area, so they're ideal for smaller spaces or even studio apartments.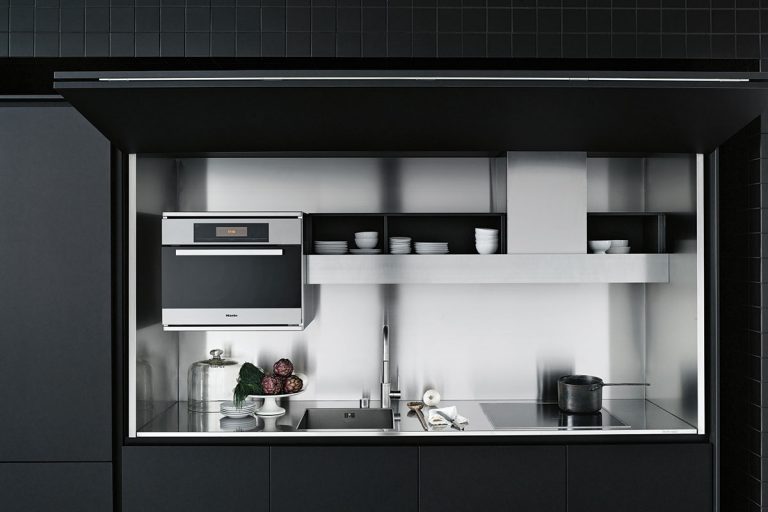 But how will I store all my bits and bobs?
Kitchen design has come so far in the last years. So there are plenty of clever ideas out there to make your scheme work hard, even if floor area is limited.
Are you, like me, on the shorter side so would never opt for full-height cabinetry? (Listen, I'm 5'4" and know how to wield a ladle to get something off a high shelf, but even that has limits.) Then I bring good news.
There are pull-down solutions, which you'll often see in accessible schemes too. These bring even the tallest cabinet's contents right down to your eye level – clever!
You can also tuck appliances away behind additional doors. After all, it only says your kitchen is out of sight; there's no limit on how many doors it may take to conceal it.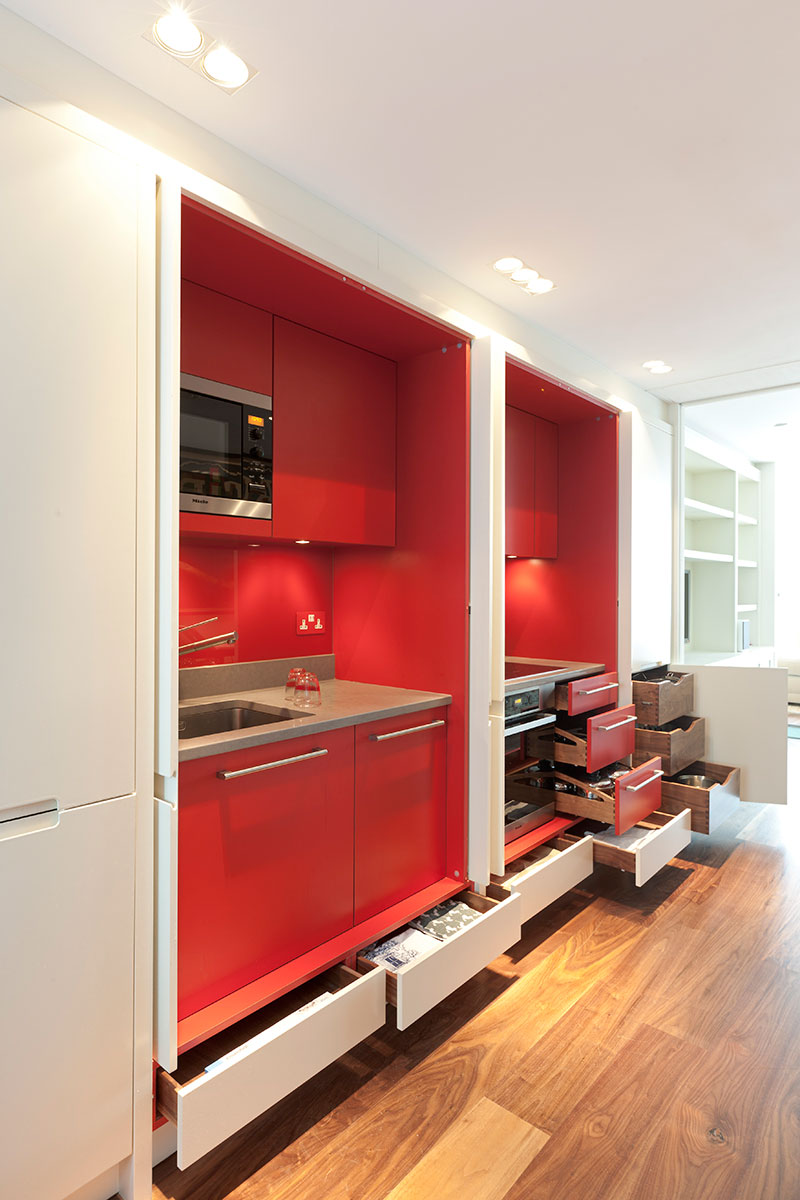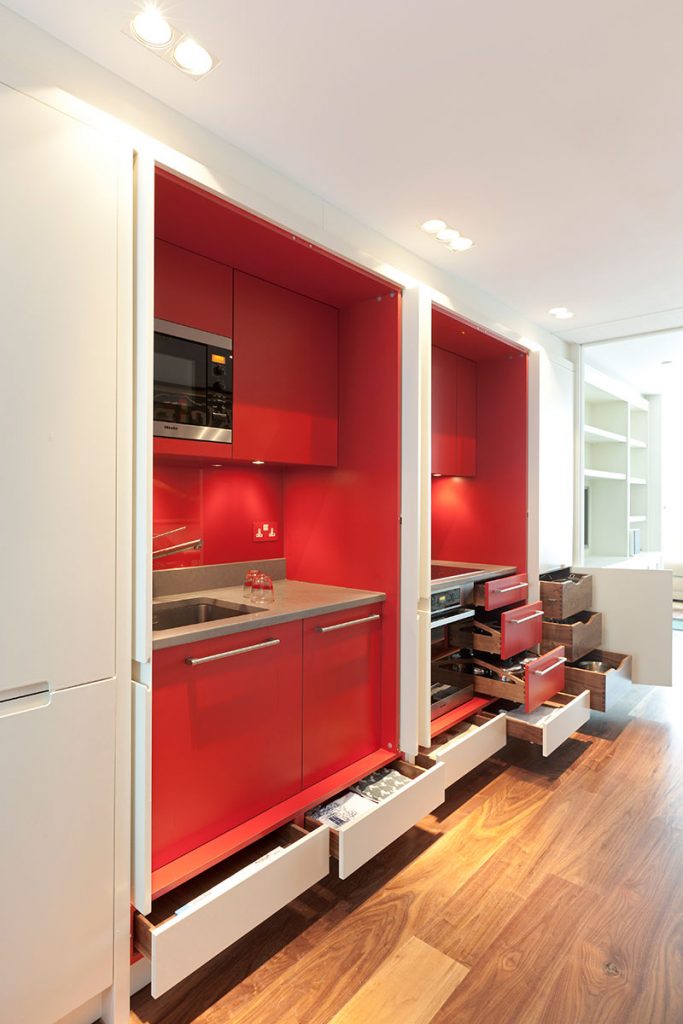 Yes – and sadly, one of them relates to clutter. Turns out that, because of the limited space, you have to be quite tidy.
This also means it might not be for you if you're a super-keen chef who's happiest if they're cooking for 15 people. There is only so much you can squeeze into your hidden kitchen, and a bank of appliances is going to be tricky.
Apart from that, you have to open the doors to use it, which might be a nuisance for some of us. In addition, you'll definitely need an efficient extractor – maybe even one you can integrate into your hob.
And yes, you need to open it even if you're only running the oven and not actively whizzing around the kitchen yourself. If you close the doors while something is baking, that's a fire risk.
Ideally, any appliances should feature an automatic off switch anyway, so they can't physically run when the doors are closed.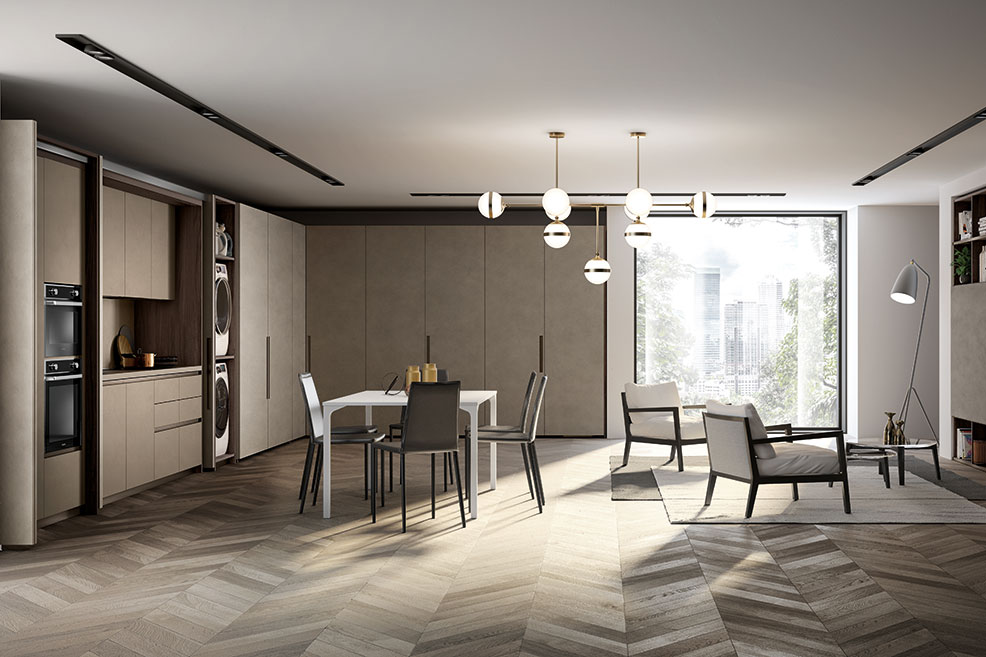 Design ideas
With their sleek exterior, hidden kitchens usually ensure an open-plan scheme doesn't feel too busy. Because, as mentioned, you simply close the door to clutter.
But you don't have to keep it tone in tone and matching the other walls in your home.
Why not draw attention to your kitchen's exterior by having the doors hiding it in a contrasting design? Whether you choose a bright colour, a bit of pattern, or even a different material – the choice is yours.
As your kitchen is not always on display, this is also a prime opportunity to be adventurous with your cabinetry.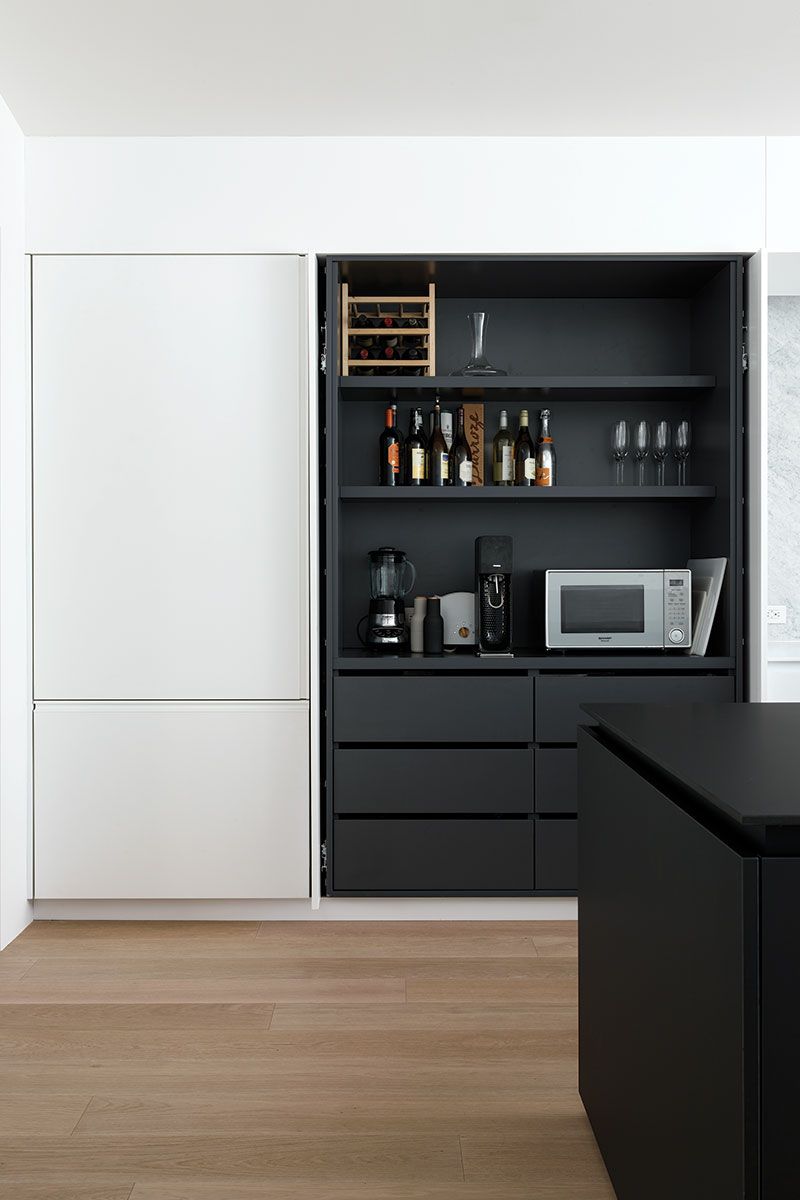 Make your dreams come true
Have you been dreaming of glossy red units? Or maybe a matt black kitchen that would make heavy metal legend Ozzy Osbourne – the self-proclaimed Prince of Darkness – jealous?
Well, now's your chance to make it happen. What are you waiting for?
Featured image: Having a hidden kitchen doesn't mean you have to miss out on an island – but you should think about what you'll use it for. In this scheme from Eggersmann, the large central unit is in UNIQUE Pietra Viva marble finish. It contrasts nicely with the tall cabinetry – in UNIQUE Barrel Oak real wood veneer – hiding all the essentials. Amazingly, the hob is actually on the island – it's incredibly well hidden underneath a sliding marble panel. Eggersmann kitchens start from £40,000.
If you loved this, you may also enjoy Ways to incorporate banquette seating into your kitchen.
About Post Author