Starting on a new kitchen is a huge task, I know. Add to that the prospect of creating a space using sustainable materials, eco-friendly elements, and the most energy-efficient appliances… You might think you have an uphill struggle ahead.
But a sustainable kitchen doesn't have to be hard work. There are more choices now for renovators who want to go green than ever before. Together with our growing concern over air pollution, trying to do our bit to help save the environment and, on a grander scale, the planet are key talking points right now. I don't see that changing any time soon.
So the best advice for planning a sustainable kitchen is to begin with a wishlist of all the areas you'd like to think about. For example, waste reduction, saving energy, and planning in low-carbon options. Can your existing cabinetry be upcycled or recycled? In terms of materials, can you use flooring and tiling from eco-friendly sources? Will your appliances be low in water usage? List all of the elements you'd like to make up your new kitchen. It'll soon become clear that each step you take is a move towards making more planet-friendly choices.
Planning a sustainable kitchen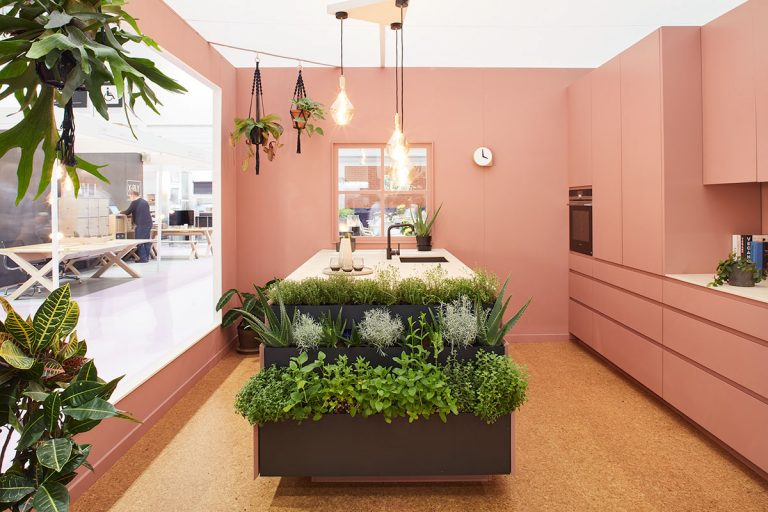 If you're disposing of your current cabinetry, try companies such as The Used Kitchen Exchange or The Used Kitchen Company. They buy and sell second-hand units – perfect for a sustainable kitchen. If you have your heart set on a new scheme, think about durability and longevity. You could even look for a quality local carpenter and a kitchen maker who don't have to travel too far – it all adds up.
For the décor, choose paint brands that offer eco-friendly kitchen options, such as Earthborn, Farrow & Ball, and Little Greene. These brands specialise in water-based products made from natural ingredients. For example, they contain no solvents or Volatile Organic Compounds (VOCs), such as formaldehyde, which can have a long-term negative effect on our health. Other companies such as Ecos go one step further and create an organic paint that is also free of pesticides and herbicides, while some offer low VOC alternatives.
The other big consideration at the sustainable kitchen planning stage is how your everyday waste will be disposed of. Make sure your design includes enough space and practical storage to house your recycling bins.
Water and energy use
Make sure you pick energy-efficient washing machines and dishwashers for your sustainable kitchen. You could also get yourself a standby saver which automatically switches off all appliances when they are not in use.
But there are good news: most modern designs use much less energy than older models. However, details such as your detergent dosage do matter. Using too much – even if it is just a little more than needed – will significantly increase your water and energy consumption.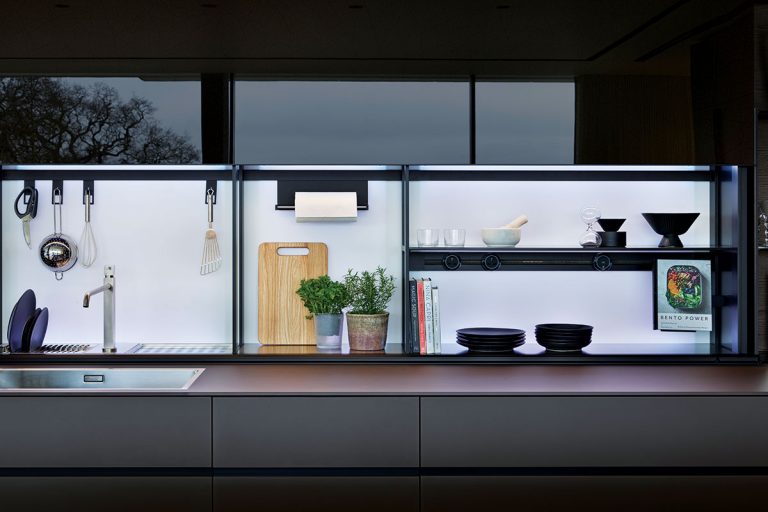 For fridges and fridge-freezers, efficiency ratings now run from A+++, the most economical, to G. Fridges and freezers should be at least A+. The better rated, the more energy and money you'll save.
What else? More ideas for your sustainable kitchen
Smart storage is key. Create a plan for integrated drawers, trays, shelves, and dividers. These allow for different foods to be kept individually. This way, nothing has to be stored in plastic boxes.
Make space available for glass bottles, loose fruit, vegetables, eggs, breads and cheeses. I recently spoke to Beth Evans from Finch Kitchen, who I became aware of after I saw her 'wellness' scheme. It's all about removing as many harmful chemicals as possible – a great idea, I say. She told me glass, unlike some plastics, doesn't contain any harmful chemicals which could seep into your food and drink.
She also suggested upping the green factor with a plant or herb wall in your sustainable kitchen, which looks beautiful too. Interestingly, fresh herbs not only smell great. They also help clean the air and deter pests, according to Beth.
A reduced carbon footprint, a healthier home, and lower bills – where's the catch? The best bit: there isn't one. So it's time to go forth, get planning, and go green. Good luck!
Featured image: Looking for a sustainable kitchen? Handmade in the UK, The Sebastian Cox Kitchen from Devol features sustainable timber and packs a style punch too. Prices start from £15,000.
So, did you love this feature on creating a sustainable kitchen? Then your next read should be Sustainable home design: a new mentality, not a fad.
About Post Author