The term "waste not, want not" comes to mind when looking at this beautiful open-plan family kitchen. I can't help but think the term fits perfectly when talking about these savvy homeowners, who reused their previous kitchen units while creating a large, open-plan space. Yep, you wouldn't guess that those units were actually recycled from an old scheme, would you?
Soon after moving into their five-bedroom Edwardian home in Ashby de la Zouch, Laura and Stuart Pearson, who have shared their renovation journey on Instagram, set about redecorating the bathrooms and ensuites, swiftly moving onto the kitchen, which was connected to a garden room extension built by the previous owners.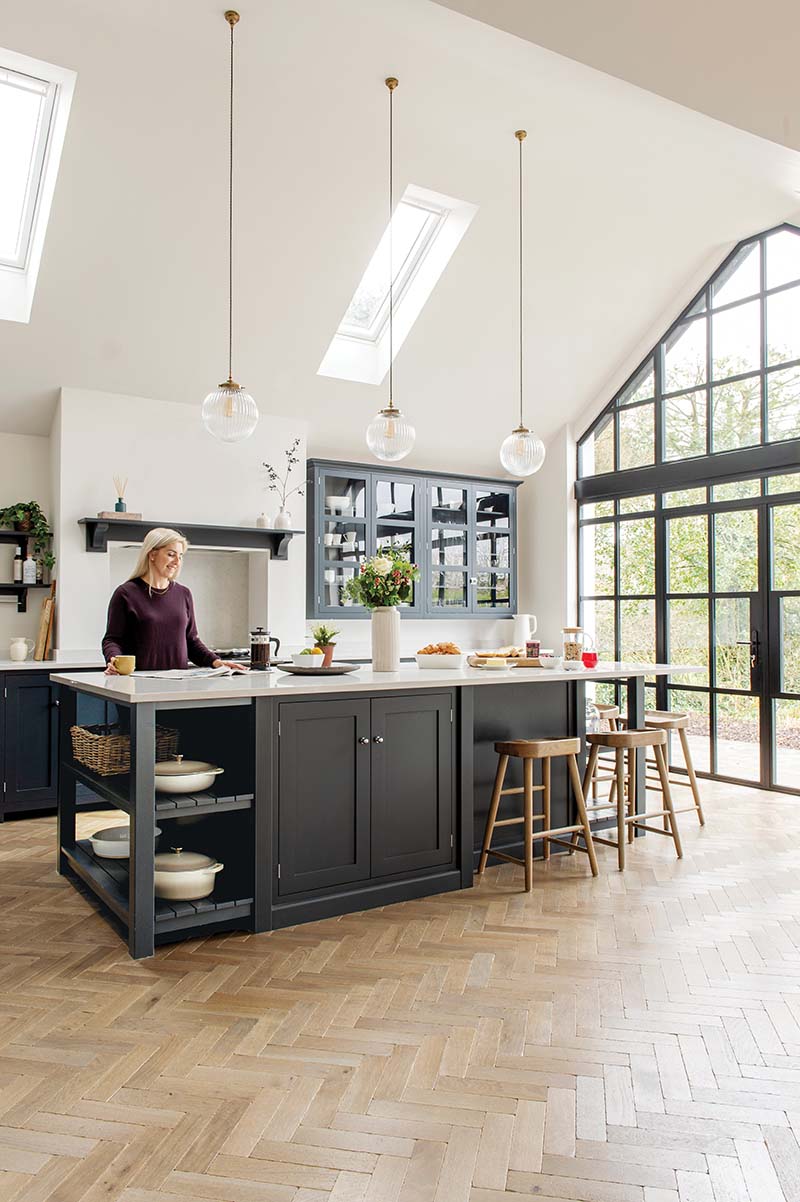 Talking to @kbbmagazine journo Rebecca Shepherd, Laura said she decided to utilise the existing space but update the old units with a new look, choosing a Shaker-style two-tone grey design by Devol. And while she loved it, she admits the kitchen had a "funny angle" which led to the garden room – a big space, that was sadly underused.  
Fast forward a few years and the pair, who live with daughters India and Esmè, plus Labrador Holly, cracked on with the rest of the renovation, working with architect David Granger, from David Granger Architectural Design. The plan was to have a new loft extension, rear single-storey extension, a new gabled roof, porch, and a garage for extra storage.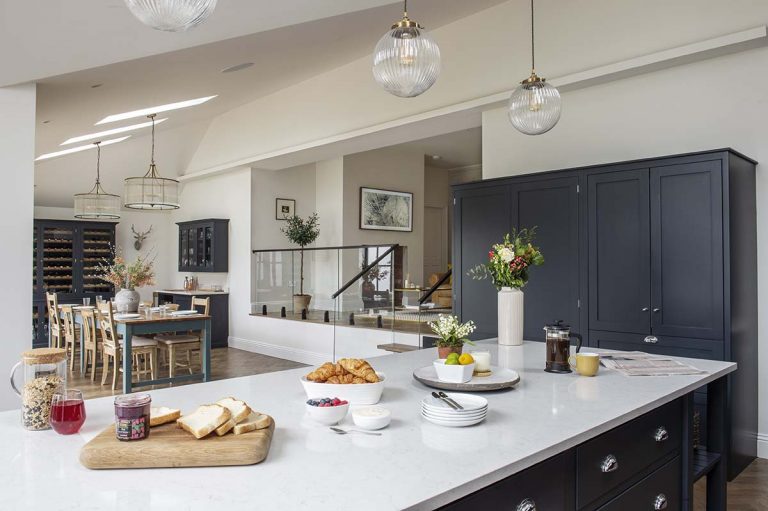 But it was when David visited the couple's home, a whole new vision was born for the kitchen. He couldn't understand why it looked out onto their garage and the side of their neighbour's house – ignoring the beautiful garden.
He suggested opening it all up, linking it to the new extension and better the layout to connect the indoors and outside, using the existing garden room as part of a larger family kitchen area.
The idea was an instant hit, but seeing as Laura and Stuart had only put in the new kitchen three years previously, their brief was to reuse as much of it as possible – a smart and eco-friendly move, if you ask me!
However, while it hadn't been long since they'd planned their existing scheme, the couple already had new ideas for the revamped design. Returning to Devol, they arranged for the company to uninstall the units and take them back to the factory where they were resprayed in a new shade – this time, Pantry Blue.
While the extension and other building work got underway on site, the units were stored safely until the time came to refit. Around nine months later, the new side extension was up, which would house a new dining room area, complete with a bar and large steel-framed windows and doors. It also links to the space originally occupied by the couple's previous kitchen, which they now use as a snug, and is divided by a glass balustrade and steps.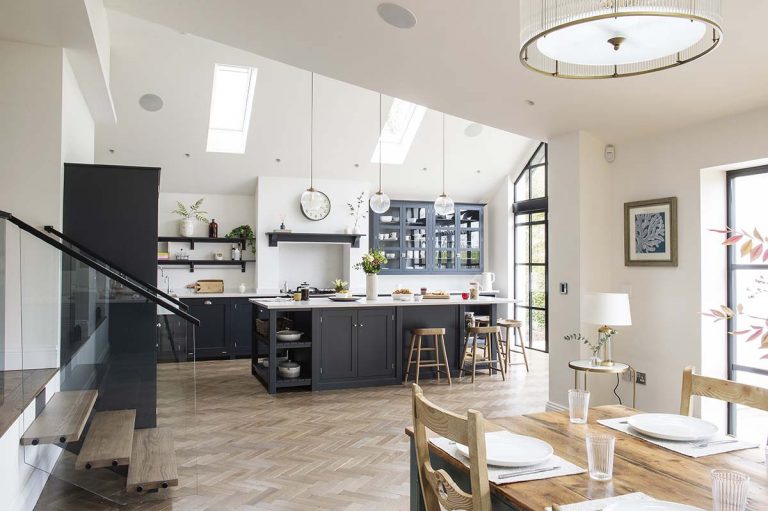 With the construction complete, the couple's kitchen and island could be reinstalled, with the addition of a butler cupboard and a large fridge-freezer. They were also able to rehome their previous Aga in a chimney breast.
Maintaining the era of the property was key from start to finish, so the couple opted for wooden parquet flooring for both its look and practicality. And as for lighting, feature pendants dangle beautifully above the island, while spotlights provide more practical illumination.
While it's not the usual story to have a new kitchen and then redo it so soon after, Laura and Stuart are thrilled with the results of their completely remodelled home, spending most of their time in this one big family kitchen.
Originally told to: Rebecca Shepherd. Photography: Jemma Watts.
About Post Author