Dreaming of those long summer days in the garden with a fiery grill and some icy drinks? Me too! Imagine a decked out dining area complete with fridge, built-in sink, high-end barbecue or pizza oven (or both!). And a large fire pit to keep you warm in the evening, in addition. Just add marshmallows.
So here's your ultimate guide to how to design an outdoor kitchen. A kitchen is a great addition to a garden. That's because it allows you to enjoy and use your outdoor space with friends and family year-round. And all while becoming an extension of your interiors.
Want to get ready for summer with a stylish and practical addition to your garden? Then here are all your questions about designing an outdoor kitchen answered. From how to choose the layout to all the entertaining must-haves…
What makes an outdoor kitchen?
Cooking areas designed to be used outside not only provide an extra entertaining space. They also enable the person in charge of cooking to still socialise.
An outdoor kitchen can come in many sizes and shapes. But generally, it has a preparation unit with a built-in or freestanding barbecue, storage and a fridge. It also has burners, a tandoori or pizza oven, and a sink.
Beyond the appliances, outdoor kitchens also need plenty of seating and work surfaces for pots, crockery and utensils. Bear in mind that waterproof coverings are a must to enjoy your appliances and dining area for as long as possible.
So I've got the answers to some of the key questions around designing and creating the ultimate outdoor kitchen…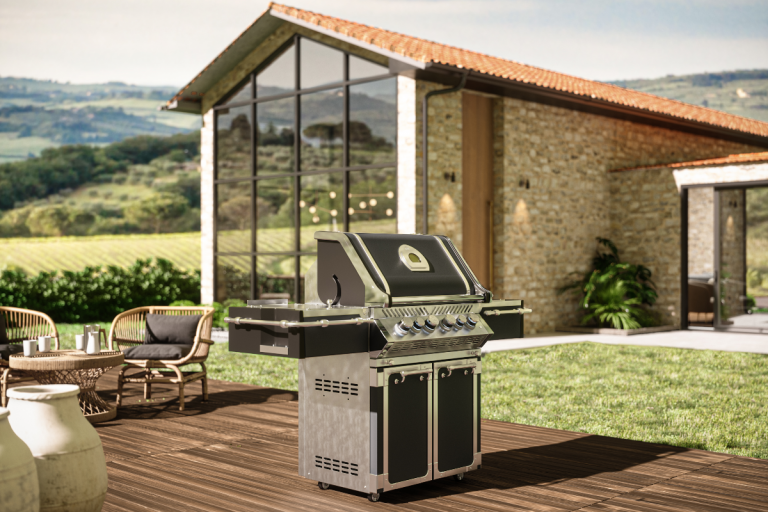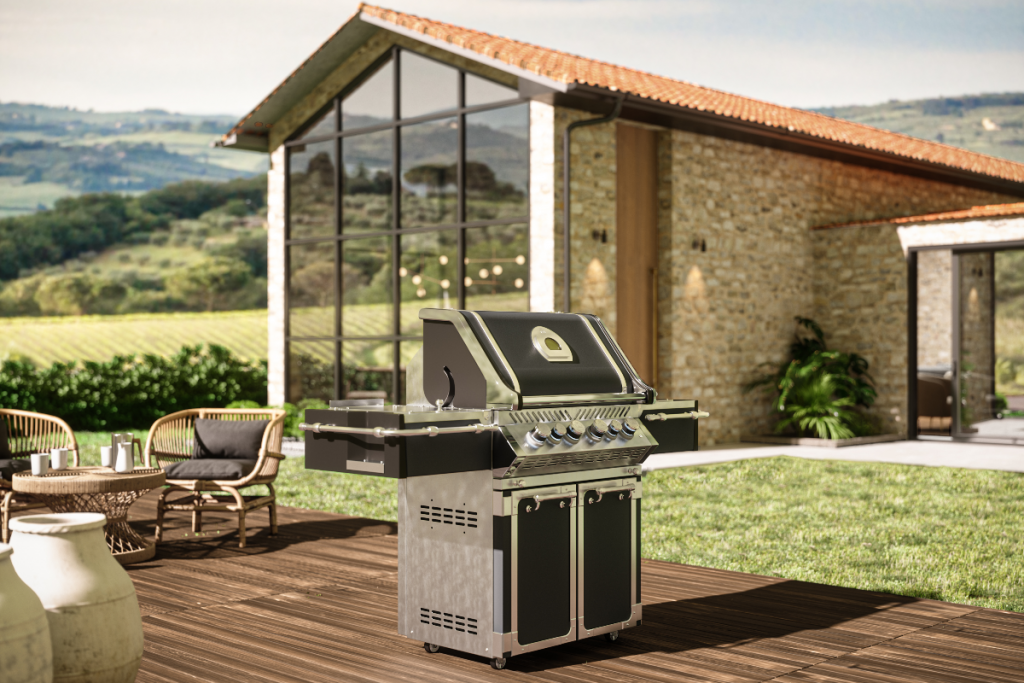 What are the steps to creating an outdoor kitchen?
First off, choose a location – it's important to consider how you'll be using the space. Think about what you'll be cooking and what you need for this. Ask yourself if you want gas or charcoal. Would you prefer to sear, bake, or create pizzas – or all three?
"Will it be a space for intimate dinner parties, larger social gatherings, or simply for relaxing family barbecues? This will not only determine elements such as how much seating you'll need, but also the size and capacity of the appliances you include," says Declan Kingsley Walsh, managing director at Morsø UK.
Start researching designers or outdoor kitchen companies to help you come up with the perfect scheme to suit your needs. It may also be worth checking with your local council if you need planning permission, especially if you live in a listed building.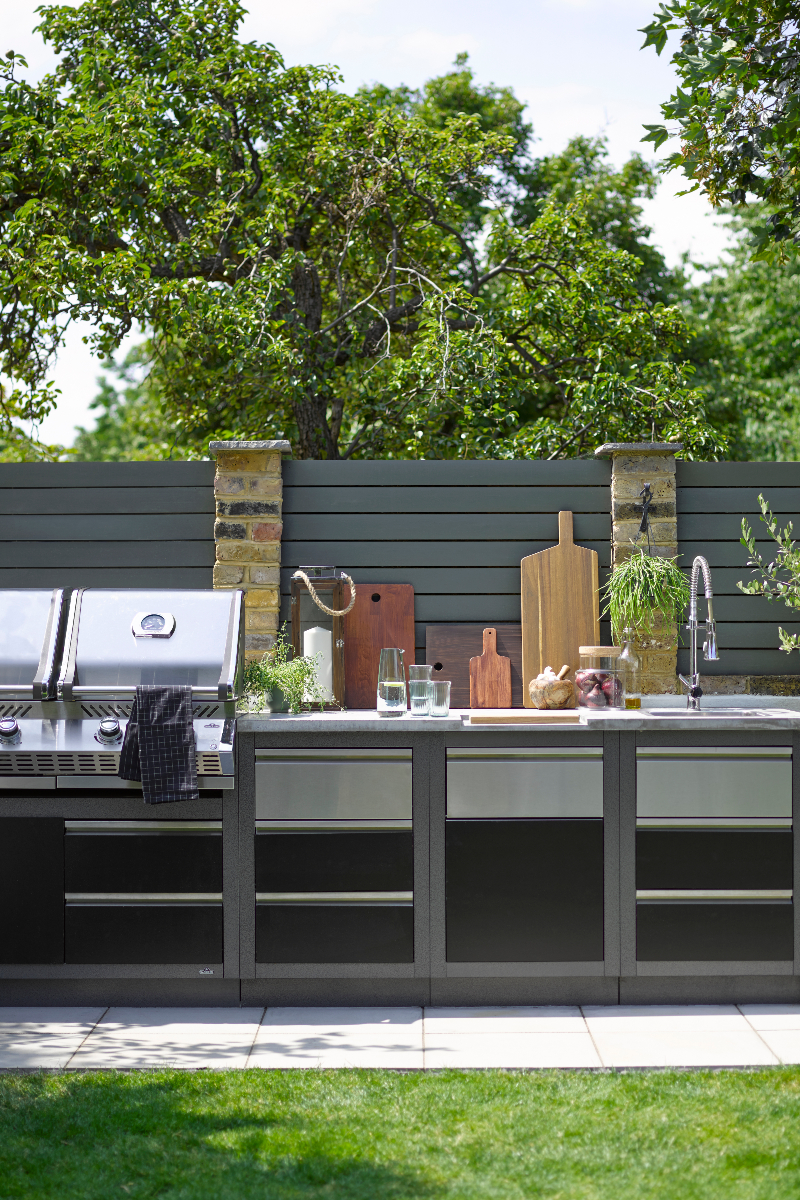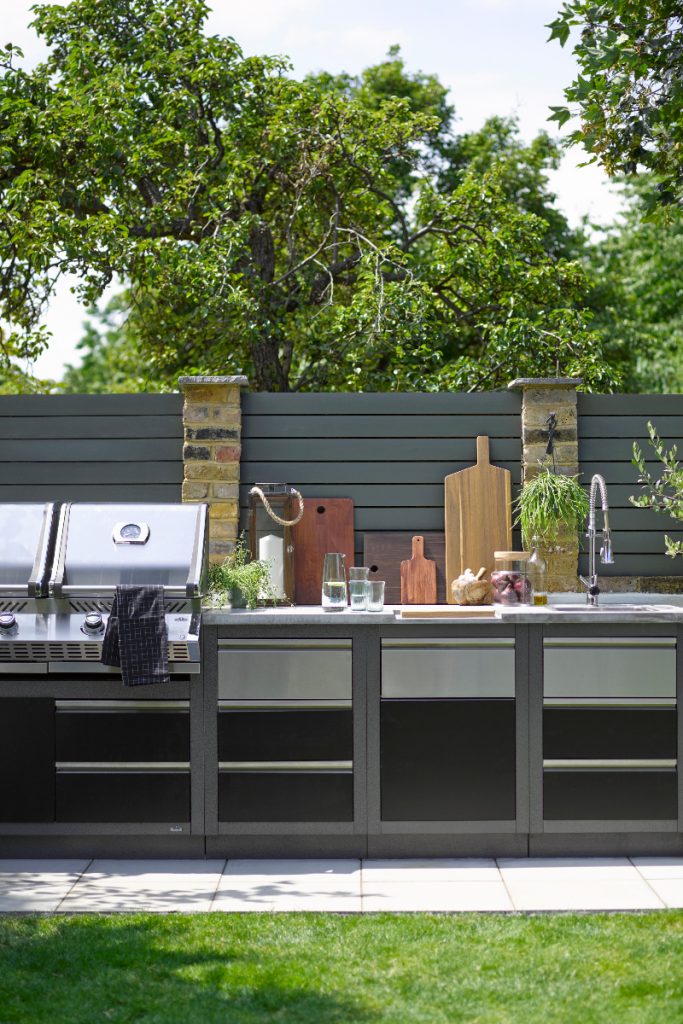 Can I really have one in the UK?
Absolutely – but there are necessary steps you need to take to ensure it survives our temperamental climate. When designing an outdoor kitchen, include a structure to provide shade from the sun and shelter you from the rain.
You might have an oak-framed gazebo or a tough fabric sail set-up. Whatever it is, it will need to be able to protect the kitchen and your guests from a sudden shower. But remember, rain is only one thing you need to protect your new scheme from. Frost and UV rays from the sun can damage it as well.
Materials like polished concrete and timber cladding work really well in an outdoor kitchen.
"In terms of materials for the flooring, worktops, and other key elements, porcelain, stone, brick, render, aluminium, and granite will remain looking good for many years. Stainless steel for appliances is also ideal, but it needs to be good quality and have a minimum gauge of 1.6mm for longevity," says Leigh Warriner, sales director at Outdoor Kitchens and Design.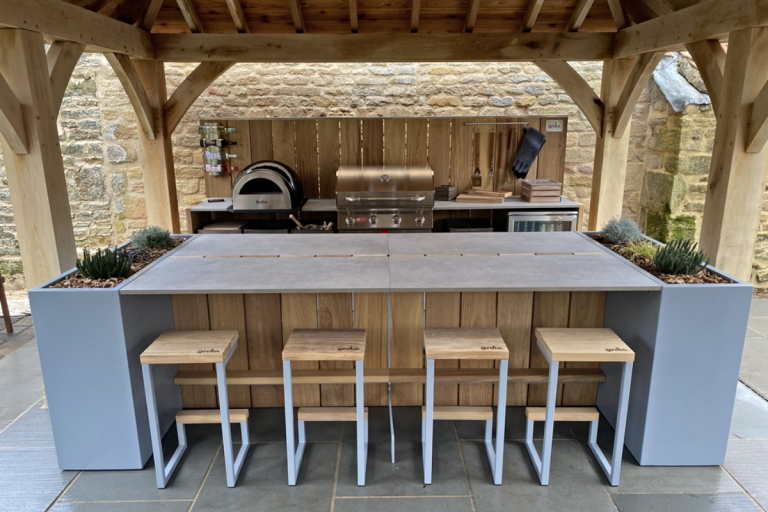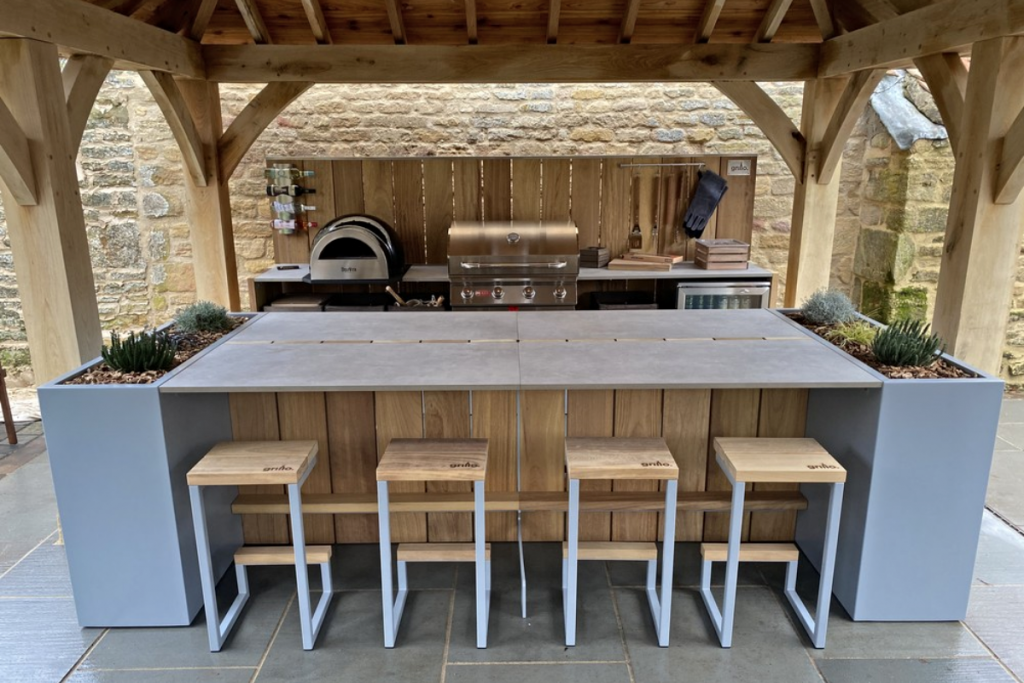 But how about the winter months?
Whether it be a fire pit that can double as a place to roast marshmallows, a chimney, or a firepit built into the overall layout, there are plenty of ways to keep warm in the colder months or on chilly evenings.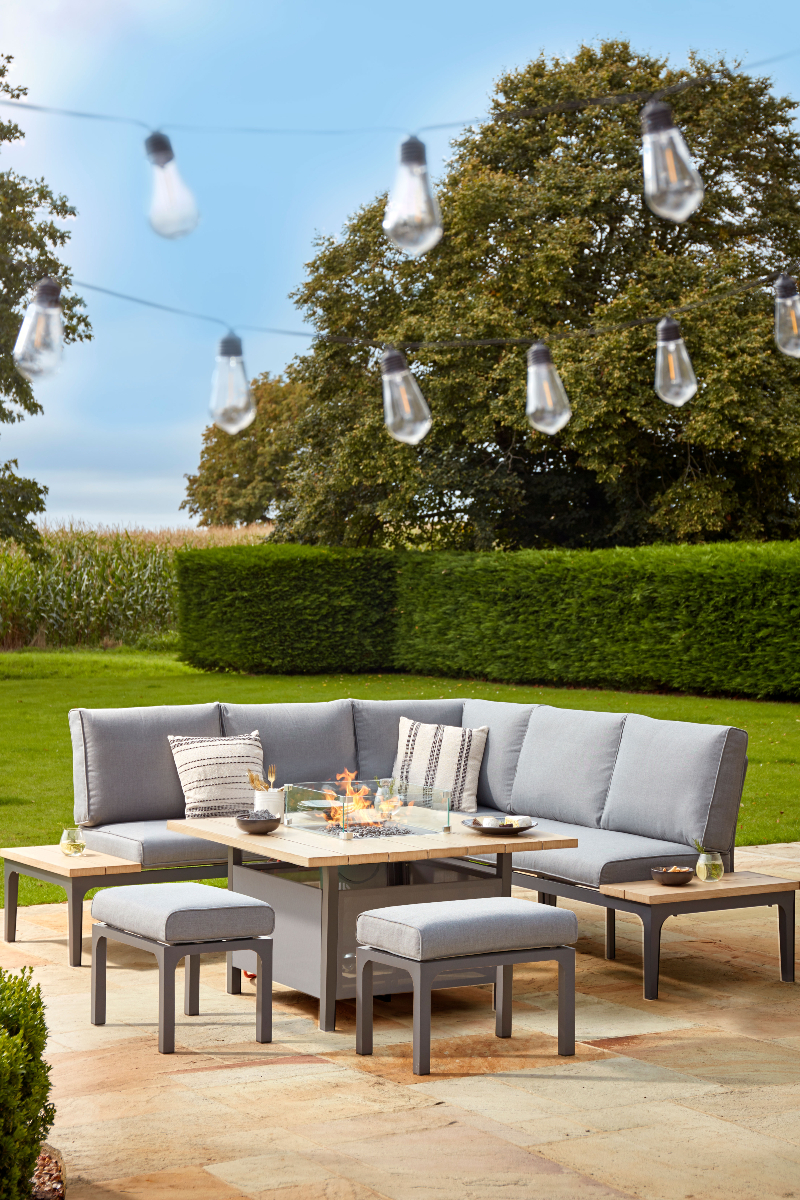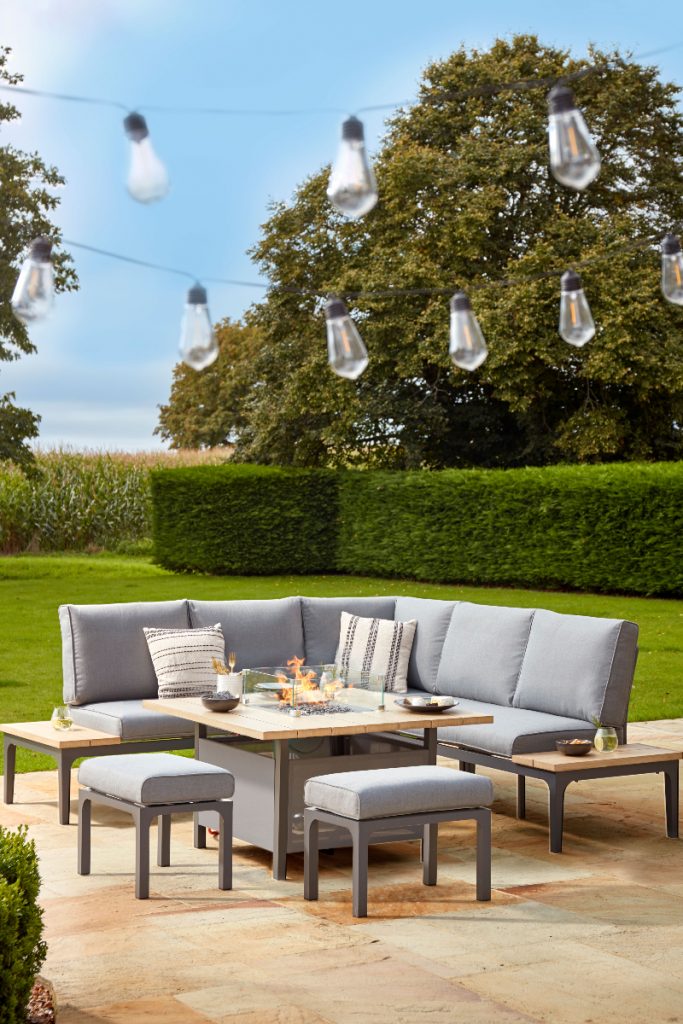 Where should I locate my outdoor kitchen?
You can create an indoor outdoor kitchen with a seamless link – look for a company that will build you an exterior scheme from the same, if practical for outdoors, or similar materials and finishes. A bespoke build is perfect for creating a connected indoor-outdoor look as you can mirror the layout and counter heights.
"Think about installing bi-fold doors that open up onto a patio. Adding to that, to get that seamless flow, look for floor tiles mirroring those you have indoors. The tile itself is different – thicker and weatherproof – but the finish is the same," says Ross Worrod at Grillo Outdoor Kitchens.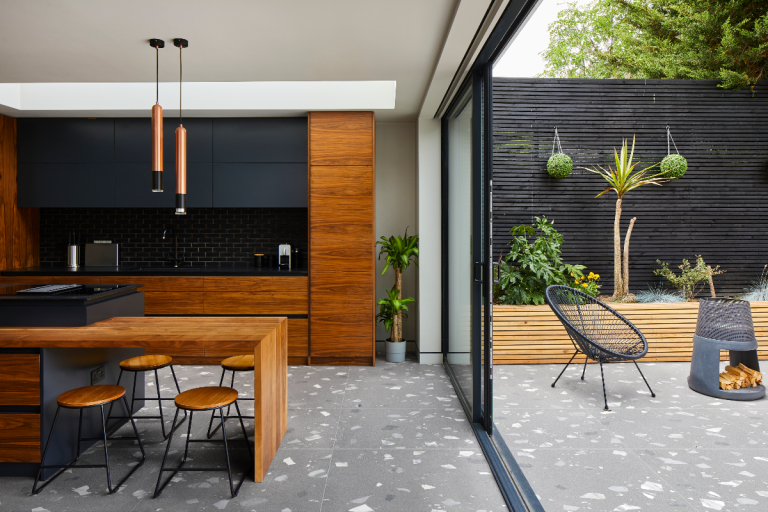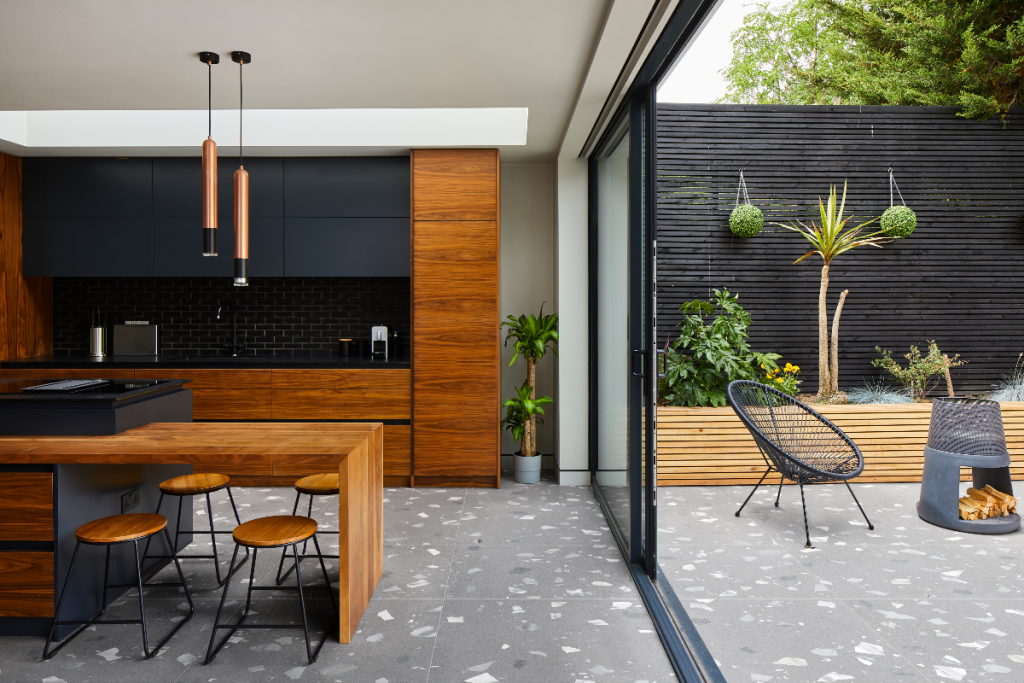 Can I have an outdoor kitchen at the back of the garden?
Yes, and this is an opportunity to let your creativity flow and even design a contrasting scheme to the interior one in terms of ambiance, appliances, and style.
If you have a big garden and want to locate your outdoor kitchen at the bottom of it, you'll have to include a lot more in the design to save you time and eliminate the need to come in and out of the house.
So, ensure you have access to plumbing, especially if you want to include a sink. Then, cover all electricity needs for other appliances, lighting or heating.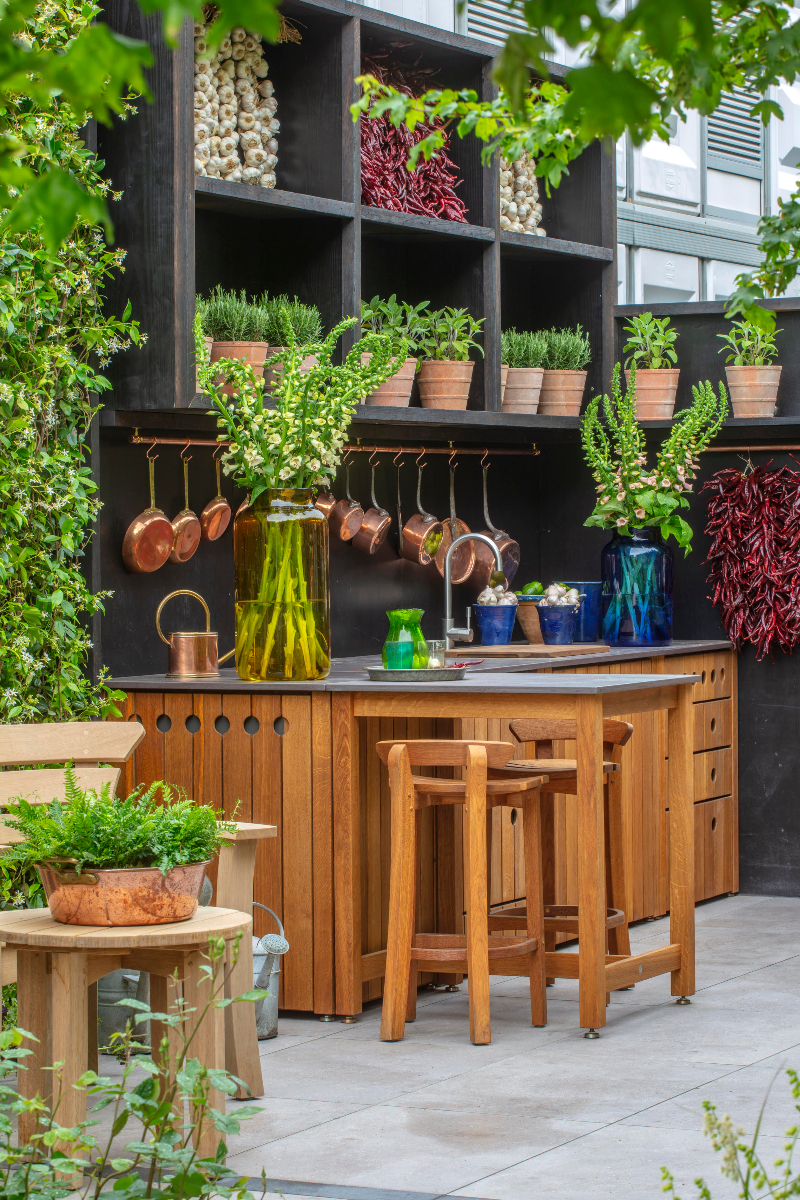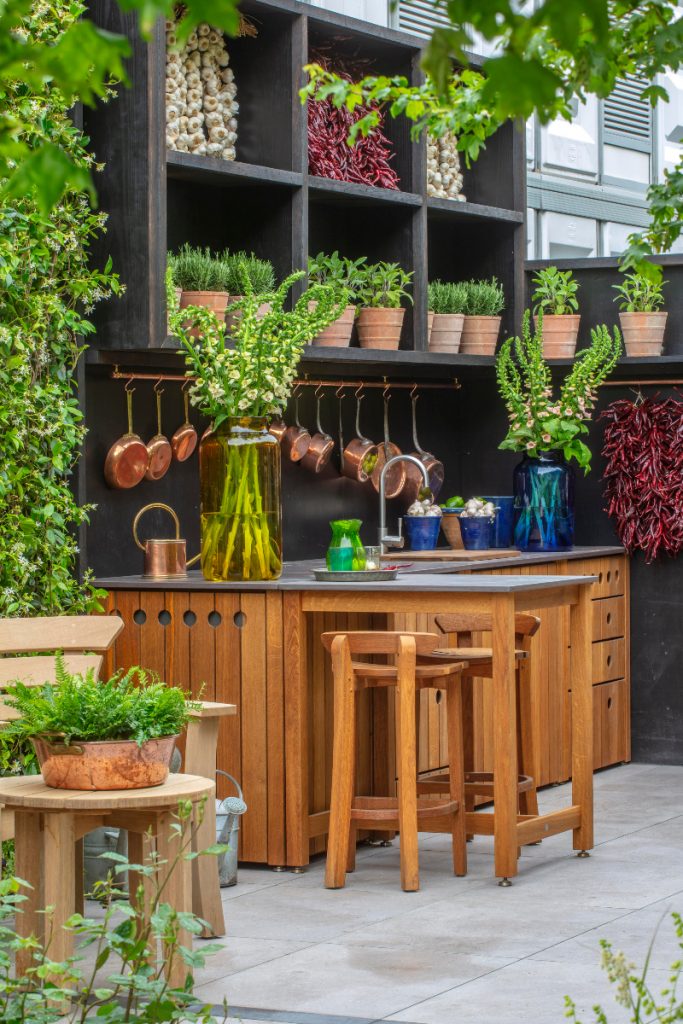 Is there a right time to install an outdoor kitchen?
If you're doing any work on your property, it's always recommended you future proof as you go.
A lot of people usually install their outdoor kitchen while completing their landscaping projects or as part of an overall renovation. This is not a necessity, but you can be prepared for some disruption when plumbing and electrics are fitted.
Also take into consideration how your hired contractors will be bringing materials and equipment into the garden.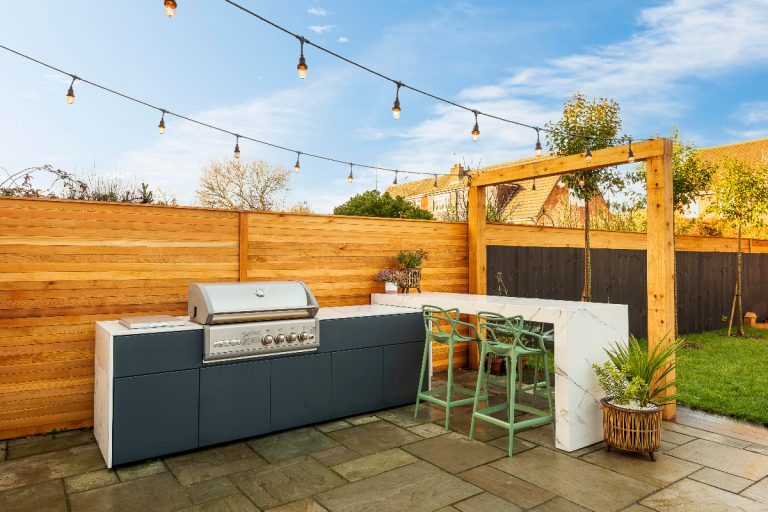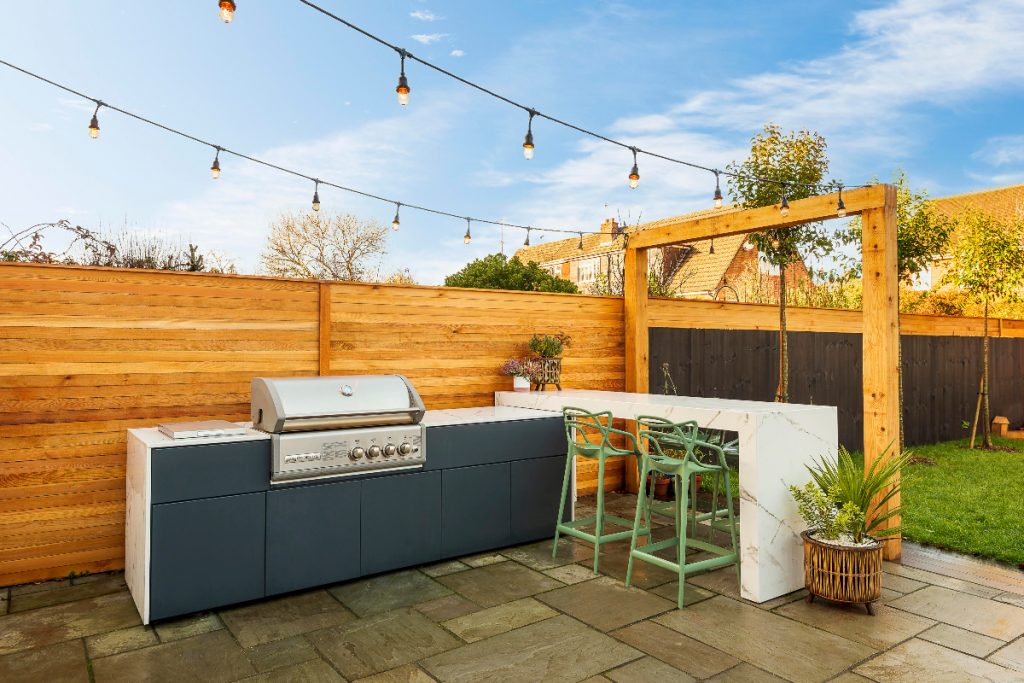 How do I plan the layout?
The general rule of thumb is to design your outdoor kitchen as if creating one indoors. So, really take the time to think about what you want to use the space for.
An L-shape would work well, with the appliances all in easy reach of each other inside the space and seating integrated under the work surface. Or how about a galley-style set-up, with the barbecue and grill facing the dining area? This way you will always feel included in your guests' conversation.
For safety, make sure your layout has an access point away from the cooking area.
Just like inside your home, the key to a successful scheme is zoning the space – think about all the usual things such as food preparation and cooking areas, as well as a place for clearing away dishes and equipment, and make provision for those activities accordingly," says Louisa Eggleston, creative director at Humphrey Munson.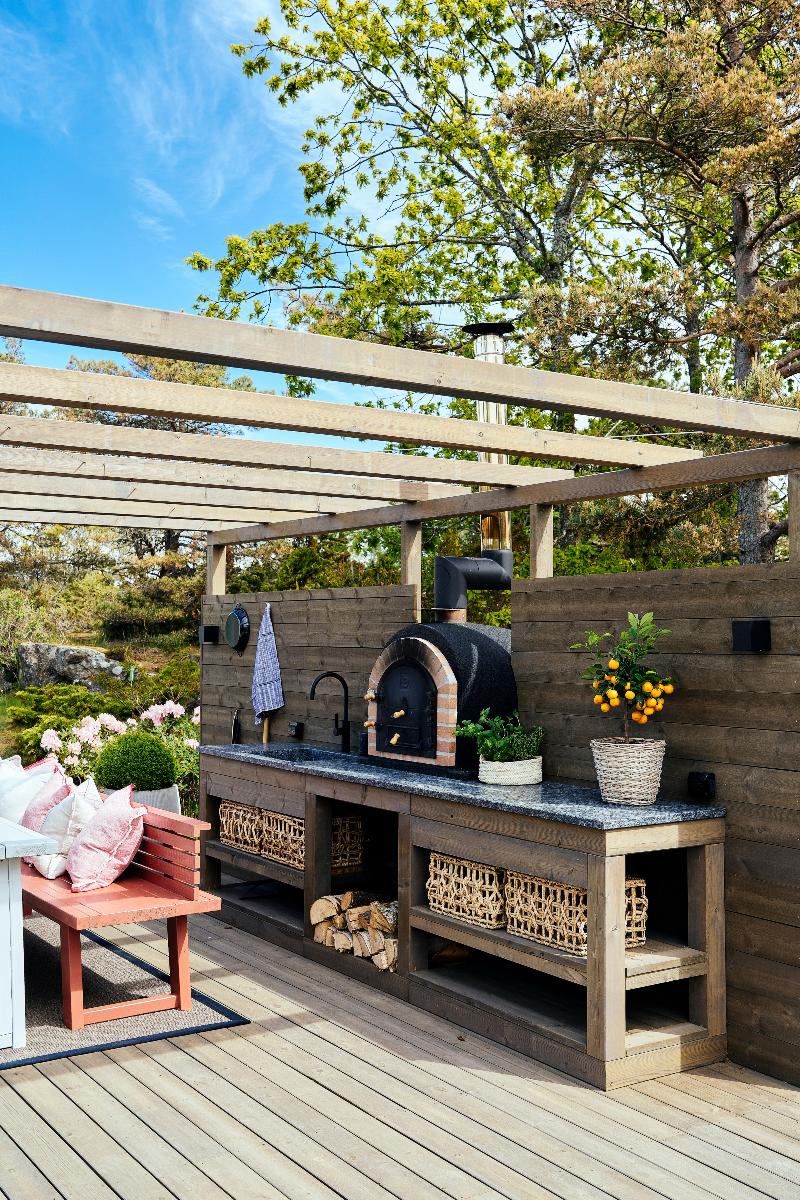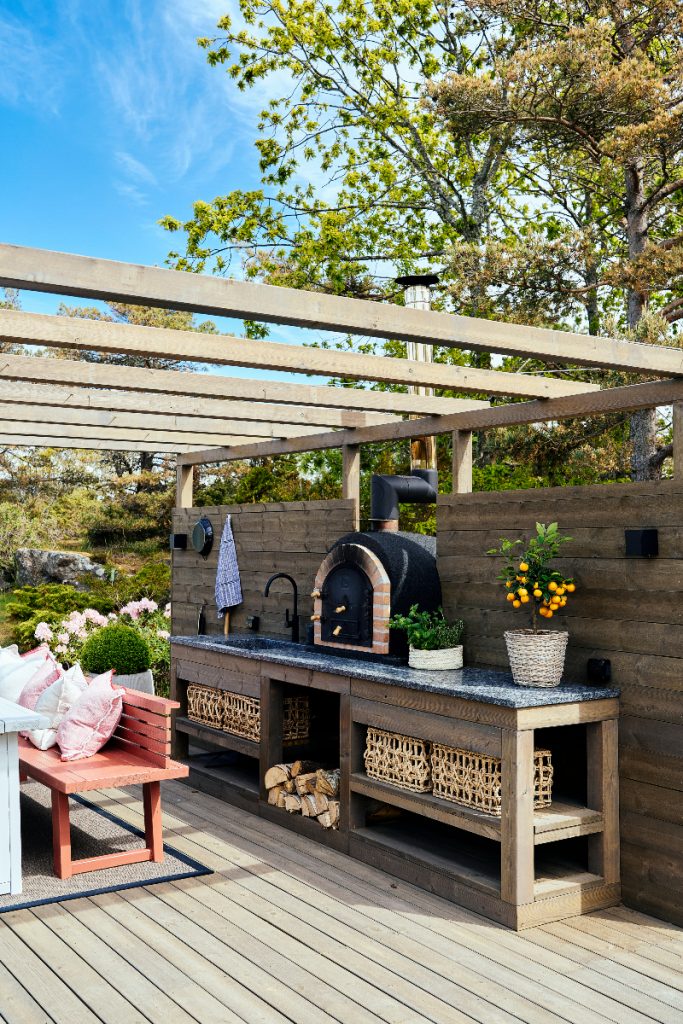 What about lighting?
Fit task lighting, so you can have plenty of light when preparing food and using sharp knives, no matter what time of the day. As for ambience, you can add strings of fairy lights to create a nice and cosy setting.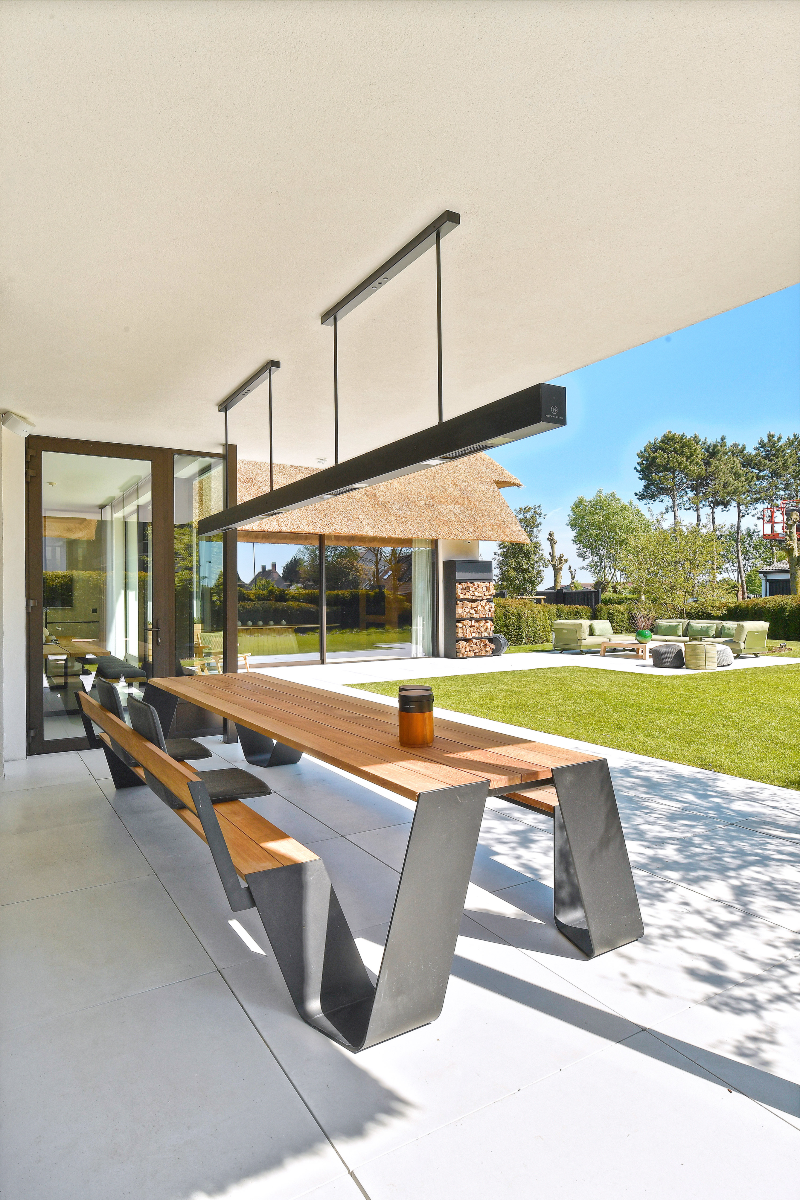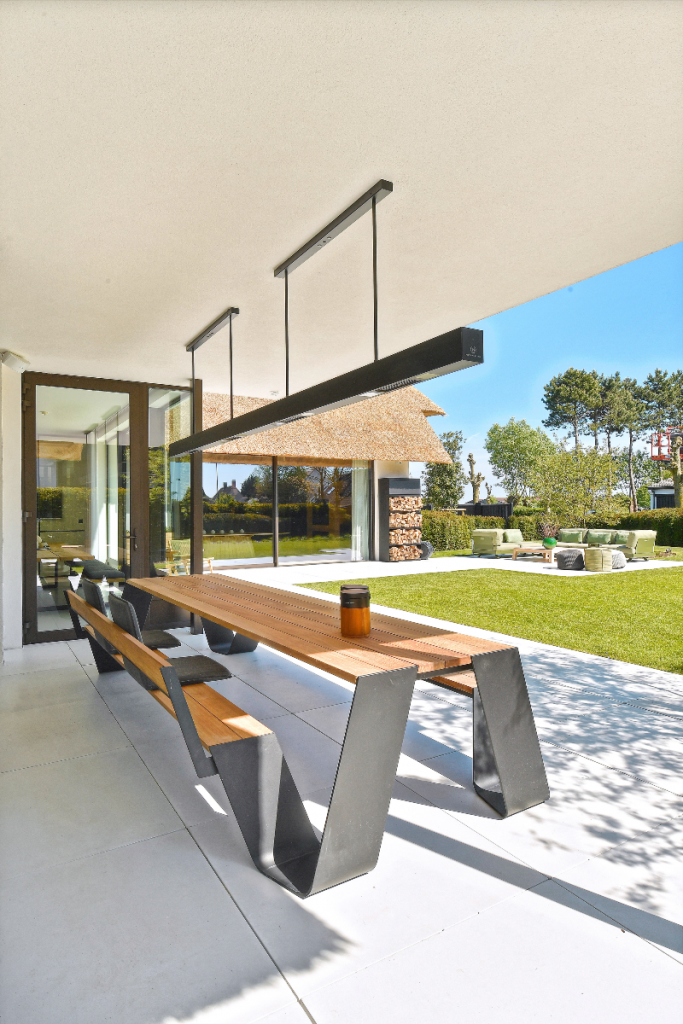 Anything else I need to know?
Just like with an indoor project, your outdoor kitchen should be installed by professionals to ensure it is safe and efficient to use. Consult a NICEIC registered electrician who will be able to advise as all electrical and plumbed-in appliances will need to be outdoor rated for safety.
"To make the most of your design, plan in enough electrical outlets – located in convenient, easily accessible places – to make sure your requirements are met. If you're planning to install new outdoor lighting or fitting a mini refrigerator, ensure there is a spare circuit on the fuse board in the house for the outdoor installation," says Darren Staniforth, technical expert at electrical regulatory body NICEIC.
Now, are you ready to make the most of hot summer days and design your dream outdoor kitchen?
Featured image: Royal natural stone worktop, from £680 per sq m, Lundhs.
So, did you enjoy this feature? Then you'll love this real-life project. Learn how one couple created their dream outdoor kitchen.
About Post Author