Banquette seating ideas can always be made to work in your home. For instance, do you have a little extra space under a window which you don't know how to use? Perhaps you always run out of seats when guests come over? Built-in banquette seating ideas could just be the solution you're looking for. Banquette seating is comfortable, stylish and multi-functional, plus a great space saver where room is tight. A banquette or two could create a cool dining area, reading nook or work from home spot in your kitchen.
Whatever your kitchen's size and layout, you can build your imaginative banquette seating ideas within an island or under a window. You can also build seating along a wall instead of dining chairs or a bench. In addition, an extra bonus is that you can utilise the base as nifty storage. This is true whether it's boxed in under the seat cushion or open shelving (or even drawers). So, storage plus extra seating spots – sounds like a winner to me. Some people also prefer this style of seating over a tall breakfast bar, as it can be more comfortable than perching on stools. So ask your kitchen designer, builder or local joiner if they can help create integrated seating in your space.
Let's look at some banquette seating ideas then, shall we…?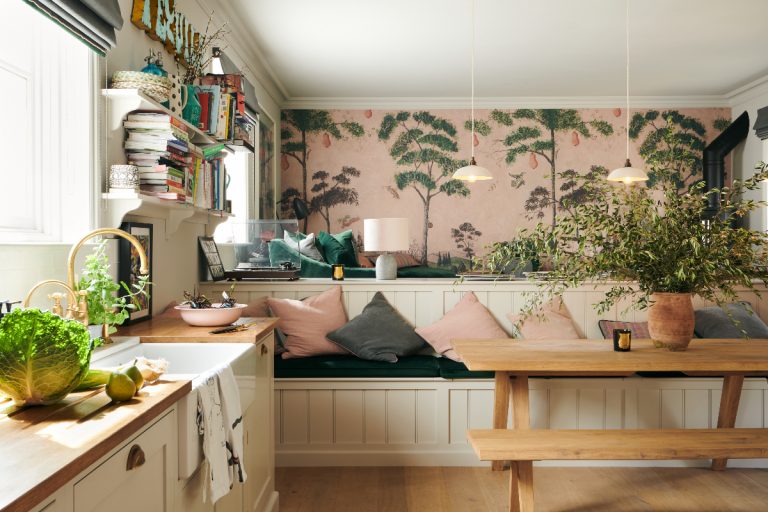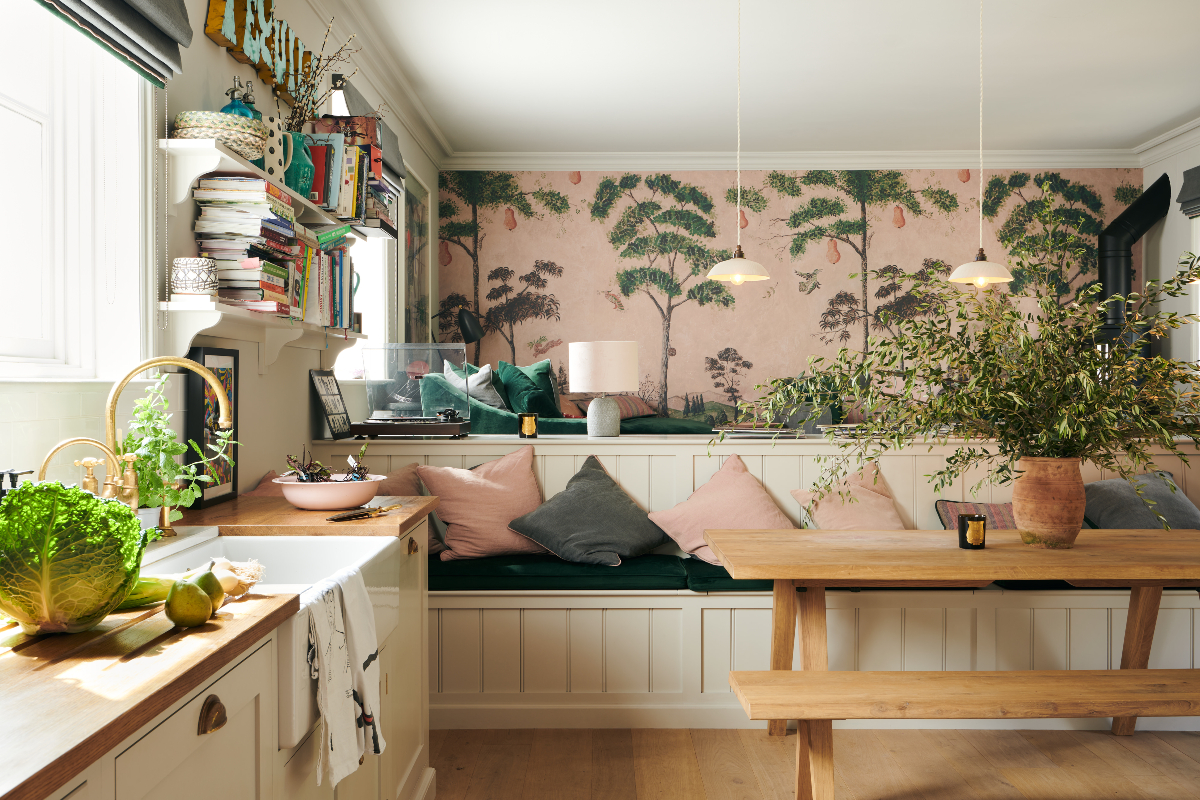 Banquette seating ideas: a window bench
If you don't have space for your large and dreamy banquette seating ideas, a built-in window seat could be a stylish alternative. A good way to make use of the room underneath the ledge, the kids can perch while you cook. Also, outside of mealtimes, you can convert it into a cosy reading nook.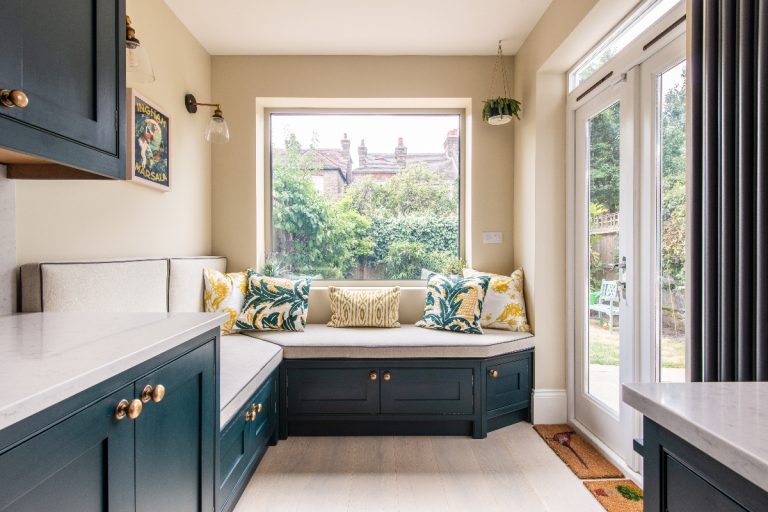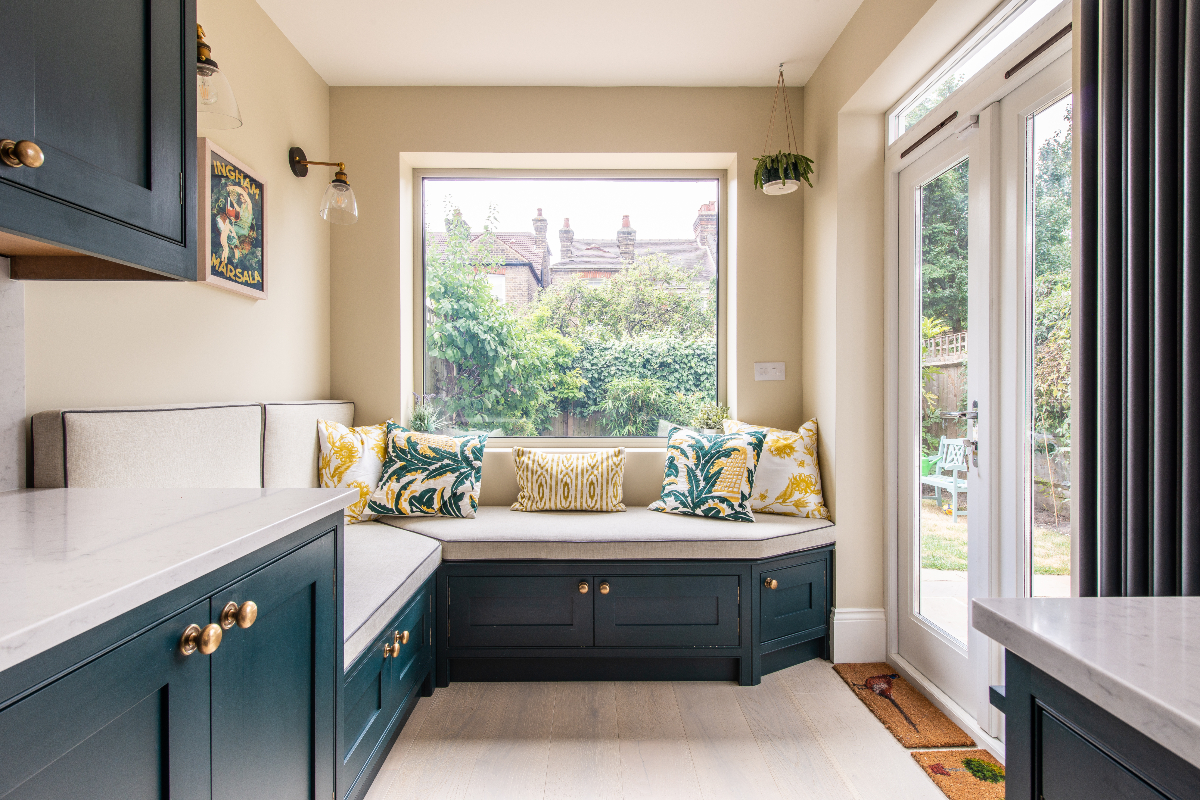 Go big
Do you have a large family or lots of friends? The main benefit of a long bench is that there's room for more people around the table. Add a pop of colour by painting it in a stand-out shade. Alternatively, choose a neutral to add a bit of Scandi style.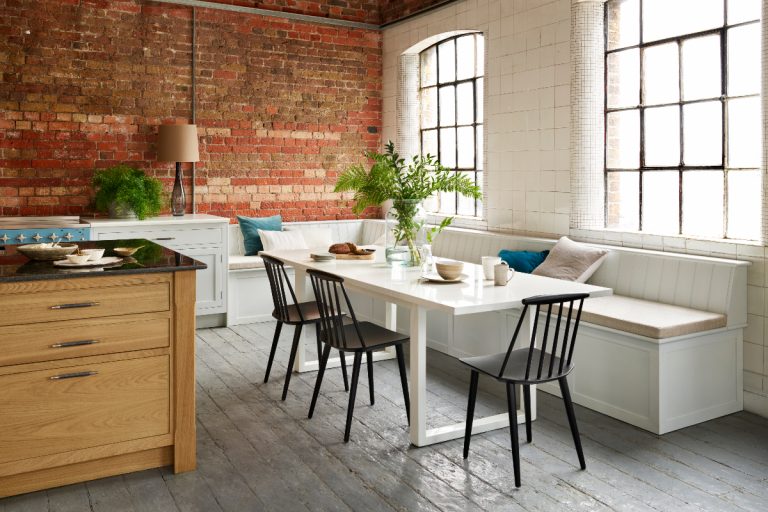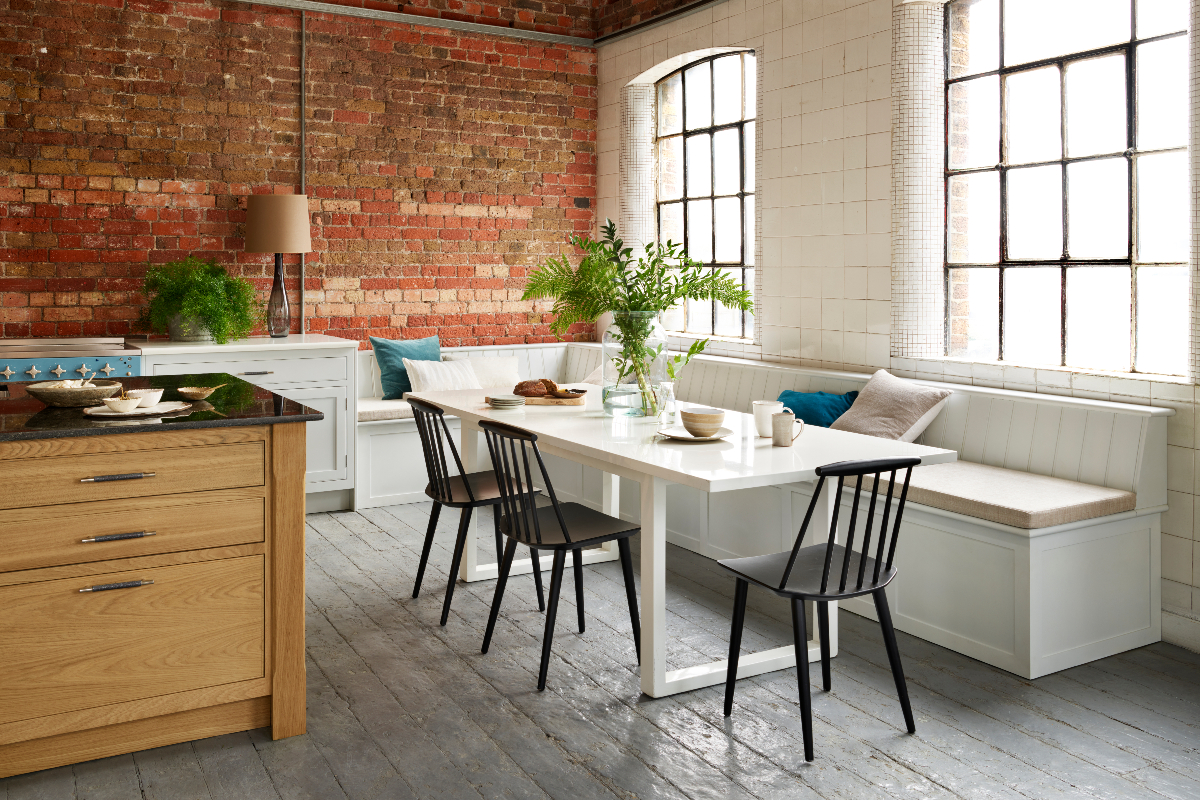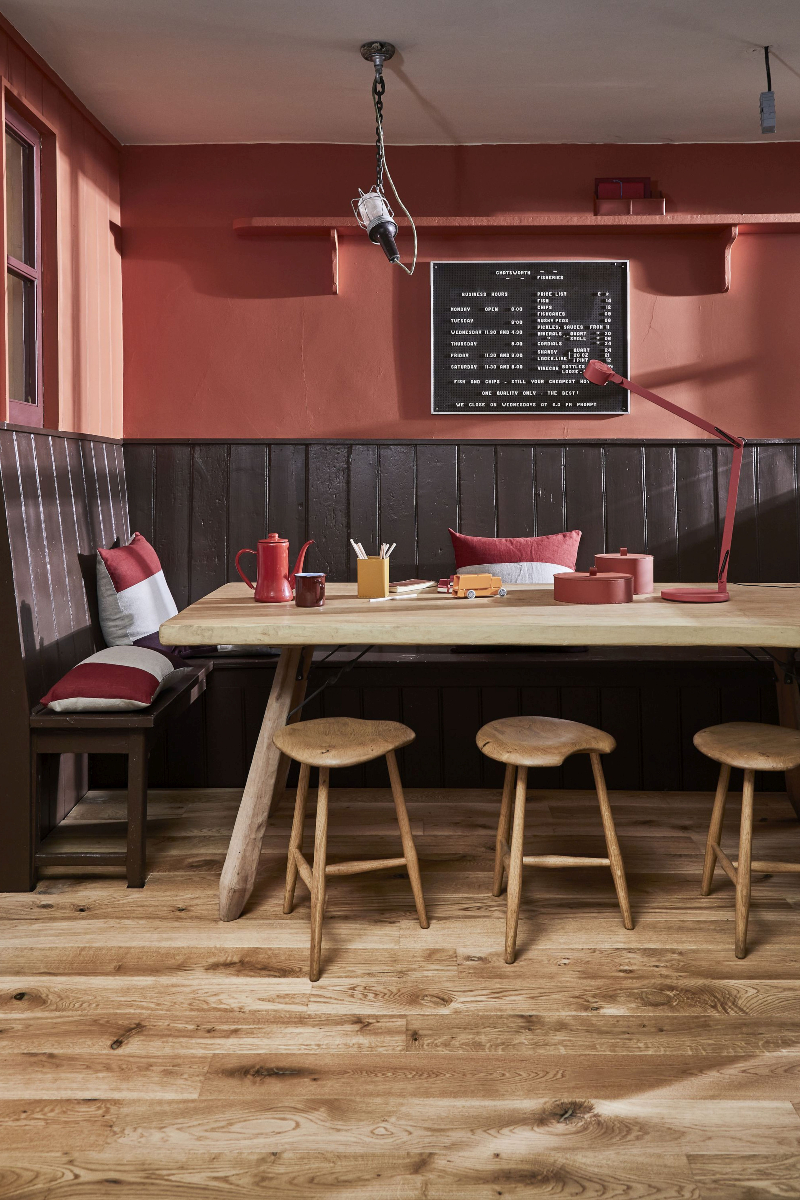 Banquette seating ideas: create a booth
So you may have noticed this look while eating out at an American-style restaurant or trendy bar. However, it's also become a popular choice in our homes. This design is a great option if you have a long galley kitchen, as you can fix your seating up against a wall so there's more room to walk along the aisle. Not only do booths save you space, they also tend to be more comfortable than seating options such as wooden chairs or benches. The padded seats and backs cushion you as a result. I can picture myself and my laptop there already.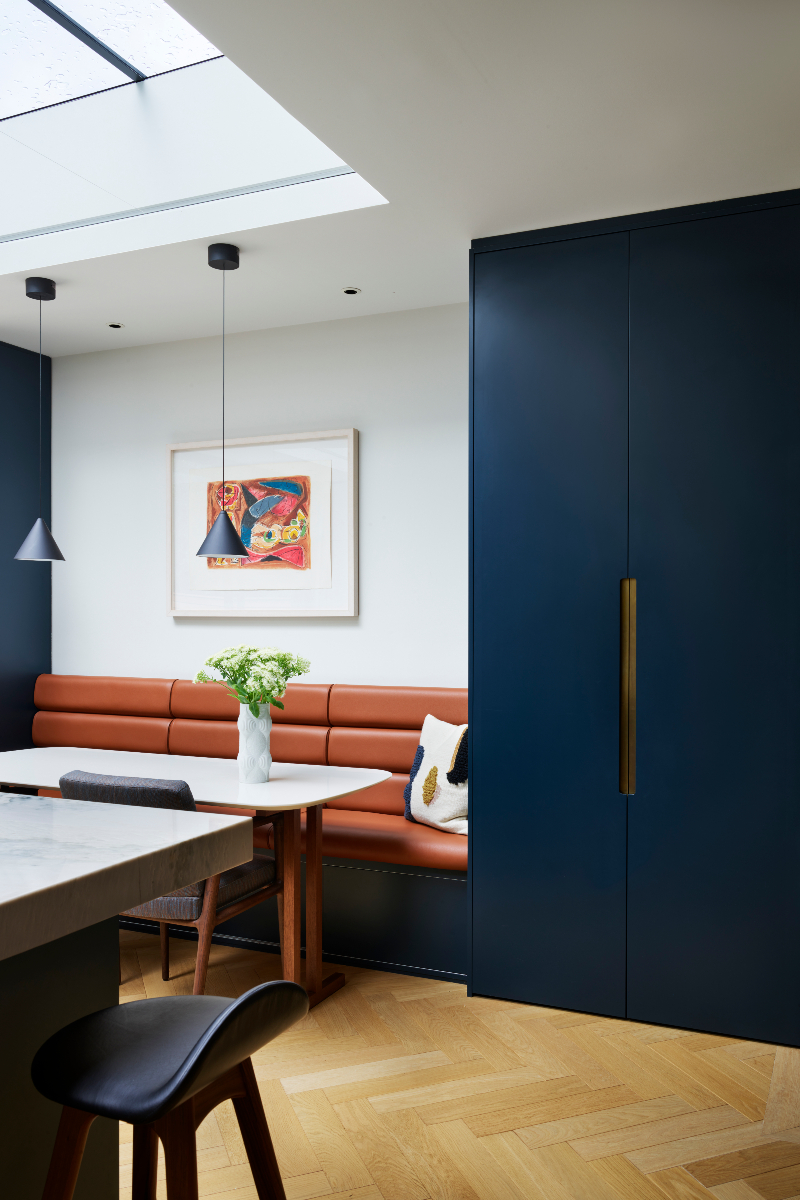 Tuck it into a corner
Corner banquette seating is a great way to fit extra places around a small table, especially in more compact spaces. So right now, this kitchen-diner may only fit four dining chairs. However, with an L-shaped bench it can comfortably seat five, six or even more guests. Built-in seating can utilise every inch of floor area, turning tricky corners into creative opportunities.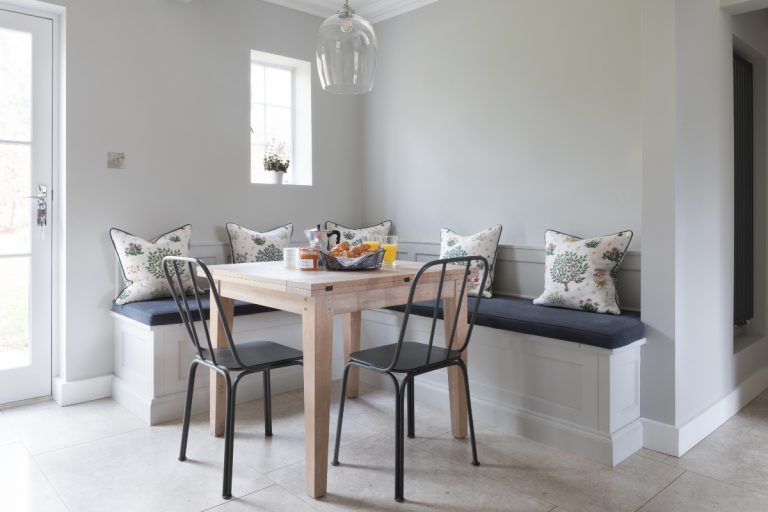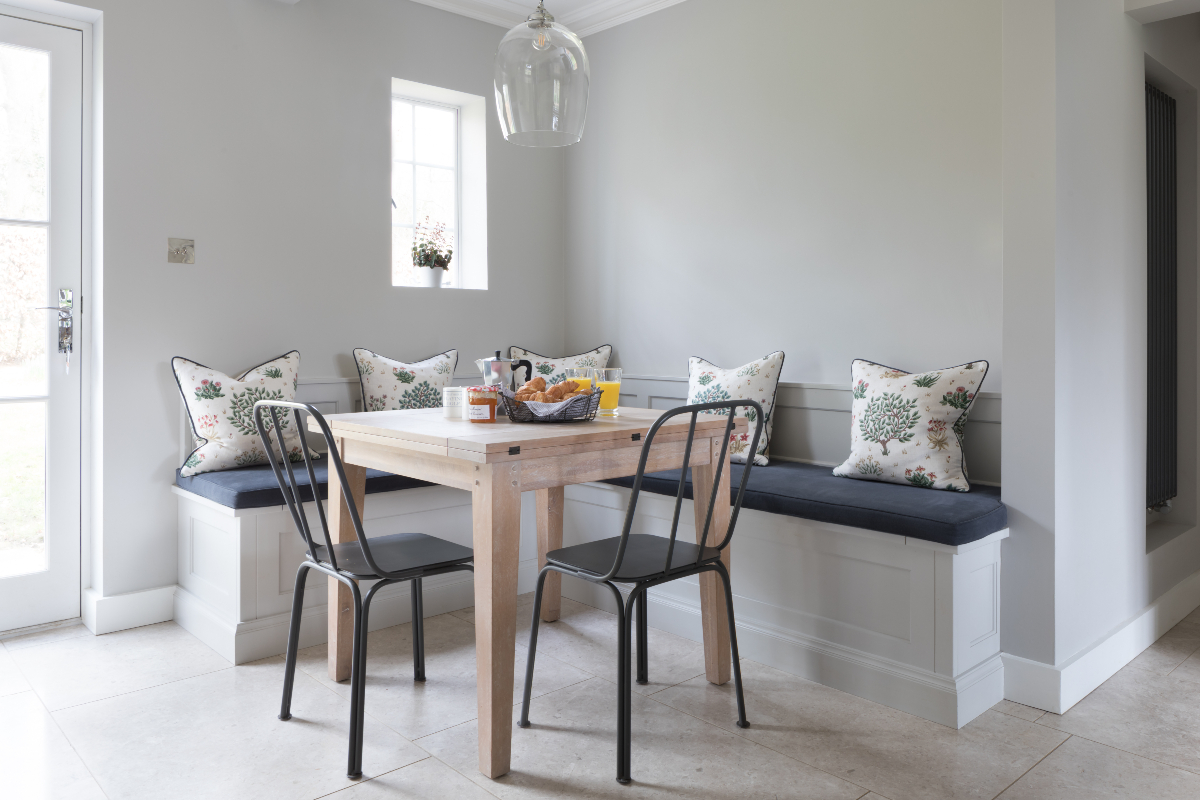 Do the island bolt on
Even small banquette seating designs can provide more space for you and the family to sit than standard dining chairs. In addition, it can make good use of a neglected area – which is great for practical, informal dining or breakfast space. Plus, they can also double up as a spot for the little ones to do their homework. And this way, you can easily keep an eye on them while you cook. As before, this can be a more comfortable alternative to stools if you're sitting for longer periods of time.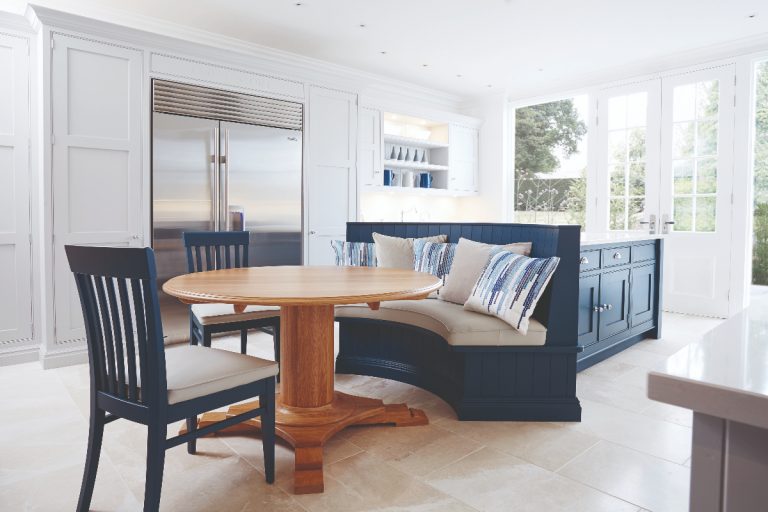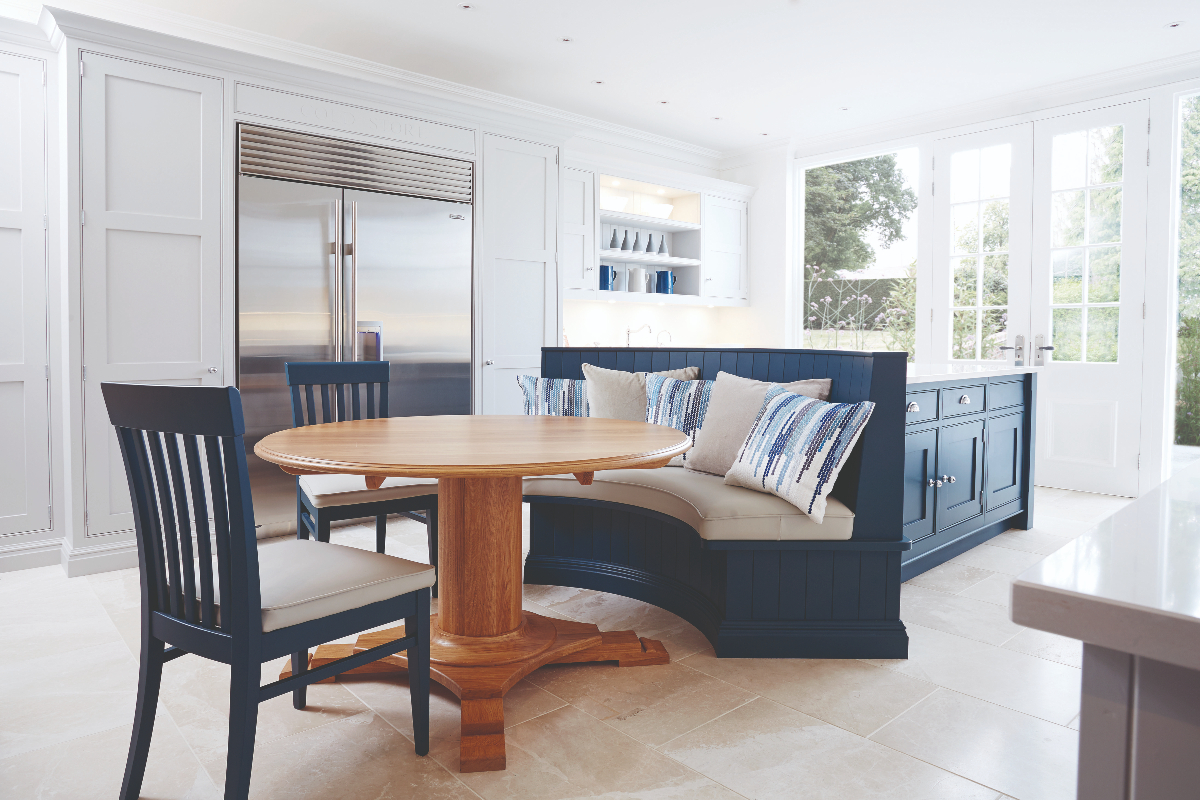 Banquette seating ideas: make a statement
Why not make your banquette seating ideas more of a standout feature? If you have a large open-plan kitchen, then think about attaching a circular design to the edge of your island. In addition, create a comfortable high back to provide a sense of privacy. Incorporating curves can help draw people around or into a space, guiding them to their seat and away from the central kitchen area (or away from the biscuit drawer).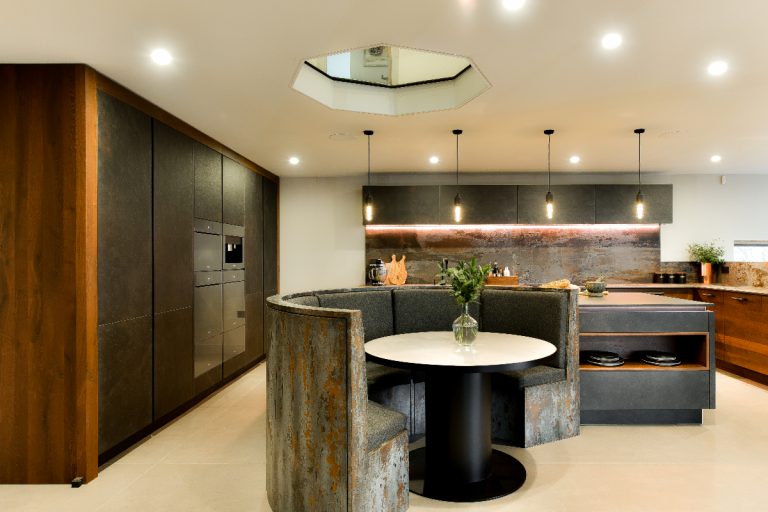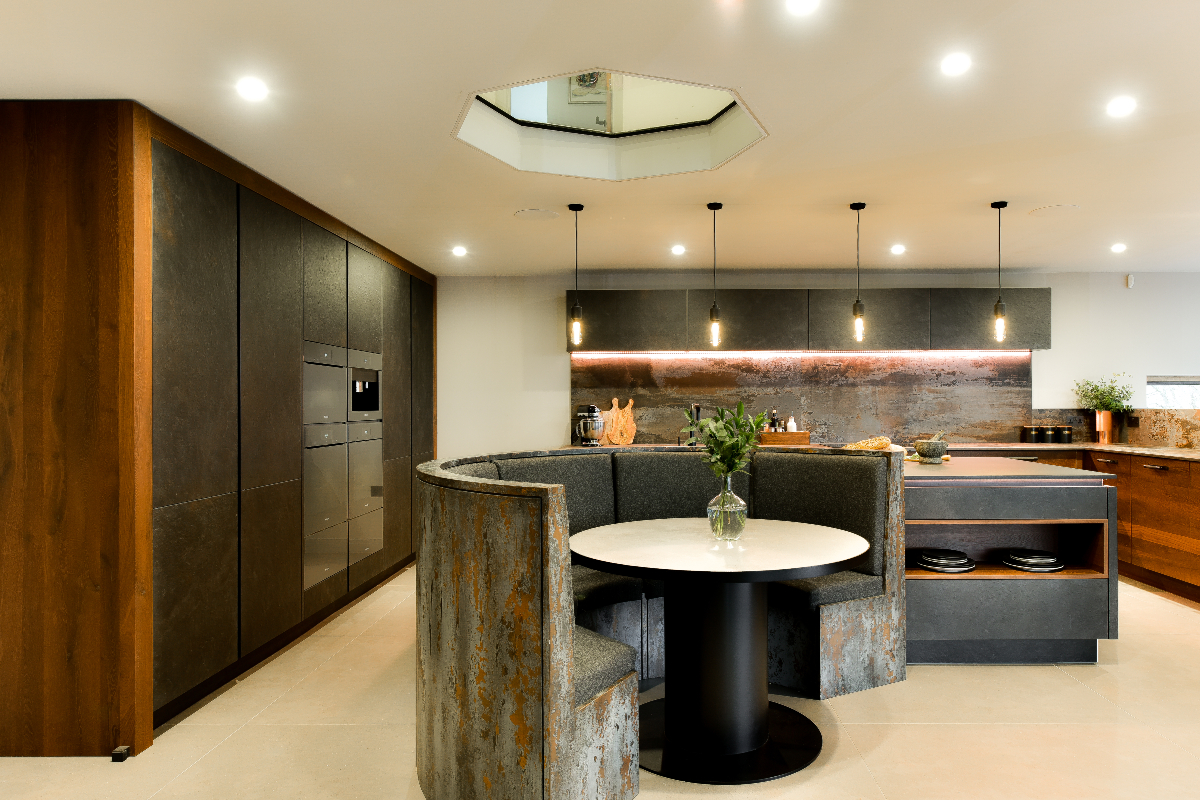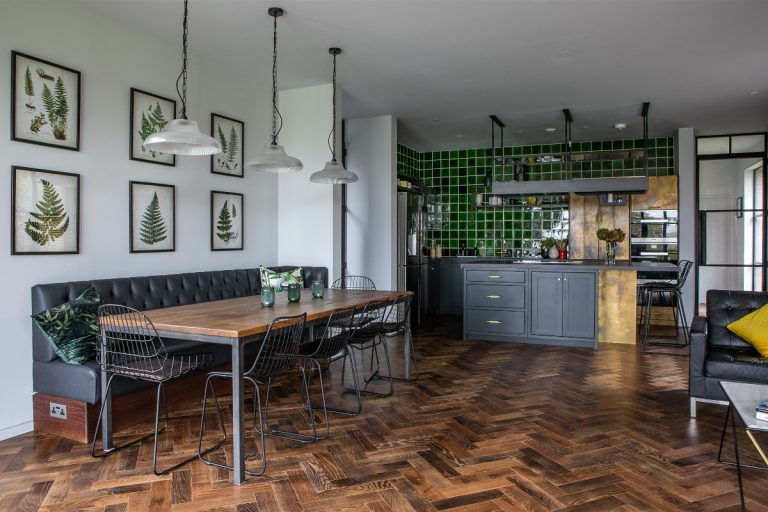 Add storage: the more, the better
This chicest of banquette seating ideas by Roundhouse offers additional space built underneath the seating area. Pull-out drawers help keep extra dinnerware and crockery away from main cabinets but still within easy reach when needed. Think about choosing a lift-up seat to get easy access to countertop appliances that may be difficult to store elsewhere.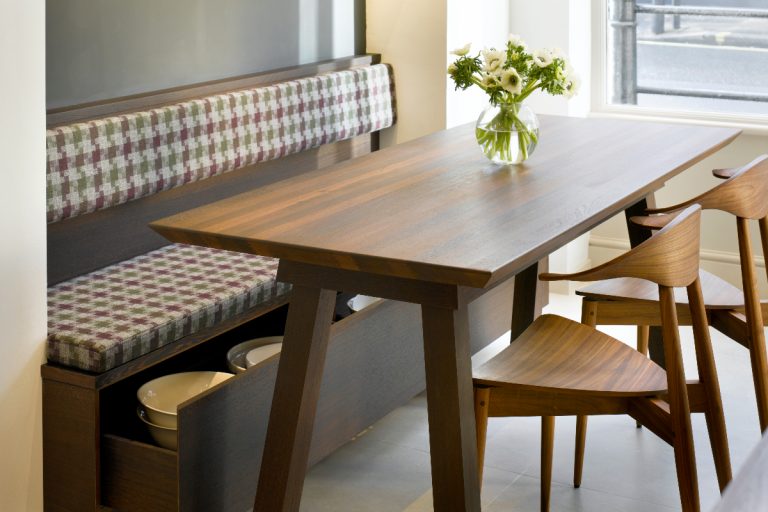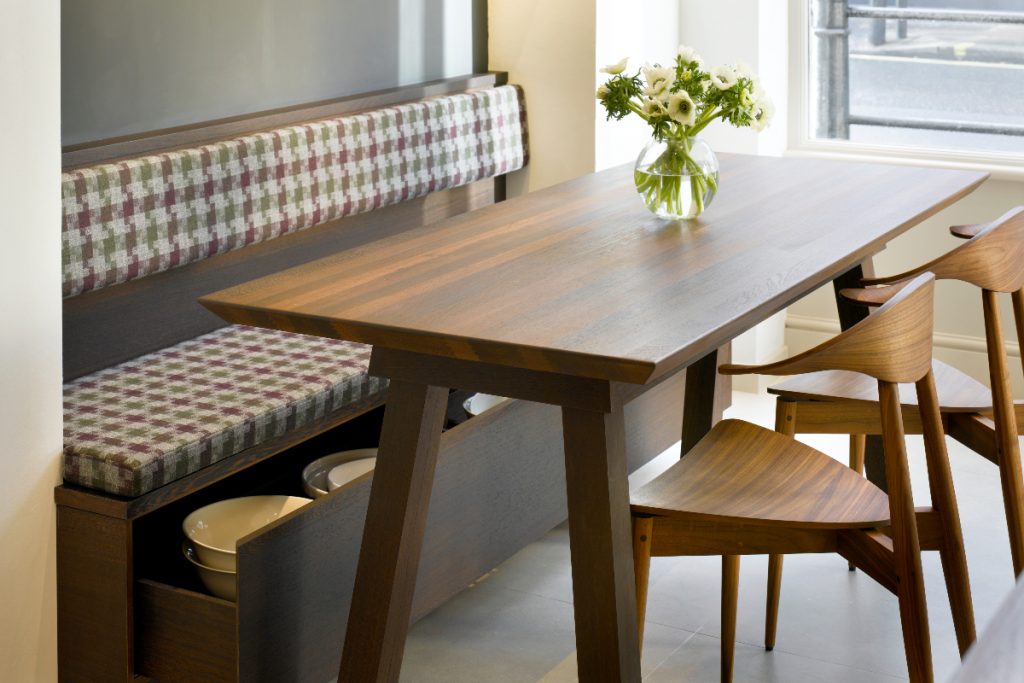 Include seating in an island
A good house party always ends up in the kitchen, right, so why not bring your banquette seating ideas to life here? By extending your island outwards, with comfortable seating attached to the back, there's enough room for your guests to sit while you prepare the food and drinks. You can add a sense of flow into the kitchen too if you choose to paint the banquette in the same shade as your cabinetry, for example, or choose a contrasting colour for impact.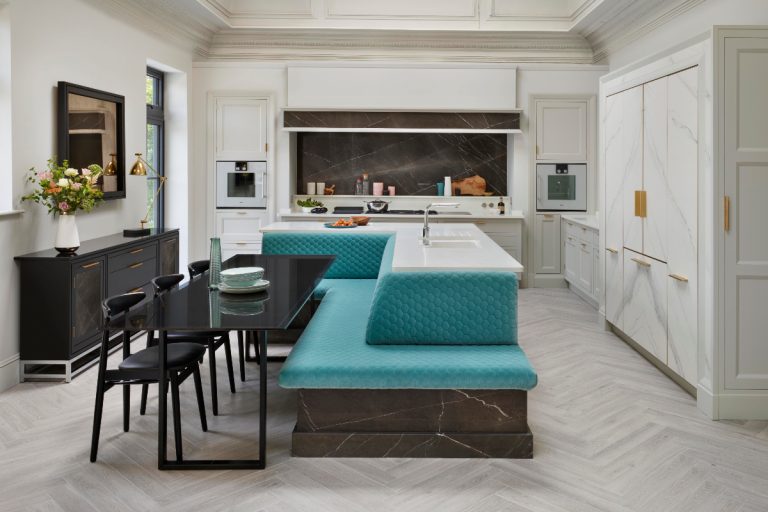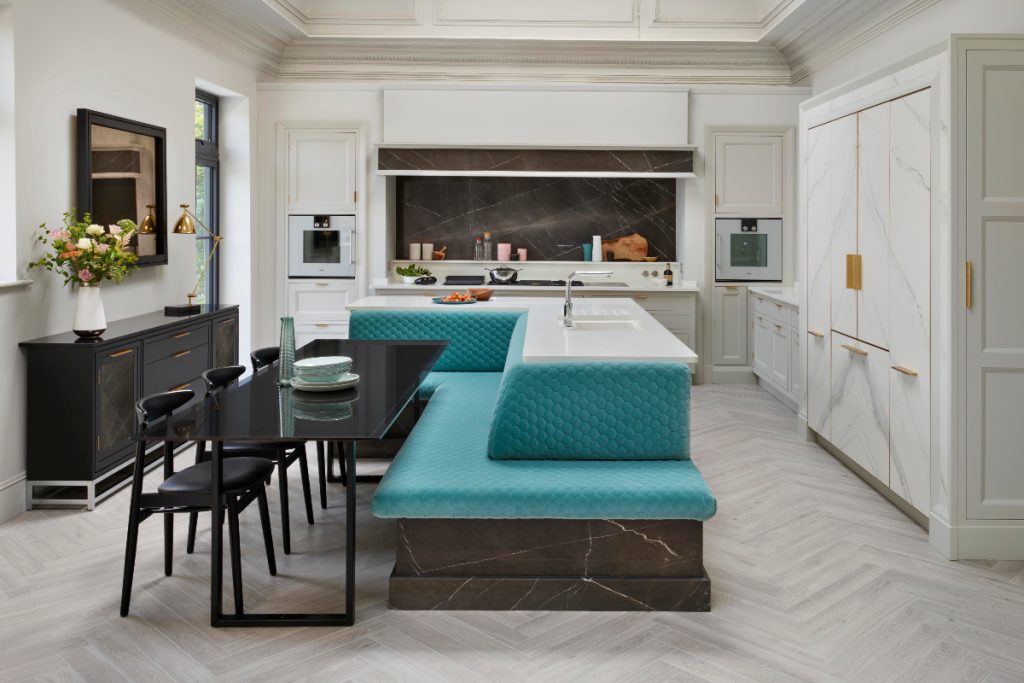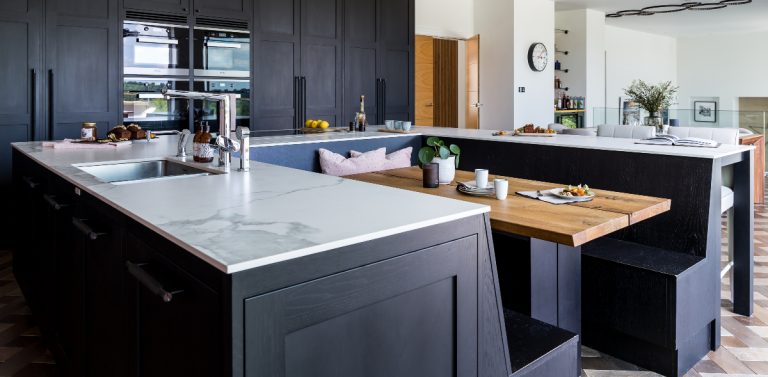 Add a summery touch
This stunning hand-crafted banquette by Create Bespoke sits right at the heart of the spacious kitchen-diner. It is designed to be floating so that it didn't block one of the key features of the kitchen – the flooring. If you love to entertain, this bespoke design can seat up to 20 people! With help from an upholsterer, you can add a summery and tropical touch through palm-effect cushions.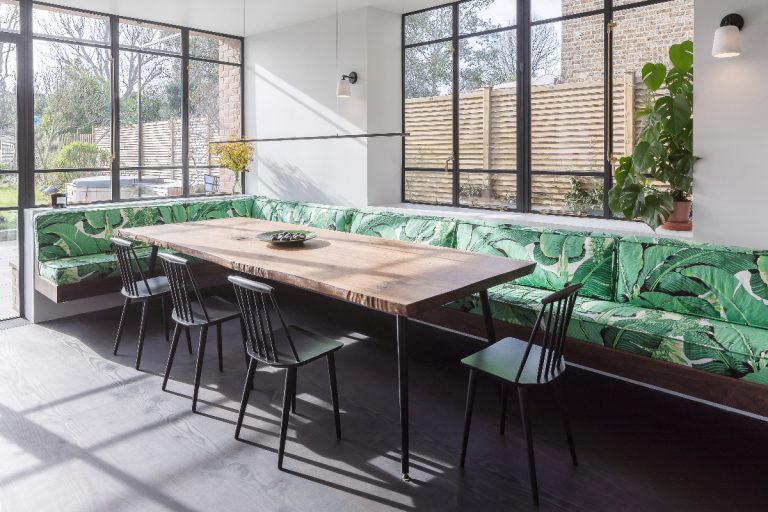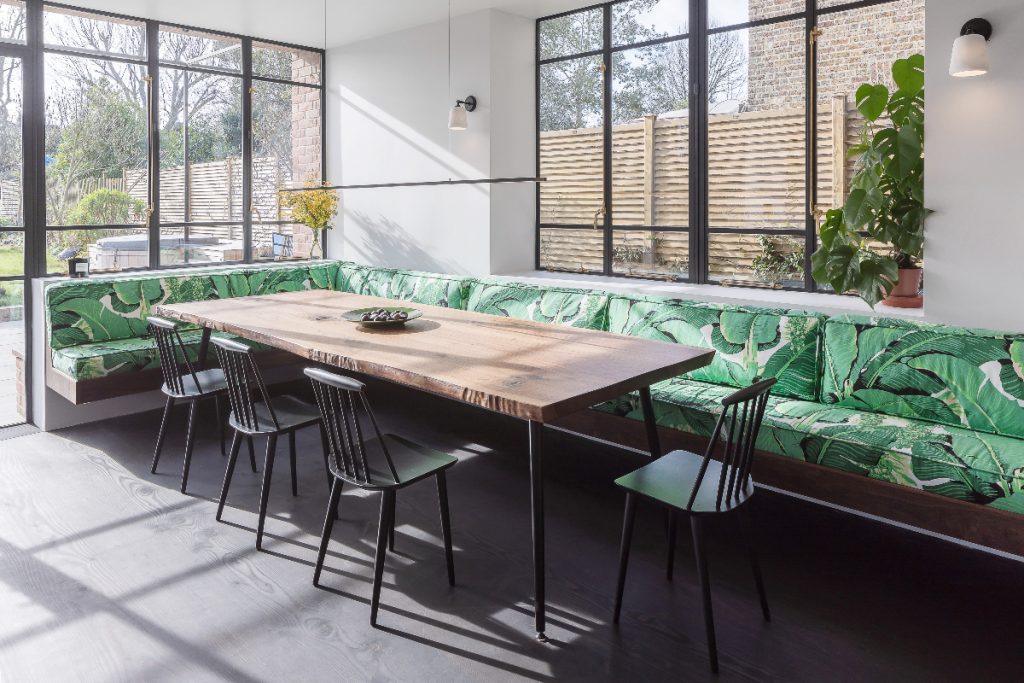 Want to read more? Then check out this incredible kitchen with its banquette seating.
About Post Author