A tap is just a tap, right? Wrong! Oh boy can you have some design fun with your bathroom tap these days. With hundreds of styles, a multitude of trendy colours, finishes and designer options to choose from, the tap is fast becoming the star of the bathroom – especially if you're looking to make impact that makes you smile (or to show off to guests!).
Whether it's for your family bathroom, ensuite or cloakroom frequented by visitors, a bathroom tap that takes centre stage and creates a stunning focal point will elevate your scheme while, of course, being super practical too.
When choosing the ideal tap for your bathroom, first decide on the placement of it. Do you want it deck-mounted so it sits on your basin and if so, do you want it centred to the back or placed to the side? Or do you like the look of a wall-mounted bathroom tap? You could even go for a floor-mounted design. This will all depend on the style of basin you pair your tap with, too, so ensure they work together when buying.
Then, look at the colour and finish. There's a big trend for black taps, including matt and gloss versions, plus metallics such as copper, brass and gold, to name a few other finishes available. The secret is to choose one finish and use it across your brassware – that includes your bathroom tap, bath mixer and shower, for example. And luckily, many ranges span each product type, making this simple.
Chrome is a popular option, of course, but the more modern versions of a chrome tap take a design-led approach to make the tap stand out by offering new shapes – we're talking beautiful chunky shapes with curved edges and interesting handle styles, such as the Liquid collection created by Tom Dixon for VitrA.
So if you're looking for new new brassware, here are four bathroom tap trends we've got on our radar (and how to make each work in your space)…
1. Taps with curves
Love the trend for soft flowing lines and want to create more of an organic feel in your bathroom? Go for a bathroom tap that features delicate edges and a soft flowing shape. Not only will this help create a relaxed, spa-like look, these taps are lovely and tactile too.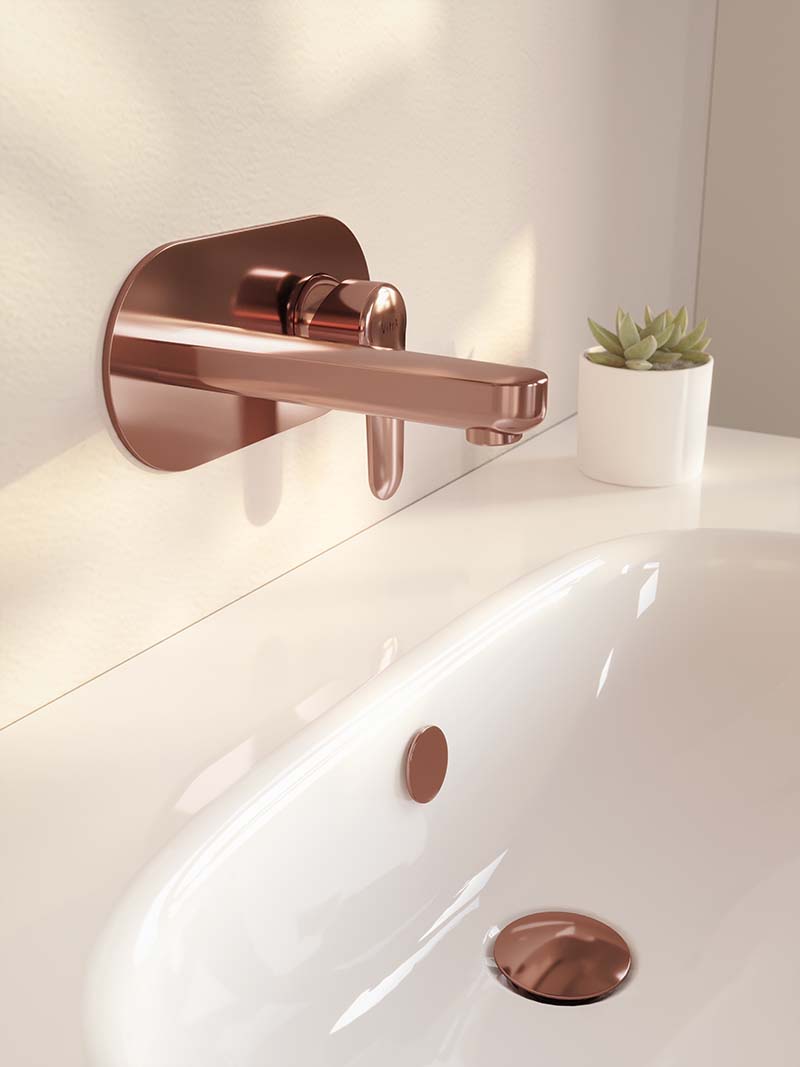 Created by Design Studio VitrA, Root Round features a collection of taps including basin, shower, and bath mixers, all in four different finishes, so you can easily match your basin tap to the rest of your water outlets.
Plus, there's the choice of wall and deck-mounted too – not to mention the range of shades available. Why not pair the copper design with a matt white rounded countertop basin on a vanity unit? And include the matching plug and overspill cover for a well-thought-out scheme?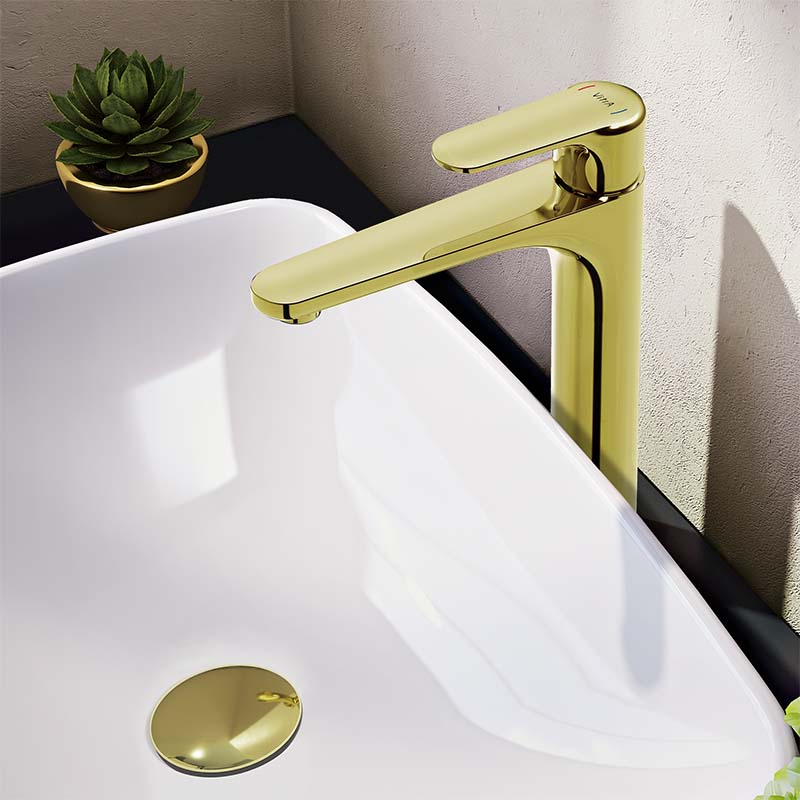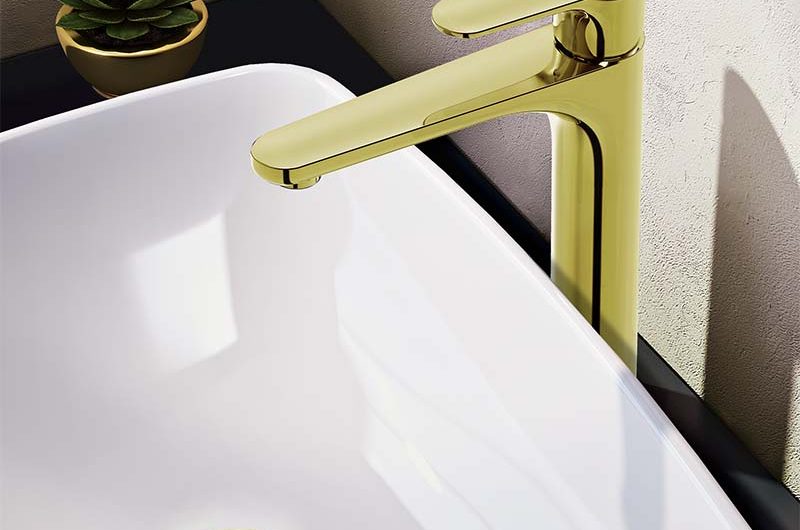 2. Geometric bathroom taps
Curves not for you? Go angular instead. A bathroom tap with a geometric design will offer you a more slick, contemporary vibe in an instant. Enter Root Square by VitrA.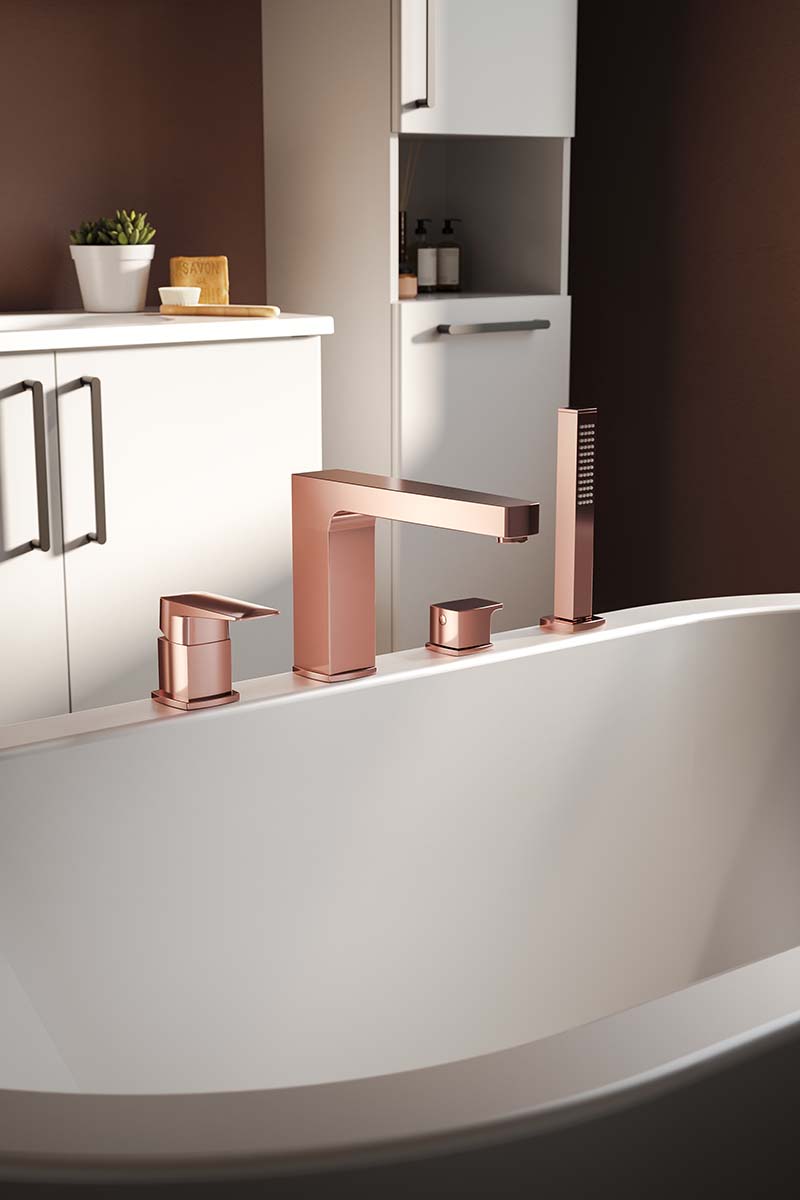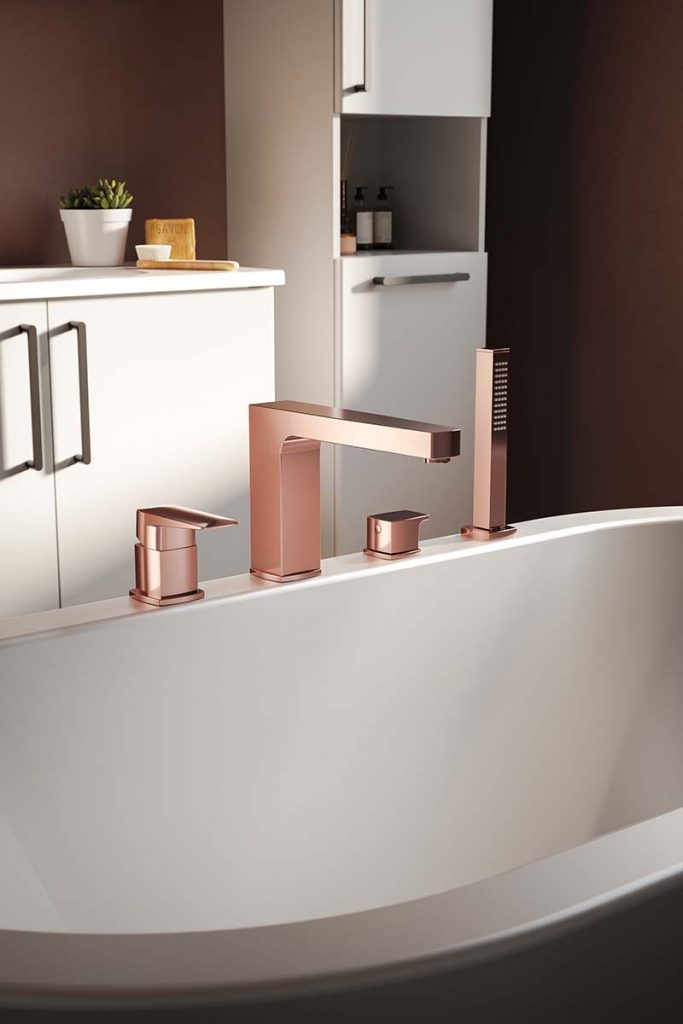 These taps look great in chrome, copper, brushed nickel or gold finishes which simply adds to the sleeker, pared-back appearance. Add your chosen design to an integrated basin that offers a similar minimalist feel. You don't want anything too fussy to distract from the modern look of this tap.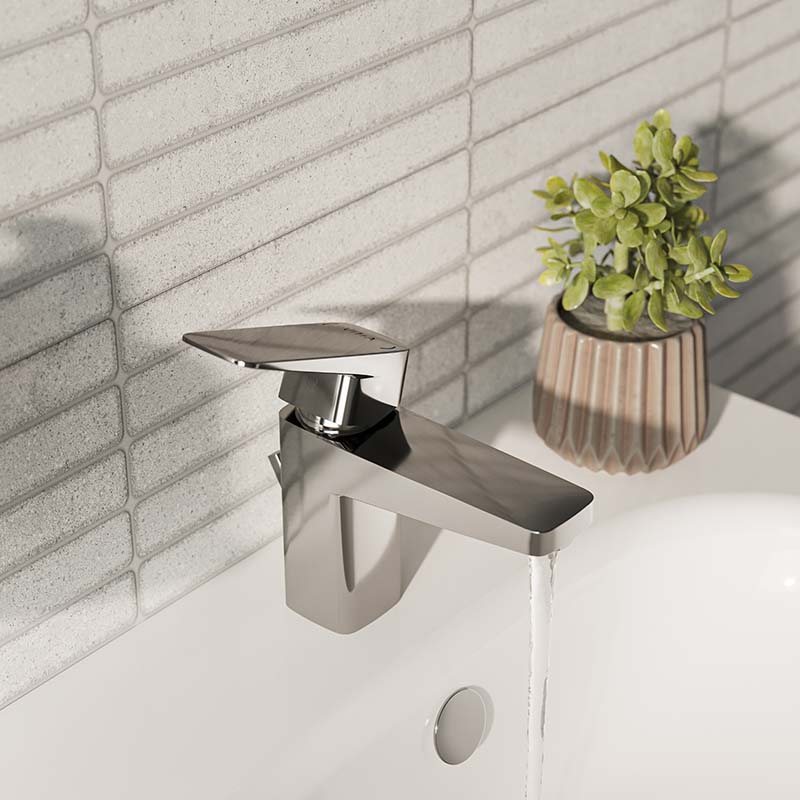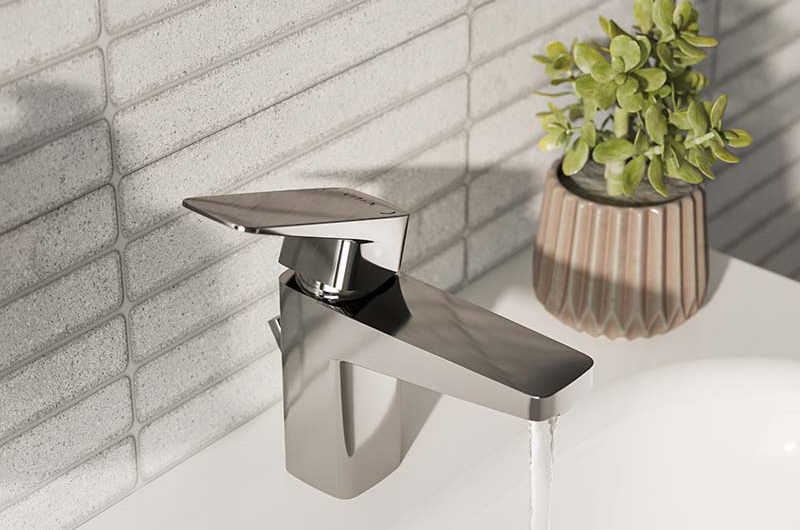 And while VitrA's Root Square looks minimal, there's a lot going on within the cleverly designed bathroom tap. Root brassware features an exclusively designed flow regulator and the collection's Unified Water Label-certified mixers reduce water usage by 60% even in the lowest consumption category (5 litres/minute water flow).
The basin mixer cartridge with heat regulator and flow rate control provides extra savings in both energy and water consumption. Being able to control the amount of water and energy used helps to conserve natural resources and reduce heating bills.
3. Chunky taps
Created for VitrA by renowned designer Tom Dixon, the Liquid collection boasts enviable kudos in the bathroom tap trend stakes. Why? Well, there aren't any other fittings out there quite like those in this collection.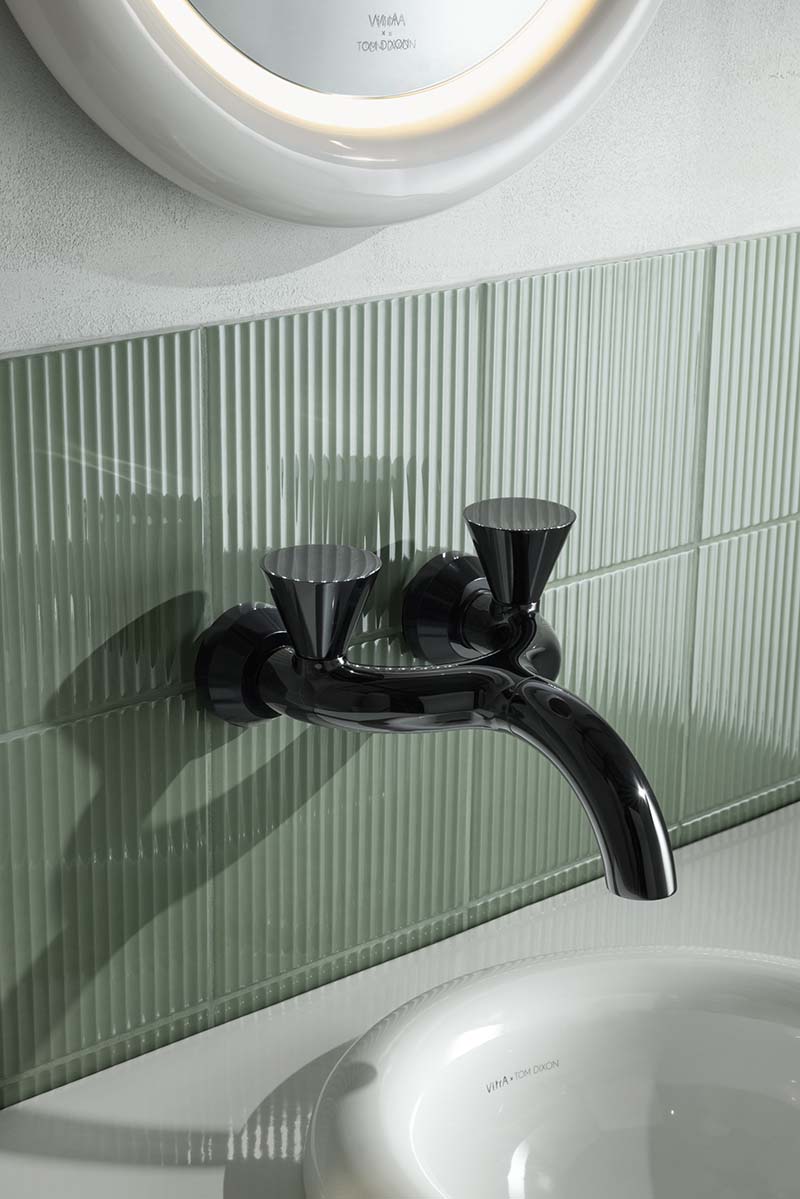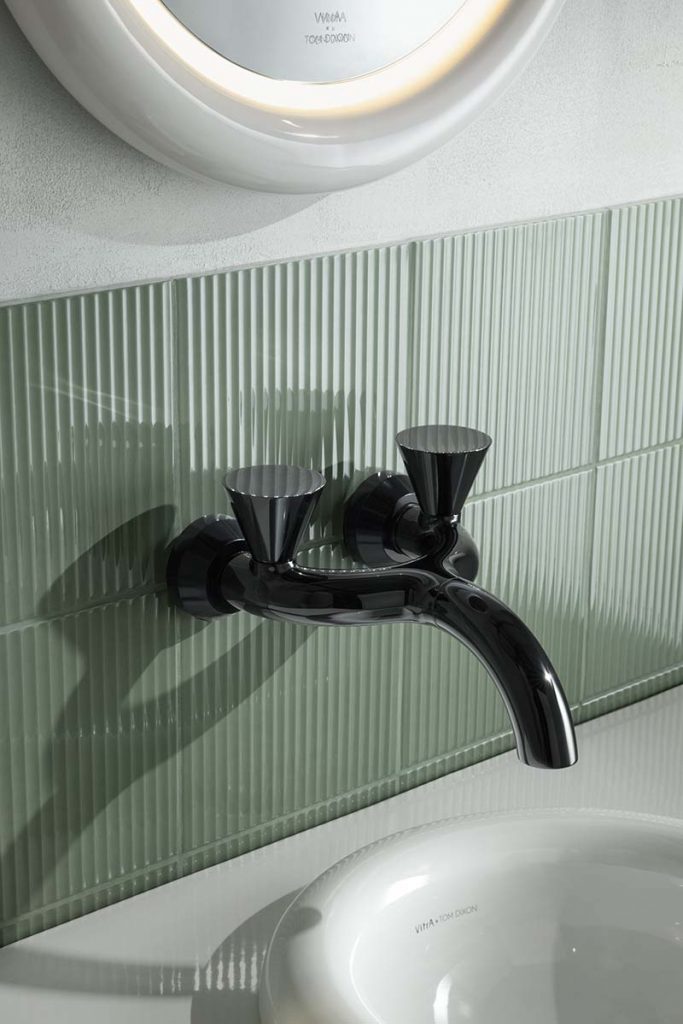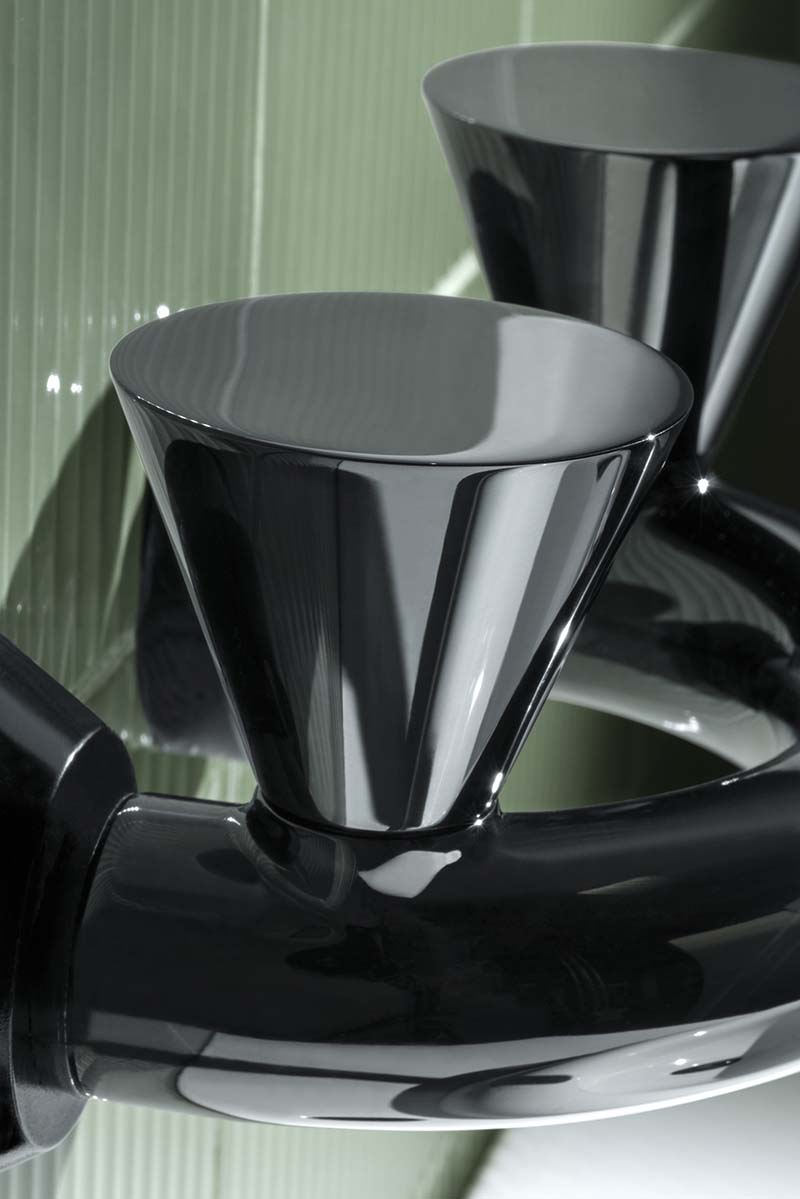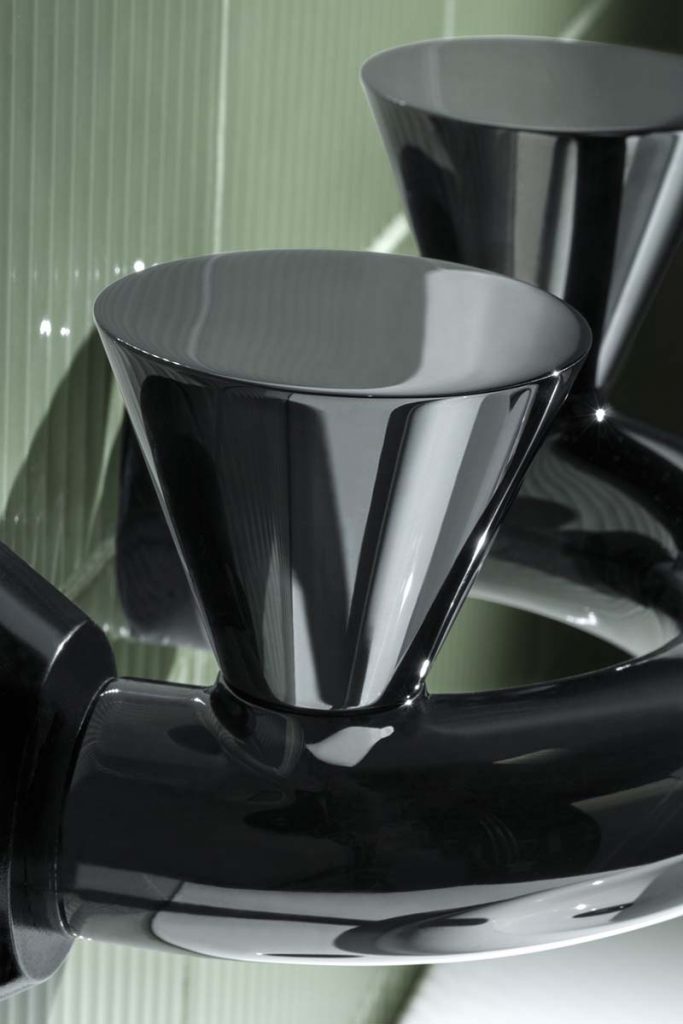 Tom Dixon wanted to design the range so it would stand the test of time, so he looked to Victorian bathrooms with their chunky fittings and sense of permanence for inspiration. The result is a complete bathroom collection (including taps, of course), that has an architectural, solid look with easy-to-understand controls. It's all "expressive minimalism", as Tom put it. Read an interview with him here.
The taps are available in high-shine chrome and glossy black. To work this style of bathroom tap into your space, keep with the chunky theme and introduce industrial-inspired elements such as metal-framed storage or a steel-framed shower screen.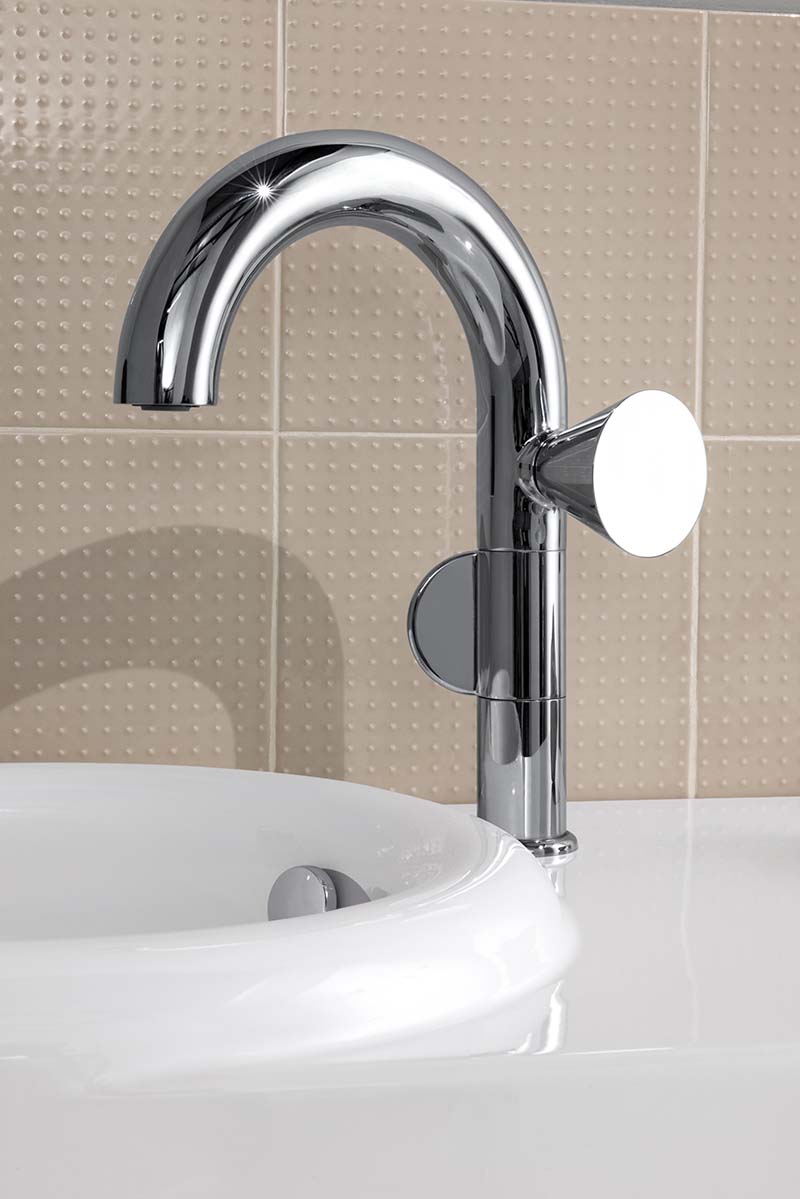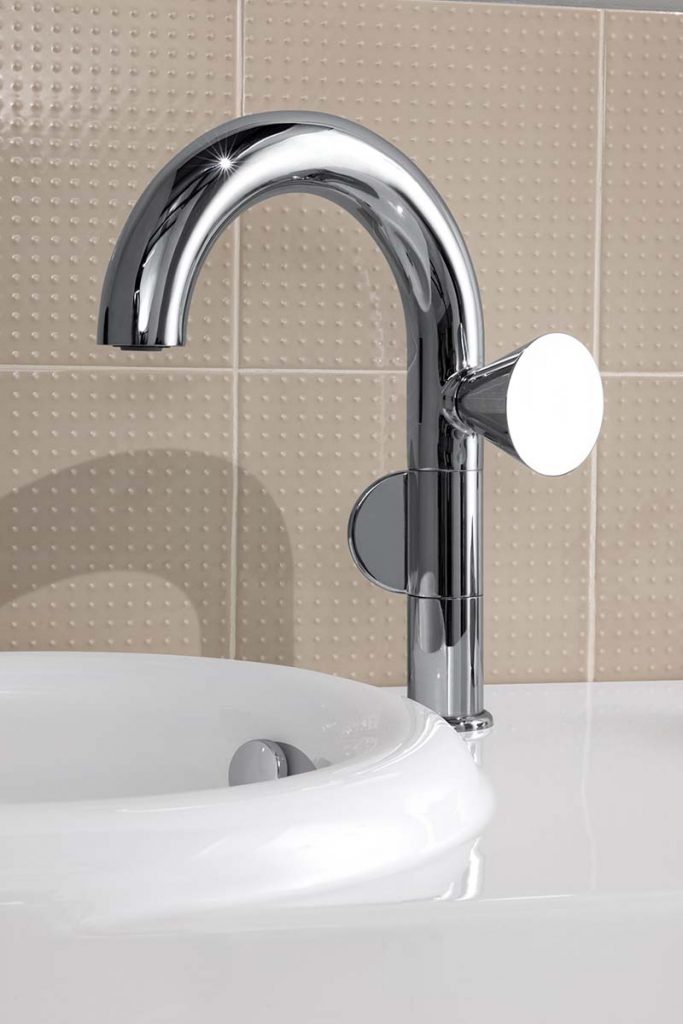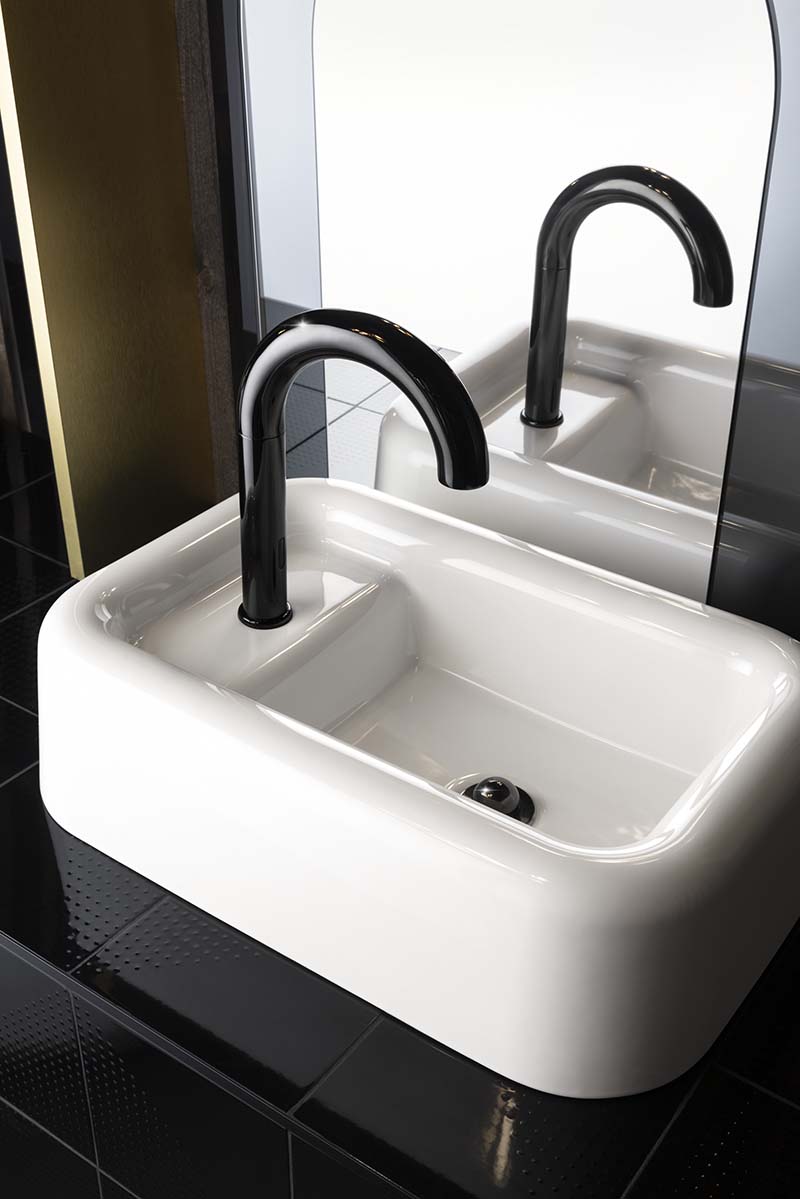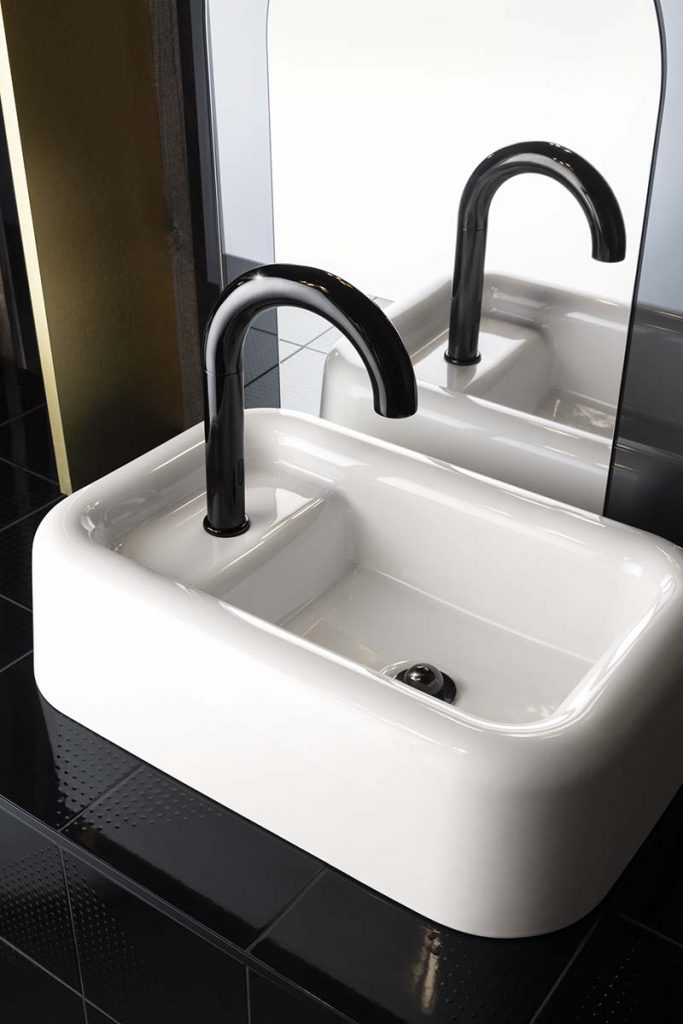 4. Touch-free bathroom taps
Great for upping the hygiene ante in your bathroom, touch-free taps are ideal for cloakrooms especially where you want to limit touch points for multiple users to keep things clean and germs at bay.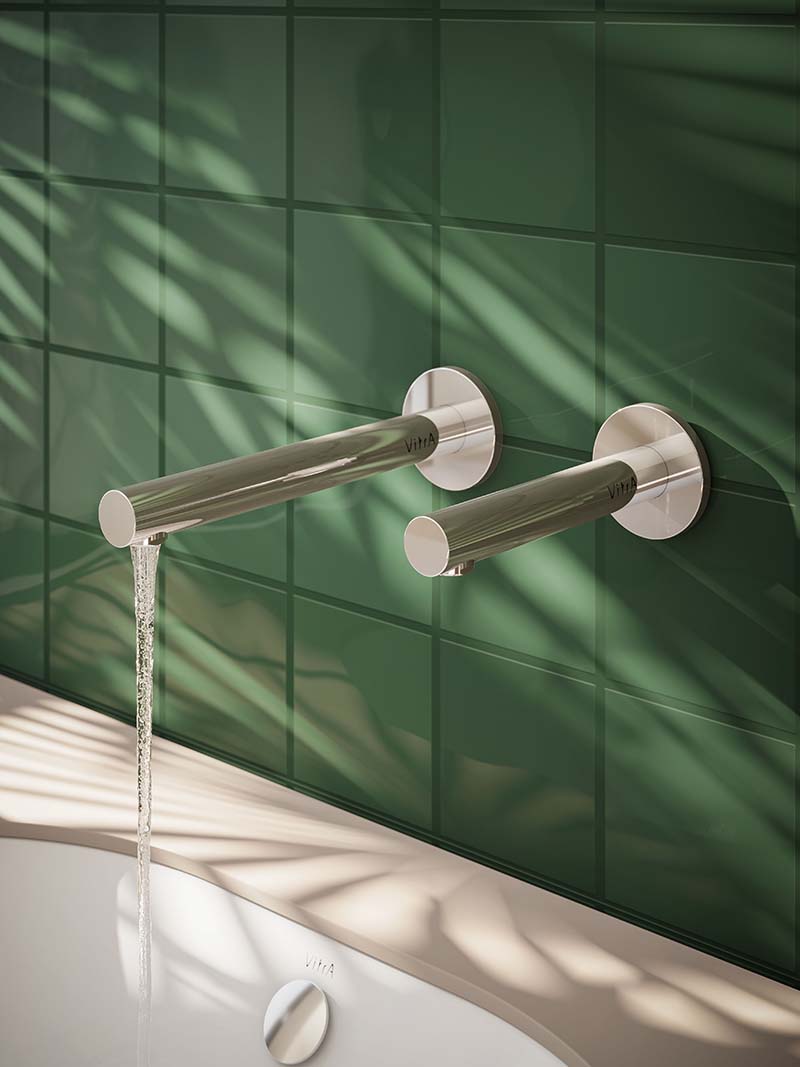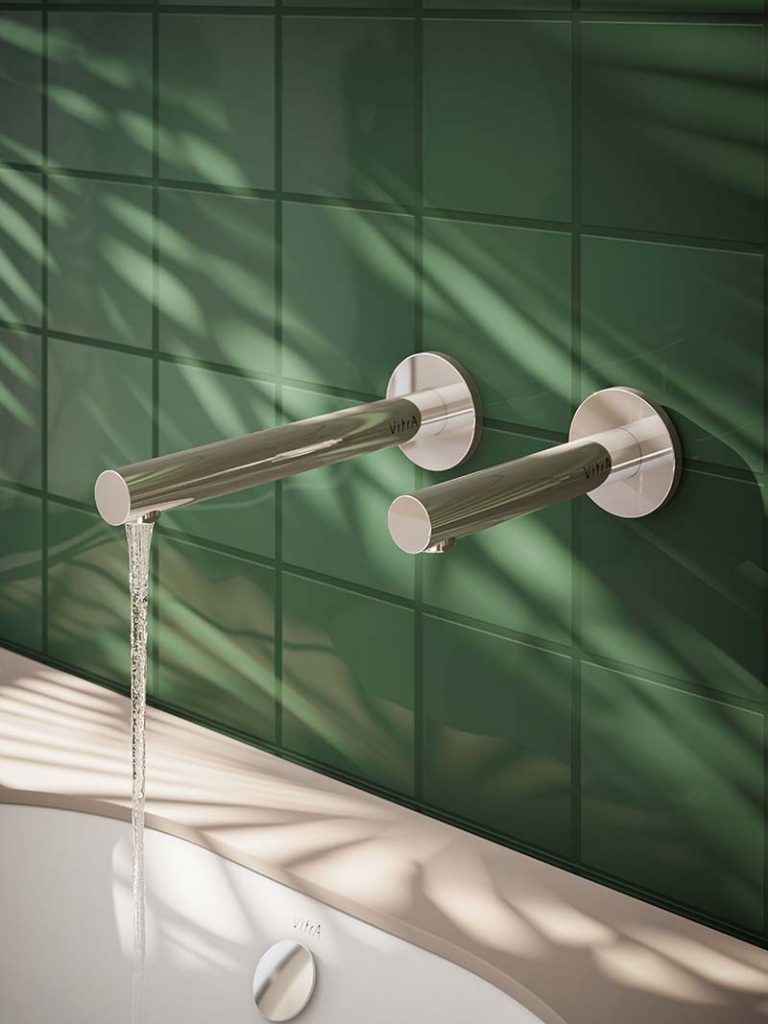 Touch-free taps have seen a real rise in popularity since the start of the pandemic in 2020 – and while you may be more familiar with this style of tap in a public bathroom, bringing this modern solution into your own home will have benefits.
Limiting the touch points is one plus point, but so is the fact that these taps can help save you water as the flow is automatically switched off after a set time. And, they also bring a high-tech touch to your bathroom design, using a sensor to work.
VitrA has recently expanded its range of Origin brassware to include sensor taps that can be either deck mounted on the basin or built into the wall. Plus, there's a coordinating collection of touch-free soap dispensers to match – nice.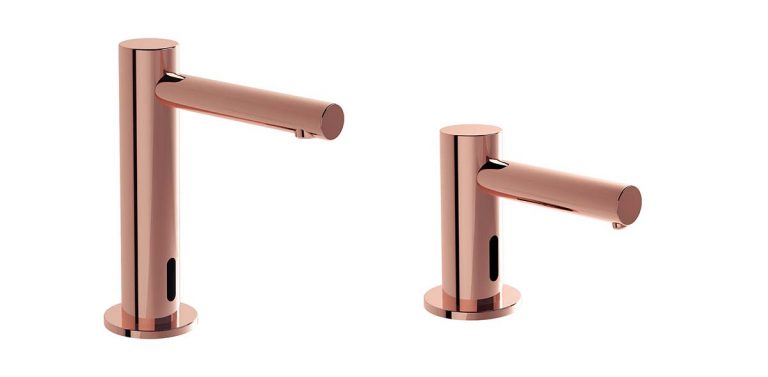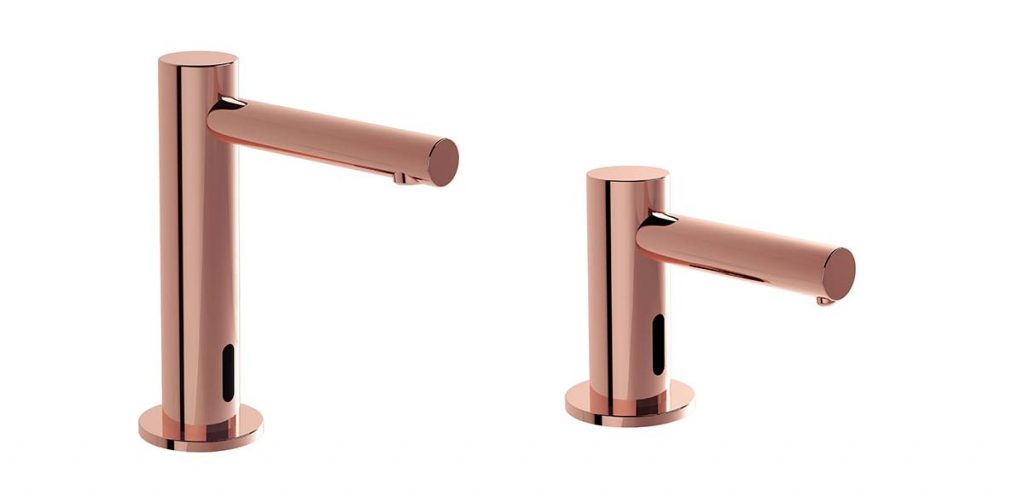 All of the Origin sensor taps are available in chrome, brushed nickel, copper, and matt black so you can go high tech and easily coordinate your tap choice with the look of your bathroom.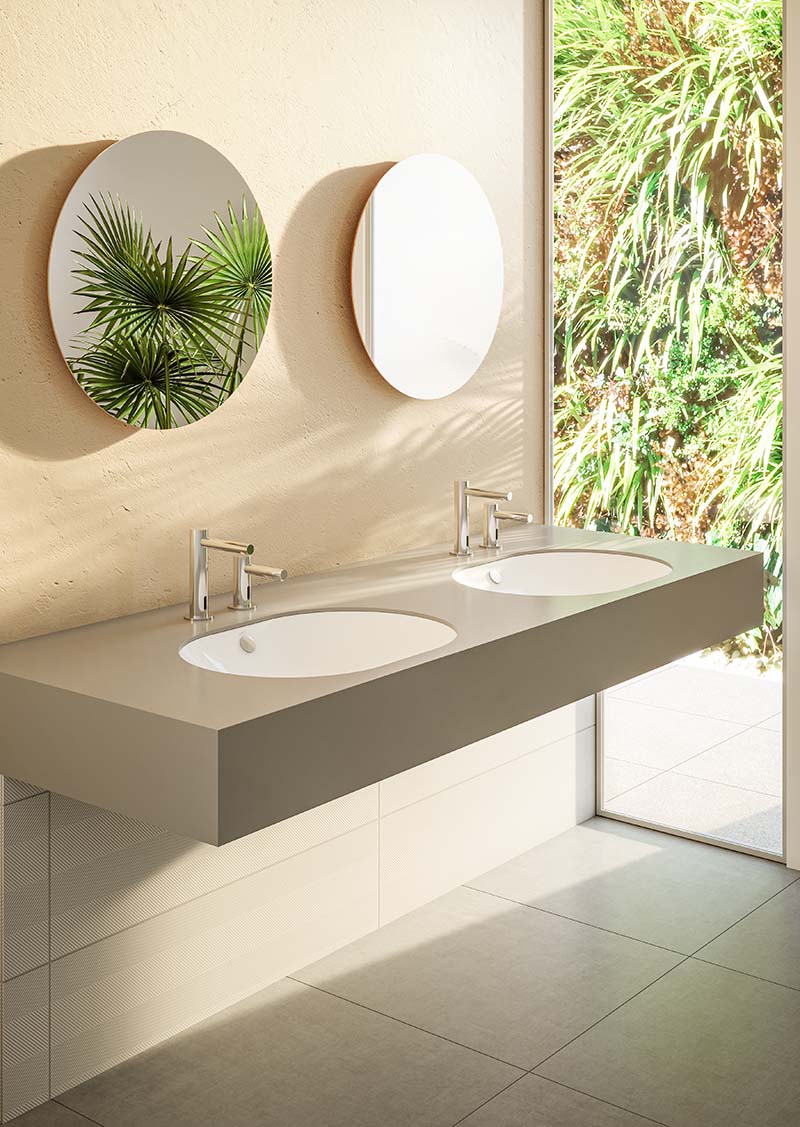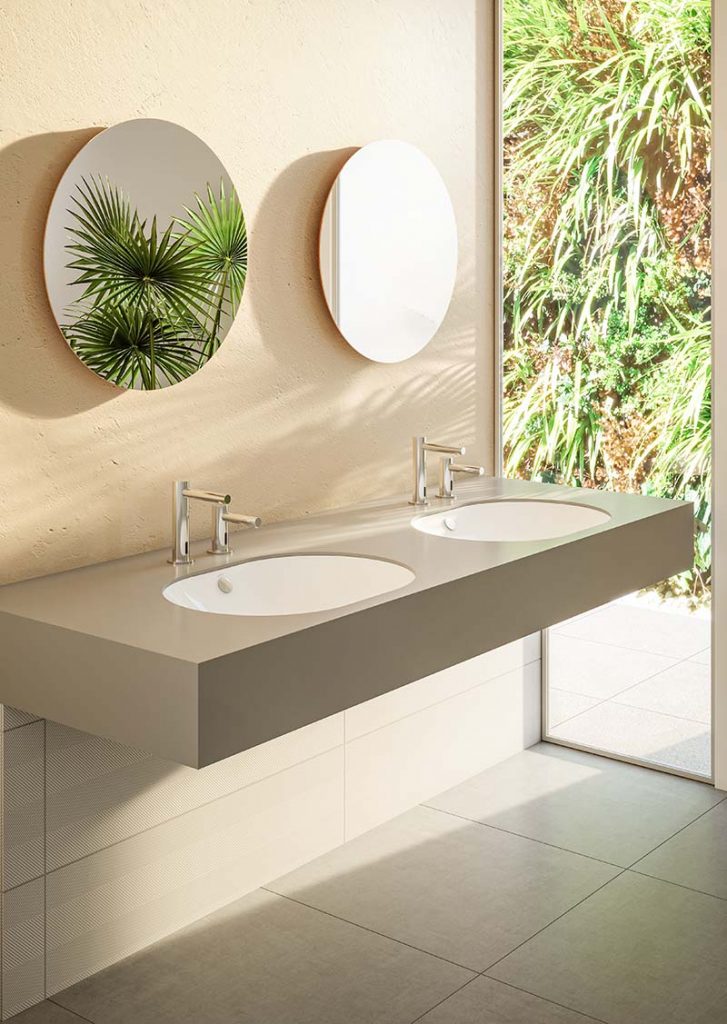 Discover more about the latest bathroom taps by VitrA at vitra.co.uk.


This article has been created in partnership with VitrA.
About Post Author