Love the sleek and sophisticated look of black bathroom accessories? Matt black is one of the biggest trends in taps, showers, accessories and furniture right now. So we asked an interior design expert how to introduce them into your space for a modern look. The good news? It's easy – and matt black works with an array of styles.
The great thing about modern matt black bathroom accessories is that they're extremely versatile. Firstly, you could pair them with a neutral colour palette and trendy tiles for a chic boutique hotel-style look. Secondly, you could quickly refresh your vanity unit with new stand-out handles, an illuminated mirror, and a sleek tap for your basin.
If you want to embrace this trend but don't quite know where to start, you're in the right place. We spoke with Roper Rhodes' senior creative producer and interior designer Zoe Jones to find out how to get it right.
Zoe told us: "Black brassware is continuing to defy the critics and has become a firm favourite with interior designers and homeowners alike. Whether you opt for matt black taps, a shower system, or simply matt black hardware details, you can enjoy the trend. Matt black's versatile finish adds instant impact and a graphic element to even the most subdued bathroom".
Want to know more? Us too. Zoe has answered all of our burning questions about black bathroom accessories, from how to make them work to maintenance tips. For example, does matt black show water marks?
Over to you, Zoe…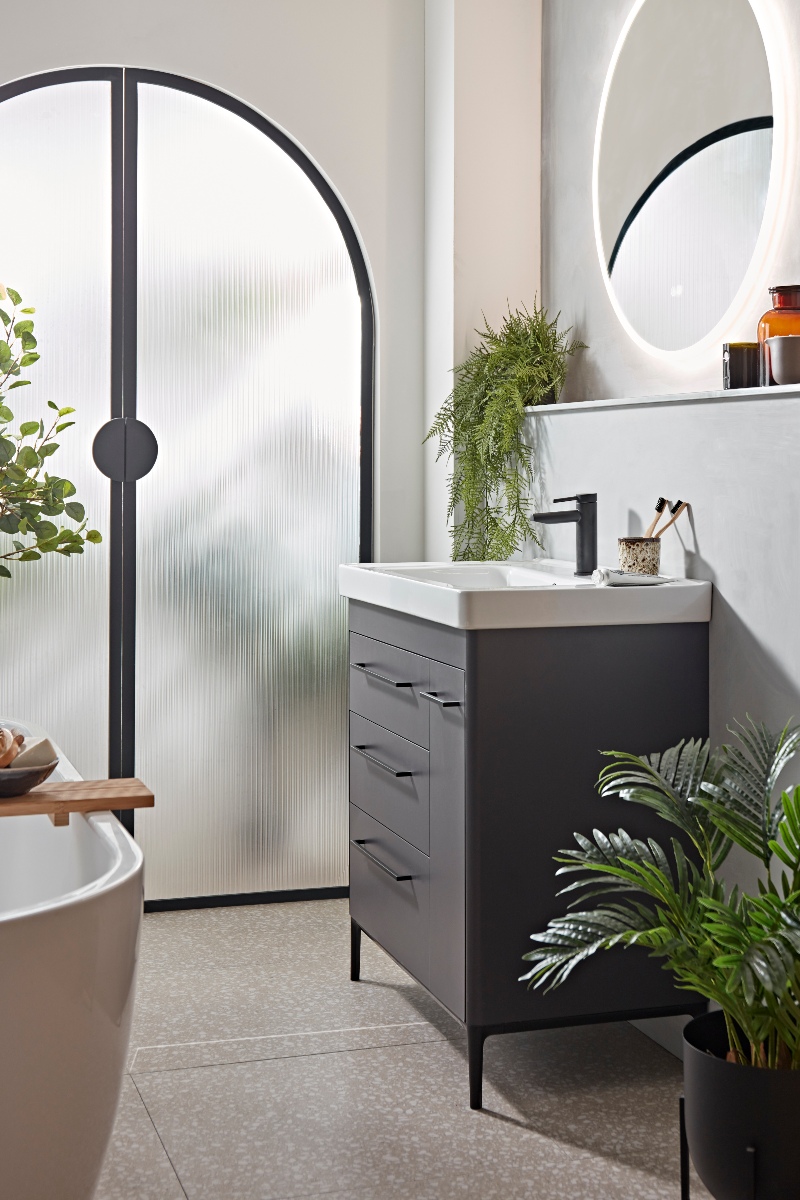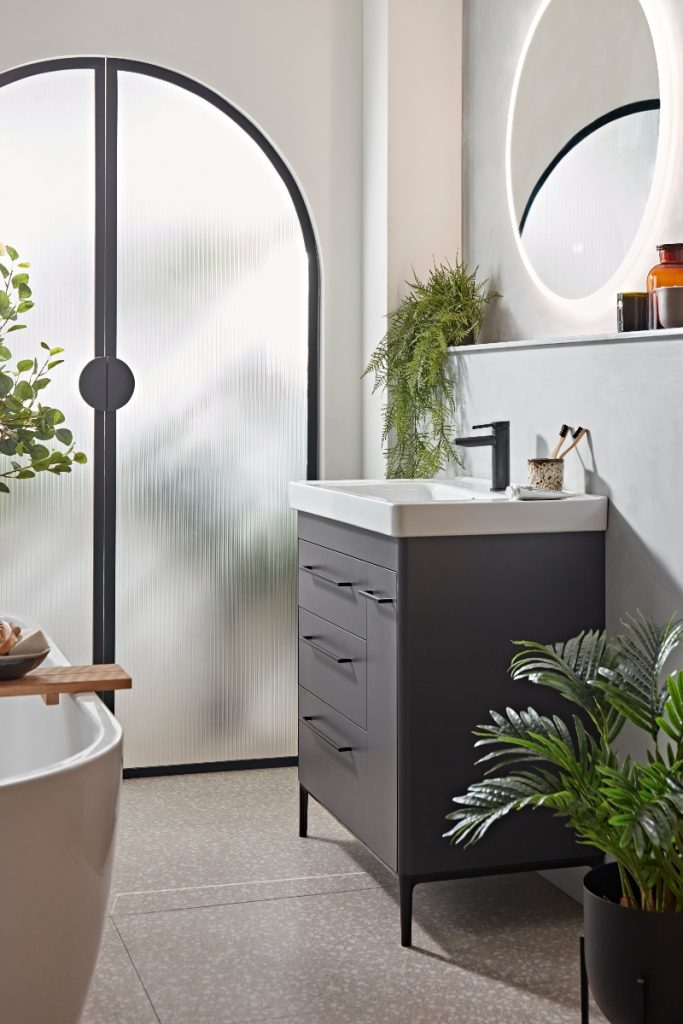 What's the easiest way to include black accessories in a bathroom?
Well, black is always a classic choice. It's one of the most versatile colours to add into your bathroom, as it works well in both modern and traditional schemes. It doesn't matter if your style is simple and monochromatic, or bold and colourful.
So, a great and simple way to include black in your bathroom is as an accent. Why not start by matching all of your accessories, such as the towel ring, tumbler, robe hook, and toilet roll holder? You can go down to even the tiniest of details, such as furniture handles?
Then, for a cohesive scheme, you can opt for the same black finish for your tap, shower and mirror.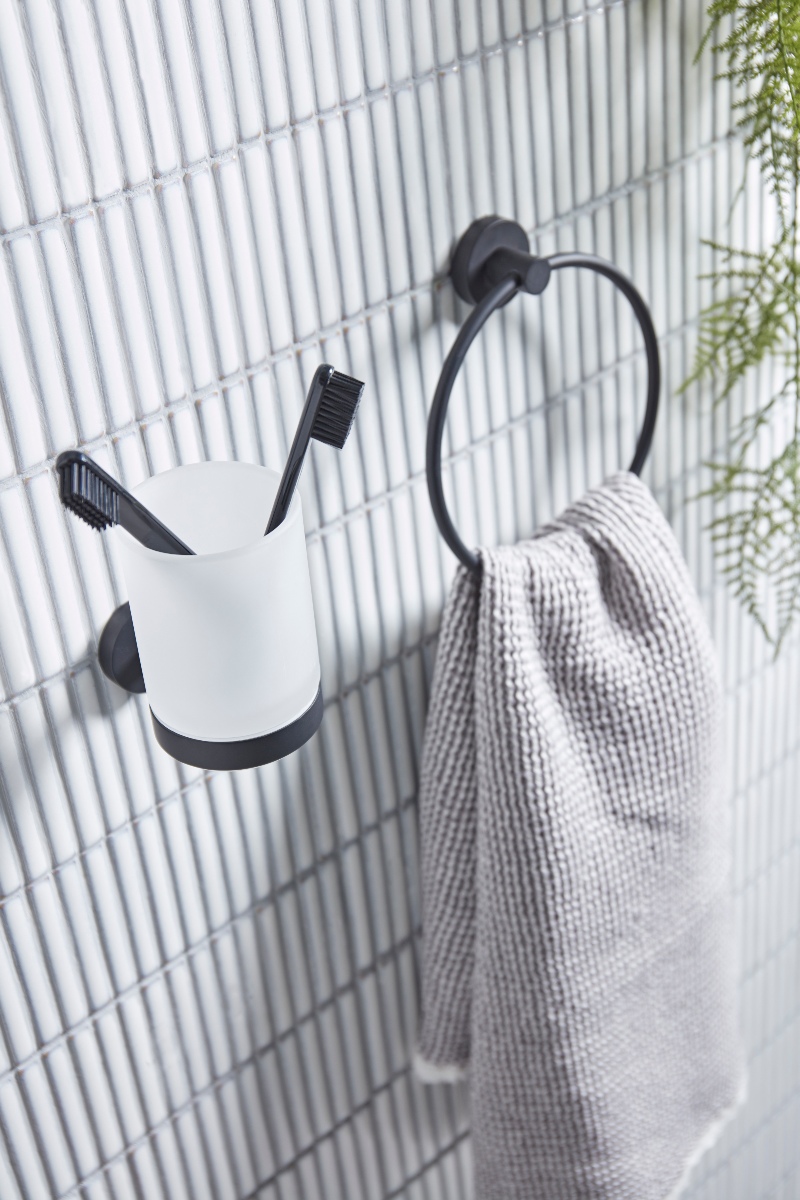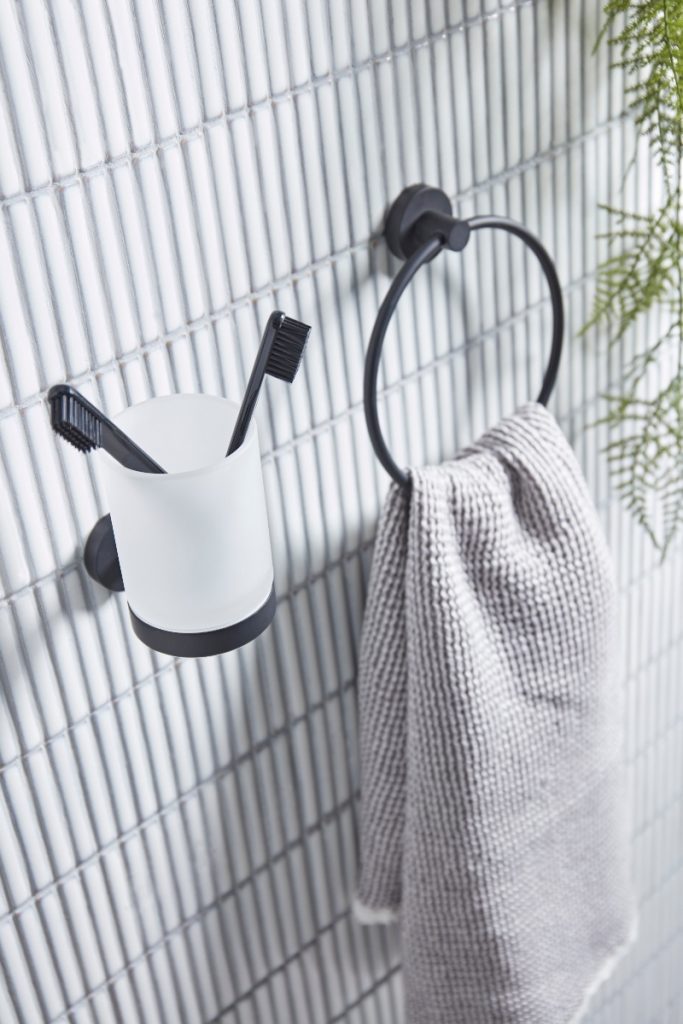 What other materials do black accessories work with?
You can take it one step further, and pair your matt black finishes with warm wood or trendy rattan to get that spa-like feeling.
This works beautifully with a neutral colour palette and natural finishes, with a focus on surface, texture and material.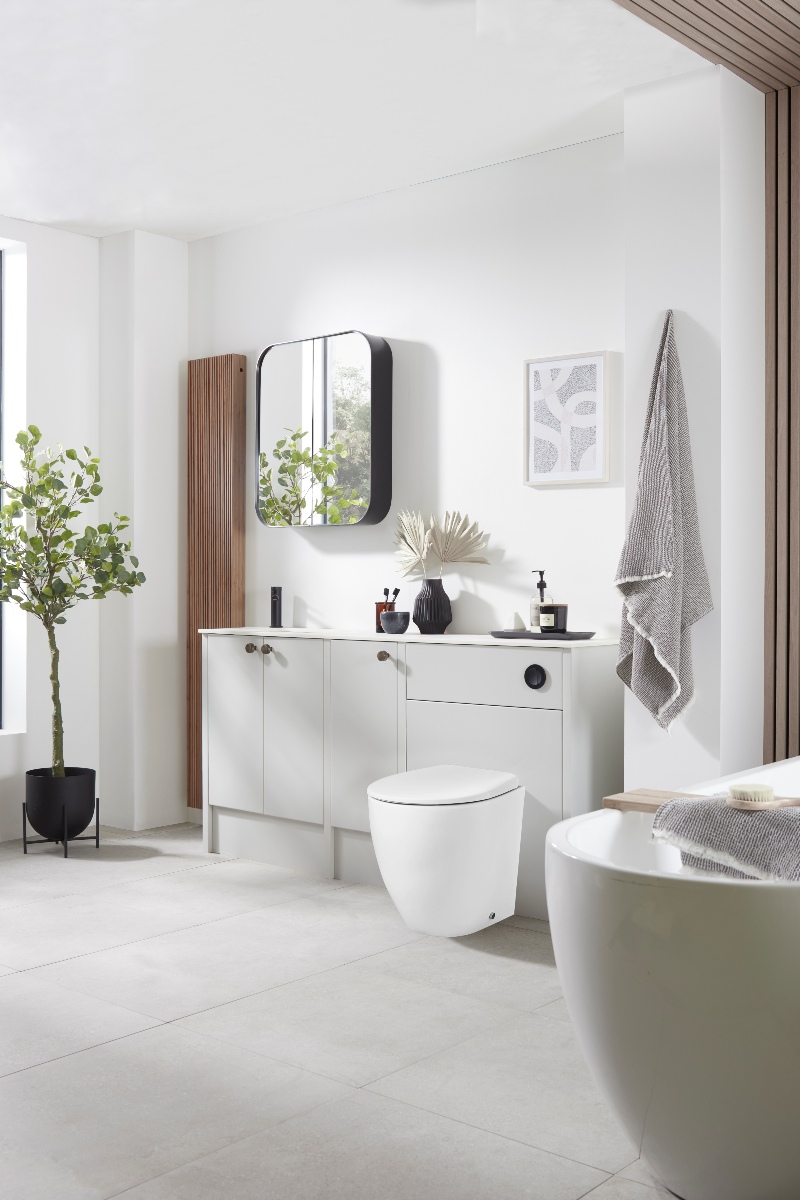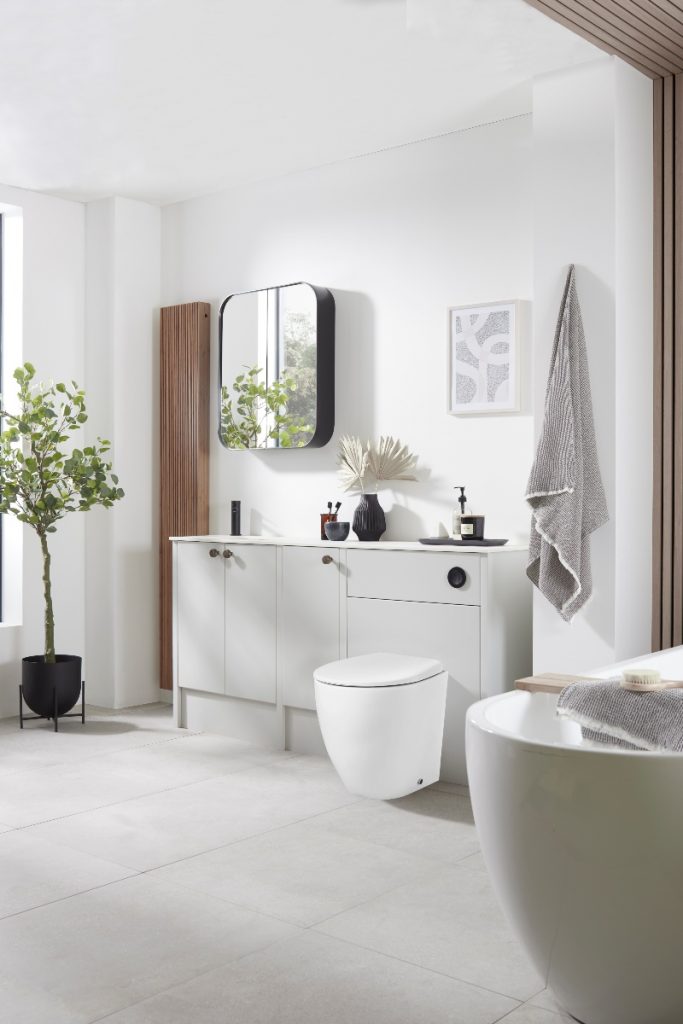 What style of furniture will work with matt black?
If you go with black bathroom accessories and want to create a focal point, a great way to do this is with your bathroom furniture. You could choose statement pieces such as Roper Rhodes' cool and elegant System range, which oozes a Mid-century-inspired aesthetic.
Pair it with new black bathroom accessories, taps and mirrors for a nice contrast. In addition, zone this part of your space with accent tiles (like in the below image – lovely).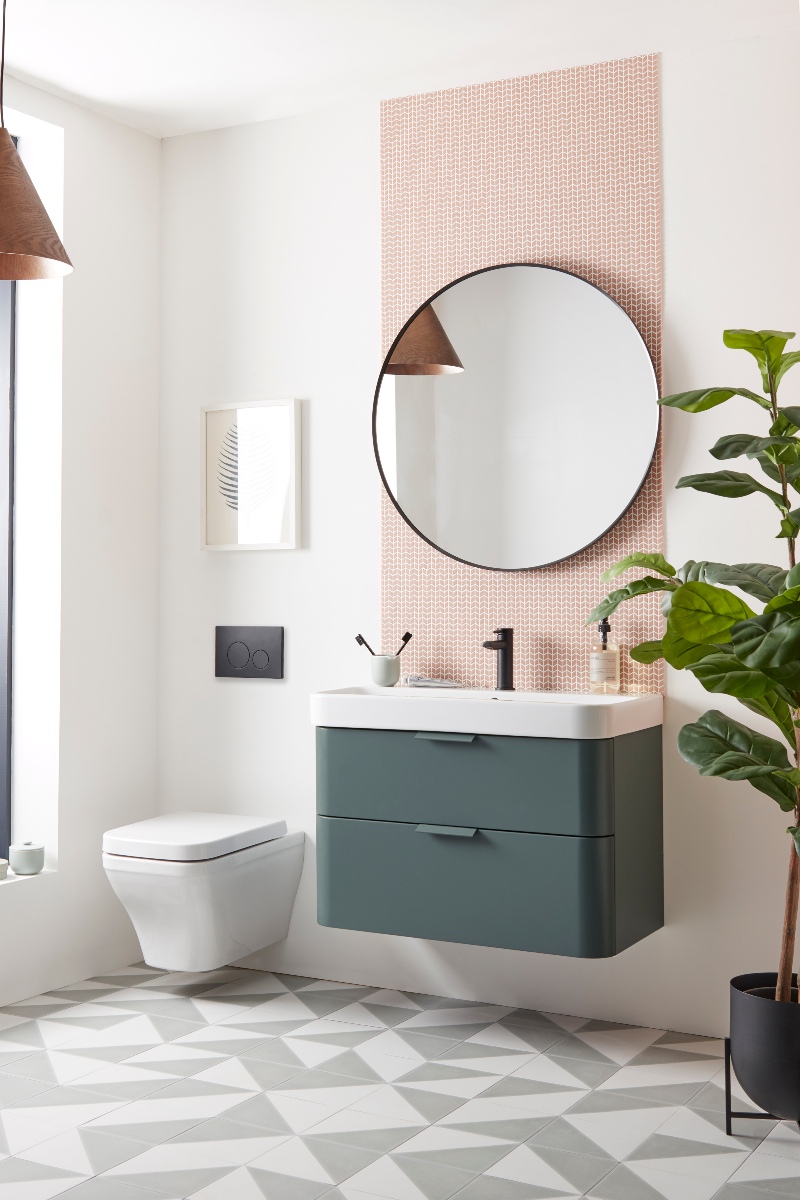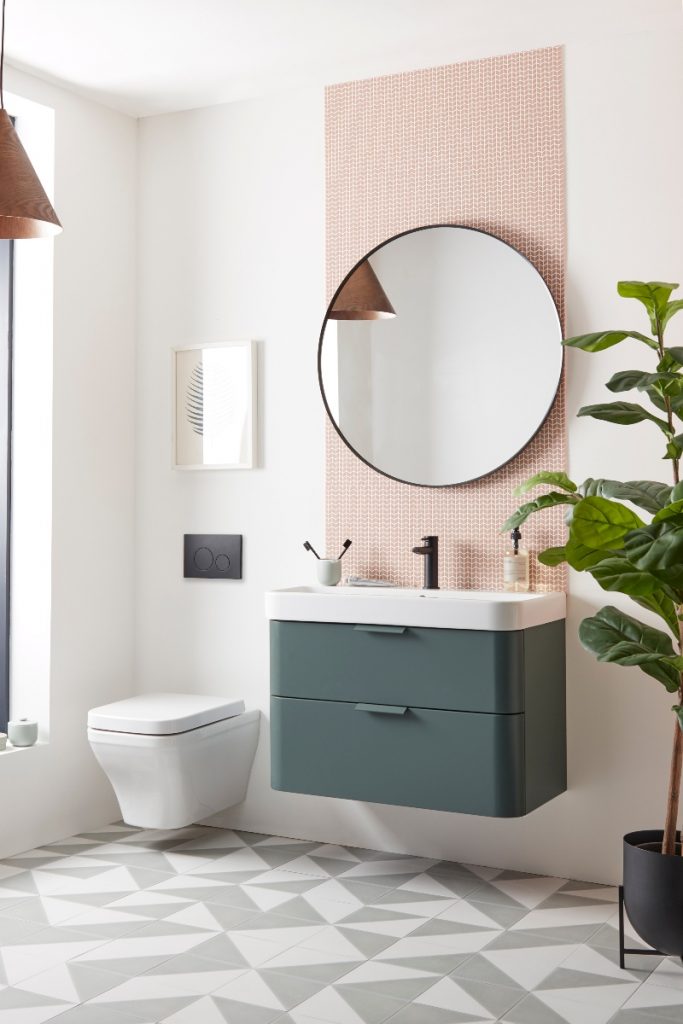 Will black finishes show water marks?
It's a fact of life: a bathroom equals water splashing. Perhaps you've got constant splashes in your family bathroom from your little ones. Or maybe you're simply conscious of how your black fittings and accessories might hold up in time – for example, if you live in a hard water area. The solution is to choose accessories that have a protective coating.
Roper Rhodes' black bathroom taps and showers go through a special coating process called electroplating. In short, this helps prevent watermarks and surface scratches.
This process ensures that the matt black finish will keep its smooth appearance for longer. In addition, fingerprints and watermarks are kept to a minimum.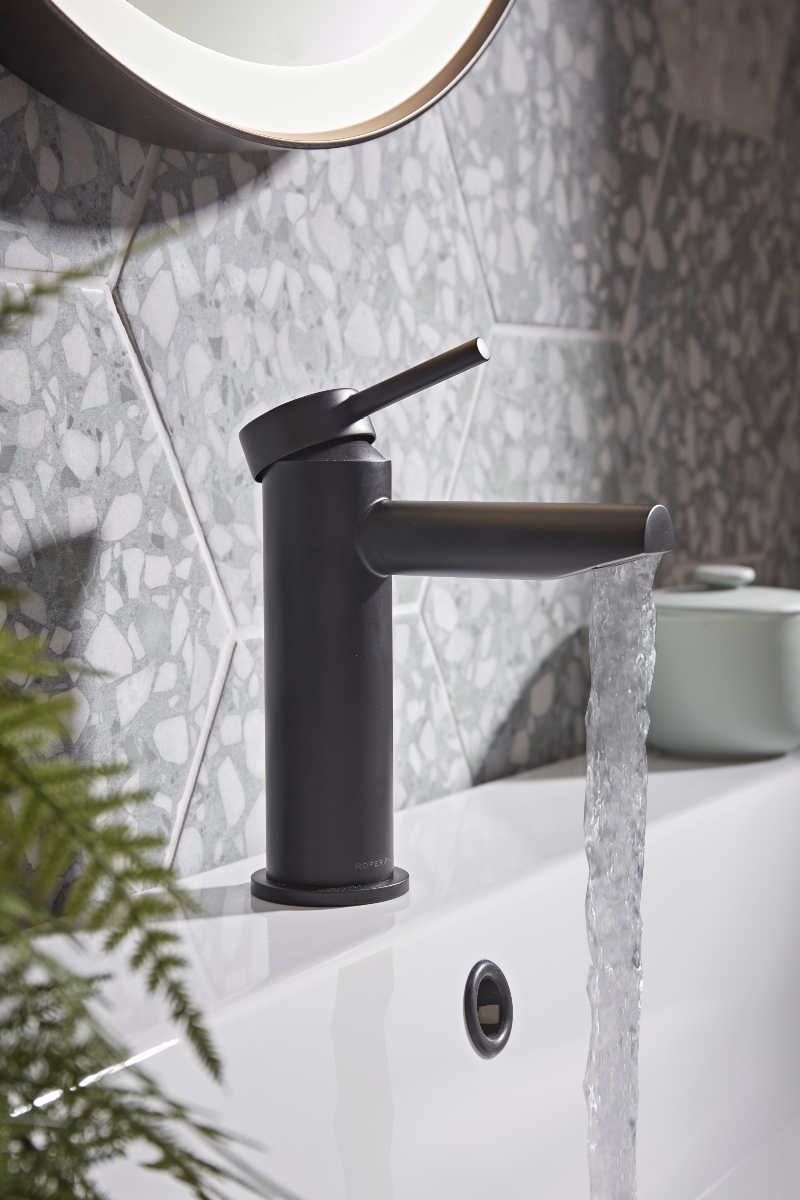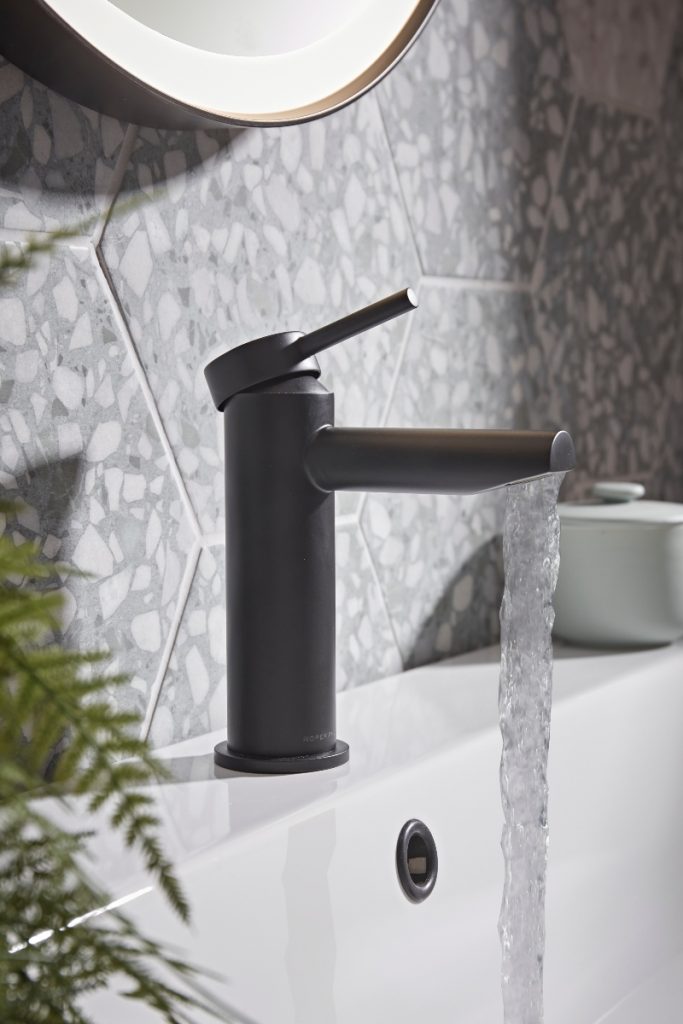 What's the best way to maintain black bathroom accessories?
If you're afraid of scratches and stains, don't worry. Make sure you only clean black bathroom accessories with warm, soapy water and a smooth microfibre cloth for an even wipe. This will prevent the appearance of scratches, and the matt finish will last and look good for as long as possible.
One important note to make here is that these fittings can't be cleaned with any chemicals. They can potentially make the finish become slightly grey over time, or even cause staining.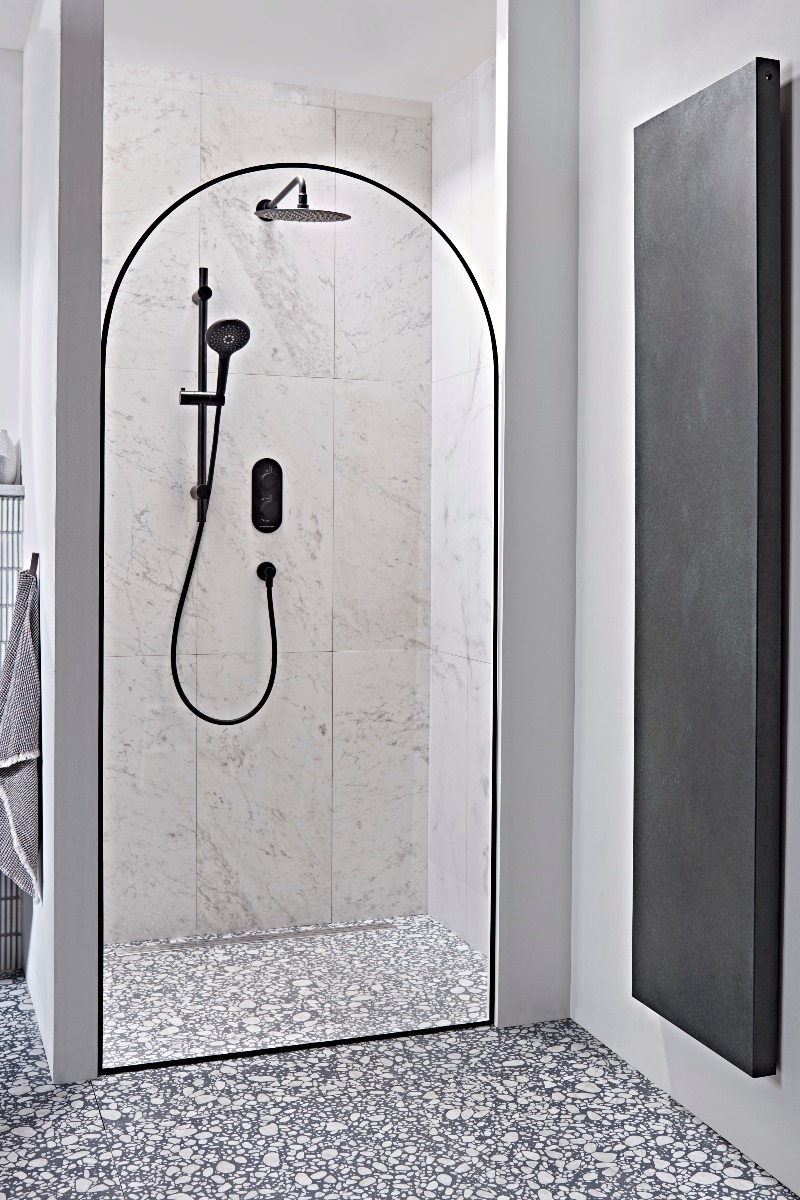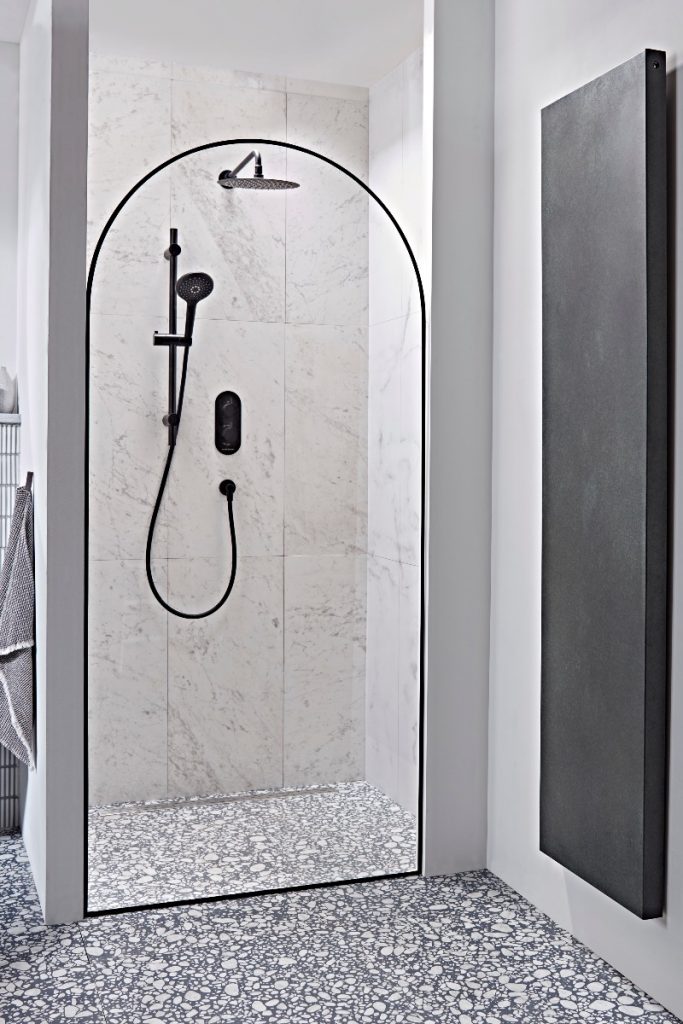 Can you mix and match black with other colours or metallics?
Black already looks incredibly chic on its own. However, I love pairing it with pops of colour such as greens and splashes of corals and pinks to give it a modern aesthetic. For example, like that of our Scheme modular furniture in Juniper Green.
However, matt black also exudes luxury when opting for a monochrome palette. White tiles are the perfect backdrop to offset black finishes, and a great way to get the hotel-luxe look at home.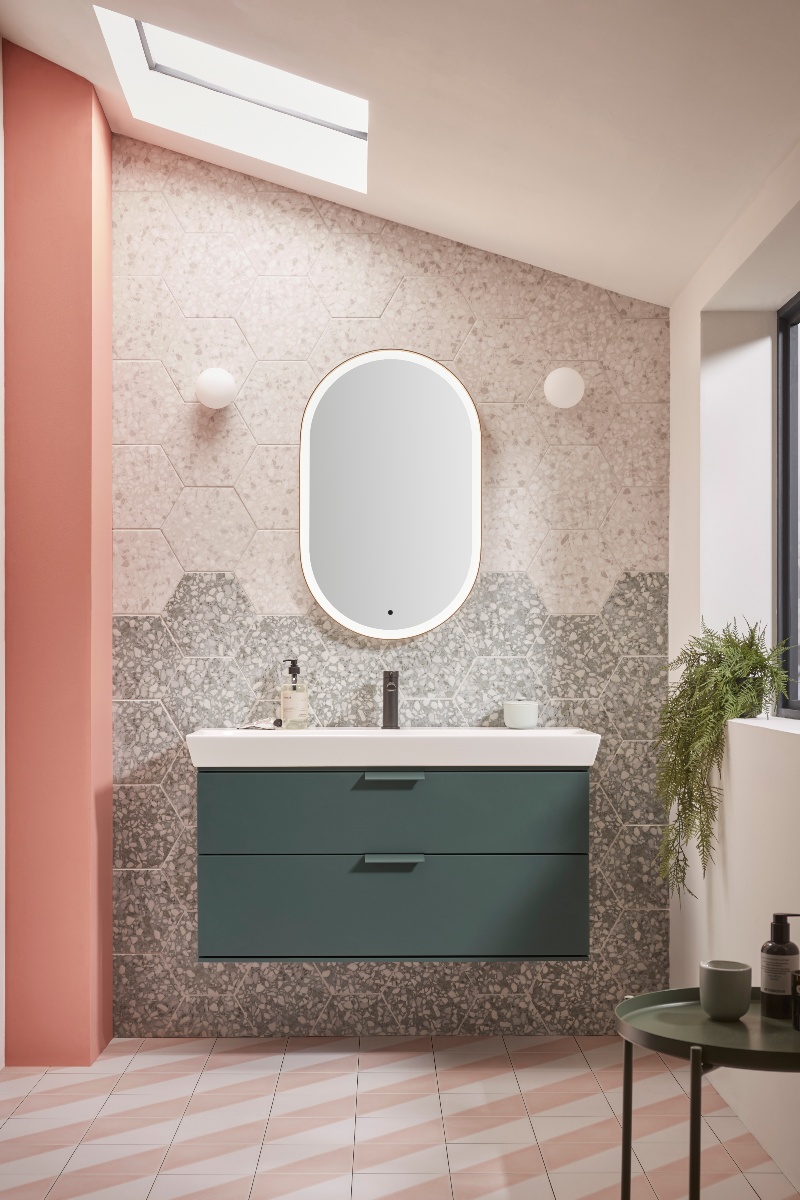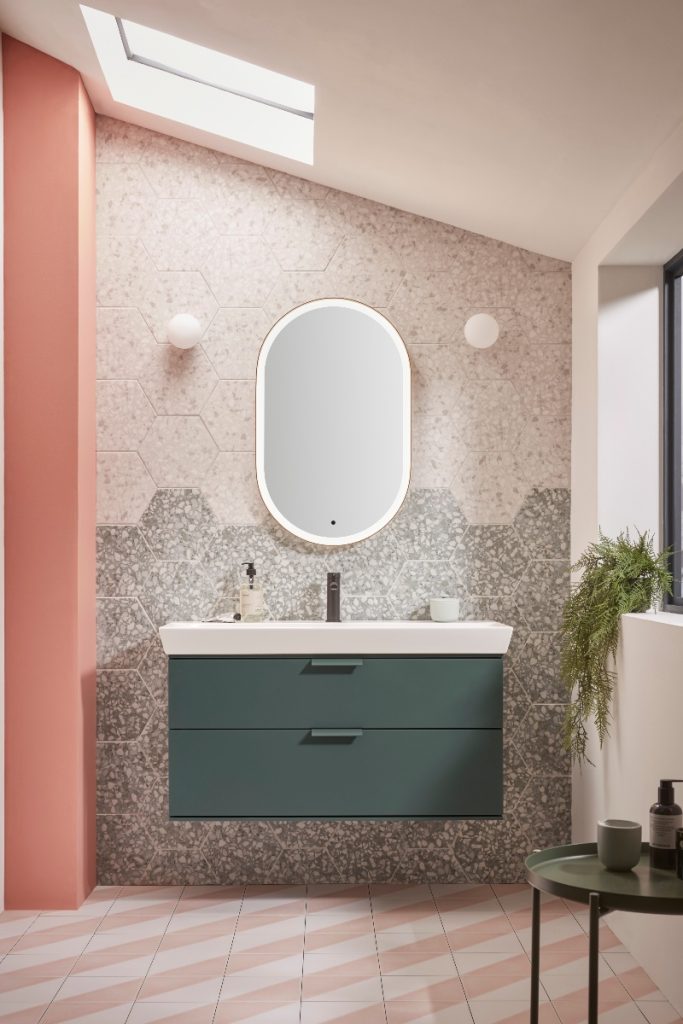 Visit the Roper Rhodes website and download the latest brochure to discover the 2022 collections.
This article has been created in partnership with Roper Rhodes.
About Post Author