My 'saved' section on Instagram and Pinterest is really *really* close to being overfilled by stunning bathroom designs with chic tile styles and laying patterns. Yours too? Well, whether you want to create a maximalist bathroom design with a bold and bright colour palette or more of a tranquil sanctuary with soft, muted tones, choosing the right bathroom tiles is the key to a successful design and we're taking it very seriously.
When it comes to tiles, you can stick to a simple, monochromatic scheme with a classic laying pattern or mix and match different colours, sizes and shapes of both the floor and wall tiles to add texture and warmth to your bathroom.
Getting it right might seem tricky at first, I know, but thankfully, interiors journo Sally Smith made it easier to find the right shape, colour combo, laying pattern and texture for your bathroom walls and floors – in just five steps…
Pick your favourite tile style
There is a huge variety of tiles on the market from the classic metro style, chic hexagonal, large format slabs and the latest interiors obsession – curved scalloped tiles.
Porcelain tiles are ideal in any zone of the bathroom, especially in wetrooms or showers as they are non porous, hardwearing and require no maintenance – bonus.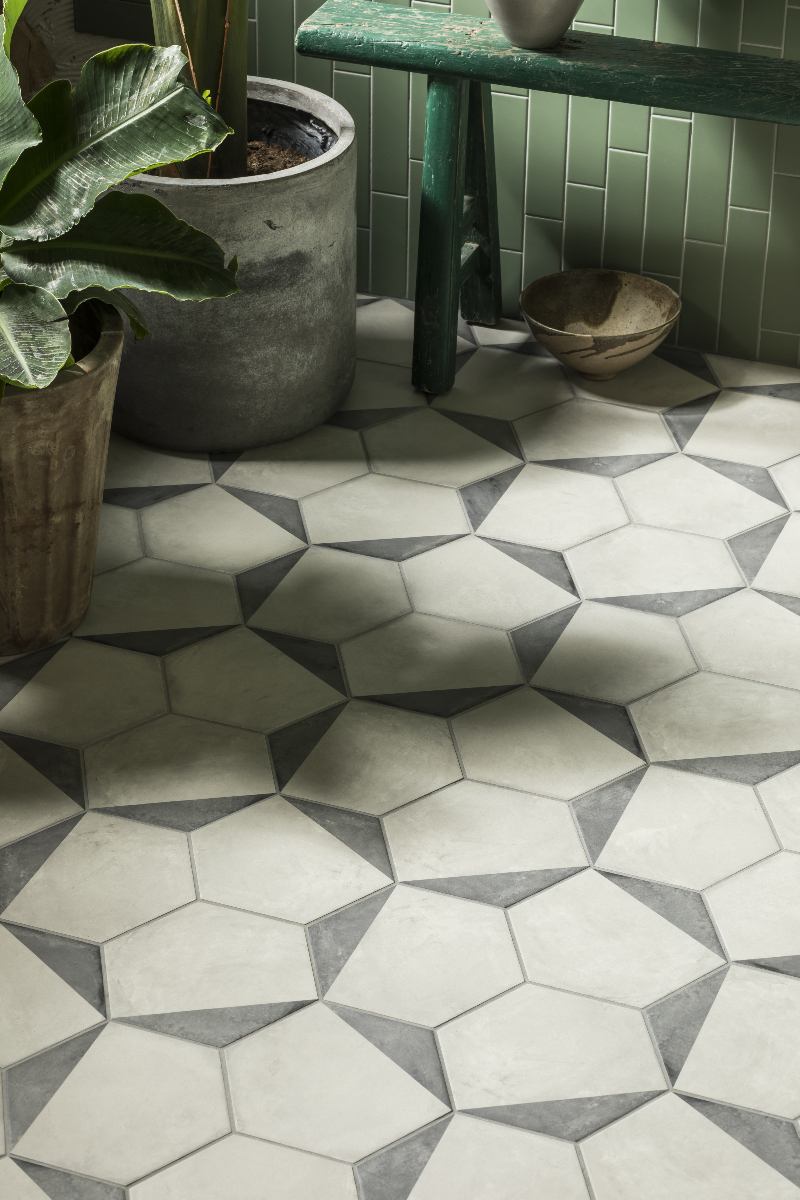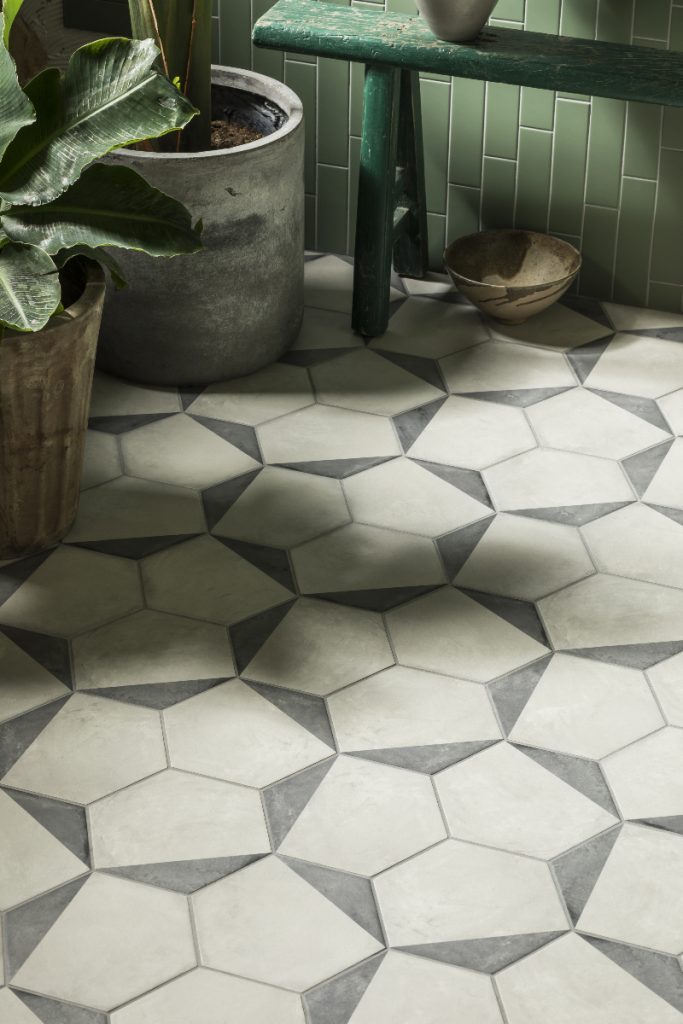 Tiles now come in an array of realistic effects from marble and wood to natural limestone, so you can really recreate that glamorous boutique hotel look on a budget.
There are also plenty of decorative patterns in either matt or glossy finishes for an Insta-worthy design. Don't forget though that a highly glossed tile would not be suitable for the bathroom floor as they are very slippery when wet.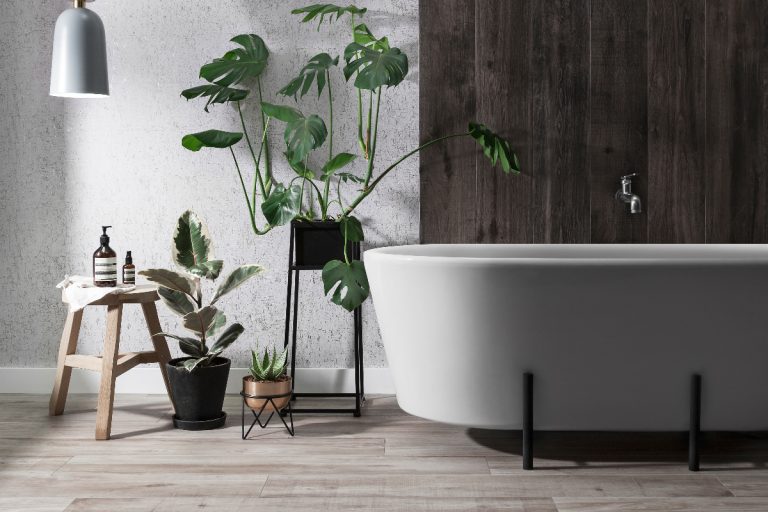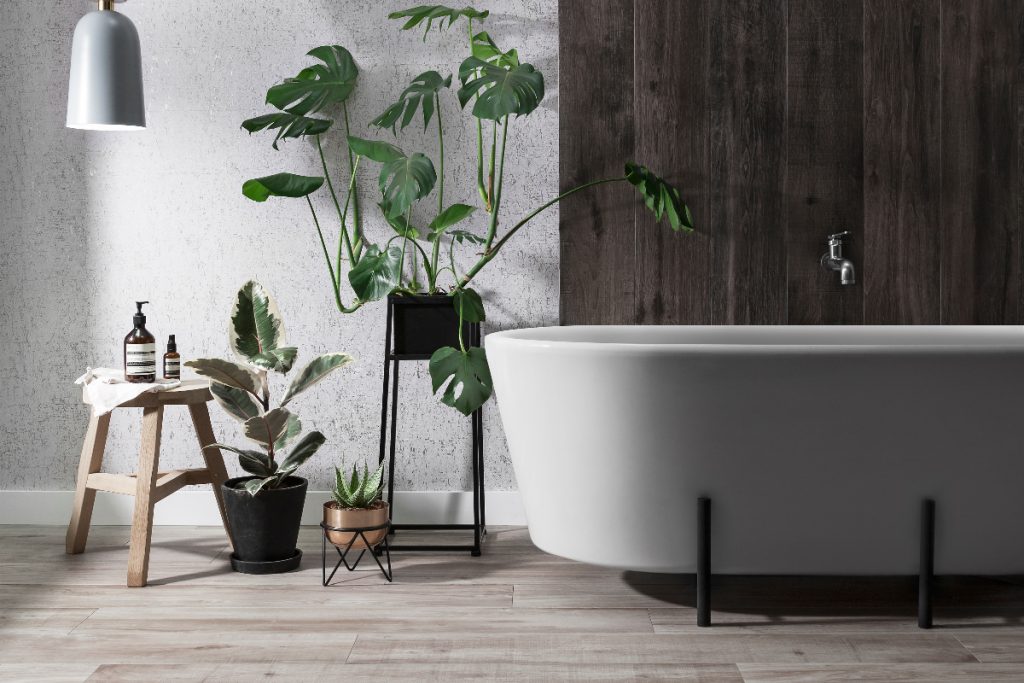 If you do decide on a natural stone for a more luxurious feel, these tiles are more expensive so do keep this in mind when planning your budget. These natural stones are porous so they will need to be sealed probably every six months to keep them watertight – plus, be aware the colour may fade over time.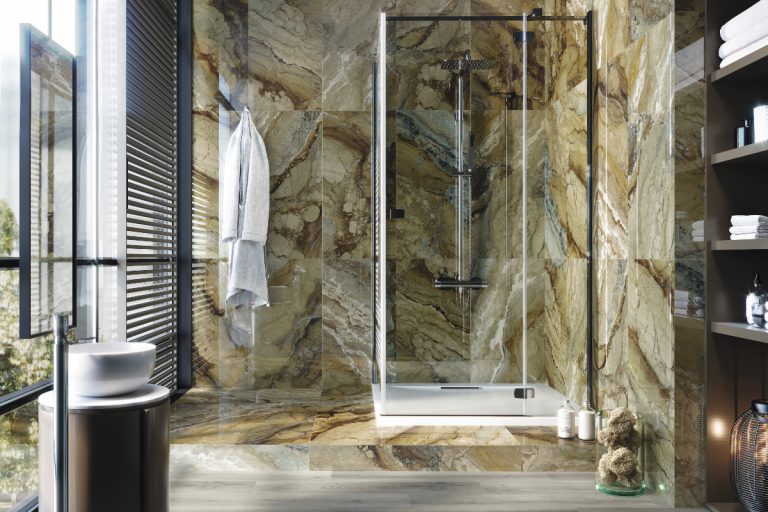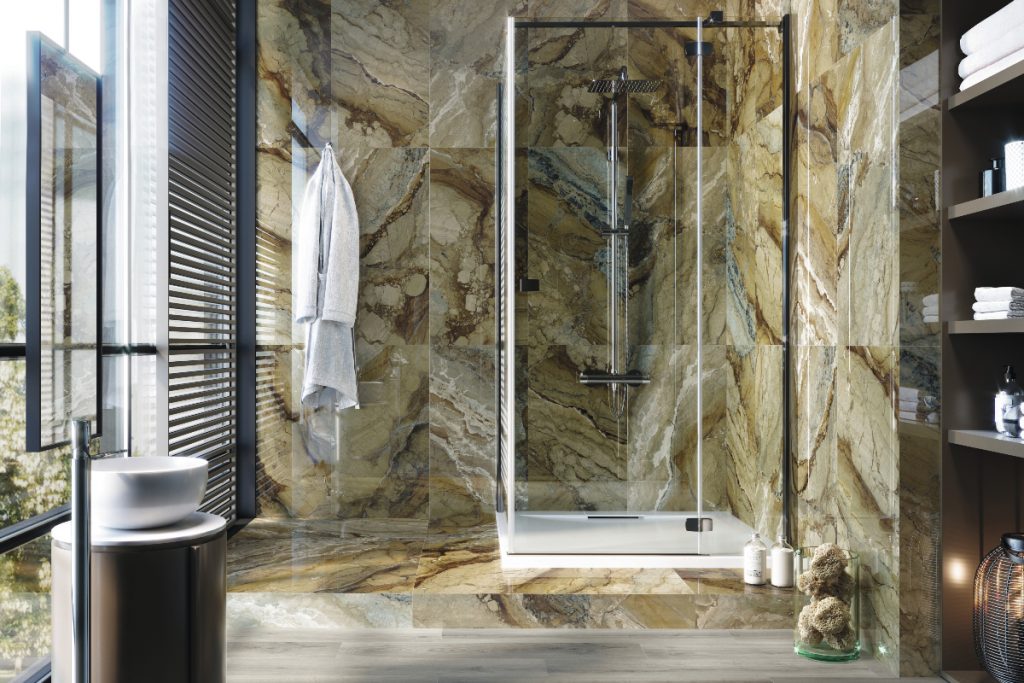 Think of the design
When it comes to the design, it's a great idea to gather samples and inspiration images from Pinterest or social media to put together moodboards before venturing out to buy your tiles. Why not try online bathroom planning tools as well to see your vision come to life?
Now, to make sure you achieve a coherent look, try to stick to no more than three different tiles. For example, if you opt for a bold patterned tiled wall in the shower area then match a plain tile in a neutral tone maybe in different shape and size on the floor. You could also go for a solid block of a single coloured wall tiles against a monochrome patterned floor tile for a more dramatic effect.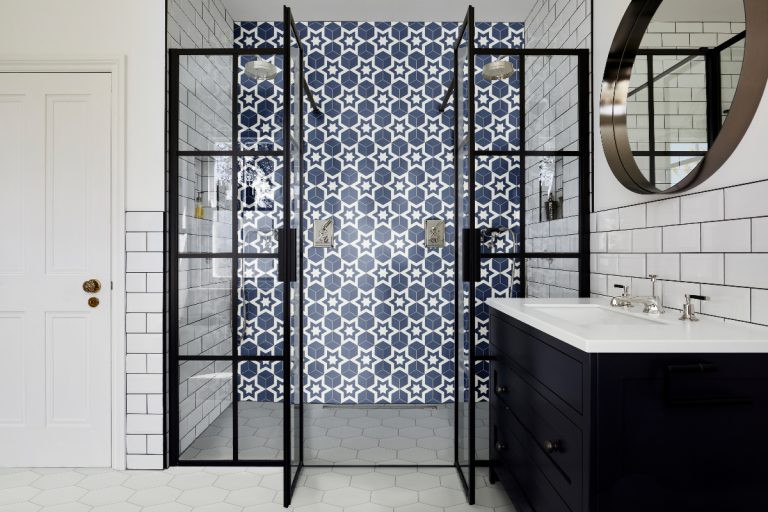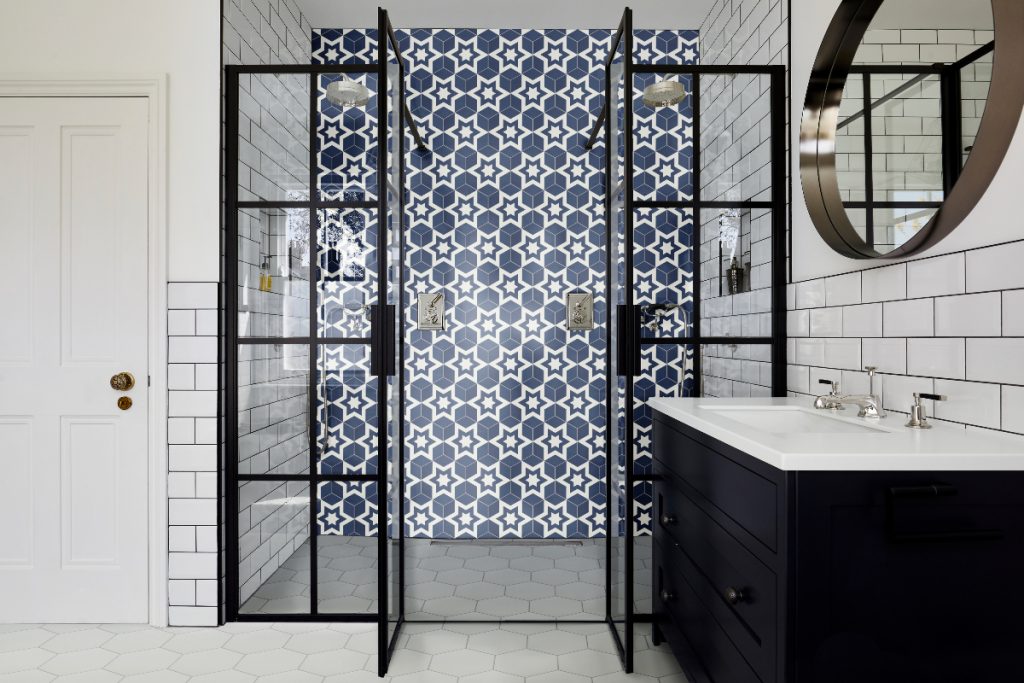 Decide on the layout
An important step when buying bathroom tiles is to think of how they will be positioned for an easier installation process.
Measure the wall and floor area that is going to be tiled extremely carefully – I repeat, extremely carefully – before you buy. Plus, remember to add on at least ten percent more than you need to have a few tiles spare to account for any mishaps when laying the tiles.
Also, bear in mind what impact the grout lines will have on the finished look. You can add a touch of personality here by choosing complementing or contrasting colours for grout – already got colour combo in mind? Green tiles with pink grout is one of the trendiest pairs at the moment!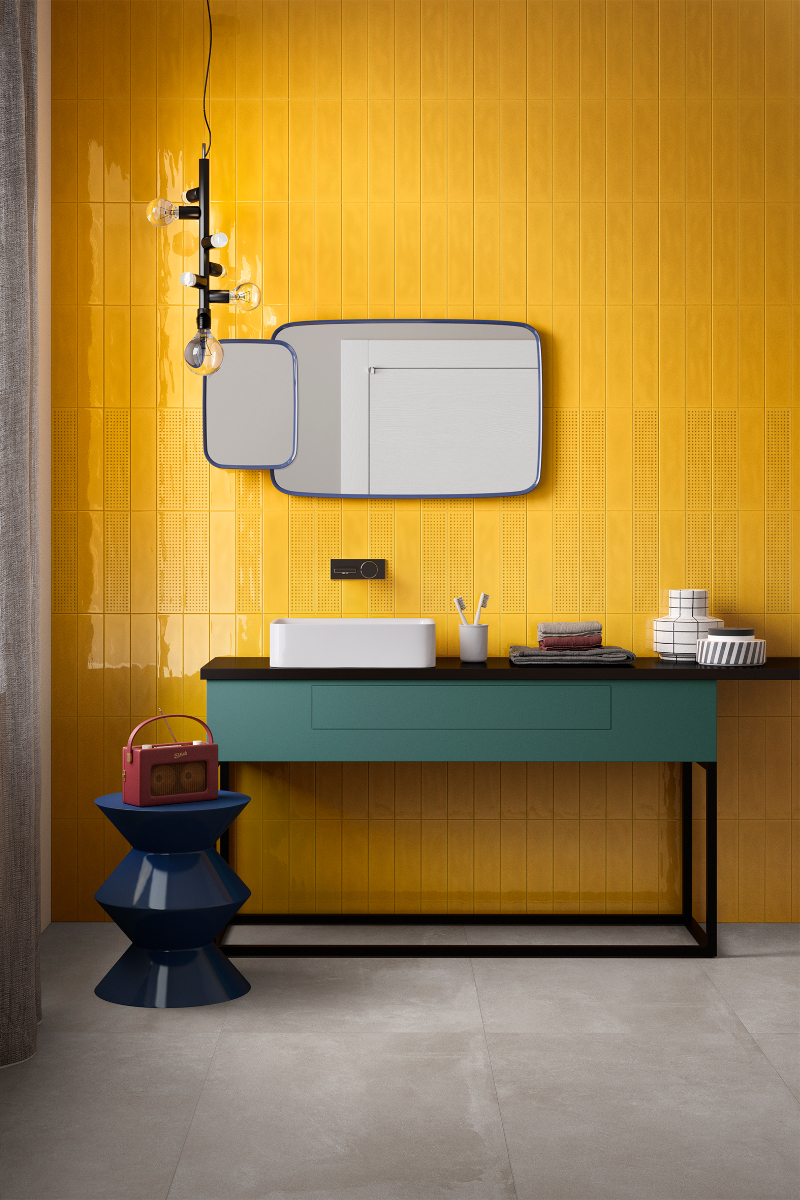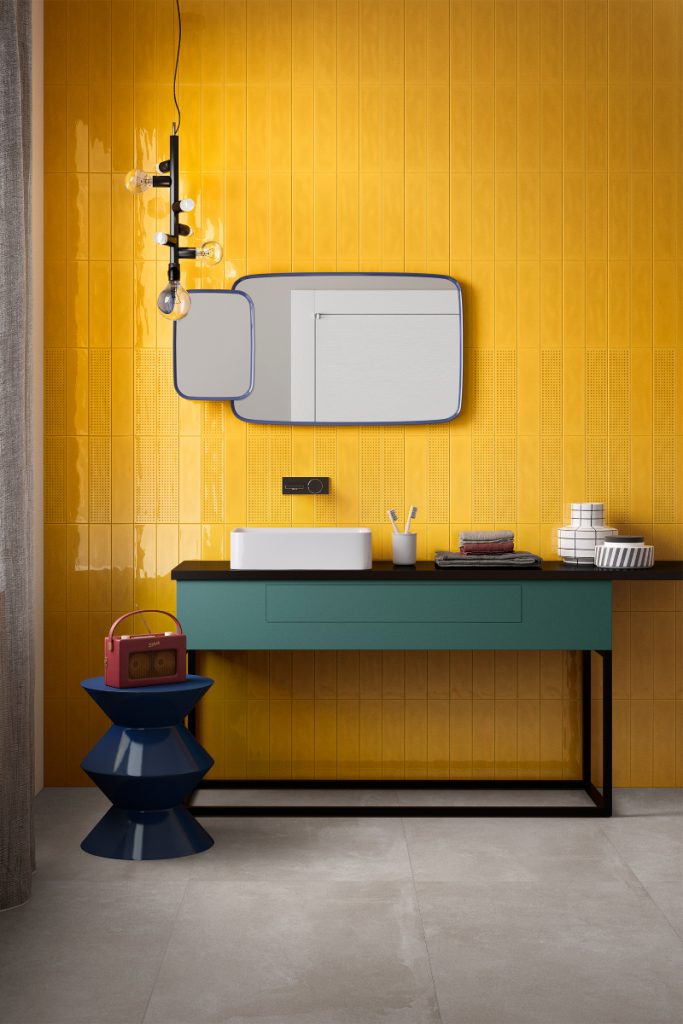 Don't forget about safety
All tiles are clearly marked as either wall tiles suitable for walls only or wall and floor tiles suitable for both.
If you are buying floor tiles, they will need to be slightly stronger than wall tiles as the bathroom is one of the most used rooms in a home. To help you pick the right tiles, they are given an R rating, R9 is the lowest degree of slip resistance and R13 is the highest, so double check before you buy, especially for floor tiles in wet rooms and showers.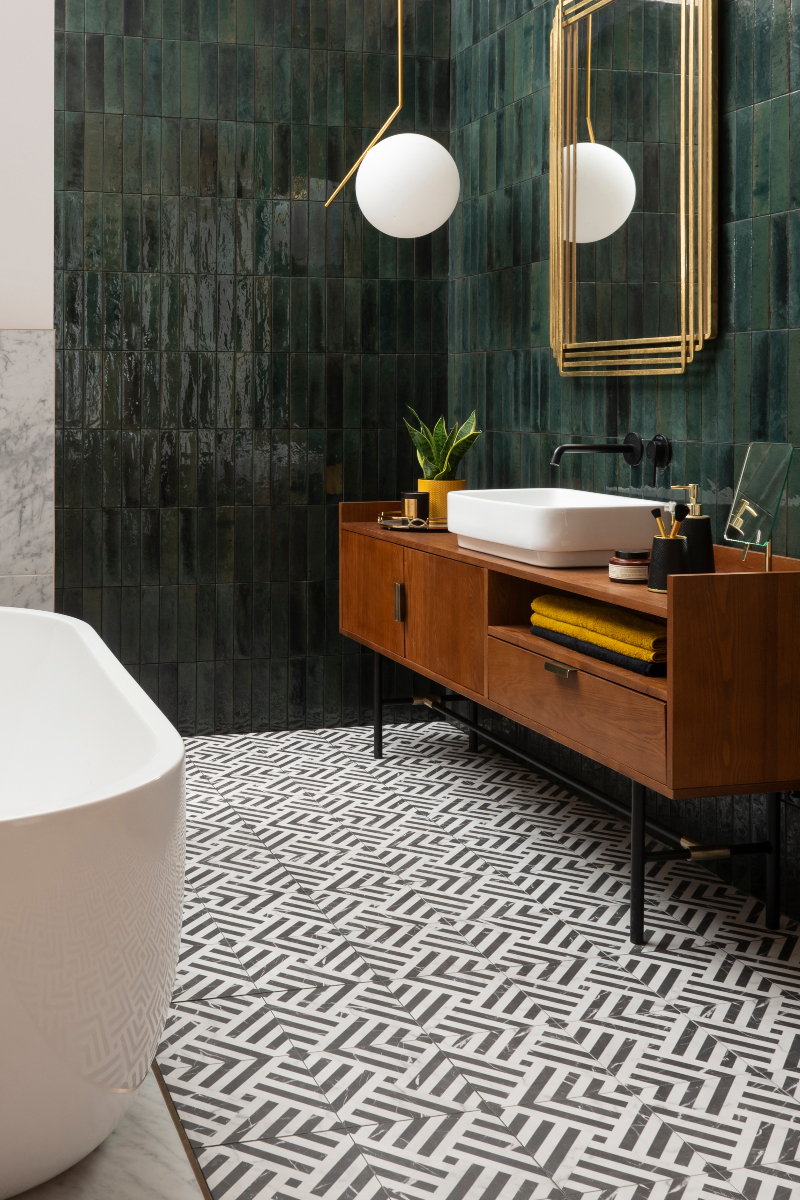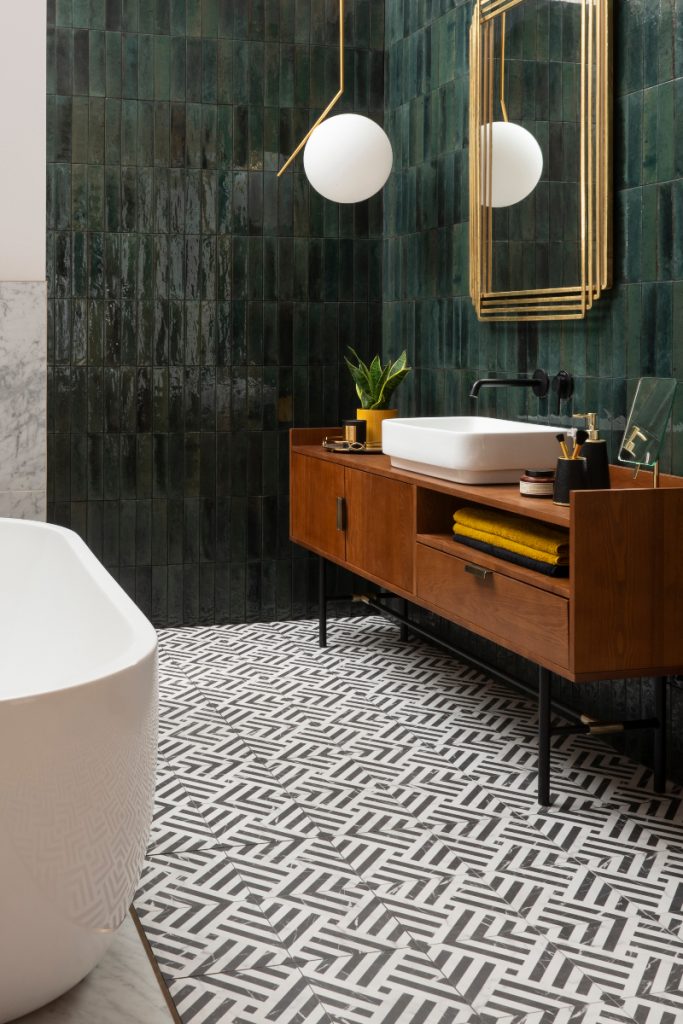 The installation process
After you've got your tiles in the cart, keep in mind that the plumbing must be completed for the bathroom fixtures first, then walls tiles need to be laid followed by floor tiles.
Leave at least 48 hours for the adhesive to dry fully, especially on the floor, before you carry on with the decorating stage.
Schedule about a week for the tilers to work on their own in the bathroom with no other contractors coming in and out and expect the whole process to be messy as tiles will need to be cut to fit on site.
Featured image: Metropolis Star black wall and floor tiles, £19.94 per sq m, Tile Mountain.
About Post Author