Update April 2021. Under current government guidance, kitchen, bedroom and bathroom showrooms are due to open on the 12th April with safety measures in place. For more information, visit: gov.uk/coronavirus

Update November 2020. Under current government guidance, kitchen, bedroom and bathroom showrooms are closed due to national lockdown restrictions in England. For more information, visit: gov.uk/coronavirus

You may also enjoy: 10 interactive design tools you need to try if you're renovating
When lockdown began back in March, did you put your home improvement projects on hold? Whether you were just starting work on your doer-upper or updating your kitchen, bedroom or bathroom, there's no doubt things will have slowed down of late. But, with restrictions starting to ease, showrooms across the country have been opening their doors to eager renovators just like you so you can get your projects going again. Plus, how many of you reading this have decided during lockdown that something in your home design needs to change?

According to a kbbreview survey, sixty percent of kitchen, bedroom and bathroom retailers in England said they will open their showroom by appointment-only from the 12th of April.
To help get your renovation going, I've put together a list of which kitchen, bedroom and bathroom showrooms are now open and which health and safety measures they've adopted – from social distancing to initiatives to keep everyone safe – so you'll be well prepared to pay them a visit…
Kitchen showrooms
Harvey Jones
Where?
25 Chepstow Corner, London W2 4XE
9 Tunsgate, Surrey GU1 3QT
Level 1 Wharfside Street, Birmingham B1 1RD
What's new?
Browse Harvey Jones' timeless kitchen designs: Shaker, Arbor, Original, Linear and Linear Edge, plus beautiful larders and the latest appliances.
How to shop now?
Social distancing measures are in place in every showroom, with all staff following the government's guidance regarding the use of PPE.
Where?

176 Westbourne Grove London, W11 2RW
20 Whielden St, Old, Amersham HP7 0HT
25 High St, Tunbridge Wells TN1 1UT
What's new?
Shop an extensive range of bespoke handmade kitchens, state-of-the-art appliances and worktops. Discover the Martin Moore Stone flooring showcased in inspirational room sets.
How to shop now?
The showrooms across the UK are open in line with the government's health advice to keep clients and staff safe, which include sanitising and social distancing measures. The Muswell Hill showroom is open for private appointments only.
Life Kitchens
Where?
Railway Arch 213, Newnham Terrace, Hercules Rd, Lambeth, London, SE1 7DR, UK
What's new?
Browse through eight displays, from handleless kitchen cabinets to traditional shaker style designs. Visualise your dream kitchen through Life Kitchens' 4D virtual reality headset.
How to shop now?
Life Kitchens' showroom will be open in a pre-booked appointment only basis. Appointments will be two hours long and limited to two adults per visit (children to visit at this time). Following the government's health and safety guidance, social distancing floor markers and sanitisation points are in place. You will need to wear disposable gloves and masks for the duration of your visit and the staff will also take your temperature upon your arrival. All desks will be fitted with a clear screen and after each appointment staff will disinfect surfaces and products throughout the showroom.
DesignSpace London
Where?
Designspace London, 120 Webber Street, London SE1 0QL
What's new?
The Southwark showroom is spread on 371.61 sq m space where Designspace London have created fifteen display areas showcasing gorgeous kitchens, bathrooms and living concepts.
How to shop now?
Designspace London's showrooms are open by appointment only on a one-to-one basis. Before the appointment, clients are asked to complete an online risk assessment questionnaire to ensure if it is safe for both clients and designer to meet face to face. Hand sanitiser is provided at the entrance and disposable masks and gloves are also available.
Brandt Design
Where?
431, The Broadway, Uxbridge Road, Pinner, Herts HA5 4JR
489 Finchley Rd, West Hampstead, London NW3 6HS
What's new?
Brandt Design are specialists in the design and installation of residential and commercial kitchens and interiors – visit their showrooms to discover traditional and contemporary kitchen designs, the latest furniture and appliances, all beautifully presented in a lifestyle setting.
How to shop now?
Both showrooms are open in line with the government's advice with social distancing measures in place and a post-visit cleaning schedule. You can also opt for consultation from the design team, which is available to work remotely.
Mowlem & Co
Where?

555 Kings Road, London SW6 2EB
21 Clayton Road, Jesmond, Newcastle upon Tyne NE2 4RP
What's new?
Get inspired by Mowlem & Co's latest designs, from contemporary and traditional kitchen designs to grand and luxurious bespoke creations.
How to shop now?
The showrooms are observing all hygiene and social distancing measures recommended by the government.
Bathroom showrooms
Where?
302 – 304 Fulham Road, Chelsea, London SW10 9ER
19 High Street Wimbledon, Wimbledon, London SW19 5DX
128 Elgin Avenue, Maida Vale, London, W9 2HD
What's new?
Need anything kitchen, bedroom, bathroom or home related? Discover beautiful designs and displays, materials and finishes. Day True offers bathroom design, as well as bedroom and kitchen.
How to shop now?
Thinking about the safety of their teams and clients, Day True's showrooms are now open to the public, with Maida Vale open by appointment only, with a few rules in place. They ask that appointments are made in advance, where possible, and they also offer virtual consultations. All customers will be asked to wash their hands on entering, plus they then offer gloves, masks and sanitiser.
C.P. Hart
Where?
Newnham Terrace, Hercules Road, London SE1 7DR
Willway House Woodbridge Road, Surrey GU1 1DX
What's new?
C.P. Hart's Waterloo flagship showroom is the largest premium bathroom showroom in the UK, where you can find over 40 room set displays of beautiful baths, basins, toilets and taps, and even home spas!
How to shop now?
Expect a limited number of people in each showroom at any one time with social distancing floor markers throughout. Personal protective equipment is available upon each sanitisation station with frequent disinfecting of surfaces throughout the day. Presentation tables are equipped with separate screen monitors and a dividing Perspex screen between you and your consultant so you can safely discuss at a safe distance.
Ashton Matthews
Where?
141/147A Essex Road, Islington, London N1 2SN
What's new?
Find contemporary and traditional bathrooms designs, furniture and accessories.
How to shop now?
Customers can book in advance to see a salesperson as there are strict limits on the number of people in the showrooms at any one time. Safety measures include social distancing floor markers, sanitising stations and contactless payments where possible, plus dividing Perspex screens between employees and customers.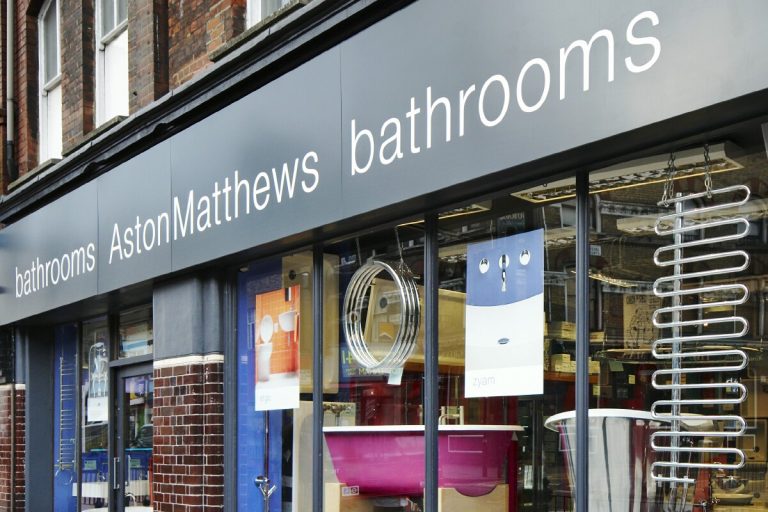 Drummonds
Where?
642 Kings Road, London, SW6 2DU
What's new?
Drummonds have all of your bathroom essentials, from baths and showers to basins and heated towel rails.
How to shop now?
Hygiene and social distancing measures are in place to keep staff and clients safe. The showroom is open to the public, but it is also possible to arrange visits by appointment.
Bedroom showrooms
Savoir Beds
Where?
7 Wigmore Street, London W1U 1AD
Harrods, 3rd Floor, London SW1X 7XL
What's new?
From the level of comfort to the design of the headboard, you will find an unlimited choice of fabrics to find the right bed for you. Indulge in luxurious bespoke and handmade beds, made by Savoir's skilled craftspeople.
How to shop now?
There is a limited number of visitors per showroom – you can book an appointment to ensure you get the chance to see the products. The bed fittings will be non-contact and the pillowcases on beds are changed at every appointment, plus protective equipment is available in every showroom.
Carpe Diem Beds
Where?
15 Wigmore Street W1A 2JZ London
What's new?
The Swedish luxury brand Carpe Diem Beds open their first global store in Marylebone, London where you can completely customise your bed from headboard to the bed legs.
How to shop now?
Carpe Diem Beds are keeping up with the latest government updates and following their guidelines. They have a full stock of gloves, disinfectant, and face masks in store, plus, they are offering private consultations for anyone who would prefer to be alone in store.
Sofa.com
Where?
218 High St, Guildford GU1 3JD
Unit 35, Chelsea Wharf, 15 Lots Rd, Chelsea, London SW10 0QJ
Unit 2, Oatlands Retail Park, Beech Avenue, Harrogate HG2 8DS
What's new?
Looking for a new sofa bed for your spare bedroom or perhaps a new bed? Visit Sofa's showrooms to find carefully handcrafted sofas, armchairs, beds, footstools, and home accessories and free fabric samples to try at home – bonus!
How to shop now?
Safety measures include respecting the two-metre social distancing, limiting store numbers and hand sanitising stations available for visitors and the staff.
Showrooms for those finishing touches
Lapicida
Where?

St James Park, Knaresborough, Harrogate HG5 8PJ
What's new?
Discover Artis by Lapicida, a new collection of natural limestones, marbles, new-generation porcelains and ceramics.
How to shop now?
In line with government's advice, the tile and stone specialist implemented hygiene and social distancing measures to keep staff and clients safe. The Harrogate showroom is open by appointment in the mornings and to the public in the afternoons.
Ted Todd Design Centre
Where?
79 Margaret Street, Fitzrovia, London, W1W 8TA
What's new?
Shop and browse collections of reclaimed and antique floors, for homes and commercial projects, on a large scale in immersive Ted Todd Design Centres.
How to shop now?
Social distancing is in place, with a limited number of customers in the showroom at any one time. Booking appointments are also available for customers.
Neolith
Where?
Business Design Centre, 52 Upper St, The Angel, London N1 0QH
What's new?
For that finishing touch, visit the showroom to discover what Neolith has to offer – from kitchen countertops and sinks, bathrooms and facades, to furniture and accessories.
How to shop now?
To ensure that Neolith staff will be present, it's best to call ahead of time, as they sometimes go on appointments during the day. There are no other post-lockdown changes.
The Stone & Ceramic Warehouse
Where?
51/55 Stirling Road, Chiswick, London, W3 8DJ
What's new?
Looking for tiles? Visit the importer, distributor and retailer of natural and ceramic wall and floor coverings, Stone and Ceramic Warehouse – you will find wood, marble and stone effect porcelain, natural stone, mosaics and many more.
How to shop now?
The Chiswick showroom is open to clients on an appointment-only basis. Safety measures and guidelines are in place to protect the staff and clients, with a maximum of 2 adults per appointment and no one under the age of 16. During your visit, you will have to wear mask and gloves at all times – they can provide complimentary reusable masks and gloves. Your temperature will be taken on arrival with a handheld thermometer – all visitors must be below 37.5 degrees C. Plus, they have 5,000 square feet of showroom, so there is plenty of room to social distance.
Featured image: Ted Todd London showroom.
About Post Author