We spend around a third of our lives in bed, so getting the design of your bedroom right is essential for a restful night's sleep. In the other two thirds of our lives, it's fair to say that the time is usually pretty hectic with lots to think about, plenty of errands to run and families to take care of. So, I say bedroom planning is more important that ever to make sure you're getting that well-earned shut-eye when you need it. Enter: the These Three Rooms bedroom planner.
There is an array of things to consider when bedroom planning from the size and function to how best to maximise space for what you'd like to include – dressing area, ensuite, lots of storage…a place to sit for five to escape the household mania (!), for example.
Once you've figured out how effective bedroom planning can ensure you get your essentials in, then you can think about colours, bedding, textures, art and the like (aka the fun bits!), as well as lighting.
For this guide, I asked interiors aficionado Charlotte Luxford of @luxfordinteriors to share her guide to creating your dream bedroom. It's a handy step by step, so you'll be on the way to your perfect bedroom in no time…
Bedroom planner step 1: Plan your bedroom layout
Before anything else, measuring up is vital – especially if you've got existing furniture, period features, or tricky spaces to account for.
Plot your space out on graph paper or use free online tools such as Smart Draw or Room Sketcher.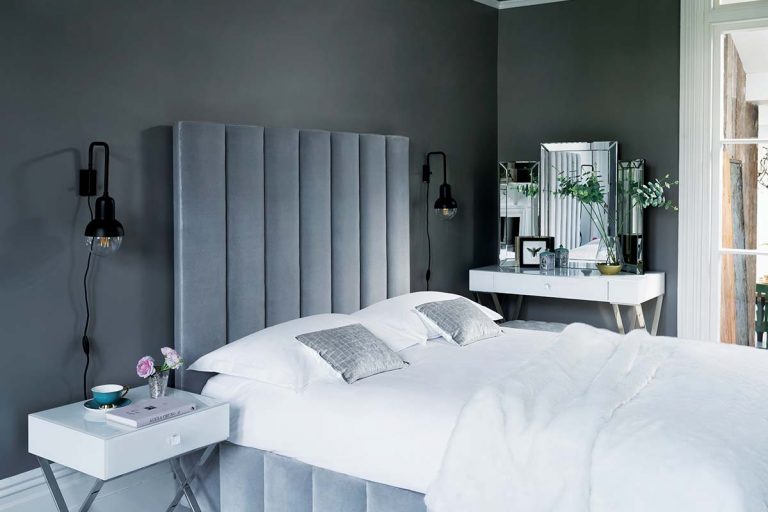 If you have a large floor area to play with, consider installing a stud wall to create a separate dressing zone or even adding an ensuite – it'll make your bedroom seem more fancy without doubt.
The bed is the most important and usually the largest item of furniture, so start with this. Interior designer Fiona Duke recommends positioning it face on as you walk in, to create good flow and a sense of symmetry.
When plotting out the rest of the scheme, follow a rough rule of 60% furniture, 30% walking area, and 10% miscellaneous items. But don't clutter – the key is to create a calm feel.
Similarly, consider the proportion of objects in relation to each other, as a headboard that's too tall or a rug that's too small can throw off a scheme entirely.
Step 2: Think about lighting
It pays to factor in lighting during the early planning stages, both natural and artificial. Look at where the daylight is coming from and try positioning furniture with reflective materials and mirrors opposite a window. It's important to note where you might require additional sockets (by the bedside for example) and if it's possible to run new fittings off the existing circuit before you start decorating.
Lamps and fittings are important for creating the right ambience. "Your bedroom needs to be bright in the morning and intimate at night to provide a sanctuary at the end of the day," so says Sally Storey at John Cullen Lighting.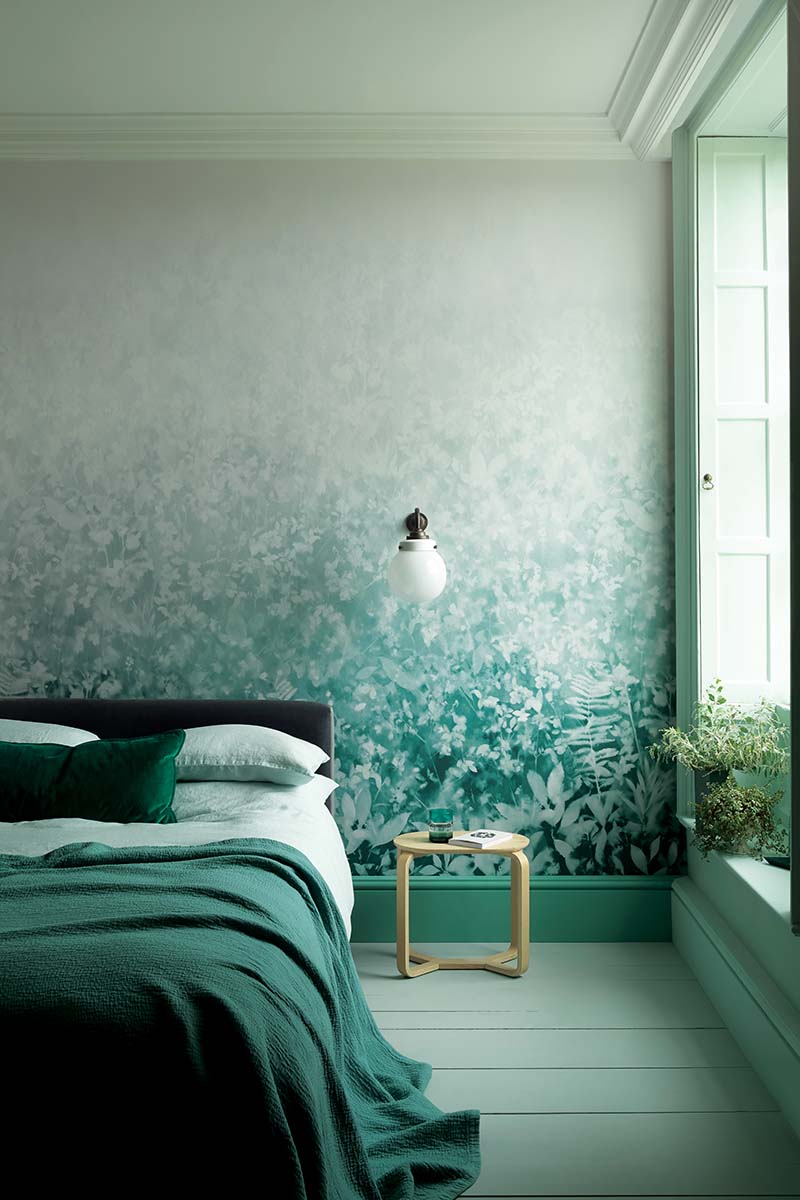 She suggests using spotlights to wash down wardrobe fronts and make the room look larger, plus using no more than two other lamps besides a pair of bedside designs to add soft background light.
Step 3: Set the mood with colour
"I always begin by asking clients to picture a place that makes them feel relaxed and to think about why," says Lisa Mettis at Born and Bred Studio. Usually, she says, it all comes down to the lighting and colour.
Once you've selected your palette, paint all the woodwork and wardrobe doors the same colour to create a seamless cocooned feeling.
Andy Greenall, Little Greene's head of design, also suggests not having a white ceiling, as the sharp contrast draws the eye and can actually make your room feel smaller. Paint it the same shade as the walls, or slightly paler, to soften the ambience, instead.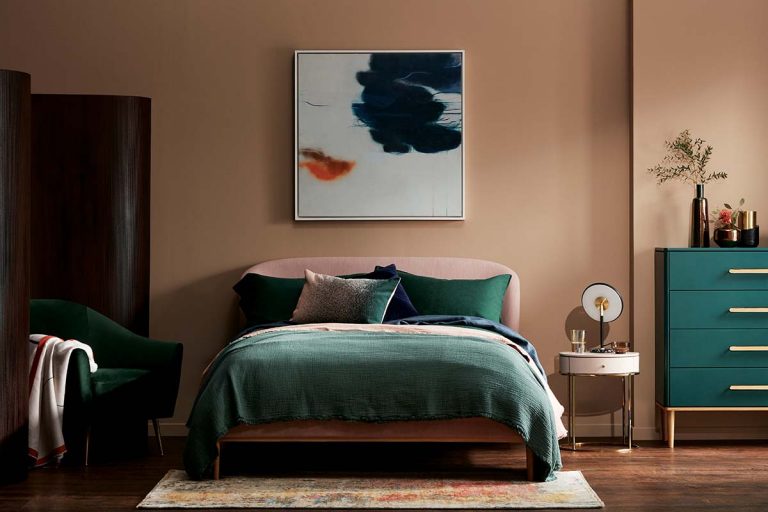 When it comes to colour choice, natural greens and blues are great for creating a soothing scheme. Calm shades are a go-to, but if you want a brighter colour or bold wallpaper, put it behind the bed to create a great focal point.
Bedroom planner step 4: Pick flooring
It's not only about the walls. Your floor is instrumental in creating a cosy feel, so consider a more luxurious deep-pile carpet. If you prefer wood flooring, add a rug to keep it snug. Top tip: ensure it's big enough to fit
under your entire bed and nightstands, with at least a foot to spare on all sides.
Engineered wood flooring is a wise buy and virtually indistinguishable from solid designs – or, if you have decent floorboards, expose them in all their glory.
Step 5: Choose fitted or freestanding furniture
Fitted furniture is usually more expensive than freestanding, but it's the best way of achieving a totally tailored storage solution. Make a list of what a wardrobe needs to hold, from clothes to a step ladder or suitcases, and then draw each item on your plan to avoid dead space, ensuring everyday items are within easy reach.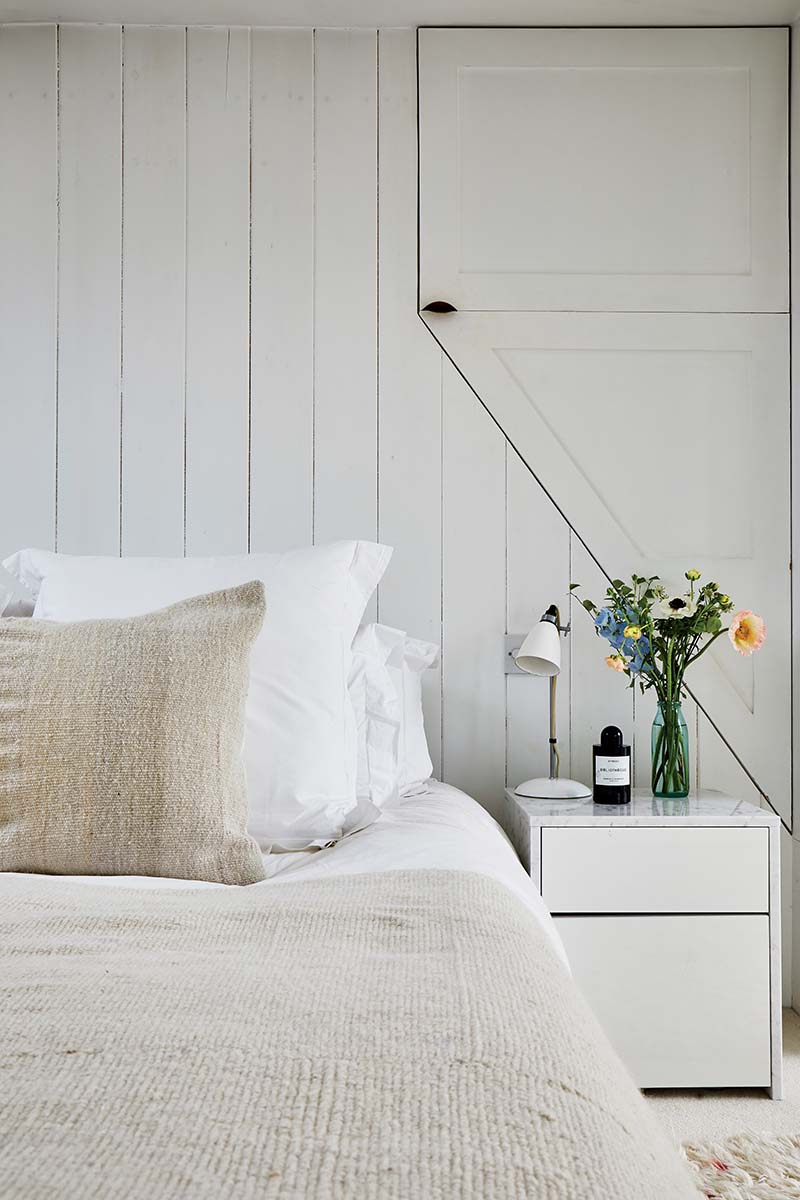 Fitted wardrobes are often best for awkwardly shaped rooms, loft conversions, and period properties. But, freestanding furniture adds personality and avoids the formality of fitted designs, plus you can easily change it when you want a makeover. You could mix and match and introduce some freestanding vintage pieces to add lovely character.
Step 6: Make more of your bed
Bedroom planning isn't complete without the bed, obviously. Usually the bed takes centre stage, so it needs to be practical as well as stylish. A divan base, or one with hidden storage underneath or in the headboard, is a bonus – especially if your room doesn't have much free wall space.
If you're working with a small bedroom, consider a small double rather than a standard size, or a narrow tallboy over a chest of drawers.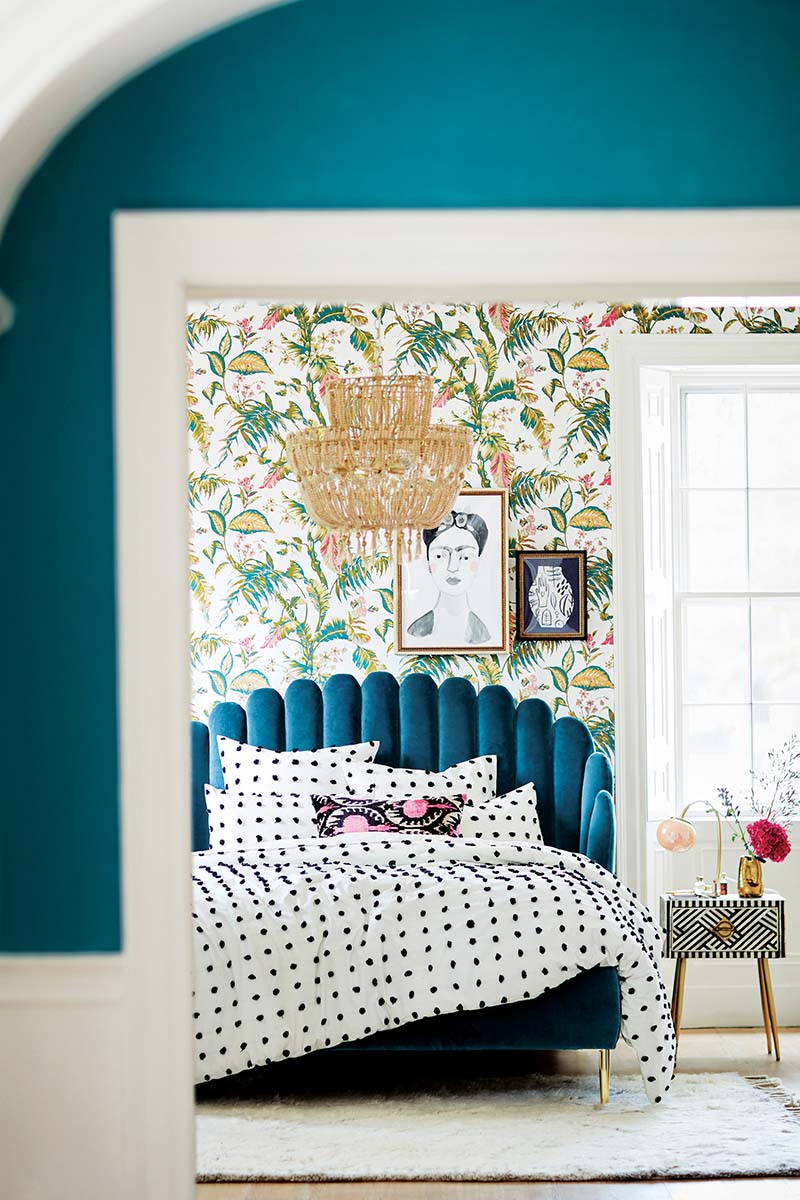 Step 7: Accessorise!
The fun but of bedroom planning, for sure. "A few special items will elevate the room's design and enable you to simplify the rest," says Angus Buchanan at Buchanan Studio. Aside from the headboard and curtains, bedding is a great way to create impact. An eclectic mix of textiles will add interest – build up layers of chunky knits, tactile linens, and silks to draw the eye (and your sleepy self) in.
For window treatments, consider a blackout lining to amp up the cosy factor or block out that morning sun. Neutral designs will soften the hard lines of a window frame – but if you have period features, let them shine with shutters.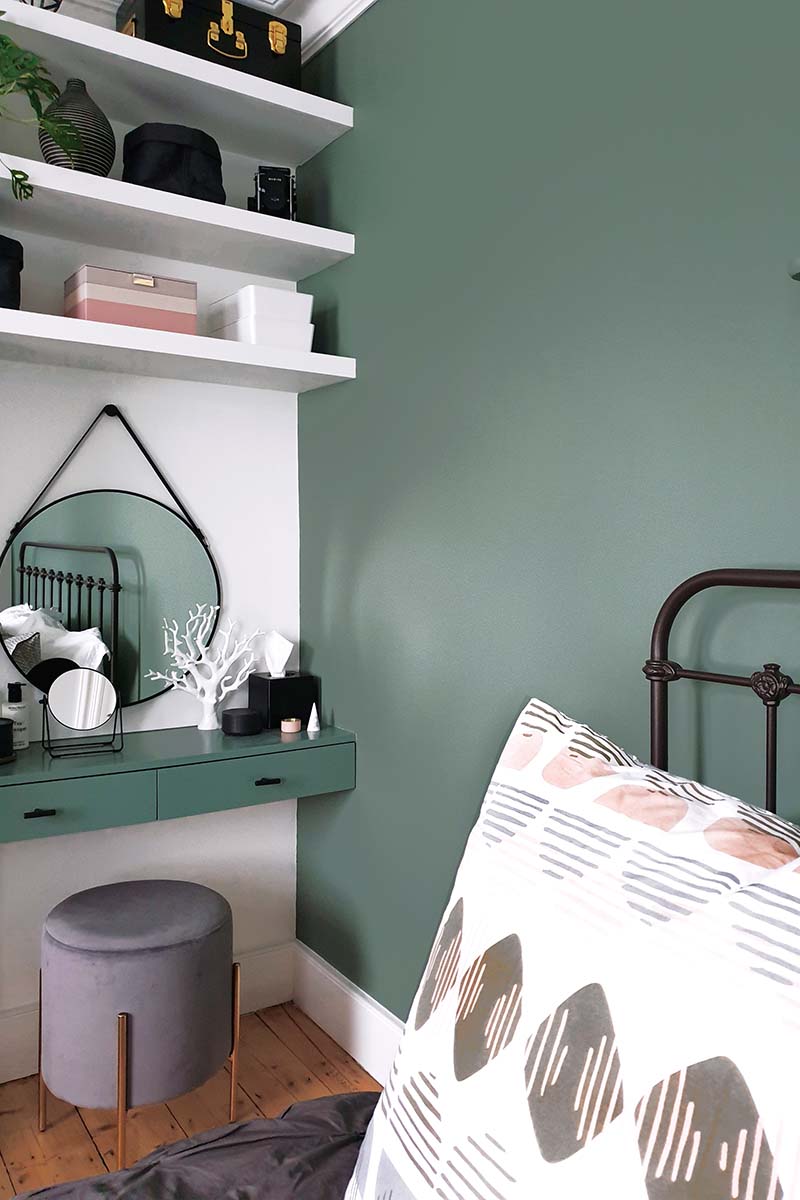 An edit of meaningful accessories is the secret to a bedroom that you'll love to be in. Art is an instant way to add character – create a gallery wall around the headboard or display works on a shelf, keeping a tight
rein on the colour scheme.
House plants are not only affordable and liven up a space, some can purify the air in your bedroom – consider lavender, areca palms, succulents and orchids to promote a restful night's sleep.
Anyone else ready for a power nap?
Featured image: A lipped shelf behind the bed can create a great space to display personal treasures and art.
Espinillo bed linen in Tumeric from Clarissa Hulse.
About Post Author