It's one of the biggest luxuries I can think of: a wetroom bathroom, complete with rainfall shower, gorgeous tiles, and an overall look guaranteed to make your friends and family just a little green with envy.
We'll come to how to create a wetroom bathroom. But first, what is a wetoom bathroom, really? Rather than a bathroom with a large shower enclosure, a true wetroom is a space that you've fully waterproofed. It doesn't have any screens, so the whole room effectively becomes the shower area. As you can imagine, this gets rather wet, hence the name.
A wetroom bathroom is a great idea for a more compact space. You'll avoid the need for the fittings associated with traditional shower set-ups like an enclosure. In addition, it can create a lovely spa-like feeling.
How to create a wetroom bathroom
However, you have to do some work to 1. get the design right and 2. keep it looking good once you've done that. (By which I mean keeping on top of the inevitable moisture.)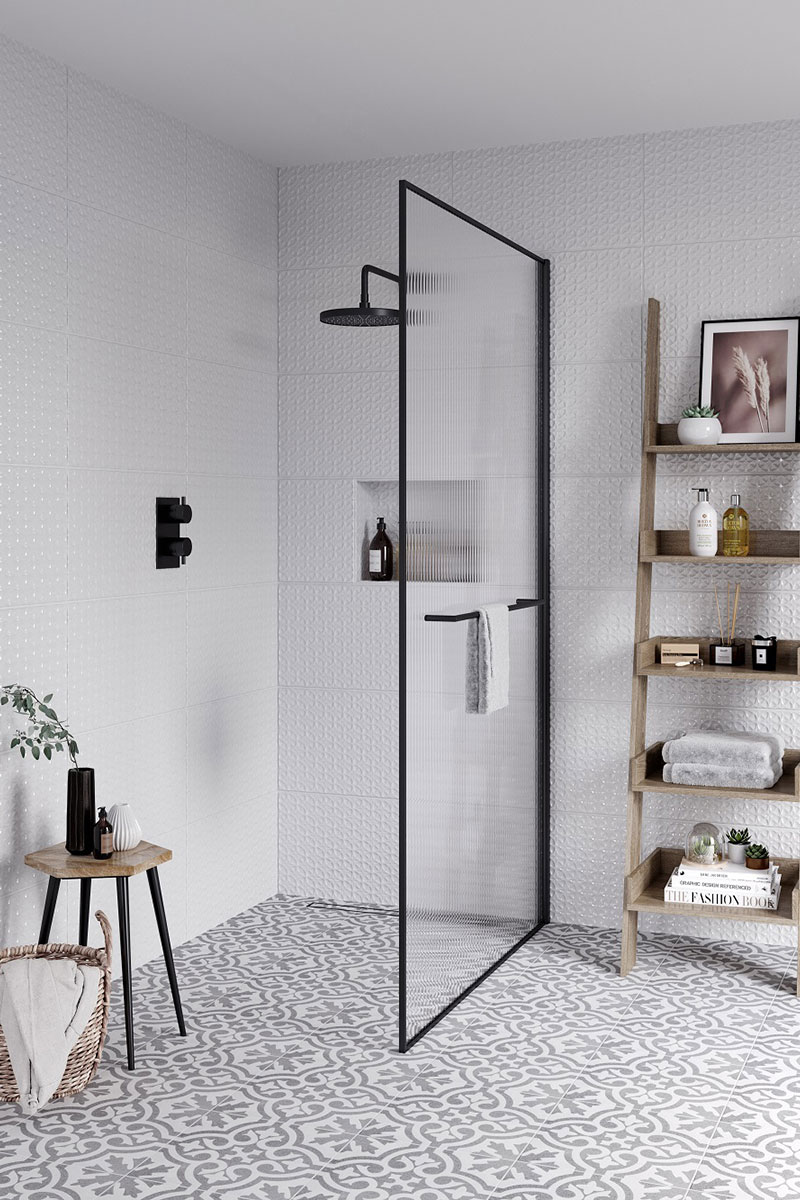 Start with the planning
I know what you're thinking – where do you start?
Firstly, think about whether you're ready to face the work, cost, and disruption of full waterproofing, also known as tanking. This is the most expensive part of a wetroom bathroom design and means you have to fully waterproof the walls, floor and ceiling with specialist sealants.
So getting the right experts on board early is crucial. This can be a bathroom designer, plumber, or a builder – they'll all know what they're doing.
For an extra level of security, double check your chosen tradesperson is registered with a professional organisation, for example the Kitchen Bathroom Bedroom Specialists Association.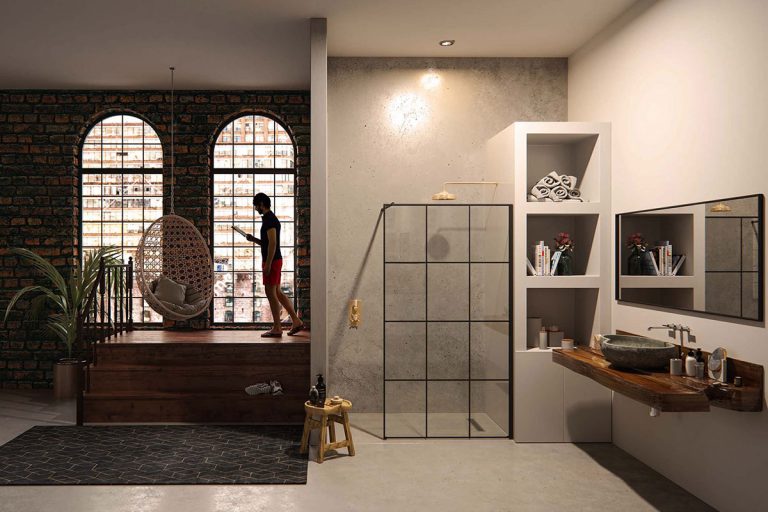 The practicalities
A wetroom includes tiles. A lot of them.
So unless you want to spend your time scrubbing your surfaces, choose low-maintenance materials where possible. You could also give up on trying to get everything streak free…
Quartz and acrylic make great choices. They're scratch resistant, cope well with frequently getting wet, and a quick wipe is often all they need to look squeaky clean again, plus they can come in large, seamless sheets to minimise grout lines (otherwise known as grime harbourers).
You may also like to look at large format tiles for that slick look that's also easier to keep clean.
How to create a wetroom bathroom
It is worth mentioning that while smaller and with more grout lines, you can choose mosaics for their grip. Speak to your designer about the look you're after.
Whatever surface you choose for the floor, anti-slip HAS to be considered. As mentioned, a wetroom bathroom is, well, very wet, so the risk of slipping is high. All flooring (including tiles) comes with an R rating which signifies how slip resistant it is.
The R is followed by a number between 9 and 13. R9 means the surface offers low slip resistance, while R13 indicates that it would be suitable for use around a pool – so good traction there. Bear in mind that anti-slip surfaces will feel textured underfoot. So it's worth touching the product in person before buying to ensure you're happy with the feel.
Wetrooms are good for future-proofing
I know, nobody wants to think about getting older (unless you're me and were taken for 16 not too long ago – apparently no makeup and a big coat give me serious baby face).
That said, this is the chance to make sure your space will work, no matter what life throws at you or which elderly or very young family member comes to visit and needs a room they can navigate safely.
How to create a wetroom bathroom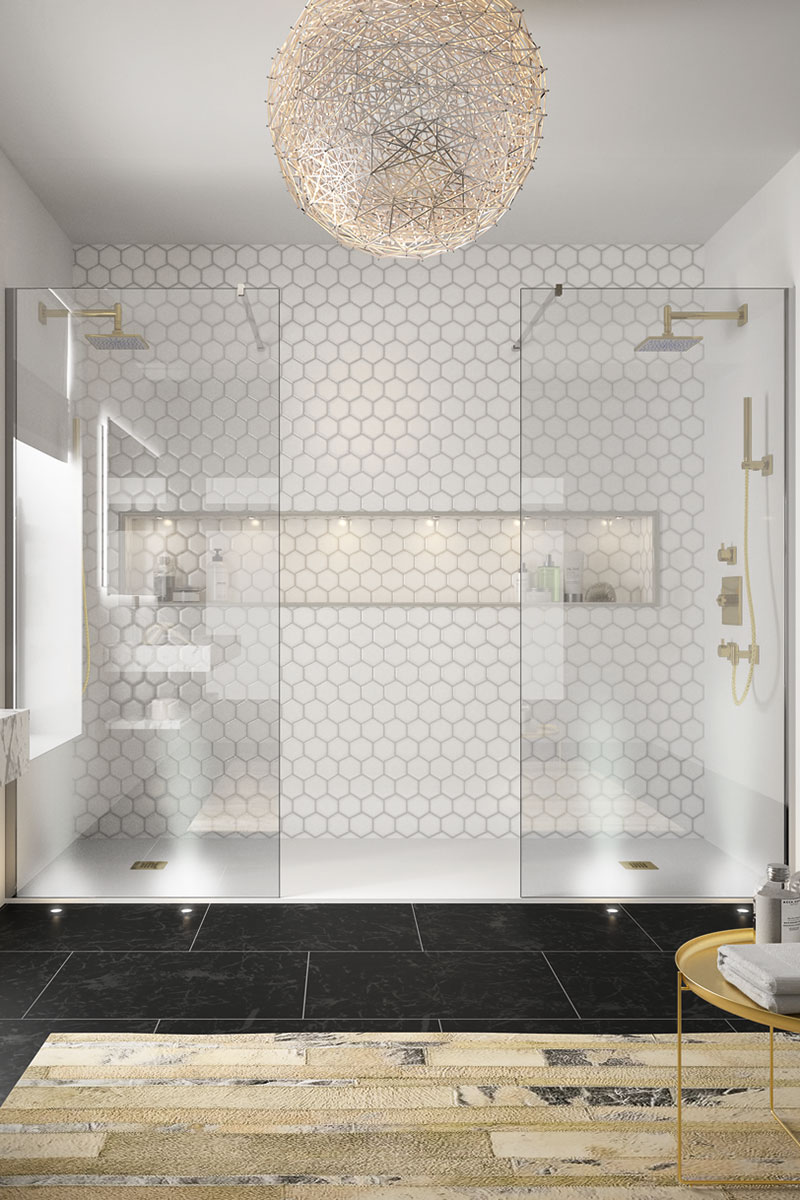 How to make your wetroom accessible? Easy!
Anti-slip tiles are a must as I've said. Also think about having an even floor throughout, easy-to-reach storage, and maybe even a seat in your shower. This could be a fold-down option which you can fit to the wall. Or a bespoke built-in design, which is also handy if you're shaving your legs or just fancy a seat!
How to create a wetroom bathroom
But don't worry, it won't look like a hospital – all of these bank plenty of style points these days and are often found in luxury hotels.
And if it's good enough for the Savoy, it's just perfect in our homes.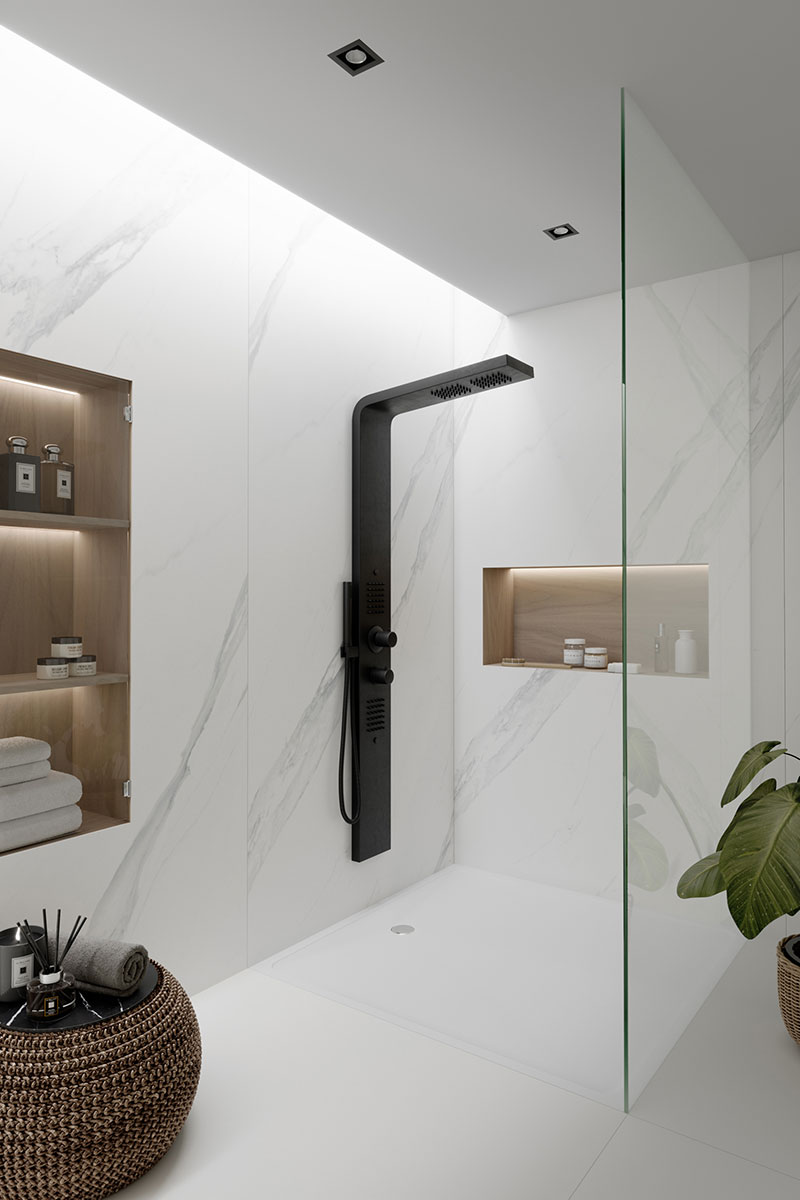 How to create a wetroom bathroom: Choosing the shower
The shower will be the star of the show in a wetroom, so take your time weighing up the options. There are so many options available these days in a whole range of colours, shapes and sizes.
The best way to go is big with a large rainfall shower fitted to the ceiling or to the wall.
How to create a wetroom bathroom
In a small wetroom bathroom, built-in, rather than exposed, shower systems help create a sense of space. But if you're after a more statement look or have a larger space to play with, exposing the pipes can add to the design impact. I particularly like this if you're going for a more industrial vibe.
No one likes turning on the shower and getting blasted with cold water in the process, so fit the controls by the entrance, or within easy reach. So you can turn the shower on and then step into the flow. Many digital showers now come with clever app control too to let you turn them on from the comfort of your bed and set up a personal profile for your preferred temperature and water flow.
How to create a wetroom bathroom
Speaking of flow, big showers need good water pressure – unless you want a trickle? (nope, didn't think so!). Check the pressure requirements of the shower you like and compare this to your home's water pressure. Speak to a plumber about boosting the pressure or the options available if you need to.
You can always fit an aerator to the shower, too.
How to create a wetroom bathroom: Don't forget drainage
Pooling water doesn't make for a luxurious wetroom bathroom experience. For maximum efficiency, look to the latest floor-channel drains that are unobtrusive and extremely effective at removing waste water.
Keeping on top of the moisture
One word: extraction. If your space is windowless, you'll need an extraction system in your wetroom.
You'll need to figure out where you'll put the extraction unit in the bathroom. And also work out how the pipes will feed out the moist air to the outdoors through effective ducting.
Speak to your bathroom designer about this early and invest in a good system that will keep condensation at bay.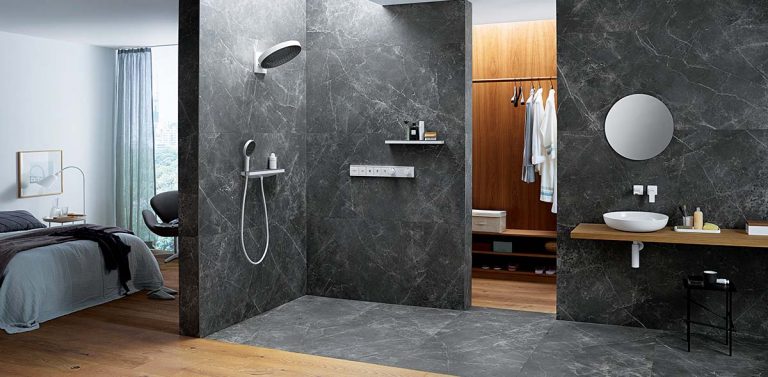 Featured image: Daylight makes any space instantly feel brighter and more open – plus it'll make your morning shower more invigorating. To preserve your privacy, one solution is window films. If actually sticking something to your glass is out of the question, blinds are an easy-to-install alternative. Try English Blinds' Multi Lux design, from £22.95 for a 30 x 30cm size. Made from high-grade PVC and vinyl, they can withstand the moisture in the bathroom, but still look sleek.
So, did you enjoy this feature on how to create a wetroom bathroom? Then you'll also love this piece on how one homeowner created a stunning shower room.
About Post Author