When I was researching how to buy a bed, someone said to me that buying the right pillow is just as important as the mattress: "Because the pillow is the mattress for the head." And that quote stuck with me, because it's so true, right? So, if you're after a great night's sleep and wondering how to buy a pillow, read on.
How to buy a pillow is essential information – everyone sleeps, so everyone should know it.
So many people invest in a beautiful bed frame and a luxurious mattress – but give little thought to the pillows. What a mistake! Why, when it comes to bedtime comfort, do mattresses seem to get all the attention and pillows get overlooked?
It's equally important to get the right type of pillow to suit you. Because choosing the wrong one could lead to discomfort while sleeping or even neck pain in the morning.
Firstly, to ensure you get the right support, and a great night's rest, think of the position you sleep in most at night.
How to buy a pillow: do you sleep on your side, front or back?
Here's how to buy a pillow, starting with your sleeping position:
According to Dreams, for those who sleep on their front, the best types of pillows are ones that lie on the softer scale. So these include feather pillows and pillows with a comfort grade from soft to soft‐medium.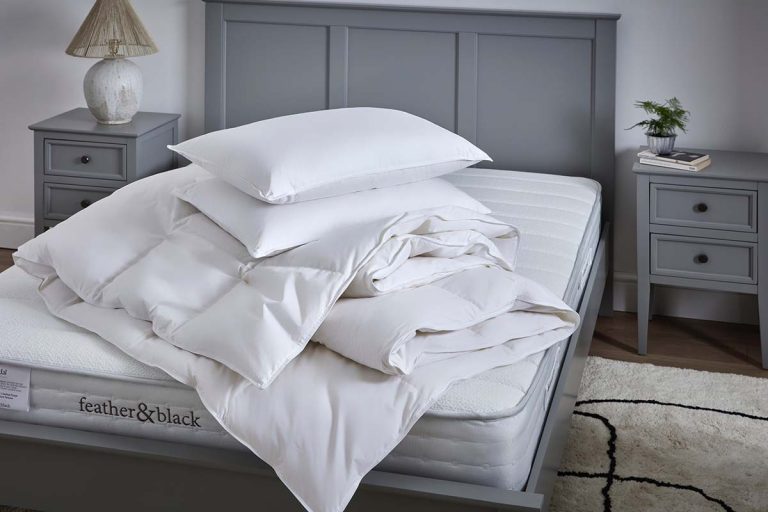 Unlike side sleepers, it's recommended front sleepers stick to pillows without much height. This is because raising your head too high risks arching the spine backwards.
How to buy a pillow
Then, for those of us who sleep on their side, like me, a memory foam pillow or an orthopaedic pillow is best. They can damage their spine's natural alignment by positioning their head either too high or too low.
Orthopaedic and memory foam pillows can cushion vulnerable pressure points on the head and ensure the neck remains in the optimum position. To achieve the correct height, go for a firm or medium‐firm pillow.
Finally, if you're a back sleeper, the best type of pillow for you is one with a medium comfort grade. This will help provide support to your head without pushing it too far forwards.
Back sleepers can also go for hollowfibre and wool pillows, as they provide a bouncy surface that isn't too soft.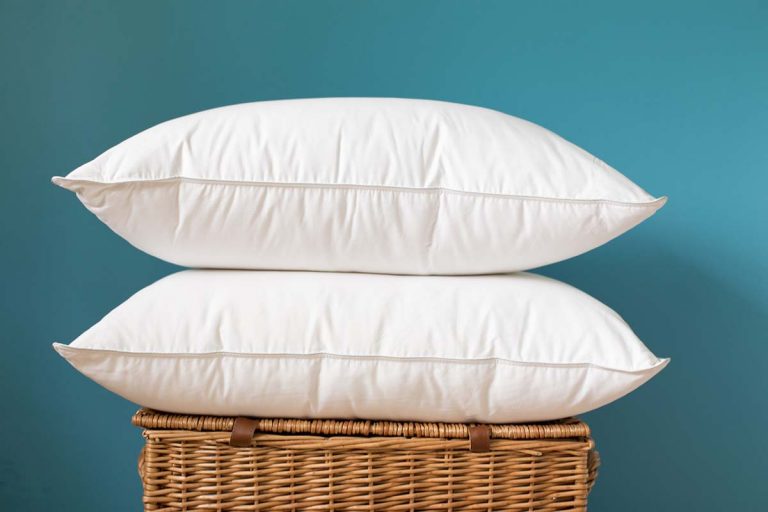 What's inside my pillow?
While it's important to choose a pillow based on your sleeping position, it's also worth considering any specific conditions you may have.
For example, if you suffer from neck pain, asthma or even overheating in the night, there are specially designed pillows that can help combat any kind of sleep hindrance you have.
For instance; memory foam contours to your body; anti-allergy pillows have microfibres that protect against dust mites; and cooling pillows, which contain a layer of ActiGel as well as breathable fibres that can absorb heat, unlike other materials.
How to buy a pillow
Natural pillow fillings are good for avoiding an irritation‐free sleep, while synthetic materials include innovative technology designed for maximum comfort.
Feathered pillows are generally full of duck down. The composition is often 85% duck feather and 15% duck down, giving the pillow a light and soft feel.
When is it time to get a new pillow?
According to MattressNextDay, you should aim to replace your pillow every two years. Pillows can become worn, deformed and discoloured from persistent use. In some cases, they can also become ineffective at supporting your head, neck and spine during the night.
An old pillow can isn't great for your nose and breathing airways, especially if there are dust mites present within the material.
If you notice any of the above and you believe you've fully exhausted your pillow too, it's time to start shopping for a new one.
There are three classic UK pillow sizes: standard, superking and square. But do you want to create a luxury hotel look? Then choose a mix of standard or superking pillows, square pillows, cushions and a bolster.
Featured image: Supplied by Dreams
Now you know how to buy a pillow, read my feature on how to buy a bed.
About Post Author