I've probably mentioned it before, but I am a big bed bunny. Always have been, always will be. Come 10pm or so, I am ready to get cocooned in my quilt and head off to the land of nod. And NOTHING beats getting into bed with fresh bedding. But what about the right bedding, have you ever thought about that? With the colder months upon us, now is the time to think about whether your quilt is doing its job and keeping your body at a good temperature for the best night's sleep.
And it's not as simple as simply throwing on some more covers – for best results, it's good to get personal about your sleeping preferences. I spoke to some sleepy experts (I can confirm they were awake when they imparted their wisdom onto me) for some tips on how to choose the right duvet and bedding for winter…
First up, change your duvet
Keep the same duvet all year round? Changing up yours to a heavier tog come winter will give you that extra bit of cosiness, while a lighter one in summer will make sure you're not too hot.
Farah Arshad, head of design at Dusk told me: "It's best to look for a fill power of 500 or more as this will provide the best insulation to keep you warm." The fill power measures the down quality and the higher it is the more insulation the duvet will have. 900 fill power is seen as the ultimate in luxury bedding and is the highest available.
The fill power doesn't affect the weight of the duvet, either – only the level of insulation. And it's important to remember that a heavier duvet isn't necessarily warmer as some fibres are naturally light, but still very warming.
Get the right tog
When talking how to choose the right duvet, the question I'm most often asked is what tog to go for. One of the biggest causes of disturbed sleep is overheating, so make sure you buy a tog that suits the seasons.
Think about what you like too – do you like to be a bit cooler in bed? Or do you hate feeling the slightest chill?
The tog rating ranges from 1 tog to 15 tog, 1 being the lightest and 15 the warmest. This usually applies to bedding such as duvets. For summer, between 1 to 7 is good, but 10.5 and above is recommended for winter.
Hayley Chaytor at Silentnight told me she recommends changing your tog value throughout the seasons, to ensure that you have the optimal sleep temperature that won't disturb your snooze.
"During the summer months a tog value of 4.5 is ideal, which will ensure you won't overheat throughout the night. When you enter spring and autumn, change your duvet to a tog of 10.5 and then when you want to stay toasty in the winter months, you should consider a duvet with a tog value of 13.5 to 15, depending on how warm you like your bed," she said.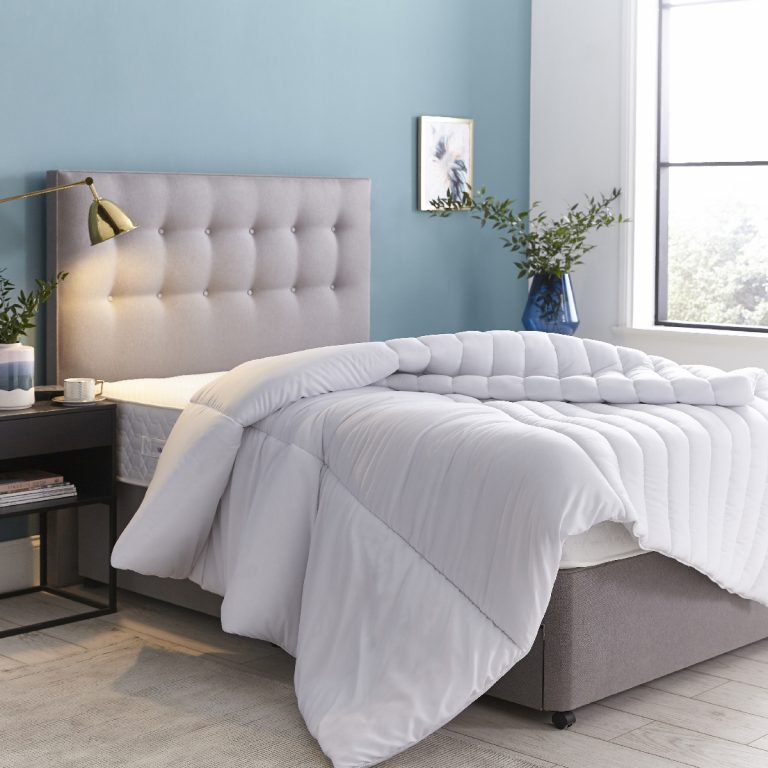 Choose your filling
The most important decision in how to choose the right duvet is getting the right filling and tog for you.
You can choose from natural and synthetic fibres as filling for your duvet (and pillows) and each provide equal levels of warmth, so, really, it comes down to your preference and budget.
Natural materials are more breathable and insulating, which could aid better sleep by maintaining a steady body temperature.
But, if you suffer with allergies or asthma, a synthetic anti-allergy duvet filling is better. "The duvets are generally filled with anti-allergy and anti-bacterial fibres that have been especially treated to actively fight bacteria, and the formation of dust mites, making these suitable for allergy and asthma sufferers," Hayley at Silentnight said.
It's important to remember that the weight of the duvet does not relate to its tog rating. Duvets filled with feathers or down naturally have better thermal properties than synthetic versions. This means you don't need as much filling to achieve the same rating, often making them lighter in weight. Makes sense when you think about it…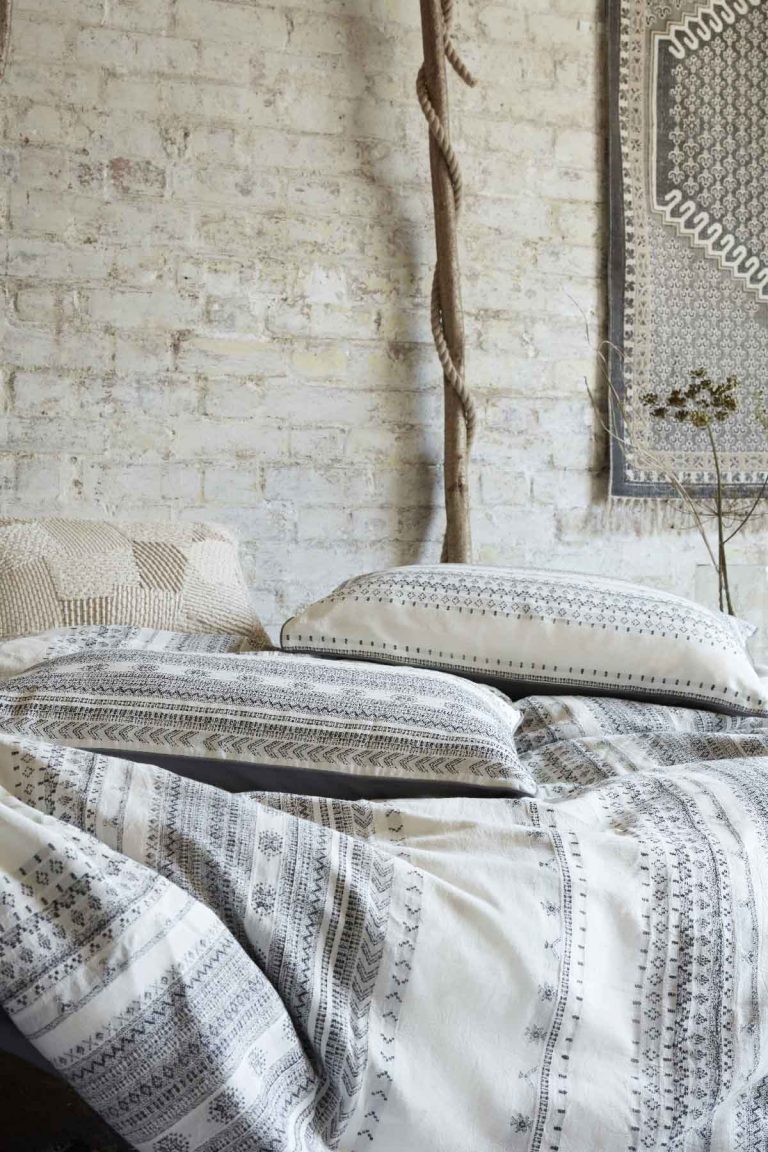 Types of natural fillings
Natural materials include feather, feather and down, down wool and silk.
One of the biggest factors in choosing and new duvet will be your budget, the lightest and best duvets are more expensive. Why? Well, there is far less down on a bird than feather!
Molly Freshwater, one of the co-founders of Secret Linen Store told me this though: "Cost doesn't effect warmth, just the weight of your duvet."
And Alistair Hughes at Savoir said you should buy good quality bedding and look after it. "Cheap bedding is often filled with polyester and doesn't last. It's not good for the environment and ends up in landfill," he said.
So what are the options for natural duvet fillings?
Feather: A heavier duvet made up of a filling of larger feathers. Usually the most affordable option.
Feather and down: A mix of feather and down. Heavier than down only, but lighter than feather only. A good mid-ground for good insulation and affordability.
Down: Light, usually the warmest. Smaller feathers usually from the breast of the bird.The animals the down comes from live in very cold climates such as Canada, Siberia and Hungry for goose down and Iceland for Eiderdown, so have excellent thermal properties.
Wool: A thick filling. Naturally hypoallergenic and a good temperature regulator that helps wick away sweat.
Check for duvet standards
Make sure you can sleep even more soundly by ensuring the materials in your new duvet are to the highest standard.
If you're going to buy a naturally filled duvet, make sure that it's Downafresh certified. Put simply this means that the fillings are ethically sourced and fully traceable.
For synthetic fibres, you're looking to see if the filling is Oeko-Tex Standard 100 Compliant, meaning it's free of harmful chemicals, as well as being down-proof and flame retardant.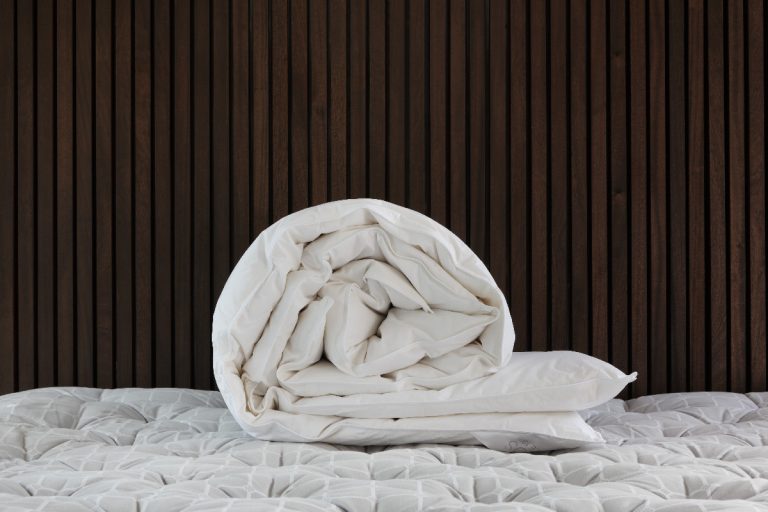 How to look after your duvet
Alistair at Savoir advises washing your bedding regularly. He told me: "Natural bedding, especially pillows can usually be washed in a machine, but duvets require a commercial machine so take them to the cleaners. Regular washing (every 3-6 months) will help keep your duvets and pillows fresh and hygienic."
His top tips were to invest in pillow and mattress protectors to help keep your bedding clean and help make it last longer, plus adding a flat sheet under your duvet for an extra layer of warmth – sounds cosy.
Year-round options
Don't want multiple duvets for different seasons, or don't have enough storage to keep them? Nowadays, there are also year-round, climate-control duvet options that optimise body temperature and regulate humidity levels, removing the need to switch out your bedding every time the season changes. That's handy isn't it?
Molly at Secret Linen Store has a clever idea. "If you don't want to have to buy a summer duvet and a winter duvet, then I'd suggest going for a duvet such as an 'All Seasons' one which can be split into two; a 9 and a 4.5 tog. They usually pop together with super handy poppers so means that you can put the two separate duvets together for the winter."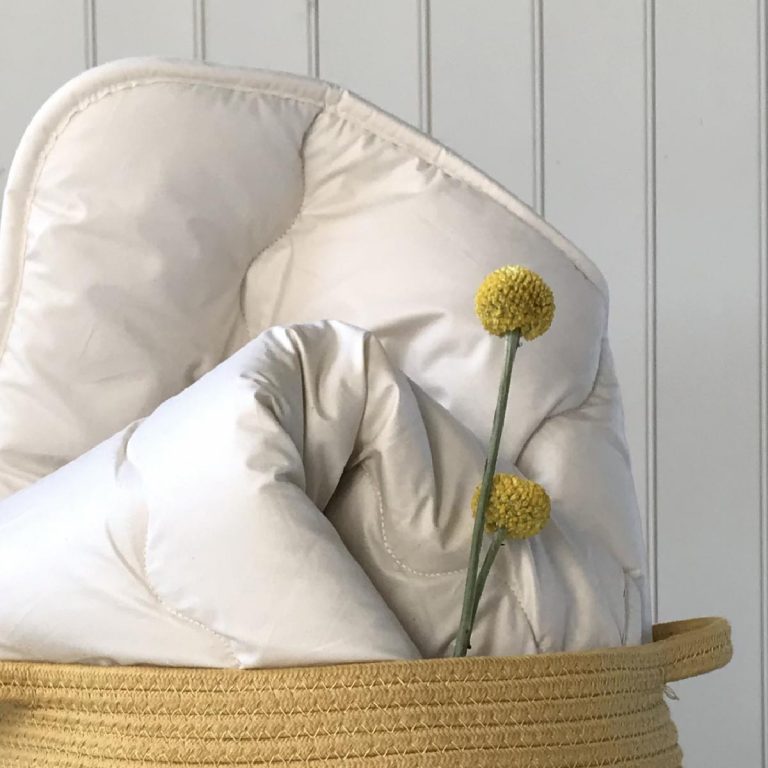 Know your sizes
Single: 135cm x 200cm
Double: 200cm x 200cm
King: 230cm x 220cm
Super king: 260cm x 220cm
Emperor: 290cm x 235cm
How to choose the right duvet? To recap…
Think about how warm you like to be in bed
Decide whether you want natural or synthetic filling
Choose the right tog for your preference (and anyone else you sleep with)
Make sure your choice meets the proper safety standards
Keep your bedding in tip-top condition with regular cleaning
Enjoy a dreamy night's sleep! (yes, please, always.)
Got a question about how to choose the right duvet? Ask me in the comments below…
Featured image: Secret Linen Store.
About Post Author