I'm going to come right out and say it. I. Love. Bed. Yep, I am that person that thinks about getting back into bed as I'm getting out of it in the morning. I could sleep on a clothes line – or so the saying goes – and this comes much to the dismay to the people that know me and who often struggle to sleep. And one of the best things about bed is fresh bedding. Oh, I can almost feel the joy now. Is there anything better than sinking into freshly laundered sheets? So for ultimate joy, the perfect bedding is required. But how do you choose?
For me, the perfect bedding is soft, lightweight linen – it's my fabric of choice and I'm currently enjoying a few sets in soft pink shades. But, like sleep, the perfect bedding is very personal. And the search often needs a little bit of experimentation to see what you like best (more sleep – ok then!). I dabbled with silk and sateen, but those bedding sets didn't feel right for me, but, hey, they might for you!
When buying, there are three key considerations: thread count, material and the look you want.
To help you find your perfect bedding set, journo Sally Smith has rounded up some tips…and I'm taking note.
Choosing bedding: do thread counts matter?
The thread count is the number of horizontal and vertical threads per square inch of fabric, with most good-quality bedding usually between 200 and 400. Thread count is used to roughly indicate the quality of the bedding in terms of softness.
It's worth noting, though, that this will depend on the thickness of the yarn, be it cotton, linen, or silk – so a lower thread count is not an automatic a sign of lesser quality.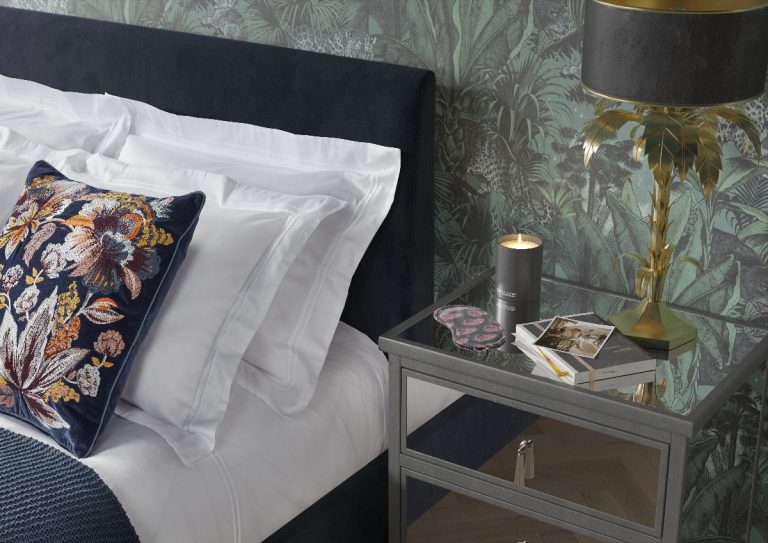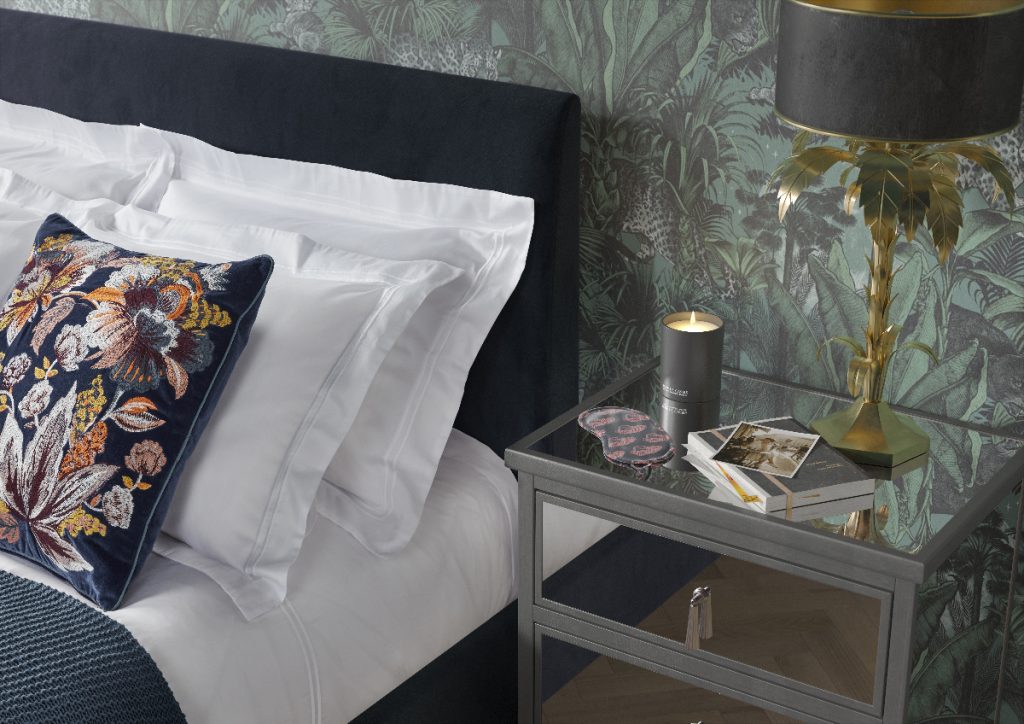 You'll find thread count printed on all labels or on descriptions if you're shopping online. Generally, standard 100% cotton sheets come in a wide range of thread counts and price points.
While thread count is often considered a good measure of quality, it's only one consideration really. Look for high-quality materials and invest that little bit more for long-lasting bedding that will look and feel good for years.
What bedding materials are available?
The latest bundles are made in a range of natural and synthetic materials that will help regulate your body temperature while you sleep and give your space a stylish update.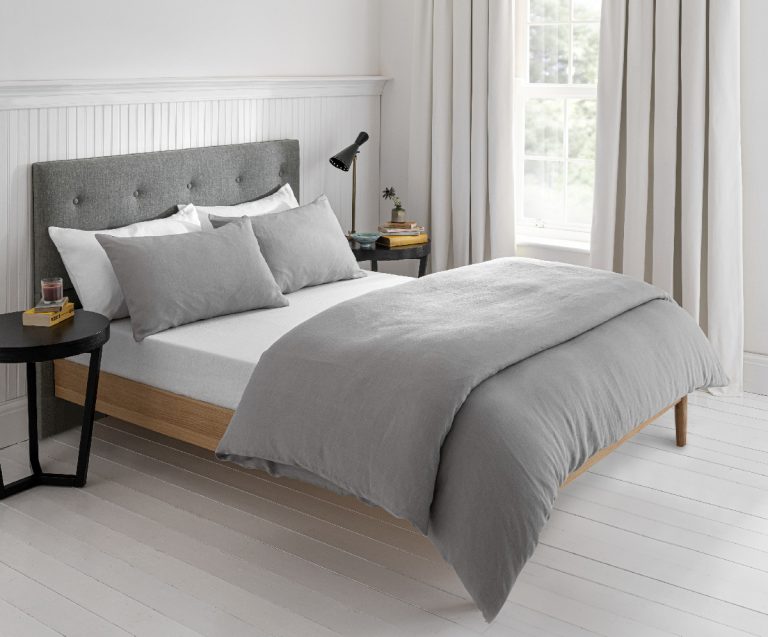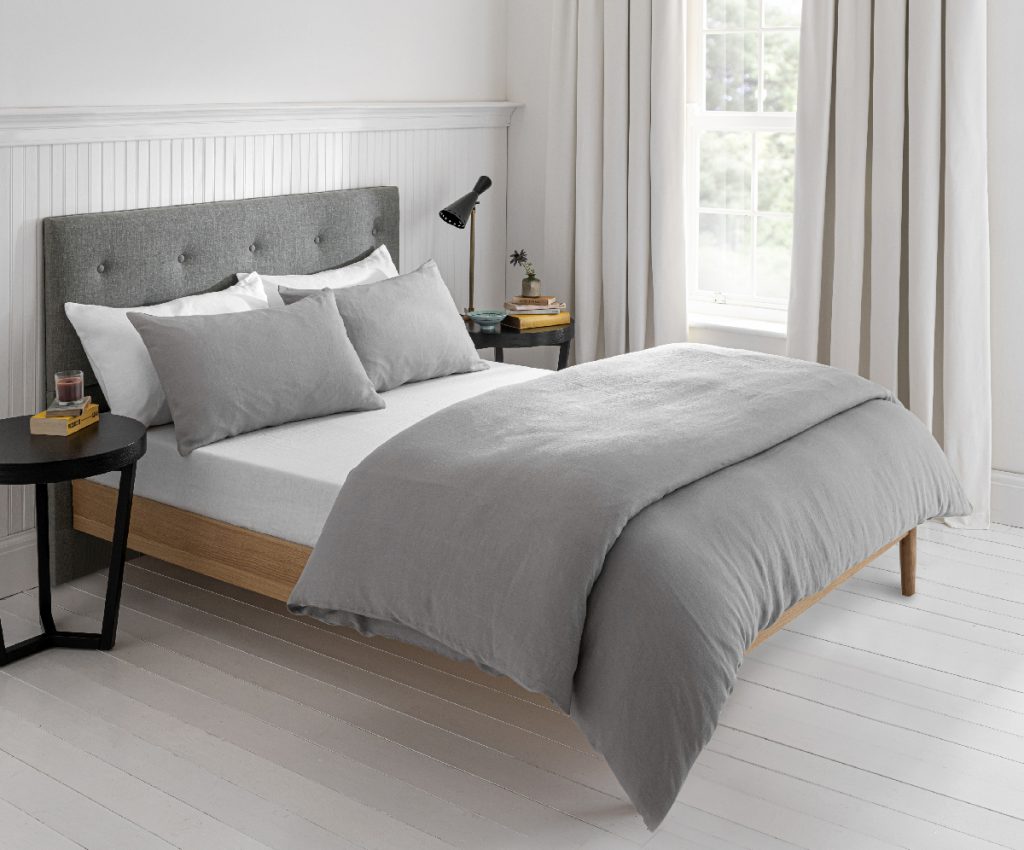 Organic cotton: A popular choice. Sets are lightweight, breathable, and available in a variety of colours and patterns at a mid-range price point. A percale weave gives a matt finish with a crisp feel, while a cotton sateen will have a subtle sheen and a feel of silk.
Polycotton: Sheets are where the cotton has been mixed with polyester to create a durable, quick-drying option – handy for a speedy bed change. Polycotton sheets are usually lower cost and widely available.
Egyptian cotton: If you want a classic, luxurious hotel look, invest in a set of Eygptian cotton bedding. It is often regarded as one of the world's finest materials. With thread counts of up to 1600 it is made to last and needs little ironing (win!).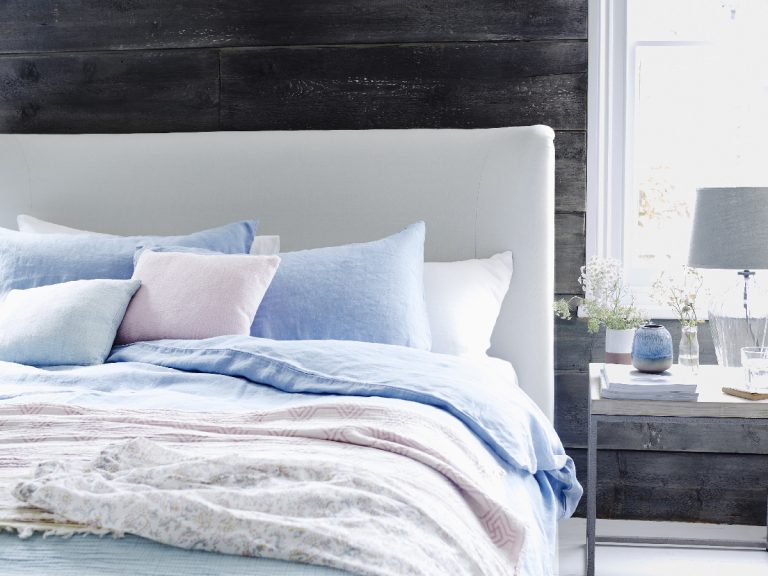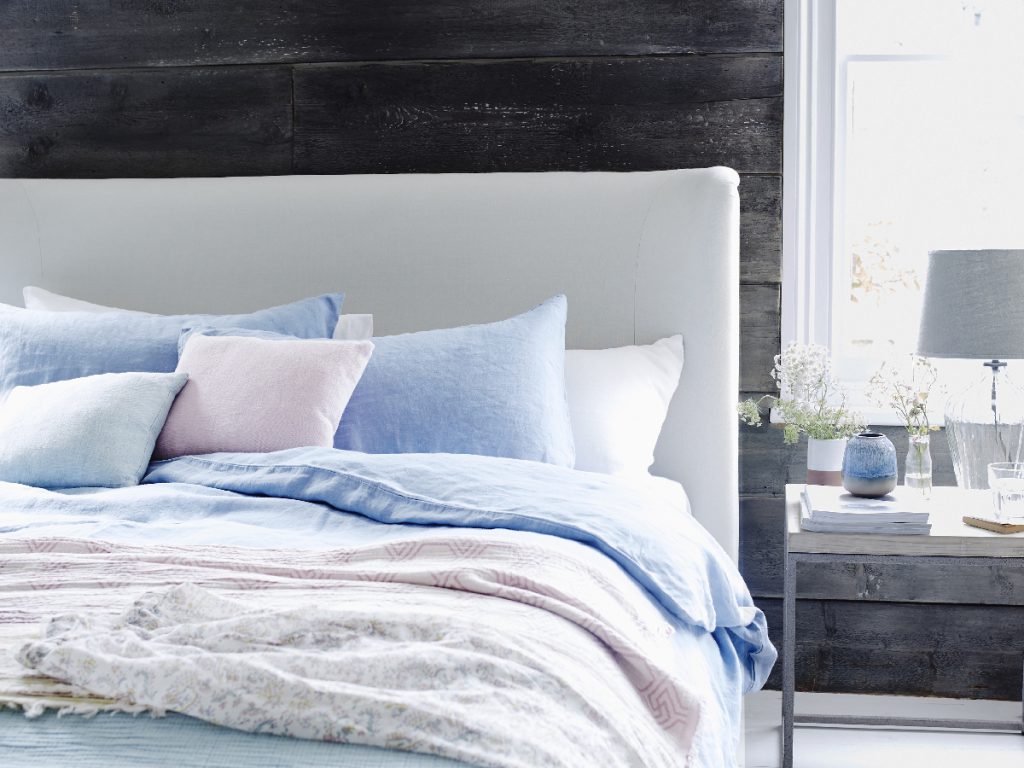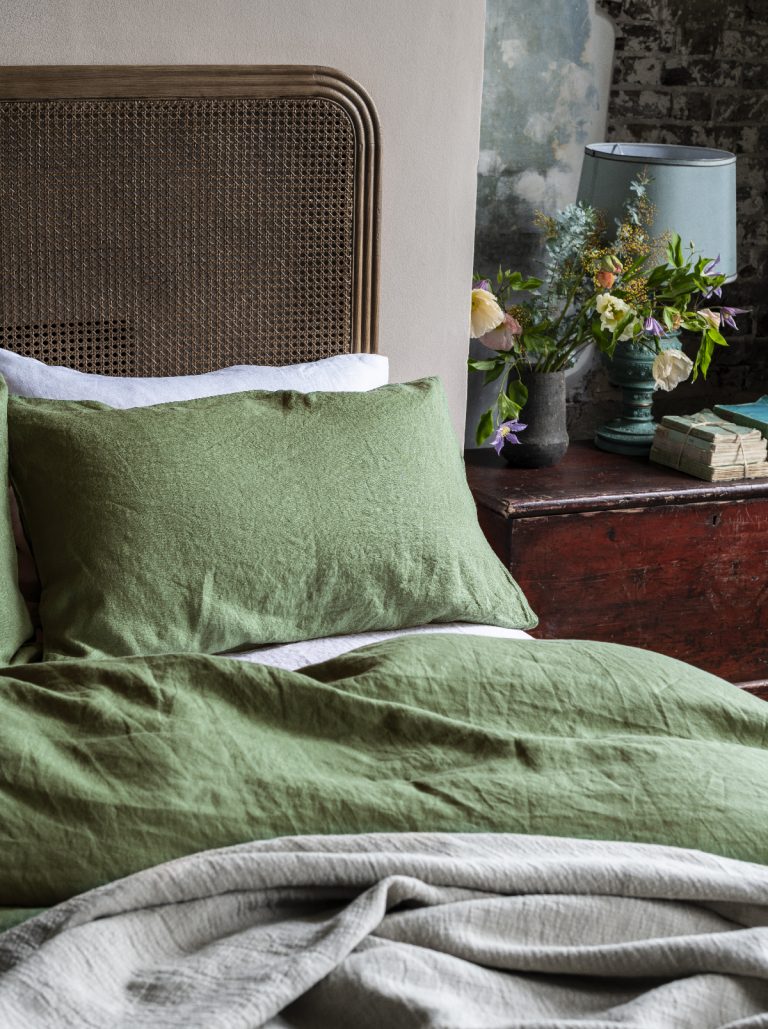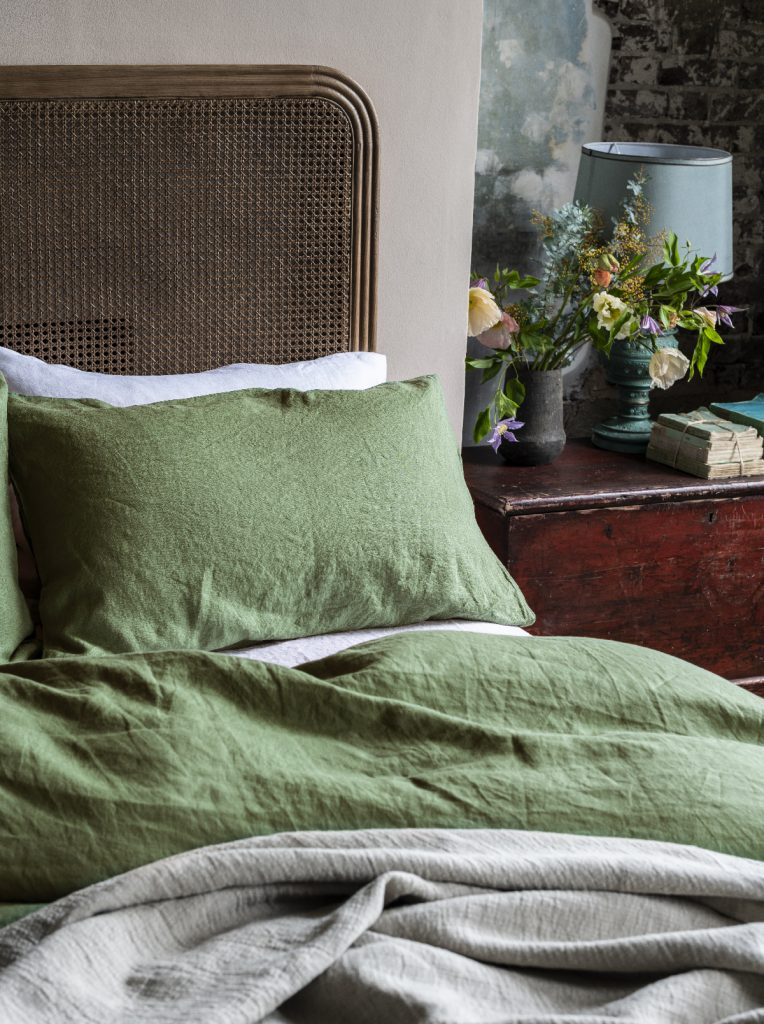 Linen: A natural material that's made from the fibres of the flax plant, which many deem to be more sustainable that cotton in its production as it uses less water. You can find plenty of mix-and-match linen bundles on the market at a range of price points. Linen bedding comes in many designs ranging from pastels, dark and earthy tones, often with a chalky colour appearance that works well for a more relaxed look. Linen has unique properties – it can absorb more than 20% of its weight in moisture before feeling wet and wick it away from the body, keeping you fresh and cool in the night. It looks best when wrinkled, so no ironing is needed, which is a big bonus if you're not keen on chores.
Silk: For a superluxe feel, silk bedding is indulgent and soothing. It is renowned for its skin and hair benefits, as
its non absorbent properties help the body to maintain moisture and minimise wrinkles. A set of Mulberry silk sheets will be sure to add glamour to a bedroom.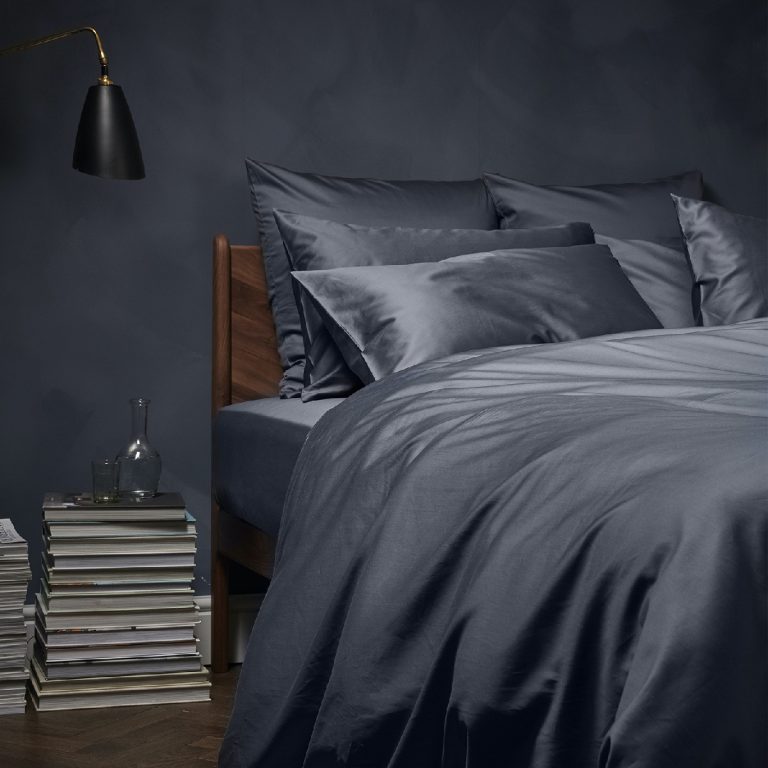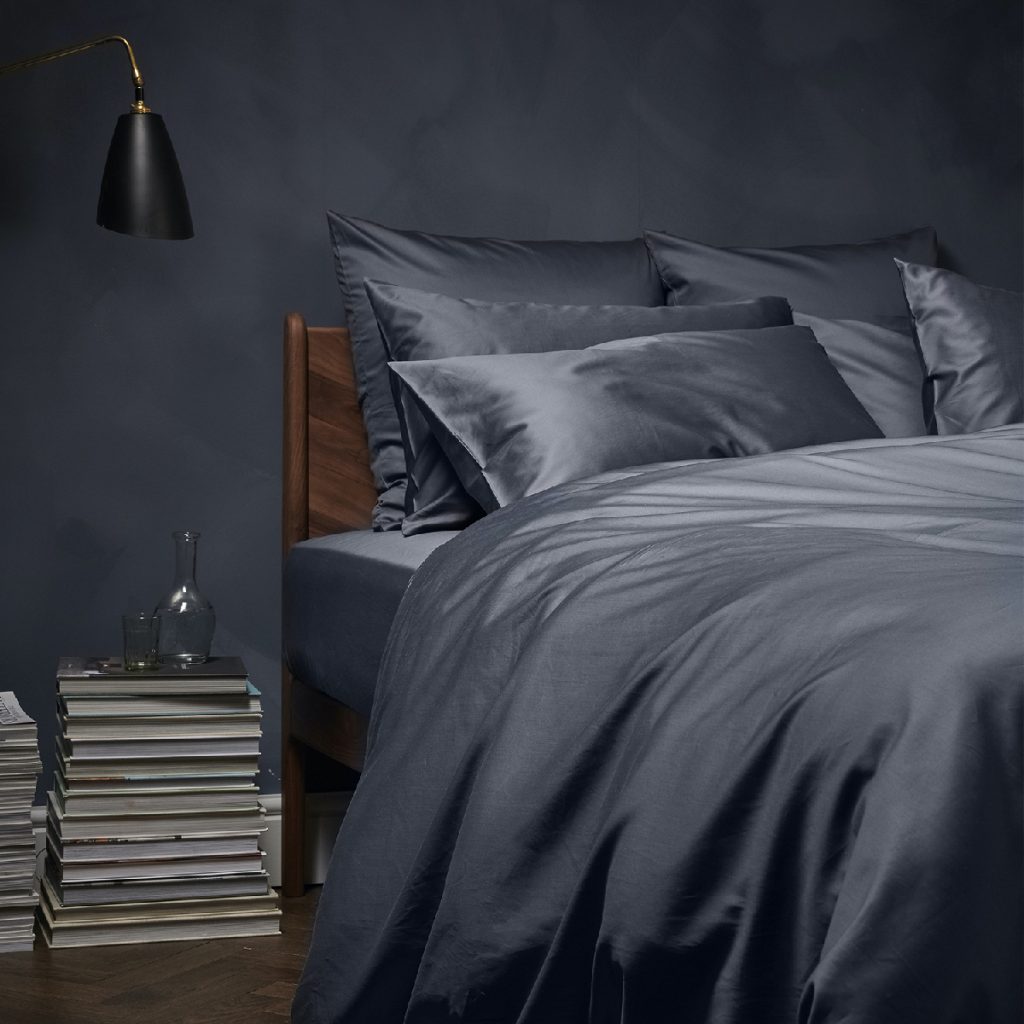 What about patterned bedding?
When it comes to cotton, the type of weave and decoration of bedding will determine the look and touch. There are endless prints and patterns available on cotton and polycotton bedding sets so you can find a set to suit your decorating scheme – whether that be florals, geometrics, paisley, stripes or fun motifs.
If you want a simple pattern or a bit of texture, a jacquard or chambray weave will give you that unique finish.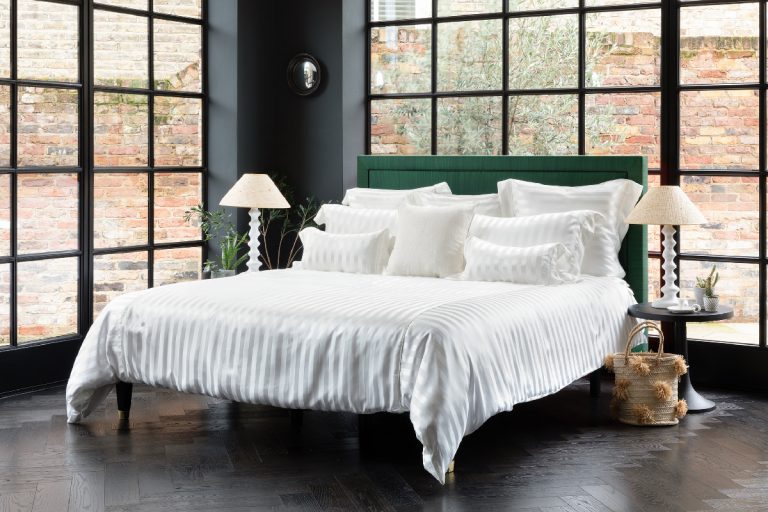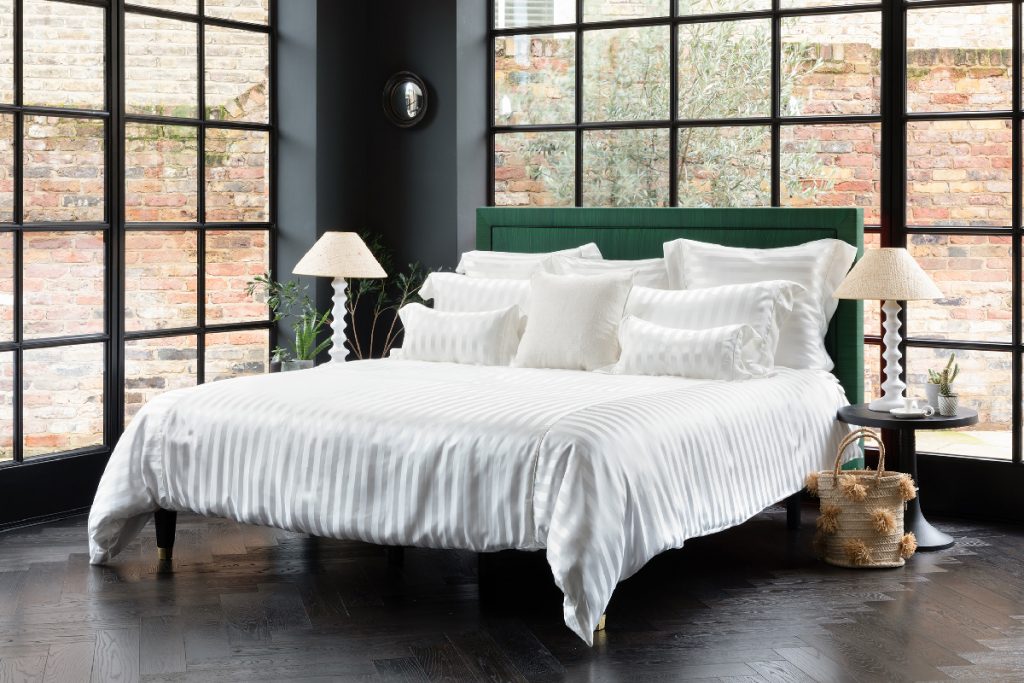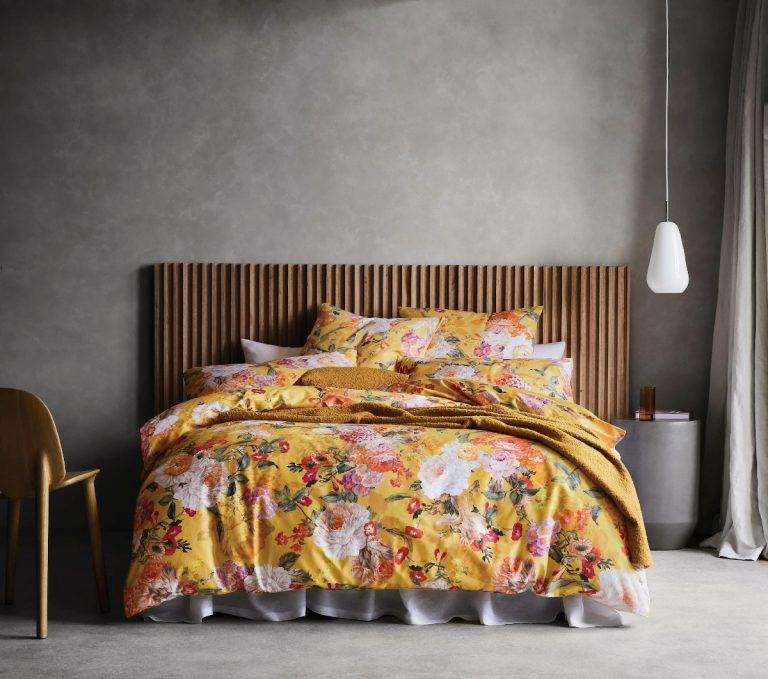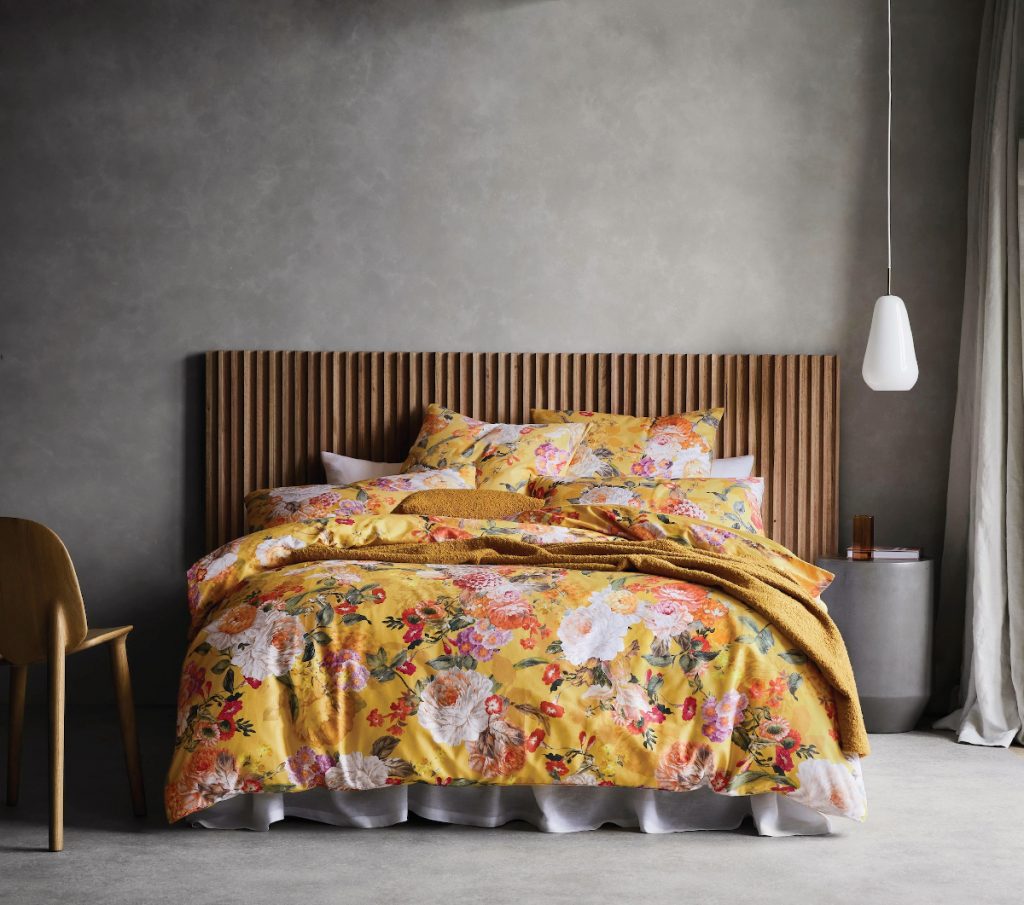 What size bedding will fit?
Match your duvet to the size of your bed. So if you have a double, look for a double duvet and double bedding set. The same goes for single, king, queen, super-king or emperor sizes. Most bedding sets will be available in the various sizes, which will be clearly marked on packaging or product descriptions.
A standard double measures 200cm x 200cm, a king size 230cm x 220cm, a super king 260cm x 220cm, and emperor size means 296cm x 235cm.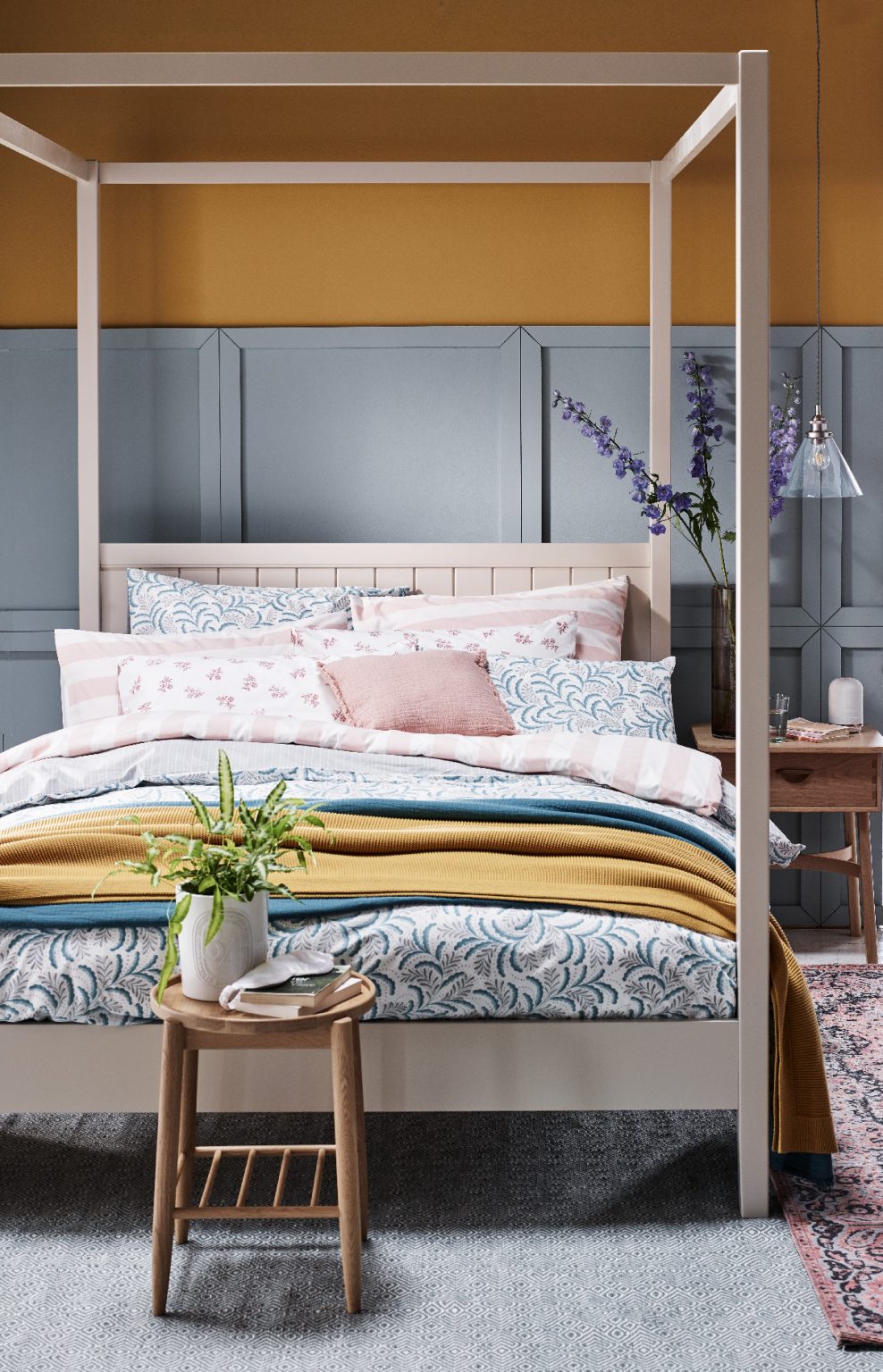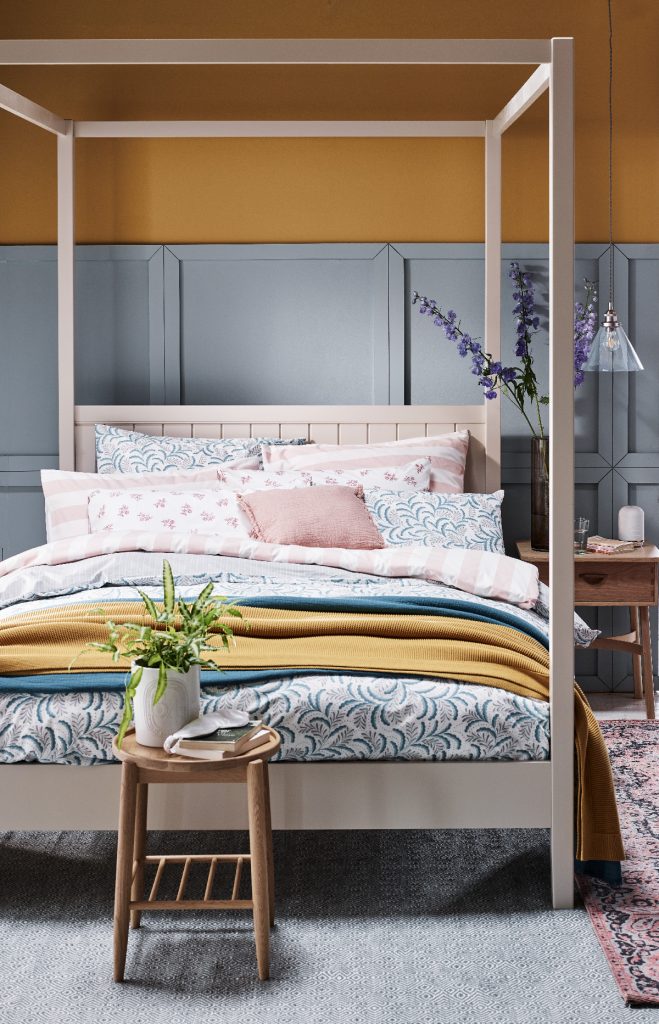 You'll also need a sheet to cover the mattress. A standard design will fit a mattress that is up to 30cm deep, but there are fitted sheets available that will fit a one measuring up to 36cm deep.
For a super-sized mattress, you could also opt for a flat sheet where you will have to fold in the corners.
When it comes to pillowcases, the standard size is 50x75cm, which is sometimes referred to as a housewife pillowcase. A so-called Oxford design has a decorative border of fabric at the edge of the standard-size seamed pillowcase or duvet cover.
Anything else to know about shopping for bedding?
Sometimes the duvet cover, sheet and pillowcases are all sold separately rather than in a set, so always check you have all you need before buying.
You may like an additional set of pillowcases if you have lots of pillows stacked on your bed, so don't forget to account for these too.
Featured image: Part of Secret Linen Store's natural bedding range, this bedding is woven from 100% French flax to help regulate body temperature. Each piece has been individually dyed in a Vintage Rose shade for a completely one-of finish. The collection features duvet covers, priced £135 for a double, and pillowcases, from £18 each as well as flat
and fitted sheet in a choice of standard UK sizes.
About Post Author