I don't know about you, but I quite like sitting outside, no matter the weather. Growing up, we had a sun roof over our terrace to protect it from rain and snow, so curling up with a book was always possible.
And when a blanket was not longer enough to keep the chill away, there was also an outdoor fireplace – so keeping warm in winter was not an issue, either, as long as you put the fire on.
But what to do if you don't have a built-in solution? As the government's response to the pandemic looks geared towards making us all meet our friends and families outdoors, we might soon have to choose between 'sitting in the garden' and 'not meeting at all', at least for a few weeks at a time.
Luckily, there are a range of outdoor heating solutions for every size of space and budget – and I've collected the different types right here, so you can easily find the one to suit you.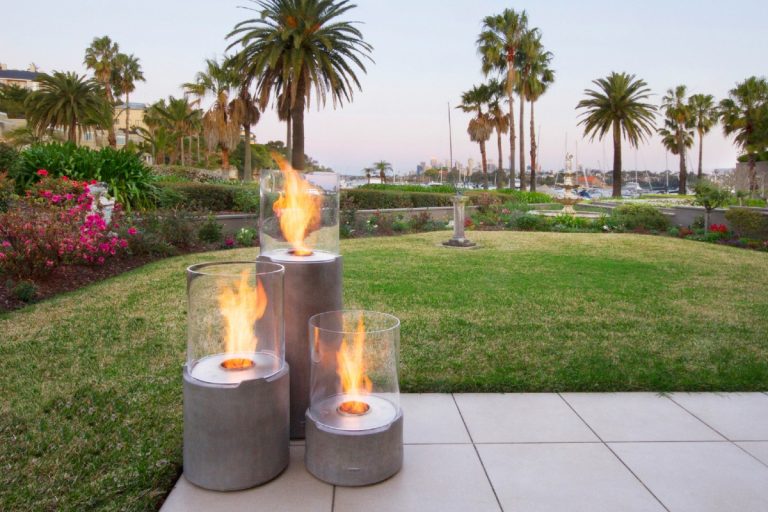 What fuel options are there?
Before I get into the different styles, there are three main types of fuel: solid fuel, electric, and gas. The latter two are self explanatory, but if the solid option might have just made you stop and think 'don't you normally burn wooden logs?'.
That's essentially what it means, yes, although solid fuel also includes pellets, which is why they are grouped together into one fuel category. Easy, right?
Some designs also use bioethanol, which is basically alcohol and considered a more sustainable alternative to, for example, gasoline.
So, with that cleared up, let's go straight to the different styles you may find (and like)…
Electric outdoor heating
I know what you're thinking – you're probably imagining a less-than-attractive solution, much like a space heater, right? Luckily, design has come a long way and electric solutions don't need to be a bit of an eyesore.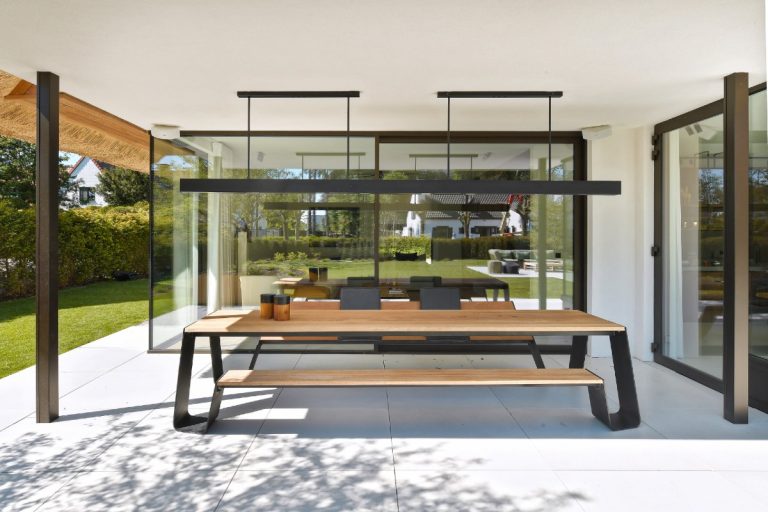 The biggest advantage. they offer is that you can switch them on and – more importantly – off as and when required. It sounds simple, but that's simply not the case with other fuel options. If you're strict about your bedtimes, for example, this might be the solution for you.
They also don't produce smoke or smells when generating heat, making them a great option if you live in a flat, a smoke-control area, or simply don't want the smoke to linger around your home.
Last but not least, most models focus the heat, so you can choose the precise direction and area that will be toasty warm.
Solid-fuel outdoor heating
Whether you're burning wooden logs or pressed pellets, there's no denying that these solutions ramp up the cosiness factor. After all, sitting next to a crackling fire is always nice, isn't it?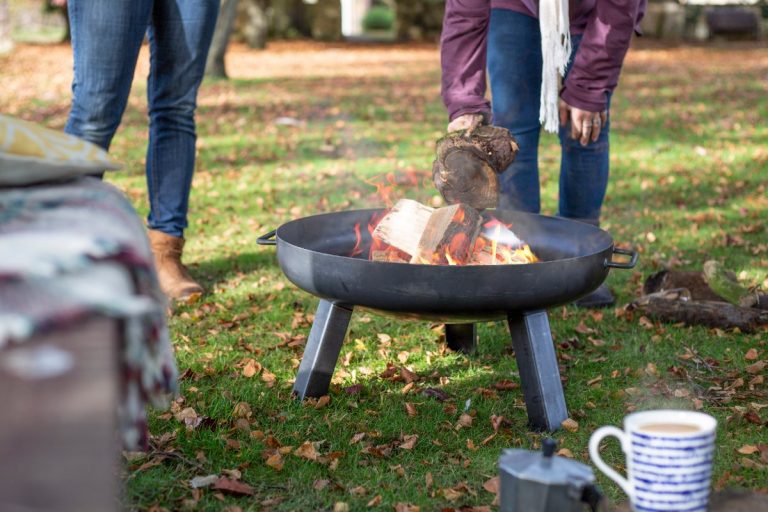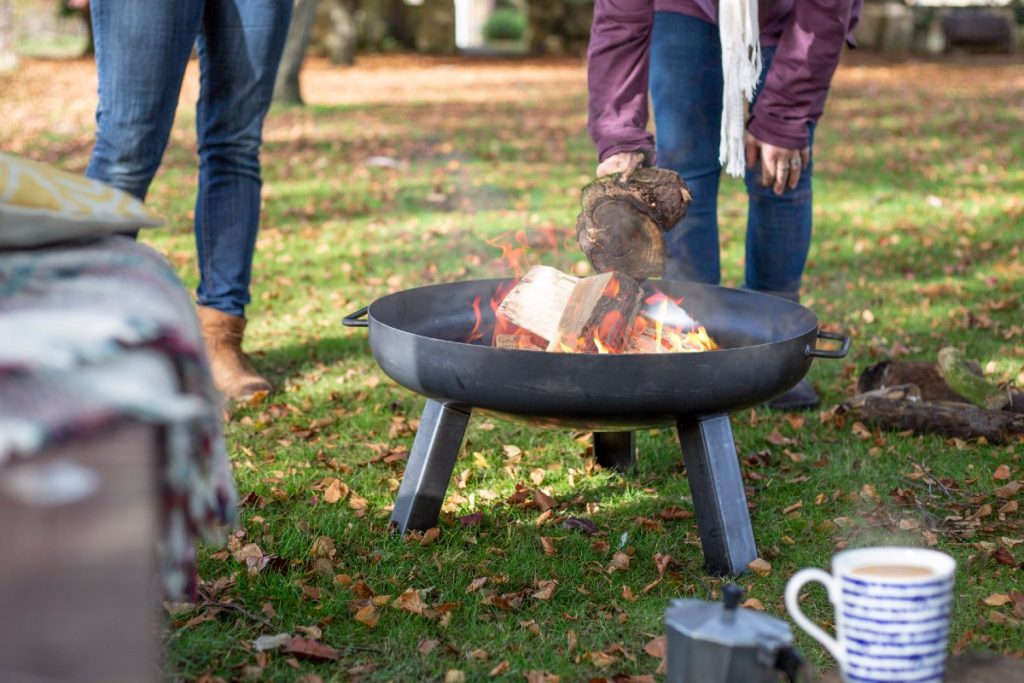 While they certainly create a lovely environment, they also release plenty of smoke into the area – even more so if you use logs that aren't fully dry – which can be smelly and even bad for your health.
In fact, many areas in the UK are smoke control areas, which means you can only burn approved fuels (including certain brands of pellets) or smokeless fuels; however, there are differences between England, Scotland, Wales, and Northern Ireland when it comes to what is allowed.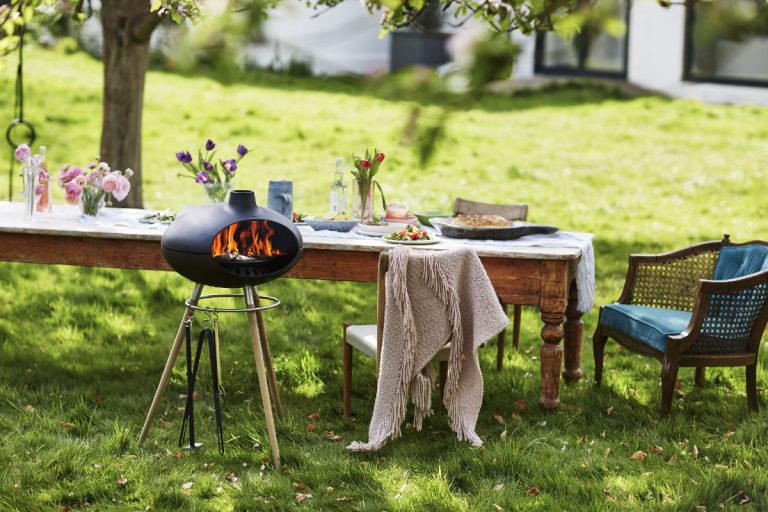 To make it easier, the Department for Environment, Food & Rural Affairs has published lists of approved fuels for each country, so always double check or you could risk being fined.
Chimneas are exempt from the smoke control rules, as are barbecues, outdoor ovens, and pizza ovens.
Gas outdoor heating
Much like electric solutions, these designs are often thought of as ugly – but they really needn't be, because design has come such a long way. Thanks to these advances, they are also more environmentally friendly than they've ever been.
Gas heating designs come in a range of styles, from tall freestanding styles to wall-hung designs or heating lamps, so afford great design freedom.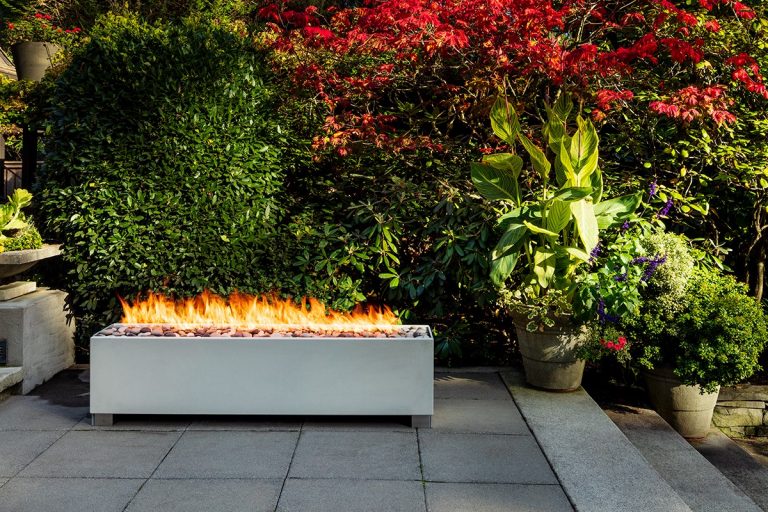 Most commonly, you'll find heaters burning LPG, which run on liquid petroleum – they're very popular outside pubs and restaurants, but work just as well in your own garden. However, they are more expensive than electric models, so do bear that in mind when choosing your solution.
Featured image: How about a built-in firepit? It certainly looks cool, plus will keep you cosy around the table. This one, by Moda Furnishing, boasts heat adjustable flames. Prices start from £1295.
Now you've got outdoor heating under your belt, how about sorting out your outdoor lighting?
About Post Author