If I told you that we are now spending twice as much time thinking about and planning home improvements than we did before lockdown, what would you think? Is that you? Are you constantly looking around your home and thinking this or that could be better? If you've realised that your kitchen is a bit too small for what you need or you've decided you're ready to go open plan (or broken plan), a kitchen extension may just be your solution to getting those vital extra square metres and maximise your plot, plus it's a chance to rework your interior layout, too.
Ok, I do admit, a kitchen extension is rather a large home improvement and is way more than a new lick of paint or new pieces of furniture, so requires precision planning. But as well as finding that we're spending double the time thinking about improving our homes, a study of 2,000 Brits by Independent Network powered by VEKA, found that we're spending an average of eight hours and 21 minutes a month making their residences perfect – that's up from four hours and 44 minutes pre-lockdown. Woah.
To be honest, this is music to my ears as I firmly believe that the best home renovations come from hours/days spent planning and scrutinising what you want to achieve and why, plus what you'd like it to look like by the end. Plan, plan, plan I say (I'm a fan of a spreadsheet, which I'm sure the rest of Team These Three Rooms would happily attest to).
To help you along with your kitchen extension planning, I worked with Jill Morgan, who writes for Kitchens Bedrooms & Bathrooms magazine (the print side of These Three Rooms) to come up with some tips. Here goes…
1. Find out if you need planning permission
Sounds boring, yes. But crucial, absolutely. With any project that impacts on your home's outside space, you may require planning permission from your local council. If you do require it, looking to see what work has been done in your street can indicate as to whether your plans will be approved – valid excuse to be a nosy neighbour.
If someone down the road has had a kitchen extension, this may signal that you'll be able to do the same. Maybe give them a knock and find out what their project was like and how the planning permission process was for their project. However, even if your street is full of new extensions, best to check in with the council about your home – there may be different rules depending on your home's location, property type or proximity to next door, for example.
The good news is that many modest kitchen extensions fall within permitted development. This is where you're able to build without the need for formal planning permission up to a certain size depending on your property type and whether it's been remodelled before. Although it's a good idea to seek Prior Approval for peace of mind.
Check out guidelines online: planningportal.co.uk lists all you need to know for England and Wales. For Scotland, head to eplanning.scot.
Remember, your home's permitted development allowance will depend on where in the UK you are as well as if it has been previously developed. If you live in a conservation area, an Area of Oustanding Natural Beauty, or in a listed building, you'll likely face stricter terms for planning, too.
Also check out your local Building Control, as an inspector will be required to ensure your project meets Building Regulations.
Watch The Kitchen Sessions: Plan your perfect kitchen extension

2. Decide on the type of kitchen extension
This is largely dictated by the size and shape of the available outside space and by what's allowed by the council. The most common type of kitchen extension is a single-storey one to the back of the house, or a side-return extension which is popular on Victorian terraced houses – filling in the narrow space that projects from the back (usually where the bins are kept, right?).
You can combine the two types to form a wrap-around extension, forming an L-shaped addition, which could help boost space inside and square off a room. The aim of all: create more space, so your perfect kitchen can be sited within it, along with a dining area or living area (or both) should you wish.
Always keep in mind what sort of kitchen style you're after, what's on your wishlist, whether you want an island, etc, as these elements should factor into the extension design as well as the kitchen design. Think in tandem: kitchen and extension together.
This will not only help keep your vision clear, but also help you decide on where to put things such as windows, doors, plug sockets and light switches.
3. Plan the kitchen early
I told you my motto is 'plan, plan, plan' and it really is true for a large project like a kitchen extension. The more you can plan before any work begins, the better.
So when you're thinking about the design of the extension and looking around for builders and architects (ask friends and family for recommendations, or seek them out via verified trade bodies), engage with a kitchen designer too, even if only just starting out.
They will work with your builder or architect to get the most from the plans. Plus, they'll help build a picture of how you will use your kitchen and come up with the best, most creative and cost-effective way to make this a reality.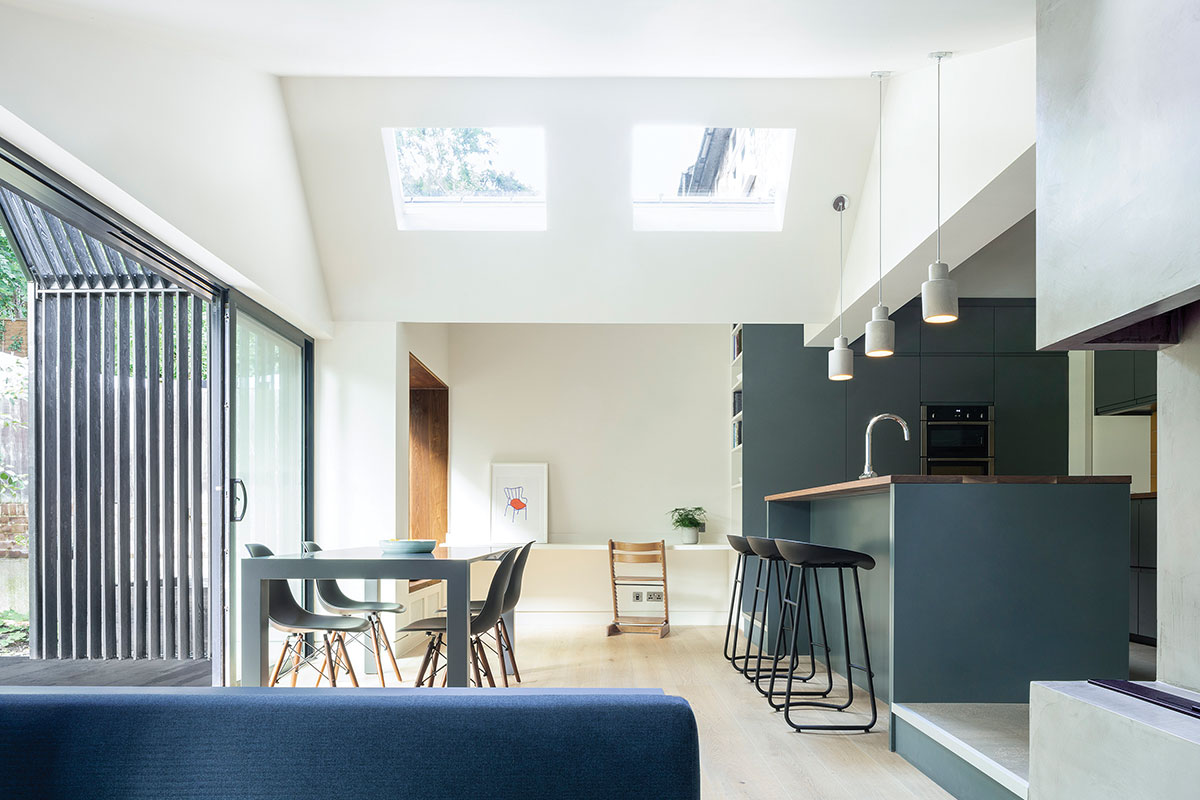 A kitchen designer will also be able to work with you and your other trades (think of them as your dream team) to suggest best layout, materials and how to create good flow from the kitchen to other areas of the kitchen extension, through to outdoors, too.
Simon Taylor, managing director at Simon Taylor Furniture, made an interesting point: "A glazed wall or bi-folding doors allow plenty of natural light to flow into the space so I wouldn't recommend having a timber or even hand-painted kitchen in this space, as the light would fade the furniture over time." Little nuggets of information like this are invaluable to a good kitchen extension project, I reckon.
4. Think about your kitchen layout
There are a number of things to consider when planning a kitchen layout (see the different types here). I asked Jayne Everett, design director at Naked Kitchens for her best starting point. "The all-important working triangle," she said. "Keep the path between your sink, fridge, and hob clear to make cooking much simpler. Then, space units at least 1m apart so you won't crash into anything as you move around the kitchen. Don't try to squeeze in more or larger units if there's no space, as it will make the room feel small and cramped." Roger that.
You should make a list of the key essentials you want in your kitchen – the ones you cannot live without. Place them in order of preference and give this list to your chosen kitchen designer. Be realistic and take the opportunity to get rid of any features or products (I'm thinking those gadgets in the back of the cupboard) that you never use, even with the best intentions.
The perfect kitchen layout features the things you really need and want, rather than lots of clutter. Your belongings will also dictate how much and the type of storage required, so don't be surprised if a kitchen designer asks you lots of questions when you have a design consultation.
Ask yourself: how many people use the kitchen? Do you need to dine in the space? Is there a back door that's in constant use? You might even like to draft a layout you think might work and then measure up to ensure it will fit before you have an appointment.
5. Assemble your dream team
Speaking of trades and your 'dream team', "who can I get to manage the project?" is a popular question. You can project manage yourself if you're diligent and organised, and happy to arrange delivery of materials in line with the construction schedule. Or, architects and many construction companies offer a design and build service, while independent project managers and kitchen designers all have their specialisms and roles to play.
Ultimately, it's up to you, your budget and the complexity of the project to determine who you engage.
If you do project manage yourself, I recommend a very good, detailed spreadsheet!
6. Blend old and new
No one wants a kitchen extension that doesn't flow with the rest of the house, right? The aim: perfect flow.
Keeping structural details such as the ceiling and floor heights the same between old and new rooms has a huge impact on integrating the new space, but there are other ways of blurring the boundaries too.
Replicate the style of skirting boards, internal doors, and window frames in the new space and keep to the same flooring and wall colour throughout for continuity.
Many kitchen companies are happy to design and install coordinating storage, fire surrounds, and media units to tie open-plan living areas together.
7. Run a tight ship
Ok, you've assembled your team, decided on the type of extension and figured out if it's allowed by the council, plus you've got your dream kitchen planned and ordered. How do you keep it all running smoothly so the end result is perfect with a capital P? A few pointers…
Agree a realistic fitting timescale with your installers and if you are using several different trades check when each will be needed during the process.
Make sure you know where things such as the stop cock to turn off the water supply and the mains box for the electrics are.
Have all your belongings packed away before builders arrive – but leave the kettle out (!) – and consider how long you won't have access to cooking and washing up facilities. Make back-up plans for cooking and washing up and decide whether you'll live on site or relocate until the project is completed.
Now all that's left is to look at our gallery of 10 amazing kitchen extensions – inspiration awaits.
Featured image: An initial application for this wraparound kitchen extension was not approved by Lambeth council, as it would have changed the property too much. The original property was L-shaped and the extension plans would have completely changed its proportions. After the application was refused, the homeowners considered appealing at first – but it was never pursued as architects at The Art of Building came up with alternative option.