Do you have a small kitchen and wish you could pick up the sledgehammer to knock though a couple walls and create a multi-functional space? Well, you are definitely not alone. The owners of this Victorian gem decided to give their home another chance and plan their dream renovation. Luckily for us, our features editor Georgina spoke to Lucy Burt to find out the story behind the renovation…
Lucy, founder of Nest Interior Design, and her husband Dan, bought their Victorian terraced house in Manchester in 2007. "We bought the home from a developer who had been very sympathetic in restoring all the character features, such as original doors and cornicing," Lucy says. The property's condition meant that, apart from converting the loft to create a fourth bedroom, there was relatively little to do. But 10 years later, they got an itch to renovate and design a new multi-functional space…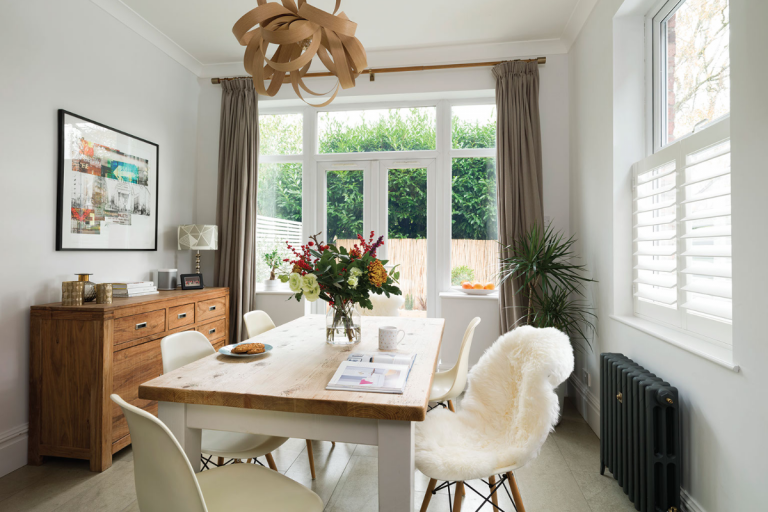 What was the brief for the kitchen?
"The small kitchen was very dark, thanks to it being in the middle of the house, with a tiny window and several wall cabinets. The dining room was separated by internal French doors, which I hated," says Lucy.
She knew exactly how she wanted her new multi-functional space to look – a social space with navy units, lots of storage sited in a way that didn't block out the light, enough workspace, and a place for a hammered-copper sink.
The couple planned on making the two areas feel like one and adding more daylight into the space. The first step in turning the small kitchen into a multi-functional space was to knock through the internal French doors. To do this, builders from SB Projects added a supporting steel lintel, so the opening could be as flush to the walls and ceiling as possible. And with help from kitchen company Designs for Life by Cottage in Timperley, the renovation began.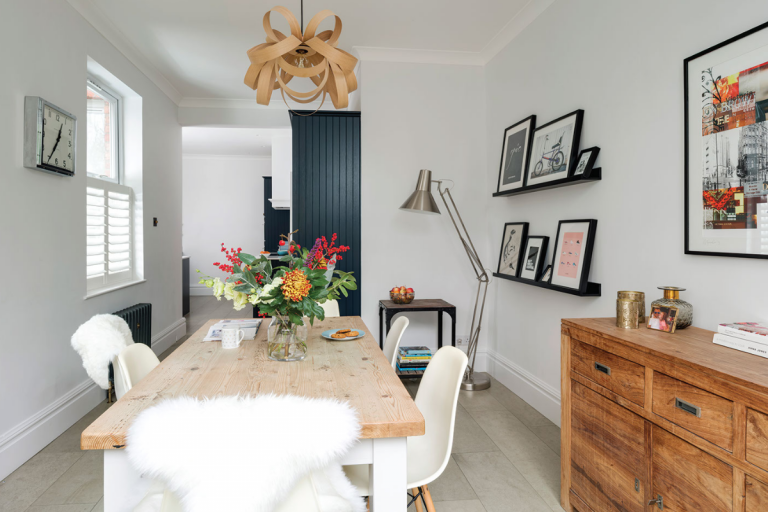 How did you come up with the design?
"I knew we didn't have space for an island, so we came up with the peninsula idea. The kids love to be able to sit up there in the morning and have their breakfast. Plus it's great if you are cooking and have people round, as they can perch there and have a glass of wine while they chat to you," says Lucy.
"Once we started looking at the designs, I thought it would be a great idea to have something in the, then dead, space between the kitchen and dining room. So we created a triple larder unit which includes an integrated fridge-freezer and perfectly fits everything we had from before."
For the appliances, Lucy wanted a double oven, as she didn't want a microwave on display, and an induction hob flush to the worktop. In terms of décor, she designed the space to have a classic feel, fitting with the era of the house – but to ensure it wasn't old-fashioned, she went for a modern white worktop, concrete-effect Concreate flooring, and a contemporary colour palette.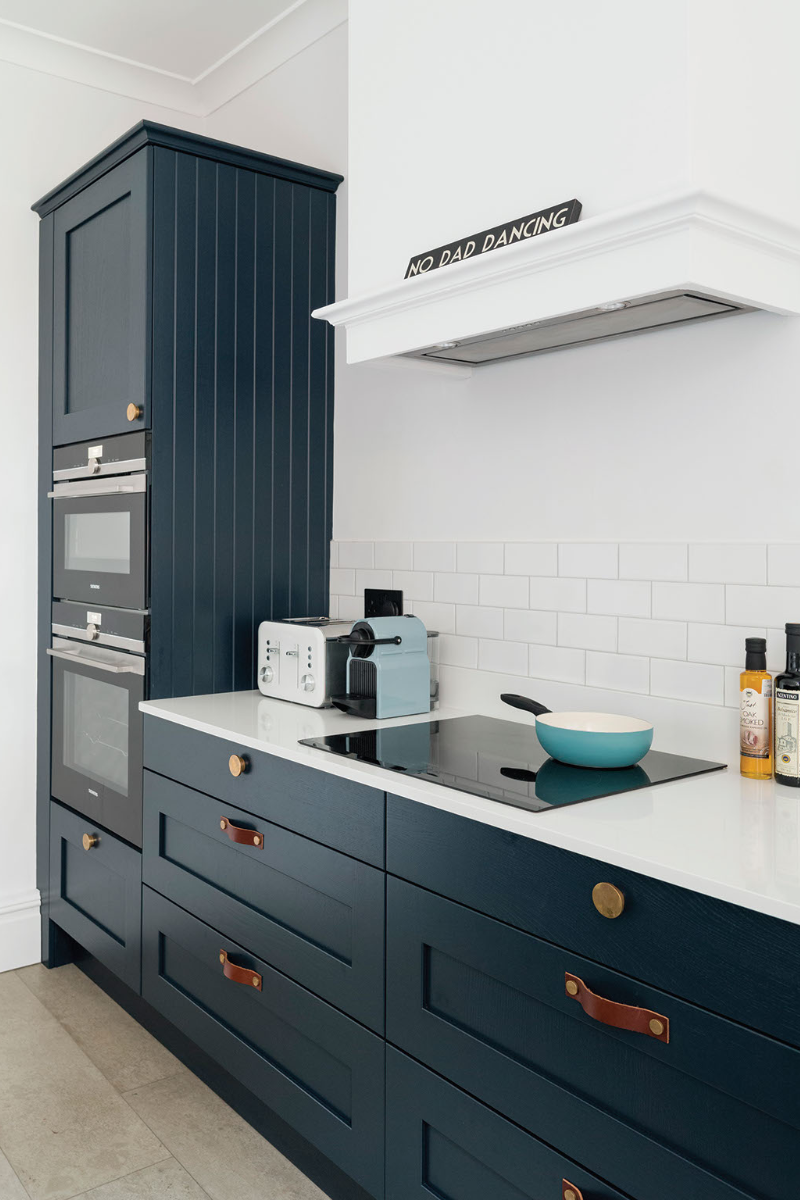 How did you find the right colour palette?
The cabinets are painted in Little Greene's Basalt, which was a non negotiable for Lucy. "Getting that colour was the biggest challenge, as it was one of very few the company couldn't reproduce," she explains. "I didn't want it to be a bright tone or an obvious blue – it had to be subtle. The kitchen company were really good on working with me on this and in the end found someone locally to spray it."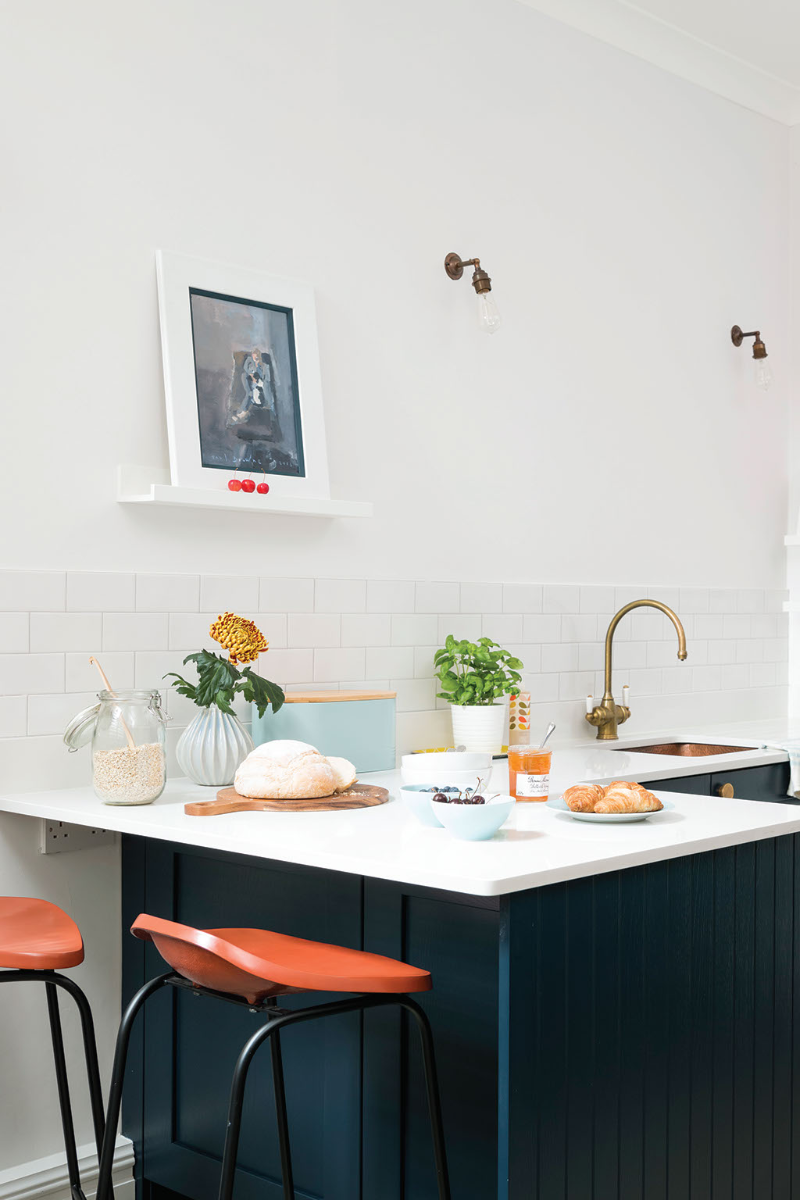 How did you decide on the finishing touches?
"I knew I wanted a copper accent but I didn't want the kitchen to be 'matchy-matchy', so I brought in other metallics such as the brass handles. When they arrived they were shiny, so I soaked them in vinegar for two days to give them an aged look. Dan thought I was absolutely crazy," she laughs.
The new flooring and the same wall paint – Wevet by Farrow & Ball – has been used throughout the entire kitchen-diner to help connect the two spaces.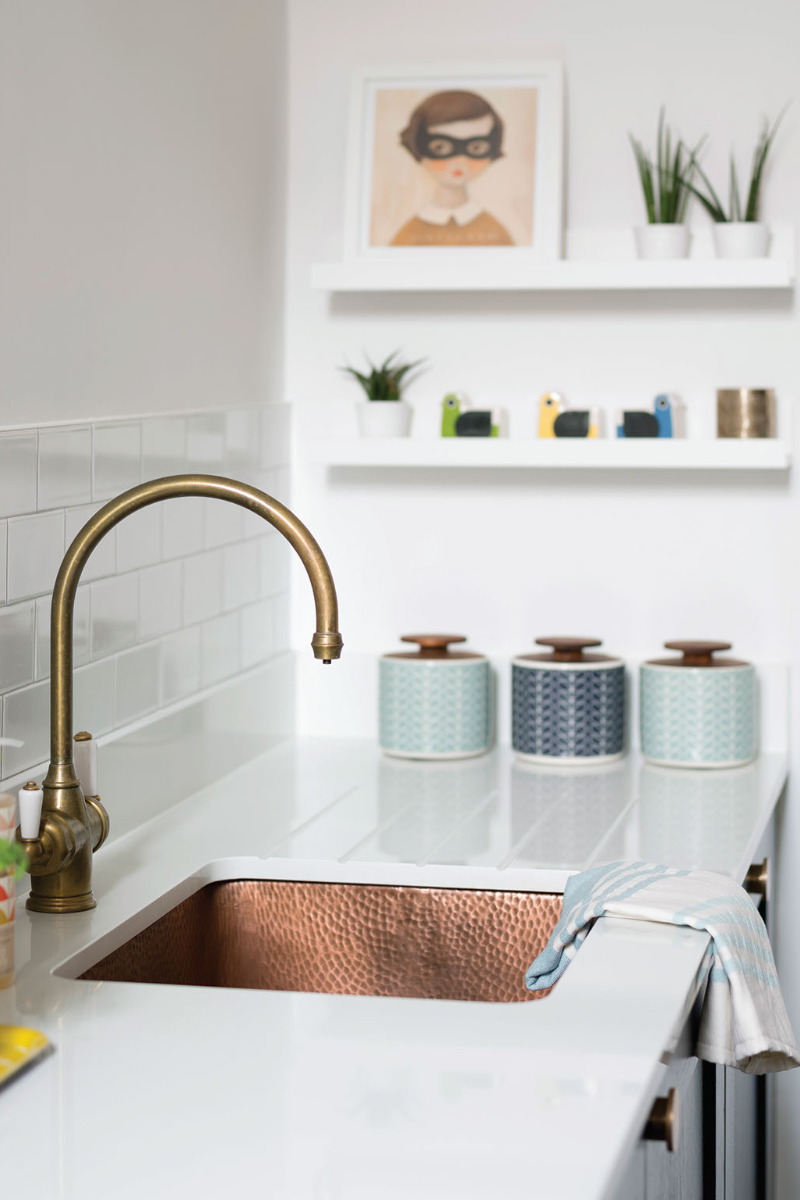 "For the first few months, we would come downstairs and it didn't feel real. There's now so much more daylight in here, and it feels incredibly spacious, and it's simply a lovely place to be – whereas previously it wasn't somewhere you would want to linger. We use the kitchen area all the time with the kids, as well as when we have people round. It now feels complete and has all the features I wanted from the very start."
Photography: Jeremy Phillips
Featured image: Lucy and Dan Burt decided it was time to renovate their kitchen into a multi-functional space perfect for their family.
About Post Author