We all want clean kitchen worktops – but it's easier to clean some surfaces than others. Maybe you want to know how to look after a specific material, or perhaps you're choosing your worktops and researching which material is lowest-maintenance. Never fear: we've got the answers for you here
'Clean kitchen worktops' is the right thing to type into Google, because your worktops will account for a hefty chunk of your kitchen-buying budget. Look after your worktops and they'll last for years to come (yay!); neglect them, and soon you'll need to replace them (boo!). So let's dive in and talk about the different materials on offer…
Wood
Natural and beautiful, hard wood is more affordable than stone and comes in a wide range of wood grains and tones. Bonus fact: it's naturally antibacterial, so is a great choice when it comes to hygiene. It's one of the more easy to clean kitchen worktops. Mix white vinegar, washing up liquid and water to disinfect the worktops with ease – just be sure to dry them afterwards. And as a bonus, age is kind to wood.
However, remember that natural hard wood needs regular maintenance. Oil your worktops as often as possible for the first six weeks, then every three months (sorry about the faff). Also, be careful with knives and other sharp objects like skewers, as wood can and will scratch. It can also stain and get scorched, so be careful where you set down hot pans!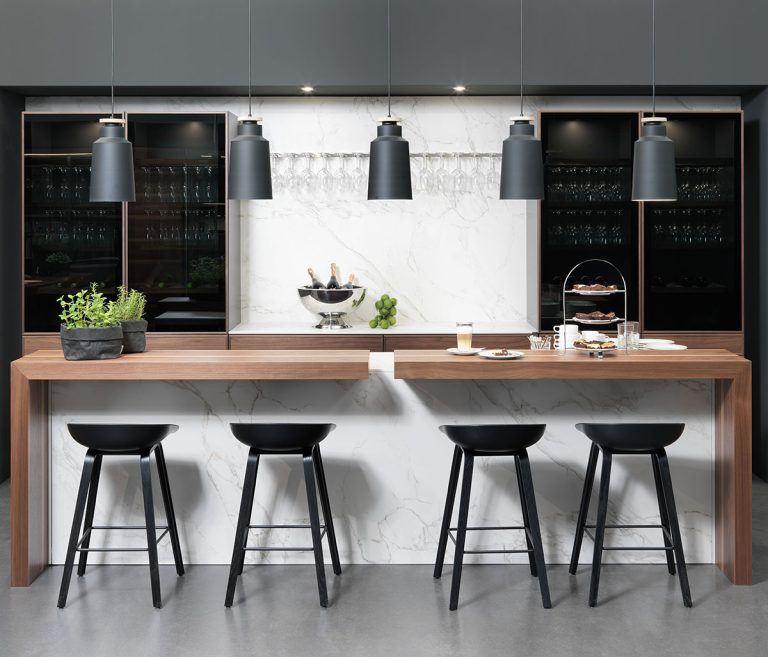 Quartz and other engineered materials
Quartz is a popular choice for worktops as it's stain-resistant and easy to clean and maintain. So you'll be able to have permanently clean kitchen worktops with just a little effort. It comes in many different colours, is anti-bacterial and very durable and hardwearing. However, it's very pricey and is also extremely heavy, so leave installing the worktops to the professionals. It can also sustain heat damage and doesn't perfectly replicate the look of natural stone. To clean quartz, use a wet soapy microfibre cloth. Steer clear of any very acidic or harsh cleaners and don't use a rough surface such as a Brillo pad, as the surface may scratch.
Marble
Marble is beautiful, natural and at the top of many people's wish lists. It looks stunningly opulent, can add value to your property and will last a long time if cared for properly. However, it's also extremely expensive, not eco-friendly, stains and scratches easily, is not resistant to acidic foods and will degrade over time if neglected. Seal it twice a year, and look after it well, as it's difficult to clean. There are specialist marble cleaners you can buy, such as Method Granite and Marble Cleaning Spray (£3.98, John Lewis) but a microfibre cloth soaked in distilled water is suitable for everyday stains. You will find they don't shift quickly though.
More advice on how to care for your kitchen surfaces
Granite
Another natural stone, granite is harder and stronger than marble and is therefore glossier. It is slightly less expensive but arguably also slightly less beautiful, with a range of speckled colours running through it. Unlike marble, it is mostly scratch resistant and only needs resealing once every two years. The lighter-coloured the granite is, the more porous it is and the more maintenance it requires. It should be cleaned in the same way as marble (above) for properly clean kitchen worktops.
Dekton and other composite solid surface worktops
Want to buy easy to clean kitchen worktops? Dekton, Corian, Maia and Encore are called solid surface worktops. They're created by taking a substrate material such as wood and adding an acrylic resin on top. They're very expensive, but are also heat and scratch resistant, don't stain and you can mould them into any shape, while all you need to clean them is warm soapy water or an ammonia spray. However, do steer clear of using window cleaners, as they can leave a waxy residue which makes the surface less shiny.
Laminate
When it comes to cleaning kitchen worktops, laminate is also an easy surface. The most popular and cost-effective worktop material, it's very cheap, but it can be made to look like a more luxurious surface. It is antibacterial and is easy to clean and maintain. However, poor quality laminate can peel away, burn, melt and scratch, so always ensure you purchase from a trusted retailer. Warm soapy water will work a treat for cleaning laminate worktops.
Earthstone
Earthstone is a strong, durable material which can be installed with virtually invisible joins, giving your worktops a modern and sleek look. It's non-porous, can be sanded and polished to remove bumps and scratches, and is affordable when compared to marble and granite.
However, you need a special kit to make sure your earthstone worktops last. The worktops also scratch easily, so to clean them, avoid abrasive cleaners and sponges such as steel wool, and use soapy water on a microfibre cloth. You can add diluted white vinegar if the stain needs more work.
Concrete
Concrete is a very strong and durable manmade material. It's popular for its rugged look and many people like the patina it develops over time. However, it can crack, developing hairline fractures. It can also scratch and stain, and you need to seal it when installed and then wax it monthly.
To clean concrete worktops, don't use abrasive cleaners or sponges. Instead, use a soft sponge or cloth with warm soapy water. It's also best to use a chopping board to avoid getting stains on your beautiful concrete worktop.
Porcelain and ceramic
Porcelain is made from clay, which is then fired in a kiln at extremely high temperatures, after which glazes are added to colour the material. It's almost impervious to staining, is non-porous so doesn't absorb liquids, and is heat, scratch and chemical-resistant. It's also very hardwearing, won't fade in sunlight and can be created in any colour or pattern. You don't have to seal it, and it's recyclable and eco-friendly.
However, ceramic knives can scratch it. The pattern is printed into the top, meaning it won't be visible on the edges. In addition, as it's not a common material for worktops, it can be hard to find a supplier.
Ceramic is similar to porcelain – both are made out of clay. However, ceramic is less durable, dense and water-resistant, and is therefore also less expensive.
To clean both, begin by removing any dust. Then add a few drops of multi-purpose household cleaner to a mixture of water and white vinegar. Use a non-abrasive sponge to clean the tiles, rinse with warm water and dry with a cloth.
Glass
A newcomer to the market, glass is bright, eco-friendly, glossy and can make a room feel more spacious due to its transparency. There are many options, including textured glass, back-painted glass, crushed glass and even glass inset with LEDs. It can also come in any colour you can imagine, and is easy to clean.
However, glass scratches easily, so use coasters and placemats and put cutlery down on napkins rather than straight onto the glass. When you come to clean your kitchen worktops, avoid scratchy sponges like steel wool and abrasive cleaners, and instead use an all-purpose cleaner on a soft cloth.
Stainless steel
Stainless steel tends to be used more in commercial kitchens than in residential. However, it's hardwearing, strong, light, heat-resistant, easy to clean and maintain, waterproof, and resistant to acidic materials. It has a slightly cold and clinical look and can be tricky to install in large areas. It is also an expensive material.
To clean it, simply wipe a soapy cloth over it and rinse with warm water, then pat dry.
The end… and the beginning of your furious cleaning session
So, now you know how to clean kitchen worktops – whatever they're made of. What are you waiting for? Get scrubbing and enjoy your newly-gleaming kitchen!
Want more? Have a look at the gorgeous textured concrete-effect worktops on-trend right now.
About Post Author