We all know by now that recycling is good for the planet. We all have multiple bins for glass, paper, tins, plastics and other household wastes such as compost bins for food leftovers, but what about the other things we use in our kitchens? If you're renovating your kitchen and buying new appliances, it's important to think about how to recycle your old appliances responsibly so they don't end up in landfill – or sitting annoyingly in the back garden or garage because no one is quite sure what to do with them – can you relate?
There's no denying that recycling old appliances doesn't seem as straightforward as the other recycling we're used to, so I've done some digging and found the best ways to recycle old appliances in ways that are better for the planet, could help other homeowners or could even be good for your wallet.
Read on for my best ways to recycle old appliances…
Take back schemes
Many retailers will take your old appliance off your hands as part of a purchase with them. So when you buy a a large appliance such as a washing machine (for example) from a retailer such as AO.com, John Lewis or Currys, their delivery teams will remove your old one for you and either dispose of it responsibly or re-use it where possible.
These removal services are usually listed as an option when you place your order for the new appliance and are usually subject to a small fee from around £15.
Note that the appliance must be disconnected and always check whether the retailer will take built-in models as some will not.
Always ask your retailer (even if you're getting your appliances via a kitchen showroom) whether they can take away your old appliances.
Recycle with retailers
Even if you're not buying a new appliance from a retailer, some will still take your old one for recycling. AO.com runs a handy scheme whereby you place your 'recycling' order via the same channel as if you were buying something and they'll arrange a collection on your behalf.
They then send it off to Bertha: the big green recycling machine (as they call her) in Telford, Shropshire to be recycled. According to AO.com, Bertha helped recycle 20% of all fridge-freezers going to waste in the UK in 2020 (that's around 700,000!).
Again, expect a small fee of from around £20 for this recycling service.
You'll need to disconnect your appliance before they're collected and if you're recycling a fridge or freezer, you'll need to defrost it completely.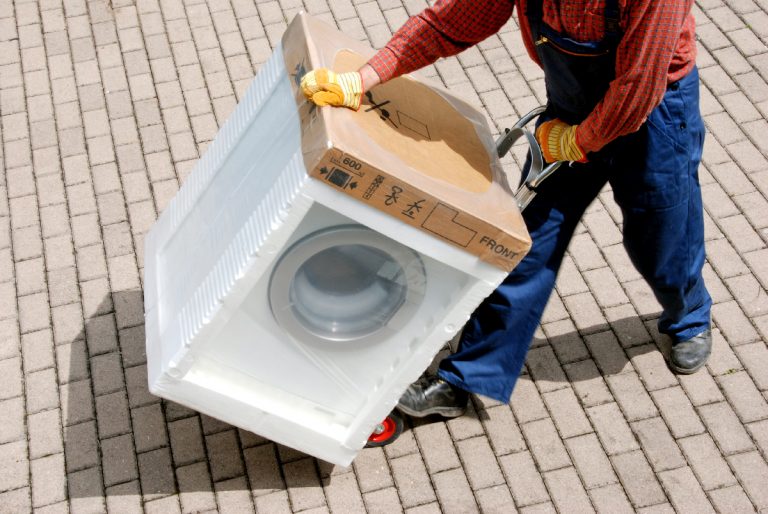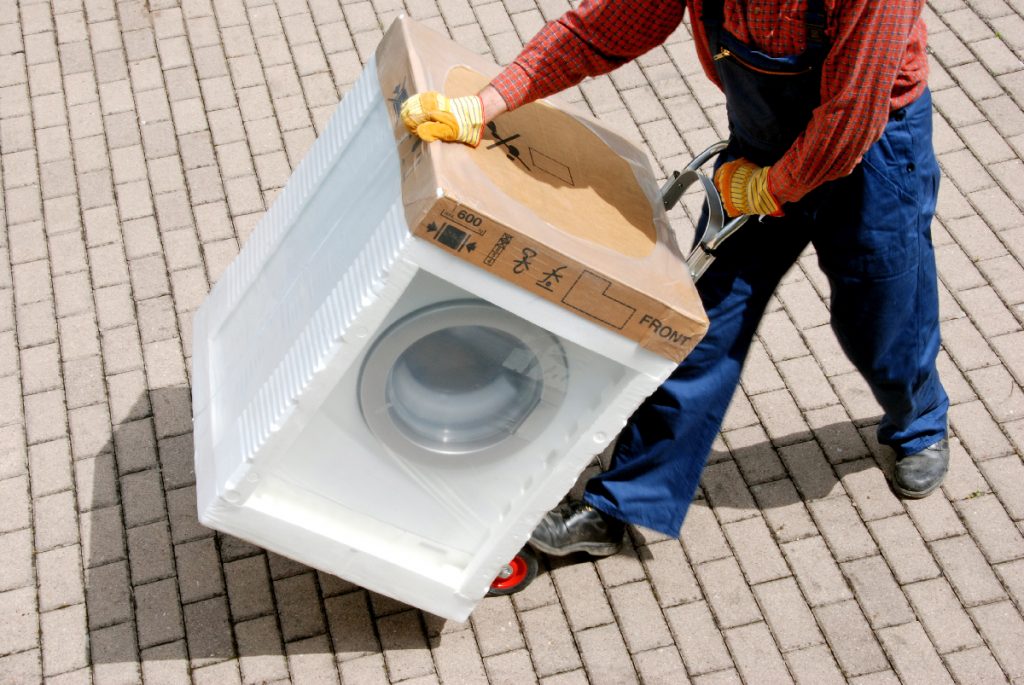 Find recycling online
Check out Recycle Now and search using your postcode to find where your nearest recycling centre is.
You'll be able to find stores and facilities that will take your old kitchen appliance as well as other household items that you may no longer want or need.
Recycle Now say it's easy to figure out if you can recycle your things by asking:
Does it have a plug?
Does it use batteries?
Does it need charging?
Does it have a picture of a crossed out wheelie bin on it?
Another good resource is Recycle Your Electricals. Use the online search tool to find your nearest recycling point or locate facilities that are open to donations – simple.
Be a good friend
Is your appliance in good working order? Is it just that it doesn't fit your kitchen any more or you have no need for it? Before you sling it, ask friends and family if they (or anyone they know) could make use of it. Waste not, want not after all and you could really help someone out.
Ask around locally
Again, if you're looking to recycle an old appliance that still works, why not pop an advert for it on local community groups on Whatsapp or Facebook Groups?
You may be able to offer it to someone who can collect it from your house and use it in their home instead.
It goes without saying that you must ensure the appliance is of good working order, clean and safe before you offer it out elsewhere.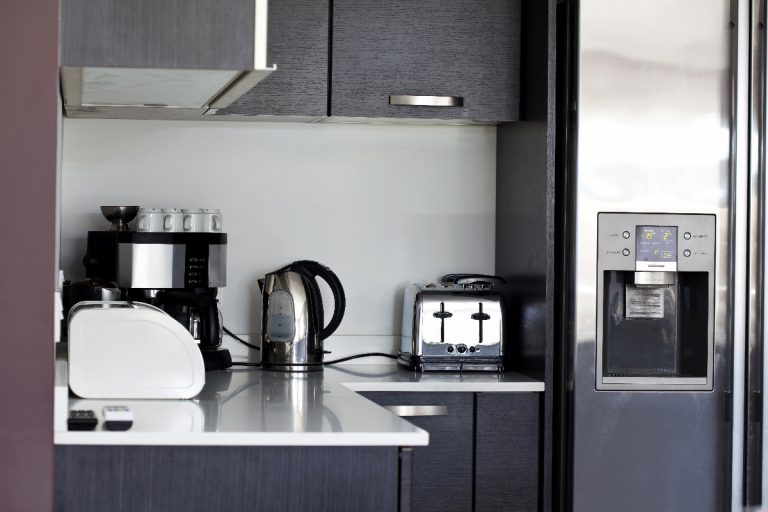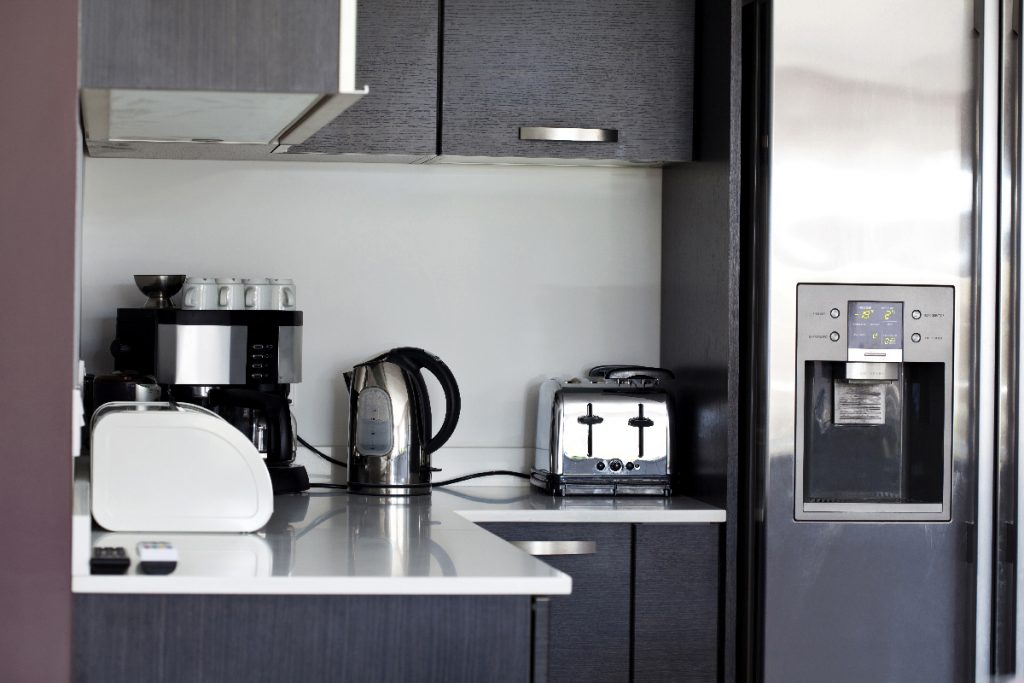 Make some money
If your old appliance is safe and working, you might also like to sell it on Gumtree or Facebook Marketplace – both of which are free to use with an account.
You'll set the price and will need to arrange an advert listing photos of the appliance and details of its condition, plus a price and then liaise with potential buyers via messaging.
Always ensure you give the correct information and do not give out your address for collection in the advert – always wait until you have confirmation that a buyer wants to take it off your hands.
If you are buying new appliances, you could put any money earned towards them – winner!
Give to charity
While some charity shops won't take electrical items, others will. It's a good bet to check in with charity shops that specialise in home furnishings as these are the ones most likely to offer a selling place for your old appliances – big and small – so long as they work.
Search online locally or ask in your local charity shops to see if any do take electricals. Then, you will either need to make a drop off or arrange for the charity to collect your appliance for you.
You may need to pay a small fee or make a donation for the service, but this varies, so do check before agreeing.
Ask the council
Your local council will have recycling and disposal services whereby they arrange a time to collect and recycle old appliance you don't need any more. This applies to working and non-working appliances.
Go to your local authority's website and search for recycling and collection schemes or 'bulky waste' collections as they're sometimes known.
Each council is different but they should list what they will and won't take. Most charge for the removal of white goods with costs varying depending on how many items you have to recycle.
However, if you're saying goodbye to a few large appliances and need to get rid of smaller ones like a toaster or kettle too, you can usually bag these up and add them to your order for free.
If you are able to transport your old appliances, also check with council-run waste disposal sites (i.e the tip) to see whether they'll take them for you. Some will recycle old appliances for parts, or donate them if they're working and in good condition.
Ask yourself: can it be fixed?
Now while you may be looking to recycle old appliances (and that's why you're here reading this), don't forget to consider whether you could re-use it yourself or, if there's an issue with it, can it be fixed?
Depending on how long you've had your appliance, the manufacturer warranty may still be in place, so do check that first.
If you're outside of your warranty, by summer 2021, the Right To Repair bill means that manufacturers must provide you with spare parts (for up to 10 years) to be able to fix your home appliance. So if it's a small problem that can be fixed, ask the manufacturer for what's needed and you could repair the appliance you've already got – good for the planet and your wallet too!
So, the question is: how will you recycle your old appliance?
Featured image: Photography: iStock.
About Post Author