What kit do you have in your kitchen? My household just got a new hob, and it had us all very excited – even if it's 'only' a standard gas hob and nothing all too fancy.
With lockdown keeping you at home more, chances are you'll have noticed a few things that aren't working around your home, right?
Maybe, like in my flat, it's the hob that could do with an update – or maybe, all of a sudden, you realise your fridge-freezer isn't actually big enough to hold more than a few days' worth of fresh produce.
Or you might have gotten tired of doing the dishes by hand, in case you – like me – are part of the no-dishwasher-club.
Whatever it is, if you are setting out on buying appliances for your kitchen, there are a few things you should consider.
To make the process easier, smoother, and worry free, I've collected all the best tips, with the help of journo and kitchen tech expert Rachel Ogden, so you can hit the ground running.
The basics of buying appliances
No matter which type of appliance you're looking to buy, every decision should start with a similar thought process.
Consider what you'd like your kitchen to look like – should the fridge be built in? Or the hob? Or are you more a fan of freestanding solutions?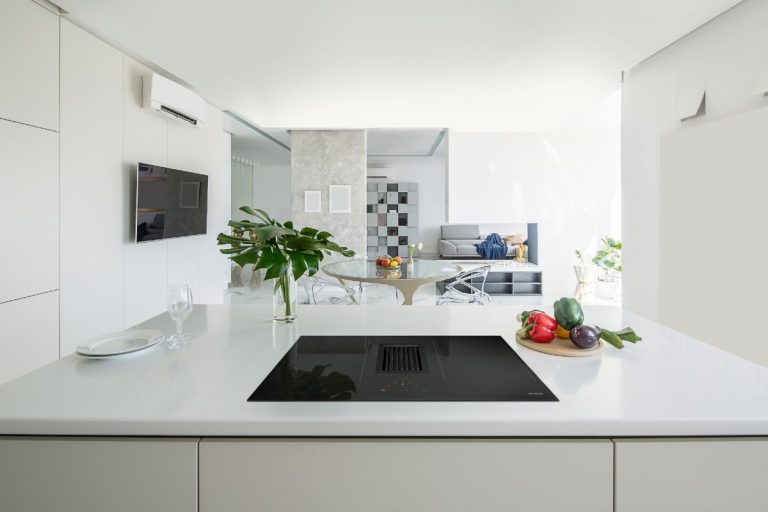 Whatever you choose, it might necessitate designing your kitchen around it if it's part of a whole new scheme. If you're replacing an existing appliance, this thought is equally as important – what you want and what you can do might be very different, so think carefully.
Then, look at your lifestyle and how your appliances could make every day easier.
A larger fridge, for example, will make popping out to the shops a less frequent occurrence as you can store more produce – which, in turn, makes cooking fresh meals easier.
And most importantly, always consider how much you'll actually use an appliance – a warming drawer is definitely high on my wish list, but I know I wouldn't use it near enough to validate using the space.
How much should my appliances cost?
This depends a bit – if you're a keen chef who uses lots of different appliances frequently, it'll be more than if all you need are a hob, oven, and dishwasher.
On average however, when you're buying appliances, 30% of your overall budget should suit most of us, while home chefs and bakers should look at allocating 40-50%.
Let's have a look at different types and what you should think about when buying appliances, shall we?
Ovens
When you look at your oven, how much do you think technology has changed?
I'll be honest: sometimes, I think it can't have come that far… only to be proven wrong very quickly.
Changes (read: improvements) in design mean that cavities can now be bigger without the actual appliance needing much more space, plus there is a whole host of programmes, features (steam cooking, anyone?) and smart home-enabled settings that make cooking a breeze.
So, when setting out to buy a new oven, first look at how much space you have.
Also consider how many meals and – crucially – what kind of food you cook and whether you need special features for your favourite dishes.
If you have a large family, you might also need two ovens to feed everyone, or supplement a standard appliance with a combination microwave or steam oven.
When it comes to features, once again look closely at what you actually need.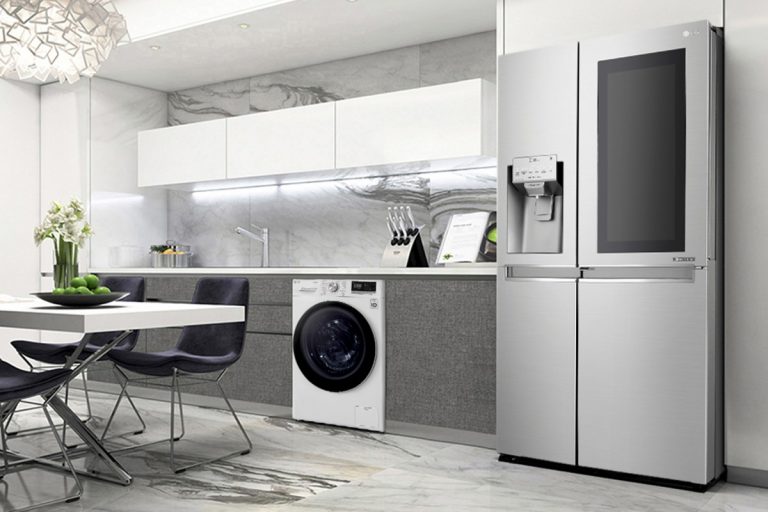 Although one thing I'd always recommend: pyrolytic cleaning. It's a big word, yes, but easily summed up as your oven burning off grease and any other residue, so all you need to do is wipe off what ever is left.
Believe me – your life will be so much easier.
Cooling appliances
Fridges and freezers come with two major considerations: size and style.
Should it be integrated? Freestanding? A single column, side by side, or a large American-style design with water dispenser?
Also consider whether you want a fridge-freezer or two separate solutions – and if you do go for a combination, which split between cooling and freezing will you need?
Also look at the functionalities and special features, such as crisper drawers, bulbs that mimic sunlight to preserve vegetables, or a 'door within a door' design which keeps the main storage area at a consistent temperature.
Hobs
The very first question is a big one: gas or induction?
A few years ago, I'd have said electric – and while our gas hob and I still have a love-hate relationship, I can see why people choose to cook over an open flame.
Induction is generally more energy efficient and has lots of features that make cooking easier – think timers temperature precision – but gas it lots more dramatic.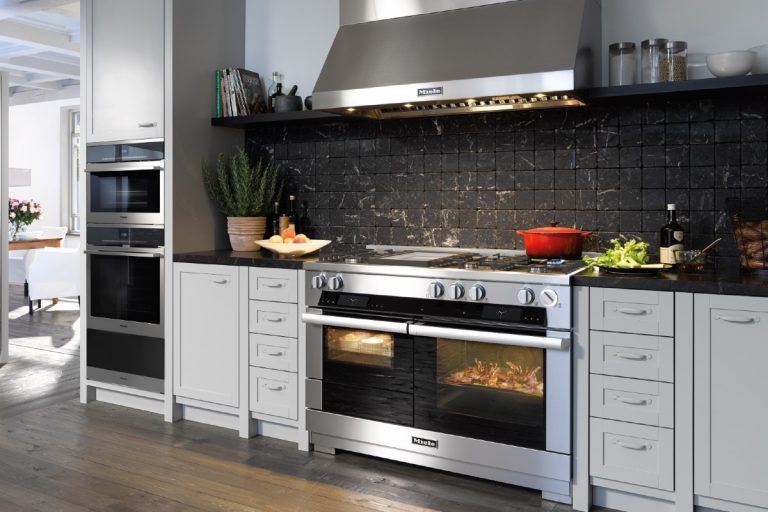 Size is important, too, so check the dimensions and think about the number of burners you need.
Yes, a large hob with a dedicated wok burner is tempting – but do you actually need it?
An standard-sized induction model with bridging technology, for example, still has enough space for large pots… but is only available when you actually need it.
Of course, these days you can also opt to have your extractor integrated in the hob. This will keep the focus on the cabinetry and stop steam and smells from rising in the first place – ideal for open-plan homes. (They also look mighty cool.)
If you are considering this, remember that the appliance's motor and ducting will usually take up some precious cupboard space.
Laundry appliances
Washing machines have sure come a long way. These days, many feature smart home connectivity, which means you can put on a load from wherever you are – be it the sofa, the office, or somewhere else entirely.
The only thing you'll have to do is load it yourself… they're not quite that advanced yet.
But apart from all the clever new functions, start by thinking about the capacity. How many loads do you do in an average week?
Washing machines start with a capacity of 5kg and go all the way up to 13kg.
If those numbers are a bit abstract, let me explain it like this: a standard 7kg washing machine can fit around 35 t-shirts or a double duvet per load. (A 12kg machine can do 60 shirts.)
Also look at special cycles, such as anti-allergy settings or sanitising features.
Some models even offer steam for evening out creases – and when has less ironing not been a bonus?
Think about where you'll put your laundry appliances, too. It might be that a utility room with a door to block out the noise of a fast spin is the best solution. Plus, it'll help keep the kitchen clearer too.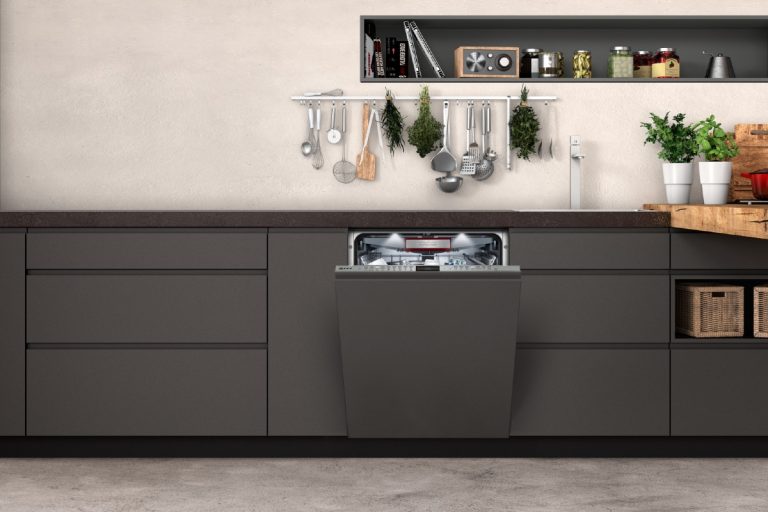 Dishwashers
This one is quick: the main consideration is how many place settings your appliance will need to hold.
Slimline machines are great for small households and compact schemes, but will soon reach their limit if you cook a lot.
Also look at loading features such drop-down racks or top drawers that raise, to make fitting everything in easier. When you're buying appliances, efficiency and making lift easier for you should come top of the list for your final selections.
Oh, and don't forget to settle the ongoing debate: do you want a basket for cutlery in the bottom drawer or a separate drawer for forks, knives and spoons at the very top?
Extractors
What's a kitchen without an extractor? Steamy, probably.
These appliances are absolutely essential, especially in open-plan spaces, but they need some careful consideration.
First of all, look at how big your room is and figure out what extraction rate you need. The maths is easy: measure the width, depth and ceiling height of your kitchen.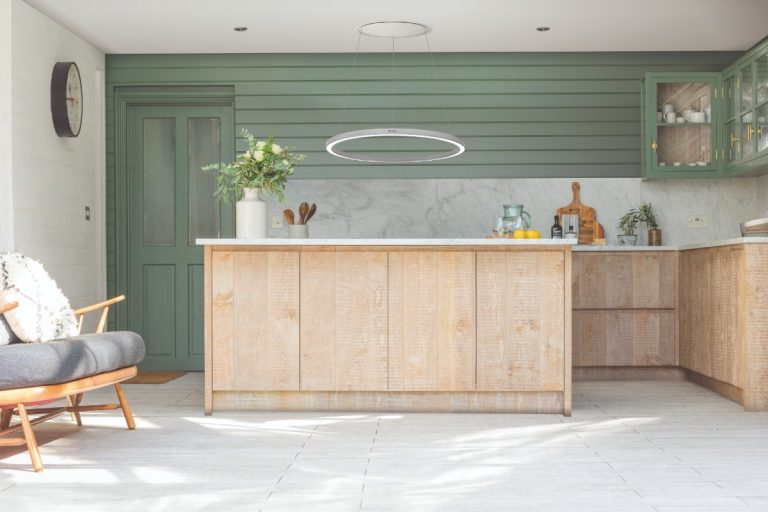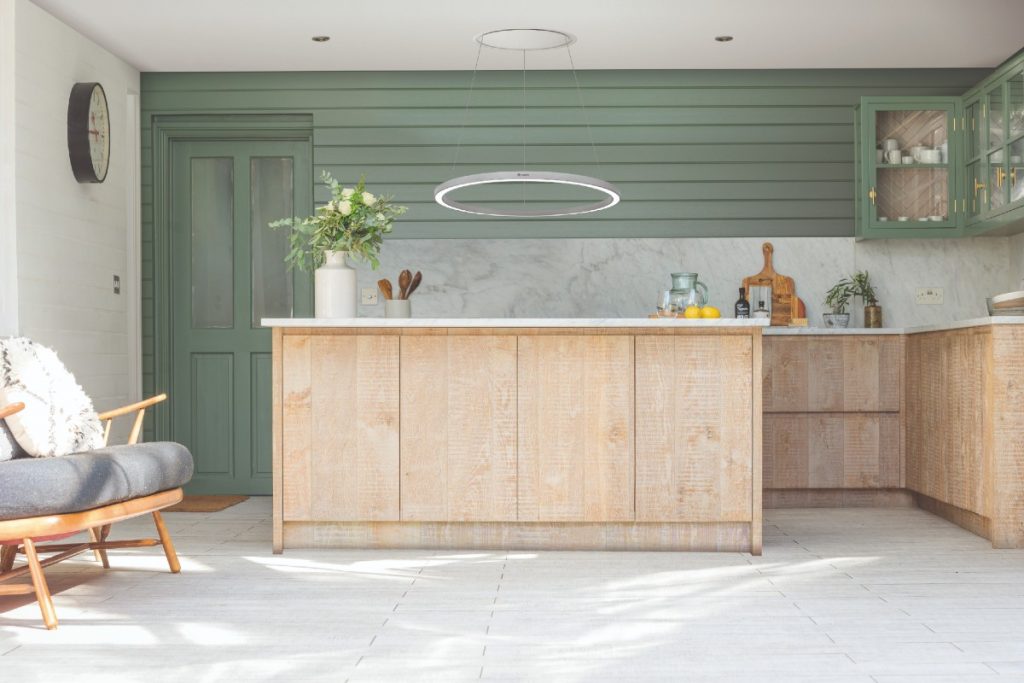 Multiply these measurements and you'll know the room's volume.
And, for the final step, multiply that by 10 – because your extractor should be able to change the air at least 10 times an hour – and you know the rate you need to look out for.
Once you've done that, it's time to choose between a recirculating model – which cleans the air and pumps it back into the room – and a ducted out extractor, which removes the air outside.
Ducted designs are more efficient, but should ideally be placed on an outside wall – recirculating models, on the other hand, can go pretty much everywhere.
Of course, there is also the matter of style. Do you want your appliance to be hidden in the bottom of a cupboard? Or maybe you're after a statement design over an island?
No matter your preference, don't forget about the noise level, either – nobody wants to sit down for dinner, only for the extractor to drown out any conversation.
So, tell me, which appliance is top of your wish list? Has this made buying appliances a little easier?
Featured image: If you can't decide between gas or induction, a pair of domino hobs could be the answer. Fisher & Paykel's CG302DNGGB1 30cm two-burner gas-on-glass hob, £349, pairs perfectly with the company's CI302DTB3 two-zone induction hob, £499.
About Post Author