A fridge-freezer is an integral part of any kitchen. The latest models have come a long way from the 1970s, when they first became a common household appliance. Did you know that you can now log the contents of your fridge without even opening it? That's exactly what some of the latest smart designs offer – a free phone app. It's linked to a camera in your fridge so you can see what you need to stock up on without writing a shopping list. I need this in my life! Or what about the new LG model that allows you to see what's inside with two quick knocks on the external glass? Yes, the humble fridge-freezer has come a long, long way. Question is, do you need fancy functions and how do you decide between all the types on offer? 
Well, I've been taking a look into buying a fridge-freezer and this is what I've found…
Today's fridge-freezers offer plenty of flexibility to store fresh and frozen foods. They feature multi-zone compartments, bottle racks and shelving, quick-chill and fast-freeze options. Plus there are plenty of designs to suit every lifestyle and budget. From freestanding to built-in and American style to French doors with pull-out freezer drawers.
But as well as function, the fridge-freezers of today are design pieces that can transform a room. Stay with me here… During my own renovation we recently splashed out on a pastel green Smeg model that really is the talking point of our kitchen.
As for advice on buying a fridge-freezer, it starts with knowing what functions are on offer.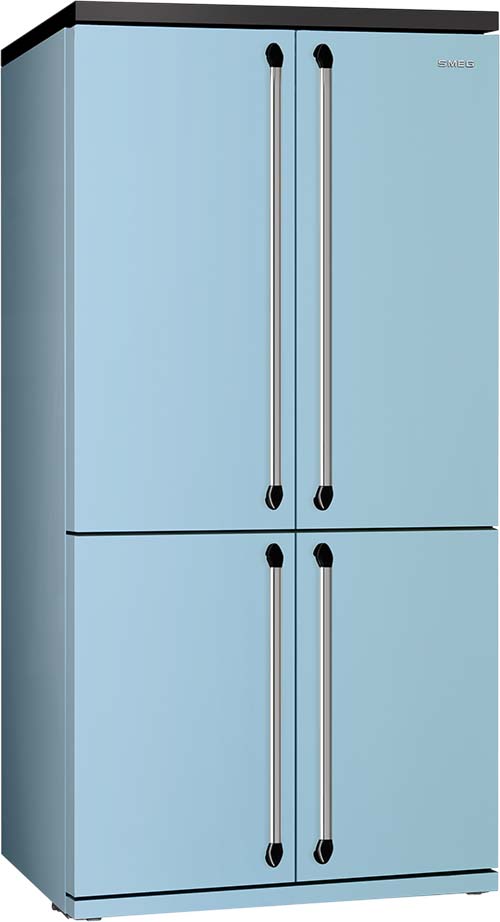 What can the latest fridge-freezers do?
The question is what can't they do?!
Generally they offer a better internal layout. Some models reach over 500 litres in volume so it is easier to stash plenty of produce. That's great if you have a hungry family like mine. Plus the latest hi-tech designs can store fruit and vegetables in separate compartments cooled to exactly 0°C. This may help reduce food waste by keeping veggies fresh for up to three times longer, so less midweek trips to stock up on extra supplies.
Other functions that caught my eye were: fast-freeze options, ice makers, and bottle chill areas.
Some models offer compartments with variable temperatures, too, so you can switch from fridge to freezer as needed. A chiller drawer shields meat and fish from warm air that seeps in when the door is opened.
Eco-conscious? Many models also have eco modes, so you can easily change the temperature at the touch of a button if you are going on holiday.
Look at how cool your fridge really needs to be, too. The lower the temperature, the more energy it needs, so if it's too cool your bills might be unnecessarily high.
Take a look at the latest models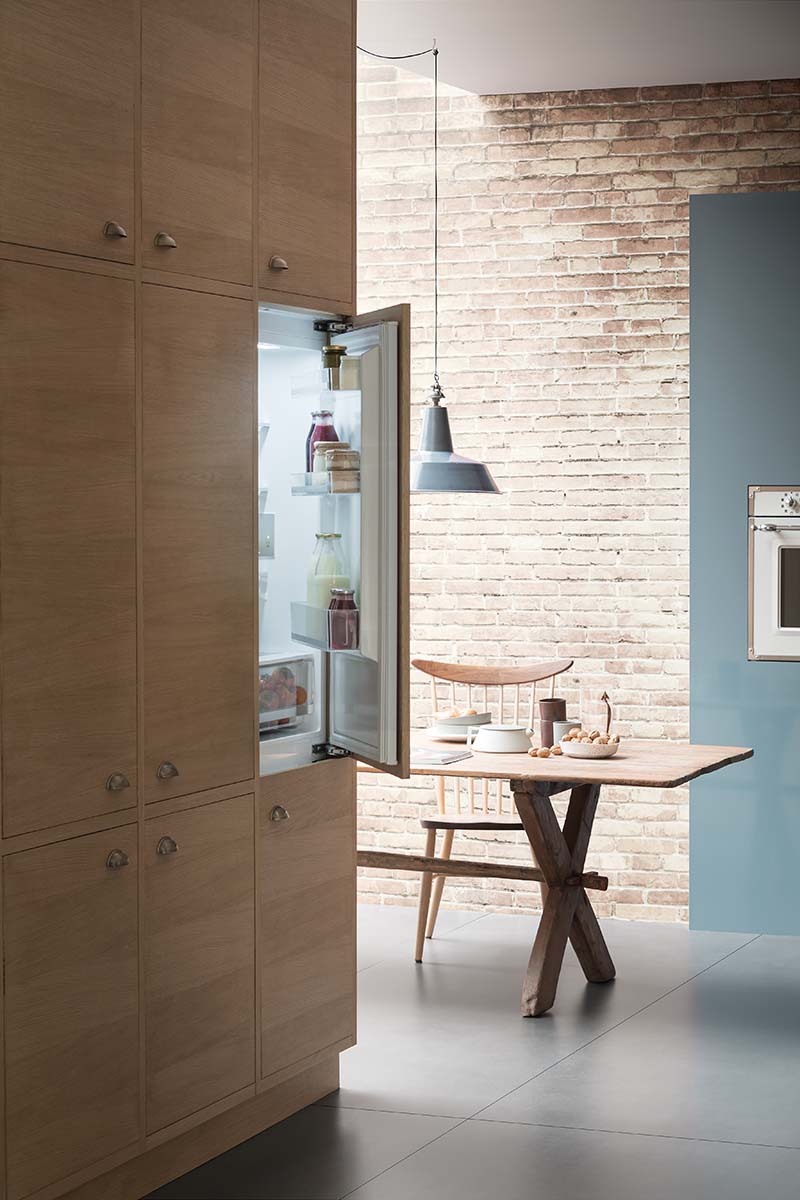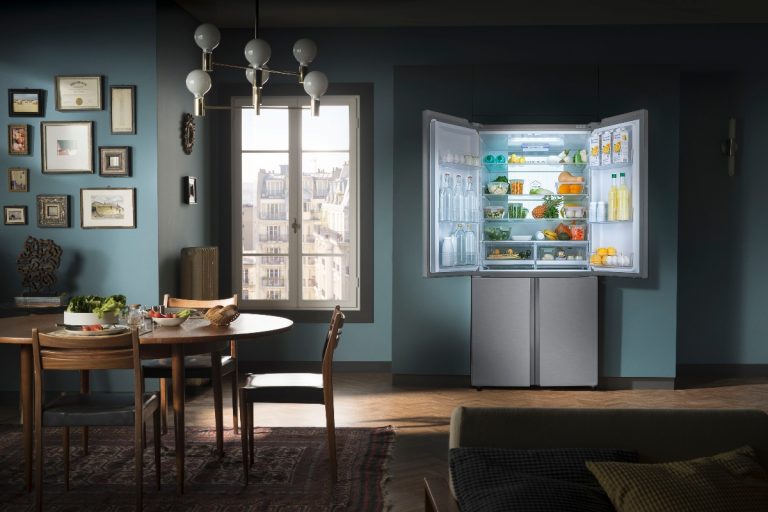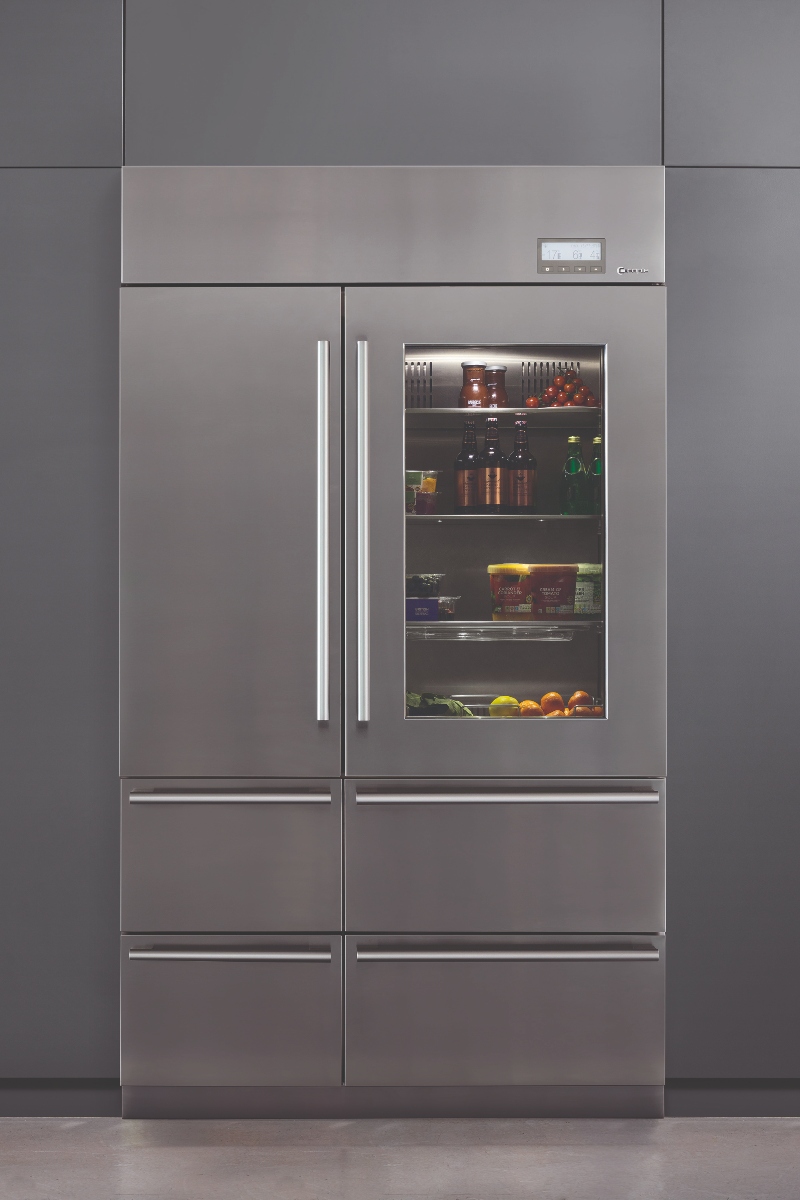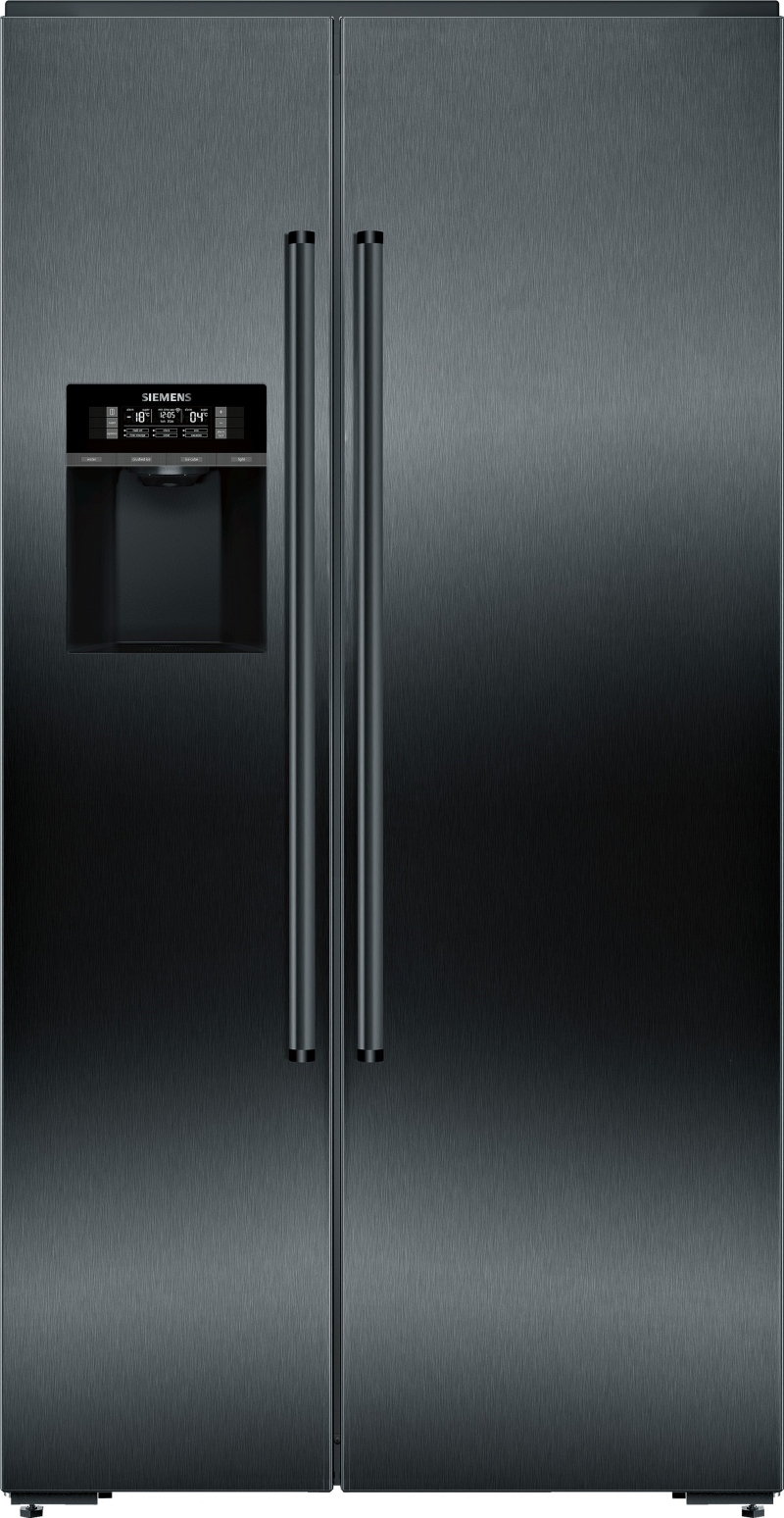 More sleek and gorgeous fridge-freezers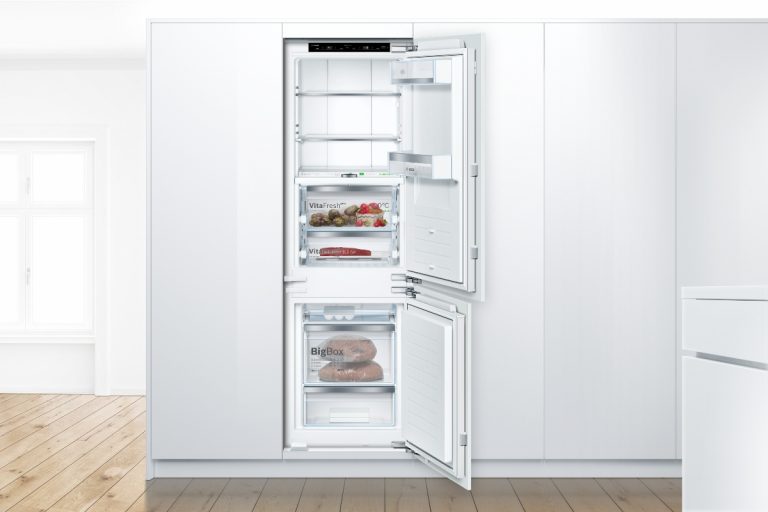 What do I need to know before buying a fridge-freezer?
Before heading to the shops or beginning your online research, work out the ideal capacity you'll need. Then decide on the fridge/freezer split – a 70/30 ratio would be better if you prefer to stock up on fresh produce.
Also think about floor area around your appliance. Too little won't let hot air escape, which can impact your fridge's performance and longevity.
Ideally, allow for at least a 5cm gap, plus enough space at the back to easily connect your electricity and, if needed, water supply. Check you have adequate room for opening and closing the doors and decide whether you prefer them left or right-hinged.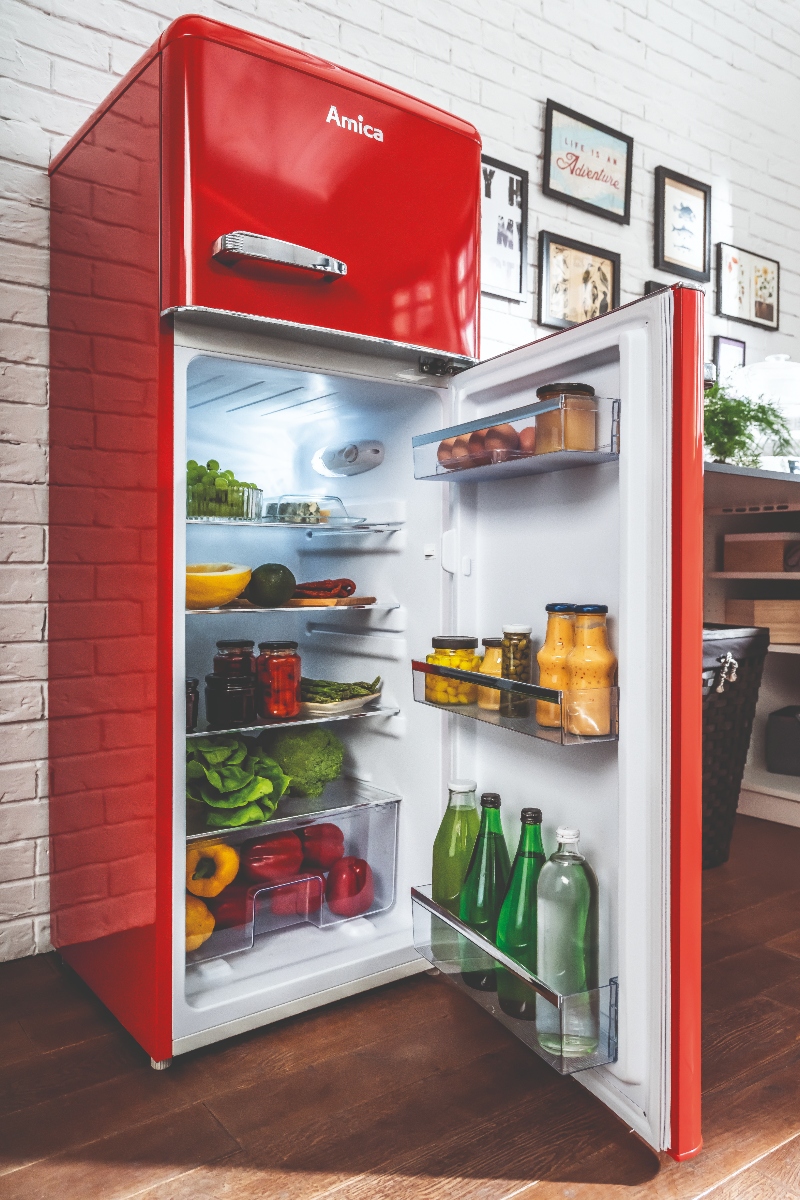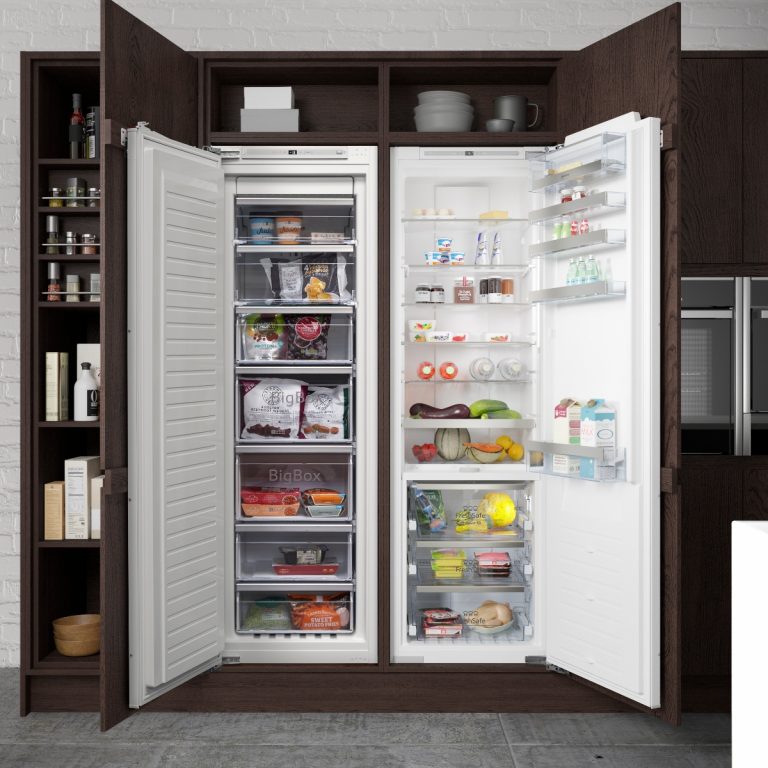 Try designs out before buying a fridge-freezer
Even if you've found your perfect fridge-freezer online, you need to touch and feel your appliance before you invest. So visit the retailer and insist on a demonstration to fully understand the functionalities and storage options.
Two built-in fridge-freezers, fitted side by side with left and right-opening doors, are a good value alternative to an American-style design. They offer double pantry storage and create a lovely slick look.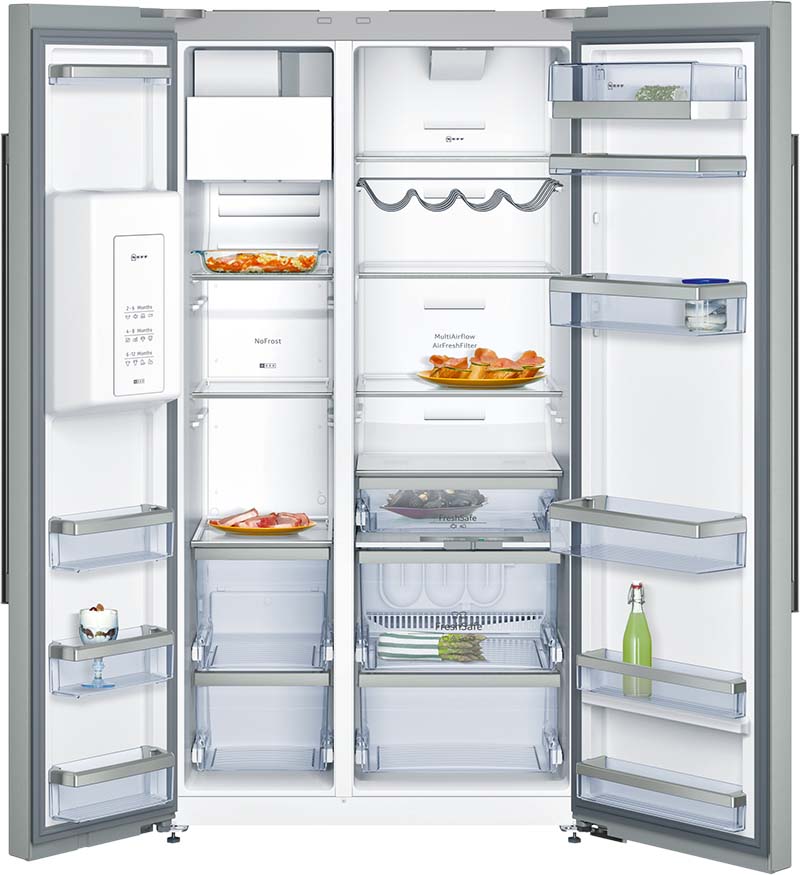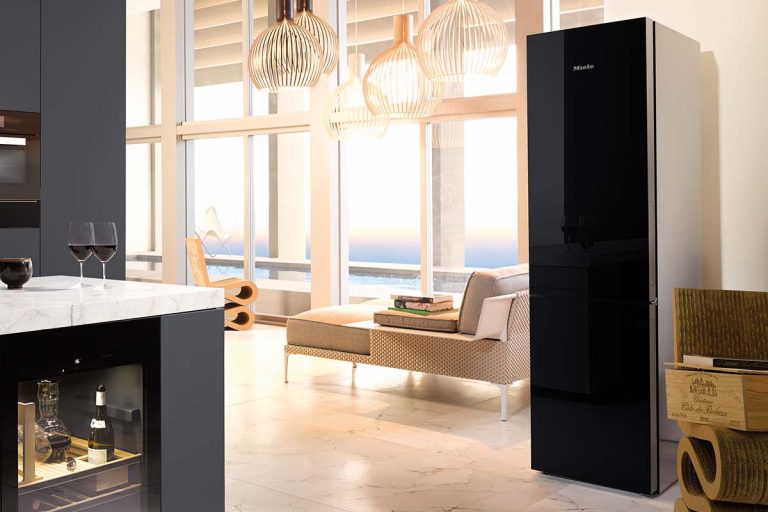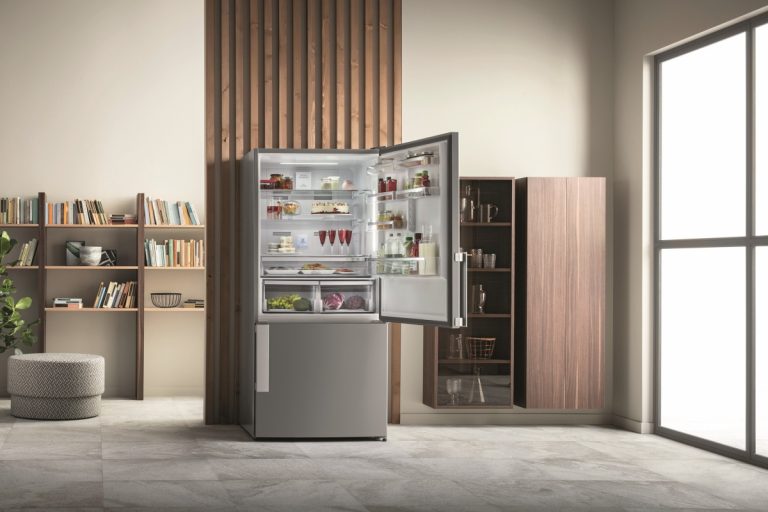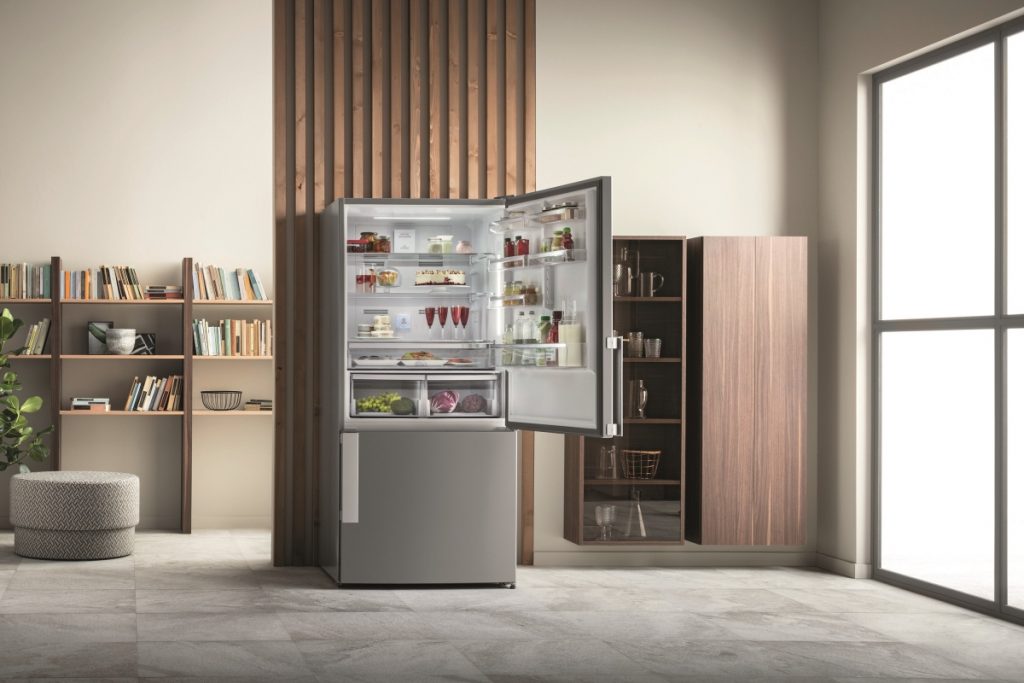 Look at these pieces before buying a fridge-freezer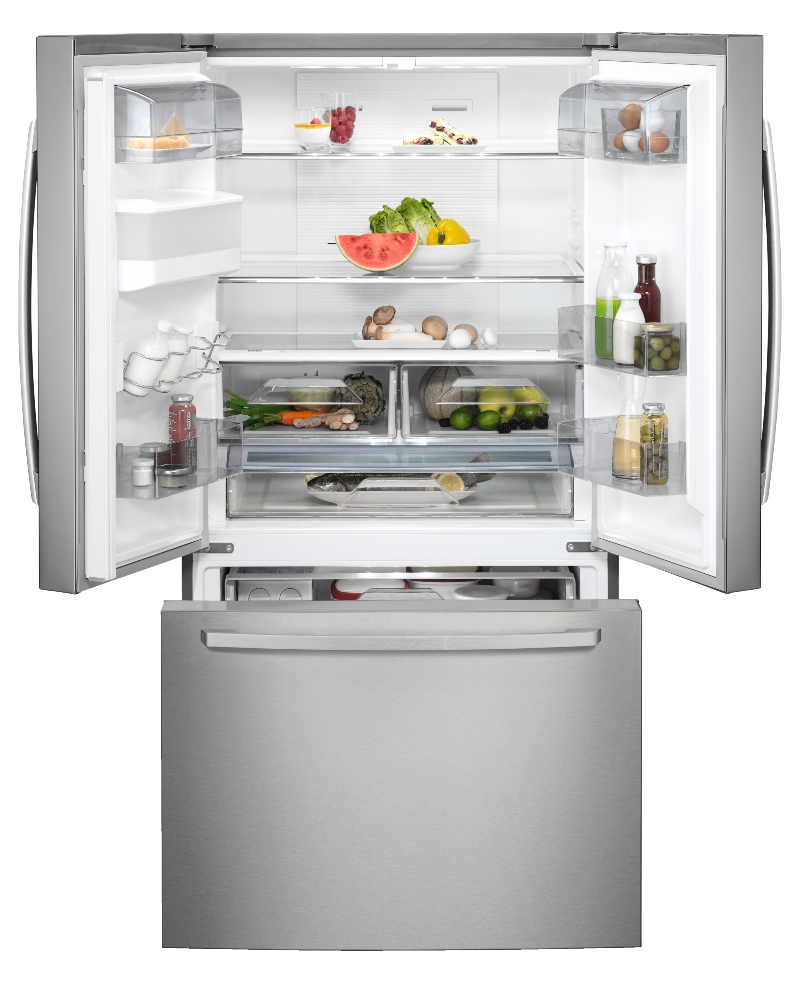 What about maintenance?
Well, there's not too much to think about actually! Gone are the days of defrosting every six months – the latest models all have no-frost systems – but regular cleaning is still key.
I would recommend removing shelves and drawers for cleaning, though. Just wash them with water, a mild detergent and a soft sponge to avoid scratches but don't forget to dry them fully before putting them back. Don't be tempted to clean any of the internal containers in the dishwasher – the heat might misshape them.
What about cost?
I'm sure you won't be surprised to learn that the fridge-freezer is among the most expensive kitchen appliances, costing from around £700 up to £9500 for American-style models.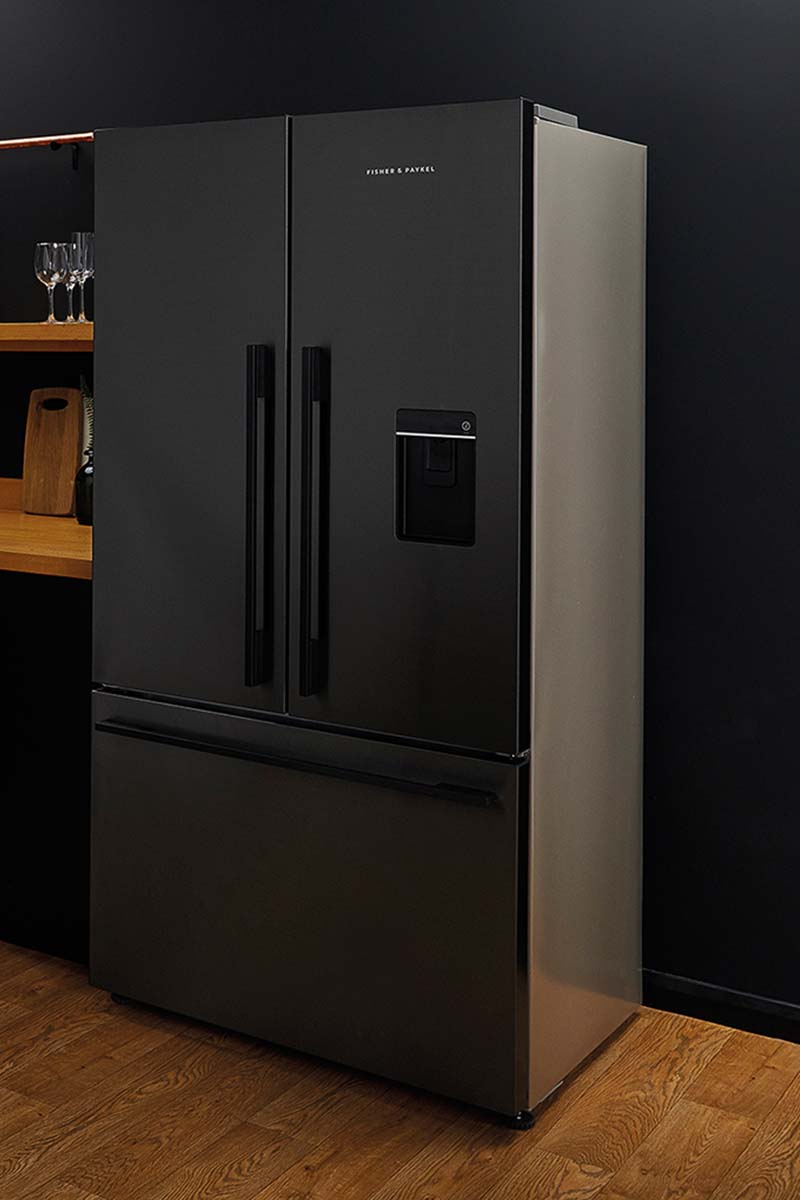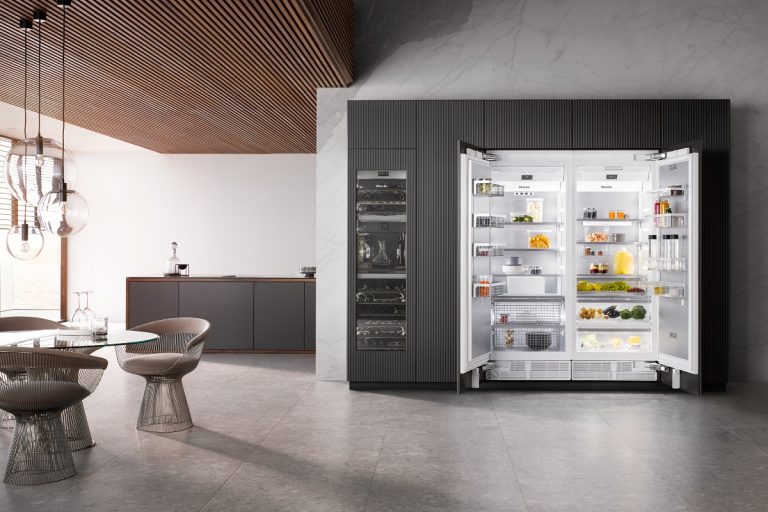 And one more statement model…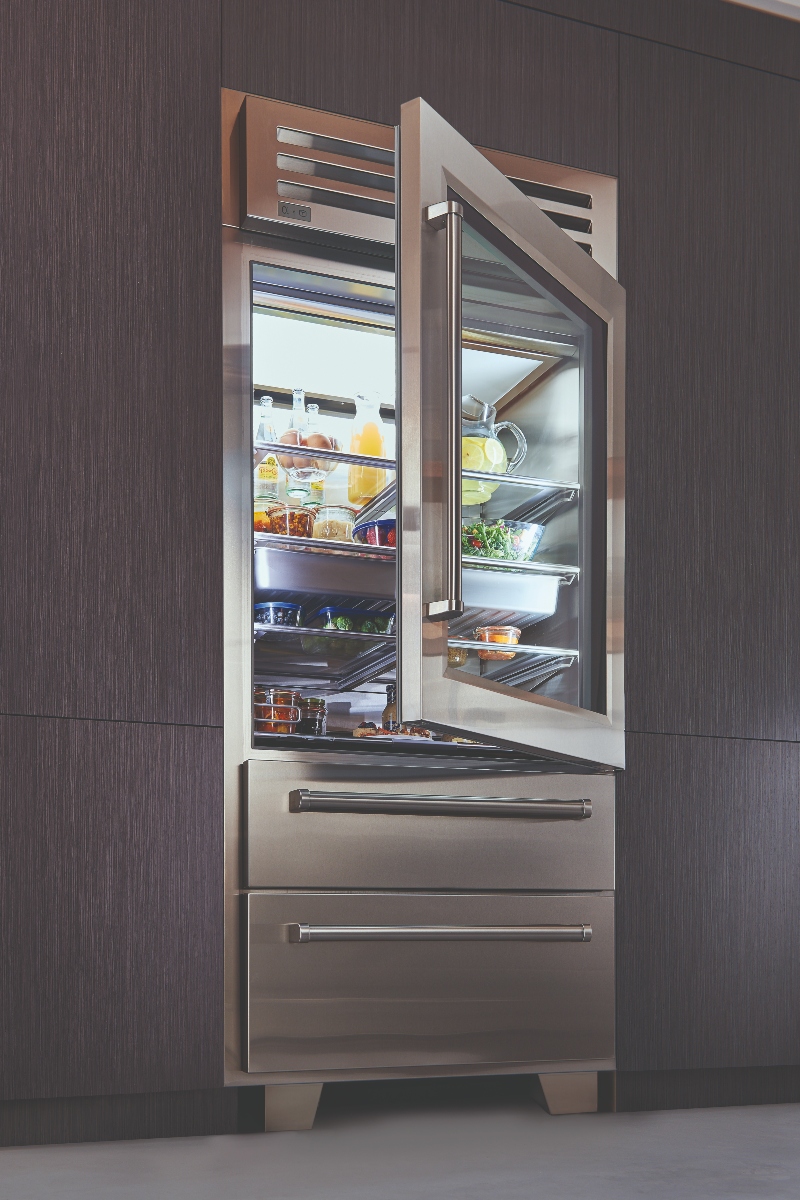 Featured image: Bosch's Vario Style fridge-freezer offers you a choice of different-coloured door fronts to match the theme of your kitchen using a combination of invisible hooks and magnets. It also features a SuperCooling function which will chill newly-purchased food more quickly to stop what is already in the fridge warming up. Series 4 KGN36IJ3AG Vario Style fridge-freezer, £849, Bosch.
So, did you enjoy this feature on buying a fridge-freezer? Then you'll also love what to look for when buying a dishwasher.
About Post Author