I'll let you into a little secret. Well, not a secret per se, more a titbit of information I've heard repeated many times over the last few weeks. The demand for new kitchens, bedrooms and bathrooms is soaring. I mean, since we've all been indoors and at home for much of the year, I'm not entirely surprised that lockdown has encouraged us to improve the spaces we spend so much time in.
I've done my fair share of sorting out, decluttering and have revamped my bedroom. Plus, am keen to make changes to my kitchen – but what that is, I don't know yet (the hazard of my job at These Three Rooms and @kbbmagazine is FAR. TOO. MUCH. INSPIRATION. I know, not really a problem, but tricky on the old decision making front, I tell you).
If you, like me, are plotting your next project, as well as reading about tips on planning a renovation (even in lockdown), it's useful to know which business are open near you and what design services they can provide.
The way we shop for kitchens, bedrooms and bathrooms has changed with more video call consultations taking place, appointment-only showroom visits becoming the norm and all retailers have implemented Covid-secure practices to ensure everyone is kept safe from initial meetings right through to installation. You can read more about that here.
So where do you start finding a showroom local to you? We recently launched the Close To Home initiative (#kbbclosetohome) which showcases the amazing work of local, independent home design specialists – many of whom may be right on your doorstep.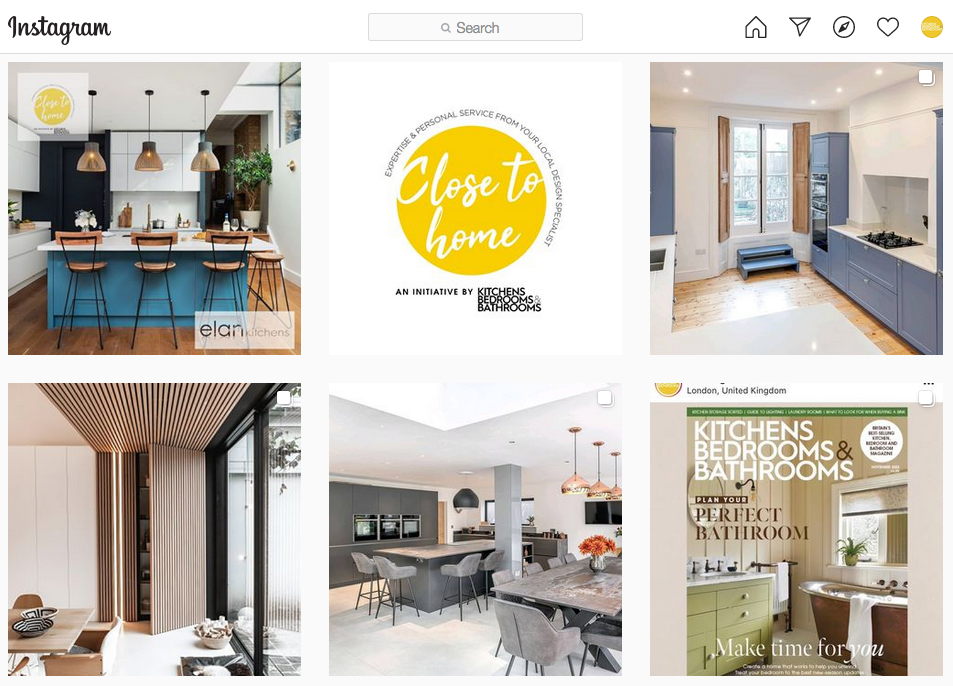 Really, you needn't go far to get the kitchen, bedroom or bathroom of your dreams and a showroom just down the road could be the answer.
How many times have you walked past that interiors business on your local high street and wondered about what they're like? Well, take the opportunity to find out – you'll probably get a nice cuppa as a result, too – as well as the beginnings of your new kitchen, bedroom or bathroom.
As part of the #kbbclosetohome initiative, I've rounded up some retailers who are taking part and rather enjoyed snooping at their projects on Instagram and Twitter.
Check out the below and follow the hashtag to snoop some more. Oh and search our Directory to see who'd close to home for you…
Wood + black + chunky worktops = a winner! A circular breakfast bar on one end of this lovely island looks like a good work from home spot, as well as a place to perch for that morning cuppa. The wood really warms up what could have otherwise been a cooler scheme.
If you're looking to get Bake Off ready, you NEED a baking cupboard. Make sure there are electrical sockets in there so you can plug your gadgets in easily. This nook is a dream for anyone who loves decanting ingredients into matching jars (that's me!).
Want something different to open shelving that's so popular right now? Step in glazed units. You're still able to show off your favourite items, but have the added benefit of the shelves being easier to keep clean. Plus, the panelled glazing looks chic.
Another one from Sheraton Interiors. This kitchen is very New England elegant, isn't it? My love affair with dark blue kitchens has quickly been taken over by green – the softer the shade the better. Add black accents and luxurious surfaces for that high-end look.
This is clever. Waterproof panels like the one shown below are making waves in bathroom design right now. As one complete sheet, they're easy to install, great for wetrooms and wetroom-style shower enclosures, plus there are no grout lines, so are easier to keep clean.
Proving small kitchens can still have all you want in them, this design includes a wine unit, small breakfast bar, plenty of worktop space AND a cool punch of pattern on the walls. Small but so lovely, right? Remember to search #kbbclosetohome for more ideas.
One word: wow. If you're all in for the maximalist look, how's this?
Liven up a white kitchen with your favourite colour. You could add it to an island, like in this #kbbclosetohome kitchen, or bring in accessories, feature tiles or even bar stools to elevate the look.
And if there's one thing the team and I love, it's before, during and after shots of a kitchen. Tag us in yours!
We couldn't resist taking some pics of this work in progress of one of our current kitchen installations – it's going to be stunning when it's finished.#workinprogress #kbbclosetohome #buylocal #kitchendesign #bathroomdesign #Dalgetybay #Glenrothes pic.twitter.com/wfcjbLzR0q

— Mihaus (@mihaus_kitchens) August 25, 2020
About Post Author