As you walk into primary school teacher Roisin's kitchen, you can't fail to notice the eye-catching paintings on crisp white walls, followed by her large island – the focal point in this white and grey kitchen. It's exactly the effect Roisin and her husband Paul, a banker, were looking for in their new kitchen. Said effect: simple.
They wanted clean, simple, slick, modern and minimal kitchen design in their north London home. Plus, they wanted the artwork to have it's chance to shine. Sometimes, simple really is best, isn't it?
To get the lowdown on how it all came together, journalist Nicola Hanley spoke to Roisin, who told her all about adding a new side-return extension to the five-bed house in north London and that the kitchen was only one part of the whole house renovation project. Well, that's my interest peaked… over to you Nicola and Roisin…
What prompted you to redo your kitchen?
The whole house needed renovating, so a year after moving in we completely gutted and rebuilt it. There were originally two kitchens: a disused one from the 1950s and a poor quality but slightly more modern design in an L-shaped room at the rear of the house. That's where we extended, squaring off the space to create our open-plan kitchen while the other space is now a playroom.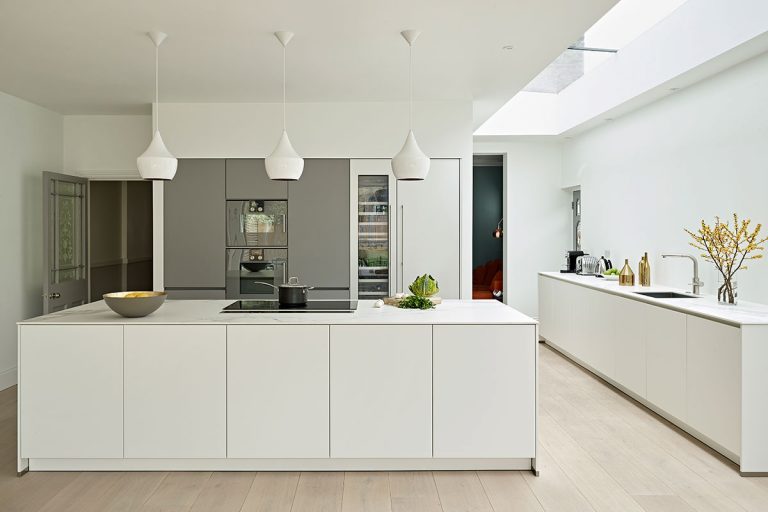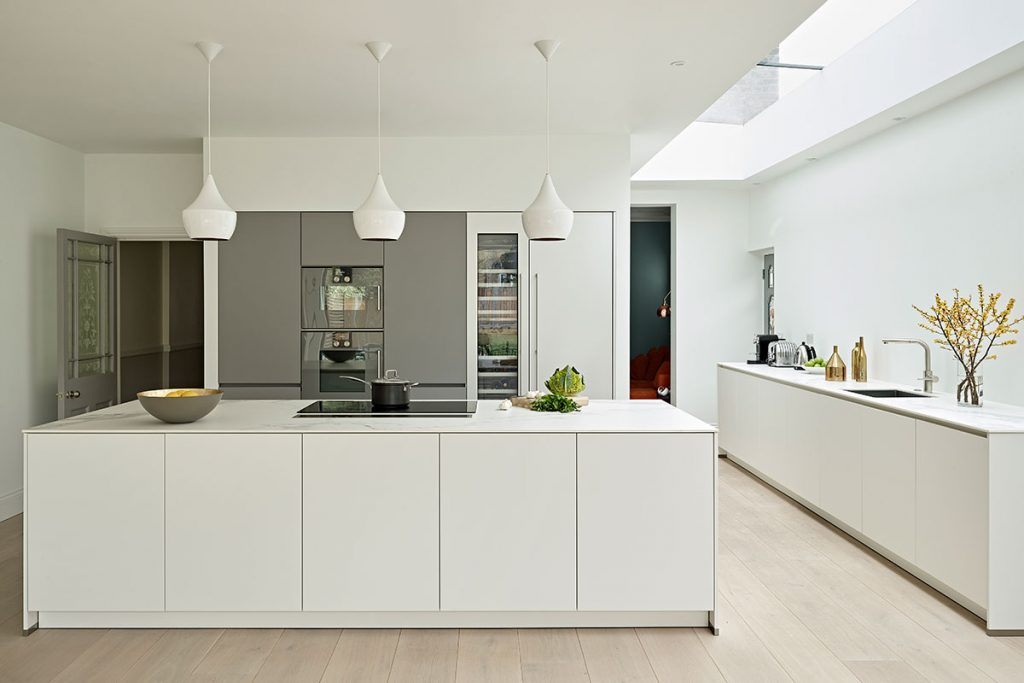 How did you find a designer?
I knew we both wanted a minimal kitchen design. We went up and down Wigmore Street in London, visiting showrooms to gather information, and came across Halcyon Interiors. From our discussions with designer Graham Robinson, we felt he was going to be able to create 'our' look. We met many times to discuss ideas and he was really helpful when it came to providing samples and information as well as trying different designs. I didn't feel pressured at all – he was on hand to answer any questions we had.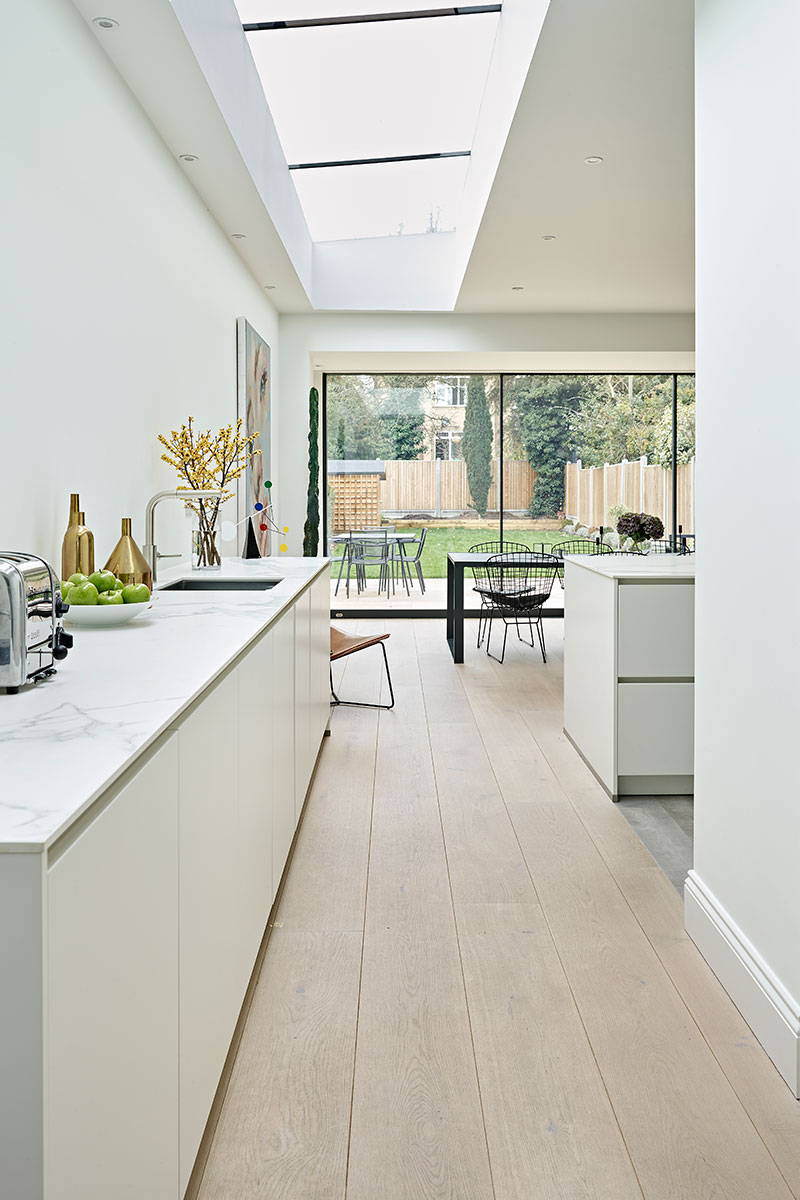 What was your brief?
Paul and I knew what we wanted, but it was hard to visualise a minimal kitchen design in a room that didn't exist. We asked for a grey and white kitchen with a large island, all handleless, and wanted to achieve a modern, open space. Everything had to be very thin, as I don't like chunky edges – plus we didn't want the scheme to age either.
Why did you go for this layout?
Part of the brief was to not have too much furniture – I didn't want it to look too busy. As you come in, you are greeted with a single run of cabinetry which leads into the large open-plan space. This includes the sink and tap, dishwasher, and bin.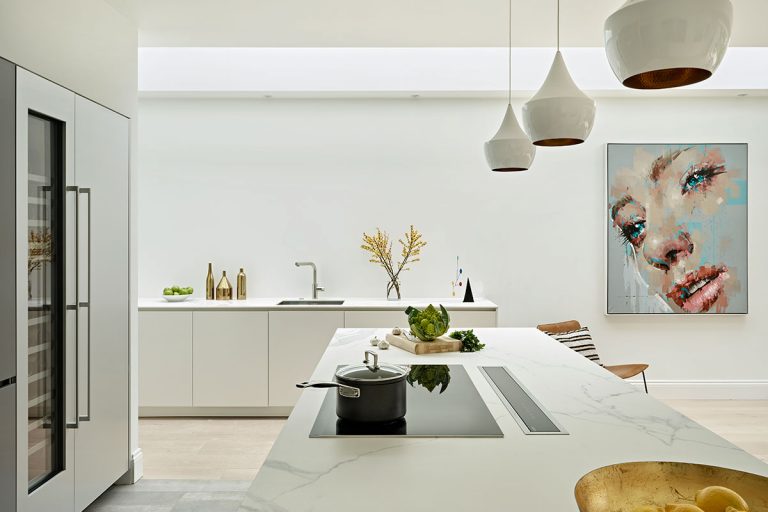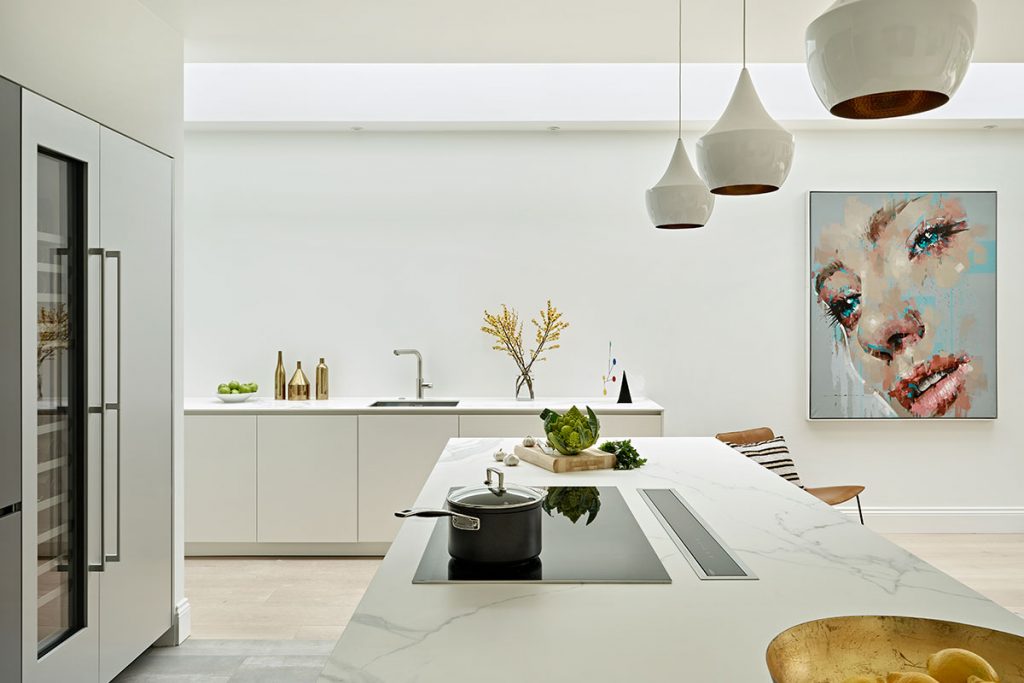 We wanted the room to be airy, so decided against wall units. In the cooking zone, a bank of floor-to-celling cabinets includes the ovens, fridge, and wine storage. Opposite this is the large island with the hob that looks out into the dining area. We considered a floating breakfast bar, but it didn't work with a the minimal kitchen design look we were after.
Which appliances did you choose?
A downdraft extractor behind the induction hob because our skylight meant we couldn't have a ceiling hood. Paul and I hadn't had a steam oven before, but we like cooking and thought it was worth a try. We now use it regularly for roasting and think it helps produce lovely moist meat.
The wine cabinet means we can keep chilled wines, Champagne, and reds in one unit. We were primarily drawn to the look of the Gaggenau appliances because you can have them flush with the cupboards and add aluminium fronts – but the functionality is good, too.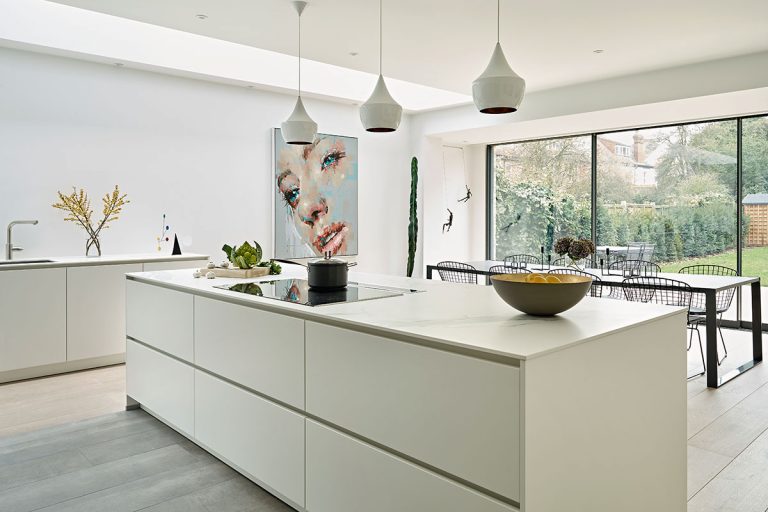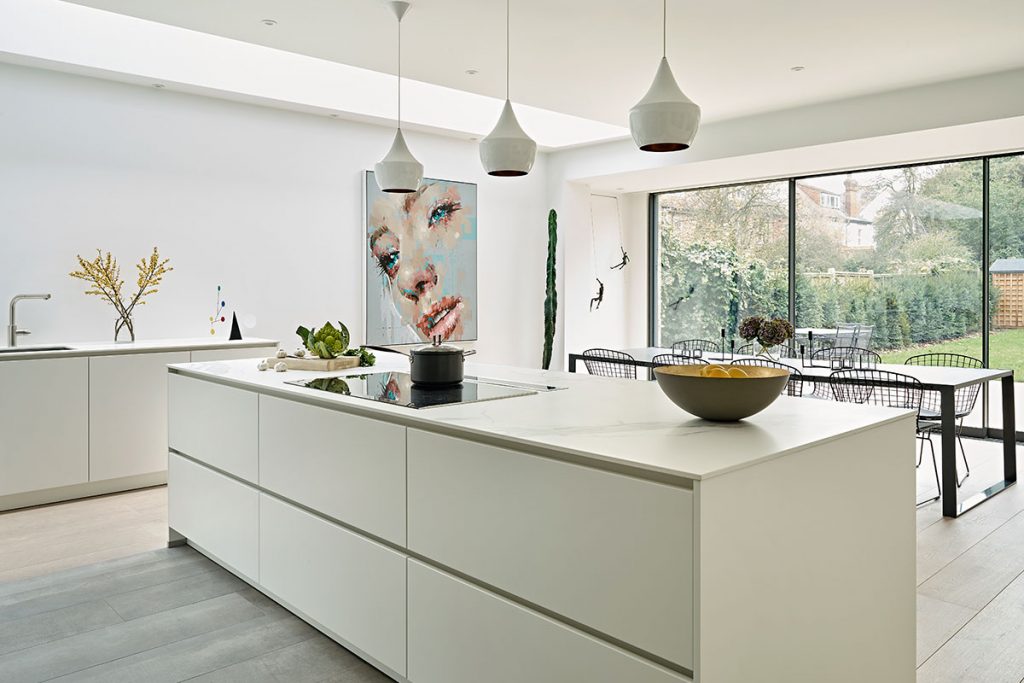 What is your favourite part of the new kitchen?
The island. The extension created a big room and when you walk in, the unit is a real feature – particularly when we have lots of guests. It allows people to socialise and put drinks down as if you're in a bar – or an art gallery, with all our pictures. I also really like the back bank and the aluminium on the appliances, which I think goes really nicely with the greys that we picked. It all looks very tidy.
Would you do anything differently?
I regret not getting a warming drawer, but when you're renovating a whole house the funds have to stop somewhere. Apart from that, we didn't compromise and if we'd to do it all again, I wouldn't change a thing. In a different property, it would depend on the look we were trying to achieve – but in my heart of hearts, even if we moved into a cottage, I know I'd always be drawn to a minimalist style.
Featured image: Roisin and Paul designed their dining table themselves after approaching Kast Basins and concrete surface specalist Lowinfo. Made from concrete with black powder coated steel legs it's so heavy that it took 12 men to carry it into the open-plan kitchen.
Photography: Nick Smith Styling: Alex Crabtree
This error message is only visible to WordPress admins
Error: No feed found.
Please go to the Instagram Feed settings page to create a feed.
About Post Author