No, this is not a trick. It is possible to achieve more space and get a bigger kitchen WITHOUT extending.
If you're looking around your kitchen and longing for a bit more space, you don't necessarily have to build onto it in order to get that extra breathing room you need. By thinking cleverly about the footprint you have available, how you might be able to to tweak your kitchen layout or switch up fixtures, fittings or your décor choices, you could in fact make your kitchen bigger without extending it (or at least feel bigger, which can be just as good).
'How?', I hear you ask. 'This sounds too good to be true' you might say. Well, read on and see if these ideas are your ticket to a more spacious kitchen.
Rework your kitchen layout
Sketch out your room's footprint and have a play around with different kitchen layout options. Or you could use virtual tools to mock up options in 2D or 3D – or even use masking tape or to-scale pieces of cardboard to 'lay out' furniture in your space and see what it could be like. This will give you an idea of the size of the different elements and give you a chance to move things around to decide what will work.
It might be that adding a small breakfast bar, peninsula or tall unit could transform your kitchen. Or you could improve practicality and flow by tweaking where you keep certain things or have the fridge-freezer.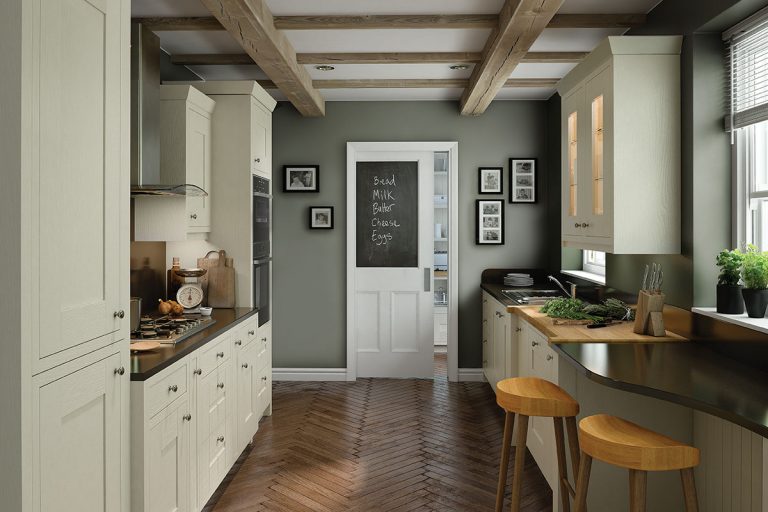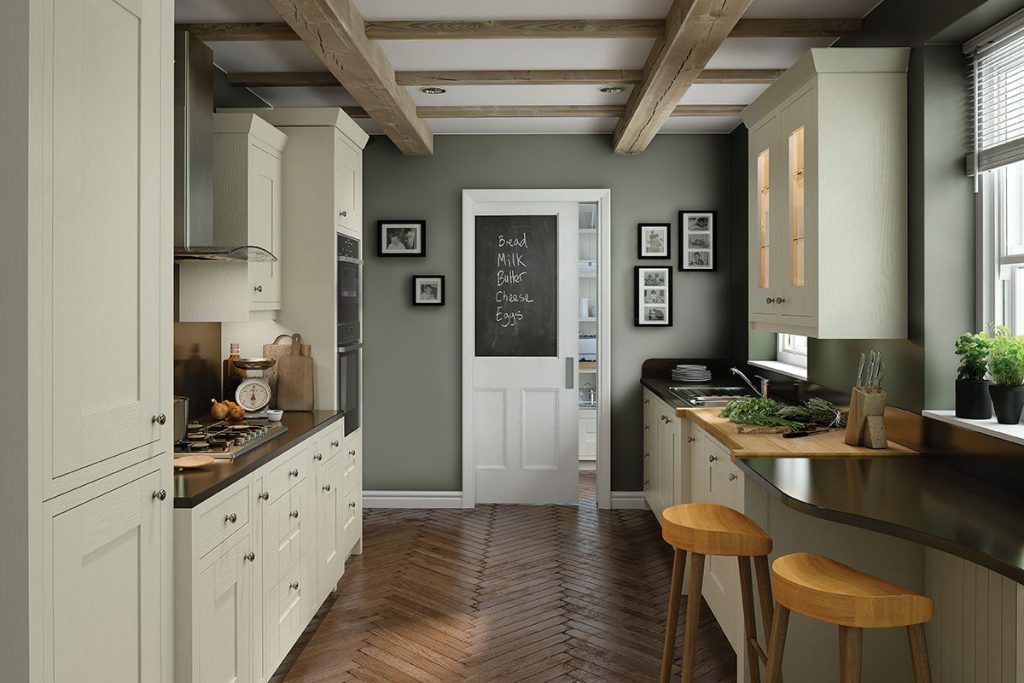 Think about the way you use your kitchen and any niggles that could be resolved by tweaking the layout.
Even simple changes such as removing some wall cabinets in favour of open shelving could create the feeling of more space as there's less 'bulk' on the walls.
Let in more light
More light = the feeling of more space.
Glazing is a great way to achieve a bigger kitchen without extending.
How about adding a skylight? Or changing a solid garden door for a glazed option? Natural light can help a kitchen feel more spacious – not to mention brightening the room as whole. Win win.
Knock through to go open plan
Taking down walls is a popular way of getting a bigger kitchen without extending. It works with the existing footprint of your property and can give you the opportunity to shuffle things around so you can allocate more floor area to your kitchen, for example.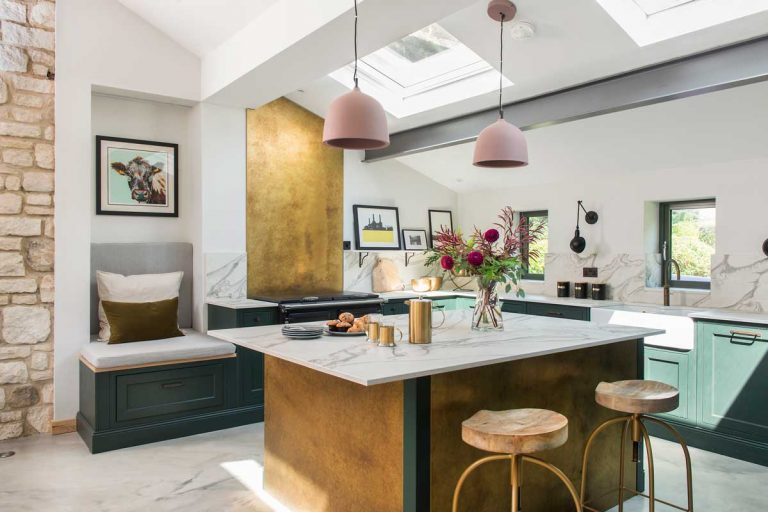 First of all, knocking through needs professional help. You'll need to work with a designer, architect or builder and a structural engineer to ensure feasibility and to make sure that removing walls (i.e knocking through) will result in a better, bigger kitchen that flows well and actually suits how you want to live in the space.
It is vital to seek advice on this type of project as if a wall is load bearing, removing it won't be as straightforward as you might imagine (it may need to be reinforced with steels or, in some cases, it might not be possible to remove).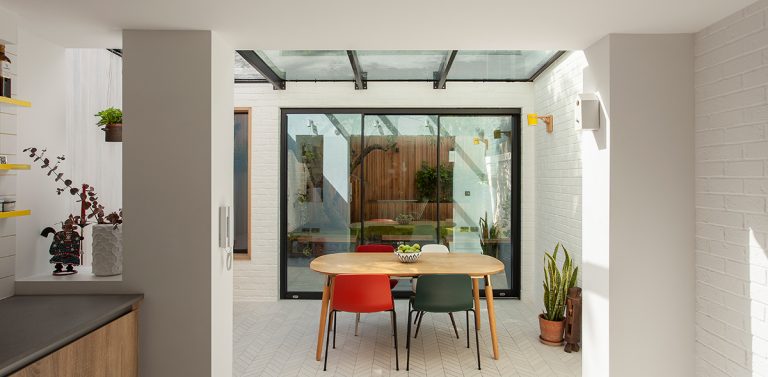 Swap your rooms around
You can swap the location of your kitchen to make it bigger without extending either within the exisiting room configuration of your house, or as part og a knocking through project.
If as part of a knock through, this could be a simple change from one side of the rear of the house for better access to the garden or for better flow generally, but what about swapping your kitchen with your living room?
So, if your kitchen is at the back of your house, but your living room is at the front and is blessed with more space, swapping the two spaces create a bigger kitchen without extending.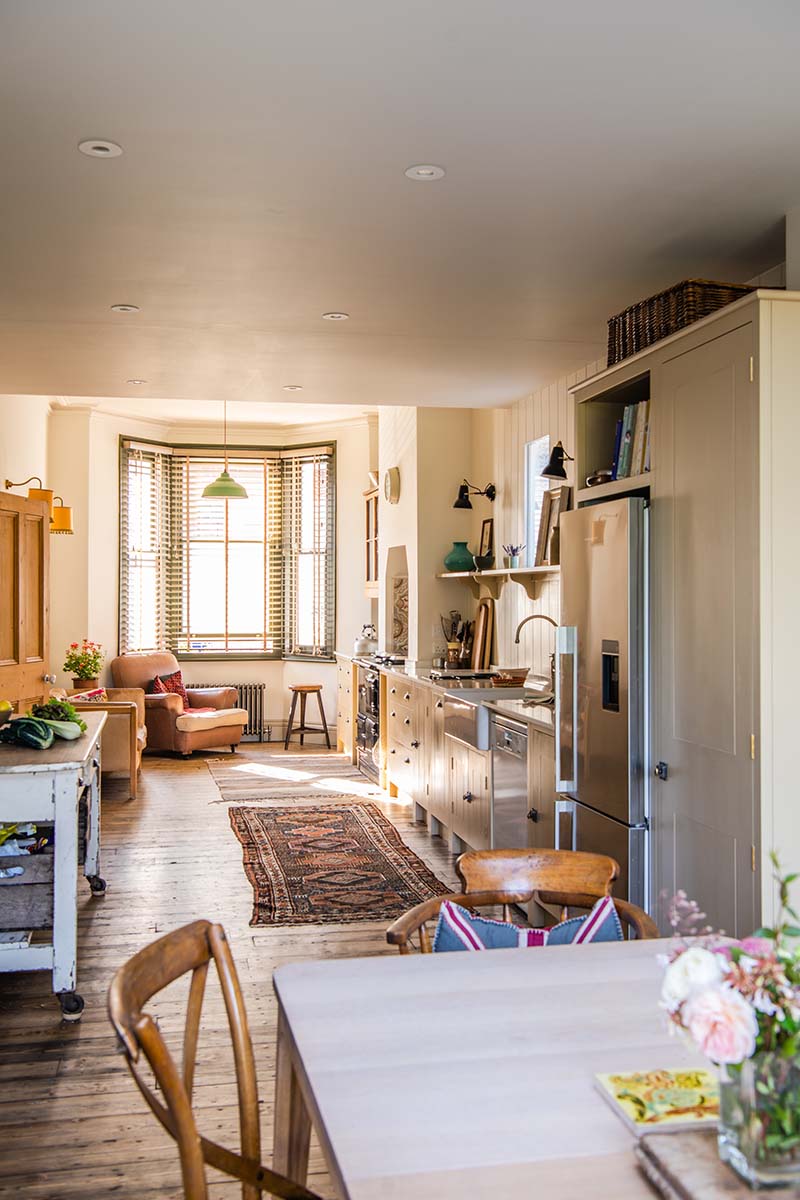 Putting the kitchen at the front of the house might seem unconventional (mainly because you might not be used to it!), but in period properties such as Edwardian or Victorian homes with lovely bay windows and high ceilings, you could end up with a larger kitchen by placing it here.
Of course, you'll need to re-route mains supplies, including plumbing, for this to work, so weigh this up when working out your budget and speak to a plumber and kitchen designer to assess whether it's do-able.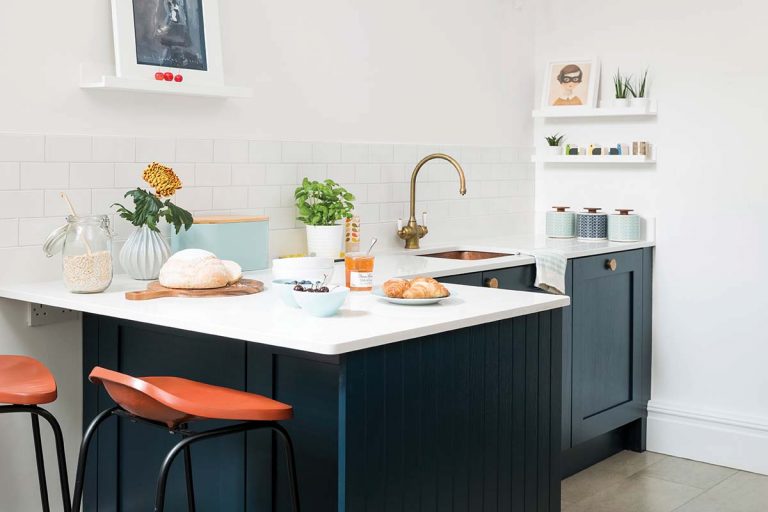 Be savvy with storage
Do you have a boiler cupboard or airing cupboard taking up space? A downstairs loo that's not in the best spot? It might be that these relatively small areas could be really useful if incorporated into your kitchen design.
For example, by relocating a boiler or water tank, this cupboard space could be used as extra storage or for things like a breakfast cupboard or larder.
Often, wall units on every wall can feel imposing and create the feeling of a smaller, darker kitchen. Instead, add wall cupboards where you really need them and see if you can do without elsewhere. If you really can't do without the storage, go for reduced-depth units instead.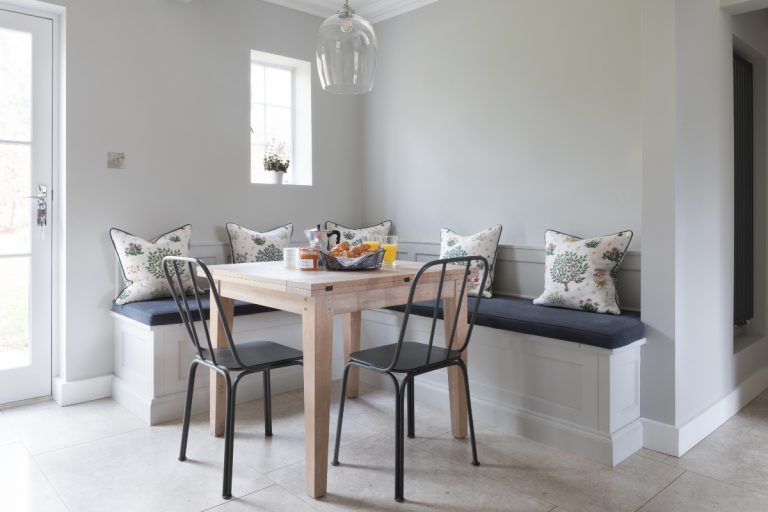 Another clever way to gain valuable space is to go with made-to-measure solutions.
How about installing a built-in banquette seat by a dining table instead of dining chairs? Sounds like it wouldn't make much difference right? Well, a banquette will sit flush with a wall, so you won't need to account for the space needed to pull out freestanding dining chairs (does that make sense?), saving a few inches that could be invaluable elsewhere. This is great if your kitchen-diner is on the narrow side.
For extra bonus points, add storage below the bench seating.
Featured image: iStock/CreativaStudio
About Post Author