There's an adage in kitchen design (well any room design, really) and that is: think about lighting early. It's one of those things I think you are more likely to consider as a finishing touch – such as adding decorative pendants over a island, or dining table or deciding to add some lovely wall lights over an open shelf – but the way you light your kitchen really is fundamental to how it will look and function when it's all done. Ever stood at a worktop prepping with a shadow the shape of your head blocking what you're doing? Yep, that's poorly planned lighting right there. I've experienced that too, don't worry. Plinth lighting is just one style of lighting to think about, but what is it and how does it work?
As I said, THE most important advice when it comes to kitchen lighting is to think about it early to ensure it works with your layout. Layering sources is the best solution, combining task with ambient styles. That means you have focused areas of light for where you know you'll be working, cooking or eating and then softer styles to create a bit of atmosphere that's not quite as harsh.
Plinth lighting functions mainly as ambient, helping to add depth and dimension to a room, particularly in open-plan spaces.
Plinth lighting is fitted – as the name suggests – in the plinths at the bottom of cabinetry, casting a so glow or guiding a walkway, using cleverly positioned spotlights or a continuous line of LED strips, depending on the joinery and layout.
You'll need to plan plinth lighting early (broken record? I know, sorry!) as it will also dictate the cabinetry design. Why you ask? I spoke to Sabrina Fiorina, design associate at John Cullen Lighting and she explained: "If a minimum gap of 8cm is available between the cabinet and the floor, the effect should be soft and neat. Having it too close to the floor will result in harsh unpleasant shadows." And conversely, having too much space will just look odd. Bonus tip number 1: you don't want those unpleasant shadows!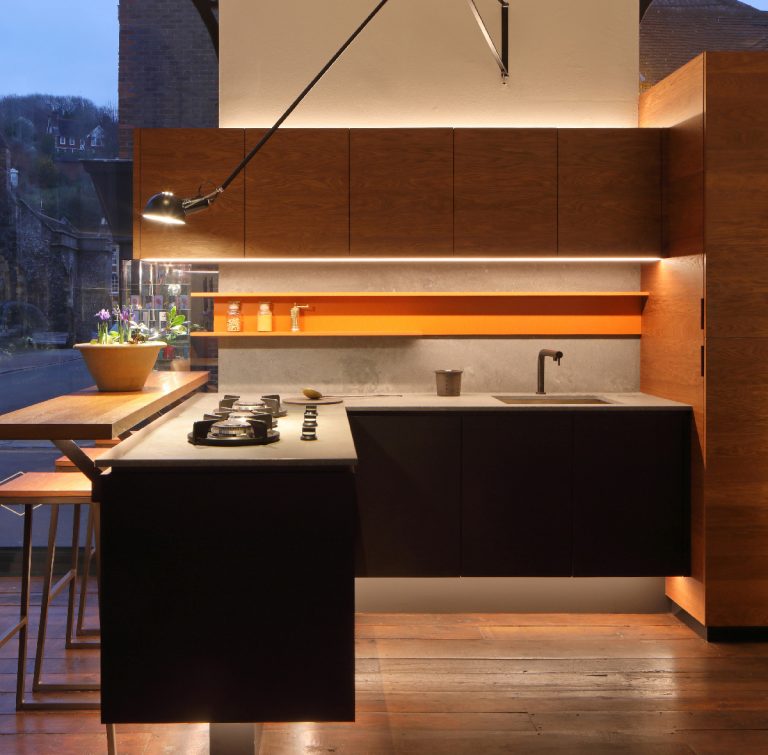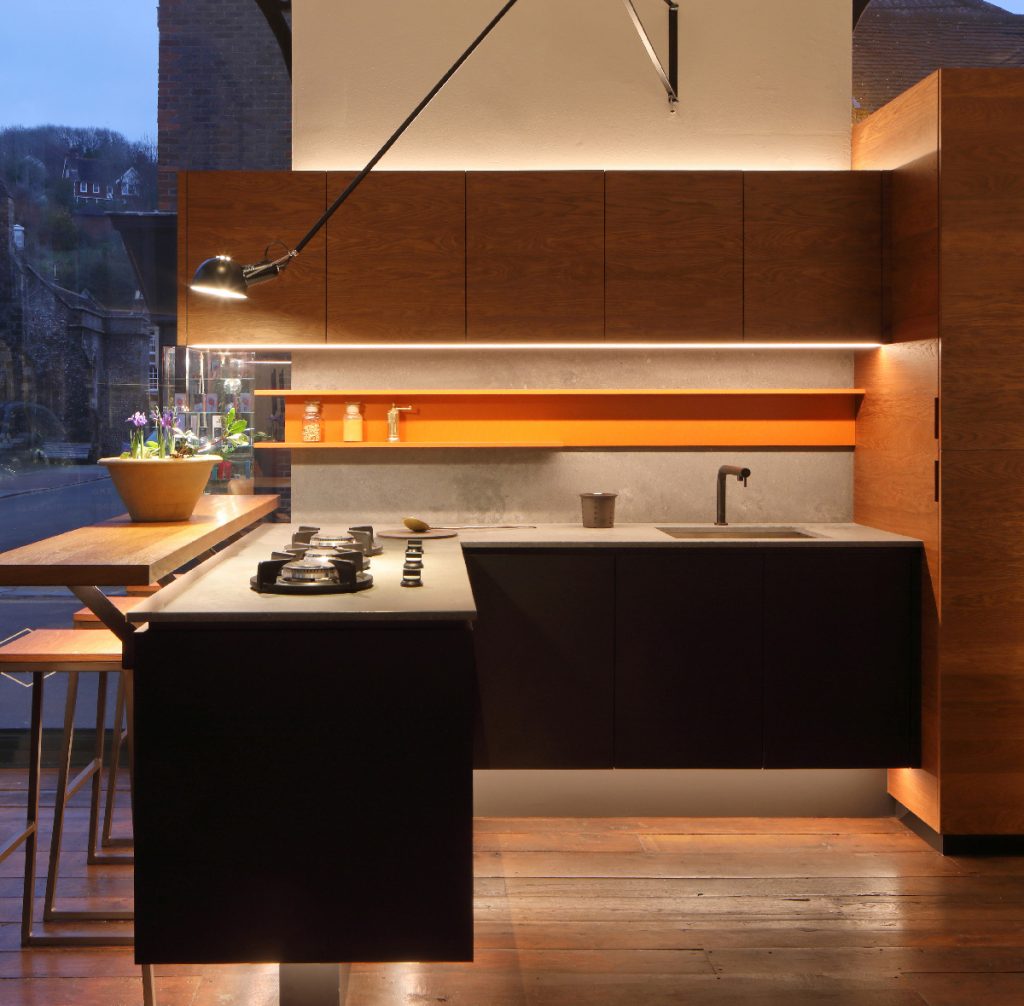 If you want to include plinth lighting in your kitchen design, you'll have to make sure it works with the units you want, too. Lighting under base units works best within fitted furniture rather than freestanding due to plinth boards being more common in fitted kitchens.
Why?
"Running flexible strip lighting is a little more challenging when working around integrated appliances too, for example," Neil Oldfield, product and training manager at Sensio told me when I asked the same question. "You couldn't put strip lighting underneath an integrated dishwasher due to the door hinge across the bottom." Makes sense.
An alternative to those LED strips are spotlight-style bulbs. They will get around the issue of built-in appliances, but you may also consider only having illumination on uninterrupted runs – for example the front-facing side of an island – for a neater look.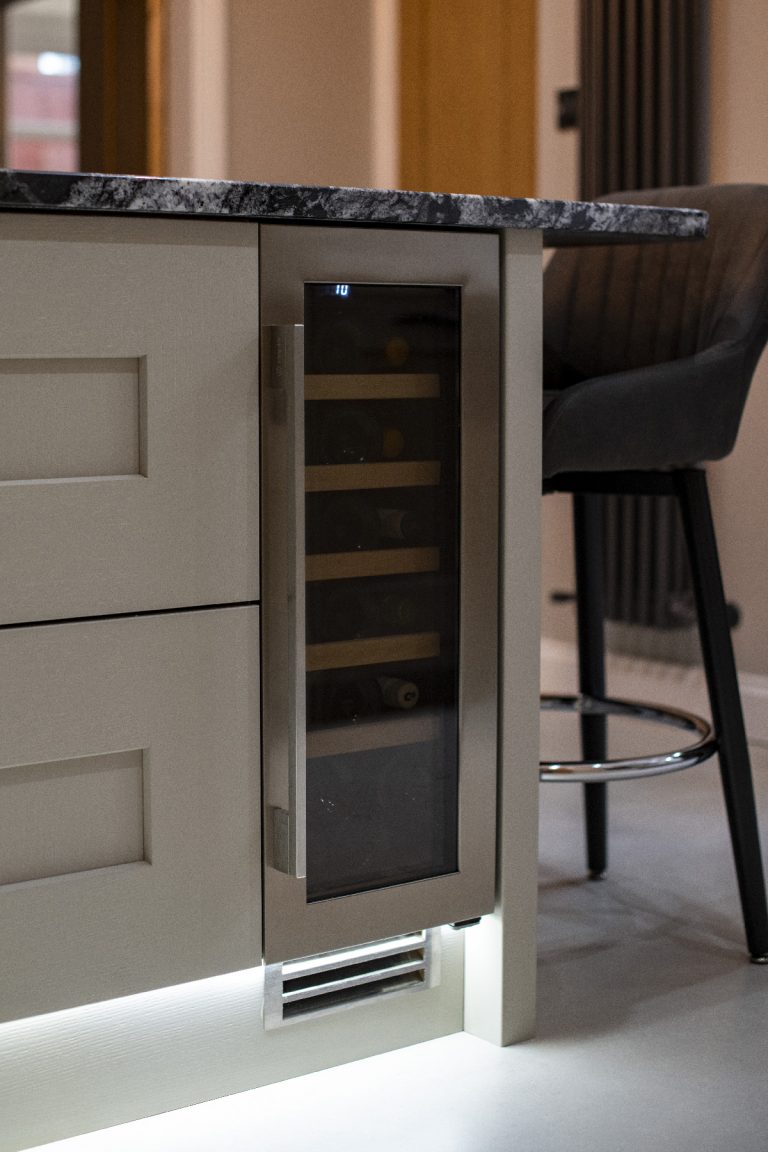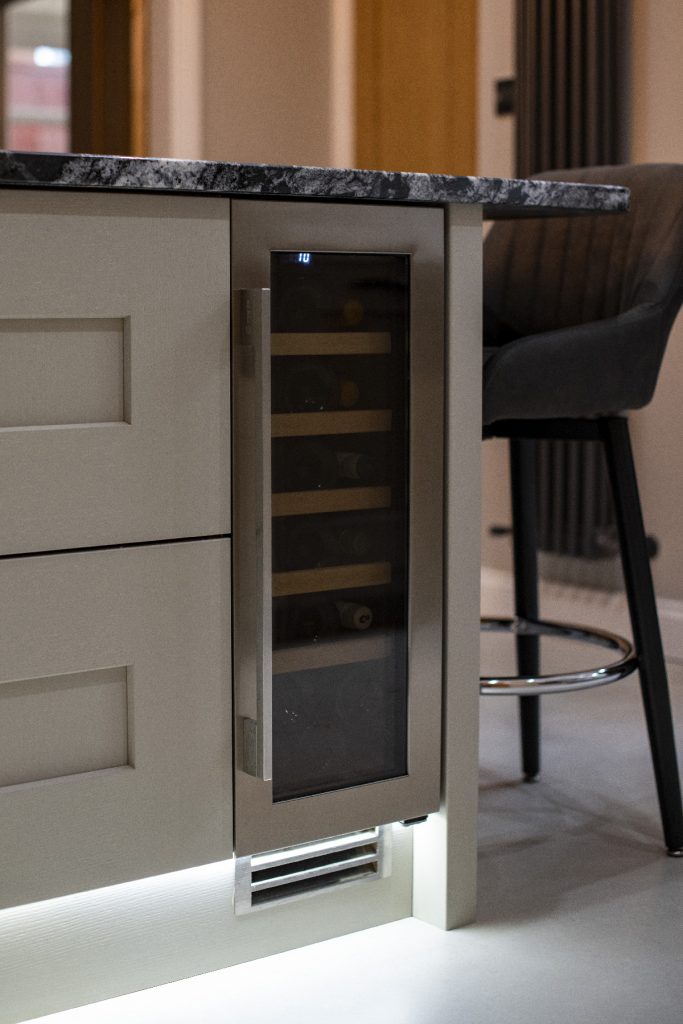 If you want to create a really neat look and conceal the lighting but still benefit from its ambient glow, there is also the option to install flexible strips under the bottom edge of the base units so they project down across the plinths and the fittings aren't visible. Rather than them being seen and the light projecting outwards.
Now for the technical bit: choosing the temperature and colour of the light is important. The warmth or tone of light is measured in Kelvin and this ranges on a scale from cool, blue tones of light, daylight and then through to warm, orange-y tones. The tone of the light will create different feels in your kitchen.
"The finishes and materials in your kitchen will determine which temperature which works best," Sabrina said, so look at the colours used in your space and think what sort of feeling you want – warm, cooler, super-focused bright lighting?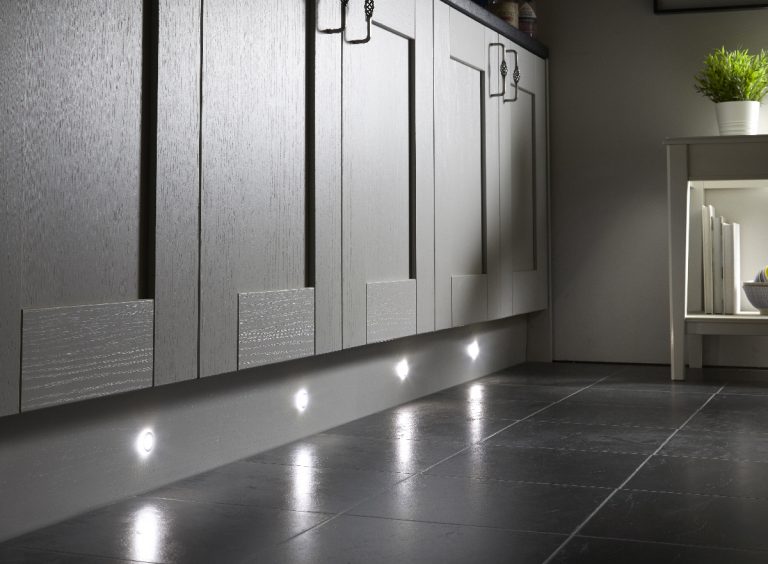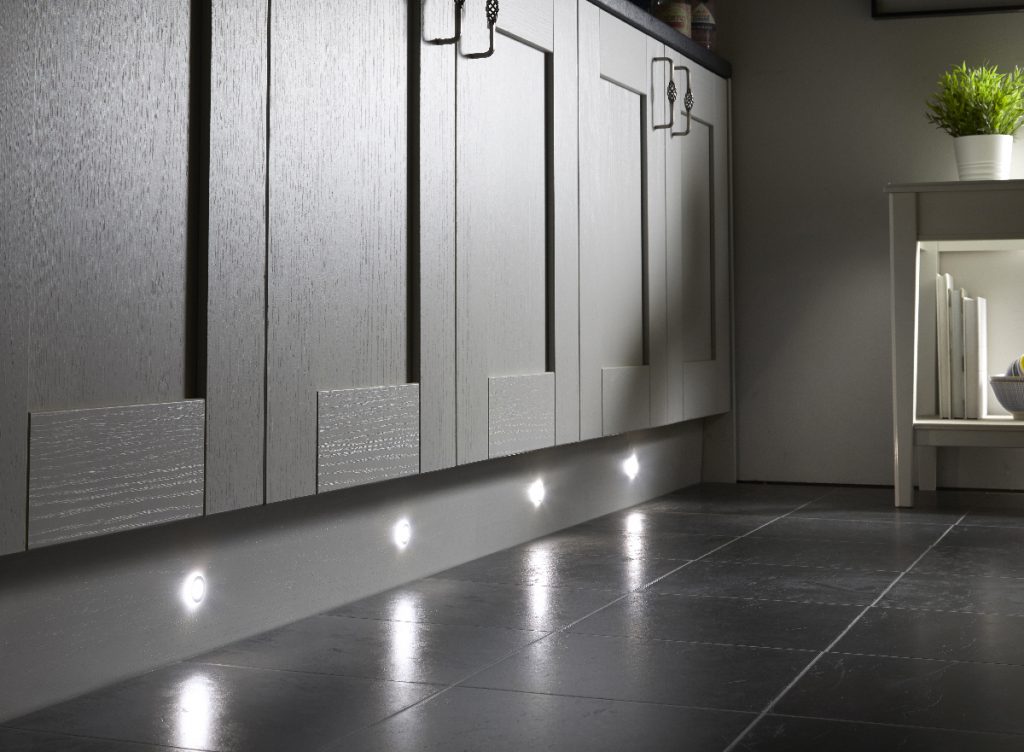 "Warm shades of materials are better with warm light, 2400 Kelvin (K) and 2700K, while blue, grey, or green palettes require a slightly cooler light around 2700K," Neil at Sensio said. He also told me you should avoid 3000K or higher as a space may start to look uninviting and cold.
As a guide, bright daylight is around 5000K and can cast a blue tone.
The light could affect the appearance of colours. "Non-re reflective surfaces, including the flooring, help avoid glare especially if using an LED strip," Sabrina mentioned. "In open-plan rooms, plinth lighting can help link or separate the areas and prevent the kitchen being too dark or bright when not in use."
If you plan to have illumination in different areas of the kitchen – under wall cabinets as well as in the ceiling and along the plinths for example – it is best to choose the same colour temperature, as mixing it up will look a little strange. But do look out for smart Wifi-controlled systems that can be adapted to different moods and times of day by using an app, remote or voice control to switch it up. Oh and always include a dimmer switch in your kitchen lighting design so you have the flexibility to dim and brighten as you please. You might want brighter light while you're eating that dims to a more relaxing vibe for after-dinner chat.
Featured image: Chester kitchen in Forest Green, Wickes.
About Post Author