Whether you're completely renovating your space, or buying your first kitchen, finding a worktop to perfectly suit your needs is vital. It's an area I would always suggest allocating a chunk of your budget too, as well. The surface you choose needs to be durable, long-lasting, hard-wearing and, of course look good too.
No one wants to be too afraid to put anything down on in case it marks or scratches, right? So, together with Sally Smith, I've put together a helpful guide with everything you need to know about different kitchen worktops…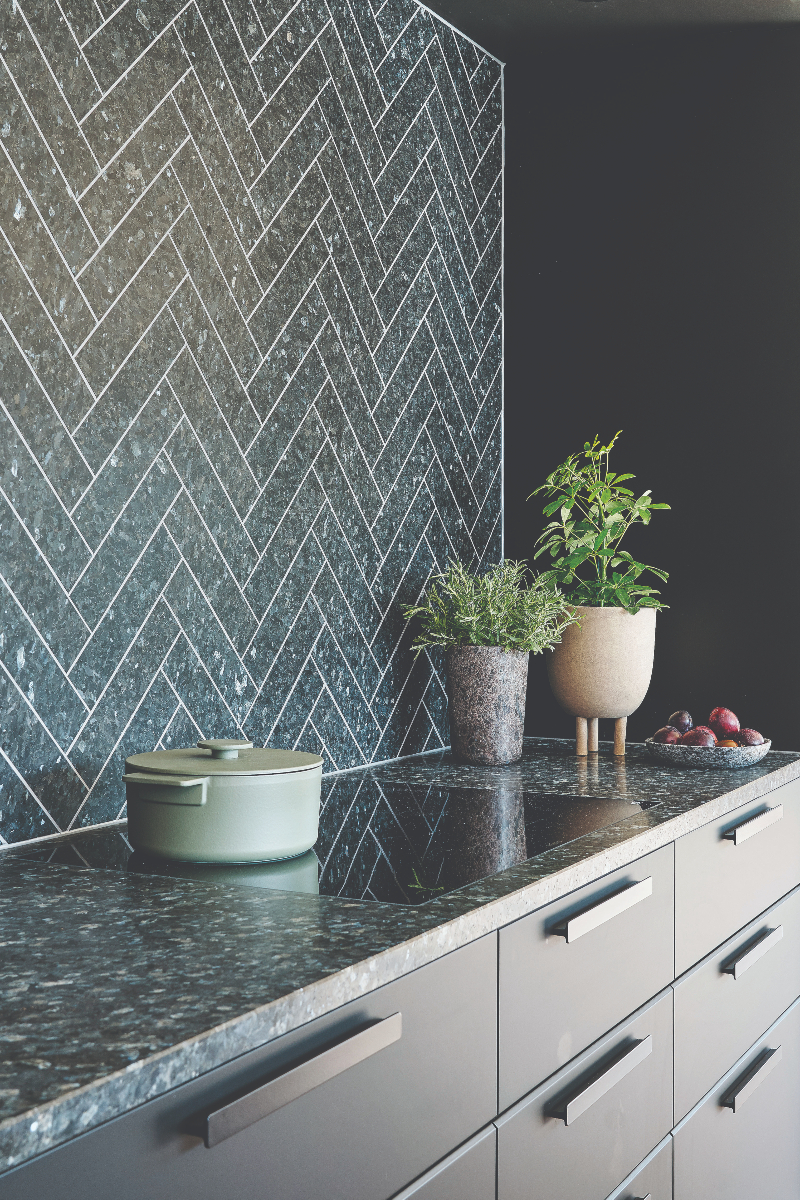 Different kitchen worktops: sintered stone

If you're a keen cook, then this worktop could be one to consider when browsing different kitchen worktops. Sintered stone is a composition of natural materials, fused together using pressure and a very high heat, known as sintering. Being heat and temperature resistant, non-porous and having antibacterial properties are ideal if you kneading dough straight onto the surface, for example. Lapitec and Dekton offer the beauty of natural stone, but with added durability.
Pros
Stone oozes a timeless charm and, if well maintained, can last a lifetime
Granite and quartz are highly resistant to stains and scratches
Cons
Granite and natural stones are also among the most expensive options.
Maintenance
Granite and quartz are very low maintenance, requiring sealing when installed and up to 10 years later.
Cost
From around £200 per m.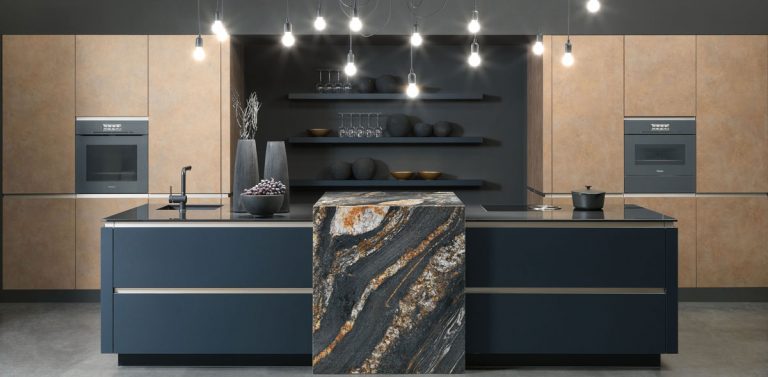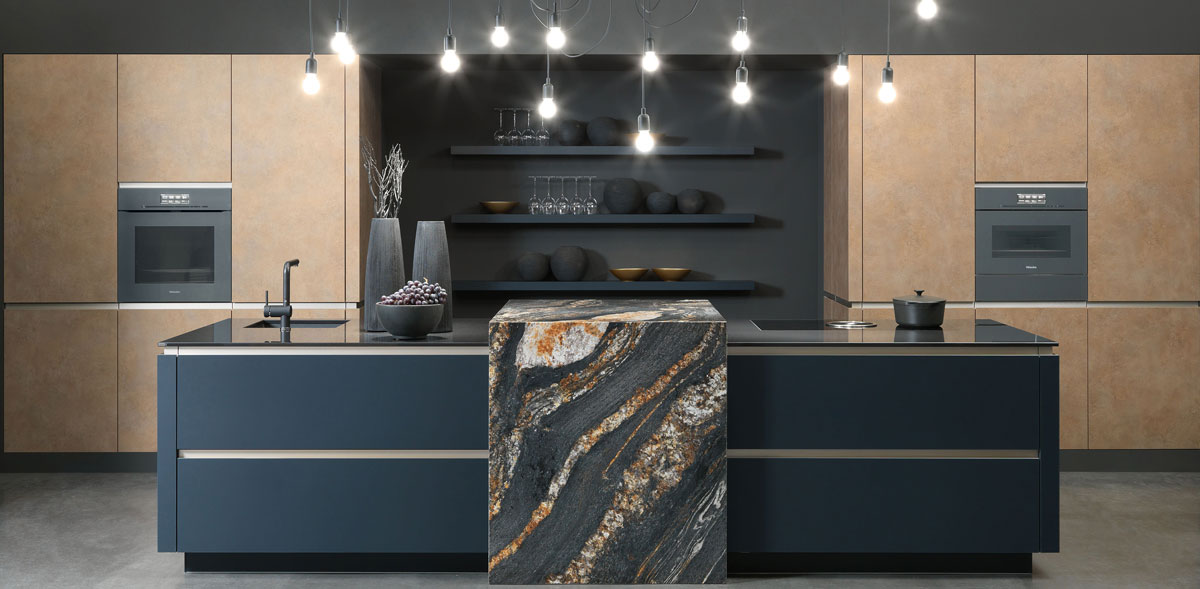 Different kitchen worktops: laminate
If splashing out on a worktop isn't on top of your wishlist. Plastic is regarded as the low budget alternative to natural materials, however thanks to improvements in laminate – technology have raised the standard, making it a worthy alternative for smaller budgets. When choosing laminate, don't be tempted to get the cheapest as they can be prone to chipping.
Pros
Widely available, very low maintenance, and suitable for a variety of budgets
Laminate comes in styles such as tile replicas and solid wood-look designs
It is quick and easy to fit, even as a DIY project
High-definition printing means it looks like real wood or stone but at a fraction of the cost
Cons
Can scratch easily, warp due to water, and cannot be sanded down.
Maintenance
Wipe down with a non-abrasive detergent.
Cost
Expect to pay from £35 per m.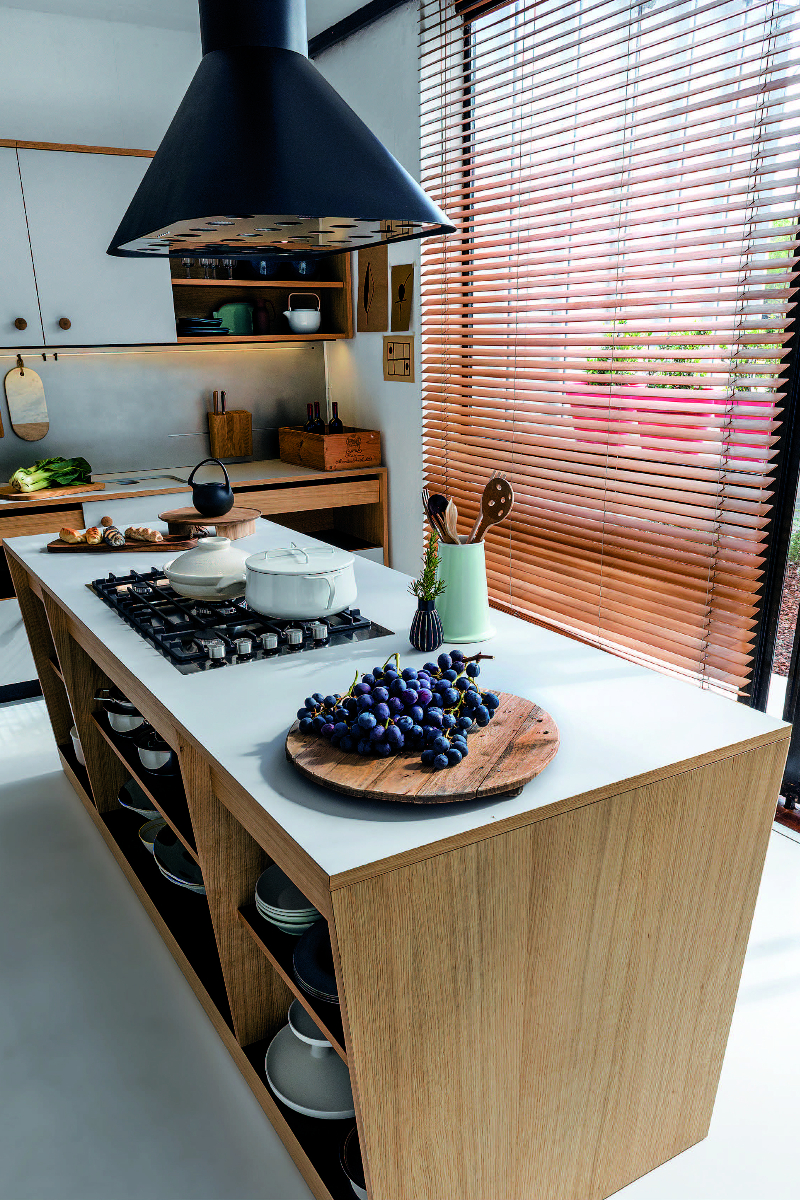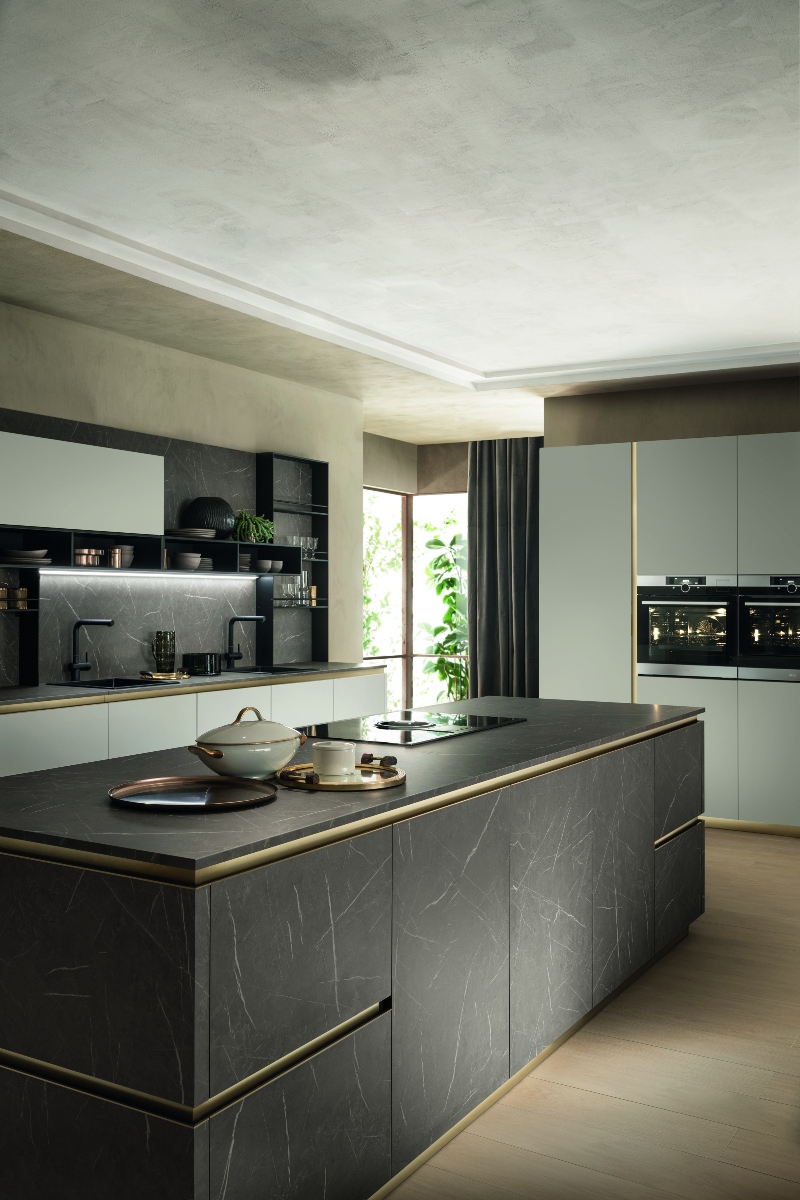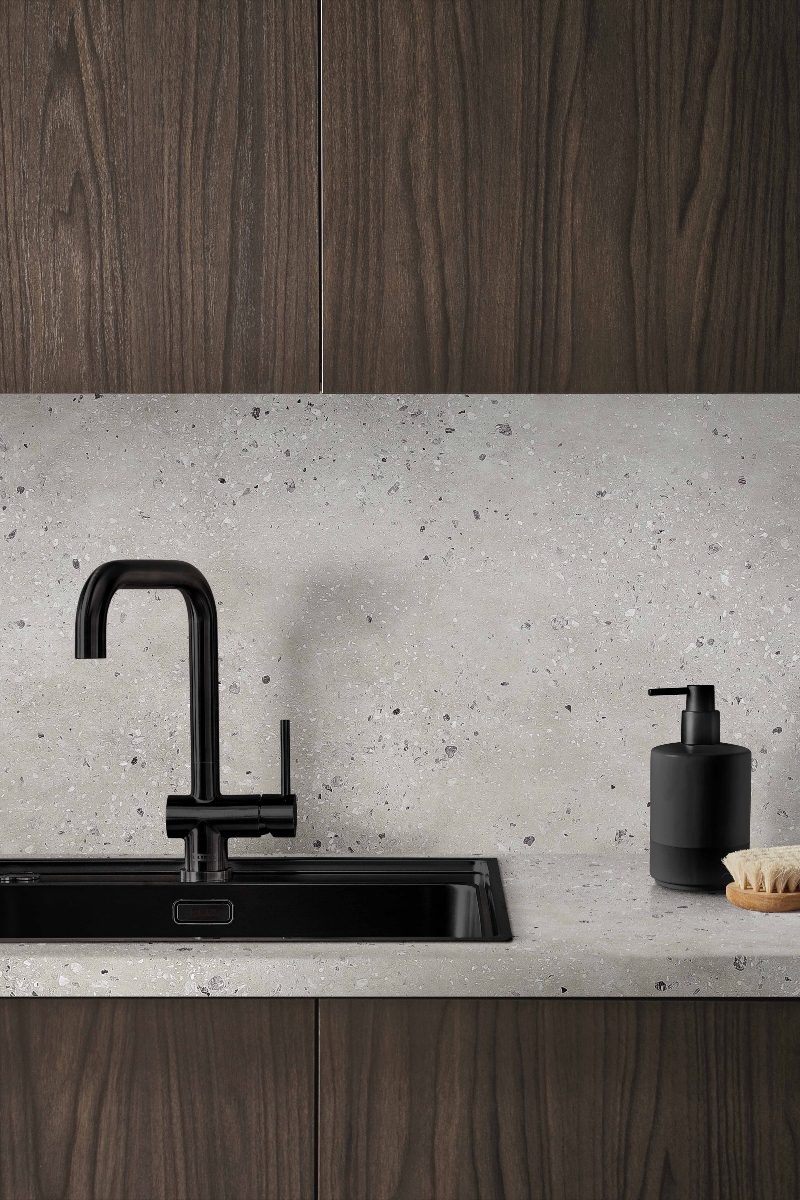 Composite or engineered
Composite or engineered stone worktops offer the natural beauty of stone, combined with the durability. Quartz is one of the main components due to its extreme hardness and resistance to acids. Quartz and wood worktops work well together, and are great for a kitchen island or breakfast bar for example. Another benefit to composite is its versatility.
Pros
Composite materials offer design flexibility, as they can be moulded to suit bespoke shapes
They are long-lasting, need no treatment, and are more durable than natural stone
Repair scratches to make the worktop look like new
Cons
One of the most expensive kitchen solutions
Composites require highly trained specialists for installation as well as any repairs
Maintenance
Wipe down with a mild non-abrasive detergent.
Cost
From around £350 per m.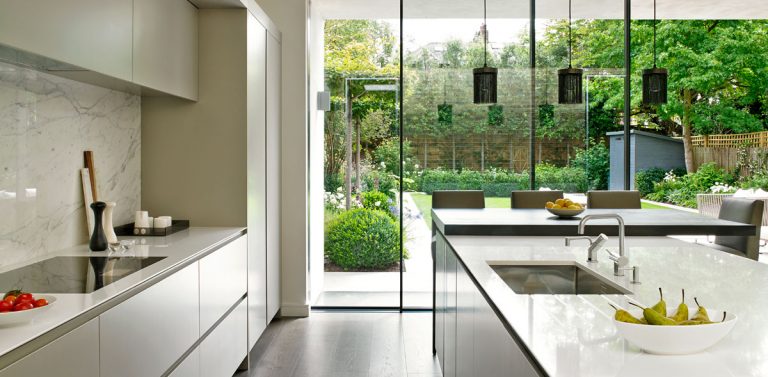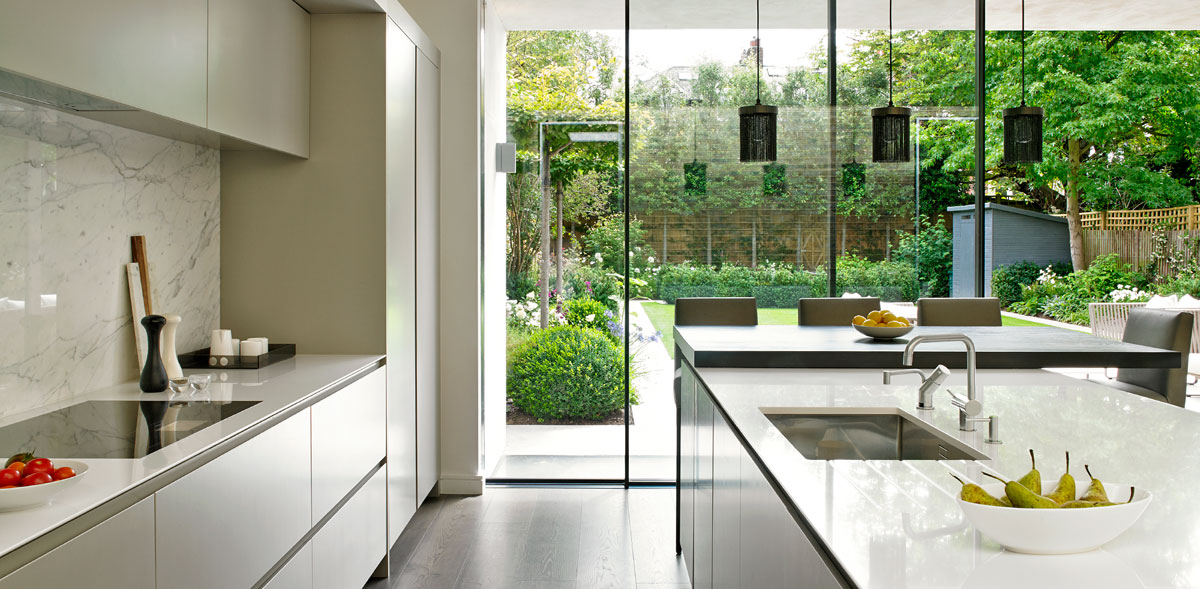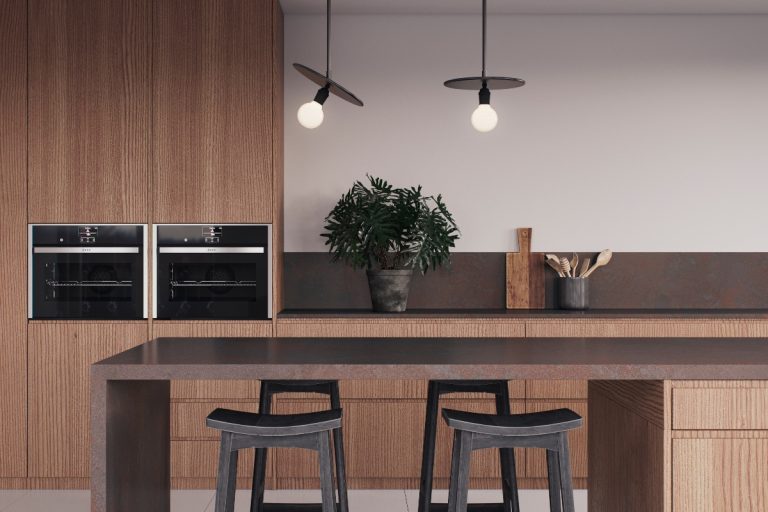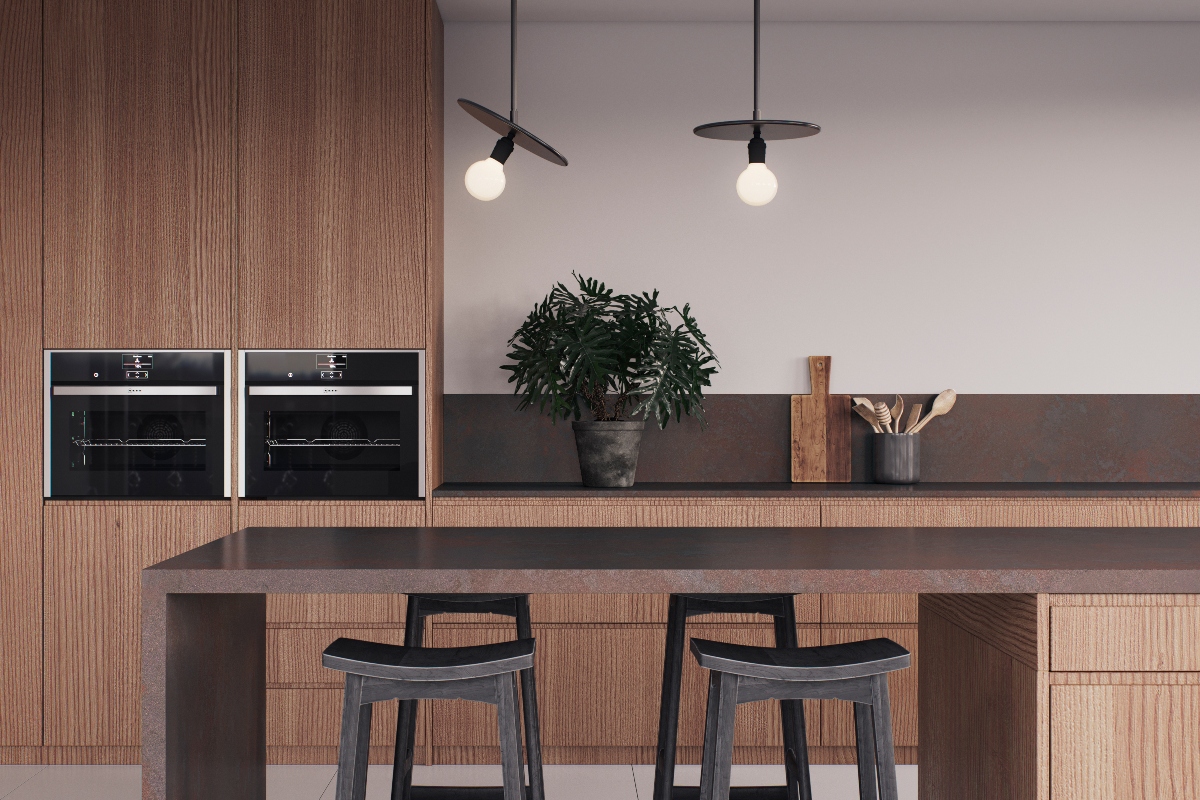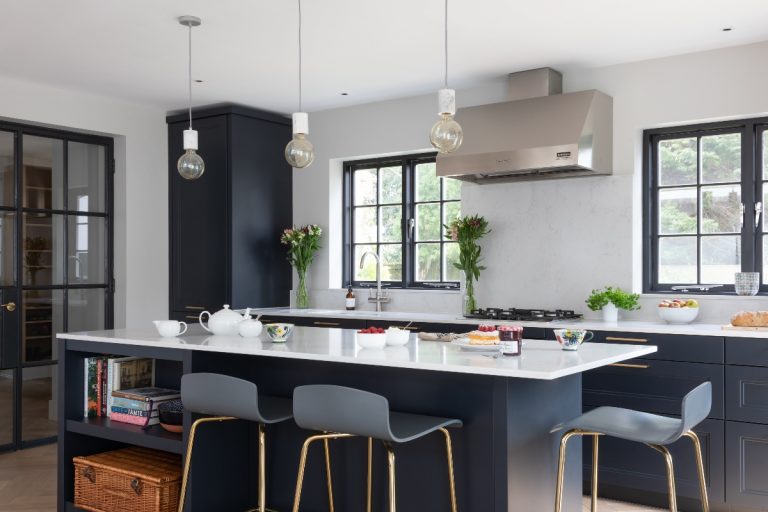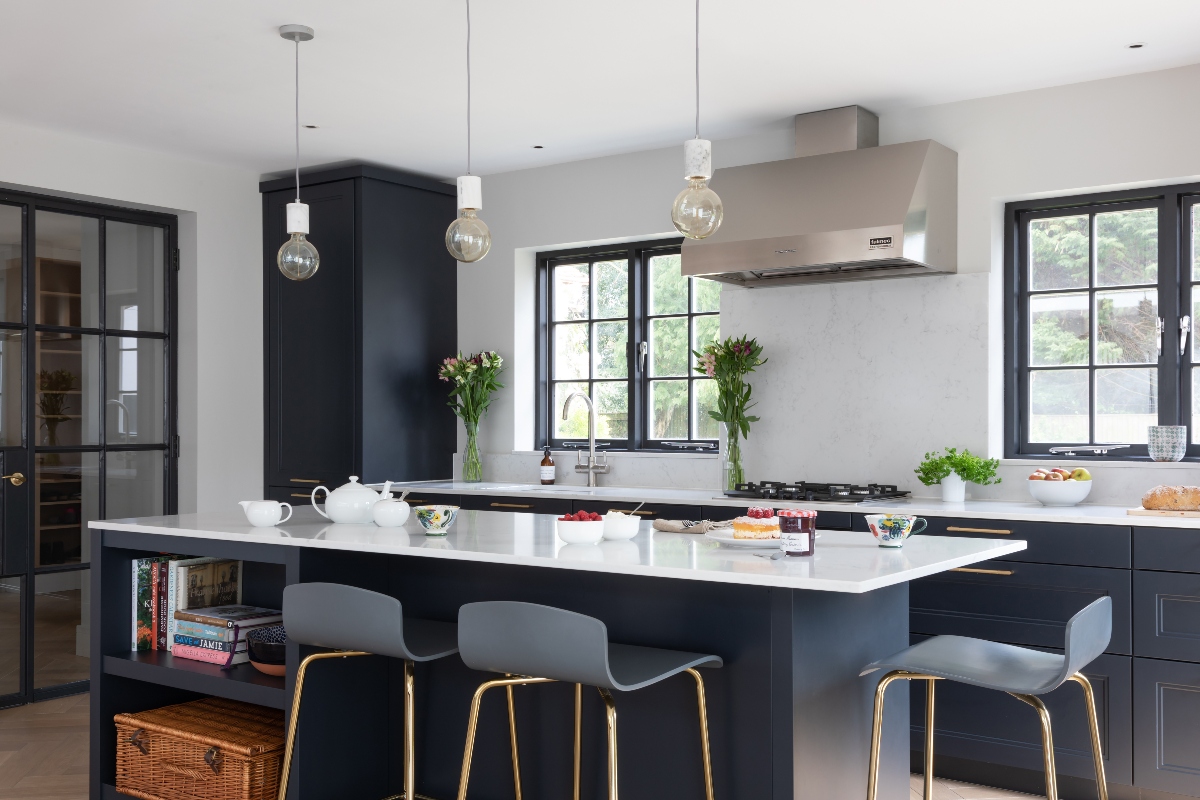 Concrete
If you love the industrial look, concrete could be your worktop of choice. As it is cast in a mould, concrete is very versatile. It works well with other materials such as wood. However due to its porous nature, sealing concrete on installation is a must, followed by regular waxing to reduce the risk of staining. So keep your hot pots and pans away from it.
Pros
The hard-wearing material increases in durability as it cures over time
Cons
However, it shows off stains
Can crack
Specialists must install it and it takes at least 30 days to cure completely
Maintenance
Seal the concrete properly and reseal it every couple of years or it can become a haven for bacteria.
Cost
Expect to pay from around £500 per m.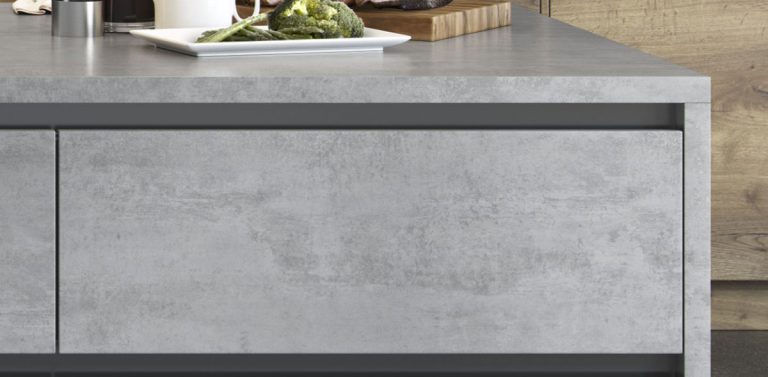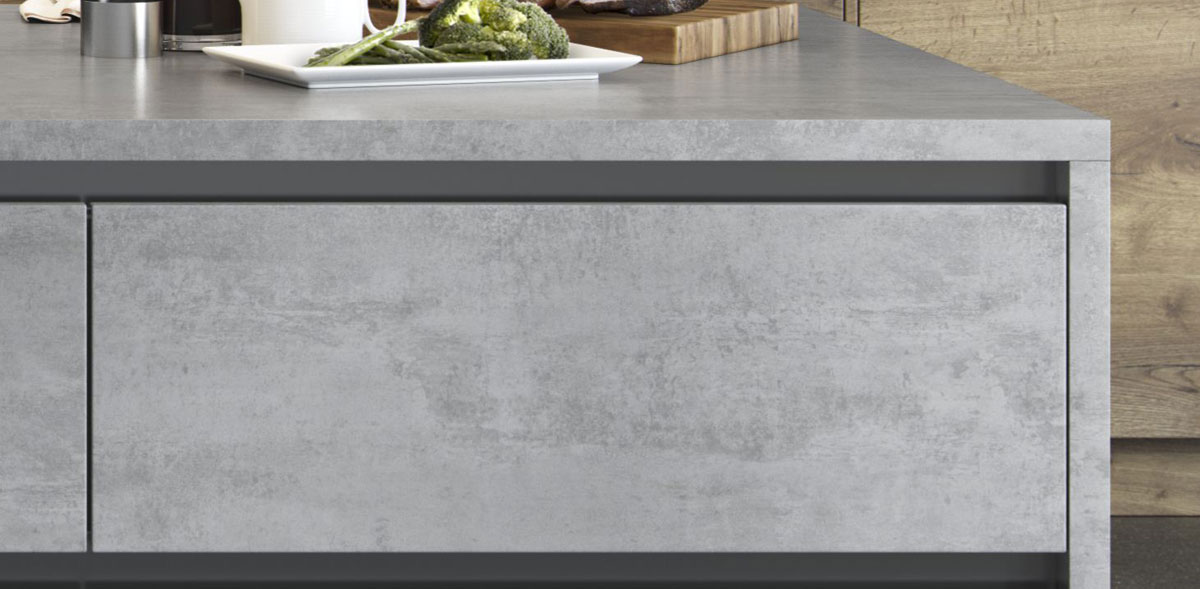 Wood
You can't go wrong with wood. Versatile and priced for a variety of budgets, it adds warmth to your kitchen. Consider that changes in humidity and heat can cause the wood to expand or contract, so solid wood worktops should be fitted with a small gap between that and the adjacent wall for breathing. They also require thorough oiling prior to installation, followed by re-oiling every six months to maintain and keep them looking pristine.
Pros
Solid wood is durable and beautiful
It can be recycled
Cons
However, oak may require oiling once a week until it matures
Specialist installation and maintenance are key
Solid wood worktops could warp if the grains are not protected with, for instance, end caps
Maintenance
Repair scratches by sanding it down. Apply oil as advised by your supplier to keep the surface looking good.
Cost
Expect to pay from £150 per m.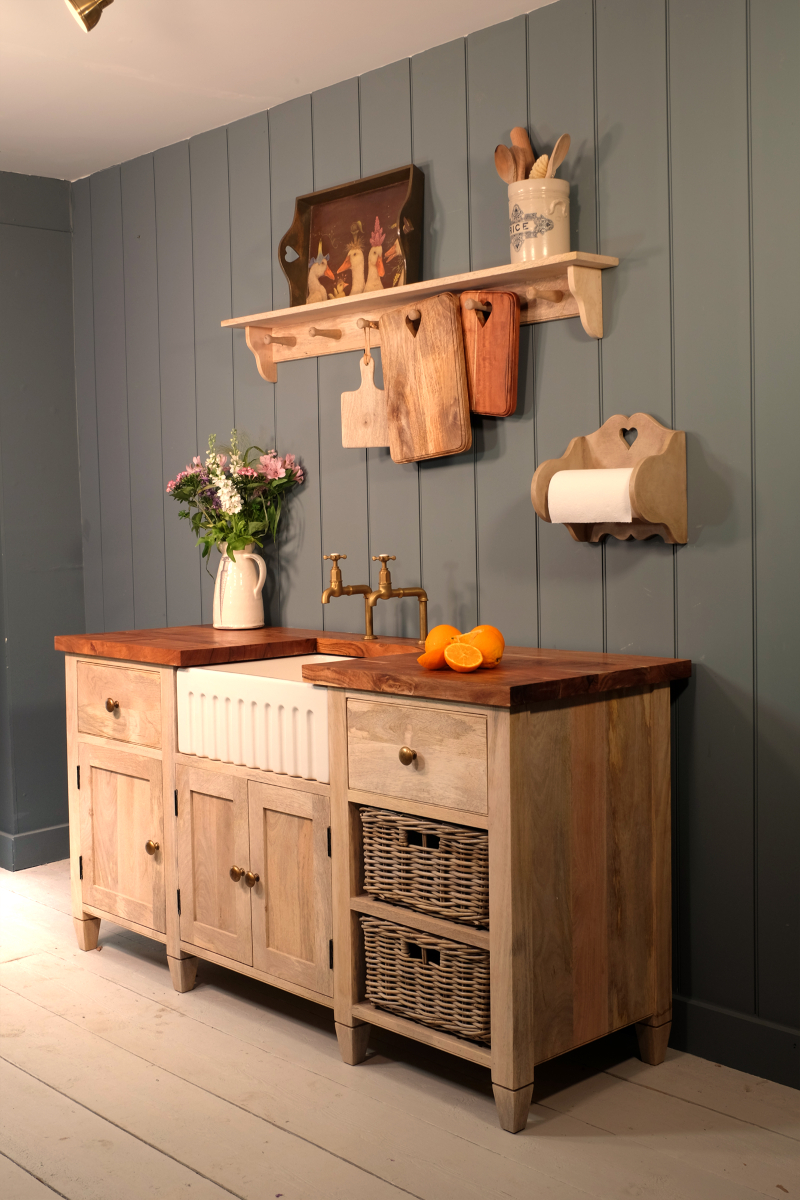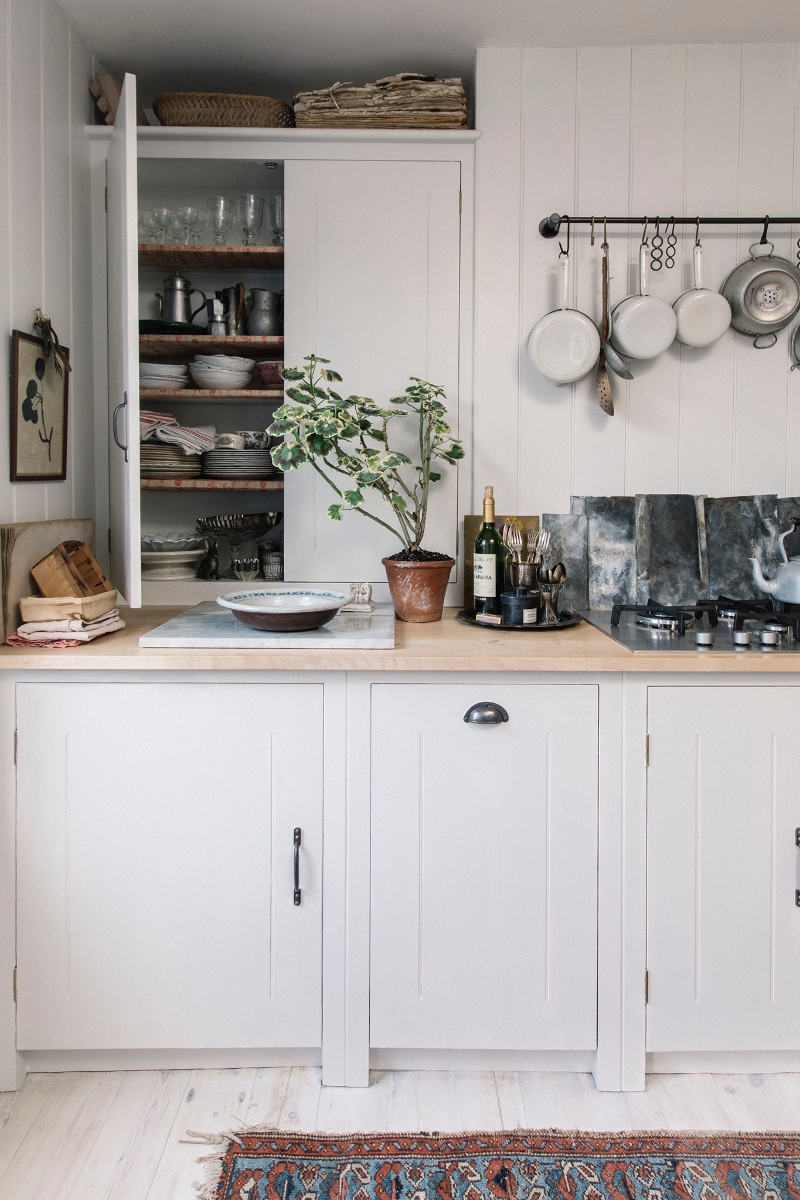 Different kitchen worktops: Marble
If you dream of a luxurious kitchen, then marble is hugely popular. Thanks to its cool finish, it's ideal for making pastries and dough – how amazing is that? Carrara is a favourite, but it is porous so care must be taken to avoid staining.
Pros
Marble tops are natural stones with variable hues and veining
If taken care of properly, marble surfaces are long-lasting
Perfect for creating a glamorous space
Cons
Softer and can be prone to scratching, burns, and stains
It doesn't fare well with hot pots and pans so they should be placed on trivets
Depending on their quality, marble countertops can also be very expensive
Maintenance
Striking marble tops need a daily wipedown with a microfibre cloth and warm water.
Cost
From around £200 per m.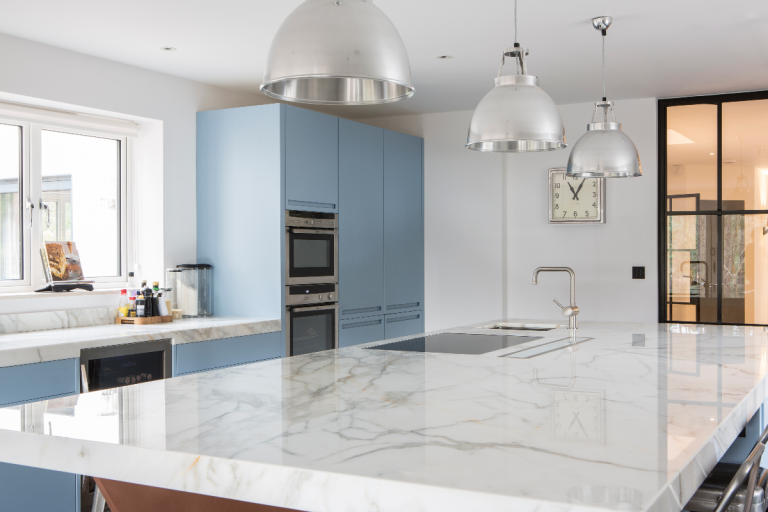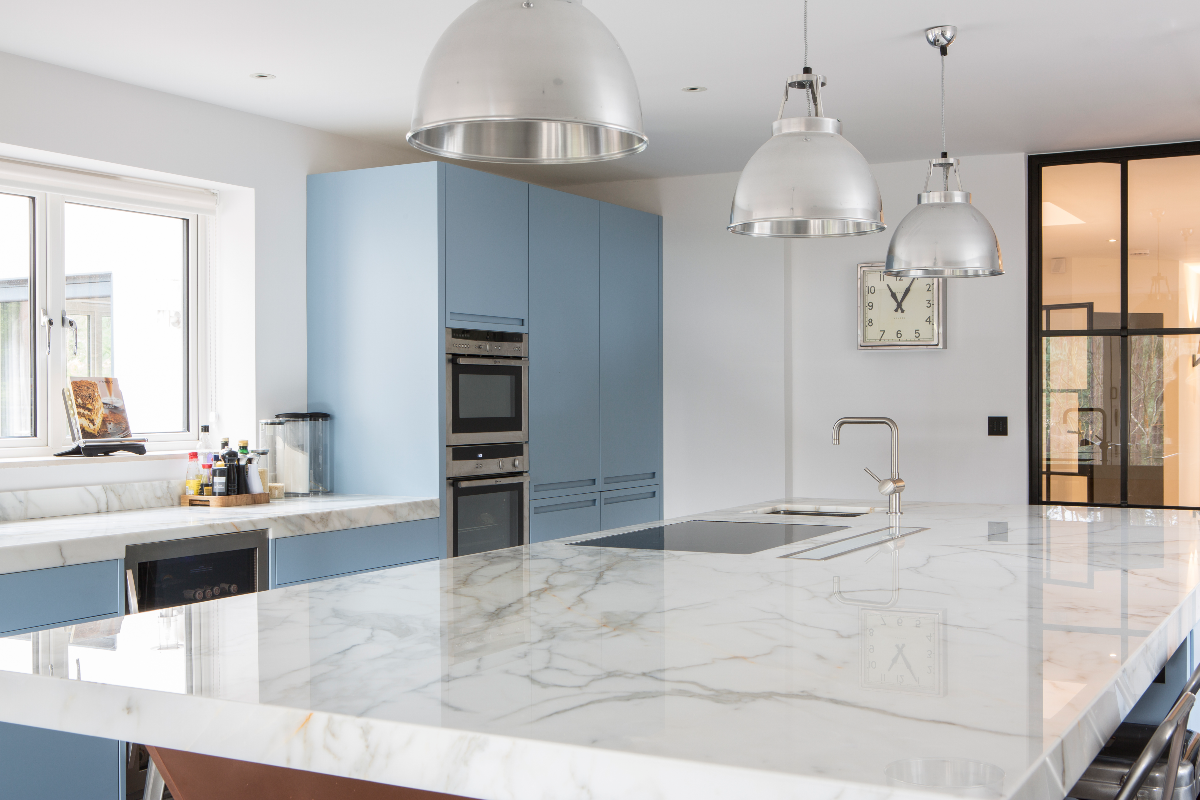 The pros and cons of marble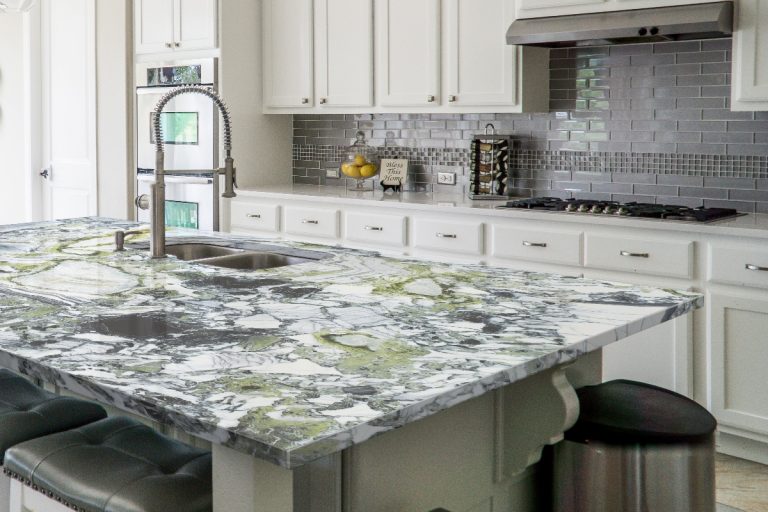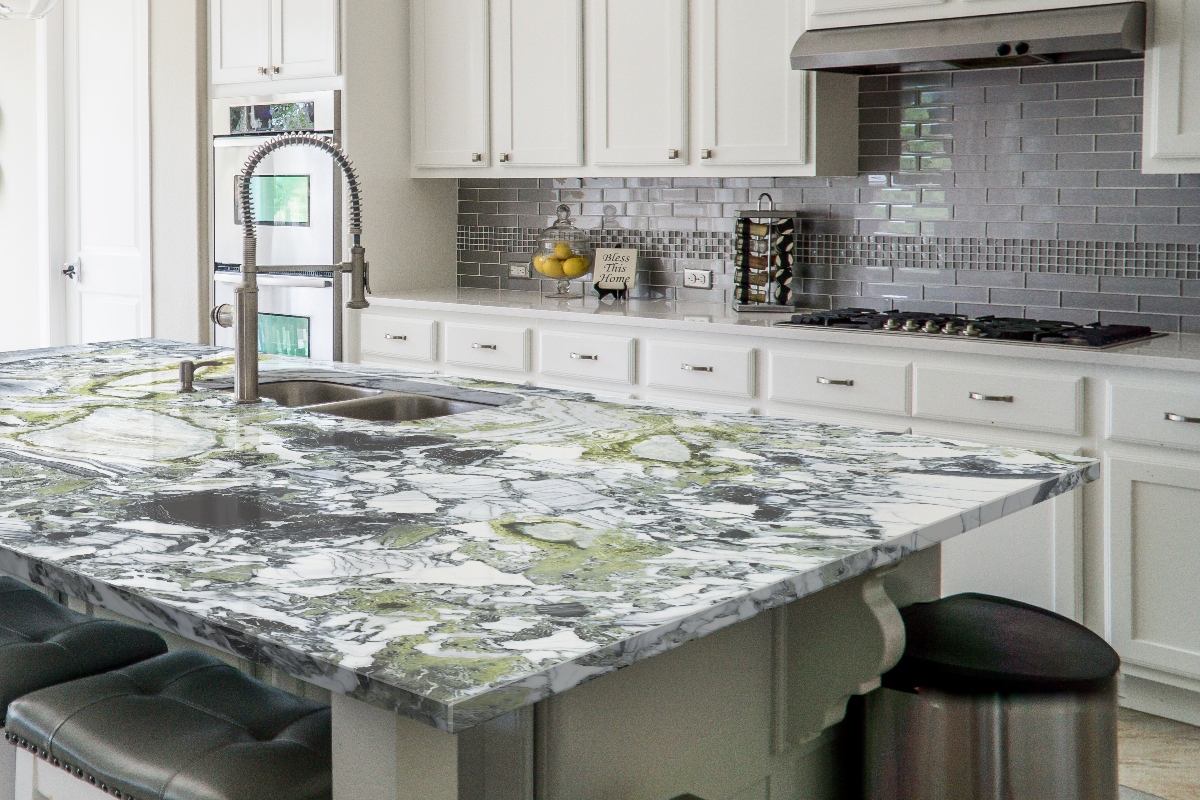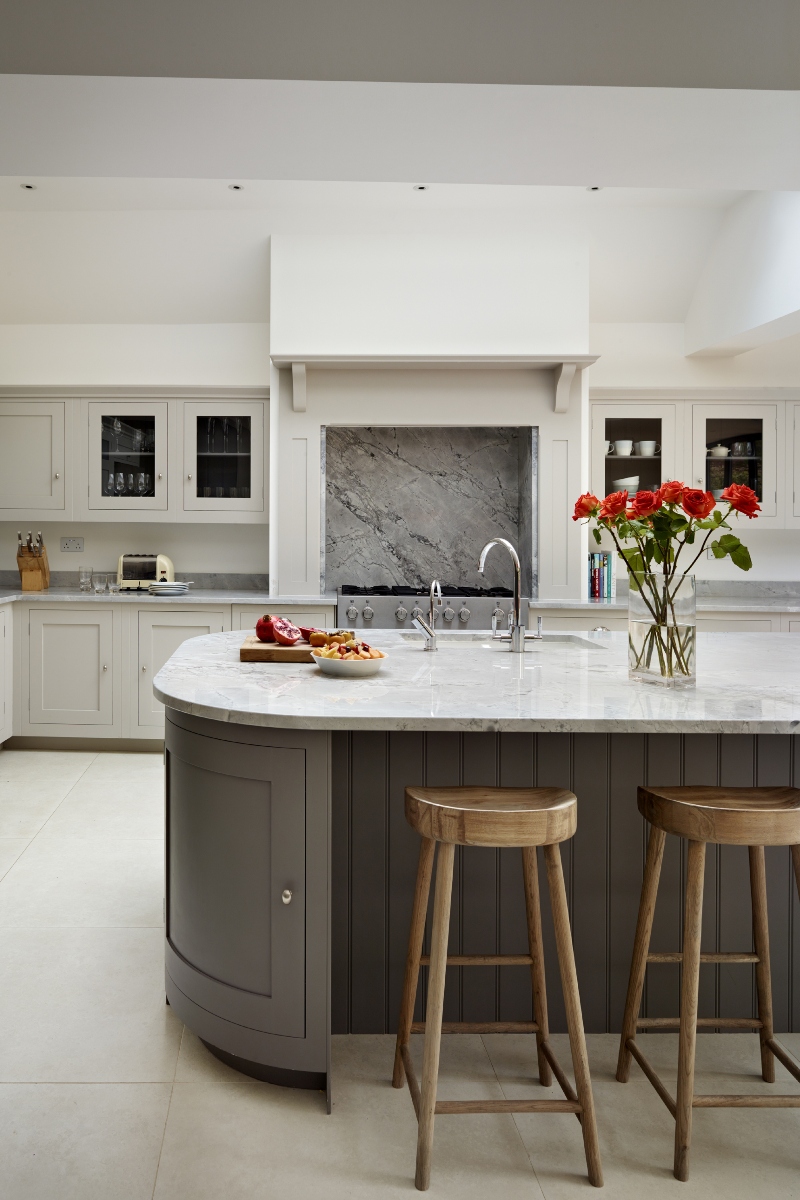 Trend alert: Mix and match worktops for a unique look. Think a breakfast bar area with wood and a cooking area with quartz for example. It's a great way to create an individual look and could even help you balance the books as you'll need smaller quantities of each material – smart and stylish, right?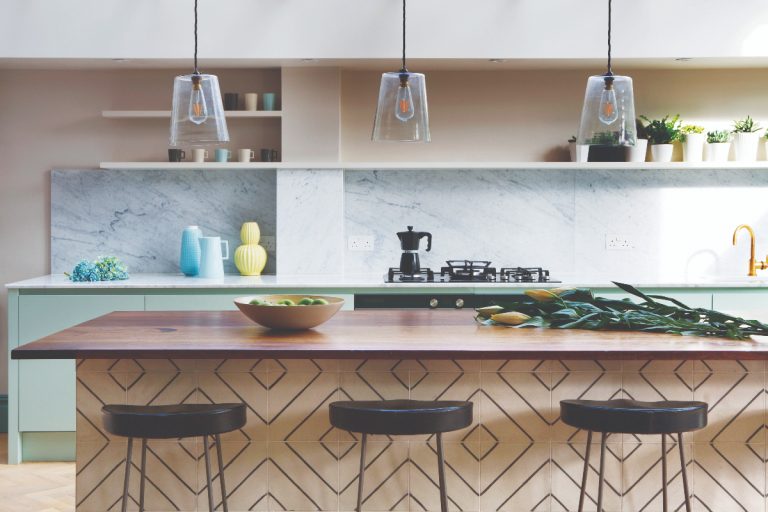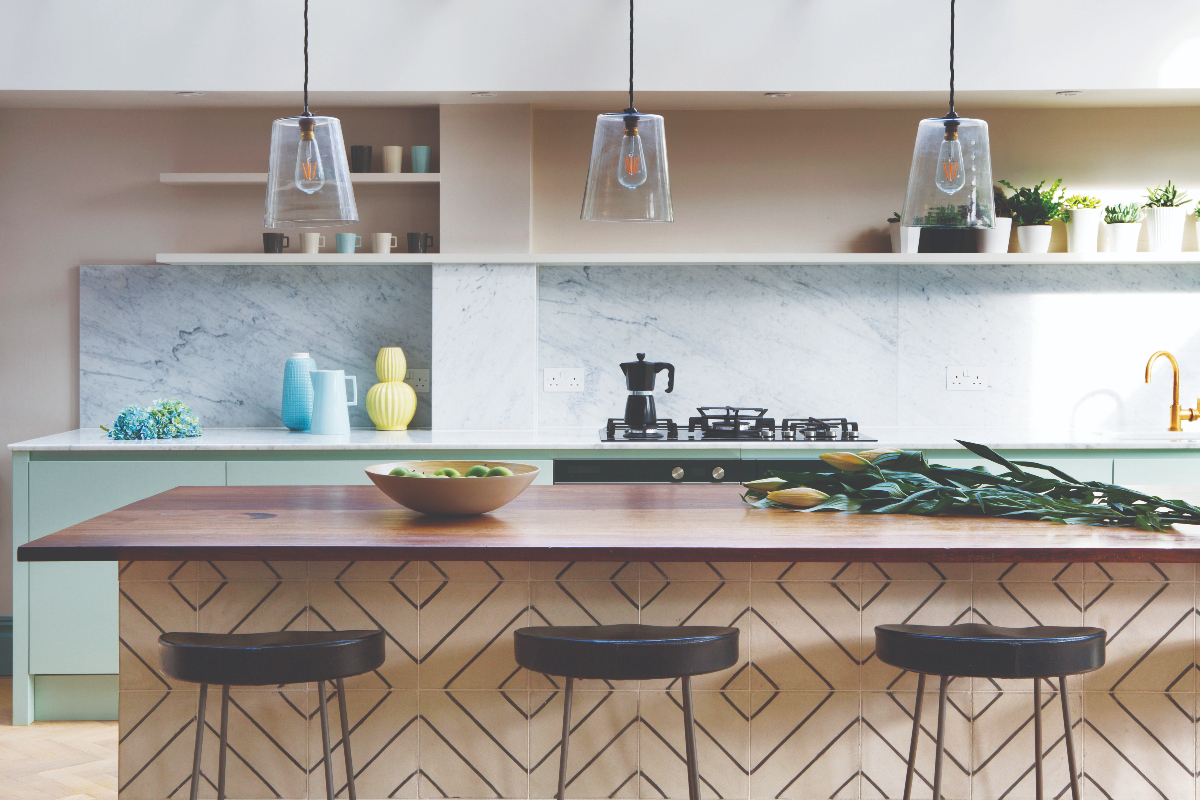 Stainless steel
Now that hygiene is a more of priority than ever, stainless steel is a great choice for the kitchen. It's non-porous, so won't foster bacterial growth. Not only that, it's durable, waterproof, and heat and acid resistant.
Pros
You can customise thickness and polished finishes
Integrate welded sinks, gas burners and hobs
Cons
Maintenance
While fingerprints and smudges might show up more than on some materials, stainless steel is about as low maintenance as you can get, so with a quick wipe down with a suitable cleaner you will keep it looking sleek.
Cost
As one of the cheaper worktop products on the market, you can expect to pay around £150 per m.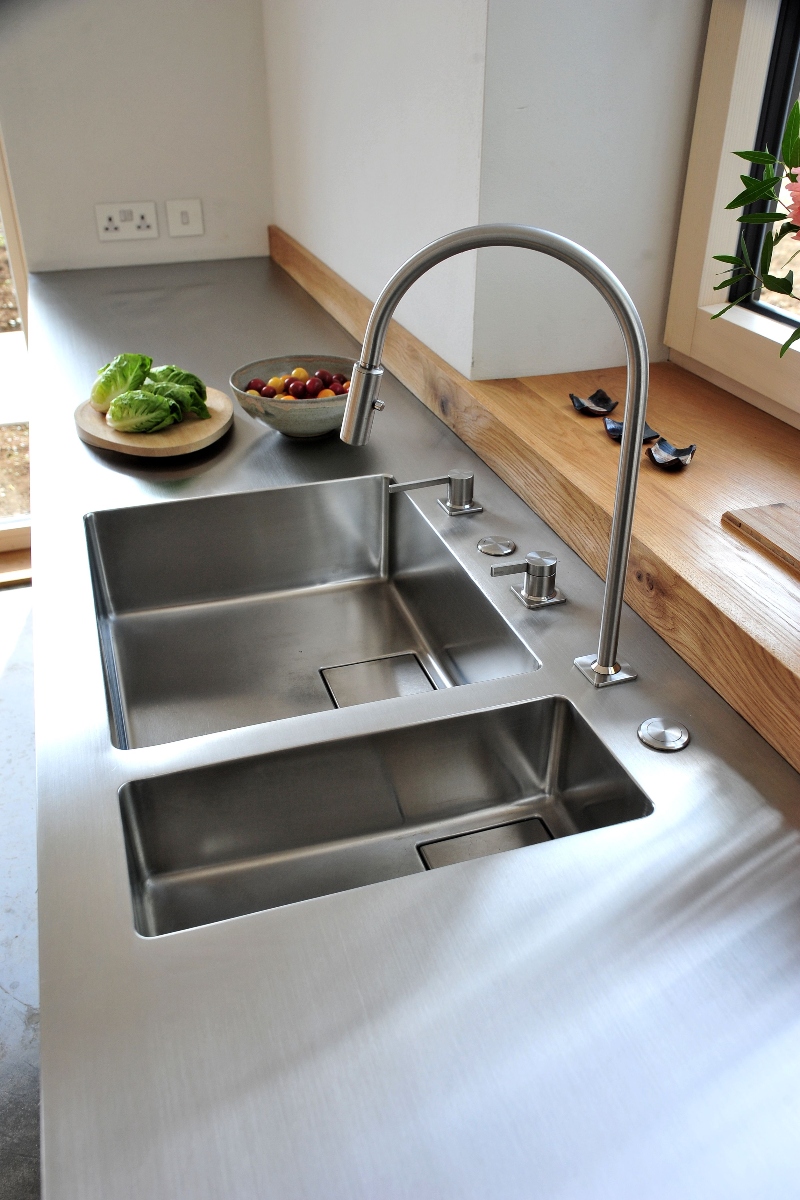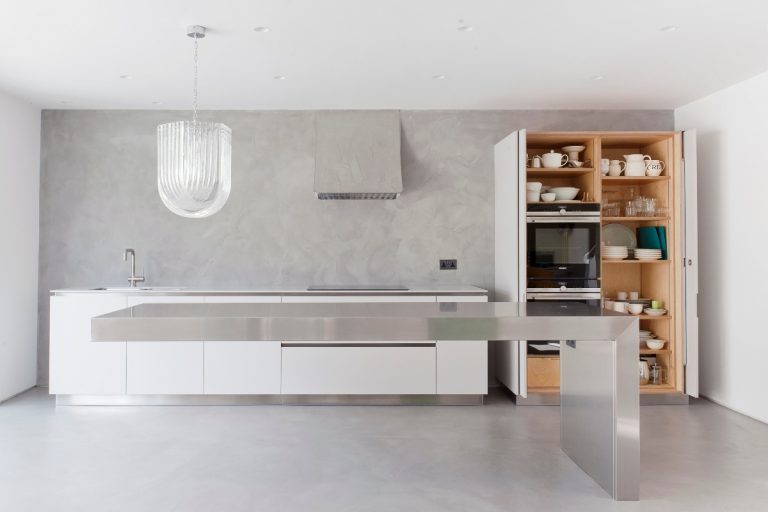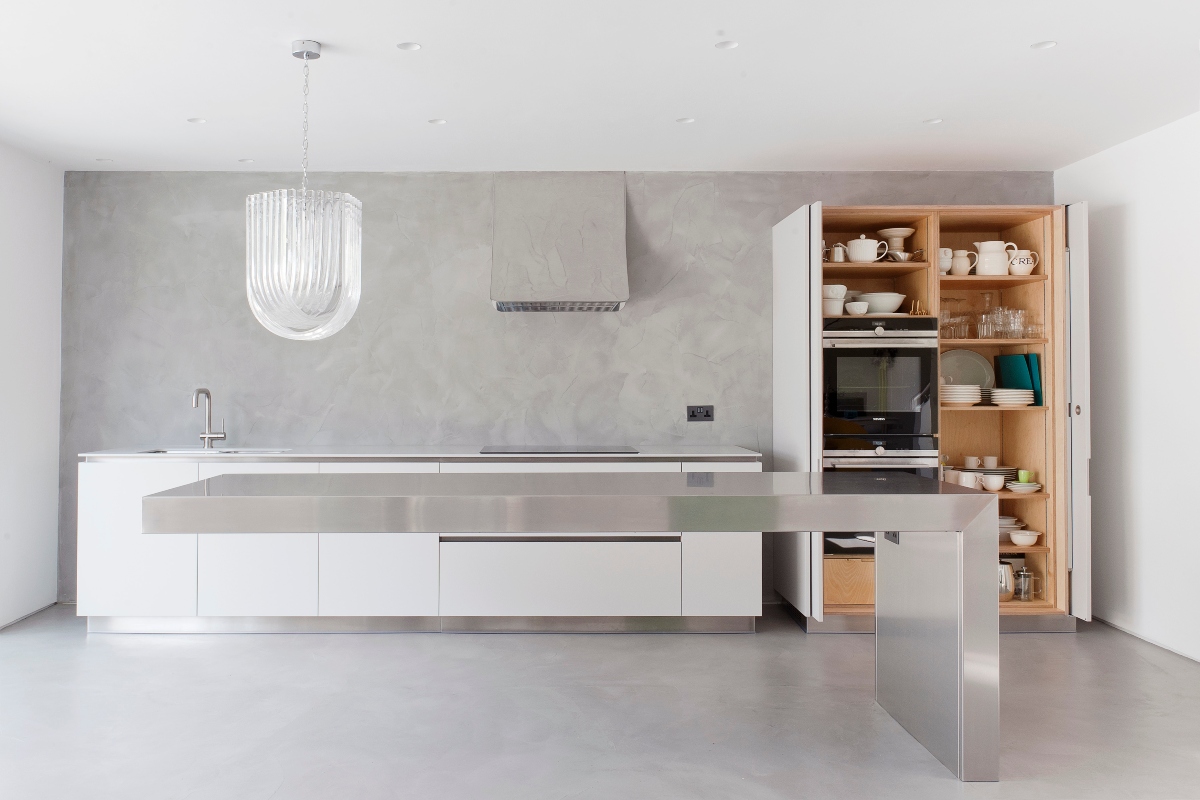 Buying tips
A worktop is an investment and can really add the wow factor to a kitchen design, so take time to visit showrooms with a good range of surfaces on display. Make sure you take a wide variety of samples away so you can play around with different materials, textures and colours. You can then see how they look and feel in your kitchen in different lights.
Also: don't be afraid to experiment with reclaimed surfaces either, whether it be old school desks, pre-loved tiles, and scaffold boards – or mix contrasting finishes. Remember to ensure your surfaces are food safe. Many manufacturers carry a NSF 51 certification, which means the worktop is safe to come in contact with food, but always check.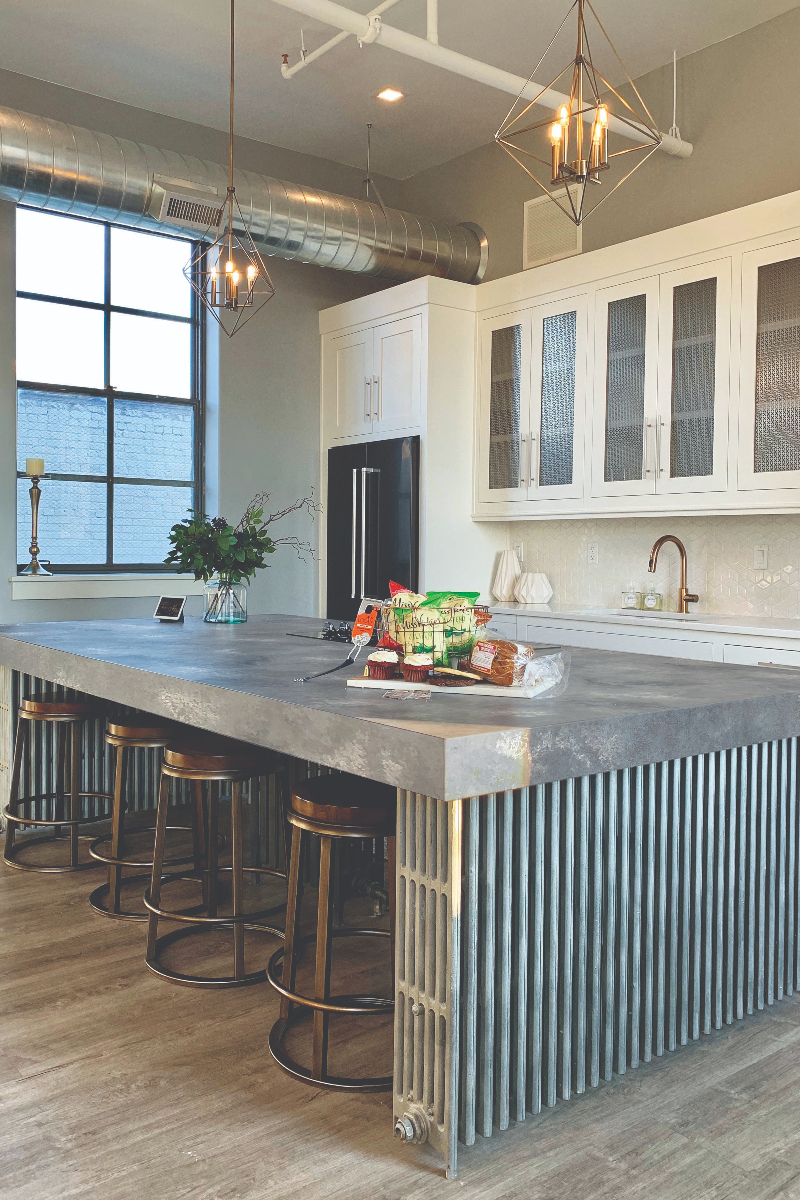 Design decisions
It's not only the layout you need to consider – think about how you use your kitchen, too. Have you been cooking a lot recently? If you're worried about spices or other ingredients staining your surface, a hard-wearing laminate or stainless steel may be more practical for the preparation and cooking areas. But if you want to make a statement with an island unit, especially if you love to entertain, why not invest in a natural stone such as marble or granite?
Pricing
So: the cost of worktops does vary greatly, from a couple of hundred pounds to nearer £1000 per sq m. But the final price of your surface not only depends on the material but also the complexity of the installation. So check the cost per sq m and factor in any installation fee, too.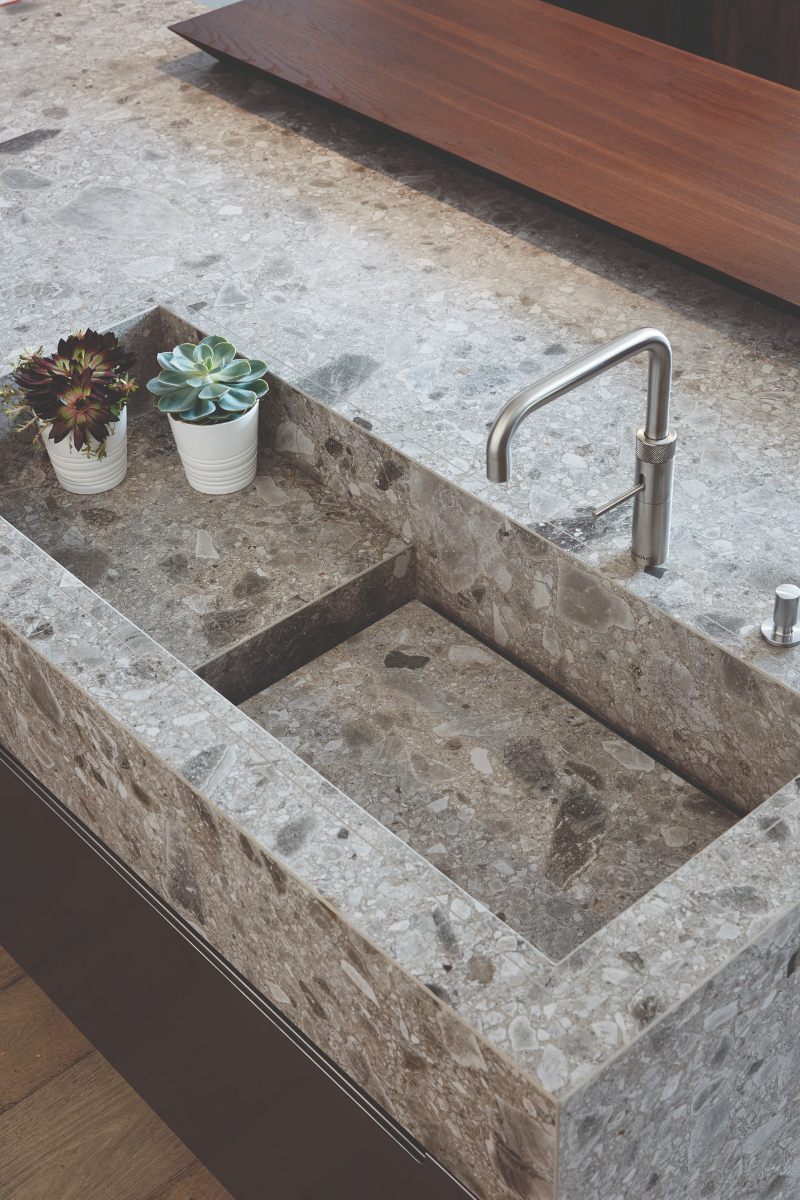 Featured image: Gerald Culliford's dramatic Belvedere polished natural quartzite starts from £300 per sq m.
So, did you love this feature on the pros and cons of different kitchen worktops? Then you'll also enjoy all you need to know about engineered worktops.
About Post Author