When moving around a kitchen (or a whole home), have you ever felt as if it's close to a sort-of choreographed dance? Because everything is so effortlessly connected and easy to reach?
If your answer is yes, congratulations: you've spotted the abstract-sounding good flow. It's something every homeowner yearns for. And you might not even have had a name for it, but you definitely know it felt good.
You might think it's related to the working triangle – also called the magic triangle – which is a way of arranging the fridge, hob, and sink. The three form the points of, you guessed it, a triangle. This is considered the ideal layout for easy meal preparation that doesn't require you to walk far between key elements.
But our kitchens have become multi-functional, and are now far more than simply spaces where we cook and eat. Over the last two years in particular, these rooms have turned into so much more. They're now areas in which we work, play, rest, and get together with our loved ones.
To find out more about the ever-elusive good flow, I've caught up with @kbbmagazine journo Charlotte Luxford (aka @luxfordinteriors). She spoke to experts in a bid to get the lowdown on how to achieve the best configuration.
Let's find out what she learnt…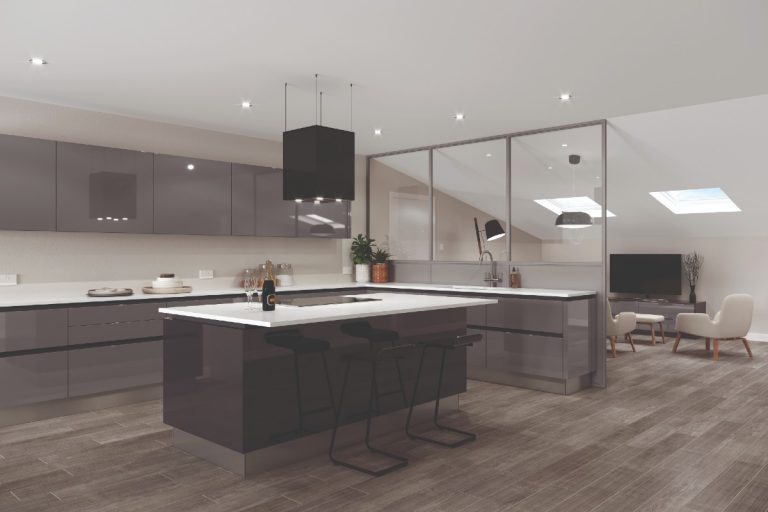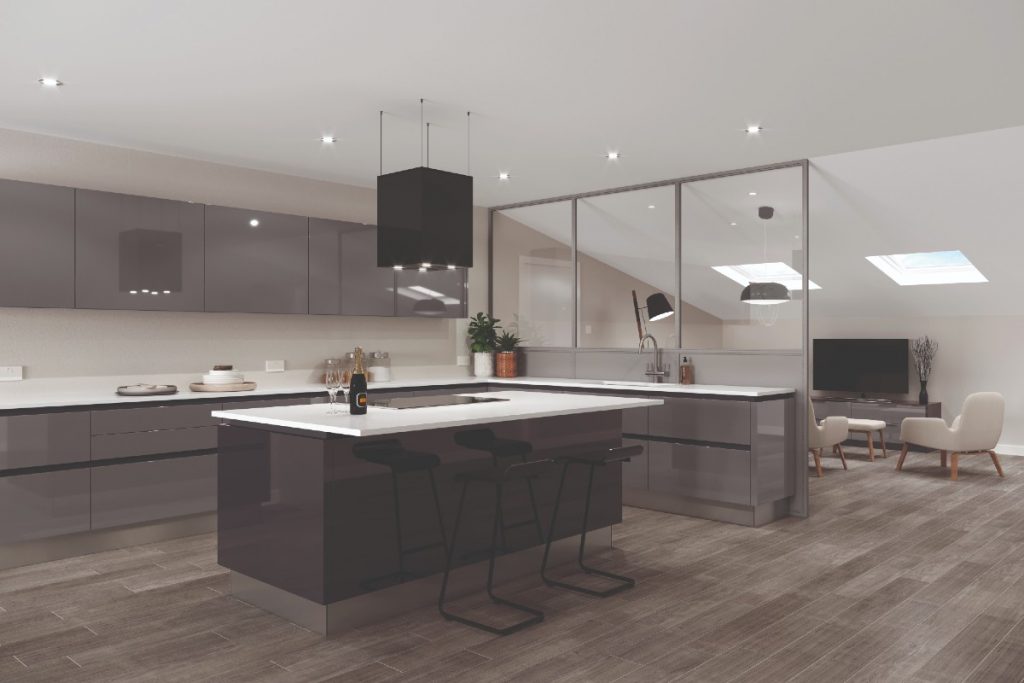 How can I create good flow?
Start by looking at your scheme and grouping functions together, so you can plan essentials such as storage. This is why items such as breakfast cupboards have become so popular.
Keeping your kettle, toaster and coffee machine and tea bags, preserves and cereals together makes for a more organised morning routine. It keeps surfaces clutter free and minimises the chaotic crossover of family members.
"Ensure the busiest walkways are the widest," explains Jayne Everett, senior designer at Naked Kitchens. "Ideally, a minimum of 1m clearance should be allowed. However, your walkways don't need to be spaced the same. Once the flow of the kitchen is understood, the widths of pathways can be amended."
She suggests you start with your wishlist when you plan the layout. Then mentally visualise a walk-through of the kitchen to make sure everything flows. Open appliances and doors to ensure there are no clashes or restrictions.
"Often, my clients favour French-door freestanding fridges. What they don't realise is they need extra space for them to open. These fridges usually require deeper housing, too. And they can't be located in cabinetry corners, as this hinders the door opening fully and will cause a bottleneck."
Generally, Jayne says, appliances shouldn't be placed in the corner. It's not very practical and can negatively affect flow.
Where does my island fit in?
Seating at an island is also often high on renovators' wishlists.
"When planning your breakfast bar or adjoining dining table, leave enough space behind the stools so the walkway is kept free," says Jayne. "Ensure you've got a sufficient worktop overhang to tuck unused seats away."
She also suggests you place stools "so they look into the kitchen. This means they won't block any busy walkways or thoroughfares".
If you have limited floor area, choose a kitchen company that offers bespoke sizing. They can create shallower units which help enhance space if necessary.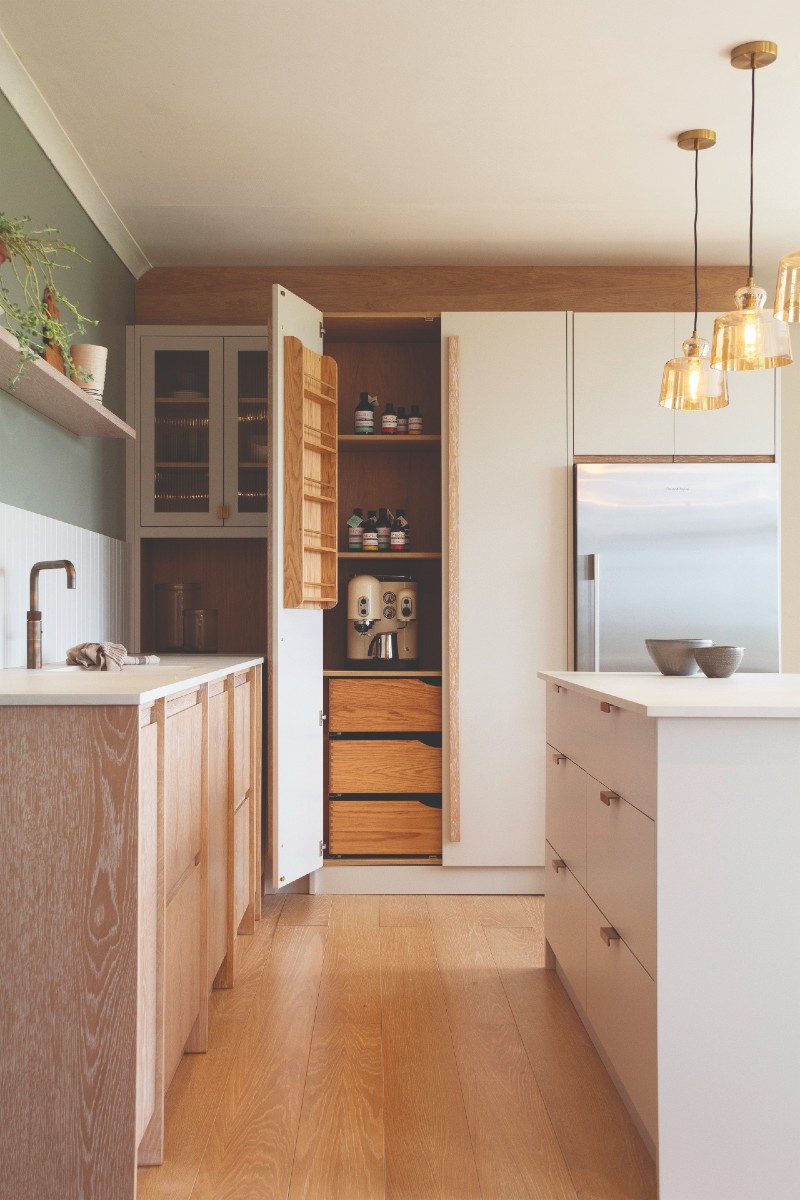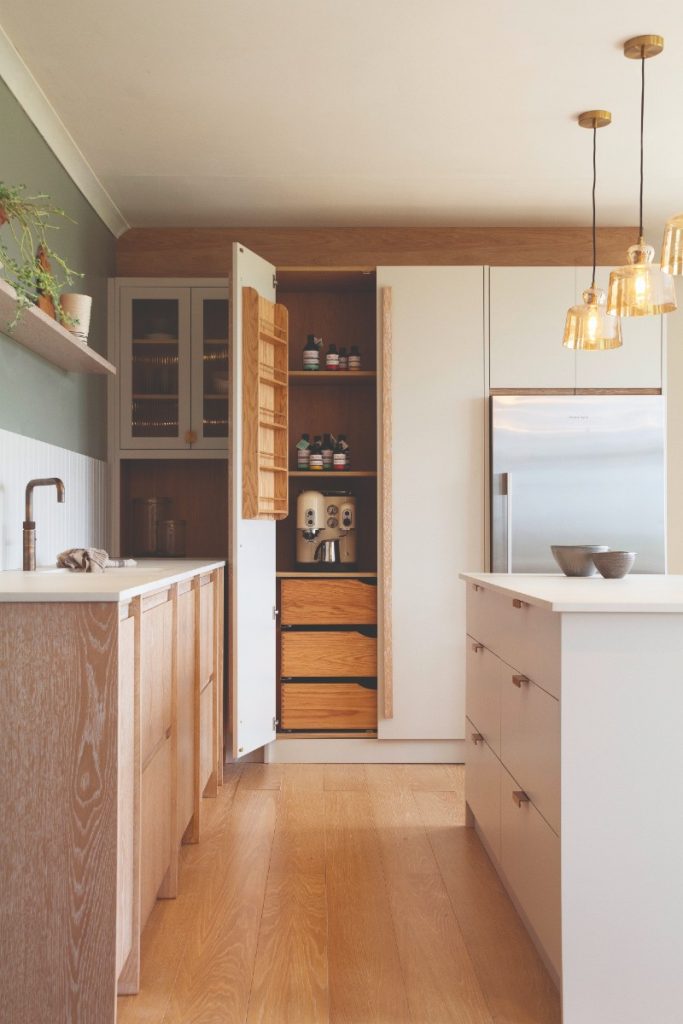 Think about the inside of your cabinetry
Decided on your layout and know it'll have good flow? It's now time to look at the interiors of your cabinetry. You might be able to make changes that improve your flow even more.
"The front row of your storage is twice as useful as the second row," says Howard Miller at H Miller Bros.
"Anything where you have to get something out first before you can reach the item you want isn't really storage at all. Why bother having deep cabinets if you're tight on space? Consider a wall of full-height 30cm-depth storage instead. This will allow you to save 30cm on circulation space, which can make a world of difference."
As Jayne said before, walkways are key. And I don't know about you, but I'd much prefer cabinets that allow me to reach everything without having to crawl in. It really is a win-win situation.
Any last words on how to achieve good flow?
For a truly harmonious scheme with great flow, a holistic approach is important. Consider the kitchen in relation to the other spaces around it such as a living area, dining zone or snug, especially if it's open plan. Look at the whole layout as one, rather than only focusing on individual zones.
Furniture placement can have a real impact – aim to avoid changing direction as much as possible.
For example, you won't want your family traipsing through the living space with food to get to the dining area. So positioning the table close to where you serve meals is ideal. Doors are also key: a closed door acts as a pause point and disrupts movement. Consider recessed pocket designs that can slide back if you want a feeling of openness. Alternatively, opt for glazed doors that give you a sense of the room beyond, and still connect the kitchen to the rest of the home.
So, is good flow still an abstract concept? Why not contact us with your question – or let us know how you improved your scheme.
Featured image: The owners of this kitchen wanted a sociable space. They achieved this by creating three distinct zones: a cooking area featuring ovens with the island incorporating an induction hob and integrated extractor; a wet area with the sink and Quooker tap; and a tall storage area connecting the kitchen and dining space. The Myers Touch collaborated with Snug Architects to design the Siematic S2 handleless kitchen. Priced from £35,000.
About Post Author